Weekend Comic Book Orders Tripled
Howdy!
For the first time in several weeks, I did not work in our Jason St. Mega-Store yesterday. I had intended to spend half of the day working on our farm in Boulder, and then to drive to Denver in the early afternoon, but a weather report warning of a new burst of snow and rain coming into our region on Thursday prompted me to keep on with my critically-important mowing.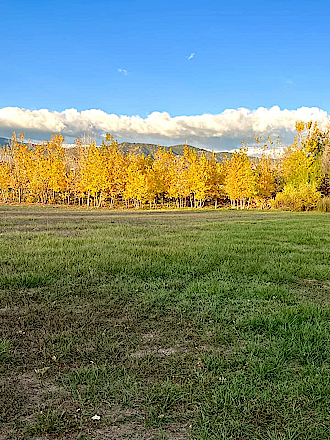 One of the pastures on Jay Hill Farm

Were that brief late-week interlude of moisture the only impact of our weather change, I would have stuck with my original plans to drive to Denver, but predictions are that we will also see a 15-degree (Fahrenheit) temperature decline that will continue to last for at least another week. If any wind accompanies that temperature drop, then mowing in our open pastures becomes untenable, as the wind becomes so sharp that it causes my eyes to tear uncontrollably.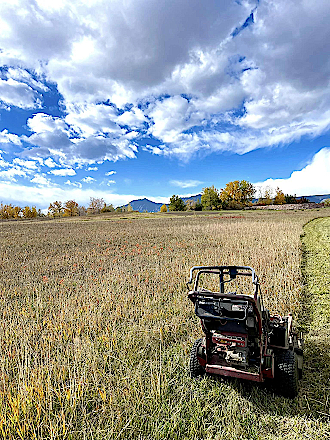 In the middle of mowing one pasture.

If my Colorado weather report this morning seems tangential (at best) to our comic book retailing efforts, bear in mind that our region suffered a two billion dollar (!) loss of homes and property last December when a raging windstorm fueled a monster grass fire that ultimately burned over 1,000 homes and businesses in the nearby towns of Marshall, Superior, and Louisville. Climate change has increased both the frequency of our annual Boulder Valley windstorms, and their intensity, so the odds are quite good that yet another 100+ mph gale will materialize over the next 90 days.
That having been said, our local firefighters blessedly extinguished a small blaze that was sparked directly to the west of our farm on the same day as that horrific Marshall inferno, a fire that the winds would have driven directly toward our home. I cannot do anything about the potential fuel load on the City-owned grasslands directly to the west of us (thankfully, they are running herds of sheep out there right now to crop the grass as low as possible) but I most certainly can seek to reduce our risk both through mowing all of our grass and weeds, and also by trimming back and dead wood on our trees.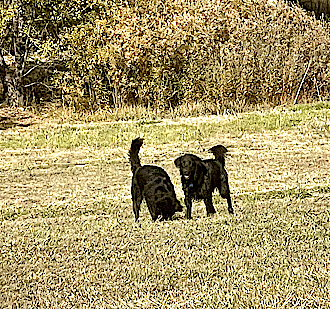 Nicky and Freyja playing on the farm.

Clearly, I am trying to protect our home through these defensive environmental actions, but I want to make note of the fact that I am also trying to protect my many personal collections, including my comic books. Inspiring me is the tragedy of one of our dearest family friends, who lost everything that she owned, including her 50-year comics collection and her vast science fiction books library, to that horrible Marshall inferno. My efforts may in the end prove futile, but at least some houses in otherwise incinerated cul-de-sacs in Louisville survived, so advance planning does at least seem to improve one's odds. Just saying...
So, what have you done lately to protect your own collection? If you're like me, probably not enough. I have (for example) vowed for the past nine years to elevate all of my storage cabinets in my personal comics vault to at least an inch above ground level, so that if another 20-inch deluge of rain materializes (as it did upon us in 2013) that the bottom of my storage bins (and everything sitting in the floor) will not get soaked (again). Have I accomplished that incredibly arduous task? Nope. I keep putting it off, while I have instead been traveling endlessly all around the country to buy even more comics. Sigh. I really do mean to be more diligent, but finding the time is truly hard. Maybe, just maybe, I'll get to it this winter.
On a more positive note, I did take a couple of hours yesterday to assemble three benches for my beloved wife, Nanette. Nanette tries to keep up her strength and vigor by taking a one-mile walk around our farm each morning, but lately her knees and hip have been intermittently causing her great pain. To help her, I am positioning six very comfortable benches in scenic spots along her pathways, so that if she feels the need to rest, a sturdy bench awaits her every 800 feet. Sadly, I cannot overcome the ravages of time and/or aging, but these kinds of small gestures can still make a big difference in our quality of life.
Moving on to comics news, we had an excellent turnout on Saturday for our charity poker tournament (52 players) and our no-minimum-bid comics and toys auction (30+ bidders). I was a little spooked about our events occurring so close to Halloween, but my fears proved groundless. I also want to share an interesting side note, that several of our higher-priced lots sold to absentee bidders this time, rather than people in the room. Pam bids for the absentees, and that turned out really well for them, as they were able to purchase several key issues for less than 30% of estimated value. Those were great deals!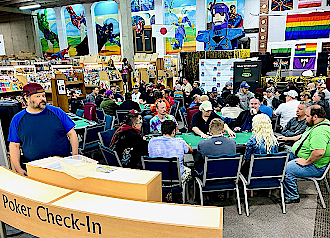 The charity poker tournament from Satuday

While our in-store events were quite successful, the real action over this weekend was in our online business, where our website orders tripled (!) over the previous weekend. I attribute this massive surge in our orders primarily to our annual 60% off HALLOWEEN! codeword expiring this upcoming Friday, but there actually seemed to be far more at play than just the codeword ending. Simply put, a great many of our newest orders are for comics that we have graded as Fair, Good, Very Good, and Fine, categories where Pam has been intentionally adding thousands of VF/NM issues to sell at much lower prices. I sincerely thank everyone who has been supporting us in this downgrading experiment effort, as your very positive response is encouraging us to redouble our efforts. Thank you!
OK, the sun is now well up in the sky, so I need to get my butters outside, and continue with my epic mowing adventure. I'll head for Denver at noon, and then sort even more comics for intentional downgrading, working to serve you until long after dark. These are the simple rhythms of my life, and they truly do bring me great comfort and joy.
Happy collecting!
Chuck Rozanski/Bettie Pages,
President - Mile High Comics, Inc.
October 31, 2022
P.S. Below is a long list of even more issues that Pam has recently downgraded. Enjoy!
MARVEL

ADVENTURES OF CYCLOPS & PHOENIX (1994) #1

ADVENTURES OF CYCLOPS & PHOENIX (1994) #1 Very Fine
ADVENTURES OF CYCLOPS & PHOENIX (1994) #2 Near Mint/Mint
ADVENTURES OF CYCLOPS & PHOENIX (1994) #3 Near Mint/Mint
ADVENTURES OF CYCLOPS & PHOENIX (1994) #4 Near Mint/Mint

ALADDIN EFFECT GN (JIM SHOOTER/DAVID MICHELINIE) (MV) (1985) #1 Near Mint/Mint
ALADDIN EFFECT GN (JIM SHOOTER/DAVID MICHELINIE) (MV) (1985) #1 Fine

ALIEN LEGION: A GREY DAY TO DIE GN (1986) #1 Fine

ARENA: FEEL THE TERROR GN (BRUCE JONES) (MARVEL GN) (1989) #1 Near Mint/Mint

ASTONISHING X-MEN (2004) (#1-68) (MARVEL)(JOSS WHENDON) #1 DIRECT CUT Near Mint/Mint
ASTONISHING X-MEN (2004) (#1-68) (MARVEL)(JOSS WHENDON) #3 Very Fine

AVENGERS VS. X-MEN (AVX) (2012) #7 X-MEN Near Mint/Mint
AVENGERS VS. X-MEN (AVX) (2012) #10 X-MEN Near Mint/Mint
AVENGERS VS. X-MEN (AVX) (2012) #11 X-MEN Near Mint/Mint
AVENGERS VS. X-MEN (AVX) (2012) #12 X-MEN Near Mint/Mint

AVENGERS VS. X-MEN TPB (2013) #1 Fine

AVENGERS VS. X-MEN: AVENGERS ACADEMY TPB (2013) #1 Fine

AVENGERS: BLACK WIDOW STRIKES (2012) #1 Near Mint/Mint
AVENGERS: BLACK WIDOW STRIKES (2012) #1 Fine
AVENGERS: BLACK WIDOW STRIKES (2012) #1 Very Fine

AVENGERS: CELESTIAL QUEST (2001) #1 Very Fine

AVENGERS: DEATHTRAP THE VAULT GN (1991) #1 Near Mint/Mint

AVENGERS: EARTH'S MIGHTIEST HEROES (2004) #2 Near Mint/Mint

AVENGERS: KORVAC SAGA TPB (1991) #1 Fair

AVENGERS: THE TERMINATRIX OBJECTIVE (1993) #1 Very Fine

BALDER THE BRAVE (MARVEL) (THOR) (WALT SIMONSON) (1985) #1 Near Mint/Mint

BARBIE FASHION (MARVEL) (1991) #1 W/ SIGN Near Mint/Mint
BARBIE FASHION (MARVEL) (1991) #39 NEWSSTAND Near Mint/Mint


BATTLESTAR GALACTICA (1979) #2

BATTLESTAR GALACTICA (1979) #2 Fine
BATTLESTAR GALACTICA (1979) #3 NEWSSTAND Near Mint/Mint
BATTLESTAR GALACTICA (1979) #3 NEWSSTAND Very Fine
BATTLESTAR GALACTICA (1979) #3 NEWSSTAND Fine
BATTLESTAR GALACTICA (1979) #5 NEWSSTAND Very Fine
BATTLESTAR GALACTICA (1979) #7 NEWSSTAND Very Fine
BATTLESTAR GALACTICA (1979) #7 NEWSSTAND Fine
BATTLESTAR GALACTICA (1979) #10 Very Fine

BEAST (1997) (#1-3) (X-MEN) #1 DFE S&N Very Fine

BEAVIS & BUTT-HEAD (1994) #4 Fine

BEFORE THE FANTASTIC FOUR: THE STORMS (2000) #1 Near Mint/Mint

BISHOP: THE LAST X-MAN (1999) #2 Near Mint/Mint

BLACK AXE (1993) #1 Fine
BLACK AXE (1993) #2 Fine
BLACK AXE (1993) #2 Very Fine

BLACK PANTHER (1998) (#1-62) (MARVEL) #1 Very Fine
BLACK PANTHER (1998) (#1-62) (MARVEL) #54 Near Mint/Mint

BLACK PANTHER (2005) (#1-41) (MARVEL) #1 LIMITED ED Very Fine
BLACK PANTHER (2005) (#1-41) (MARVEL) #3 Very Good
BLACK PANTHER (2005) (#1-41) (MARVEL) #28 Near Mint/Mint
BLACK PANTHER (2005) (#1-41) (MARVEL) #31 Fine

BLACK PANTHER (2009) (#1-12 & #513-529) (MARVEL) #6 VARIANT Near Mint/Mint
BLACK PANTHER (2009) (#1-12 & #513-529) (MARVEL) #6 Very Fine
BLACK PANTHER (2009) (#1-12 & #513-529) (MARVEL) #7 Very Fine
BLACK PANTHER (2009) (#1-12 & #513-529) (MARVEL) #8 Very Fine
BLACK PANTHER (2009) (#1-12 & #513-529) (MARVEL) #513 Near Mint/Mint
BLACK PANTHER (2009) (#1-12 & #513-529) (MARVEL) #516 Near Mint/Mint
BLACK PANTHER (2009) (#1-12 & #513-529) (MARVEL) #517 Near Mint/Mint


BLACK WIDOW 2: THINGS THEY SAY ABOUT HER (2005) #1

BLACK WIDOW 2: THINGS THEY SAY ABOUT HER (2005) #1 Very Fine

BLACK WIDOW: THE COLDEST WAR GN (1990) #1 Fine

BLADE (2002) (#1-6) (MARVEL MAX) #2 Very Fine

BLADE (2006) (#1-12) (MARVEL) (TAKES ONE TO KILL ONE) #7 Near Mint/Mint

BLADE VAMPIRE HUNTER (1999) #1 Near Mint/Mint
BLADE VAMPIRE HUNTER (1999) #4 Very Fine
BLADE VAMPIRE HUNTER (1999) #5 Near Mint/Mint

BLADE, THE VAMPIRE HUNTER (1994) #3 Fine
BLADE, THE VAMPIRE HUNTER (1994) #3 Very Fine
BLADE, THE VAMPIRE HUNTER (1994) #5 Near Mint/Mint

BLAZE (1994) (#1-12) (MARVEL) #2 Near Mint/Mint
BLAZE (1994) (#1-12) (MARVEL) #6 Very Fine

BLOODSTONE (2001) #2 Near Mint/Mint

BRILLIANT (2011) #1 2ND PRINT Near Mint/Mint
BRILLIANT (2011) #2 OEMING Near Mint/Mint

BRING ON THE BAD GUYS TPB (FIRESIDE) (MARVEL VILLAINS) (1976) #1 Good

BROTHERHOOD (2001) #5 Near Mint/Mint

BULLSEYE: PERFECT GAME (2010) #1 Near Mint/Mint

BULLWINKLE AND ROCKY (1987) #4 (Marvel Star ) Fine

CABLE (1993) (#1-107) (MARVEL) #6 Very Fine
CABLE (1993) (#1-107) (MARVEL) #16 DELUXE Near Mint/Mint
CABLE (1993) (#1-107) (MARVEL) #43 NEWSSTAND Very Fine
CABLE (1993) (#1-107) (MARVEL) #43 Very Fine
CABLE (1993) (#1-107) (MARVEL) #105 Near Mint/Mint

CABLE & X-FORCE (2012) #2 Near Mint/Mint
CABLE & X-FORCE (2012) #7 Near Mint/Mint
CABLE & X-FORCE (2012) #10 Near Mint/Mint


CAGE (1992) (#1-20) (MARVEL) (LUKE CAGE) #2

CAGE (1992) (#1-20) (MARVEL) (LUKE CAGE) #2 Near Mint/Mint

CAPTAIN AMERICA (1968) (#100-454) (MARVEL) #239 NEWSSTAND Very Fine
CAPTAIN AMERICA (1968) (#100-454) (MARVEL) #240 BRITISH Very Fine
CAPTAIN AMERICA (1968) (#100-454) (MARVEL) #240 BRITISH Fine
CAPTAIN AMERICA (1968) (#100-454) (MARVEL) #275 Near Mint/Mint

CAPTAIN AMERICA & FALCON: MADBOMB TPB (JACK KIRBY) (2004) #1 Very Fine

CAPTAIN AMERICA BY KIRBY: BICENTENNIAL BATTLES TPB (2005) #1 Very Fine

CAPTAIN BRITAIN TPB (1988) #1 3RD PRT Fine

CAPTAIN MARVEL (1999) (#0-35) (MARVEL) #11 Near Mint/Mint
CAPTAIN MARVEL (1999) (#0-35) (MARVEL) #12 Fine
CAPTAIN MARVEL (1999) (#0-35) (MARVEL) #13 Very Good
CAPTAIN MARVEL (1999) (#0-35) (MARVEL) #14 Near Mint/Mint
CAPTAIN MARVEL (1999) (#0-35) (MARVEL) #15 Very Good
CAPTAIN MARVEL (1999) (#0-35) (MARVEL) #16 Near Mint/Mint
CAPTAIN MARVEL (1999) (#0-35) (MARVEL) #17 Fine
CAPTAIN MARVEL (1999) (#0-35) (MARVEL) #18 Near Mint/Mint
CAPTAIN MARVEL (1999) (#0-35) (MARVEL) #20 Very Good
CAPTAIN MARVEL (1999) (#0-35) (MARVEL) #21 Very Fine
CAPTAIN MARVEL (1999) (#0-35) (MARVEL) #23 Very Good
CAPTAIN MARVEL (1999) (#0-35) (MARVEL) #25 Very Good
CAPTAIN MARVEL (1999) (#0-35) (MARVEL) #26 Fine
CAPTAIN MARVEL (1999) (#0-35) (MARVEL) #27 Fine
CAPTAIN MARVEL (1999) (#0-35) (MARVEL) #28 Very Good
CAPTAIN MARVEL (1999) (#0-35) (MARVEL) #29 Very Fine
CAPTAIN MARVEL (1999) (#0-35) (MARVEL) #30 Fine
CAPTAIN MARVEL (1999) (#0-35) (MARVEL) #32 Very Good
CAPTAIN MARVEL (1999) (#0-35) (MARVEL) #33 Fine
CAPTAIN MARVEL (1999) (#0-35) (MARVEL) #35 Fine

CAPTAIN MARVEL (2002) (#1-25) (MARVEL) #1 Fine
CAPTAIN MARVEL (2002) (#1-25) (MARVEL) #3 Very Good
CAPTAIN MARVEL (2002) (#1-25) (MARVEL) #4 Very Good
CAPTAIN MARVEL (2002) (#1-25) (MARVEL) #7 Near Mint/Mint
CAPTAIN MARVEL (2002) (#1-25) (MARVEL) #10 Very Good
CAPTAIN MARVEL (2002) (#1-25) (MARVEL) #25 NEWSSTAND Fine


CHAMPIONS (1975) (#1-17) (MARVEL) #17

CHAMPIONS (1975) (#1-17) (MARVEL) #17 Good

CLANDESTINE (1994) (#1-12) (MARVEL)(THEY LIVE AMONG US) #1 NEWSSTAND Near Mint/Mint
CLANDESTINE (1994) (#1-12) (MARVEL)(THEY LIVE AMONG US) #2 NEWSSTAND Near Mint/Mint
CLANDESTINE (1994) (#1-12) (MARVEL)(THEY LIVE AMONG US) #3 NEWSSTAND Near Mint/Mint
CLANDESTINE (1994) (#1-12) (MARVEL)(THEY LIVE AMONG US) #6 Near Mint/Mint
CLANDESTINE (1994) (#1-12) (MARVEL)(THEY LIVE AMONG US) #8 Near Mint/Mint
CLANDESTINE (1994) (#1-12) (MARVEL)(THEY LIVE AMONG US) #10 Fine

CLASSIC X-MEN (1986) #3 NEWSSTAND Very Good
CLASSIC X-MEN (1986) #14 NEWSSTAND Very Good
CLASSIC X-MEN (1986) #15 NEWSSTAND Very Good
CLASSIC X-MEN (1986) #20 Fine
CLASSIC X-MEN (1986) #27 Very Good
CLASSIC X-MEN (1986) #36 Very Good
CLASSIC X-MEN (1986) #41 Very Good
CLASSIC X-MEN (1986) #42 Very Good
CLASSIC X-MEN (1986) #43 NEWSSTAND Fine
CLASSIC X-MEN (1986) #44 Good
CLASSIC X-MEN (1986) #59 Very Fine
CLASSIC X-MEN (1986) #61 Near Mint/Mint
CLASSIC X-MEN (1986) #62 Fine
CLASSIC X-MEN (1986) #63 Fine
CLASSIC X-MEN (1986) #64 Fine
CLASSIC X-MEN (1986) #65 Very Good
CLASSIC X-MEN (1986) #66 Good
CLASSIC X-MEN (1986) #67 Very Good
CLASSIC X-MEN (1986) #68 Very Good
CLASSIC X-MEN (1986) #69 Near Mint/Mint
CLASSIC X-MEN (1986) #70 Very Good
CLASSIC X-MEN (1986) #71 Very Fine
CLASSIC X-MEN (1986) #72 Very Good
CLASSIC X-MEN (1986) #73 Very Good
CLASSIC X-MEN (1986) #74 Very Good
CLASSIC X-MEN (1986) #75 Very Good
CLASSIC X-MEN (1986) #76 Very Good
CLASSIC X-MEN (1986) #77 Very Good
CLASSIC X-MEN (1986) #78 Good
CLASSIC X-MEN (1986) #79 Very Good
CLASSIC X-MEN (1986) #80 Good
CLASSIC X-MEN (1986) #80 Very Good
CLASSIC X-MEN (1986) #81 Very Good

CLASSIC X-MEN (1986) #82 Very Good
CLASSIC X-MEN (1986) #83 Fine
CLASSIC X-MEN (1986) #84 Very Good
CLASSIC X-MEN (1986) #85 Fine
CLASSIC X-MEN (1986) #86 Very Good
CLASSIC X-MEN (1986) #87 Near Mint/Mint
CLASSIC X-MEN (1986) #89 Very Good
CLASSIC X-MEN (1986) #90 Good
CLASSIC X-MEN (1986) #91 Good
CLASSIC X-MEN (1986) #92 Good
CLASSIC X-MEN (1986) #93 Near Mint/Mint
CLASSIC X-MEN (1986) #95 Near Mint/Mint
CLASSIC X-MEN (1986) #96 Fine

CLOAK & DAGGER: PREDATOR & PREY GN (1988) #1 Fine
CLOAK & DAGGER: PREDATOR & PREY GN (1988) #1 Very Fine

CONAN: WITCH QUEEN OF ACHERON GN (MARVEL GN #19) (1985) #1 Very Good

DAREDEVIL: LOVE & WAR GN (1986) #1 Very Good

DAREDEVIL: MARKED FOR DEATH TPB (1990) #1 Fine

DAZZLER: THE MOVIE GN (1984) #1 Near Mint/Mint

DEATH OF CAPTAIN MARVEL GN (1982) #1 3RD PRINT Fair

DOOM 2099 (1993) #37 Fine
DOOM 2099 (1993) #38 Very Good
DOOM 2099 (1993) #39 Very Good
DOOM 2099 (1993) #40 Good
DOOM 2099 (1993) #41 Fine
DOOM 2099 (1993) #42 Near Mint/Mint

DR. STRANGE: SHAMBALLA GN (1986) #1 Very Fine

DRACULA: SYMPHONY IN MOONLIGHT & NIGHTMARES GN (1986) #1 Very Fine


DREADSTAR (1982) (#1-26) (MARVEL/EPIC) #23

DREADSTAR (1982) (#1-26) (MARVEL/EPIC) #23 Very Good
DREADSTAR (1982) (#1-26) (MARVEL/EPIC) #25 Very Good
DREADSTAR (1982) (#1-26) (MARVEL/EPIC) #26 Good

ELRIC: DREAMING CITY GN (1982) #1 Fine
ELRIC: DREAMING CITY GN (1982) #1 Good

ETERNALS (1976) (#1-19) (MARVEL) (JACK KIRBY) #14 Good
ETERNALS (1976) (#1-19) (MARVEL) (JACK KIRBY) #15 Very Good

ETERNALS (1985) (#1-12) (MARVEL LIMITED SERIES) #1 Good

ETERNALS BY JACK KIRBY TPB (2008) #1 Very Fine

EXCALIBUR (1988) (#1-125) (MARVEL) #7 Very Good
EXCALIBUR (1988) (#1-125) (MARVEL) #38 Fine
EXCALIBUR (1988) (#1-125) (MARVEL) #39 Fine
EXCALIBUR (1988) (#1-125) (MARVEL) #41 Near Mint/Mint

EXCALIBUR ANNUAL (1993) #1 NEWSUNBAGD Very Good

EXCALIBUR: THE POSSESSION (1991) #1 NEWSSTAND Very Fine

EXCALIBUR: WEIRD WAR III GN (1990) #1 Very Fine

EXILES (2001) (#1-100) (MARVEL) #11 NEWSSTAND Fine
EXILES (2001) (#1-100) (MARVEL) #12 NEWSSTAND Very Good
EXILES (2001) (#1-100) (MARVEL) #50 NEWSSTAND Near Mint/Mint
EXILES (2001) (#1-100) (MARVEL) #51 NEWSSTAND Fine
EXILES (2001) (#1-100) (MARVEL) #52 NEWSSTAND Very Fine
EXILES (2001) (#1-100) (MARVEL) #53 NEWSSTAND Very Good
EXILES (2001) (#1-100) (MARVEL) #54 NEWSSTAND Fine
EXILES (2001) (#1-100) (MARVEL) #55 NEWSSTAND Near Mint/Mint
EXILES (2001) (#1-100) (MARVEL) #56 NEWSSTAND Fine
EXILES (2001) (#1-100) (MARVEL) #57 NEWSSTAND Fine


FANTASTIC FOUR UNLIMITED (1993) #4

FANTASTIC FOUR UNLIMITED (1993) #4 Fine

FANTASY MASTERPIECES (1979) #1 NEWSSTAND Fine
FANTASY MASTERPIECES (1979) #10 Near Mint/Mint

FUTURIANS GN (MARVEL GRAPHIC NOVEL VOL. 9) (1983) #1 Fair

HULK & THING: BIG CHANGE GN (1987) #1 Near Mint/Mint

INCOGNITO: BAD INFLUENCES (2010) #2 Near Mint/Mint

INCREDIBLE HERCULES (2008) (#113-141) #135 Near Mint/Mint

INCREDIBLE HULK BY STAN LEE TPB (1978) #1 SC Fine

IRON MAN 2020 BOOKSHELF EDITION #1 Near Mint/Mint

IRON MAN: CRASH GN (1988) #1 2ND PRT Fine
IRON MAN: CRASH GN (1988) #1 Very Good

KA-ZAR: GUNS OF THE SAVAGE LAND GN (1990) #1 Near Mint/Mint

KILLRAVEN GN (1983) #1 Near Mint/Mint

LIFE OF CAPTAIN MARVEL TPB (1990) #1 2ND PRT Very Good

MARVEL CINEMATIC GUIDEBOOK: THOR (2015) #1 Fine

MARVEL MASTERWORKS #1 NEW COVER Very Fine
MARVEL MASTERWORKS #3 5TH PRINT Very Fine
MARVEL MASTERWORKS #9 Fine
MARVEL MASTERWORKS #16 Near Mint/Mint
MARVEL MASTERWORKS #23 Near Mint/Mint
MARVEL MASTERWORKS #24 Good

MARVEL MASTERWORKS NEW EDITION: AVENGERS HC (2002) #10 Near Mint/Mint


MARVEL MASTERWORKS NEW EDITION: CAPTAIN AMERICA (2003) #3 DELUXE

MARVEL MASTERWORKS NEW EDITION: CAPTAIN AMERICA (2003) #3 DELUXE Near Mint/Mint

MARVEL MASTERWORKS NEW EDITION: DOCTOR STRANGE (2003) #8 Very Fine
MARVEL MASTERWORKS NEW EDITION: DOCTOR STRANGE (2003) #9 Very Fine

MARVEL MASTERWORKS NEW EDITION: FANTASTIC FOUR (2003) #5 Fine

MARVEL MASTERWORKS NEW EDITION: GOLDEN AGE HUMAN TORCH (2005) #2 Near Mint/Mint

MARVEL MASTERWORKS NEW EDITION: HULK (2003) #4 Fine

MARVEL MASTERWORKS NEW EDITION: SPIDER-MAN (2002) #2 Near Mint/Mint
MARVEL MASTERWORKS NEW EDITION: SPIDER-MAN (2002) #11 Fine
MARVEL MASTERWORKS NEW EDITION: SPIDER-MAN (2002) #17 DELUXE Near Mint/Mint

MARVEL MASTERWORKS NEW EDITION: SUB-MARINER (2002) #1 2ND DELUXE Very Fine

MARVEL MASTERWORKS NEW EDITION: THOR (2003) #3 Near Mint/Mint

MARVEL MASTERWORKS NEW EDITION: UNCANNY X-MEN (2003) #1 Near Mint/Mint
MARVEL MASTERWORKS NEW EDITION: UNCANNY X-MEN (2003) #2 Very Fine
MARVEL MASTERWORKS NEW EDITION: UNCANNY X-MEN (2003) #3 Very Fine
MARVEL MASTERWORKS NEW EDITION: UNCANNY X-MEN (2003) #4 Fine
MARVEL MASTERWORKS NEW EDITION: UNCANNY X-MEN (2003) #5 Fine

MARVEL MASTERWORKS NEW EDITION: X-MEN (2002) #3 Very Fine
MARVEL MASTERWORKS NEW EDITION: X-MEN (2002) #6 Very Fine

MIGHTY MARVEL SUPERHEROES FUN BOOK GN (FIRESIDE) (1976) #1 Very Fine

MOON KNIGHT (1989) (#1-60) (MARVEL) (MARC SPECTOR) #58 Very Fine
MOON KNIGHT (1989) (#1-60) (MARVEL) (MARC SPECTOR) #59 Near Mint/Mint

NEW MUTANTS GN (MARVEL GN #4) (1982) #1 Near Mint/Mint

OBNOXIO VS. THE X-MEN (1983) #1 NEWSSTAND Very Good

ORIGINS OF MARVEL COMICS COLLECTION (1974) #1 2ND PRINT Good


PUNISHER: ASSASSIN'S GUILD GN (1988) #1

PUNISHER: ASSASSIN'S GUILD GN (1988) #1 Near Mint/Mint
PUNISHER: ASSASSIN'S GUILD GN (1988) #1 Fine

PUNISHER: EYE FOR AN EYE TPB (1991) #1 Very Fine

PUNISHER: INTRUDER (1991) #1 GN Good

REVENGE OF THE LIVING MONOLITH GN (1985) #1 Near Mint/Mint

RICK MASON, THE AGENT GN (1989) #1 Very Good

SAVAGE HULK (1996) #1 Very Fine

SHADOW: HITLER'S ASTROLOGER 1941 GN (1988) #1 SC Very Good

SON OF ORIGINS TPB (1975) #1 4TH PRINT Very Good

SON OF ORIGINS TPB (1975) #1 Very Good

SPIDER-MAN VS. VENOM TPB (1990) #1 4TH PRINT Fine

SPIDER-MAN/PUNISHER/SABRETOOTH: DESIGNER GENES TPB (1993) #1 Fine

SPIDER-MAN: CARNAGE TPB (1993) #1 Fine

SPIDER-MAN: ORIGIN OF THE HOBGOBLIN TPB (1992) #1 Fine

SPIDER-MAN: PARALLEL LIVES GN (1989) #1 Very Fine

SPIDER-MAN: SPIRITS OF THE EARTH #1 HB Near Mint/Mint

SPIDER-MAN: VENOM RETURNS TPB (1992) #1 Fine

SQUADRON SUPREME: DEATH OF A UNIVERSE GN (1989) #1 Very Good

STAR SLAMMERS GN (MARVEL GRAPHIC NOVEL #6) (1983) #1 2ND PRINT Near Mint/Mint
STAR SLAMMERS GN (MARVEL GRAPHIC NOVEL #6) (1983) #1 Very Fine

SUPER BOXERS GN (MARVEL GRAPHIC NOVEL #8) (1983) #1 Fine


THING: PROJECT PEGASUS SAGA TPB (1988) #1

THING: PROJECT PEGASUS SAGA TPB (1988) #1 Very Good

THOR ADAPTATION (MARVEL CINEMATIC UNIVERSE) (2013) #1 Fine

THOR: I, WHOM THE GODS WOULD DESTROY GN (1987) #1 Near Mint/Mint

ULTIMATE SPIDER-MAN ULTIMATE COLLECTION TPB (2007) #1 Fine

ULTIMATE X-MEN (2000) #35 NEWSSTAND Fine
ULTIMATE X-MEN (2000) #36 NEWSSTAND Very Good
ULTIMATE X-MEN (2000) #38 NEWSSTAND Very Fine
ULTIMATE X-MEN (2000) #39 Near Mint/Mint
ULTIMATE X-MEN (2000) #39 NEWSSTAND Fine
ULTIMATE X-MEN (2000) #40 Near Mint/Mint
ULTIMATE X-MEN (2000) #43 NEWSSTAND Fine
ULTIMATE X-MEN (2000) #46 NEWSSTAND Fine
ULTIMATE X-MEN (2000) #47 Near Mint/Mint
ULTIMATE X-MEN (2000) #48 Near Mint/Mint
ULTIMATE X-MEN (2000) #49 Near Mint/Mint
ULTIMATE X-MEN (2000) #50 Very Fine
ULTIMATE X-MEN (2000) #51 Near Mint/Mint
ULTIMATE X-MEN (2000) #52 Very Fine
ULTIMATE X-MEN (2000) #53 NEWSSTAND Fine

WEAPON X: ORIGIN OF WOLVERINE TPB (1994) #1 Very Good

WHAT IF... (1989) (#1-114, & 200) (MARVEL) #60 Very Fine

WOLVERINE (1988) (#1/2-189) (MARVEL) #23 Near Mint/Mint

WOLVERINE TPB (1987) #1 5TH PRINT Fine

WOLVERINE/FURY: SCORPIO RISING (1994) #1 Near Mint/Mint

X-FACTOR (1986) (#1-149) (ORIGINAL X-MEN) #87 Very Fine
X-FACTOR (1986) (#1-149) (ORIGINAL X-MEN) #88 Near Mint/Mint
X-FACTOR (1986) (#1-149) (ORIGINAL X-MEN) #94 Very Fine
X-FACTOR (1986) (#1-149) (ORIGINAL X-MEN) #99 Very Fine
X-FACTOR (2005) (#1-50, 200-262) (MADROX) #47 Very Fine


X-FORCE (1991) (#1-129) (MARVEL) #12

X-FORCE (1991) (#1-129) (MARVEL) #12 Fine
X-FORCE (1991) (#1-129) (MARVEL) #31 Very Fine

X-FORCE & SPIDER-MAN: SABOTAGE TPB #1 Very Fine

X-FORCE: NEW BEGINNINGS TPB (2001) #1 Fine

X-MEN 2099 (1993) #1 Fine

X-MEN: DAYS OF FUTURE PRESENT TPB (1991) #1 Very Good

X-MEN: GOD LOVES, MAN KILLS GN (1982) #1 Good
X-MEN: GOD LOVES, MAN KILLS GN (1982) #1 Very Fine

X-MEN: LEGACY (2013) #3 Near Mint/Mint

X-MEN: SECOND COMING (2010) #2 Very Fine

X-MEN: SECOND COMING - REVELATIONS: BLIND SCIENCE (2010) #1 Very Fine

X-MEN: X-CUTIONER'S SONG TPB (1994) #1 Fair

DC
ACTION COMICS (1938) (#0-600, 643-904) (DC) #457 Very Good
ACTION COMICS (1938) (#0-600, 643-904) (DC) #458 Very Good
ACTION COMICS (1938) (#0-600, 643-904) (DC) #459 Very Good
ACTION COMICS (1938) (#0-600, 643-904) (DC) #462 Good
ACTION COMICS (1938) (#0-600, 643-904) (DC) #463 Very Good
ACTION COMICS (1938) (#0-600, 643-904) (DC) #464 Good
ACTION COMICS (1938) (#0-600, 643-904) (DC) #468 Fine

BARNUM: IN SECRET SERVICE TO THE USA GN (DC VERTIGO) (2003) #1 (DC: Vertigo Press ) Very Fine


BATMAN (2016) (#1-UP) (DC REBIRTH) #89 VARIANT

BATMAN (2016) (#1-UP) (DC REBIRTH) #89 VARIANT Near Mint/Mint

BATMAN & ROBIN VOL. 3: BATMAN MUST DIE DELUXE HC (2011) #1 Near Mint/Mint

BATMAN AND ROBIN VOL. 1: BATMAN REBORN DELUXE HC (2010) #1 Near Mint/Mint

BATMAN AND ROBIN VOL. 2: BATMAN VS. ROBIN HC (2010) #1 Near Mint/Mint

BATMAN INCORPORATED HC (2012) #1 Very Fine

BATMAN: 3-D GN (JOHN BYRNE) #1 Near Mint/Mint
BATMAN: 3-D GN (JOHN BYRNE) #1 Very Fine

BATMAN: BATMAN & SON HC (2007) #1 Near Mint/Mint

BATMAN: BATMAN & SON TPB (2013) #1 Near Mint/Mint

BATMAN: BLACK CASEBOOK TPB (GRANT MORRISON) (2009) #1 Near Mint/Mint

BATMAN: GOTHIC TPB (GRANT MORRISON) (2018) #1 Very Fine

BATMAN: RIP DELUXE HC (R.I.P.) (GRANT MORRISON) (2008) #1 Near Mint/Mint

BATMAN: SON OF THE DEMON SC (1987) #1 Fine

BATMAN: THE BLACK GLOVE HC (GRANT MORRISON) (2008) #1 Near Mint/Mint

BATMAN: THE RESURRECTION OF RAS AL GHUL HC (MORRISON) (2008) #1 Near Mint/Mint

BEST OF THE SPIRIT TPB (2005) #1 Very Fine

CATWOMAN (2018) (#1-UP) (DC UNIVERSE) #23 VARIANT Near Mint/Mint
CATWOMAN (2018) (#1-UP) (DC UNIVERSE) #25 VARIANT Near Mint/Mint

CATWOMAN-THE SERIES (1993) (#1-94) (DC) #15 NEWSSTAND Fine

CATWOMAN/WILDCAT (1998) #2 Very Fine

CHALLENGERS OF THE UNKNOWN MUST DIE TPB (2004) #1 Fine

CHECKMATE (1988) #1 Fine
CHECKMATE (1988) #2 Fine
CHECKMATE (1988) #8 Near Mint/Mint
CHECKMATE (1988) #12 Near Mint/Mint
CHECKMATE (1988) #21 Very Fine
CHECKMATE (1988) #26 Fine
CHECKMATE (1988) #32 Very Good
CHECKMATE (1988) #33 Fine

CHILDREN'S CRUSADE (1993) #2 (DC: Vertigo Press ) Near Mint/Mint

CHRONOS (1998) #6 Near Mint/Mint
CHRONOS (1998) #9 Near Mint/Mint
CHRONOS (1998) #10 Near Mint/Mint

CHRONOS 1,000,000 #1 Fine

CINDER AND ASHE (1988) #2 Fine
CINDER AND ASHE (1988) #3 Near Mint/Mint
CINDER AND ASHE (1988) #4 Near Mint/Mint

DEATH OF SUPERMAN TPB (1993) #1 Fine
DEATH OF SUPERMAN TPB (1993) #1 Very Good
DEATH OF SUPERMAN TPB (1993) #1 Very Fine

DOCTOR MID-NITE TPB #1 Very Fine

DOOM PATROL/SUICIDE SQUAD SPECIAL (1988) #1 NEWSSTAND Very Good

ECLIPSO (1992) #17 Near Mint/Mint
ECLIPSO (1992) #18 Near Mint/Mint
ECLIPSO: THE DARKNESS WITHIN #2 Fine

ENEMY ACE: WAR IN HEAVEN (2001) #1 (DC: Vertigo Press ) Very Good
ENEMY ACE: WAR IN HEAVEN (2001) #2 (DC: Vertigo Press ) Fine

ENIGMA (1993) #6 (DC: Vertigo Press ) Fine
ENIGMA (1993) #8 (DC: Vertigo Press ) Very Fine

EPICURUS THE SAGE GRAPHIC NOVEL (1991) #1 (DC: Piranha Press ) Very Fine

ESSENTIAL VERTIGO: SWAMP THING (1996) #2 (DC: Vertigo Press ) Near Mint/Mint
ESSENTIAL VERTIGO: SWAMP THING (1996) #4 (DC: Vertigo Press ) Very Fine
ESSENTIAL VERTIGO: SWAMP THING (1996) #6 (DC: Vertigo Press ) Near Mint/Mint
ESSENTIAL VERTIGO: SWAMP THING (1996) #7 (DC: Vertigo Press ) Very Fine
ESSENTIAL VERTIGO: SWAMP THING (1996) #12 (DC: Vertigo Press ) Near Mint/Mint
ESSENTIAL VERTIGO: SWAMP THING (1996) #13 (DC: Vertigo Press ) Very Fine
ESSENTIAL VERTIGO: SWAMP THING (1996) #15 (DC: Vertigo Press ) Near Mint/Mint
ESSENTIAL VERTIGO: SWAMP THING (1996) #17 (DC: Vertigo Press ) Near Mint/Mint
ESSENTIAL VERTIGO: SWAMP THING (1996) #18 (DC: Vertigo Press ) Near Mint/Mint
ESSENTIAL VERTIGO: SWAMP THING (1996) #20 (DC: Vertigo Press ) Very Fine
ESSENTIAL VERTIGO: SWAMP THING (1996) #22 (DC: Vertigo Press ) Very Fine

ESSENTIAL VERTIGO: THE SANDMAN (1996) #1 (DC: Vertigo Press ) Near Mint/Mint
ESSENTIAL VERTIGO: THE SANDMAN (1996) #20 (DC: Vertigo Press ) Very Fine

FATE (1994) #7 Very Good
FATE (1994) #10 Fine
FATE (1994) #11 Very Good

FATE (1994) #12 Fine
FATE (1994) #13 Near Mint/Mint
FATE (1994) #14 Near Mint/Mint
FATE (1994) #15 Fine
FATE (1994) #16 Near Mint/Mint
FATE (1994) #18 Near Mint/Mint
FATE (1994) #19 Very Good
FATE (1994) #20 Near Mint/Mint
FATE (1994) #21 Very Good
FATE (1994) #22 Near Mint/Mint

FINAL NIGHT (1996) #1 Fine
FINAL NIGHT (1996) #3 Very Good
FINAL NIGHT (1996) #4 Fine

FIRESTORM (1982) (#1-100) #3 NEWSSTAND Very Good
FIRESTORM (1982) (#1-100) #4 NEWSSTAND Very Good
FIRESTORM (1982) (#1-100) #41 NEWSSTAND Good
FIRESTORM (1982) (#1-100) #55 Fine
FIRESTORM (1982) (#1-100) #56 NEWSSTAND Near Mint/Mint
FIRESTORM (1982) (#1-100) #56 NEWSSTAND Good
FIRESTORM (1982) (#1-100) #57 Very Good
FIRESTORM (1982) (#1-100) #58 Very Good
FIRESTORM (1982) (#1-100) #59 NEWSSTAND Very Fine
FIRESTORM (1982) (#1-100) #60 NEWSSTAND Very Fine
FIRESTORM (1982) (#1-100) #61 NEWSSTAND Very Good
FIRESTORM (1982) (#1-100) #63 Very Fine
FIRESTORM (1982) (#1-100) #64 NEWSSTAND Very Good
FIRESTORM (1982) (#1-100) #65 NEWSSTAND Good
FIRESTORM (1982) (#1-100) #66 NEWSSTAND Good
FIRESTORM (1982) (#1-100) #69 Very Good
FIRESTORM (1982) (#1-100) #70 NEWSSTAND Good
FIRESTORM (1982) (#1-100) #70 Very Good
FIRESTORM (1982) (#1-100) #71 NEWSSTAND Good
FIRESTORM (1982) (#1-100) #72 Very Good
FIRESTORM (1982) (#1-100) #73 NEWSSTAND Good
FIRESTORM (1982) (#1-100) #74 NEWSSTAND Very Good
FIRESTORM (1982) (#1-100) #75 NEWSSTAND Good
FIRESTORM (1982) (#1-100) #76 Good
FIRESTORM (1982) (#1-100) #76 Very Good
FIRESTORM (1982) (#1-100) #77 Good


FIRESTORM (1982) (#1-100) #77 NEWSSTAND

FIRESTORM (1982) (#1-100) #77 NEWSSTAND Very Good
FIRESTORM (1982) (#1-100) #78 Good
FIRESTORM (1982) (#1-100) #79 Very Good
FIRESTORM (1982) (#1-100) #80 NEWSSTAND Fine
FIRESTORM (1982) (#1-100) #81 Fine
FIRESTORM (1982) (#1-100) #82 Fine
FIRESTORM (1982) (#1-100) #83 Fine
FIRESTORM (1982) (#1-100) #85 Fine
FIRESTORM (1982) (#1-100) #85 NEWSSTAND Fine
FIRESTORM (1982) (#1-100) #86 NEWSSTAND Fine
FIRESTORM (1982) (#1-100) #87 NEWSSTAND Very Fine
FIRESTORM (1982) (#1-100) #89 Very Good
FIRESTORM (1982) (#1-100) #90 Very Good
FIRESTORM (1982) (#1-100) #91 Fine
FIRESTORM (1982) (#1-100) #92 Very Good
FIRESTORM (1982) (#1-100) #93 Very Good
FIRESTORM (1982) (#1-100) #94 Fine
FIRESTORM (1982) (#1-100) #94 Very Good
FIRESTORM (1982) (#1-100) #95 Good
FIRESTORM (1982) (#1-100) #95 Fine
FIRESTORM (1982) (#1-100) #96 Fine
FIRESTORM (1982) (#1-100) #97 Near Mint/Mint
FIRESTORM (1982) (#1-100) #97 Very Good
FIRESTORM (1982) (#1-100) #98 Fine
FIRESTORM (1982) (#1-100) #99 Very Good
FIRESTORM (1982) (#1-100) #100 Very Good

FIRESTORM ANNUAL (1983) #5 NEWSSTAND Very Good

FLASH (1987) (#0-247) (DC) #0 Fine
FLASH (1987) (#0-247) (DC) #0 Near Mint/Mint
FLASH (1987) (#0-247) (DC) #0 Very Good
FLASH (1987) (#0-247) (DC) #9 NEWSSTAND Very Good
FLASH (1987) (#0-247) (DC) #46 Fine
FLASH (1987) (#0-247) (DC) #47 NEWSSTAND Good
FLASH (1987) (#0-247) (DC) #48 NEWSSTAND Good
FLASH (1987) (#0-247) (DC) #49 NEWSSTAND Good
FLASH (1987) (#0-247) (DC) #50 NEWSSTAND Good


FLASH (1987) (#0-247) (DC) #51 NEWSSTAND

FLASH (1987) (#0-247) (DC) #51 NEWSSTAND Very Good
FLASH (1987) (#0-247) (DC) #52 NEWSSTAND Very Good
FLASH (1987) (#0-247) (DC) #59 Fine
FLASH (1987) (#0-247) (DC) #61 Fine
FLASH (1987) (#0-247) (DC) #69 NEWSSTAND Very Good
FLASH (1987) (#0-247) (DC) #70 Fine
FLASH (1987) (#0-247) (DC) #71 Fine
FLASH (1987) (#0-247) (DC) #72 Fine
FLASH (1987) (#0-247) (DC) #73 NEWSSTAND Near Mint/Mint
FLASH (1987) (#0-247) (DC) #74 NEWSSTAND Very Fine
FLASH (1987) (#0-247) (DC) #75 NEWSSTAND Fine
FLASH (1987) (#0-247) (DC) #76 Fine
FLASH (1987) (#0-247) (DC) #77 Near Mint/Mint
FLASH (1987) (#0-247) (DC) #78 Fine
FLASH (1987) (#0-247) (DC) #79 NEWSSTAND Fine
FLASH (1987) (#0-247) (DC) #80 FOIL Near Mint/Mint
FLASH (1987) (#0-247) (DC) #81 Very Fine
FLASH (1987) (#0-247) (DC) #85 Very Good
FLASH (1987) (#0-247) (DC) #87 Very Fine

FROST & FIRE GN (DC SCIENCE FICTION GN #3) #1 Very Fine

GREEN LANTERN/GREEN ARROW COLLECTION (1992) #2 TPB Very Fine

HAUNTED TANK (2008) #4 Near Mint/Mint

HELL ON EARTH GN (DC SCIENCE FICTION GN #1) (1985) #1 Fine

HELLBLAZER VOL. 1: ORIGINAL SINS TPB (2011) #1 6TH PRINT Near Mint/Mint

HELLBLAZER VOL. 3: FEAR MACHINE TPB (2012) #1 3RD PRINT (DC: Vertigo Press ) Near Mint/Mint

HELLBLAZER VOL. 5: DANGEROUS HABITS TPB (2013) #1 4TH PRINT Near Mint/Mint

HELLBLAZER VOL. 4: FAMILY MAN TPB (2012) #1 3RD PRINT (DC: Vertigo Press ) Near Mint/Mint


HELLBLAZER VOL. 7: TAINTED LOVE TPB (2013) #1 3RD PRINT

HELLBLAZER VOL. 7: TAINTED LOVE TPB (2013) #1 3RD PRINT (DC: Vertigo Press ) Near Mint/Mint

HELLBLAZER VOL. 8: RAKE AT THE GATES OF HELL TPB (2014) #1 2ND PRINT (DC: Vertigo Press ) Near Mint/Mint

HELLBLAZER: HARD TIME TPB (2001) #1 (DC: Vertigo Press ) Near Mint/Mint

HUMAN TARGET (2010) (#1-6) (DC) #3 Near Mint/Mint

LUCIFER: CHILDREN & MONSTERS TPB (VOL. 2) (2001) #1 4TH PRINT (DC: Vertigo Press ) Near Mint/Mint

MAD ZAPS THE HUMAN RACE (1984) #1 Near Mint/Mint

MAGIC GOES AWAY GN (DC SCIENCE FICTION GN #6) (1986) #1 Very Fine

MEDUSA CHAIN GN (DC GRAPHIC NOVEL #3) (1984) #1 Near Mint/Mint

ON THE ROAD TO PERDITION BOOK ONE: OASIS (2003) #1 Near Mint/Mint
ON THE ROAD TO PERDITION BOOK ONE: OASIS (2003) #1 Very Fine

ON THE ROAD TO PERDITION BOOK TWO: SANCTUARY (2003) #1 (DC: Paradox Press ) Near Mint/Mint

PREACHER: DEAD OR ALIVE - COLLECTED COVERS HC #1 (DC: Vertigo Press ) Very Fine

PREACHER HC (2009) #1 3RD PRINT Near Mint/Mint

SANDKINGS GN(DC SCIENCE FICTION GN #7) GEORGE RR MARTIN (1987) #1 Fine

SANDMAN MYSTERY THEATRE (1993) #10 (DC: Vertigo Press ) Fine
SANDMAN MYSTERY THEATRE (1993) #12 (DC: Vertigo Press ) Fine
SANDMAN MYSTERY THEATRE (1993) #13 (DC: Vertigo Press ) Fine


SANDMAN MYSTERY THEATRE (1993) #14

SANDMAN MYSTERY THEATRE (1993) #14 (DC: Vertigo Press ) Fine
SANDMAN MYSTERY THEATRE (1993) #16 (DC: Vertigo Press ) Fine
SANDMAN MYSTERY THEATRE (1993) #17 (DC: Vertigo Press ) Fine
SANDMAN MYSTERY THEATRE (1993) #22 (DC: Vertigo Press ) Very Good
SANDMAN MYSTERY THEATRE (1993) #23 (DC: Vertigo Press ) Fine
SANDMAN MYSTERY THEATRE (1993) #24 (DC: Vertigo Press ) Very Good
SANDMAN MYSTERY THEATRE (1993) #25 (DC: Vertigo Press ) Very Good
SANDMAN MYSTERY THEATRE (1993) #26 (DC: Vertigo Press ) Very Good
SANDMAN MYSTERY THEATRE (1993) #27 (DC: Vertigo Press ) Fine
SANDMAN MYSTERY THEATRE (1993) #28 (DC: Vertigo Press ) Fine
SANDMAN MYSTERY THEATRE (1993) #29 (DC: Vertigo Press ) Fine
SANDMAN MYSTERY THEATRE (1993) #30 (DC: Vertigo Press ) Very Fine
SANDMAN MYSTERY THEATRE (1993) #31 (DC: Vertigo Press ) Fine
SANDMAN MYSTERY THEATRE (1993) #32 (DC: Vertigo Press ) Near Mint/Mint
SANDMAN MYSTERY THEATRE (1993) #38 (DC: Vertigo Press ) Very Fine
SANDMAN MYSTERY THEATRE (1993) #43 (DC: Vertigo Press ) Near Mint/Mint
SANDMAN MYSTERY THEATRE (1993) #44 (DC: Vertigo Press ) Near Mint/Mint
SANDMAN MYSTERY THEATRE (1993) #45 (DC: Vertigo Press ) Very Good
SANDMAN MYSTERY THEATRE (1993) #46 (DC: Vertigo Press ) Fine


SANDMAN MYSTERY THEATRE (1993) #47

SANDMAN MYSTERY THEATRE (1993) #47 (DC: Vertigo Press ) Fine
SANDMAN MYSTERY THEATRE (1993) #48 (DC: Vertigo Press ) Fine
SANDMAN MYSTERY THEATRE (1993) #49 (DC: Vertigo Press ) Fine
SANDMAN MYSTERY THEATRE (1993) #51 (DC: Vertigo Press ) Very Good
SANDMAN MYSTERY THEATRE (1993) #52 (DC: Vertigo Press ) Very Good
SANDMAN MYSTERY THEATRE (1993) #53 (DC: Vertigo Press ) Fine
SANDMAN MYSTERY THEATRE (1993) #55 (DC: Vertigo Press ) Very Good
SANDMAN MYSTERY THEATRE (1993) #56 (DC: Vertigo Press ) Very Fine
SANDMAN MYSTERY THEATRE (1993) #57 (DC: Vertigo Press ) Fine
SANDMAN MYSTERY THEATRE (1993) #58 (DC: Vertigo Press ) Near Mint/Mint
SANDMAN MYSTERY THEATRE (1993) #59 (DC: Vertigo Press ) Fine
SANDMAN MYSTERY THEATRE (1993) #60 (DC: Vertigo Press ) Very Fine
SANDMAN MYSTERY THEATRE (1993) #61 (DC: Vertigo Press ) Fine
SANDMAN MYSTERY THEATRE (1993) #62 (DC: Vertigo Press ) Very Good
SANDMAN MYSTERY THEATRE (1993) #63 (DC: Vertigo Press ) Near Mint/Mint
SANDMAN MYSTERY THEATRE (1993) #64 (DC: Vertigo Press ) Near Mint/Mint
SANDMAN MYSTERY THEATRE (1993) #65 (DC: Vertigo Press ) Fine
SANDMAN MYSTERY THEATRE (1993) #66 (DC: Vertigo Press ) Very Fine
SANDMAN MYSTERY THEATRE (1993) #67 (DC: Vertigo Press ) Very Good


SANDMAN MYSTERY THEATRE (1993) #68

SANDMAN MYSTERY THEATRE (1993) #68 (DC: Vertigo Press ) Near Mint/Mint
SANDMAN MYSTERY THEATRE (1993) #69 (DC: Vertigo Press ) Near Mint/Mint
SANDMAN MYSTERY THEATRE (1993) #70 (DC: Vertigo Press ) Fine

SANDMAN PRESENTS: MERV PUMPKINHEAD - AGENT OF DREAM #1 (DC: Vertigo Press ) Fine

SANDMAN PRESENTS: THE CORINTHIAN (2001) #1 (DC: Vertigo Press ) Very Fine

SANDMAN: ENDLESS GALLERY #1 (DC: Vertigo Press ) Fine
SANDMAN: ENDLESS GALLERY #1 (DC: Vertigo Press ) Near Mint/Mint

SCALPED DELUXE EDITION HC (2015) #1 Near Mint/Mint

SCARE TACTICS (1996) #7 Near Mint/Mint
SCARE TACTICS (1996) #8 Very Fine
SCARE TACTICS (1996) #10 Near Mint/Mint
SCARE TACTICS (1996) #11 Near Mint/Mint

SHADOWPACT: CURSED TPB (VOL. 2) (2007) #1 Very Fine

SINNERS GN #1 (DC: Piranha Press ) Near Mint/Mint

SMALLVILLE SEASON 11 VOL. 2: DETECTIVE TPB (2013) #1 Near Mint/Mint

SPIRIT ARCHIVES HC #10 Near Mint/Mint

STAR TREK: ASHES OF EDEN TP (1995) #1 Fine

SUPERMAN (1939) (#1-423) (DC) #279 Good
SUPERMAN (1939) (#1-423) (DC) #297 Fine
SUPERMAN (1939) (#1-423) (DC) #307 Very Fine
SUPERMAN (1939) (#1-423) (DC) #313 Very Good


SUPERMAN: RED SON TPB (2004) #1 4TH PRINT

SUPERMAN: RED SON TPB (2004) #1 4TH PRINT Fine

TOR HC (PREHISTORIC ODYSSEY) (2009) #1 Near Mint/Mint

WILL EISNER: MINOR MIRACLES GN (2000) #1 SC Fine

WONDER WOMAN: AMAZONIA GN (1997) #1 Near Mint/Mint
WONDER WOMAN: AMAZONIA GN (1997) #1 Very Good

DARK HORSE COMICS
ANGEL: HOLLOWER TPB (DARK HORSE) (2000) #1 Fine

CREATURE FROM THE BLACK LAGOON: TIME'S BLACK LAGOON NOV (2006) #1 Near Mint/Mint

DARK HORSE BOOK OF HAUNTINGS HC (2003) #1 Near Mint/Mint

FLAMING CARROT ANNUAL (1997) #1 Near Mint/Mint

GUILD TPB (2010) #1 Very Fine

HELLCYON (2010) #1 Near Mint/Mint

ISOLATION & ILLUSION: SHORT STORIES/P. CRAIG RUSSELL TP (2002) #1 Very Fine

MAGNUS ROBOT FIGHTER HC (RUSS MANNING'S) (2004) #1 Very Fine

SIN CITY TPB (1992) #1 2ND PRINT Very Good

STAR WARS MARA JADE: BY THE EMPEROR'S HAND TPB #1 2ND PRINT Fine

STAR WARS: CLONE WARS VOL. 1: SLAVES OF THE REPUBLIC TP (2009) #1 2ND PRINT Near Mint/Mint

STAR WARS: CLONE WARS VOL. 4: COLOSSUS OF DESTINY TPB (2009) #1 Near Mint/Mint

STAR WARS: CLONE WARS VOL. 6: DEADLY HANDS OF SHON JU (2010) #1 Near Mint/Mint

STAR WARS: DARTH MAUL TPB (2001) #1 2ND PRINT Very Fine


STAR WARS: SHADOWS OF THE EMPIRE TPB (1997) #1 2ND PRINT

STAR WARS: SHADOWS OF THE EMPIRE TPB (1997) #1 2ND PRINT Fine

SUPERMAN/TARZAN: SONS OF THE JUNGLE TPB (2002) #1 Near Mint/Mint

IMAGE COMICS
AGE OF BRONZE (IMAGE) (SHANOWER) (1998) #33 Very Fine

DELICATE CREATURES HC (2001) #1 (Image Top Cow ) Near Mint/Mint

ESPERS VOL. 3 (1997) (#1-7) (IMAGE) #6 Very Fine

FIREBUG TPB (2018) #1 Very Fine

GUERILLAS (2008) #3 Very Fine

HAPPY (#1-4) (IMAGE) (GRANT MORRISON) (2012) #4 Very Fine

IMPALER (2008) (#1-5) (IMAGE/TOPCOW) #5 (Image Top Cow ) Near Mint/Mint

MAGE COLLECTED EDITION (#1-8) (1998) #4 Fine

MORNING GLORIES VOL. 1: FOR A BETTER FUTURE TPB (2011) #1 Fine

POWERS: WHO KILLED RETRO GIRL TPB (2000) #1 $15.95 Near Mint/Mint

RANDOM ACTS OF VIOLENCE (2010) #1 Very Fine

SHADOWHAWK: OUT OF THE SHADOWS TPB (1993) #1 Very Good

SPAWN TPB (1995) #1 Near Mint/Mint

SPAWN/BATMAN (1994) #1 Near Mint/Mint


WALKING DEAD COMPENDIUM TPB (2009) #1 6TH PRINT

WALKING DEAD COMPENDIUM TPB (2009) #1 6TH PRINT Fine
WALKING DEAD COMPENDIUM TPB (2009) #2 2ND PRINT Fine
WALKING DEAD COMPENDIUM TPB (2009) #3 Very Good

INDEPENDENTS
30 DAYS OF NIGHT TPB (2003) #1 3RD PRINT (IDW Publishing ) Fine

ADVENTURES OF YOKO, VIC & PAUL: VULCAN'S FORGE #1 (Trade Items ) Near Mint/Mint

ANGRY CHRIST COMIX TPB (SIRIUS) (1994) #1 2ND PRINT (Sirius ) Very Fine

BATTLETECH: SPIDER & THE WOLF GN (1986) #1 (FASA ) Fine

BEAST WARRIORS OF SHAOLIN (GRAPHIC NOVEL) #1 (Pied Piper Press ) Very Fine

BLUESMAN (2004) #1 (Absence Of Ink Comic Press ) Very Fine

CAPTAIN PARAGON & THE SENTINELS OF JUSTICE (1985) #1 (Americomics ) Near Mint/Mint

CAPTAIN SATAN (1994) #1 RED FOIL (Millennium Publishing ) Near Mint/Mint

CARTOON HISTORY OF THE UNIVERSE (1978) #8 (Rip Off Press ) Good

CHRONICLES OF WORMWOOD: LAST ENEMY TPB (2007) #1 (Avatar Comics ) Near Mint/Mint

COFFIN TPB (2001) #1 2ND PRINT (Oni Press Inc. ) Fine

COURAGEOUS PRINCESS: KINGDOM OF LEPTIA TPB (VOL. 3) (2002) #1 (Antarctic Press ) Near Mint/Mint


COWBOYS & ALIENS TPB (2006) #1

COWBOYS & ALIENS TPB (2006) #1 (Image Top Cow ) Near Mint/Mint

CROW COLLECTED TPB (KITCHEN SINK) (1993) #1 (Kitchen Sink Publishing ) Very Good

DETECTIVES INC.: REMBRANCE OF THREATENING GREEN GN (1980) #1 (Eclipse Enterprises ) Near Mint/Mint

DINOSAURS FOR HIRE: GUNS N LIZARDS GN (1989) #1 (Marvel Malibu/Ultraverse ) Fine

DIRTY STORIES TPB (1997) #2 (Eros Comix (Fantagraphics) ) Very Good

DOC SAVAGE DOUBLE NOVEL (2006) #20 (Nostalgia ) Near Mint/Mint
DOC SAVAGE DOUBLE NOVEL (2006) #60 (Nostalgia ) Near Mint/Mint
DOC SAVAGE DOUBLE NOVEL (2006) #61 (Nostalgia ) Near Mint/Mint

DRAGON CHIANG (1991) #1 (Eclipse Enterprises ) Fine

DRAGONRING (OLD) (B&W) (1986) #1 (Aircel Publications ) Very Good
DRAGONRING (OLD) (B&W) (1986) #5 (Aircel Publications ) Fine

DREADSTAR (1994) (#1-6) (BRAVURA) #6 (Bravura ) Fine

DREADSTAR (1986) (#27-64) (FIRST) #61 (First Comics ) Very Good
DREADSTAR (1986) (#27-64) (FIRST) #63 (First Comics ) Very Good
DREADSTAR (1986) (#27-64) (FIRST) #64 (First Comics ) Very Good


ELEMENTALS (1984) (#1-29) (COMICO) #21

ELEMENTALS (1984) (#1-29) (COMICO) #21 (Comico ) Fine
ELEMENTALS (1984) (#1-29) (COMICO) #24 (Comico ) Fine
ELEMENTALS (1984) (#1-29) (COMICO) #26 (Comico ) Fine
ELEMENTALS (1984) (#1-29) (COMICO) #27 (Comico ) Fine
ELEMENTALS (1984) (#1-29) (COMICO) #29 (Comico ) Very Good

ELEMENTALS SPECIAL (1986) #2 (Comico ) Very Fine

ELEMENTALS VOL. II (1989) #1 (Comico ) Fine
ELEMENTALS VOL. II (1989) #2 (Comico ) Fine
ELEMENTALS VOL. II (1989) #3 (Comico ) Fine
ELEMENTALS VOL. II (1989) #9 (Comico ) Fine
ELEMENTALS VOL. II (1989) #10 (Comico ) Fine
ELEMENTALS VOL. II (1989) #26 (Comico ) Very Good

ELRIC: ONE LIFE #0 (Topps Publishing ) Very Good

ESPERS (1996) (#1-6) (HALLOWEEN COMICS) #1 (Halloween Comics ) Near Mint/Mint
ESPERS (1996) (#1-6) (HALLOWEEN COMICS) #2 (Halloween Comics ) Near Mint/Mint
ESPERS (1996) (#1-6) (HALLOWEEN COMICS) #6 (Halloween Comics ) Near Mint/Mint

FATALE (1996) (#1-6) (BROADWAY) (JIM SHOOTER) #2 (Broadway Comics ) Near Mint/Mint


FATALE (1996) (#1-6) (BROADWAY) (JIM SHOOTER) #3

FATALE (1996) (#1-6) (BROADWAY) (JIM SHOOTER) #3 (Broadway Comics ) Near Mint/Mint
FATALE (1996) (#1-6) (BROADWAY) (JIM SHOOTER) #3 (Broadway Comics ) Fine
FATALE (1996) (#1-6) (BROADWAY) (JIM SHOOTER) #4 (Broadway Comics ) Very Good
FATALE (1996) (#1-6) (BROADWAY) (JIM SHOOTER) #5 (Broadway Comics ) Fine
FATALE (1996) (#1-6) (BROADWAY) (JIM SHOOTER) #6 (Broadway Comics ) Very Good

FEM FANTASTIQUE (AC COMICS) (1988) #1 (Americomics ) Near Mint/Mint

FEMFORCE #5 (Americomics ) Good
FEMFORCE #47 (Americomics ) Near Mint/Mint
FEMFORCE #48 (Americomics ) Very Fine
FEMFORCE #49 (Americomics ) Very Fine
FEMFORCE #50 (Americomics ) Very Fine
FEMFORCE #53 (Americomics ) Very Good
FEMFORCE #78 (Americomics ) Near Mint/Mint
FEMFORCE #78 UNBAGGED (Americomics ) Near Mint/Mint
FEMFORCE #79 UNBAGGED (Americomics ) Near Mint/Mint
FEMFORCE #83 UNBAGGED (Americomics ) Near Mint/Mint
FEMFORCE #88 UNBAGGED (Americomics ) Near Mint/Mint
FEMFORCE #89 UNBAGGED (Americomics ) Very Fine
FEMFORCE #90 UNBAGGED (Americomics ) Very Fine

FEMFORCE #93 UNBAGGED (Americomics ) Near Mint/Mint
FEMFORCE #95 UNBAGGED (Americomics ) Near Mint/Mint
FEMFORCE #96 UNBAGGED (Americomics ) Near Mint/Mint
FEMFORCE #97 UNBAGGED (Americomics ) Very Fine
FEMFORCE #98 UNBAGGED (Americomics ) Near Mint/Mint
FEMFORCE #99 UNBAGGED (Americomics ) Near Mint/Mint
FEMFORCE #100 UNBAGGED (Americomics ) Near Mint/Mint
FEMFORCE #101 UNBAGGED (Americomics ) Near Mint/Mint
FEMFORCE #102 UNBAGGED (Americomics ) Near Mint/Mint
FEMFORCE #103 UNBAGGED (Americomics ) Near Mint/Mint
FEMFORCE #104 UNBAGGED (Americomics ) Near Mint/Mint
FEMFORCE #105 UNBAGGED (Americomics ) Near Mint/Mint
FEMFORCE #106 UNBAGGED (Americomics ) Near Mint/Mint
FEMFORCE #107 (Americomics ) Near Mint/Mint
FEMFORCE #109 (Americomics ) Near Mint/Mint
FEMFORCE #113 (Americomics ) Near Mint/Mint
FEMFORCE #115 (Americomics ) Near Mint/Mint
FEMFORCE #116 (Americomics ) Near Mint/Mint

FEMFORCE PRODUCT CATALOG #9804 (AC Comics ) Near Mint/Mint


FEMFORCE SPECIAL: RAYDA CYBERIAN (1999) #1 VARIANT

FEMFORCE SPECIAL: RAYDA CYBERIAN (1999) #1 VARIANT (Americomics ) Fine
FEMFORCE SPECIAL: RAYDA CYBERIAN (1999) #2 (Americomics ) Near Mint/Mint
FEMFORCE SPECIAL: RAYDA CYBERIAN (1999) #3 (Americomics ) Near Mint/Mint

FEMFORCE TIMELINES (1995) #1 (Americomics ) Near Mint/Mint

FEMFORCE UNCUT (2001) #1 (Americomics ) Very Fine

FEMFORCE UP CLOSE (1992) #11 (Americomics ) Fine

FEMFORCE: BAD GIRL BACKLASH (1996) #1 (Americomics ) Near Mint/Mint

FILES OF MS. TREE VOL. TPB #1 (Eclipse Enterprises ) Very Good

FIREARM (1993) #1 NEWSSTAND (Marvel Malibu/Ultraverse ) Near Mint/Mint
FIREARM (1993) #1 NEWSSTAND (Marvel Malibu/Ultraverse ) Very Good
FIREARM (1993) #3 NEWSSTAND (Marvel Malibu/Ultraverse ) Very Good
FIREARM (1993) #4 NEWSSTAND (Marvel Malibu/Ultraverse ) Very Good
FIREARM (1993) #6 NEWSSTAND (Marvel Malibu/Ultraverse ) Very Fine
FIREARM (1993) #10 NEWSSTAND (Marvel Malibu/Ultraverse ) Fine
FIREARM (1993) #12 NEWSSTAND (Marvel Malibu/Ultraverse ) Fine

FIREARM (1993) #17 (Marvel Malibu/Ultraverse ) Very Good

GRIMM FAIRY TALES: WONDERLAND - DOWN THE RABBIT HOLE SC (2013) #1 (Zenescope Entertainment Inc ) Near Mint/Mint

HACK SLASH: FIRST CUT TPB (2005) #1 (Devil's Due ) Near Mint/Mint

HARBINGER TPB (CHILDREN OF THE EIGHTH DAY) (1992) #1 UNBAGGED (Acclaim/Valiant ) Near Mint/Mint

HARD STORY HC (2006) #1 (Heavy Metal ) Near Mint/Mint

HECTIC PLANET: DIM FUTURE TPB (VOL. 1) (1998) #1 (Amaze Ink ) Very Fine

HERO ALLIANCE: END OF THE GOLDEN AGE GN #1 (Innovation Publishing ) Fine

I AM COYOTE GN (1984) #1 (Eclipse Enterprises ) Fine

JEREMIAH 13: STRIKE #1 (Catalan Communications ) Fine

MARK OF THE DOG #1 (Catalan Communications ) Fine

MILK & CHEESE: FUN WITH MILK & CHEESE TPB #1 3RD PRINT (Slave Labor Graphics ) Fine

RANXEROX IN NEW YORK GN (1984) #1 HC (Catalan Communications ) Near Mint/Mint


RAY BRADBURY CHRONICLES TPB (1992) #2

RAY BRADBURY CHRONICLES TPB (1992) #2 (Bantam Books ) Fine
RAY BRADBURY CHRONICLES TPB (1992) #3 (Bantam Books ) Very Fine

RICK & MORTY VS. DUNGEONS & DRAGONS TPB (2019) #1 (IDW Publishing ) Near Mint/Mint

ROBOTECH GN (1986) #1 (Comico ) Fine

ROOT & BRANCH SC (2017) #1 2ND PRINT (Pink Pitcher) Near Mint/Mint
ROOT & BRANCH SC (2017) #2 (Pink Pitcher) Near Mint/Mint
ROOT & BRANCH SC (2017) #3 (Pink Pitcher) Near Mint/Mint
ROOT & BRANCH SC (2017) #3 (Pink Pitcher) Very Fine

SCARLET SCORPION/DARKSHADE #2 (Americomics ) Near Mint/Mint

SCOUT (#1-24) (1985) #1 (Eclipse Enterprises ) Fine
SCOUT (#1-24) (1985) #16 (Eclipse Enterprises ) Fine
SCOUT (#1-24) (1985) #19 (Eclipse Enterprises ) Very Good
SCOUT (#1-24) (1985) #21 (Eclipse Enterprises ) Fine
SCOUT (#1-24) (1985) #22 (Eclipse Enterprises ) Fine
SCOUT (#1-24) (1985) #24 (Eclipse Enterprises ) Fine

SCOUT HANDBOOK (1987) #1 (Eclipse Enterprises ) Fine

SCOUT: WAR SHAMAN (ECLIPSE)(#1-16) (1988) #3 (Eclipse Enterprises ) Very Fine
SCOUT: WAR SHAMAN (ECLIPSE)(#1-16) (1988) #4 (Eclipse Enterprises ) Fine


SCOUT: WAR SHAMAN (ECLIPSE)(#1-16) (1988) #6

SCOUT: WAR SHAMAN (ECLIPSE)(#1-16) (1988) #6 (Eclipse Enterprises ) Near Mint/Mint
SCOUT: WAR SHAMAN (ECLIPSE)(#1-16) (1988) #12 (Eclipse Enterprises ) Fine
SCOUT: WAR SHAMAN (ECLIPSE)(#1-16) (1988) #15 (Eclipse Enterprises ) Fine
SCOUT: WAR SHAMAN (ECLIPSE)(#1-16) (1988) #16 (Eclipse Enterprises ) Fine

SEVEN DEADLY SINS GN (1989) #1 (Knockabout ) Good

SEVEN SAMUROID GN (FRANK BRUNNER) (1984) #1 (Image International Publishing Co. ) Near Mint/Mint

SHADOW DOUBLE NOVEL (2006) #17 (Sanctum Books ) Fine
SHADOW DOUBLE NOVEL (2006) #21 (Sanctum Books ) Near Mint/Mint
SHADOW DOUBLE NOVEL (2006) #22 (Sanctum Books ) Near Mint/Mint
SHADOW DOUBLE NOVEL (2006) #23 (Sanctum Books ) Near Mint/Mint
SHADOW DOUBLE NOVEL (2006) #63 (Sanctum Books ) Near Mint/Mint
SHADOW DOUBLE NOVEL (2006) #64 (Sanctum Books ) Near Mint/Mint
SHADOW DOUBLE NOVEL (2006) #124 (Sanctum Books ) Near Mint/Mint

SHATTER TPB (1988) #1 (First Comics ) Fine

STAINLESS STEEL RAT (1985) #4 (Eagle Comics ) Near Mint/Mint

STAR TREK TPB (2012) #9 (IDW Publishing ) Near Mint/Mint

STAR TREK TPB (2012) #12 (IDW Publishing ) Near Mint/Mint

STAR WARS EPISODE I: PHANTOM MENACE MOVIE STORYBOOK GN (1999) #1 (Random House ) Very Good

STEWART THE RAT #1 (Eclipse Enterprises ) Fine

SWORDS OF CEREBUS #1 (Aardvark-Vanaheim ) Near Mint/Mint
SWORDS OF CEREBUS #2 (Aardvark-Vanaheim ) Fine
SWORDS OF CEREBUS #3 (Aardvark-Vanaheim ) Very Fine
SWORDS OF CEREBUS #4 (Aardvark-Vanaheim ) Very Fine

TABOO (SPIDERBABY GRAFIX) (1988) #1 (Spiderbaby Graphix ) Fine
TABOO (SPIDERBABY GRAFIX) (1988) #2 (Spiderbaby Graphix ) Fine
TABOO (SPIDERBABY GRAFIX) (1988) #3 (Spiderbaby Graphix ) Very Good
TABOO (SPIDERBABY GRAFIX) (1988) #4 (Spiderbaby Graphix ) Very Good

THEATER TPB (GRIMM FAIRY TALES) (2012) #1 (Zenescope Entertainment Inc ) Near Mint/Mint

THICK BLACK KISS GN #1 (Vortex Comics, Inc. ) Fine

VIVID GIRLS GN (2004) #1 DRY HEAT (Vivid Comics ) Fine
VIVID GIRLS GN (2004) #1 LIMITED ED (Vivid Comics ) Fine

VIVID GIRLS GN (2004) #1 (Vivid Comics ) Very Fine

WALT DISNEY'S DONALD AND SCROOGE TPB #1 (Walt Disney Company ) Near Mint/Mint

WHISPERER MYSTERY GN (VOL.2) (1990) #1 SC (Catalan Communications ) Near Mint/Mint
WHISPERER MYSTERY GN (VOL.2) (1990) #1 SC (Catalan Communications ) Very Good

X-MEN COMPANION (1982) #1 (Fantagraphics ) Very Fine
X-MEN COMPANION (1982) #2 (Fantagraphics ) Very Fine