50% Off HALLOWEEN! Codeword
Howdy!
Are you ready for a world containing substantially fewer comic books? I ask that provocative question because in my reading of the daily news, I am noting a truly major shift in the comparative ratio of number of new comics being printed, versus the number being destroyed by natural disasters. Simply put, our ongoing pandemic has caused major cutbacks in output at both Marvel and DC, while an incessant number of fires, floods, windstorms, and hurricanes have relentlessly destroyed an extraordinary number of people's homes (and storage units) throughout our nation.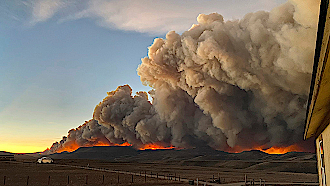 Here is a photo from USATODAY's website of the Colorado Wildfires

While the loss of lives in our natural disasters this year has been blessedly low, many of these perils (such as the huge fire in our Colorado mountains that expanded yesterday by a staggering 100,000 acres) do oftentimes force people to run for safety with minimal advance warning. Family heirlooms and photographs (along with pets and livestock) are oftentimes successfully saved, but comic book collections and libraries filled with graphic novels are almost always abandoned, and are thus frequently destroyed.
While this reflection on my part may appear to be somewhat morbid, it speaks to the very important truth that paper collectibles (of all kinds) are particularly delicate and prone to environmental damage and destruction. That explains (at least to me...) why the 30-year cycle remains a truth in comics, even after the publishing excesses of the early 1990's.
So what is the "30-year cycle?" It is the remarkable propensity of almost all comics published 30 years ago to suddenly leap in popularity/price as they cross that magic 30 year threshold, regardless of their editorial content. For the longest time I thought that this revival of demand in (sometimes) truly mediocre 30-year-old comics was fueled by nostalgia and/or the advent of a new generation of collectors, but my opinion has changed of late. I now realize that the natural destruction rate plays a far greater role than I originally envisioned. Prices rise after 30 years not because demand increases, but rather because available supplies diminish. I find this near-total alteration in my perception of the economic landscape for comic books over time to be truly fascinating.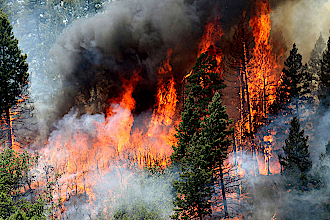 Here is another photo from the DENVER POST's website of the Colorado Wildfires

Returning to the diminishment in overall numbers of comics extant that I mentioned earlier, I am now realizing that climate change has greatly increased the perils for comic books of all kinds. As a direct result, individual issues that sold in the millions in 1990-1992 (X-Men #1, Spawn #1, Youngblood #1, etc.) are now selling like hotcakes for us, even after we have bumped up our list prices in order to slow demand. Issues that sold far lower numbers during that period of time are also rising in price/demand, and are sometimes becoming difficult for us to restock at any price, especially in higher grades. Sadly, so many of the comics from that time period have now been destroyed, that it is starting to make a noticeable difference. Again, I find this all to be fascinating.
I could expand greatly on this topic, but I will not. I will leave it (for today) by stating that I believe that we are living in an extraordinary moment in time when more comic books are being destroyed each week, than are being printed. Observing that relentless attrition in the total number of comic books remaining in the world is what colors my own behaviors, and greatly determines the policies that I set at Mile High Comics. Suffice it to say, all of our efforts these days are oriented toward providing shelter in our giant concrete fortress of a building to as many comic book collections as we can possibly afford to purchase, and then safeguarding those survivors as best we can. In a world filled with inexorable diminishment, we work diligently to provide a final safe refuge for our nation's graphic storytelling heritage. 'Nuff said.
Moving on to daily business, we can only afford to buy more comic book collections if we sell a few of our existing titles, so our annual 50% off HALLOWEEN! codeword sale is now in effect for you on all ten million+ of the back issue comics and magazines listed on our website. Only new issues, a few variants, and our professionally-graded collectibles are excluded from this huge sale. This Immense half price sale will end a week from Monday, so take advantage, while you still can.
Discounts aside, I encourage you to place an order with us right now because I see some degree of risk that we may be forced to scale back our operations in the near future. Colorado (along with many other places) set a new record for Covid-19 cases yesterday (1,300), and there are already rumblings that non-essential businesses in Denver may be forced to (once again) shut down.
To be clear, we were allowed to keep our online shipping going during that period of March, April, and May when our Jason St. Mega-Store was forced to be closed. We could not, however, buy any walk in collections during that shutdown. Blessedly, we have (slowly) built a huge backlog of unsorted comics for us to bag and grade during any potential shutdown, but there would clearly be a diminishment in key issues, as those always get graded right away. Just saying...
It is also important to note that our local fans need to be aware that shopping for holiday gifts in our wonderland of pop culture collectibles may be severely curtailed (or totally eliminated) if this pandemic in Colorado worsens any further. That is why I am initiating (as of today) a week-long "Buy 2 - Get 1 Free!" sale at Jason St. (only!) on all of our books, toys, Pop! figures, t-shirts, statues, etc. This huge storewide sale is in addition to the 50% off HALLOWEEN! back issues sale, which also applies to all of our back issues in the Mega-Store, except blue-stickered items. I simply cannot do any more to encourage you to shop with us right away.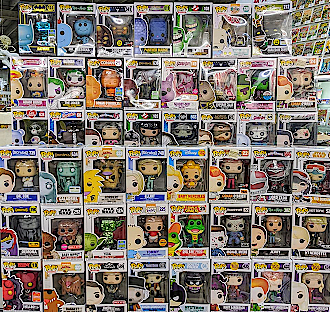 Some of the Funko Pops we just bought!

I will close today's newsletter by mentioning that I am, in all honesty, more than a little concerned that this looming 2nd Covid-19 shutdown could gut our entire Christmas season. Fifty years of sometimes painful experiences have taught me the wisdom of giving up some discount percentages now, rather than possibly ending up with nothing, later. Like it, or not, we all have to be pragmatic and foresightful during these extraordinarily difficult times. Please do enjoy these great savings opportunities, with our sincere thanks and gratitude for your continuing support of our family-owned company.
Happy collecting!
Chuck Rozanski/Bettie Pages,
President - Mile High Comics, Inc.
October 23, 2020
P.S. While we are still allowed to be open, Will and Pam are continuing to spend thousands of dollars each week purchasing collections. Below are a few more highlights from their Premium New-In-Stock
MARVEL
5 RONIN TPB (2011) #1 Very Good

AMAZING SPIDER-MAN (2018) (#1-UP) (MARVEL) #49 LEE Near Mint/Mint
AMAZING SPIDER-MAN (2018) (#1-UP) (MARVEL) #49 QUESADA Fine
AMAZING SPIDER-MAN (2018) (#1-UP) (MARVEL) #49 QUESADAB&W Near Mint/Mint
AMAZING SPIDER-MAN (2018) (#1-UP) (MARVEL) #50 BAGLEY Near Mint/Mint
AMAZING SPIDER-MAN (2018) (#1-UP) (MARVEL) #50 LEE Near Mint/Mint

CIVIL WAR II (2016) #0 Near Mint/Mint
CIVIL WAR II (2016) #1 Very Fine

CIVIL WAR II FREE COMICS BOOK DAY (2016) #1 Near Mint/Mint

CIVIL WAR II: CHOOSING SIDES (2016) #1 Near Mint/Mint

CLIVE BARKER'S HELLRAISER (1989) #1 NEWSSTAND Near Mint/Mint

CONAN SAGA (1987) #3 NEWSSTAND Fine
CONAN SAGA (1987) #6 NEWSSTAND Very Good

FALCON & WINTER SOLDIER (2020) #4 OKAZAKI Near Mint/Mint

FANTASTIC FOUR (2018) (#1-UP) (MARVEL) #25 BRADSHAW Near Mint/Mint


HULK (1962) (#1-6, #102-474, #600-635)(INCREDIBLE)(MV) #419

HULK (1962) (#1-6, #102-474, #600-635)(INCREDIBLE)(MV) #419 Near Mint/Mint

INFINITY WAR (1992) #1 Near Mint/Mint

IRON MAN (2020) (#1-UP) (MARVEL) #1 PREMIERE Near Mint/Mint
IRON MAN (2020) (#1-UP) (MARVEL) #2 SKAN Near Mint/Mint

JUGGERNAUT (2020) #2 SUPERLOG Near Mint/Mint

MANTRA (1993) (#1-24) (MARVEL MALIBU/ULTRAVERSE) #10 FLIPBOOK (Marvel Malibu/Ultraverse) Near Mint/Mint
MANTRA (1993) (#1-24) (MARVEL MALIBU/ULTRAVERSE) #17 (Marvel Malibu/Ultraverse) Near Mint/Mint
MANTRA (1993) (#1-24) (MARVEL MALIBU/ULTRAVERSE) #20 (Marvel Malibu/Ultraverse) Near Mint/Mint
MANTRA (1993) (#1-24) (MARVEL MALIBU/ULTRAVERSE) #21 (Marvel Malibu/Ultraverse) Near Mint/Mint
MANTRA (1993) (#1-24) (MARVEL MALIBU/ULTRAVERSE) #22 (Marvel Malibu/Ultraverse) Near Mint/Mint
MANTRA (1993) (#1-24) (MARVEL MALIBU/ULTRAVERSE) #23 (Marvel Malibu/Ultraverse) Near Mint/Mint

MARVEL FANFARE (1982) #26 Near Mint/Mint
MARVEL FANFARE (1982) #28 Near Mint/Mint
MARVEL FANFARE (1982) #31 Near Mint/Mint
MARVEL FANFARE (1982) #48 Near Mint/Mint
MARVEL FANFARE (1982) #57 Near Mint/Mint

MARVEL HOLIDAY SPECIAL (2011) #1 Near Mint/Mint

MARVEL SUPER SPECIAL (1977) #2 Good
MARVEL SUPER SPECIAL (1977) #9 Very Good

MARVEL UNIVERSE (1983) #1 Near Mint/Mint
MARVEL UNIVERSE (1983) #4 Near Mint/Mint

MARVEL VS. DC (1996) #2 Near Mint/Mint
MARVEL VS. DC (1996) #3 Near Mint/Mint

MARVILLE (2002) #3 Near Mint/Mint

MILES MORALES: SPIDER-MAN (2019) #18 LIM Very Fine

MILES MORALES: ULTIMATE SPIDER-MAN (2014) #1 Near Mint/Mint

MOCKINGBIRD (2016) #8 Near Mint/Mint

MONSTERS UNLEASHED (2017) (#1-5) (MARVEL) #1 Near Mint/Mint

MOON GIRL & DEVIL DINOSAUR (2015) #11 Very Fine
MOON GIRL & DEVIL DINOSAUR (2015) #12 Near Mint/Mint

MOON KNIGHT (2016) (#1-14) (MARVEL) #1 Near Mint/Mint
MOON KNIGHT (2016) (#1-14) (MARVEL) #2 Near Mint/Mint
MOON KNIGHT (2016) (#1-14) (MARVEL) #3 Near Mint/Mint
MOON KNIGHT (2016) (#1-14) (MARVEL) #4 Near Mint/Mint
MOON KNIGHT (2016) (#1-14) (MARVEL) #7 Near Mint/Mint
MOON KNIGHT (2016) (#1-14) (MARVEL) #10 Near Mint/Mint


MOSAIC (2016) (#1-UP) (MARVEL NOW) #1

MOSAIC (2016) (#1-UP) (MARVEL NOW) #1 Near Mint/Mint

MS. MARVEL (2016) (#1-UP) (MARVEL) (KAMALA KHAN) #11 Near Mint/Mint
MS. MARVEL (2016) (#1-UP) (MARVEL) (KAMALA KHAN) #12 Near Mint/Mint

MYSTIC ARCANA: MAGIK (2007) #1 Near Mint/Mint

NICK FURY AGENT OF S.H.I.E.L.D. (1989) #37 Near Mint/Mint

NOVA (2016) (#1-UP) (SAM ALEXANDER) (MARVEL NOW) (2016) #1 Near Mint/Mint

POINT ONE (2012) #1 Near Mint/Mint

POWER MAN/IRON FIST (LUKE CAGE, POWER MAN #1-49) (1972) #82 Near Mint/Mint

SAVAGE SWORD OF CONAN (MAGAZINE) (1974) #25 Good
SAVAGE SWORD OF CONAN (MAGAZINE) (1974) #29 Good
SAVAGE SWORD OF CONAN (MAGAZINE) (1974) #100 Good
SAVAGE SWORD OF CONAN (MAGAZINE) (1974) #101 Very Good
SAVAGE SWORD OF CONAN (MAGAZINE) (1974) #103 Fine
SAVAGE SWORD OF CONAN (MAGAZINE) (1974) #109 NEWSSTAND Good
SAVAGE SWORD OF CONAN (MAGAZINE) (1974) #110 NEWSSTAND Good
SAVAGE SWORD OF CONAN (MAGAZINE) (1974) #111 NEWSSTAND Good
SAVAGE SWORD OF CONAN (MAGAZINE) (1974) #112 NEWSSTAND Very Good
SAVAGE SWORD OF CONAN (MAGAZINE) (1974) #113 NEWSSTAND Very Good
SAVAGE SWORD OF CONAN (MAGAZINE) (1974) #114 NEWSSTAND Good
SAVAGE SWORD OF CONAN (MAGAZINE) (1974) #115 NEWSSTAND Good
SAVAGE SWORD OF CONAN (MAGAZINE) (1974) #116 NEWSSTAND Good
SAVAGE SWORD OF CONAN (MAGAZINE) (1974) #117 NEWSSTAND Good


SAVAGE SWORD OF CONAN (MAGAZINE) (1974) #118 NEWSSTAND

SAVAGE SWORD OF CONAN (MAGAZINE) (1974) #118 NEWSSTAND Very Good
SAVAGE SWORD OF CONAN (MAGAZINE) (1974) #119 NEWSSTAND Fine
SAVAGE SWORD OF CONAN (MAGAZINE) (1974) #120 NEWSSTAND Good
SAVAGE SWORD OF CONAN (MAGAZINE) (1974) #122 NEWSSTAND Very Good
SAVAGE SWORD OF CONAN (MAGAZINE) (1974) #123 NEWSSTAND Good
SAVAGE SWORD OF CONAN (MAGAZINE) (1974) #124 NEWSSTAND Very Good
SAVAGE SWORD OF CONAN (MAGAZINE) (1974) #125 NEWSSTAND Good
SAVAGE SWORD OF CONAN (MAGAZINE) (1974) #125 Very Good
SAVAGE SWORD OF CONAN (MAGAZINE) (1974) #126 NEWSSTAND Very Good
SAVAGE SWORD OF CONAN (MAGAZINE) (1974) #126 NEWSSTAND Good
SAVAGE SWORD OF CONAN (MAGAZINE) (1974) #127 NEWSSTAND Fine
SAVAGE SWORD OF CONAN (MAGAZINE) (1974) #127 NEWSSTAND Good
SAVAGE SWORD OF CONAN (MAGAZINE) (1974) #128 NEWSSTAND Very Good
SAVAGE SWORD OF CONAN (MAGAZINE) (1974) #128 NEWSSTAND Good
SAVAGE SWORD OF CONAN (MAGAZINE) (1974) #128 Very Good
SAVAGE SWORD OF CONAN (MAGAZINE) (1974) #129 Fine
SAVAGE SWORD OF CONAN (MAGAZINE) (1974) #129 NEWSSTAND Good
SAVAGE SWORD OF CONAN (MAGAZINE) (1974) #131 NEWSSTAND Very Good
SAVAGE SWORD OF CONAN (MAGAZINE) (1974) #131 NEWSSTAND Good
SAVAGE SWORD OF CONAN (MAGAZINE) (1974) #132 NEWSSTAND Fine
SAVAGE SWORD OF CONAN (MAGAZINE) (1974) #133 Fine
SAVAGE SWORD OF CONAN (MAGAZINE) (1974) #133 NEWSSTAND Very Good
SAVAGE SWORD OF CONAN (MAGAZINE) (1974) #133 NEWSSTAND Good
SAVAGE SWORD OF CONAN (MAGAZINE) (1974) #134 NEWSSTAND Fine
SAVAGE SWORD OF CONAN (MAGAZINE) (1974) #134 NEWSSTAND Very Good


SAVAGE SWORD OF CONAN (MAGAZINE) (1974) #135 NEWSSTAND

SAVAGE SWORD OF CONAN (MAGAZINE) (1974) #135 NEWSSTAND Very Good
SAVAGE SWORD OF CONAN (MAGAZINE) (1974) #135 NEWSSTAND Good
SAVAGE SWORD OF CONAN (MAGAZINE) (1974) #136 NEWSSTAND Fine
SAVAGE SWORD OF CONAN (MAGAZINE) (1974) #136 NEWSSTAND Very Good
SAVAGE SWORD OF CONAN (MAGAZINE) (1974) #137 Fine
SAVAGE SWORD OF CONAN (MAGAZINE) (1974) #137 NEWSSTAND Very Good
SAVAGE SWORD OF CONAN (MAGAZINE) (1974) #138 NEWSSTAND Very Good
SAVAGE SWORD OF CONAN (MAGAZINE) (1974) #139 NEWSSTAND Fine
SAVAGE SWORD OF CONAN (MAGAZINE) (1974) #139 NEWSSTAND Very Good
SAVAGE SWORD OF CONAN (MAGAZINE) (1974) #139 Very Good
SAVAGE SWORD OF CONAN (MAGAZINE) (1974) #140 NEWSSTAND Very Good
SAVAGE SWORD OF CONAN (MAGAZINE) (1974) #140 NEWSSTAND Good
SAVAGE SWORD OF CONAN (MAGAZINE) (1974) #141 Fine
SAVAGE SWORD OF CONAN (MAGAZINE) (1974) #141 NEWSSTAND Good
SAVAGE SWORD OF CONAN (MAGAZINE) (1974) #141 Very Good
SAVAGE SWORD OF CONAN (MAGAZINE) (1974) #142 Fine
SAVAGE SWORD OF CONAN (MAGAZINE) (1974) #143 NEWSSTAND Fine
SAVAGE SWORD OF CONAN (MAGAZINE) (1974) #143 Very Fine
SAVAGE SWORD OF CONAN (MAGAZINE) (1974) #144 NEWSSTAND Very Good
SAVAGE SWORD OF CONAN (MAGAZINE) (1974) #145 Very Good
SAVAGE SWORD OF CONAN (MAGAZINE) (1974) #146 Very Fine
SAVAGE SWORD OF CONAN (MAGAZINE) (1974) #147 NEWSSTAND Fine
SAVAGE SWORD OF CONAN (MAGAZINE) (1974) #147 NEWSSTAND Very Good
SAVAGE SWORD OF CONAN (MAGAZINE) (1974) #148 Fine
SAVAGE SWORD OF CONAN (MAGAZINE) (1974) #148 NEWSSTAND Very Good
SAVAGE SWORD OF CONAN (MAGAZINE) (1974) #149 NEWSSTAND Good
SAVAGE SWORD OF CONAN (MAGAZINE) (1974) #150 NEWSSTAND Very Good

SPIDER-MAN (2019) (#1-5) (MARVEL) (J J ABRAMS) #4 PICHELLI Near Mint/Mint

THOR (2020) (#1-UP) (MARVEL) #7 SHARP Near Mint/Mint

UNCANNY INHUMANS (2015) #11 Near Mint/Mint

UNTOLD LEGEND OF CAPTAIN MARVEL (1997) #3 Near Mint/Mint

VENGEANCE (2011) #5 Near Mint/Mint
VENGEANCE (2011) #6 Near Mint/Mint

VENOM (2011) (#1-42) (MARVEL) #9 Very Fine
VENOM (2011) (#1-42) (MARVEL) #10 Near Mint/Mint
VENOM (2011) (#1-42) (MARVEL) #11 Near Mint/Mint
VENOM (2011) (#1-42) (MARVEL) #12 Near Mint/Mint
VENOM (2011) (#1-42) (MARVEL) #13 Near Mint/Mint
VENOM (2011) (#1-42) (MARVEL) #13 .1 Near Mint/Mint
VENOM (2011) (#1-42) (MARVEL) #13 .2 Near Mint/Mint
VENOM (2011) (#1-42) (MARVEL) #13 .3 Near Mint/Mint
VENOM (2011) (#1-42) (MARVEL) #13 .4 Near Mint/Mint
VENOM (2011) (#1-42) (MARVEL) #14 Near Mint/Mint

X 23 (2010) (#1-21) (MARVEL) #17 Near Mint/Mint
X 23 (2010) (#1-21) (MARVEL) #18 Near Mint/Mint
X 23 (2010) (#1-21) (MARVEL) #19 Near Mint/Mint
X 23 (2010) (#1-21) (MARVEL) #20 Near Mint/Mint
X 23 (2010) (#1-21) (MARVEL) #21 Near Mint/Mint

X OF SWORDS: CREATION (2020) #1 DAUTERMB&W Near Mint/Mint
X OF SWORDS: CREATION (2020) #1 PREMIER ED Near Mint/Mint

DC

ARROW SPECIAL EDITION (GIVEAWAY) (DC) (2012) #1

ARROW SPECIAL EDITION (GIVEAWAY) (DC) (2012) #1 Near Mint/Mint

DETECTIVE COMICS (1937) (#0-881) (DC) #582 Near Mint/Mint
DETECTIVE COMICS (1937) (#0-881) (DC) #599 Near Mint/Mint
DETECTIVE COMICS (1937) (#0-881) (DC) #600 Near Mint/Mint
DETECTIVE COMICS (1937) (#0-881) (DC) #621 Near Mint/Mint
DETECTIVE COMICS (1937) (#0-881) (DC) #624 Near Mint/Mint

SUPERMAN/DOOMSDAY: HUNTER/PREY (1994) #1 Near Mint/Mint
SUPERMAN/DOOMSDAY: HUNTER/PREY (1994) #2 Near Mint/Mint

IMAGE COMICS
39 MINUTES HC (2013) #1 Near Mint/Mint

POWERS ANNUAL (2001) (IMAGE) #1 Near Mint/Mint

SPAWN (1992) #190 Near Mint/Mint
SPAWN (1992) #191 Fine
SPAWN (1992) #192 Near Mint/Mint
SPAWN (1992) #194 Near Mint/Mint
SPAWN (1992) #195 Near Mint/Mint
SPAWN (1992) #235 Near Mint/Mint
SPAWN (1992) #236 Near Mint/Mint
SPAWN (1992) #237 Near Mint/Mint

INDEPENDENTS

100 BADDEST MOTHER F***ERS IN COMICS TPB (2012) #1

100 BADDEST MOTHER F***ERS IN COMICS TPB (2012) #1 (Trade Items) Near Mint/Mint

1000 WAYS TO DIE TPB (2011) #1 (Zenescope Entertainment Inc) Good

13TH OF NEVER GN (2004) #1 (Amaze Ink) Near Mint/Mint

2048 VOL. 1: A STORY OF AMERICA'S FUTURE HC (2012) #1 (Kingstone) Fine

20TH CENTURY BOYS GN (2009) #5 (Viz Comics) Fine
20TH CENTURY BOYS GN (2009) #6 (Viz Comics) Very Good

30 DAYS OF NIGHT: JUAREZ TPB (2009) #1 (IDW Publishing) Very Good

500 COMIC BOOK VILLAINS TPB (2004) #1 (BARRON'S EDUCATIONAL SERIES, INC.) Good

7 PSYCHOPATHS TPB (2010) #1 (Boom Studios Publishing) Fine
7 PSYCHOPATHS TPB (2010) #1 (Boom Studios Publishing) Good

8-BIT ZOMBIE: THE FULL BYTE TPB (2014) #1 (Antarctic Press) Near Mint/Mint

AMERICAN SPLENDOR ANTHOLOGY TPB (HARVEY PEKAR) (1991) #1 (Four Walls Eight Windows) Near Mint/Mint
AMERICAN SPLENDOR ANTHOLOGY TPB (HARVEY PEKAR) (1991) #1 3RD PRINT (Four Walls Eight Windows) Good

AMERICAN SPLENDOR: LIFE & TIME OF HARVEY PEKAR TPB (2003) #1 (Ballantine Books) Good
AMERICAN SPLENDOR: LIFE & TIME OF HARVEY PEKAR TPB (2003) #1 4TH PRINT (Ballantine Books) Fine


AMERICAN SPLENDOR: OUR MOVIE YEAR GN (2004) #1

AMERICAN SPLENDOR: OUR MOVIE YEAR GN (2004) #1 (Random House) Very Good

BADGER (1983) (#1-70) (CAPITAL/FIRST) (MIKE BARON) #50 (First Comics) Near Mint/Mint
BADGER (1983) (#1-70) (CAPITAL/FIRST) (MIKE BARON) #60 (First Comics) Near Mint/Mint

BOOK OF MR. NATURAL HC (2010) #1 5TH PRINT (Fantagraphics) Near Mint/Mint

BOYS: HEROGASM (2009) #1 (DYNAMITE Entertainment) Very Fine

COMICS COLLECTOR MAGAZINE (1983) #10 (Krause Publications) Good

COMICS FEATURE (MAGAZINE) (1980) #51 (New Media Publishing, Inc.) Good

DUNE: HOUSE ATREIDES (2020) #1 H LEE B&W (Boom Studios Publishing) Near Mint/Mint

EERIE MAGAZINE (1965) (#1-139) (WARREN) #80 (Warren Publishing Company) Good
EERIE MAGAZINE (1965) (#1-139) (WARREN) #88 (Warren Publishing Company) Good

FABULOUS FURRY FREAK BROTHERS COLLECTION SC (1988) #2 (Knockabout) Very Fine

FAMOUS MONSTERS (MAG) #49 (Warren Publishing Company) Fair

FIREFLY (2018) #21 D KHALIDAH (Boom Studios Publishing) Near Mint/Mint

FROM A TO ZIPPY SC (1991) #1 (Penguin Book) Very Fine


HEAVY METAL (1974) (MAGAZINE) #8108

HEAVY METAL (1974) (MAGAZINE) #8108 (Heavy Metal) Very Good

JURASSIC PARK: RAPTOR'S HIJACK (1994) #1 (Topps Publishing) Near Mint/Mint

JUSTICE MACHINE (1987) #1 NEWSSTAND (Comico) Fine

MAGIC THE GATHERING: SHADOW MAGE (1995) #2 (Acclaim/Valiant) Near Mint/Mint
MAGIC THE GATHERING: SHADOW MAGE (1995) #3 (Acclaim/Valiant) Near Mint/Mint
MAGIC THE GATHERING: SHADOW MAGE (1995) #4 (Acclaim/Valiant) Near Mint/Mint

MECHANICS (LOVE & ROCKETS) (1985) #3 (Fantagraphics) Near Mint/Mint

MESSIAH (1997) (#1) (VEROTIK) (ADULT) #1 (Verotik) Near Mint/Mint

MUTANTS GN (BERNI WRIGHTSON) (1980) #1 (Mother Of Pearl) Very Good

POISON ELVES (1995) (1-80) (SIRIUS) #22 (Sirius) Near Mint/Mint
POISON ELVES (1995) (1-80) (SIRIUS) #23 (Sirius) Near Mint/Mint

POKEMON: THE ELECTRIC TALE OF PIKACHU (VOL. 1) #1 (Viz Comics) Fine
POKEMON: THE ELECTRIC TALE OF PIKACHU (VOL. 1) #1 3RD PRINT (Viz Comics) Near Mint/Mint
POKEMON: THE ELECTRIC TALE OF PIKACHU (VOL. 1) #1 3RD PRINT (Viz Comics) Fine

SOMETHING IS KILLING CHILDREN (2019) #11 D DELLEDER (Boom Studios Publishing) Very Fine

TOTAL ECLIPSE (1988) #1 (Eclipse Enterprises) Near Mint/Mint
TOTAL ECLIPSE (1988) #2 (Eclipse Enterprises) Near Mint/Mint

TOTAL ECLIPSE (1988) #3 (Eclipse Enterprises) Near Mint/Mint
TOTAL ECLIPSE (1988) #4 (Eclipse Enterprises) Near Mint/Mint

UNKINDNESS OF RAVENS (2020) #1 D KENNARD (Boom Studios Publishing) Near Mint/Mint

WE ONLY FIND THEM WHEN THEY'RE DEAD (2020) #1 2ND PRINT (Boom Studios Publishing) Near Mint/Mint

ZIPPY ANNUAL #1 (Fantagraphics) Good

ZIPPY STORIES COLLECTION (1984) #1 4TH PRINT (Last Gasp) Fine

ZIPPY: NATION OF PINHEADS SC (1982) #1 (And/or Press) Very Fine
ZIPPY: NATION OF PINHEADS SC (1982) #1 (And/or Press) Very Good

ZIPPY: PINDEMONIUM GN (1986) #1 (Last Gasp) Near Mint/Mint
ZIPPY: PINDEMONIUM GN (1986) #1 (Last Gasp) Good
ZIPPY: PINDEMONIUM GN (1986) #1 (Last Gasp) Very Good