Chuck Loses Out In Pottery Auction
Howdy!
As I have done for nearly two decades, I participated in my monthly online Native American Art auction last night. This very relaxed and informal auction is run by a family from New Mexico that specializes in buying entire estates from bereaved heirs, and then redistributing those items to the latest generation of buyers. Given that the audience for Native American collectibles of all kinds is made up predominately of people who are aged 50+, the turnover of collections is brisk, with a significant number of major estates being liquidated each year.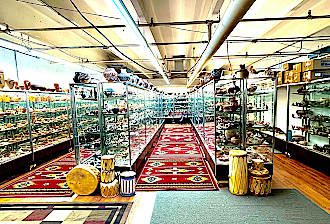 Chuck's Native American Gallery

I mention last night's auction because I see it as a turning point in the secondary market for the Pueblo ceramics that I have avidly collected for 25 years. Simply put, prices for all manner of Pueblo ceramics have skyrocketed during the past year, and seem to be accelerating. I won a couple of items early on in last night's auction, but then (as more bidders joined in) final sale prices began doubling (and even quadrupling) prices that were common benchmarks just six months ago. Through the final 150 items, I was able to justify purchasing only one, and that was a misattributed little bowl for $30.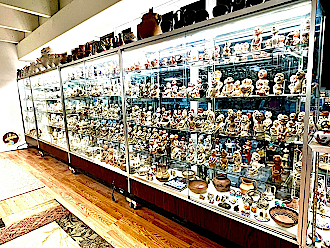 Chuck's Native American Gallery

In analyzing my frustrating outcomes in last night's auction, I realized that are many parallels between the Pueblo pottery and collectible back issue comics markets right now, with the biggest being an influx of new buyer/investors with limited knowledge. I can document this trend through a Pueblo pottery Facebook group to which I joined late last year, that has skyrocketed from just a couple of hundred participants, to over four thousand, in just eight months.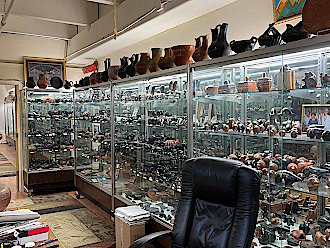 Chuck's Native American Gallery

I watch the daily postings in this newly-formed pottery group very closely, as they have been quite revealing as to the mindset and motivations of the participants. While there are a few galleries and Native artists in the group, the vast majority of the participants are newbies eager to learn more about Pueblo pottery, seemingly with the intent of building their own collections. This may sound normal and innocuous, but a sudden influx of 3,000+ neophyte buyers into a relatively small collecting field definitely rocks the boat. Especially considering that their numbers continue to grow by at least 20+ per week.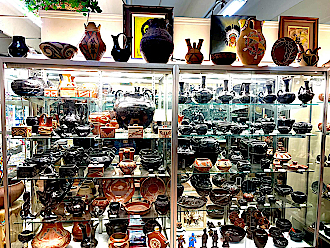 Chuck's Native American Gallery

As regards collectible comics, we are seeing exactly the same trends in our online orders, and via our visitors to our Jason St. Mega-Store. Online, we are being inundated by speculative buying of particular comics titles (and specific issues) that have been designated as "hot" by investment websites. We are (quite literally) having to watch our orders 24 hours a day, as a posting on any one of these dozens of websites can lead to a wave of frantic purchasing on milehighcomics.com. Given all of the deceptive buying practices some people are employing (multiple orders, different names, etc.), it is almost as though it has become a contest to see if you can buy out Mile High Comics before we catch on to whatever are the latest, greatest, trends. Truth.

BLACK WIDOW (2014) (#1-20) (MARVEL) #1

In our Mega-Store, we have also seen accelerated purchasing of not only out-of-print/rare comics and graphic novels, but also of popular culture items of all kinds. Much of this demand is being driven by people who are either entirely new to collecting, or who are rejoining after years (decades) out of the hobby. As with what I am seeing in my pottery collecting, the growth in newbies buying older comics and toys is far out-pacing the number of collectors who are either passing away, or who are voluntarily relinquishing their lifetime accumulations. This is leading directly to an upward surge in list prices, which can be very frustrating to longtime collectors, as I can very well attest.

WONDER WOMAN (1987) (#0-226) (DC) #184

I do want to emphasize that during all of this frenetic change, we are just as much at the mercies and whims of the marketplace as any collector. As the largest holders of old comics in the world, we definitely benefit from the current price appreciation, but only to the extent of selling what we already own. Restocking what we sell has become much more challenging, and with our average labor costs now approaching $20/hour, logistically quite expensive. Simply put, if we did not keep buying (and investing in sorting/grading manpower) every single day, our fate would be to suffer having the same sadly diminished selections as many of our (formerly) esteemed online compatriots, comic book dealers who were sadly unable to adapt to the new world order.
In a nutshell, I have just shared with you why I work so darn hard to keep Mile High Comics thriving, even in a world where profound change seems to be both inevitable, and accelerating. Much as I have been doing with my Pueblo pottery collecting, I no longer turn down buying a comic book collection (or a given rare item), as I simply do not know when the next opportunity might arise. While I refuse to pay totally crazy asking prices, I do have the courage (and intestinal fortitude) to pay more for collections than other dealers, and I do so outright, rather than relying on inventory borrowed from consignors. The risks that I take are with my own working capital, and of that I am very proud.

SIMPSONS ILLUSTRATED (2012) #1

If you want to see the wonderful results of our efforts, take a minute to browse through a few of the titles listed on our immense website. I do so every single day, and I am beyond gratified to witness just how many hundreds of thousands of awesome old comic books that we can offer to you on any given day. Do we have them all? Oh, heck no. But, are we growing (rather than diminishing) our selections, even in the face of a rapidly accelerating market? Yup.

WHAT IF... (1977) (#1-47) (MARVEL) #10

So you know, even as I was losing out to other bidders in my online pottery auction last night, I was diligently sorting through recently-purchased comics at my work station in Jason St. As a result of my efforts last night, I located 300+ more issues that we needed to fill holes in our website inventory. They will appear for you in our Premium New-In-Stock link, no later than Friday. All other considerations aside, that is how we are keeping up with our current robust back issue comics market. We work hard, we play fair, and we never (ever) give up. 'Nuff said.
Two final news notes. First, my longtime friend, Michael Carbonaro, is relaunching his Big Apple conventions in New York City this Saturday. I have found many great deals at Michael's shows in the past, and truly like (and admire) many of his exhibitors. Second, our 40% off SUMMER! codeword remains in effect for you on all of our back issue comics and magazines, excepting only new issues, a very few variants, and our professionally-graded items. As you are probably already well aware, generous codeword sales have been our marketing mainstays for decades. Given current market conditions, however, we are discussing internally about whether our future codeword discounts may need to be scaled back, just a bit, to safeguard our selections.
Happy collecting!
Chuck Rozanski/Bettie Pages,
President - Mile High Comics, Inc.
July 14, 2021
P.S. Here are a few of our new arrivals from earlier this week. We continue to buy even more comics every day!
MARVEL

ALL-NEW GUARDIANS OF THE GALAXY (2017) #1

ALL-NEW GUARDIANS OF THE GALAXY (2017) #1 Fine
ALL-NEW GUARDIANS OF THE GALAXY (2017) #2 Near Mint/Mint
ALL-NEW GUARDIANS OF THE GALAXY (2017) #3 Fine
ALL-NEW GUARDIANS OF THE GALAXY (2017) #6 Fine
ALL-NEW GUARDIANS OF THE GALAXY (2017) #7 Fine
ALL-NEW GUARDIANS OF THE GALAXY (2017) #8 Fine
ALL-NEW GUARDIANS OF THE GALAXY (2017) #9 Fine
ALL-NEW GUARDIANS OF THE GALAXY (2017) #10 Near Mint/Mint
ALL-NEW GUARDIANS OF THE GALAXY (2017) #11 Near Mint/Mint
ALL-NEW GUARDIANS OF THE GALAXY (2017) #12 Near Mint/Mint

ALL-NEW GUARDIANS OF THE GALAXY ANNUAL (2017) #1 MORA Very Fine

ASTONISHING X-MEN (2017) (#1-17) (MARVEL) #14 Fine
ASTONISHING X-MEN (2017) (#1-17) (MARVEL) #15 Fine
ASTONISHING X-MEN (2017) (#1-17) (MARVEL) #16 Very Good
ASTONISHING X-MEN (2017) (#1-17) (MARVEL) #17 Fine

AVENGING SPIDER-MAN (2011) #1 UNBAGGED Fine
AVENGING SPIDER-MAN (2011) #4 Fine
AVENGING SPIDER-MAN (2011) #5 Very Good
AVENGING SPIDER-MAN (2011) #7 Very Good
AVENGING SPIDER-MAN (2011) #8 Fine
AVENGING SPIDER-MAN (2011) #10 Fine
AVENGING SPIDER-MAN (2011) #12 Very Fine
AVENGING SPIDER-MAN (2011) #13 Very Fine
AVENGING SPIDER-MAN (2011) #14 Very Fine
AVENGING SPIDER-MAN (2011) #15 .1 Fine
AVENGING SPIDER-MAN (2011) #20 Fine
AVENGING SPIDER-MAN (2011) #21 Fine
AVENGING SPIDER-MAN (2011) #22 Very Good


BLACK KNIGHT (2015) (#1-5) (MARVEL) #1

BLACK KNIGHT (2015) (#1-5) (MARVEL) #1 Fine
BLACK KNIGHT (2015) (#1-5) (MARVEL) #5 Fine

BLACK WIDOW (2014) (#1-20) (MARVEL) #1 Very Good
BLACK WIDOW (2014) (#1-20) (MARVEL) #2 Fine
BLACK WIDOW (2014) (#1-20) (MARVEL) #3 Fine
BLACK WIDOW (2014) (#1-20) (MARVEL) #4 Fine
BLACK WIDOW (2014) (#1-20) (MARVEL) #5 Fine
BLACK WIDOW (2014) (#1-20) (MARVEL) #6 Fine
BLACK WIDOW (2014) (#1-20) (MARVEL) #7 Fine
BLACK WIDOW (2014) (#1-20) (MARVEL) #9 Fine
BLACK WIDOW (2014) (#1-20) (MARVEL) #10 Fine
BLACK WIDOW (2014) (#1-20) (MARVEL) #11 Fine
BLACK WIDOW (2014) (#1-20) (MARVEL) #12 Fine
BLACK WIDOW (2014) (#1-20) (MARVEL) #13 Fine
BLACK WIDOW (2014) (#1-20) (MARVEL) #14 Fine
BLACK WIDOW (2014) (#1-20) (MARVEL) #15 Fine
BLACK WIDOW (2014) (#1-20) (MARVEL) #16 Fine
BLACK WIDOW (2014) (#1-20) (MARVEL) #17 Fine
BLACK WIDOW (2014) (#1-20) (MARVEL) #18 Fine
BLACK WIDOW (2014) (#1-20) (MARVEL) #19 Fine
BLACK WIDOW (2014) (#1-20) (MARVEL) #20 Fine

BLACK WIDOW (2016) (#1-12) (MARVEL) #1 Fine
BLACK WIDOW (2016) (#1-12) (MARVEL) #2 Fine
BLACK WIDOW (2016) (#1-12) (MARVEL) #3 Fine
BLACK WIDOW (2016) (#1-12) (MARVEL) #8 Fine
BLACK WIDOW (2016) (#1-12) (MARVEL) #9 Very Fine
BLACK WIDOW (2016) (#1-12) (MARVEL) #12 Fine

DAREDEVIL (1964) (#1-380) (MAN WITHOUT FEAR) (MARVEL) #180 Very Good


DAREDEVIL (1964) (#1-380) (MAN WITHOUT FEAR) (MARVEL) #183

DAREDEVIL (1964) (#1-380) (MAN WITHOUT FEAR) (MARVEL) #183 Very Good

DOCTOR STRANGE (1974) (#1-81) (MARVEL) (DR. STRANGE) #52 Fine

FANTASTIC FOUR (2013) (#1-16) (MARVEL) #2 Fine
FANTASTIC FOUR (2013) (#1-16) (MARVEL) #3 Fine
FANTASTIC FOUR (2013) (#1-16) (MARVEL) #9 Near Mint/Mint
FANTASTIC FOUR (2013) (#1-16) (MARVEL) #10 Near Mint/Mint
FANTASTIC FOUR (2013) (#1-16) (MARVEL) #11 Near Mint/Mint
FANTASTIC FOUR (2013) (#1-16) (MARVEL) #14 Near Mint/Mint
FANTASTIC FOUR (2013) (#1-16) (MARVEL) #15 Fine
FANTASTIC FOUR (2013) (#1-16) (MARVEL) #16 Near Mint/Mint

FF (2013) (#1-16) (ALLRED) (MARVEL) #8 Near Mint/Mint
FF (2013) (#1-16) (ALLRED) (MARVEL) #10 Fine
FF (2013) (#1-16) (ALLRED) (MARVEL) #13 Very Fine
FF (2013) (#1-16) (ALLRED) (MARVEL) #15 Near Mint/Mint
FF (2013) (#1-16) (ALLRED) (MARVEL) #16 Very Fine

HULK (2017) (#709-UP) (MARVEL LEGACY)(INCREDIBLE HULK) #710 2ND PRINT Very Fine

INFINITY GAUNTLET (1991) #1 Very Good
INFINITY GAUNTLET (1991) #2 Very Good
INFINITY GAUNTLET (1991) #3 Near Mint/Mint
INFINITY GAUNTLET (1991) #4 Very Fine
INFINITY GAUNTLET (1991) #5 Near Mint/Mint
INFINITY GAUNTLET (1991) #6 Very Fine

MEN IN BLACK (1997) (#1 AMERICAN ENT.) (MARVEL) #1 AM VARIANT Near Mint/Mint


MIDNIGHT SONS UNLIMITED (1993) #4

MIDNIGHT SONS UNLIMITED (1993) #4 Very Fine

MORBIUS (1992) (#1-32) (MARVEL) #8 Near Mint/Mint
MORBIUS (1992) (#1-32) (MARVEL) #12 Near Mint/Mint
MORBIUS (1992) (#1-32) (MARVEL) #16 Very Fine
MORBIUS (1992) (#1-32) (MARVEL) #17 Fine

MYS-TECH WARS (1993) #4 (Marvel United Kingdom Publishings) Near Mint/Mint

NEW THUNDERBOLTS (2004) #3 Fine
NEW THUNDERBOLTS (2004) #4 Fine
NEW THUNDERBOLTS (2004) #5 Fine
NEW THUNDERBOLTS (2004) #6 Fine
NEW THUNDERBOLTS (2004) #7 Fine
NEW THUNDERBOLTS (2004) #8 Fine
NEW THUNDERBOLTS (2004) #10 Fine
NEW THUNDERBOLTS (2004) #12 Fine
NEW THUNDERBOLTS (2004) #13 Fine
NEW THUNDERBOLTS (2004) #15 Fine

PETER PARKER (1976) (#1-263) (SPECTACULAR SPIDER-MAN) #64 Fine

SPIDER-MAN/BATMAN (1995) #1 Good

SPIDER-VERSE (2014) (#1-2) #2 Very Good

SPIDER-VERSE TEAM-UP (2014) #1 Very Good
SPIDER-VERSE TEAM-UP (2014) #2 Very Good
SPIDER-VERSE TEAM-UP (2014) #3 Very Good


THANOS QUEST (1990) (#1-2) (PRESTIGE) #1 NEWSSTAND

THANOS QUEST (1990) (#1-2) (PRESTIGE) #1 NEWSSTAND Very Fine
THANOS QUEST (1990) (#1-2) (PRESTIGE) #2 NEWSSTAND Very Fine

THUNDERBOLTS (1997) (#0-81, #100-174) (MARVEL) #112 Fine

THUNDERSTRIKE (1993) (#1-24) (THOR) #1 Fine
THUNDERSTRIKE (1993) (#1-24) (THOR) #1 Very Good
THUNDERSTRIKE (1993) (#1-24) (THOR) #3 Near Mint/Mint
THUNDERSTRIKE (1993) (#1-24) (THOR) #6 Fine

TOY STORY (2012) #2 Fine

TRUE BELIEVERS: DEADPOOL (2015) #1 2ND PRINT Near Mint/Mint

ULTIMATE CIVIL WAR: SPIDER-HAM CRISIS (2006) #1 Very Good

VENOM: LETHAL PROTECTOR (1993) #4 Near Mint/Mint

VISIONARIES (1988) #1 NEWSSTAND (Marvel Star) Very Fine

WARLOCK (1998) (#1-4) (MARVEL) #1 Near Mint/Mint
WARLOCK (1998) (#1-4) (MARVEL) #4 Near Mint/Mint

WEAPON X (2002) (#1-28) (MARVEL) #3 Near Mint/Mint
WEAPON X (2002) (#1-28) (MARVEL) #4 Near Mint/Mint
WEAPON X (2002) (#1-28) (MARVEL) #7 Near Mint/Mint
WEAPON X (2002) (#1-28) (MARVEL) #8 Near Mint/Mint
WEAPON X (2002) (#1-28) (MARVEL) #11 Very Fine
WEAPON X (2002) (#1-28) (MARVEL) #12 Near Mint/Mint
WEAPON X (2002) (#1-28) (MARVEL) #14 Near Mint/Mint


WEAPON X (2002) (#1-28) (MARVEL) #15

WEAPON X (2002) (#1-28) (MARVEL) #15 Near Mint/Mint
WEAPON X (2002) (#1-28) (MARVEL) #16 Near Mint/Mint
WEAPON X (2002) (#1-28) (MARVEL) #17 Near Mint/Mint
WEAPON X (2002) (#1-28) (MARVEL) #23 Near Mint/Mint
WEAPON X (2002) (#1-28) (MARVEL) #27 Very Fine

WEB OF SPIDER-MAN (1985) (#1-129) (MARVEL) #29 NEWSSTAND Fine
WEB OF SPIDER-MAN (1985) (#1-129) (MARVEL) #31 NEWSSTAND Very Fine
WEB OF SPIDER-MAN (1985) (#1-129) (MARVEL) #32 NEWSSTAND Near Mint/Mint
WEB OF SPIDER-MAN (1985) (#1-129) (MARVEL) #120 Fine
WEB OF SPIDER-MAN (1985) (#1-129) (MARVEL) #126 Fine
WEB OF SPIDER-MAN (1985) (#1-129) (MARVEL) #128 Very Fine
WEB OF SPIDER-MAN (1985) (#1-129) (MARVEL) #129 W/O CARDS Very Fine

WEB OF SPIDER-MAN ANNUAL (1985) #2 NEWSSTAND Very Good
WEB OF SPIDER-MAN ANNUAL (1985) #3 NEWSSTAND Fine

WEB OF SPIDER-MAN SUPER SPECIAL: PLANET OF SYMBIOTES (1995) #1 Very Good

WEREWOLF BY NIGHT (STRANGE TALES) (1998) #1 Very Fine
WEREWOLF BY NIGHT (STRANGE TALES) (1998) #2 VARIANT Very Fine

WHAT IF... (1977) (#1-47) (MARVEL) #1 Good
WHAT IF... (1977) (#1-47) (MARVEL) #3 Good
WHAT IF... (1977) (#1-47) (MARVEL) #5 Fair
WHAT IF... (1977) (#1-47) (MARVEL) #9 Fine
WHAT IF... (1977) (#1-47) (MARVEL) #9 Good
WHAT IF... (1977) (#1-47) (MARVEL) #10 Fine
WHAT IF... (1977) (#1-47) (MARVEL) #10 Good
WHAT IF... (1977) (#1-47) (MARVEL) #16 NEWSSTAND Good


WHAT IF... (1977) (#1-47) (MARVEL) #18 NEWSSTAND

WHAT IF... (1977) (#1-47) (MARVEL) #18 NEWSSTAND Very Good
WHAT IF... (1977) (#1-47) (MARVEL) #20 Very Fine
WHAT IF... (1977) (#1-47) (MARVEL) #22 NEWSSTAND Fine
WHAT IF... (1977) (#1-47) (MARVEL) #25 NEWSSTAND Good
WHAT IF... (1977) (#1-47) (MARVEL) #29 NEWSSTAND Fine
WHAT IF... (1977) (#1-47) (MARVEL) #31 Fine
WHAT IF... (1977) (#1-47) (MARVEL) #32 Fine
WHAT IF... (1977) (#1-47) (MARVEL) #32 Very Fine
WHAT IF... (1977) (#1-47) (MARVEL) #33 Very Good
WHAT IF... (1977) (#1-47) (MARVEL) #37 NEWSSTAND Very Good
WHAT IF... (1977) (#1-47) (MARVEL) #38 NEWSSTAND Good
WHAT IF... (1977) (#1-47) (MARVEL) #39 NEWSSTAND Very Fine
WHAT IF... (1977) (#1-47) (MARVEL) #39 NEWSSTAND Very Good
WHAT IF... (1977) (#1-47) (MARVEL) #40 Very Good
WHAT IF... (1977) (#1-47) (MARVEL) #41 Very Good
WHAT IF... (1977) (#1-47) (MARVEL) #42 Near Mint/Mint
WHAT IF... (1977) (#1-47) (MARVEL) #44 NEWSSTAND Very Fine

WHAT IF... (1989) (#1-114, & 200) (MARVEL) #9 Very Fine
WHAT IF... (1989) (#1-114, & 200) (MARVEL) #23 Fine
WHAT IF... (1989) (#1-114, & 200) (MARVEL) #23 Very Fine
WHAT IF... (1989) (#1-114, & 200) (MARVEL) #35 Very Fine
WHAT IF... (1989) (#1-114, & 200) (MARVEL) #36 Fine
WHAT IF... (1989) (#1-114, & 200) (MARVEL) #37 Very Fine
WHAT IF... (1989) (#1-114, & 200) (MARVEL) #38 Near Mint/Mint
WHAT IF... (1989) (#1-114, & 200) (MARVEL) #39 Near Mint/Mint
WHAT IF... (1989) (#1-114, & 200) (MARVEL) #46 Very Fine
WHAT IF... (1989) (#1-114, & 200) (MARVEL) #47 Fine
WHAT IF... (1989) (#1-114, & 200) (MARVEL) #52 Very Fine
WHAT IF... (1989) (#1-114, & 200) (MARVEL) #74 Near Mint/Mint


WHAT IF... (1989) (#1-114, & 200) (MARVEL) #76

WHAT IF... (1989) (#1-114, & 200) (MARVEL) #76 Fine
WHAT IF... (1989) (#1-114, & 200) (MARVEL) #77 NEWSSTAND Very Good
WHAT IF... (1989) (#1-114, & 200) (MARVEL) #79 Very Fine
WHAT IF... (1989) (#1-114, & 200) (MARVEL) #81 Near Mint/Mint
WHAT IF... (1989) (#1-114, & 200) (MARVEL) #82 Near Mint/Mint
WHAT IF... (1989) (#1-114, & 200) (MARVEL) #84 NEWSSTAND Very Fine
WHAT IF... (1989) (#1-114, & 200) (MARVEL) #85 Fine
WHAT IF... (1989) (#1-114, & 200) (MARVEL) #89 Very Fine
WHAT IF... (1989) (#1-114, & 200) (MARVEL) #90 Very Fine
WHAT IF... (1989) (#1-114, & 200) (MARVEL) #91 Very Fine
WHAT IF... (1989) (#1-114, & 200) (MARVEL) #94 Near Mint/Mint
WHAT IF... (1989) (#1-114, & 200) (MARVEL) #96 Very Fine
WHAT IF... (1989) (#1-114, & 200) (MARVEL) #97 Near Mint/Mint
WHAT IF... (1989) (#1-114, & 200) (MARVEL) #98 Near Mint/Mint
WHAT IF... (1989) (#1-114, & 200) (MARVEL) #100 Near Mint/Mint
WHAT IF... (1989) (#1-114, & 200) (MARVEL) #109 Near Mint/Mint
WHAT IF... (1989) (#1-114, & 200) (MARVEL) #110 Near Mint/Mint
WHAT IF... (1989) (#1-114, & 200) (MARVEL) #113 NEWSSTAND Near Mint/Mint
WHAT IF... (1989) (#1-114, & 200) (MARVEL) #114 Near Mint/Mint

WHAT IF... MINUS (1997) #1 Very Fine

WILLOW (1988) (#1-3) (MARVEL) (MOVIE ADAPTATION) #2 NEWSSTAND Very Fine

WOLVERINE (1988) (#1/2-189) (MARVEL) #145 Near Mint/Mint
WOLVERINE (1988) (#1/2-189) (MARVEL) #147 Near Mint/Mint
WOLVERINE (1988) (#1/2-189) (MARVEL) #166 Near Mint/Mint

WOLVERINE: ORIGINS (2006) #4 QUESADNEWS Good


X-MEN (1963) (#1-113, UNCANNY X-MEN #114-544) (MARVEL) #155

X-MEN (1963) (#1-113, UNCANNY X-MEN #114-544) (MARVEL) #155 Fine

DC
BATMAN (1940) (#0-713) (DC) #608 Good
BATMAN (1940) (#0-713) (DC) #609 Good
BATMAN (1940) (#0-713) (DC) #612 Good
BATMAN (1940) (#0-713) (DC) #613 Good
BATMAN (1940) (#0-713) (DC) #615 Good
BATMAN (1940) (#0-713) (DC) #616 Good

BATMAN LOST (2017) #1 Near Mint/Mint

BATMAN WHO LAUGHS (2017) (#1) (DC DARK NIGHTS) #1 Near Mint/Mint

BATMAN: DROWNED (2017) #1 Near Mint/Mint

BATMAN: MERCILESS (2017) #1 Near Mint/Mint

BATMAN: THE DEVASTATOR (2017) #1 Near Mint/Mint

DARK KNIGHTS RISING: THE WILD HUNT (2017) #1 Near Mint/Mint

DARK NIGHTS: METAL (2017) #1 Near Mint/Mint
DARK NIGHTS: METAL (2017) #1 2ND PRINT Fine
DARK NIGHTS: METAL (2017) #1 DIRECT CUT Near Mint/Mint
DARK NIGHTS: METAL (2017) #3 Near Mint/Mint
DARK NIGHTS: METAL (2017) #4 Near Mint/Mint
DARK NIGHTS: METAL (2017) #5 DANIEL Fine
DARK NIGHTS: METAL (2017) #5 LEE Near Mint/Mint


ELSEWORLD'S FINEST: SUPERGIRL & BATGIRL (1998) #1

ELSEWORLD'S FINEST: SUPERGIRL & BATGIRL (1998) #1 Near Mint/Mint

HEX (1985) #18 Very Good

SUPER FRIENDS (2008) #22 Very Good
SUPER FRIENDS (2008) #23 Very Good
SUPER FRIENDS (2008) #24 Very Good
SUPER FRIENDS (2008) #25 Very Good
SUPER FRIENDS (2008) #26 Very Good
SUPER FRIENDS (2008) #28 Very Good
SUPER FRIENDS (2008) #29 Good

TEEN TITANS (1980) (#1-91) (DC) #1 NEWSSTAND Fine
TEEN TITANS (1980) (#1-91) (DC) #2 NEWSSTAND Fine

TINY TITANS (2008) #10 Very Good
TINY TITANS (2008) #11 Very Good
TINY TITANS (2008) #13 Very Good
TINY TITANS (2008) #16 Very Good
TINY TITANS (2008) #19 Very Good
TINY TITANS (2008) #20 Very Good
TINY TITANS (2008) #25 Very Good
TINY TITANS (2008) #26 Very Good
TINY TITANS (2008) #31 Very Good
TINY TITANS (2008) #32 Very Good
TINY TITANS (2008) #34 Very Good
TINY TITANS (2008) #36 Very Good
TINY TITANS (2008) #39 Very Good
TINY TITANS (2008) #40 Very Good
TINY TITANS (2008) #46 Very Good

TINY TITANS (2008) #47 Very Good
TINY TITANS (2008) #49 Very Good
TINY TITANS (2008) #50 Good

TINY TITANS/LITTLE ARCHIE (2010) #3 Very Good

WONDER WOMAN (1987) (#0-226) (DC) #0 Fine
WONDER WOMAN (1987) (#0-226) (DC) #110 Fine
WONDER WOMAN (1987) (#0-226) (DC) #111 Fine
WONDER WOMAN (1987) (#0-226) (DC) #112 Very Good
WONDER WOMAN (1987) (#0-226) (DC) #117 Fine
WONDER WOMAN (1987) (#0-226) (DC) #118 Fine
WONDER WOMAN (1987) (#0-226) (DC) #119 Fine
WONDER WOMAN (1987) (#0-226) (DC) #120 Fine
WONDER WOMAN (1987) (#0-226) (DC) #121 Fine
WONDER WOMAN (1987) (#0-226) (DC) #122 Fine
WONDER WOMAN (1987) (#0-226) (DC) #123 Very Fine
WONDER WOMAN (1987) (#0-226) (DC) #124 Fine
WONDER WOMAN (1987) (#0-226) (DC) #125 Fine
WONDER WOMAN (1987) (#0-226) (DC) #126 Near Mint/Mint
WONDER WOMAN (1987) (#0-226) (DC) #127 Near Mint/Mint
WONDER WOMAN (1987) (#0-226) (DC) #128 Fine
WONDER WOMAN (1987) (#0-226) (DC) #129 Fine
WONDER WOMAN (1987) (#0-226) (DC) #131 Fine
WONDER WOMAN (1987) (#0-226) (DC) #132 Very Fine
WONDER WOMAN (1987) (#0-226) (DC) #133 Near Mint/Mint
WONDER WOMAN (1987) (#0-226) (DC) #134 Fine
WONDER WOMAN (1987) (#0-226) (DC) #135 Fine
WONDER WOMAN (1987) (#0-226) (DC) #136 Fine
WONDER WOMAN (1987) (#0-226) (DC) #137 Fine


WONDER WOMAN (1987) (#0-226) (DC) #138

WONDER WOMAN (1987) (#0-226) (DC) #138 Fine
WONDER WOMAN (1987) (#0-226) (DC) #139 Very Fine
WONDER WOMAN (1987) (#0-226) (DC) #140 Fine
WONDER WOMAN (1987) (#0-226) (DC) #141 Very Good
WONDER WOMAN (1987) (#0-226) (DC) #142 Fine
WONDER WOMAN (1987) (#0-226) (DC) #143 Very Fine
WONDER WOMAN (1987) (#0-226) (DC) #144 Very Fine
WONDER WOMAN (1987) (#0-226) (DC) #145 Very Fine
WONDER WOMAN (1987) (#0-226) (DC) #146 Very Fine
WONDER WOMAN (1987) (#0-226) (DC) #147 Very Fine
WONDER WOMAN (1987) (#0-226) (DC) #148 Very Fine
WONDER WOMAN (1987) (#0-226) (DC) #149 Fine
WONDER WOMAN (1987) (#0-226) (DC) #150 Fine
WONDER WOMAN (1987) (#0-226) (DC) #150 Near Mint/Mint
WONDER WOMAN (1987) (#0-226) (DC) #151 Fine
WONDER WOMAN (1987) (#0-226) (DC) #151 Near Mint/Mint
WONDER WOMAN (1987) (#0-226) (DC) #152 Very Fine
WONDER WOMAN (1987) (#0-226) (DC) #153 Fine
WONDER WOMAN (1987) (#0-226) (DC) #153 Near Mint/Mint
WONDER WOMAN (1987) (#0-226) (DC) #154 Near Mint/Mint
WONDER WOMAN (1987) (#0-226) (DC) #154 Fine
WONDER WOMAN (1987) (#0-226) (DC) #155 Near Mint/Mint
WONDER WOMAN (1987) (#0-226) (DC) #155 Fine
WONDER WOMAN (1987) (#0-226) (DC) #156 Near Mint/Mint
WONDER WOMAN (1987) (#0-226) (DC) #156 Very Fine
WONDER WOMAN (1987) (#0-226) (DC) #157 Fine
WONDER WOMAN (1987) (#0-226) (DC) #157 Near Mint/Mint
WONDER WOMAN (1987) (#0-226) (DC) #158 Fine
WONDER WOMAN (1987) (#0-226) (DC) #158 Very Fine
WONDER WOMAN (1987) (#0-226) (DC) #159 Very Fine


WONDER WOMAN (1987) (#0-226) (DC) #159

WONDER WOMAN (1987) (#0-226) (DC) #159 Very Good
WONDER WOMAN (1987) (#0-226) (DC) #160 Near Mint/Mint
WONDER WOMAN (1987) (#0-226) (DC) #160 Very Fine
WONDER WOMAN (1987) (#0-226) (DC) #161 Very Good
WONDER WOMAN (1987) (#0-226) (DC) #161 Very Fine
WONDER WOMAN (1987) (#0-226) (DC) #162 Fine
WONDER WOMAN (1987) (#0-226) (DC) #162 Near Mint/Mint
WONDER WOMAN (1987) (#0-226) (DC) #163 Near Mint/Mint
WONDER WOMAN (1987) (#0-226) (DC) #164 Near Mint/Mint
WONDER WOMAN (1987) (#0-226) (DC) #164 Very Fine
WONDER WOMAN (1987) (#0-226) (DC) #165 Near Mint/Mint
WONDER WOMAN (1987) (#0-226) (DC) #165 Very Fine
WONDER WOMAN (1987) (#0-226) (DC) #166 Near Mint/Mint
WONDER WOMAN (1987) (#0-226) (DC) #166 Very Fine
WONDER WOMAN (1987) (#0-226) (DC) #167 Fine
WONDER WOMAN (1987) (#0-226) (DC) #167 Very Fine
WONDER WOMAN (1987) (#0-226) (DC) #168 Near Mint/Mint
WONDER WOMAN (1987) (#0-226) (DC) #168 Fine
WONDER WOMAN (1987) (#0-226) (DC) #169 Near Mint/Mint
WONDER WOMAN (1987) (#0-226) (DC) #169 Very Fine
WONDER WOMAN (1987) (#0-226) (DC) #170 Near Mint/Mint
WONDER WOMAN (1987) (#0-226) (DC) #170 Very Fine
WONDER WOMAN (1987) (#0-226) (DC) #171 Near Mint/Mint
WONDER WOMAN (1987) (#0-226) (DC) #171 Very Fine
WONDER WOMAN (1987) (#0-226) (DC) #172 Near Mint/Mint
WONDER WOMAN (1987) (#0-226) (DC) #172 Very Fine
WONDER WOMAN (1987) (#0-226) (DC) #173 Fine
WONDER WOMAN (1987) (#0-226) (DC) #173 Near Mint/Mint
WONDER WOMAN (1987) (#0-226) (DC) #174 Fine
WONDER WOMAN (1987) (#0-226) (DC) #174 Near Mint/Mint


WONDER WOMAN (1987) (#0-226) (DC) #175

WONDER WOMAN (1987) (#0-226) (DC) #175 Fine
WONDER WOMAN (1987) (#0-226) (DC) #175 Near Mint/Mint
WONDER WOMAN (1987) (#0-226) (DC) #176 Near Mint/Mint
WONDER WOMAN (1987) (#0-226) (DC) #176 Very Fine
WONDER WOMAN (1987) (#0-226) (DC) #177 Fine
WONDER WOMAN (1987) (#0-226) (DC) #177 Near Mint/Mint
WONDER WOMAN (1987) (#0-226) (DC) #178 Near Mint/Mint
WONDER WOMAN (1987) (#0-226) (DC) #178 Fine
WONDER WOMAN (1987) (#0-226) (DC) #179 Near Mint/Mint
WONDER WOMAN (1987) (#0-226) (DC) #180 Near Mint/Mint
WONDER WOMAN (1987) (#0-226) (DC) #180 Fine
WONDER WOMAN (1987) (#0-226) (DC) #181 Fine
WONDER WOMAN (1987) (#0-226) (DC) #181 Near Mint/Mint
WONDER WOMAN (1987) (#0-226) (DC) #182 Near Mint/Mint
WONDER WOMAN (1987) (#0-226) (DC) #182 Very Fine
WONDER WOMAN (1987) (#0-226) (DC) #183 Near Mint/Mint
WONDER WOMAN (1987) (#0-226) (DC) #184 Near Mint/Mint
WONDER WOMAN (1987) (#0-226) (DC) #184 Very Fine
WONDER WOMAN (1987) (#0-226) (DC) #185 Near Mint/Mint
WONDER WOMAN (1987) (#0-226) (DC) #185 Very Fine
WONDER WOMAN (1987) (#0-226) (DC) #186 Near Mint/Mint
WONDER WOMAN (1987) (#0-226) (DC) #186 Very Fine
WONDER WOMAN (1987) (#0-226) (DC) #187 Fine
WONDER WOMAN (1987) (#0-226) (DC) #187 Near Mint/Mint
WONDER WOMAN (1987) (#0-226) (DC) #188 Fine
WONDER WOMAN (1987) (#0-226) (DC) #188 Near Mint/Mint
WONDER WOMAN (1987) (#0-226) (DC) #189 Near Mint/Mint
WONDER WOMAN (1987) (#0-226) (DC) #189 Very Fine
WONDER WOMAN (1987) (#0-226) (DC) #190 Near Mint/Mint
WONDER WOMAN (1987) (#0-226) (DC) #191 Near Mint/Mint


WONDER WOMAN (1987) (#0-226) (DC) #192

WONDER WOMAN (1987) (#0-226) (DC) #192 Near Mint/Mint
WONDER WOMAN (1987) (#0-226) (DC) #192 Fine
WONDER WOMAN (1987) (#0-226) (DC) #193 Fine
WONDER WOMAN (1987) (#0-226) (DC) #193 Near Mint/Mint
WONDER WOMAN (1987) (#0-226) (DC) #194 Fine
WONDER WOMAN (1987) (#0-226) (DC) #195 Near Mint/Mint
WONDER WOMAN (1987) (#0-226) (DC) #196 Near Mint/Mint
WONDER WOMAN (1987) (#0-226) (DC) #197 Near Mint/Mint
WONDER WOMAN (1987) (#0-226) (DC) #198 Near Mint/Mint
WONDER WOMAN (1987) (#0-226) (DC) #199 Near Mint/Mint
WONDER WOMAN (1987) (#0-226) (DC) #200 Very Fine
WONDER WOMAN (1987) (#0-226) (DC) #201 Near Mint/Mint
WONDER WOMAN (1987) (#0-226) (DC) #202 Near Mint/Mint
WONDER WOMAN (1987) (#0-226) (DC) #203 Near Mint/Mint
WONDER WOMAN (1987) (#0-226) (DC) #204 Near Mint/Mint
WONDER WOMAN (1987) (#0-226) (DC) #205 Fine
WONDER WOMAN (1987) (#0-226) (DC) #205 Near Mint/Mint

WONDER WOMAN (2011) (#0-52) (DC NEW52) #1 Fine

WONDER WOMAN 80 PAGE GIANT (2002) #1 Near Mint/Mint

WONDER WOMAN ANNUAL (1988) #6 Fine
WONDER WOMAN ANNUAL (1988) #7 Very Good
WONDER WOMAN ANNUAL (1988) #8 Fine
WONDER WOMAN ANNUAL (1988) #8 Near Mint/Mint

WONDER WOMAN GALLERY (1996) #1 Fine

WONDER WOMAN PLUS (1997) #1 Fine


WONDER WOMAN SECRET FILES (1998) #1

WONDER WOMAN SECRET FILES (1998) #1 Fine
WONDER WOMAN SECRET FILES (1998) #2 Fine
WONDER WOMAN SECRET FILES (1998) #3 Near Mint/Mint

WONDER WOMAN: BLUE AMAZON (2003) #1 Near Mint/Mint

WONDER WOMAN: ONCE & FUTURE STORY (1998) #1 Near Mint/Mint

WONDER WOMAN: OUR WORLDS AT WAR (2001) #1 Fine
WONDER WOMAN: OUR WORLDS AT WAR (2001) #1 Near Mint/Mint

DARK HORSE COMICS
NEXT MEN (1992) #21 Near Mint/Mint

INDEPENDENTS
ALBEDO (1985) #7 (Thoughts and Images) Near Mint/Mint

BART SIMPSON COMICS (2000) #5 (Bongo Comics) Good
BART SIMPSON COMICS (2000) #60 (Bongo Comics) Very Good
BART SIMPSON COMICS (2000) #72 (Bongo Comics) Very Good

BART SIMPSON'S TREEHOUSE OF HORROR (BONGO) (1995) #17 (Bongo Comics) Good
BART SIMPSON'S TREEHOUSE OF HORROR (BONGO) (1995) #23 (Bongo Comics) Fine

GAY COMICS #24 (Kitchen Sink Publishing) Good

GRAMPA SIMPSONS: CHOOSE YOUR OWN ADVENTURE (2015) #1 (Bongo Comics) Fine

HIGHLANDER (2006) #0 PHOTO (DYNAMITE Entertainment) Very Fine
HIGHLANDER (2006) #0 PHOTO (DYNAMITE Entertainment) Fine

LI'L HOMER (2012) #1 (Boom Studios Publishing) Very Good

SIMPSONS COMICS (BONGO) (1993) #163 (Bongo Comics) Very Good
SIMPSONS COMICS (BONGO) (1993) #184 (Bongo Comics) Very Good
SIMPSONS COMICS (BONGO) (1993) #186 (Bongo Comics) Very Good
SIMPSONS COMICS (BONGO) (1993) #187 (Bongo Comics) Very Good
SIMPSONS COMICS (BONGO) (1993) #188 (Bongo Comics) Very Good
SIMPSONS COMICS (BONGO) (1993) #189 (Bongo Comics) Very Good
SIMPSONS COMICS (BONGO) (1993) #190 (Bongo Comics) Very Good
SIMPSONS COMICS (BONGO) (1993) #191 (Bongo Comics) Very Good
SIMPSONS COMICS (BONGO) (1993) #192 (Bongo Comics) Very Good
SIMPSONS COMICS (BONGO) (1993) #193 (Bongo Comics) Very Good
SIMPSONS COMICS (BONGO) (1993) #194 (Bongo Comics) Very Good
SIMPSONS COMICS (BONGO) (1993) #195 (Bongo Comics) Very Good
SIMPSONS COMICS (BONGO) (1993) #196 (Bongo Comics) Very Good
SIMPSONS COMICS (BONGO) (1993) #197 (Bongo Comics) Very Good
SIMPSONS COMICS (BONGO) (1993) #199 (Bongo Comics) Very Good
SIMPSONS COMICS (BONGO) (1993) #200 (Bongo Comics) Good
SIMPSONS COMICS (BONGO) (1993) #201 (Bongo Comics) Very Good
SIMPSONS COMICS (BONGO) (1993) #202 (Bongo Comics) Very Good
SIMPSONS COMICS (BONGO) (1993) #203 (Bongo Comics) Very Good
SIMPSONS COMICS (BONGO) (1993) #204 (Bongo Comics) Very Good
SIMPSONS COMICS (BONGO) (1993) #205 (Bongo Comics) Very Good
SIMPSONS COMICS (BONGO) (1993) #207 (Bongo Comics) Very Good
SIMPSONS COMICS (BONGO) (1993) #209 (Bongo Comics) Very Good
SIMPSONS COMICS (BONGO) (1993) #210 (Bongo Comics) Very Good
SIMPSONS COMICS (BONGO) (1993) #211 (Bongo Comics) Very Good
SIMPSONS COMICS (BONGO) (1993) #212 (Bongo Comics) Very Good


SIMPSONS COMICS (BONGO) (1993) #213

SIMPSONS COMICS (BONGO) (1993) #213 (Bongo Comics) Very Good
SIMPSONS COMICS (BONGO) (1993) #214 (Bongo Comics) Very Good
SIMPSONS COMICS (BONGO) (1993) #215 (Bongo Comics) Very Good
SIMPSONS COMICS (BONGO) (1993) #216 (Bongo Comics) Very Good
SIMPSONS COMICS (BONGO) (1993) #217 (Bongo Comics) Very Good
SIMPSONS COMICS (BONGO) (1993) #218 (Bongo Comics) Very Good
SIMPSONS COMICS (BONGO) (1993) #219 (Bongo Comics) Very Good
SIMPSONS COMICS (BONGO) (1993) #220 (Bongo Comics) Very Good
SIMPSONS COMICS (BONGO) (1993) #221 (Bongo Comics) Very Good
SIMPSONS COMICS (BONGO) (1993) #222 (Bongo Comics) Very Good
SIMPSONS COMICS (BONGO) (1993) #223 (Bongo Comics) Very Good
SIMPSONS COMICS (BONGO) (1993) #224 (Bongo Comics) Very Good
SIMPSONS COMICS (BONGO) (1993) #239 (Bongo Comics) Fine
SIMPSONS COMICS (BONGO) (1993) #240 (Bongo Comics) Fine
SIMPSONS COMICS (BONGO) (1993) #242 (Bongo Comics) Fine
SIMPSONS COMICS (BONGO) (1993) #243 (Bongo Comics) Fine
SIMPSONS COMICS (BONGO) (1993) #244 (Bongo Comics) Fine
SIMPSONS COMICS (BONGO) (1993) #245 (Bongo Comics) Very Fine

SIMPSONS COMICS SUMMER SHINDIG (2007) #5 (Bongo Comics) Good

SIMPSONS ILLUSTRATED (2012) #1 (Bongo Comics) Very Good

SIMPSONS SUPER SPECTACULAR (2005) #12 (Bongo Comics) Good
SIMPSONS SUPER SPECTACULAR (2005) #13 (Bongo Comics) Good

WALL-E (2009) #0 A (Boom Studios Publishing) Fine

WAR OF THE UNDEAD (2006) #1 (IDW Publishing) Near Mint/Mint

WAR OF THE UNDEAD (2006) #3 (IDW Publishing) Near Mint/Mint

WARRIOR (1996) #3 (Ultimate Creations) Very Fine