Chuck Is Buying 50,000 More Comics
Howdy!
A very brief newsletter today, as I need to finish packing, so that I can start off on yet another epic 1,000-mile drive to California. If all goes as planned, in just 72 hours I will be packing up the inventory of an entire California comics store for shipment back to our Jason St. Mega-Store, including well over 50,000 back issue comics.
As you are probably well aware, here at Mile High Comics we already are blessed to possess considerably more than ten million back issue comics. As is inevitable with all inventories that try to cover over 400,000 different variables, however, we have some areas where we need replacements. Especially in light of the recent surge in demand that we have been experiencing for back issue comics of all kinds. While 90% of the comics in this newest purchase will most likely be redundant relative to our existing stock, even a 10% positive utilization rate would help us to offer you 5,000 (!) more options on our website. As far as I am concerned, that added benefit that we can provide to you makes my weekend journey totally worthwhile.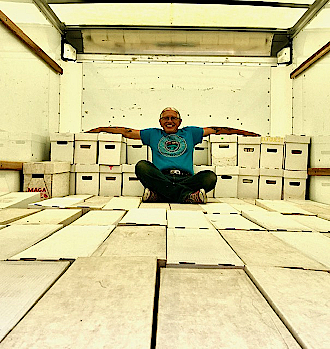 Chuck in the U-Haul with the last 50,000+ book collection he bought

I will close today by mentioning that our buyers, Will Moulton and Pam Brandle, have added hundreds of choice back issue comics and rare magazines into our online inventory for you this week from collections that they purchased through the Mega-Store. Hundreds of those newly-purchased treasures are listed for you at the end of this newsletter. Even better, all of our new arrivals are available to you at a full 40% off when you utilize our new JANUARY! codeword. Only new issues, a few variants, and our professionally-graded items are exempt from our 40% off JANUARY! savings.
Happy collecting!
Chuck Rozanski/Bettie Pages,
President - Mile High Comics, Inc.
January 15, 2021
P.S. Below are some of yesterday's new arrivals. Please note that on most of these issues that we have but a single copy in stock. Order right away if you see an issue that you would like to add to your collection, as some titles sell out within hours of being listed. 'Nuff said.
MARVEL

ACTION FORCE (GI JOE) (UK MAG) (1986) #1

ACTION FORCE (GI JOE) (UK MAG) (1986) #1 (Marvel United Kingdom Publishings) Fine
ACTION FORCE (GI JOE) (UK MAG) (1986) #2 (Marvel United Kingdom Publishings) Fine
ACTION FORCE (GI JOE) (UK MAG) (1986) #3 (Marvel United Kingdom Publishings) Fine
ACTION FORCE (GI JOE) (UK MAG) (1986) #4 (Marvel United Kingdom Publishings) Fine
ACTION FORCE (GI JOE) (UK MAG) (1986) #5 (Marvel United Kingdom Publishings) Very Fine
ACTION FORCE (GI JOE) (UK MAG) (1986) #15 (Marvel United Kingdom Publishings) Very Fine
ACTION FORCE (GI JOE) (UK MAG) (1986) #21 (Marvel United Kingdom Publishings) Fine
ACTION FORCE (GI JOE) (UK MAG) (1986) #21 (Marvel United Kingdom Publishings) Good
ACTION FORCE (GI JOE) (UK MAG) (1986) #21 (Marvel United Kingdom Publishings) Very Good

ACTION FORCE (GI JOE) HOLIDAY SPECIAL (1987) #1 (Marvel United Kingdom Publishings) Fine

AGENTS OF ATLAS (2019) (#1-5) (MARVEL) #1 Fine

AVENGERS (1963) (#1-402) (MARVEL) #391 NEWS W/O Good

AVENGERS (2018) (#1-UP) (MARVEL) #7 Fine
AVENGERS (2018) (#1-UP) (MARVEL) #8 Fine
AVENGERS (2018) (#1-UP) (MARVEL) #10 Fine
AVENGERS (2018) (#1-UP) (MARVEL) #26 Fine
AVENGERS (2018) (#1-UP) (MARVEL) #28 Fine
AVENGERS (2018) (#1-UP) (MARVEL) #29 Fine
AVENGERS (2018) (#1-UP) (MARVEL) #30 Very Fine


AVENGERS: NO ROAD HOME (2019) #1

AVENGERS: NO ROAD HOME (2019) #1 Fine
AVENGERS: NO ROAD HOME (2019) #10 Fine

CAPTAIN AMERICA (2013) (#1-25) (MARVEL) #25 Fine

CAPTAIN AMERICA: STEVE ROGERS (2016) #1 Fine

CAPTAIN BRITAIN (1976) #4 Very Fine
CAPTAIN BRITAIN (1976) #6 Fine

CAPTAIN MARVEL (2002) (#1-25) (MARVEL) #16 Near Mint/Mint
CAPTAIN MARVEL (2002) (#1-25) (MARVEL) #17 Near Mint/Mint

CASPER AND FRIENDS MAGAZINE (1997) #1 Good

CIVIL WAR (2006) (#1-7) #1 Very Good
CIVIL WAR (2006) (#1-7) #2 Very Good
CIVIL WAR (2006) (#1-7) #5 Fine
CIVIL WAR (2006) (#1-7) #6 Very Fine
CIVIL WAR (2006) (#1-7) #7 Fine

CIVIL WAR II (2016) #2 Very Fine

CIVIL WAR II (2016) #3 Fine
CIVIL WAR II (2016) #4 Very Fine

DOC SAVAGE (MAGAZINE) (1975) #1 Good
DOC SAVAGE (MAGAZINE) (1975) #2 Good

DRACULA LIVES! (MAGAZINE) (1973) #4 Very Good
DRACULA LIVES! (MAGAZINE) (1973) #5 Fine
DRACULA LIVES! (MAGAZINE) (1973) #7 Very Good
DRACULA LIVES! (MAGAZINE) (1973) #10 Fine

HOWARD THE DUCK (1979) (#1-9) (MAGAZINE) #3 Fine

HULK! MAGAZINE(RAMPAGING HULK #1-9) (1977) #23 Near Mint/Mint
HULK! MAGAZINE(RAMPAGING HULK #1-9) (1977) #24 Very Fine
HULK! MAGAZINE(RAMPAGING HULK #1-9) (1977) #25 Near Mint/Mint
HULK! MAGAZINE(RAMPAGING HULK #1-9) (1977) #27 Very Fine

INCREDIBLE HULK POSTER MAGAZINE #1 Very Good

MARVEL MONTHLY CATALOG #6 JANUARY Near Mint/Mint

MARVEL SUPER SPECIAL (1977) #10 Near Mint/Mint


MARVEL SUPER SPECIAL (1977) #10

MARVEL SUPER SPECIAL (1977) #10 Very Fine
MARVEL SUPER SPECIAL (1977) #16 Very Good
MARVEL SUPER SPECIAL (1977) #27 Good
MARVEL SUPER SPECIAL (1977) #27 Fine
MARVEL SUPER SPECIAL (1977) #27 Very Good
MARVEL SUPER SPECIAL (1977) #27 Very Fine
MARVEL SUPER SPECIAL (1977) #30 Very Fine
MARVEL SUPER SPECIAL (1977) #36 Very Fine

MARVEL UNIVERSE VS. PUNISHER (2010) #3 Near Mint/Mint
MARVEL UNIVERSE VS. PUNISHER (2010) #4 Near Mint/Mint

MEGA MARVEL (MAG) (1995) #9507 Good

MELTDOWN (MAG) (1991) #1 W/O INSERT Very Fine
MELTDOWN (MAG) (1991) #1 W/O INSERT Fine

MIRACLEMAN (2014) (#1-16) (MARVEL) #1 Near Mint/Mint
MIRACLEMAN (2014) (#1-16) (MARVEL) #3 Near Mint/Mint

MONSTERS UNLEASHED (1973) (#1-11) (MARVEL MAGAZINE) #6 Good

SAVAGE SWORD OF CONAN (MAGAZINE) (1974) #163 Near Mint/Mint
SAVAGE SWORD OF CONAN (MAGAZINE) (1974) #163 Very Fine


SAVAGE TALES (1971) (#1-13) (MARVEL/CURTIS) (CONAN) #7

SAVAGE TALES (1971) (#1-13) (MARVEL/CURTIS) (CONAN) #7 Good
SAVAGE TALES (1971) (#1-13) (MARVEL/CURTIS) (CONAN) #10 Good

SPIDER-MAN (1963) (AMAZING SPIDER-MAN) (#1-441) #152 JEWELERS Very Good
SPIDER-MAN (1963) (AMAZING SPIDER-MAN) (#1-441) #153 Good
SPIDER-MAN (1963) (AMAZING SPIDER-MAN) (#1-441) #154 Fine
SPIDER-MAN (1963) (AMAZING SPIDER-MAN) (#1-441) #155 Very Fine
SPIDER-MAN (1963) (AMAZING SPIDER-MAN) (#1-441) #156 Very Good
SPIDER-MAN (1963) (AMAZING SPIDER-MAN) (#1-441) #157 Very Good
SPIDER-MAN (1963) (AMAZING SPIDER-MAN) (#1-441) #158 Very Good
SPIDER-MAN (1963) (AMAZING SPIDER-MAN) (#1-441) #159 Fine
SPIDER-MAN (1963) (AMAZING SPIDER-MAN) (#1-441) #160 Good
SPIDER-MAN (1963) (AMAZING SPIDER-MAN) (#1-441) #161 Good
SPIDER-MAN (1963) (AMAZING SPIDER-MAN) (#1-441) #162 Fine
SPIDER-MAN (1963) (AMAZING SPIDER-MAN) (#1-441) #163 Good
SPIDER-MAN (1963) (AMAZING SPIDER-MAN) (#1-441) #164 Very Good
SPIDER-MAN (1963) (AMAZING SPIDER-MAN) (#1-441) #165 Very Good
SPIDER-MAN (1963) (AMAZING SPIDER-MAN) (#1-441) #166 Good
SPIDER-MAN (1963) (AMAZING SPIDER-MAN) (#1-441) #168 Good
SPIDER-MAN (1963) (AMAZING SPIDER-MAN) (#1-441) #170 Fine
SPIDER-MAN (1963) (AMAZING SPIDER-MAN) (#1-441) #172 Good
SPIDER-MAN (1963) (AMAZING SPIDER-MAN) (#1-441) #174 Very Fine
SPIDER-MAN (1963) (AMAZING SPIDER-MAN) (#1-441) #175 Fine
SPIDER-MAN (1963) (AMAZING SPIDER-MAN) (#1-441) #177 Very Good


SPIDER-MAN (1963) (AMAZING SPIDER-MAN) (#1-441) #178

SPIDER-MAN (1963) (AMAZING SPIDER-MAN) (#1-441) #178 Good
SPIDER-MAN (1963) (AMAZING SPIDER-MAN) (#1-441) #179 Fine
SPIDER-MAN (1963) (AMAZING SPIDER-MAN) (#1-441) #180 Fine
SPIDER-MAN (1963) (AMAZING SPIDER-MAN) (#1-441) #181 Very Good
SPIDER-MAN (1963) (AMAZING SPIDER-MAN) (#1-441) #182 Very Good
SPIDER-MAN (1963) (AMAZING SPIDER-MAN) (#1-441) #183 Very Good
SPIDER-MAN (1963) (AMAZING SPIDER-MAN) (#1-441) #184 Good
SPIDER-MAN (1963) (AMAZING SPIDER-MAN) (#1-441) #185 Very Good
SPIDER-MAN (1963) (AMAZING SPIDER-MAN) (#1-441) #186 Good
SPIDER-MAN (1963) (AMAZING SPIDER-MAN) (#1-441) #187 Very Good
SPIDER-MAN (1963) (AMAZING SPIDER-MAN) (#1-441) #190 Very Good
SPIDER-MAN (1963) (AMAZING SPIDER-MAN) (#1-441) #191 Very Good
SPIDER-MAN (1963) (AMAZING SPIDER-MAN) (#1-441) #195 NEWSSTAND Very Good

SPIDER-MAN ANNUAL (1964) (#1-28) (MARVEL) #5 Good
SPIDER-MAN ANNUAL (1964) (#1-28) (MARVEL) #6 Very Good
SPIDER-MAN ANNUAL (1964) (#1-28) (MARVEL) #8 Fine
SPIDER-MAN ANNUAL (1964) (#1-28) (MARVEL) #10 Good
SPIDER-MAN ANNUAL (1964) (#1-28) (MARVEL) #11 Very Good
SPIDER-MAN ANNUAL (1964) (#1-28) (MARVEL) #12 Very Good
SPIDER-MAN ANNUAL (1964) (#1-28) (MARVEL) #13 Fine

STAR WARS (1977) (#1-107) (MARVEL) #39 Near Mint/Mint
STAR WARS (1977) (#1-107) (MARVEL) #40 Near Mint/Mint


STAR WARS (1977) (#1-107) (MARVEL) #61

STAR WARS (1977) (#1-107) (MARVEL) #61 Near Mint/Mint

X-MEN (1963) (#1-113, UNCANNY X-MEN #114-544) (MARVEL) #153 Fine
X-MEN (1963) (#1-113, UNCANNY X-MEN #114-544) (MARVEL) #155 Fine
X-MEN (1963) (#1-113, UNCANNY X-MEN #114-544) (MARVEL) #156 Fine
X-MEN (1963) (#1-113, UNCANNY X-MEN #114-544) (MARVEL) #158 Fine
X-MEN (1963) (#1-113, UNCANNY X-MEN #114-544) (MARVEL) #159 Fine
X-MEN (1963) (#1-113, UNCANNY X-MEN #114-544) (MARVEL) #161 Fine
X-MEN (1963) (#1-113, UNCANNY X-MEN #114-544) (MARVEL) #162 Very Fine
X-MEN (1963) (#1-113, UNCANNY X-MEN #114-544) (MARVEL) #163 Very Fine
X-MEN (1963) (#1-113, UNCANNY X-MEN #114-544) (MARVEL) #164 Very Fine
X-MEN (1963) (#1-113, UNCANNY X-MEN #114-544) (MARVEL) #165 Near Mint/Mint
X-MEN (1963) (#1-113, UNCANNY X-MEN #114-544) (MARVEL) #166 Near Mint/Mint
X-MEN (1963) (#1-113, UNCANNY X-MEN #114-544) (MARVEL) #167 Fine
X-MEN (1963) (#1-113, UNCANNY X-MEN #114-544) (MARVEL) #168 Fine
X-MEN (1963) (#1-113, UNCANNY X-MEN #114-544) (MARVEL) #169 Fine
X-MEN (1963) (#1-113, UNCANNY X-MEN #114-544) (MARVEL) #170 Very Fine
X-MEN (1963) (#1-113, UNCANNY X-MEN #114-544) (MARVEL) #171 Very Fine
X-MEN (1963) (#1-113, UNCANNY X-MEN #114-544) (MARVEL) #172 Near Mint/Mint
X-MEN (1963) (#1-113, UNCANNY X-MEN #114-544) (MARVEL) #174 Near Mint/Mint
X-MEN (1963) (#1-113, UNCANNY X-MEN #114-544) (MARVEL) #175 Near Mint/Mint
X-MEN (1963) (#1-113, UNCANNY X-MEN #114-544) (MARVEL) #177 Near Mint/Mint
X-MEN (1963) (#1-113, UNCANNY X-MEN #114-544) (MARVEL) #178 Very Fine


X-MEN (1963) (#1-113, UNCANNY X-MEN #114-544) (MARVEL) #181

X-MEN (1963) (#1-113, UNCANNY X-MEN #114-544) (MARVEL) #181 Near Mint/Mint
X-MEN (1963) (#1-113, UNCANNY X-MEN #114-544) (MARVEL) #183 Near Mint/Mint
X-MEN (1963) (#1-113, UNCANNY X-MEN #114-544) (MARVEL) #185 Near Mint/Mint
X-MEN (1963) (#1-113, UNCANNY X-MEN #114-544) (MARVEL) #187 Near Mint/Mint
X-MEN (1963) (#1-113, UNCANNY X-MEN #114-544) (MARVEL) #191 Near Mint/Mint
X-MEN (1963) (#1-113, UNCANNY X-MEN #114-544) (MARVEL) #193 Near Mint/Mint
X-MEN (1963) (#1-113, UNCANNY X-MEN #114-544) (MARVEL) #194 Near Mint/Mint
X-MEN (1963) (#1-113, UNCANNY X-MEN #114-544) (MARVEL) #195 Near Mint/Mint
X-MEN (1963) (#1-113, UNCANNY X-MEN #114-544) (MARVEL) #197 Near Mint/Mint
X-MEN (1963) (#1-113, UNCANNY X-MEN #114-544) (MARVEL) #198 Near Mint/Mint
X-MEN (1963) (#1-113, UNCANNY X-MEN #114-544) (MARVEL) #199 Very Fine
X-MEN (1963) (#1-113, UNCANNY X-MEN #114-544) (MARVEL) #200 Near Mint/Mint
X-MEN (1963) (#1-113, UNCANNY X-MEN #114-544) (MARVEL) #203 Near Mint/Mint
X-MEN (1963) (#1-113, UNCANNY X-MEN #114-544) (MARVEL) #205 Near Mint/Mint
X-MEN (1963) (#1-113, UNCANNY X-MEN #114-544) (MARVEL) #206 Near Mint/Mint
X-MEN (1963) (#1-113, UNCANNY X-MEN #114-544) (MARVEL) #207 Near Mint/Mint
X-MEN (1963) (#1-113, UNCANNY X-MEN #114-544) (MARVEL) #208 Near Mint/Mint
X-MEN (1963) (#1-113, UNCANNY X-MEN #114-544) (MARVEL) #209 Near Mint/Mint
X-MEN (1963) (#1-113, UNCANNY X-MEN #114-544) (MARVEL) #214 Near Mint/Mint
X-MEN (1963) (#1-113, UNCANNY X-MEN #114-544) (MARVEL) #218 Very Fine
X-MEN (1963) (#1-113, UNCANNY X-MEN #114-544) (MARVEL) #227 Near Mint/Mint
X-MEN (1963) (#1-113, UNCANNY X-MEN #114-544) (MARVEL) #229 Near Mint/Mint
X-MEN (1963) (#1-113, UNCANNY X-MEN #114-544) (MARVEL) #232 Very Fine
X-MEN (1963) (#1-113, UNCANNY X-MEN #114-544) (MARVEL) #233 NEWSSTAND Very Fine


X-MEN (1963) (#1-113, UNCANNY X-MEN #114-544) (MARVEL) #234

X-MEN (1963) (#1-113, UNCANNY X-MEN #114-544) (MARVEL) #234 Near Mint/Mint
X-MEN (1963) (#1-113, UNCANNY X-MEN #114-544) (MARVEL) #236 Near Mint/Mint
X-MEN (1963) (#1-113, UNCANNY X-MEN #114-544) (MARVEL) #237 Fine
X-MEN (1963) (#1-113, UNCANNY X-MEN #114-544) (MARVEL) #238 Near Mint/Mint
X-MEN (1963) (#1-113, UNCANNY X-MEN #114-544) (MARVEL) #239 Near Mint/Mint
X-MEN (1963) (#1-113, UNCANNY X-MEN #114-544) (MARVEL) #240 Near Mint/Mint
X-MEN (1963) (#1-113, UNCANNY X-MEN #114-544) (MARVEL) #241 Near Mint/Mint
X-MEN (1963) (#1-113, UNCANNY X-MEN #114-544) (MARVEL) #242 Near Mint/Mint
X-MEN (1963) (#1-113, UNCANNY X-MEN #114-544) (MARVEL) #243 Near Mint/Mint
X-MEN (1963) (#1-113, UNCANNY X-MEN #114-544) (MARVEL) #244 Near Mint/Mint
X-MEN (1963) (#1-113, UNCANNY X-MEN #114-544) (MARVEL) #245 NEWSSTAND Near Mint/Mint
X-MEN (1963) (#1-113, UNCANNY X-MEN #114-544) (MARVEL) #246 Near Mint/Mint
X-MEN (1963) (#1-113, UNCANNY X-MEN #114-544) (MARVEL) #248 Near Mint/Mint

X-MEN ANNUAL (1970) #3 NEWSSTAND Very Fine
X-MEN ANNUAL (1970) #3 Very Fine
X-MEN ANNUAL (1970) #4 Near Mint/Mint
X-MEN ANNUAL (1970) #5 Fine
X-MEN ANNUAL (1970) #6 Near Mint/Mint
X-MEN ANNUAL (1970) #9 Near Mint/Mint

X-MEN POSTER MAGAZINE #2 Very Good

DC
21 DOWN (2002) #2 (DC/Wildstorm) Near Mint/Mint
21 DOWN (2002) #3 (DC/Wildstorm) Near Mint/Mint
21 DOWN (2002) #4 (DC/Wildstorm) Near Mint/Mint
21 DOWN (2002) #5 (DC/Wildstorm) Near Mint/Mint
21 DOWN (2002) #6 (DC/Wildstorm) Near Mint/Mint
21 DOWN (2002) #7 (DC/Wildstorm) Near Mint/Mint
21 DOWN (2002) #8 (DC/Wildstorm) Near Mint/Mint
21 DOWN (2002) #9 (DC/Wildstorm) Near Mint/Mint
21 DOWN (2002) #10 (DC/Wildstorm) Near Mint/Mint
21 DOWN (2002) #11 (DC/Wildstorm) Near Mint/Mint
21 DOWN (2002) #12 (DC/Wildstorm) Near Mint/Mint

AUTHORITY (DC WILDSTORM) (WORLD'S END) (2008) #1 (DC/Wildstorm) Near Mint/Mint

BATMAN: DAMNED (2018) #1 VARIANT Very Good

BATMAN: THE DARK KNIGHT (2011) (#0-29) (DC NEW52) #1 2ND PRINT Very Good
BATMAN: THE DARK KNIGHT (2011) (#0-29) (DC NEW52) #3 Fine

BLUE BEETLE (2006) (#1-36) (DC) #1 Fine

DC RELEASES PREVIEW MAGAZINE (1984) #1 Fine

DARK HORSE COMICS

RASCALS IN PARADISE MAGAZINE (1994) #3

RASCALS IN PARADISE MAGAZINE (1994) #3 Very Fine

STAR WARS UK EDITION MAGAZINE (1992) #1 2X SIGNED Fine
STAR WARS UK EDITION MAGAZINE (1992) #1 Very Good
STAR WARS UK EDITION MAGAZINE (1992) #1 Very Fine
STAR WARS UK EDITION MAGAZINE (1992) #2 Fine
STAR WARS UK EDITION MAGAZINE (1992) #2 Very Fine

IMAGE COMICS
STORMWATCH (1993) (#0-50) (IMAGE) #35 Near Mint/Mint
STORMWATCH (1993) (#0-50) (IMAGE) #37 Near Mint/Mint
STORMWATCH (1993) (#0-50) (IMAGE) #44 VARIANT B Near Mint/Mint
STORMWATCH (1993) (#0-50) (IMAGE) #48 NEWSSTAND Near Mint/Mint
STORMWATCH (1993) (#0-50) (IMAGE) #50 Near Mint/Mint

VOODOO (1997) (#1-4) (IMAGE) #1 Near Mint/Mint
VOODOO (1997) (#1-4) (IMAGE) #3 Near Mint/Mint

VOODOO/ZEALOT: SKIN TRADE #1 Near Mint/Mint

INDEPENDENTS
ALTER EGO MAGAZINE (TWOMORROWS) (1999) #37 (Twomorrows Publishing) Very Fine


FATTY ARBUCKLE & HIS FUNNY FRIENDS (2004) #1

FATTY ARBUCKLE & HIS FUNNY FRIENDS (2004) #1 (Fantagraphics) Very Fine

FRANTIC MAGAZINE (VOL. 2) (1959) #2 (PIERCE PUBLISHING CORPORATION) Very Good

G-FAN #24 (Daikaiju Enterprises) Fine
G-FAN #28 (Daikaiju Enterprises) Very Good
G-FAN #29 (Daikaiju Enterprises) Very Fine
G-FAN #31 (Daikaiju Enterprises) Very Good
G-FAN #32 (Daikaiju Enterprises) Very Good
G-FAN #35 (Daikaiju Enterprises) Fine
G-FAN #36 (Daikaiju Enterprises) Very Good
G-FAN #37 (Daikaiju Enterprises) Very Good
G-FAN #38 (Daikaiju Enterprises) Very Good

HEAVY METAL (1974) (MAGAZINE) #9701 (Heavy Metal) Near Mint/Mint
HEAVY METAL (1974) (MAGAZINE) #9703 (Heavy Metal) Near Mint/Mint
HEAVY METAL (1974) (MAGAZINE) #9705 (Heavy Metal) Near Mint/Mint

HEAVY METAL HORROR SPECIAL (1997) #1 (Magazine) Very Fine

HISTORY OF THE COMICS MAGAZINE (VOL. 2)(ROBIN SNYDER'S) (1991) #7 (Robin Snyder) Fine
HISTORY OF THE COMICS MAGAZINE (VOL. 2)(ROBIN SNYDER'S) (1991) #7 (Robin Snyder) Very Good

INTERIORAE (2005) #1 (Fantagraphics) Very Fine


JONNY QUEST (1986) (#1-31) (COMICO) #1

JONNY QUEST (1986) (#1-31) (COMICO) #1 (Comico) Near Mint/Mint

KAIJU-FAN MAGAZINE (1996) #4 (Daikaiju Enterprises) Very Fine

LIFE WITH ARCHIE (1958) #115 (Archie Comics) Very Good

LUCASFILM FAN CLUB MAGAZINE (1987) #14 (LUCASFILM LTD) Fine
LUCASFILM FAN CLUB MAGAZINE (1987) #14 (LUCASFILM LTD) Very Fine
LUCASFILM FAN CLUB MAGAZINE (1987) #14 (LUCASFILM LTD) Very Good

MILK COVER COLLECTOR MAGAZINE (1993) #1 (AC Comics) Fine
MILK COVER COLLECTOR MAGAZINE (1993) #1 (AC Comics) Very Good

MISSOULA COMIX MAGAZINE (1978) #1 (RECYCLED REALITY STUDIOS) Very Good

MONSTER WORLD MAGAZINE (1964) #3 (Warren Publishing Company) Good

NATIONAL LAMPOON (MAGAZINE) #8610 (National Lampoon) Very Good
NATIONAL LAMPOON (MAGAZINE) #8611 (National Lampoon) Good
NATIONAL LAMPOON (MAGAZINE) #8702 (National Lampoon) Very Good
NATIONAL LAMPOON (MAGAZINE) #8704 (National Lampoon) Very Good

RAIDERS OF THE LOST ARK COLLECTOR'S ALBUM (1981) #1 (George Fenmore Associates, Inc) Very Fine

ROG 2000 MAGAZINE (1982) #1 (Pacific Comics) Near Mint/Mint

ROG 2000 MAGAZINE (1982) #1 (Pacific Comics) Fine
ROG 2000 MAGAZINE (1982) #1 2ND PRINT (Pacific Comics) Very Fine
ROG 2000 MAGAZINE (1982) #1 2ND PRINT (Pacific Comics) Fine
ROG 2000 MAGAZINE (1982) #1 2ND PRINT (Pacific Comics) Good
ROG 2000 MAGAZINE (1982) #1 (Pacific Comics) Very Fine

SIMPSONS CLASSICS (2004) #4 (Bongo Comics) Near Mint/Mint

STAR WARS GALAXY COLLECTOR MAGAZINE (TOPPS PUBLISHING) (1998) #1 UNBAGGED (Topps Publishing) Very Fine
STAR WARS GALAXY COLLECTOR MAGAZINE (TOPPS PUBLISHING) (1998) #5 UNBAGGED (Topps Publishing) Fine
STAR WARS GALAXY MAGAZINE (TOPPS PUBLISHING) (1994) #9 (Topps Publishing) Near Mint/Mint
STAR WARS GALAXY MAGAZINE (TOPPS PUBLISHING) (1994) #9 UNBAGGED (Topps Publishing) Fine
STAR WARS GALAXY MAGAZINE (TOPPS PUBLISHING) (1994) #10 (Topps Publishing) Near Mint/Mint
STAR WARS GALAXY MAGAZINE (TOPPS PUBLISHING) (1994) #10 (Topps Publishing) Fine

STAR WARS INSIDER MAGAZINE (#23-UP) (TITAN) (1994) #30 (Titan Distributing) Fair
STAR WARS INSIDER MAGAZINE (#23-UP) (TITAN) (1994) #31 (Titan Distributing) Very Fine
STAR WARS INSIDER MAGAZINE (#23-UP) (TITAN) (1994) #39 (Titan Distributing) Fine
STAR WARS INSIDER MAGAZINE (#23-UP) (TITAN) (1994) #66 (Titan Distributing) Very Fine

STAR WARS OFFICIAL 20TH ANNIVERSARY POSTER MAGAZINE #1 HEROES (Topps Publishing) Near Mint/Mint
STAR WARS OFFICIAL 20TH ANNIVERSARY POSTER MAGAZINE #1 HEROES (Topps Publishing) Fine

STARLOG (MAGAZINE) #325 (Starlog) Fine

STARLOG PHOTO GUIDEBOOK: SCIENCE FICTION VILLAINS (1980) #1 (Starlog) Fine


TALES FROM THE PLAGUE MAGAZINE (1986) #1

TALES FROM THE PLAGUE MAGAZINE (1986) #1 (Eclipse Enterprises) Fine
TALES FROM THE PLAGUE MAGAZINE (1986) #1 (Eclipse Enterprises) Very Fine

ULTRA-FAN (MAG) (1996) #3 (Daikaiju Enterprises) Fine

VAMPIRELLA (MAGAZINE) (1969) #91 (Warren Publishing Company) Good
VAMPIRELLA (MAGAZINE) (1969) #92 (Warren Publishing Company) Good
VAMPIRELLA (MAGAZINE) (1969) #93 (Warren Publishing Company) Good
VAMPIRELLA (MAGAZINE) (1969) #94 (Warren Publishing Company) Good
VAMPIRELLA (MAGAZINE) (1969) #95 (Warren Publishing Company) Good
VAMPIRELLA (MAGAZINE) (1969) #96 (Warren Publishing Company) Good
VAMPIRELLA (MAGAZINE) (1969) #99 (Warren Publishing Company) Good
VAMPIRELLA (MAGAZINE) (1969) #100 (Warren Publishing Company) Good

WHITE DWARF (MAG) #367 (Games Workshop) Very Fine

WITCHES TALES (VOL. 7) MAGAZINE (1975) #1 (Eerie Publishing) Good

WITZEND MAGAZINE (1966) #7 (William E. Pearson) Very Fine