Chuck's Granddaughter Recovering From COVID
Howdy!
I need to begin today by thanking everyone who sent me prayers and best wishes for the speedy recovery of my 1 year-old granddaughter, Felicity, from her COVID infection. Your kindness and caring was truly appreciated. Felicity is still running a fever of 99+, but that is two degrees better than on Friday, when she was above 101, beyond miserable, and (apparently) also suffering from extreme body aches. I dropped off a few needed supplies for her family on Saturday afternoon, and she was well enough by then to wave to me from their front stoop. Nanette and I have our fingers crossed that her recovery continues, without any further misery.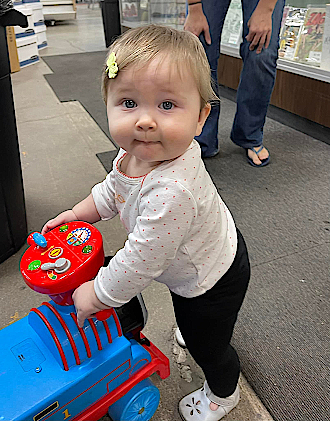 Felicity Luciana Rozanski-Palmer

Speaking of my beloved wife, Nanette, she is my #1 reason for exercising such extreme caution during this pandemic. Her near-fatal C-diff intestinal illness of three years ago has never fully gone away, so she remains dreadfully immune-compromised. In addition, she has had lung ailments ever since she was a small child, which now leave her particularly at risk from COVID. In a nutshell, that is why none of us in our family want to bring even this ostensibly "mild" variant home, as the consequences for Nanette could be beyond catastrophic. 'Nuff said.
Moving on to much cheerier topics, I spent my entire weekend creating a wonderful new alpha-numerical file consisting of 3,000+ pre-1990 Marvel Comics. Will and Pam will be "harvesting" selected titles from my new file for grading/entering this week, which should make our Premium New-In-Stock link absolutely fabulous for you every single day.
In case you are wondering, the source material for my new files are the seemingly endless numbers of unsorted pallets (each consisting of 12,000-15,000 comics) that I have stashed throughout Jason St. from my multiple epic comic book buying trips of last year. Since the COVID resurgence is precluding me from heading out on yet another buying trip right now, I am instead having a wonderful time by slowly (and methodically) alphabetizing the neglected remnants of last year's deals. Truthfully, it is shocking just how many rare treasures that I am finding on those pallets, as I was shipping back huge numbers of comics so quickly last year that Will and Pam could not in any way keep up with me. Especially since they, themselves, were also purchasing vast numbers of back issues from sellers in our Jason St. Mega-Store.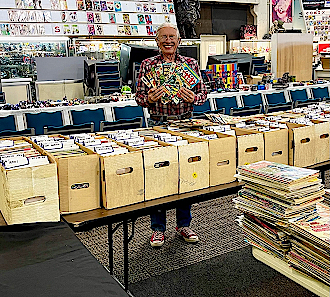 Chuck with his new files of pre-1990 comics

Long story short, I will be continuing to build upon my new files of pre-1990 comics all of this week, with my goal being to have 1,000 more back issues integrated into my alpha-numeric system each day. My best guess is that we have somewhere between 30,000-50,000 unsorted Silver (1956-1975), Bronze (1976-1983), and Copper Age (1984-1990) back issues in stock right now. Given that I am more than a little bit OCD, putting all of those great back issues in alpha-numeric order should make my entire month of January an exercise in joy.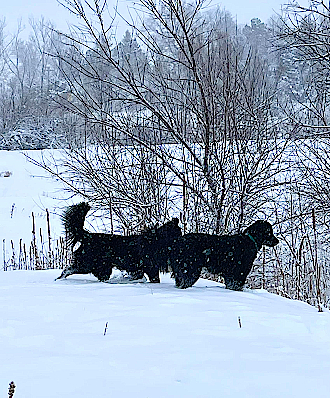 Nicky and Freyja exploring the farm

Speaking of joy, I have to brag a little about Nicky and Freyja, our two new puppies. They are turning one year old today, and I cannot begin to express how much pure joy that they have brought into our lives, and just how deeply that we love them. I bring Nicky in to Jason St. with me on most days, and (after some initial puppy trepidations) she has now become our official Mega-Store "greeter." Freyja is Nanette's dog, and prefers to stay in the much more quiet world of our farm, but still makes occasional guest-appearances in the Mega-Store. When the two of them are together the whole world takes notice, as their infectious positive energy is truly beyond wonderful. And, overwhelming…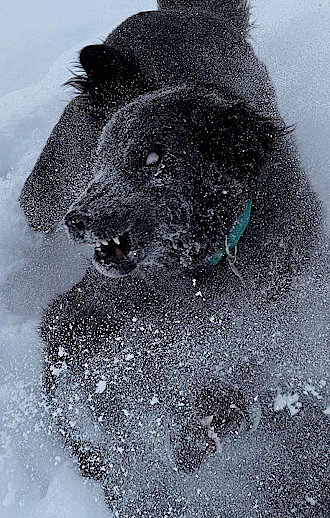 Nicky and Freyja playing in the snow

Well, that's it for today. I am now going to take our doggie pack out for their daily romp in our back pasture here at Jay Hill Farm, and then drive into Denver to continue sorting comics. I sincerely hope that you have a great week, and that you continue to be safe and healthy.
Happy collecting!
Chuck Rozanski/Bettie Pages,
President - Mile High Comics, Inc.
January 10, 2022

P.S. Listed below are some of the back issues that I located for Will and Pam to grade/enter for you late last week. There are some wonderful rarities! Better yet, all are 60% off right now when you utilize our current THANKYOU! codeword discount at checkout. Only new issues, a few variants, and our professionally-graded items are exempt.
MARVEL
A-TEAM (1984) #1 NEWSSTAND Very Good

ALPHA FLIGHT (1983) (#1-130) #1 Very Fine

AMAZING SPIDER-MAN (1999) (#1-58, #500-700.5) (MARVEL) #37 Very Fine

AVENGERS (1963) (#1-402) (MARVEL) #234 NEWSSTAND Good

AVENGERS ANNUAL (1967) #10 NEWSSTAND Good
AVENGERS ANNUAL (1967) #10 Very Good

CAPTAIN AMERICA (1968) (#100-454) (MARVEL) #347 Fine

CAPTAIN AMERICA (2018) (#1-UP) (MARVEL) #1 ZECK Near Mint/Mint
CAPTAIN AMERICA (2018) (#1-UP) (MARVEL) #2 Near Mint/Mint
CAPTAIN AMERICA (2018) (#1-UP) (MARVEL) #3 Near Mint/Mint
CAPTAIN AMERICA (2018) (#1-UP) (MARVEL) #4 Very Fine
CAPTAIN AMERICA (2018) (#1-UP) (MARVEL) #5 Near Mint/Mint
CAPTAIN AMERICA (2018) (#1-UP) (MARVEL) #7 NOTO Very Fine

DAREDEVIL (1964) (#1-380) (MAN WITHOUT FEAR) (MARVEL) #238 Fine

GI JOE (1982) (#1-155) (MARVEL) #21 3RD PRINT Good
GI JOE (1982) (#1-155) (MARVEL) #21 NEWSSTAND Good

HAWKEYE (1983) (#1-4) (MARVEL) #1 NEWSSTAND Good

HULK (1962) (#1-6, #102-474, #600-635)(INCREDIBLE)(MV) #340 Fine

IRON MAN (1968) (#1-332) (INVINCIBLE IRON MAN)(MARVEL) #128 NEWSSTAND Very Fine
IRON MAN (1968) (#1-332) (INVINCIBLE IRON MAN)(MARVEL) #128 NEWSSTAND Very Good


LONGSHOT (1985) (#1-6) (MARVEL LIMITED SERIES) #1 NEWSSTAND

LONGSHOT (1985) (#1-6) (MARVEL LIMITED SERIES) #1 NEWSSTAND Good

MARVEL TWO-IN-ONE (1974) (#1-100) (MARVEL) #5 Fine
MARVEL TWO-IN-ONE (1974) (#1-100) (MARVEL) #6 Very Good
MARVEL TWO-IN-ONE (1974) (#1-100) (MARVEL) #7 Very Good
MARVEL TWO-IN-ONE (1974) (#1-100) (MARVEL) #8 Fine
MARVEL TWO-IN-ONE (1974) (#1-100) (MARVEL) #9 Good
MARVEL TWO-IN-ONE (1974) (#1-100) (MARVEL) #10 Fine
MARVEL TWO-IN-ONE (1974) (#1-100) (MARVEL) #11 Fine
MARVEL TWO-IN-ONE (1974) (#1-100) (MARVEL) #12 Very Fine
MARVEL TWO-IN-ONE (1974) (#1-100) (MARVEL) #13 Very Fine
MARVEL TWO-IN-ONE (1974) (#1-100) (MARVEL) #14 Fine
MARVEL TWO-IN-ONE (1974) (#1-100) (MARVEL) #15 Very Good
MARVEL TWO-IN-ONE (1974) (#1-100) (MARVEL) #16 Very Good

MICRONAUTS (1979) (#1-59) (MARVEL) #2 Fine
MICRONAUTS (1979) (#1-59) (MARVEL) #3 Fine
MICRONAUTS (1979) (#1-59) (MARVEL) #4 Fine
MICRONAUTS (1979) (#1-59) (MARVEL) #5 Fine
MICRONAUTS (1979) (#1-59) (MARVEL) #6 NEWSSTAND Fine
MICRONAUTS (1979) (#1-59) (MARVEL) #7 Fine
MICRONAUTS (1979) (#1-59) (MARVEL) #8 NEWSSTAND Fine
MICRONAUTS (1979) (#1-59) (MARVEL) #9 NEWSSTAND Fine
MICRONAUTS (1979) (#1-59) (MARVEL) #10 NEWSSTAND Fine
MICRONAUTS (1979) (#1-59) (MARVEL) #11 Good
MICRONAUTS (1979) (#1-59) (MARVEL) #12 NEWSSTAND Good
MICRONAUTS (1979) (#1-59) (MARVEL) #13 NEWSSTAND Fine
MICRONAUTS (1979) (#1-59) (MARVEL) #14 NEWSSTAND Very Fine
MICRONAUTS (1979) (#1-59) (MARVEL) #15 NEWSSTAND Very Good
MICRONAUTS (1979) (#1-59) (MARVEL) #16 Fine

MILLIE THE MODEL (1945) #204 Good

MY LOVE (1969) #24 Fair
MY LOVE (1969) #26 Fair
MY LOVE (1969) #28 Fair
MY LOVE (1969) #34 Fair

ORDER (2007) (#1-10) (MARVEL) #8 Fine
ORDER (2007) (#1-10) (MARVEL) #8 Very Fine

OUR LOVE STORY (1969) #20 Fair

PUNISHER (1985) (#1-5) (MARVEL) #1 NEWSSTAND Fine
PUNISHER (1985) (#1-5) (MARVEL) #2 Fine
PUNISHER (1985) (#1-5) (MARVEL) #3 Fine
PUNISHER (1985) (#1-5) (MARVEL) #3 Very Fine
PUNISHER (1985) (#1-5) (MARVEL) #4 Fine
PUNISHER (1985) (#1-5) (MARVEL) #4 Good
PUNISHER (1985) (#1-5) (MARVEL) #5 NEWSSTAND Very Good

PUNISHER (1987) (#1-104) (MARVEL) #1 Very Fine

SECRET WARS (1984) (#1-12) (LIMTED SERIES) (MARVEL) #8 NEWSSTAND Very Good

SPIDER-MAN (1963) (AMAZING SPIDER-MAN) (#1-441) #79 Very Good
SPIDER-MAN (1963) (AMAZING SPIDER-MAN) (#1-441) #147 Good
SPIDER-MAN (1963) (AMAZING SPIDER-MAN) (#1-441) #150 Fine
SPIDER-MAN (1963) (AMAZING SPIDER-MAN) (#1-441) #158 Good
SPIDER-MAN (1963) (AMAZING SPIDER-MAN) (#1-441) #165 Very Good
SPIDER-MAN (1963) (AMAZING SPIDER-MAN) (#1-441) #166 Very Good
SPIDER-MAN (1963) (AMAZING SPIDER-MAN) (#1-441) #168 Good


SPIDER-MAN (1963) (AMAZING SPIDER-MAN) (#1-441) #170

SPIDER-MAN (1963) (AMAZING SPIDER-MAN) (#1-441) #170 Good
SPIDER-MAN (1963) (AMAZING SPIDER-MAN) (#1-441) #174 Good
SPIDER-MAN (1963) (AMAZING SPIDER-MAN) (#1-441) #185 Very Good
SPIDER-MAN (1963) (AMAZING SPIDER-MAN) (#1-441) #187 Very Fine
SPIDER-MAN (1963) (AMAZING SPIDER-MAN) (#1-441) #188 Fine
SPIDER-MAN (1963) (AMAZING SPIDER-MAN) (#1-441) #192 Good
SPIDER-MAN (1963) (AMAZING SPIDER-MAN) (#1-441) #289 Very Fine
SPIDER-MAN (1963) (AMAZING SPIDER-MAN) (#1-441) #298 Near Mint/Mint
SPIDER-MAN (1963) (AMAZING SPIDER-MAN) (#1-441) #299 Very Fine
SPIDER-MAN (1963) (AMAZING SPIDER-MAN) (#1-441) #300 Very Fine
SPIDER-MAN (1963) (AMAZING SPIDER-MAN) (#1-441) #301 Near Mint/Mint
SPIDER-MAN (1963) (AMAZING SPIDER-MAN) (#1-441) #302 Very Fine
SPIDER-MAN (1963) (AMAZING SPIDER-MAN) (#1-441) #303 Very Fine
SPIDER-MAN (1963) (AMAZING SPIDER-MAN) (#1-441) #304 Very Fine
SPIDER-MAN (1963) (AMAZING SPIDER-MAN) (#1-441) #305 Near Mint/Mint
SPIDER-MAN (1963) (AMAZING SPIDER-MAN) (#1-441) #306 Near Mint/Mint
SPIDER-MAN (1963) (AMAZING SPIDER-MAN) (#1-441) #308 Very Fine
SPIDER-MAN (1963) (AMAZING SPIDER-MAN) (#1-441) #309 Fine
SPIDER-MAN (1963) (AMAZING SPIDER-MAN) (#1-441) #310 Very Good
SPIDER-MAN (1963) (AMAZING SPIDER-MAN) (#1-441) #313 Fine
SPIDER-MAN (1963) (AMAZING SPIDER-MAN) (#1-441) #314 Very Fine
SPIDER-MAN (1963) (AMAZING SPIDER-MAN) (#1-441) #315 Very Fine
SPIDER-MAN (1963) (AMAZING SPIDER-MAN) (#1-441) #418 NEWSSTAND Fine
SPIDER-MAN (1963) (AMAZING SPIDER-MAN) (#1-441) #419 NEWSSTAND Fine
SPIDER-MAN (1963) (AMAZING SPIDER-MAN) (#1-441) #424 Very Fine
SPIDER-MAN (1963) (AMAZING SPIDER-MAN) (#1-441) #426 Fine
SPIDER-MAN (1963) (AMAZING SPIDER-MAN) (#1-441) #433 Fine
SPIDER-MAN (1963) (AMAZING SPIDER-MAN) (#1-441) #437 Fine
SPIDER-MAN (1963) (AMAZING SPIDER-MAN) (#1-441) #438 Fine
SPIDER-MAN (1963) (AMAZING SPIDER-MAN) (#1-441) #441 Fine


SPIDER-MAN ANNUAL (1964) (#1-28) (MARVEL) #13 NEWSSTAND

SPIDER-MAN ANNUAL (1964) (#1-28) (MARVEL) #13 NEWSSTAND Good
SPIDER-MAN ANNUAL (1964) (#1-28) (MARVEL) #17 NEWSSTAND Good
SPIDER-MAN ANNUAL (1964) (#1-28) (MARVEL) #18 Fine
SPIDER-MAN ANNUAL (1964) (#1-28) (MARVEL) #21 NEWS Fine
SPIDER-MAN ANNUAL (1964) (#1-28) (MARVEL) #22 NEWSSTAND Very Good

STAR WARS (1977) (#1-107) (MARVEL) #13 WHITMAN Good
STAR WARS (1977) (#1-107) (MARVEL) #15 WHITMAN Fair
STAR WARS (1977) (#1-107) (MARVEL) #39 NEWSSTAND Good
STAR WARS (1977) (#1-107) (MARVEL) #71 NEWSSTAND Good
STAR WARS (1977) (#1-107) (MARVEL) #72 NEWSSTAND Good
STAR WARS (1977) (#1-107) (MARVEL) #73 NEWSSTAND Good
STAR WARS (1977) (#1-107) (MARVEL) #82 NEWSSTAND Very Good

STARSTRUCK GN (1984) #1 Near Mint/Mint

THANOS (2016) (#1-18) (MARVEL NOW) #13 CATES SGN Near Mint/Mint

TRANSFORMERS (1984) (#1-80) (MARVEL) #1 NEWSSTAND Good
TRANSFORMERS (1984) (#1-80) (MARVEL) #2 NEWSSTAND Good
TRANSFORMERS (1984) (#1-80) (MARVEL) #3 NEWSSTAND Good
TRANSFORMERS (1984) (#1-80) (MARVEL) #4 NEWSSTAND Fine
TRANSFORMERS (1984) (#1-80) (MARVEL) #5 NEWSSTAND Very Good
TRANSFORMERS (1984) (#1-80) (MARVEL) #6 NEWSSTAND Fine
TRANSFORMERS (1984) (#1-80) (MARVEL) #7 Very Fine
TRANSFORMERS (1984) (#1-80) (MARVEL) #8 Very Fine

WHAT IF... (1977) (#1-47) (MARVEL) #27 Fine

WHERE MONSTERS DWELL (1970) (#1-38) #33 Good


WOLVERINE (1988) (#1/2-189) (MARVEL) #1

WOLVERINE (1988) (#1/2-189) (MARVEL) #1 Fine

WOLVERINE: ORIGINS (2006) #10 VARIANT Fine

X-FACTOR (1986) (#1-149) (ORIGINAL X-MEN) #5 NEWSSTAND Very Good
X-FACTOR (1986) (#1-149) (ORIGINAL X-MEN) #6 NEWSSTAND Fine
X-FACTOR (1986) (#1-149) (ORIGINAL X-MEN) #62 NEWSSTAND Good

X-MEN (1963) (#1-113, UNCANNY X-MEN #114-544) (MARVEL) #72 Good
X-MEN (1963) (#1-113, UNCANNY X-MEN #114-544) (MARVEL) #122 NEWSSTAND Fair
X-MEN (1963) (#1-113, UNCANNY X-MEN #114-544) (MARVEL) #143 NEWSSTAND Good
X-MEN (1963) (#1-113, UNCANNY X-MEN #114-544) (MARVEL) #201 Very Fine
X-MEN (1963) (#1-113, UNCANNY X-MEN #114-544) (MARVEL) #210 Good
X-MEN (1963) (#1-113, UNCANNY X-MEN #114-544) (MARVEL) #211 Good
X-MEN (1963) (#1-113, UNCANNY X-MEN #114-544) (MARVEL) #212 Very Good
X-MEN (1963) (#1-113, UNCANNY X-MEN #114-544) (MARVEL) #213 Good
X-MEN (1963) (#1-113, UNCANNY X-MEN #114-544) (MARVEL) #238 Fine
X-MEN (1963) (#1-113, UNCANNY X-MEN #114-544) (MARVEL) #239 Very Fine

X-MEN (2019) (#1-21) (MARVEL) #12 Near Mint/Mint

X-MEN AND THE TEEN TITANS (1982) #1 Fine

X-MEN ANNUAL (1970) #10 Very Good

DC
ACTION COMICS (1938) (#0-600, 643-904) (DC) #544 NEWSSTAND Near Mint/Mint
ACTION COMICS (1938) (#0-600, 643-904) (DC) #544 NEWSSTAND Very Fine

ALL-STAR (1976) (#58-74) (ALL-STAR COMICS) (DC) #58 Good


ALL-STAR (1976) (#58-74) (ALL-STAR COMICS) (DC) #59

ALL-STAR (1976) (#58-74) (ALL-STAR COMICS) (DC) #59 Very Good
ALL-STAR (1976) (#58-74) (ALL-STAR COMICS) (DC) #60 Good
ALL-STAR (1976) (#58-74) (ALL-STAR COMICS) (DC) #61 Good
ALL-STAR (1976) (#58-74) (ALL-STAR COMICS) (DC) #62 Fine
ALL-STAR (1976) (#58-74) (ALL-STAR COMICS) (DC) #63 Very Good
ALL-STAR (1976) (#58-74) (ALL-STAR COMICS) (DC) #64 Fine
ALL-STAR (1976) (#58-74) (ALL-STAR COMICS) (DC) #65 Very Good
ALL-STAR (1976) (#58-74) (ALL-STAR COMICS) (DC) #66 Fine
ALL-STAR (1976) (#58-74) (ALL-STAR COMICS) (DC) #67 Fine
ALL-STAR (1976) (#58-74) (ALL-STAR COMICS) (DC) #67 Very Fine
ALL-STAR (1976) (#58-74) (ALL-STAR COMICS) (DC) #68 Very Fine
ALL-STAR (1976) (#58-74) (ALL-STAR COMICS) (DC) #69 Fine
ALL-STAR (1976) (#58-74) (ALL-STAR COMICS) (DC) #70 Very Fine
ALL-STAR (1976) (#58-74) (ALL-STAR COMICS) (DC) #71 Fine
ALL-STAR (1976) (#58-74) (ALL-STAR COMICS) (DC) #72 Fine
ALL-STAR (1976) (#58-74) (ALL-STAR COMICS) (DC) #73 Very Good
ALL-STAR (1976) (#58-74) (ALL-STAR COMICS) (DC) #74 Very Good

ALL-STAR SQUADRON ANNUAL (1982) #2 NEWSSTAND Fine
ALL-STAR SQUADRON ANNUAL (1982) #3 NEWSSTAND Fine

BATMAN (1940) (#0-713) (DC) #228 Very Good
BATMAN (1940) (#0-713) (DC) #349 NEWSSTAND Very Good
BATMAN (1940) (#0-713) (DC) #350 NEWSSTAND Very Good
BATMAN (1940) (#0-713) (DC) #351 NEWSSTAND Very Good
BATMAN (1940) (#0-713) (DC) #567 Near Mint/Mint

BRAVE AND THE BOLD (1955) #200 NEWSSTAND Fine

CRISIS ON INFINITE EARTHS GIANT (2020) #1 Fine


DEATH: HIGH COST OF LIVING #1 S&N

DEATH: HIGH COST OF LIVING #1 S&N (DC: Vertigo Press) Very Fine

GHOSTS (1971) #80 Good

GREEN LANTERN (1960) (#1-224) (DC) #24 Very Good

OUR FIGHTING FORCES (1954) #109 Very Good

SHOWCASE MILLENNIUM EDITION (2000) #4 Very Good

STATIC (1993) #31 (DC: Milestone Press) Very Fine
STATIC (1993) #32 (DC: Milestone Press) Near Mint/Mint

SUGAR AND SPIKE (1956) #97 Good

SUPER FRIENDS (1976) #2 Good
SUPER FRIENDS (1976) #20 Very Good

TOMAHAWK (1950) #5 Fair
TOMAHAWK (1950) #24 Good
TOMAHAWK (1950) #28 Fair
TOMAHAWK (1950) #54 Fine
TOMAHAWK (1950) #60 Good
TOMAHAWK (1950) #65 Good
TOMAHAWK (1950) #67 Very Good
TOMAHAWK (1950) #68 Very Good
TOMAHAWK (1950) #75 Good
TOMAHAWK (1950) #79 Very Good
TOMAHAWK (1950) #86 Very Good
TOMAHAWK (1950) #91 Very Good
TOMAHAWK (1950) #98 Very Good


UNEXPECTED (1956) (TALES OF THE UNEXPECTED #1-104) #177

UNEXPECTED (1956) (TALES OF THE UNEXPECTED #1-104) #177 Very Good

WEIRD WAR TALES (1971) (#1-124) (DC) #33 Very Good
WEIRD WAR TALES (1971) (#1-124) (DC) #39 Good

WONDER WOMAN (1942) (#1-329) (DC) #222 Good
WONDER WOMAN (1942) (#1-329) (DC) #280 NEWSSTAND Good

YOUNG LOVE (1963) #114 Fair
YOUNG LOVE (1963) #125 Good
YOUNG LOVE (1963) #126 Good

YOUNG ROMANCE (1963) (#125-208) (DC) (2000) #196 Good
YOUNG ROMANCE (1963) (#125-208) (DC) (2000) #201 Good
YOUNG ROMANCE (1963) (#125-208) (DC) (2000) #202 Fair

XOMBI (1994) #19 (DC: Milestone Press) Very Fine
XOMBI (1994) #20 (DC: Milestone Press) Fine

DARK HORSE COMICS
STAR WARS: TAG & BINK ARE DEAD (2001) #2 Very Fine

IMAGE COMICS
SAGA (2012) #1 3RD PRINT Good
SAGA (2012) #2 2ND PRINT Fine
SAGA (2012) #3 Good
SAGA (2012) #4 2ND PRINT Very Good
SAGA (2012) #5 2ND PRINT Very Fine
SAGA (2012) #6 Fine


SAVAGE DRAGON-THE SERIES (1993) (#0-UP) #91

SAVAGE DRAGON-THE SERIES (1993) (#0-UP) #91 Fine
SAVAGE DRAGON-THE SERIES (1993) (#0-UP) #92 Fine
SAVAGE DRAGON-THE SERIES (1993) (#0-UP) #93 Fine
SAVAGE DRAGON-THE SERIES (1993) (#0-UP) #94 Very Fine
SAVAGE DRAGON-THE SERIES (1993) (#0-UP) #95 Fine
SAVAGE DRAGON-THE SERIES (1993) (#0-UP) #98 Fine
SAVAGE DRAGON-THE SERIES (1993) (#0-UP) #99 Very Fine

SPAWN (1992) #1 NEWSSTAND Very Fine

SUPERMAN & SAVAGE DRAGON: CHICAGO #1 Very Fine

TEENAGE MUTANT NINJA TURTLES (1996) (#1-23) (IMAGE) #2 Fine

INDEPENDENTS
ADVENTURES INTO THE UNKNOWN (1948) #10 (ACG) Fair
ADVENTURES INTO THE UNKNOWN (1948) #21 (ACG) Good
ADVENTURES INTO THE UNKNOWN (1948) #41 (ACG) Good
ADVENTURES INTO THE UNKNOWN (1948) #45 (ACG) Good
ADVENTURES INTO THE UNKNOWN (1948) #78 (ACG) Very Good
ADVENTURES INTO THE UNKNOWN (1948) #80 (ACG) Good
ADVENTURES INTO THE UNKNOWN (1948) #87 (ACG) Good
ADVENTURES INTO THE UNKNOWN (1948) #114 (ACG) Good
ADVENTURES INTO THE UNKNOWN (1948) #115 (ACG) Very Good
ADVENTURES INTO THE UNKNOWN (1948) #117 (ACG) Fair
ADVENTURES INTO THE UNKNOWN (1948) #118 (ACG) Good
ADVENTURES INTO THE UNKNOWN (1948) #119 (ACG) Fair


ADVENTURES INTO THE UNKNOWN (1948) #120

ADVENTURES INTO THE UNKNOWN (1948) #120 (ACG) Very Good
ADVENTURES INTO THE UNKNOWN (1948) #121 (ACG) Fair
ADVENTURES INTO THE UNKNOWN (1948) #122 (ACG) Very Good
ADVENTURES INTO THE UNKNOWN (1948) #125 (ACG) Good
ADVENTURES INTO THE UNKNOWN (1948) #126 (ACG) Fair
ADVENTURES INTO THE UNKNOWN (1948) #127 (ACG) Good
ADVENTURES INTO THE UNKNOWN (1948) #129 (ACG) Good
ADVENTURES INTO THE UNKNOWN (1948) #130 (ACG) Good
ADVENTURES INTO THE UNKNOWN (1948) #131 (ACG) Good
ADVENTURES INTO THE UNKNOWN (1948) #132 (ACG) Good
ADVENTURES INTO THE UNKNOWN (1948) #133 (ACG) Very Good
ADVENTURES INTO THE UNKNOWN (1948) #136 (ACG) Very Good
ADVENTURES INTO THE UNKNOWN (1948) #139 (ACG) Very Good
ADVENTURES INTO THE UNKNOWN (1948) #140 (ACG) Good
ADVENTURES INTO THE UNKNOWN (1948) #141 (ACG) Very Good
ADVENTURES INTO THE UNKNOWN (1948) #142 (ACG) Good
ADVENTURES INTO THE UNKNOWN (1948) #143 (ACG) Very Good
ADVENTURES INTO THE UNKNOWN (1948) #144 (ACG) Good
ADVENTURES INTO THE UNKNOWN (1948) #145 (ACG) Very Good
ADVENTURES INTO THE UNKNOWN (1948) #147 (ACG) Good
ADVENTURES INTO THE UNKNOWN (1948) #148 (ACG) Very Good
ADVENTURES INTO THE UNKNOWN (1948) #149 (ACG) Fine
ADVENTURES INTO THE UNKNOWN (1948) #151 (ACG) Very Good
ADVENTURES INTO THE UNKNOWN (1948) #152 (ACG) Very Good
ADVENTURES INTO THE UNKNOWN (1948) #153 (ACG) Good
ADVENTURES INTO THE UNKNOWN (1948) #154 (ACG) Very Good
ADVENTURES INTO THE UNKNOWN (1948) #156 (ACG) Good
ADVENTURES INTO THE UNKNOWN (1948) #157 (ACG) Very Good
ADVENTURES INTO THE UNKNOWN (1948) #158 (ACG) Good
ADVENTURES INTO THE UNKNOWN (1948) #159 (ACG) Very Good
ADVENTURES INTO THE UNKNOWN (1948) #160 (ACG) Very Good
ADVENTURES INTO THE UNKNOWN (1948) #161 (ACG) Fine


ADVENTURES INTO THE UNKNOWN (1948) #161

ADVENTURES INTO THE UNKNOWN (1948) #161 (ACG) Very Good
ADVENTURES INTO THE UNKNOWN (1948) #162 (ACG) Fine
ADVENTURES INTO THE UNKNOWN (1948) #163 (ACG) Good
ADVENTURES INTO THE UNKNOWN (1948) #165 (ACG) Good
ADVENTURES INTO THE UNKNOWN (1948) #167 (ACG) Good
ADVENTURES INTO THE UNKNOWN (1948) #168 (ACG) Good
ADVENTURES INTO THE UNKNOWN (1948) #169 (ACG) Fine
ADVENTURES INTO THE UNKNOWN (1948) #171 (ACG) Very Good
ADVENTURES INTO THE UNKNOWN (1948) #173 (ACG) Very Good
ADVENTURES INTO THE UNKNOWN (1948) #174 (ACG) Very Good

BEETLEJUICE (1991) #1 NEWSSTAND (Harvey Comics) Fine

BEING AN ACCOUNT OF LIFE & DEATH OF EMPEROR ASHCAN (1992) #1 S&N (NEIL GAIMAN) Near Mint/Mint

BUCKY O'HARE (1991) #1 NEWSSTAND (Continuity Publishing) Fine

FAT ALBERT (GOLD KEY) #18 WHITMAN (Gold Key) Fair
FAT ALBERT (GOLD KEY) #20 WHITMAN (Gold Key) Fine

FLASH GORDON (1966) (#1-11) (KING) #1 (King Comics) Good
FLASH GORDON (1966) (#1-11) (KING) #2 (King Comics) Very Good
FLASH GORDON (1966) (#1-11) (KING) #3 (King Comics) Good
FLASH GORDON (1966) (#1-11) (KING) #5 (King Comics) Good
FLASH GORDON (1966) (#1-11) (KING) #6 (King Comics) Very Good
FLASH GORDON (1966) (#1-11) (KING) #9 (King Comics) Very Good

FORBIDDEN WORLDS (1951) #7 (ACG) Good
FORBIDDEN WORLDS (1951) #35 (ACG) Good
FORBIDDEN WORLDS (1951) #57 (ACG) Good
FORBIDDEN WORLDS (1951) #61 (ACG) Good
FORBIDDEN WORLDS (1951) #62 (ACG) Very Good

FORBIDDEN WORLDS (1951) #65 (ACG) Very Good
FORBIDDEN WORLDS (1951) #77 (ACG) Good
FORBIDDEN WORLDS (1951) #81 (ACG) Good
FORBIDDEN WORLDS (1951) #82 (ACG) Good
FORBIDDEN WORLDS (1951) #83 (ACG) Good
FORBIDDEN WORLDS (1951) #85 (ACG) Good
FORBIDDEN WORLDS (1951) #86 (ACG) Good
FORBIDDEN WORLDS (1951) #87 (ACG) Very Good
FORBIDDEN WORLDS (1951) #90 (ACG) Good
FORBIDDEN WORLDS (1951) #91 (ACG) Good
FORBIDDEN WORLDS (1951) #93 (ACG) Good
FORBIDDEN WORLDS (1951) #98 (ACG) Fair
FORBIDDEN WORLDS (1951) #99 (ACG) Very Good
FORBIDDEN WORLDS (1951) #101 (ACG) Very Good
FORBIDDEN WORLDS (1951) #102 (ACG) Good
FORBIDDEN WORLDS (1951) #104 (ACG) Good
FORBIDDEN WORLDS (1951) #106 (ACG) Very Good
FORBIDDEN WORLDS (1951) #107 (ACG) Good
FORBIDDEN WORLDS (1951) #108 (ACG) Good
FORBIDDEN WORLDS (1951) #110 (ACG) Good
FORBIDDEN WORLDS (1951) #115 (ACG) Good
FORBIDDEN WORLDS (1951) #118 (ACG) Very Good
FORBIDDEN WORLDS (1951) #119 (ACG) Fair
FORBIDDEN WORLDS (1951) #120 (ACG) Good
FORBIDDEN WORLDS (1951) #121 (ACG) Good
FORBIDDEN WORLDS (1951) #122 (ACG) Good
FORBIDDEN WORLDS (1951) #123 (ACG) Good
FORBIDDEN WORLDS (1951) #124 (ACG) Very Good
FORBIDDEN WORLDS (1951) #125 (ACG) Fair
FORBIDDEN WORLDS (1951) #126 (ACG) Good

FORBIDDEN WORLDS (1951) #126 (ACG) Very Good
FORBIDDEN WORLDS (1951) #127 (ACG) Fine
FORBIDDEN WORLDS (1951) #129 (ACG) Very Good
FORBIDDEN WORLDS (1951) #130 (ACG) Good
FORBIDDEN WORLDS (1951) #131 (ACG) Very Good
FORBIDDEN WORLDS (1951) #132 (ACG) Fine
FORBIDDEN WORLDS (1951) #133 (ACG) Very Good
FORBIDDEN WORLDS (1951) #134 (ACG) Very Good
FORBIDDEN WORLDS (1951) #136 (ACG) Very Good
FORBIDDEN WORLDS (1951) #137 (ACG) Very Good
FORBIDDEN WORLDS (1951) #138 (ACG) Fine
FORBIDDEN WORLDS (1951) #140 (ACG) Very Good
FORBIDDEN WORLDS (1951) #142 (ACG) Fine
FORBIDDEN WORLDS (1951) #143 (ACG) Fair

GASP! (ACG) (1967) #1 (ACG) Good
GASP! (ACG) (1967) #3 (ACG) Fair
GASP! (ACG) (1967) #4 (ACG) Good

GHOSTLY TALES (1966) #137 (Charlton) Fine

HAUNTED (HAUNTED LIBRARY #21 ON) (1971) #49 (Charlton) Very Good

HERBIE (1964) #4 (ACG) Fair
HERBIE (1964) #12 (ACG) Fair
HERBIE (1964) #14 (ACG) Fair
HERBIE (1964) #19 (ACG) Good

I LOVE YOU (1955) #118 (Charlton) Good
I LOVE YOU (1955) #120 (Charlton) Good

JUST MARRIED (1958) #74 (Charlton) Fair
JUST MARRIED (1958) #104 (Charlton) Good

LOVE AND ROMANCE (1971) #15 (Charlton) Good

LOVE DIARY (1958) #93 (Charlton) Good
LOVE DIARY (1958) #99 (Charlton) Good

MAGIC AGENT (1962) #1 (ACG) Fair

MANDRAKE THE MAGICIAN (KING) (1966) #1 (King Comics) Very Good
MANDRAKE THE MAGICIAN (KING) (1966) #2 (King Comics) Very Good
MANDRAKE THE MAGICIAN (KING) (1966) #3 (King Comics) Fine
MANDRAKE THE MAGICIAN (KING) (1966) #4 (King Comics) Fine
MANDRAKE THE MAGICIAN (KING) (1966) #5 (King Comics) Very Good
MANDRAKE THE MAGICIAN (KING) (1966) #6 (King Comics) Very Good
MANDRAKE THE MAGICIAN (KING) (1966) #7 (King Comics) Good
MANDRAKE THE MAGICIAN (KING) (1966) #8 (King Comics) Fine
MANDRAKE THE MAGICIAN (KING) (1966) #9 (King Comics) Very Good

MIDNIGHT MYSTERY (1961) #1 (ACG) Good
MIDNIGHT MYSTERY (1961) #2 (ACG) Very Good
MIDNIGHT MYSTERY (1961) #3 (ACG) Good
MIDNIGHT MYSTERY (1961) #4 (ACG) Fair
MIDNIGHT MYSTERY (1961) #5 (ACG) Very Good
MIDNIGHT MYSTERY (1961) #6 (ACG) Good
MIDNIGHT MYSTERY (1961) #6 (ACG) Very Good
MIDNIGHT MYSTERY (1961) #7 (ACG) Good

MY ONLY LOVE (1975) #4 (Charlton) Very Good
MY ONLY LOVE (1975) #8 (Charlton) Very Good

OPERATION PERIL (1950) #3 (ACG) Good

PHANTOM (1966) (#18-28) (KING) #18 (King Comics) Fair
PHANTOM (1966) (#18-28) (KING) #18 (King Comics) Good
PHANTOM (1966) (#18-28) (KING) #19 (King Comics) Good
PHANTOM (1966) (#18-28) (KING) #19 (King Comics) Fair
PHANTOM (1966) (#18-28) (KING) #20 (King Comics) Fine
PHANTOM (1966) (#18-28) (KING) #21 (King Comics) Very Good
PHANTOM (1966) (#18-28) (KING) #22 (King Comics) Good
PHANTOM (1966) (#18-28) (KING) #23 (King Comics) Very Good
PHANTOM (1966) (#18-28) (KING) #24 (King Comics) Good
PHANTOM (1966) (#18-28) (KING) #25 (King Comics) Very Good
PHANTOM (1966) (#18-28) (KING) #26 (King Comics) Good
PHANTOM (1966) (#18-28) (KING) #27 (King Comics) Fine
PHANTOM (1966) (#18-28) (KING) #28 (King Comics) Good

PINK PANTHER (1971) (#1-73) (GOLD KEY) #18 WHITMAN (Gold Key) Good
PINK PANTHER (1971) (#1-73) (GOLD KEY) #56 WHITMAN (Gold Key) Fine
PINK PANTHER (1971) (#1-73) (GOLD KEY) #62 WHITMAN (Gold Key) Very Good

RED RABBIT COMICS (1947) #13 (J. Charles Laue Publ, Co.) Fair

RICHIE RICH CASH (1974) #15 (Harvey Comics) Very Good
RICHIE RICH CASH (1974) #17 (Harvey Comics) Very Good

RICHIE RICH DIAMONDS (1972) #28 (Harvey Comics) Good

RICHIE RICH JACKPOTS (1972) #47 (Harvey Comics) Very Good

RICHIE RICH PROFITS (1974) #14 (Harvey Comics) Very Good
RICHIE RICH PROFITS (1974) #15 (Harvey Comics) Good


RICHIE RICH PROFITS (1974) #24

RICHIE RICH PROFITS (1974) #24 (Harvey Comics) Very Good

RICHIE RICH RICHE$ (1972) #29 (Harvey Comics) Very Good

RICK & MORTY (2015) #1 LENTICULAR (Oni Press Inc.) Near Mint/Mint

ROSE (2000) (#1-3) (CARTOON) (JEFF SMITH)(CHARLES VESS) #3 (Cartoon Books) Fine

RUN BABY RUN (1974) #1 (LOGOS INTERNATIONAL) Good

SABRINA THE TEENAGE WITCH (1971) (ARCHIE) (#1-77) #38 (Archie Comics) Very Good
SABRINA THE TEENAGE WITCH (1971) (ARCHIE) (#1-77) #44 (Archie Comics) Good
SABRINA THE TEENAGE WITCH (1971) (ARCHIE) (#1-77) #52 (Archie Comics) Very Good
SABRINA THE TEENAGE WITCH (1971) (ARCHIE) (#1-77) #66 (Archie Comics) Good

SECRET ROMANCE (1968) #38 (Charlton) Good
SECRET ROMANCE (1968) #41 (Charlton) Very Good
SECRET ROMANCE (1968) #43 (Charlton) Very Good
SECRET ROMANCE (1968) #47 (Charlton) Very Good

SHADOWMAN (1992) (#0-43) (VALIANT) #1 (Acclaim/Valiant) Near Mint/Mint
SHADOWMAN (1992) (#0-43) (VALIANT) #2 (Acclaim/Valiant) Very Fine
SHADOWMAN (1992) (#0-43) (VALIANT) #3 (Acclaim/Valiant) Very Fine
SHADOWMAN (1992) (#0-43) (VALIANT) #4 (Acclaim/Valiant) Very Fine

SIX MILLION DOLLAR MAN (1976) #4 (Charlton) Very Good

SOLDIERS OF FORTUNE (1951) #5 (ACG) Good

SOME TROUBLE OF A SERRIOUS NATURE VOL. 1 (2001) #1 (Crusade) Very Fine

SPEED BUGGY (1975) #5 (Charlton) Fair

SPY-HUNTERS (1949) #10 (ACG) Very Good
SPY-HUNTERS (1949) #20 (ACG) Very Good

SUPER RICHIE (1976) #6 (Harvey Comics) Good
SUPER RICHIE (1976) #9 (Harvey Comics) Good
SUPER RICHIE (1976) #14 (Harvey Comics) Good

TEEN CONFESSIONS (1959) #86 (Charlton) Fair
TEEN CONFESSIONS (1959) #95 (Charlton) Good

TEEN-AGE LOVE (VOL. 2) (1958) #92 (Charlton) Good

TIME FOR LOVE (1967) #35 (Charlton) Good
TIME FOR LOVE (1967) #41 (Charlton) Very Good
TIME FOR LOVE (1967) #47 (Charlton) Good

TRAILER PARK OF TERROR COLOR SPECIAL (2004) #6 (Imperium Comics) Fine
TRAILER PARK OF TERROR COLOR SPECIAL (2004) #9 (Imperium Comics) Fine

UNKNOWN WORLDS (AMERICAN COMIC GROUP) (1960) #1 (ACG) Fair
UNKNOWN WORLDS (AMERICAN COMIC GROUP) (1960) #2 (ACG) Good
UNKNOWN WORLDS (AMERICAN COMIC GROUP) (1960) #3 (ACG) Fair
UNKNOWN WORLDS (AMERICAN COMIC GROUP) (1960) #4 (ACG) Fair
UNKNOWN WORLDS (AMERICAN COMIC GROUP) (1960) #5 (ACG) Fair
UNKNOWN WORLDS (AMERICAN COMIC GROUP) (1960) #6 (ACG) Very Good
UNKNOWN WORLDS (AMERICAN COMIC GROUP) (1960) #7 (ACG) Fair
UNKNOWN WORLDS (AMERICAN COMIC GROUP) (1960) #8 (ACG) Good
UNKNOWN WORLDS (AMERICAN COMIC GROUP) (1960) #9 (ACG) Very Good
UNKNOWN WORLDS (AMERICAN COMIC GROUP) (1960) #11 (ACG) Very Good


UNKNOWN WORLDS (AMERICAN COMIC GROUP) (1960) #14

UNKNOWN WORLDS (AMERICAN COMIC GROUP) (1960) #14 (ACG) Good
UNKNOWN WORLDS (AMERICAN COMIC GROUP) (1960) #15 (ACG) Very Good
UNKNOWN WORLDS (AMERICAN COMIC GROUP) (1960) #16 (ACG) Fair
UNKNOWN WORLDS (AMERICAN COMIC GROUP) (1960) #18 (ACG) Very Good
UNKNOWN WORLDS (AMERICAN COMIC GROUP) (1960) #22 (ACG) Good
UNKNOWN WORLDS (AMERICAN COMIC GROUP) (1960) #23 (ACG) Good
UNKNOWN WORLDS (AMERICAN COMIC GROUP) (1960) #26 (ACG) Good
UNKNOWN WORLDS (AMERICAN COMIC GROUP) (1960) #27 (ACG) Good
UNKNOWN WORLDS (AMERICAN COMIC GROUP) (1960) #28 (ACG) Very Good
UNKNOWN WORLDS (AMERICAN COMIC GROUP) (1960) #29 (ACG) Good
UNKNOWN WORLDS (AMERICAN COMIC GROUP) (1960) #30 (ACG) Good
UNKNOWN WORLDS (AMERICAN COMIC GROUP) (1960) #31 (ACG) Very Good
UNKNOWN WORLDS (AMERICAN COMIC GROUP) (1960) #32 (ACG) Good
UNKNOWN WORLDS (AMERICAN COMIC GROUP) (1960) #33 (ACG) Very Good
UNKNOWN WORLDS (AMERICAN COMIC GROUP) (1960) #34 (ACG) Very Good
UNKNOWN WORLDS (AMERICAN COMIC GROUP) (1960) #35 (ACG) Good
UNKNOWN WORLDS (AMERICAN COMIC GROUP) (1960) #36 (ACG) Fair
UNKNOWN WORLDS (AMERICAN COMIC GROUP) (1960) #37 (ACG) Good
UNKNOWN WORLDS (AMERICAN COMIC GROUP) (1960) #38 (ACG) Very Good
UNKNOWN WORLDS (AMERICAN COMIC GROUP) (1960) #39 (ACG) Good
UNKNOWN WORLDS (AMERICAN COMIC GROUP) (1960) #40 (ACG) Good
UNKNOWN WORLDS (AMERICAN COMIC GROUP) (1960) #42 (ACG) Fine
UNKNOWN WORLDS (AMERICAN COMIC GROUP) (1960) #43 (ACG) Fair
UNKNOWN WORLDS (AMERICAN COMIC GROUP) (1960) #46 (ACG) Good
UNKNOWN WORLDS (AMERICAN COMIC GROUP) (1960) #46 (ACG) Very Good
UNKNOWN WORLDS (AMERICAN COMIC GROUP) (1960) #48 (ACG) Good
UNKNOWN WORLDS (AMERICAN COMIC GROUP) (1960) #49 (ACG) Fair
UNKNOWN WORLDS (AMERICAN COMIC GROUP) (1960) #50 (ACG) Very Good
UNKNOWN WORLDS (AMERICAN COMIC GROUP) (1960) #51 (ACG) Good
UNKNOWN WORLDS (AMERICAN COMIC GROUP) (1960) #52 (ACG) Very Good
UNKNOWN WORLDS (AMERICAN COMIC GROUP) (1960) #53 (ACG) Very Good


UNKNOWN WORLDS (AMERICAN COMIC GROUP) (1960) #54

UNKNOWN WORLDS (AMERICAN COMIC GROUP) (1960) #54 (ACG) Fair
UNKNOWN WORLDS (AMERICAN COMIC GROUP) (1960) #54 (ACG) Very Good
UNKNOWN WORLDS (AMERICAN COMIC GROUP) (1960) #55 (ACG) Very Good
UNKNOWN WORLDS (AMERICAN COMIC GROUP) (1960) #56 (ACG) Fair
UNKNOWN WORLDS (AMERICAN COMIC GROUP) (1960) #57 (ACG) Very Good

VALLEY OF THE DINOSAURS (1975) #11 (Charlton) Very Good

WINNIE THE POOH (1977) (#1-17) (GOLD KEY) #3 WHITMAN (Gold Key) Very Good