Chuck's Granddaughter Has COVID
Howdy!
Will Moulton let me know yesterday that there was a slight uptick on Monday of people asking to be removed from my newsletter mailing list after I urged everyone to get vaccinated (and boosted) to prevent COVID-19. Those half-a-dozen people who walked away apparently took umbrage at my suggesting that we all bear some measure of responsibility for helping to reduce the spread of COVID-19, and that the vaccines currently on the market seem to work both to protect, and to mitigate, some of the worst impacts of this remarkably infectious disease.
Truthfully, I do empathize with those who feel that being vaccinated is a personal choice, as I am about as fiercely-independent a person as you will ever meet. I am also quite aware that as human beings that we are incredibly social, however, and that we hunger to be in close proximity with both our families, and our friends. That means that our choices that we make about our own health and safety have the dreadful potential to negatively impact others, even to the point of causing their death. I have witnessed precisely that worst-case scenario overwhelm the family of a dear friend, where nearly a dozen of his relatives have passed away from COVID over the past 18 months. And yet, several of the survivors still refuse to accept any protection. Even in my most reflective moments, I just cannot fathom that kind of thinking.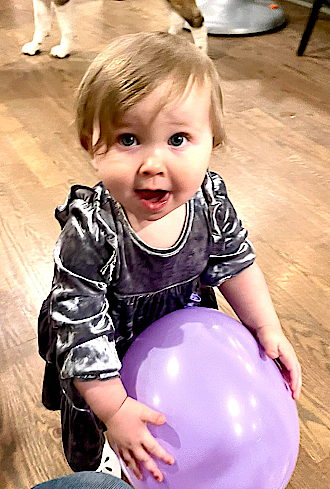 Felicity Luciana Rozanski-Palmer

Were circumstances different, I would have let the subject of the spread of COVID drop after Monday's mailing, as my newsletter is primarily intended to keep you up-to-date with all of the fun things that we are doing at Mile High Comics. With my own little granddaughter, Felicity Luciana Rozanski-Palmer, testing positive yesterday afternoon, however, this battle has become very personal for me. Felicity is miserable right now and running a fever, but otherwise seems to be OK. That having been said, any COVID infection comes with the possibility of further complications, so all of us in our family are hoping that Felicity recovers quickly.
As regards Mile High Comics, I am spending all of my time these days sorting through old comics for Will and Pam to grade/enter for you in the middle of our Jason St. Mega-Store events area. I have utilized our hundreds of event chairs to wall off a 2,000 square foot area, from which I can still chat with our Mega-Store visitors, but also maintain positive social distancing. This protected sorting area allows me to continue to provide Will and Pam with thousands of fresh Golden, Silver, and Bronze Age comics to offer you each week, with minimal risk to anyone. I like this very much!
As regards our store visitors, we have been requiring masks for the past two weeks, and people actually seem to be doing quite a good job of maintaining social distance. The fact that we have great ventilation (and 45,000 square feet in which to spread out) seems to be helping, too. That having been said, all of our big events for this month have been canceled, including tomorrow night's New Era Wrestling show. We'll update everyone about new event dates, just as soon as it is safe to hold large gatherings again.
All of the above having been said, if you live in the Colorado area and are still hesitant to go out in public right now, do bear in mind that we offer completely free shipping (anywhere in America) of back issue comics and magazines with any minimum $75 order, and will even include trade paperbacks, comics hardbacks, and/or graphic novels in your shipment for a nominal per-book fee (to cover the extra weight of books). While being in isolation is unpleasant, right now is actually a wonderful opportunity for all of us to catch up on our reading of comics, and also to sort and organize our collections. When I am not working at Mile High Comics, that is exactly what I am doing at my own home.

AVENGERS (1963) (#1-402) (MARVEL) #12

I will close today's missive by encouraging you to take a look through our combined Premium New-In-Stock link for the past week. While the lists of newly-arrived comics, books, and magazines that Will Moulton posts for you at the end of my newsletters are extensive, the combined weekly list is absolutely staggering. We have been adding an incredible number of great comics into our website inventory for you over the past two weeks. Better yet, all of the back issue comics and magazines that are listed are available to you at a full 60% off when you utilize our ongoing THANKYOU! codeword sale at checkout. Only new issues, a few variants, and our professionally-graded items are exempt. Please do enjoy these great 60% off savings with our personal thanks for your continuing support of Mile High Comics.
Happy collecting!
Chuck Rozanski/Bettie Pages,
President - Mile High Comics, Inc.
January 7, 2022

P.S. Here are a few items just uploaded today:
MARVEL
2001 (JACK KIRBY) (1976) #1 Very Fine
2001 (JACK KIRBY) (1976) #2 Very Fine

ALF (MARVEL) (1988) #1 Near Mint/Mint
ALF (MARVEL) (1988) #2 Near Mint/Mint

ALF ANNUAL (MARVEL) (1988) #1 Very Fine

ALIEN LEGION (1984) (#1-20) (MARVEL EPIC) #4 Near Mint/Mint
ALIEN LEGION (1984) (#1-20) (MARVEL EPIC) #5 Near Mint/Mint
ALIEN LEGION (1984) (#1-20) (MARVEL EPIC) #6 Near Mint/Mint
ALIEN LEGION (1984) (#1-20) (MARVEL EPIC) #7 Near Mint/Mint
ALIEN LEGION (1984) (#1-20) (MARVEL EPIC) #8 Near Mint/Mint
ALIEN LEGION (1984) (#1-20) (MARVEL EPIC) #9 Near Mint/Mint
ALIEN LEGION (1984) (#1-20) (MARVEL EPIC) #10 Near Mint/Mint
ALIEN LEGION (1984) (#1-20) (MARVEL EPIC) #11 Near Mint/Mint
ALIEN LEGION (1984) (#1-20) (MARVEL EPIC) #12 Near Mint/Mint
ALIEN LEGION (1984) (#1-20) (MARVEL EPIC) #13 Near Mint/Mint
ALIEN LEGION (1984) (#1-20) (MARVEL EPIC) #14 Near Mint/Mint
ALIEN LEGION (1984) (#1-20) (MARVEL EPIC) #15 Near Mint/Mint

ALIEN LEGION (1987) (#1-18) (MARVEL EPIC) #1 Near Mint/Mint
ALIEN LEGION (1987) (#1-18) (MARVEL EPIC) #4 Near Mint/Mint
ALIEN LEGION (1987) (#1-18) (MARVEL EPIC) #5 Very Fine
ALIEN LEGION (1987) (#1-18) (MARVEL EPIC) #6 Near Mint/Mint
ALIEN LEGION (1987) (#1-18) (MARVEL EPIC) #7 NEWSSTAND Very Fine
ALIEN LEGION (1987) (#1-18) (MARVEL EPIC) #9 NEWSSTAND Very Fine

ALPHA FLIGHT (1983) (#1-130) #20 Fine
ALPHA FLIGHT (1983) (#1-130) #21 Fine
ALPHA FLIGHT (1983) (#1-130) #22 Very Fine


AMAZING ADVENTURES (1970) (#1-39) (MARVEL) #9

AMAZING ADVENTURES (1970) (#1-39) (MARVEL) #9 Good
AMAZING ADVENTURES (1970) (#1-39) (MARVEL) #10 Good
AMAZING ADVENTURES (1970) (#1-39) (MARVEL) #33 Fine

AMAZING ADVENTURES (1979) (#1-14) (MARVEL) #1 NEWSSTAND Very Fine

AVENGERS (1963) (#1-402) (MARVEL) #12 Good
AVENGERS (1963) (#1-402) (MARVEL) #152 Fine
AVENGERS (1963) (#1-402) (MARVEL) #153 Fine
AVENGERS (1963) (#1-402) (MARVEL) #154 Fine
AVENGERS (1963) (#1-402) (MARVEL) #155 Good
AVENGERS (1963) (#1-402) (MARVEL) #156 Very Fine
AVENGERS (1963) (#1-402) (MARVEL) #157 Fine
AVENGERS (1963) (#1-402) (MARVEL) #158 Near Mint/Mint
AVENGERS (1963) (#1-402) (MARVEL) #159 Near Mint/Mint
AVENGERS (1963) (#1-402) (MARVEL) #160 Fine
AVENGERS (1963) (#1-402) (MARVEL) #161 Very Fine
AVENGERS (1963) (#1-402) (MARVEL) #162 Fine
AVENGERS (1963) (#1-402) (MARVEL) #163 Near Mint/Mint
AVENGERS (1963) (#1-402) (MARVEL) #164 Very Fine
AVENGERS (1963) (#1-402) (MARVEL) #166 Near Mint/Mint
AVENGERS (1963) (#1-402) (MARVEL) #167 Very Fine
AVENGERS (1963) (#1-402) (MARVEL) #168 Very Fine
AVENGERS (1963) (#1-402) (MARVEL) #169 Very Fine
AVENGERS (1963) (#1-402) (MARVEL) #170 Near Mint/Mint
AVENGERS (1963) (#1-402) (MARVEL) #171 Fine
AVENGERS (1963) (#1-402) (MARVEL) #172 Very Fine
AVENGERS (1963) (#1-402) (MARVEL) #174 Fine
AVENGERS (1963) (#1-402) (MARVEL) #175 Very Fine
AVENGERS (1963) (#1-402) (MARVEL) #176 Near Mint/Mint
AVENGERS (1963) (#1-402) (MARVEL) #177 Near Mint/Mint


AVENGERS (1963) (#1-402) (MARVEL) #178

AVENGERS (1963) (#1-402) (MARVEL) #178 Near Mint/Mint
AVENGERS (1963) (#1-402) (MARVEL) #178 Very Fine
AVENGERS (1963) (#1-402) (MARVEL) #179 Very Fine
AVENGERS (1963) (#1-402) (MARVEL) #180 Near Mint/Mint
AVENGERS (1963) (#1-402) (MARVEL) #181 Very Good
AVENGERS (1963) (#1-402) (MARVEL) #182 Fine
AVENGERS (1963) (#1-402) (MARVEL) #183 Very Fine
AVENGERS (1963) (#1-402) (MARVEL) #184 NEWSSTAND Near Mint/Mint
AVENGERS (1963) (#1-402) (MARVEL) #185 NEWSSTAND Near Mint/Mint
AVENGERS (1963) (#1-402) (MARVEL) #186 NEWSSTAND Very Fine
AVENGERS (1963) (#1-402) (MARVEL) #187 NEWSSTAND Fine
AVENGERS (1963) (#1-402) (MARVEL) #188 NEWSSTAND Very Fine
AVENGERS (1963) (#1-402) (MARVEL) #189 NEWSSTAND Near Mint/Mint
AVENGERS (1963) (#1-402) (MARVEL) #190 NEWSSTAND Very Fine
AVENGERS (1963) (#1-402) (MARVEL) #191 NEWSSTAND Very Fine
AVENGERS (1963) (#1-402) (MARVEL) #192 NEWSSTAND Near Mint/Mint
AVENGERS (1963) (#1-402) (MARVEL) #193 Near Mint/Mint
AVENGERS (1963) (#1-402) (MARVEL) #194 NEWSSTAND Near Mint/Mint
AVENGERS (1963) (#1-402) (MARVEL) #195 NEWSSTAND Very Fine
AVENGERS (1963) (#1-402) (MARVEL) #196 Near Mint/Mint
AVENGERS (1963) (#1-402) (MARVEL) #197 Near Mint/Mint
AVENGERS (1963) (#1-402) (MARVEL) #198 Near Mint/Mint
AVENGERS (1963) (#1-402) (MARVEL) #199 Near Mint/Mint
AVENGERS (1963) (#1-402) (MARVEL) #200 Near Mint/Mint
AVENGERS (1963) (#1-402) (MARVEL) #201 Near Mint/Mint
AVENGERS (1963) (#1-402) (MARVEL) #202 Near Mint/Mint
AVENGERS (1963) (#1-402) (MARVEL) #203 Near Mint/Mint
AVENGERS (1963) (#1-402) (MARVEL) #204 Very Fine
AVENGERS (1963) (#1-402) (MARVEL) #205 Near Mint/Mint
AVENGERS (1963) (#1-402) (MARVEL) #206 Near Mint/Mint
AVENGERS (1963) (#1-402) (MARVEL) #207 Near Mint/Mint


AVENGERS (1963) (#1-402) (MARVEL) #208

AVENGERS (1963) (#1-402) (MARVEL) #208 Near Mint/Mint
AVENGERS (1963) (#1-402) (MARVEL) #209 Near Mint/Mint
AVENGERS (1963) (#1-402) (MARVEL) #210 Near Mint/Mint
AVENGERS (1963) (#1-402) (MARVEL) #211 Near Mint/Mint
AVENGERS (1963) (#1-402) (MARVEL) #212 Near Mint/Mint
AVENGERS (1963) (#1-402) (MARVEL) #213 Near Mint/Mint
AVENGERS (1963) (#1-402) (MARVEL) #214 Near Mint/Mint
AVENGERS (1963) (#1-402) (MARVEL) #215 Near Mint/Mint
AVENGERS (1963) (#1-402) (MARVEL) #216 Near Mint/Mint
AVENGERS (1963) (#1-402) (MARVEL) #217 Near Mint/Mint
AVENGERS (1963) (#1-402) (MARVEL) #218 Near Mint/Mint
AVENGERS (1963) (#1-402) (MARVEL) #219 Near Mint/Mint
AVENGERS (1963) (#1-402) (MARVEL) #220 Near Mint/Mint
AVENGERS (1963) (#1-402) (MARVEL) #221 Near Mint/Mint
AVENGERS (1963) (#1-402) (MARVEL) #222 Near Mint/Mint
AVENGERS (1963) (#1-402) (MARVEL) #223 Near Mint/Mint
AVENGERS (1963) (#1-402) (MARVEL) #224 Near Mint/Mint
AVENGERS (1963) (#1-402) (MARVEL) #225 Near Mint/Mint
AVENGERS (1963) (#1-402) (MARVEL) #226 Near Mint/Mint
AVENGERS (1963) (#1-402) (MARVEL) #227 Near Mint/Mint
AVENGERS (1963) (#1-402) (MARVEL) #228 Near Mint/Mint
AVENGERS (1963) (#1-402) (MARVEL) #229 Near Mint/Mint
AVENGERS (1963) (#1-402) (MARVEL) #230 Near Mint/Mint
AVENGERS (1963) (#1-402) (MARVEL) #231 Near Mint/Mint
AVENGERS (1963) (#1-402) (MARVEL) #232 Near Mint/Mint
AVENGERS (1963) (#1-402) (MARVEL) #233 Very Fine
AVENGERS (1963) (#1-402) (MARVEL) #234 Near Mint/Mint
AVENGERS (1963) (#1-402) (MARVEL) #235 Near Mint/Mint
AVENGERS (1963) (#1-402) (MARVEL) #236 Near Mint/Mint
AVENGERS (1963) (#1-402) (MARVEL) #237 Near Mint/Mint
AVENGERS (1963) (#1-402) (MARVEL) #238 Near Mint/Mint


AVENGERS (1963) (#1-402) (MARVEL) #239

AVENGERS (1963) (#1-402) (MARVEL) #239 Near Mint/Mint
AVENGERS (1963) (#1-402) (MARVEL) #240 Near Mint/Mint
AVENGERS (1963) (#1-402) (MARVEL) #241 Near Mint/Mint
AVENGERS (1963) (#1-402) (MARVEL) #242 Near Mint/Mint
AVENGERS (1963) (#1-402) (MARVEL) #243 Very Fine
AVENGERS (1963) (#1-402) (MARVEL) #244 Near Mint/Mint
AVENGERS (1963) (#1-402) (MARVEL) #245 Near Mint/Mint
AVENGERS (1963) (#1-402) (MARVEL) #246 Near Mint/Mint
AVENGERS (1963) (#1-402) (MARVEL) #247 Near Mint/Mint
AVENGERS (1963) (#1-402) (MARVEL) #248 Near Mint/Mint
AVENGERS (1963) (#1-402) (MARVEL) #249 Near Mint/Mint
AVENGERS (1963) (#1-402) (MARVEL) #250 Near Mint/Mint
AVENGERS (1963) (#1-402) (MARVEL) #251 Near Mint/Mint
AVENGERS (1963) (#1-402) (MARVEL) #252 Fine
AVENGERS (1963) (#1-402) (MARVEL) #253 Very Fine
AVENGERS (1963) (#1-402) (MARVEL) #254 Near Mint/Mint
AVENGERS (1963) (#1-402) (MARVEL) #255 Near Mint/Mint
AVENGERS (1963) (#1-402) (MARVEL) #256 Near Mint/Mint
AVENGERS (1963) (#1-402) (MARVEL) #257 Near Mint/Mint
AVENGERS (1963) (#1-402) (MARVEL) #258 Near Mint/Mint
AVENGERS (1963) (#1-402) (MARVEL) #259 Near Mint/Mint
AVENGERS (1963) (#1-402) (MARVEL) #260 Very Fine
AVENGERS (1963) (#1-402) (MARVEL) #261 Near Mint/Mint
AVENGERS (1963) (#1-402) (MARVEL) #262 Very Fine
AVENGERS (1963) (#1-402) (MARVEL) #263 Very Fine
AVENGERS (1963) (#1-402) (MARVEL) #264 Very Fine
AVENGERS (1963) (#1-402) (MARVEL) #265 Near Mint/Mint
AVENGERS (1963) (#1-402) (MARVEL) #266 Near Mint/Mint
AVENGERS (1963) (#1-402) (MARVEL) #267 Near Mint/Mint
AVENGERS (1963) (#1-402) (MARVEL) #268 Near Mint/Mint
AVENGERS (1963) (#1-402) (MARVEL) #269 Near Mint/Mint


AVENGERS (1963) (#1-402) (MARVEL) #270

AVENGERS (1963) (#1-402) (MARVEL) #270 Near Mint/Mint
AVENGERS (1963) (#1-402) (MARVEL) #271 Near Mint/Mint
AVENGERS (1963) (#1-402) (MARVEL) #272 Near Mint/Mint
AVENGERS (1963) (#1-402) (MARVEL) #273 Near Mint/Mint
AVENGERS (1963) (#1-402) (MARVEL) #274 Very Fine
AVENGERS (1963) (#1-402) (MARVEL) #275 Near Mint/Mint
AVENGERS (1963) (#1-402) (MARVEL) #276 Near Mint/Mint
AVENGERS (1963) (#1-402) (MARVEL) #277 Near Mint/Mint
AVENGERS (1963) (#1-402) (MARVEL) #278 Near Mint/Mint
AVENGERS (1963) (#1-402) (MARVEL) #279 Very Fine
AVENGERS (1963) (#1-402) (MARVEL) #280 Very Fine
AVENGERS (1963) (#1-402) (MARVEL) #281 Near Mint/Mint
AVENGERS (1963) (#1-402) (MARVEL) #282 Very Good
AVENGERS (1963) (#1-402) (MARVEL) #283 Very Fine
AVENGERS (1963) (#1-402) (MARVEL) #284 Near Mint/Mint
AVENGERS (1963) (#1-402) (MARVEL) #285 Fine
AVENGERS (1963) (#1-402) (MARVEL) #286 Near Mint/Mint
AVENGERS (1963) (#1-402) (MARVEL) #287 Very Good
AVENGERS (1963) (#1-402) (MARVEL) #288 Near Mint/Mint
AVENGERS (1963) (#1-402) (MARVEL) #289 Near Mint/Mint
AVENGERS (1963) (#1-402) (MARVEL) #290 Very Fine
AVENGERS (1963) (#1-402) (MARVEL) #291 Very Fine
AVENGERS (1963) (#1-402) (MARVEL) #292 Near Mint/Mint
AVENGERS (1963) (#1-402) (MARVEL) #293 Very Good
AVENGERS (1963) (#1-402) (MARVEL) #294 Very Fine
AVENGERS (1963) (#1-402) (MARVEL) #295 Near Mint/Mint
AVENGERS (1963) (#1-402) (MARVEL) #296 Near Mint/Mint
AVENGERS (1963) (#1-402) (MARVEL) #297 Near Mint/Mint
AVENGERS (1963) (#1-402) (MARVEL) #298 Very Fine
AVENGERS (1963) (#1-402) (MARVEL) #299 Very Fine
AVENGERS (1963) (#1-402) (MARVEL) #300 Near Mint/Mint


AVENGERS (1963) (#1-402) (MARVEL) #301

AVENGERS (1963) (#1-402) (MARVEL) #301 Near Mint/Mint
AVENGERS (1963) (#1-402) (MARVEL) #302 Near Mint/Mint
AVENGERS (1963) (#1-402) (MARVEL) #303 Near Mint/Mint
AVENGERS (1963) (#1-402) (MARVEL) #304 Very Fine
AVENGERS (1963) (#1-402) (MARVEL) #305 Near Mint/Mint
AVENGERS (1963) (#1-402) (MARVEL) #306 Near Mint/Mint

AVENGERS ANNUAL (1967) #6 Very Fine
AVENGERS ANNUAL (1967) #9 NEWSSTAND Near Mint/Mint
AVENGERS ANNUAL (1967) #10 Very Fine
AVENGERS ANNUAL (1967) #11 Near Mint/Mint
AVENGERS ANNUAL (1967) #12 Near Mint/Mint
AVENGERS ANNUAL (1967) #13 Very Fine
AVENGERS ANNUAL (1967) #14 Very Fine
AVENGERS ANNUAL (1967) #15 Near Mint/Mint
AVENGERS ANNUAL (1967) #16 Near Mint/Mint
AVENGERS ANNUAL (1967) #17 Very Fine

BATTLESTAR GALACTICA (1979) #1 Near Mint/Mint
BATTLESTAR GALACTICA (1979) #2 Near Mint/Mint
BATTLESTAR GALACTICA (1979) #3 NEWSSTAND Fine
BATTLESTAR GALACTICA (1979) #4 NEWSSTAND Near Mint/Mint
BATTLESTAR GALACTICA (1979) #5 NEWSSTAND Near Mint/Mint
BATTLESTAR GALACTICA (1979) #6 NEWSSTAND Near Mint/Mint
BATTLESTAR GALACTICA (1979) #7 NEWSSTAND Very Fine
BATTLESTAR GALACTICA (1979) #8 NEWSSTAND Fine
BATTLESTAR GALACTICA (1979) #9 NEWSSTAND Very Fine
BATTLESTAR GALACTICA (1979) #10 NEWSSTAND Very Fine
BATTLESTAR GALACTICA (1979) #11 NEWSSTAND Very Fine
BATTLESTAR GALACTICA (1979) #12 NEWSSTAND Near Mint/Mint
BATTLESTAR GALACTICA (1979) #13 NEWSSTAND Very Fine


BATTLESTAR GALACTICA (1979) #14

BATTLESTAR GALACTICA (1979) #14 Near Mint/Mint
BATTLESTAR GALACTICA (1979) #15 Very Fine
BATTLESTAR GALACTICA (1979) #16 Near Mint/Mint
BATTLESTAR GALACTICA (1979) #17 Near Mint/Mint
BATTLESTAR GALACTICA (1979) #18 Near Mint/Mint
BATTLESTAR GALACTICA (1979) #19 Near Mint/Mint
BATTLESTAR GALACTICA (1979) #20 Near Mint/Mint
BATTLESTAR GALACTICA (1979) #21 Very Fine
BATTLESTAR GALACTICA (1979) #22 Near Mint/Mint
BATTLESTAR GALACTICA (1979) #23 Very Good

BLACK PANTHER (1988) (#1-4) (MARVEL) #1 Very Fine
BLACK PANTHER (1988) (#1-4) (MARVEL) #2 Fine
BLACK PANTHER (1988) (#1-4) (MARVEL) #3 Near Mint/Mint
BLACK PANTHER (1988) (#1-4) (MARVEL) #4 Near Mint/Mint

CAPTAIN AMERICA (1968) (#100-454) (MARVEL) #202 Fine
CAPTAIN AMERICA (1968) (#100-454) (MARVEL) #203 Very Good
CAPTAIN AMERICA (1968) (#100-454) (MARVEL) #204 Very Fine
CAPTAIN AMERICA (1968) (#100-454) (MARVEL) #205 Fine
CAPTAIN AMERICA (1968) (#100-454) (MARVEL) #206 Near Mint/Mint
CAPTAIN AMERICA (1968) (#100-454) (MARVEL) #206 Very Fine
CAPTAIN AMERICA (1968) (#100-454) (MARVEL) #207 Very Fine
CAPTAIN AMERICA (1968) (#100-454) (MARVEL) #208 Near Mint/Mint
CAPTAIN AMERICA (1968) (#100-454) (MARVEL) #209 Very Good
CAPTAIN AMERICA (1968) (#100-454) (MARVEL) #210 Near Mint/Mint
CAPTAIN AMERICA (1968) (#100-454) (MARVEL) #211 Near Mint/Mint
CAPTAIN AMERICA (1968) (#100-454) (MARVEL) #212 Fine
CAPTAIN AMERICA (1968) (#100-454) (MARVEL) #212 Near Mint/Mint
CAPTAIN AMERICA (1968) (#100-454) (MARVEL) #213 Very Fine
CAPTAIN AMERICA (1968) (#100-454) (MARVEL) #214 Very Fine


CAPTAIN AMERICA (1968) (#100-454) (MARVEL) #215

CAPTAIN AMERICA (1968) (#100-454) (MARVEL) #215 Near Mint/Mint
CAPTAIN AMERICA (1968) (#100-454) (MARVEL) #216 Very Fine
CAPTAIN AMERICA (1968) (#100-454) (MARVEL) #217 Fine
CAPTAIN AMERICA (1968) (#100-454) (MARVEL) #218 Fine
CAPTAIN AMERICA (1968) (#100-454) (MARVEL) #219 Near Mint/Mint
CAPTAIN AMERICA (1968) (#100-454) (MARVEL) #220 Near Mint/Mint
CAPTAIN AMERICA (1968) (#100-454) (MARVEL) #221 Very Fine
CAPTAIN AMERICA (1968) (#100-454) (MARVEL) #224 Near Mint/Mint
CAPTAIN AMERICA (1968) (#100-454) (MARVEL) #225 Near Mint/Mint
CAPTAIN AMERICA (1968) (#100-454) (MARVEL) #226 Near Mint/Mint
CAPTAIN AMERICA (1968) (#100-454) (MARVEL) #227 Near Mint/Mint
CAPTAIN AMERICA (1968) (#100-454) (MARVEL) #228 Near Mint/Mint
CAPTAIN AMERICA (1968) (#100-454) (MARVEL) #228 Very Fine
CAPTAIN AMERICA (1968) (#100-454) (MARVEL) #269 Near Mint/Mint
CAPTAIN AMERICA (1968) (#100-454) (MARVEL) #270 Near Mint/Mint
CAPTAIN AMERICA (1968) (#100-454) (MARVEL) #271 Near Mint/Mint
CAPTAIN AMERICA (1968) (#100-454) (MARVEL) #272 Near Mint/Mint
CAPTAIN AMERICA (1968) (#100-454) (MARVEL) #273 Near Mint/Mint
CAPTAIN AMERICA (1968) (#100-454) (MARVEL) #274 Very Fine
CAPTAIN AMERICA (1968) (#100-454) (MARVEL) #275 Near Mint/Mint
CAPTAIN AMERICA (1968) (#100-454) (MARVEL) #276 Near Mint/Mint
CAPTAIN AMERICA (1968) (#100-454) (MARVEL) #277 Near Mint/Mint
CAPTAIN AMERICA (1968) (#100-454) (MARVEL) #278 Near Mint/Mint
CAPTAIN AMERICA (1968) (#100-454) (MARVEL) #280 Very Fine
CAPTAIN AMERICA (1968) (#100-454) (MARVEL) #281 Near Mint/Mint
CAPTAIN AMERICA (1968) (#100-454) (MARVEL) #282 Near Mint/Mint
CAPTAIN AMERICA (1968) (#100-454) (MARVEL) #283 Near Mint/Mint
CAPTAIN AMERICA (1968) (#100-454) (MARVEL) #285 Near Mint/Mint
CAPTAIN AMERICA (1968) (#100-454) (MARVEL) #286 Near Mint/Mint
CAPTAIN AMERICA (1968) (#100-454) (MARVEL) #287 Near Mint/Mint
CAPTAIN AMERICA (1968) (#100-454) (MARVEL) #288 Very Fine


CAPTAIN AMERICA (1968) (#100-454) (MARVEL) #289

CAPTAIN AMERICA (1968) (#100-454) (MARVEL) #289 Very Fine
CAPTAIN AMERICA (1968) (#100-454) (MARVEL) #290 Fine
CAPTAIN AMERICA (1968) (#100-454) (MARVEL) #291 Very Fine
CAPTAIN AMERICA (1968) (#100-454) (MARVEL) #292 Very Fine
CAPTAIN AMERICA (1968) (#100-454) (MARVEL) #293 Near Mint/Mint
CAPTAIN AMERICA (1968) (#100-454) (MARVEL) #294 Very Fine
CAPTAIN AMERICA (1968) (#100-454) (MARVEL) #303 Near Mint/Mint
CAPTAIN AMERICA (1968) (#100-454) (MARVEL) #304 Very Fine
CAPTAIN AMERICA (1968) (#100-454) (MARVEL) #305 Near Mint/Mint
CAPTAIN AMERICA (1968) (#100-454) (MARVEL) #353 Very Fine

CAPTAIN AMERICA ANNUAL (1971) #4 Very Good

CAPTAIN SAVAGE (1968) #1 Good
CAPTAIN SAVAGE (1968) #2 Good
CAPTAIN SAVAGE (1968) #5 Very Fine
CAPTAIN SAVAGE (1968) #12 Very Good
CAPTAIN SAVAGE (1968) #14 Very Good
CAPTAIN SAVAGE (1968) #17 Fine
CAPTAIN SAVAGE (1968) #18 Good

CHAMPIONS (1975) (#1-17) (MARVEL) #7 Very Good
CHAMPIONS (1975) (#1-17) (MARVEL) #8 Very Fine
CHAMPIONS (1975) (#1-17) (MARVEL) #14 Very Fine
CHAMPIONS (1975) (#1-17) (MARVEL) #17 Very Fine

CLOAK AND DAGGER (1985) (#1-11) (MARVEL) #1 Very Good
CLOAK AND DAGGER (1985) (#1-11) (MARVEL) #2 Near Mint/Mint
CLOAK AND DAGGER (1985) (#1-11) (MARVEL) #3 Very Fine
CLOAK AND DAGGER (1985) (#1-11) (MARVEL) #4 Very Fine
CLOAK AND DAGGER (1985) (#1-11) (MARVEL) #5 Very Fine


CLOAK AND DAGGER (1985) (#1-11) (MARVEL) #6

CLOAK AND DAGGER (1985) (#1-11) (MARVEL) #6 Near Mint/Mint
CLOAK AND DAGGER (1985) (#1-11) (MARVEL) #7 Near Mint/Mint
CLOAK AND DAGGER (1985) (#1-11) (MARVEL) #8 Near Mint/Mint
CLOAK AND DAGGER (1985) (#1-11) (MARVEL) #9 Very Fine
CLOAK AND DAGGER (1985) (#1-11) (MARVEL) #10 Fine
CLOAK AND DAGGER (1985) (#1-11) (MARVEL) #11 Near Mint/Mint

CLOAK AND DAGGER (1988) (#1-19) (MARVEL) #1 Near Mint/Mint
CLOAK AND DAGGER (1988) (#1-19) (MARVEL) #2 NEWSSTAND Near Mint/Mint
CLOAK AND DAGGER (1988) (#1-19) (MARVEL) #3 NEWSSTAND Near Mint/Mint
CLOAK AND DAGGER (1988) (#1-19) (MARVEL) #4 NEWSSTAND Very Fine
CLOAK AND DAGGER (1988) (#1-19) (MARVEL) #5 NEWSSTAND Very Fine
CLOAK AND DAGGER (1988) (#1-19) (MARVEL) #6 NEWSSTAND Very Fine

CYBERSPACE 3000 (1993) #3 Very Fine
CYBERSPACE 3000 (1993) #4 Near Mint/Mint
CYBERSPACE 3000 (1993) #4 Very Fine
CYBERSPACE 3000 (1993) #7 Near Mint/Mint
CYBERSPACE 3000 (1993) #7 Very Fine

CYBLADE/GHOST RIDER (1996) #1 Near Mint/Mint
CYBLADE/GHOST RIDER (1996) #1 Fine
CYBLADE/GHOST RIDER (1996) #1 Very Fine

CYCLOPS (2001) (#1-4) (ICONS) (MARVEL) #1 NEWSSTAND Very Fine
CYCLOPS (2001) (#1-4) (ICONS) (MARVEL) #3 NEWSSTAND Near Mint/Mint
CYCLOPS (2001) (#1-4) (ICONS) (MARVEL) #3 NEWSSTAND Very Fine
CYCLOPS (2001) (#1-4) (ICONS) (MARVEL) #3 NEWSSTAND Fine
CYCLOPS (2001) (#1-4) (ICONS) (MARVEL) #4 NEWSSTAND Fine

CYCLOPS (2011) (#1) (ONE-SHOT) (MARVEL) #1 Fine


CYCLOPS (2011) (#1) (ONE-SHOT) (MARVEL) #1

CYCLOPS (2011) (#1) (ONE-SHOT) (MARVEL) #1 Very Fine

CYCLOPS (2014) (#1-12) (MARVEL NOW) #8 Fine
CYCLOPS (2014) (#1-12) (MARVEL NOW) #8 Very Fine
CYCLOPS (2014) (#1-12) (MARVEL NOW) #10 Fine
CYCLOPS (2014) (#1-12) (MARVEL NOW) #10 Very Fine
CYCLOPS (2014) (#1-12) (MARVEL NOW) #11 Near Mint/Mint
CYCLOPS (2014) (#1-12) (MARVEL NOW) #12 Near Mint/Mint
CYCLOPS (2014) (#1-12) (MARVEL NOW) #12 Very Fine

DAREDEVIL (1998) (#1-119, 500-512) (MARVEL) #55 Very Fine

DARTH VADER (STAR WARS) (2015) #1 4TH PRINT Very Fine
DARTH VADER (STAR WARS) (2015) #1 CASSADAY Near Mint/Mint
DARTH VADER (STAR WARS) (2015) #1 DEL MUNDO Near Mint/Mint
DARTH VADER (STAR WARS) (2015) #1 4TH PRINT Fine
DARTH VADER (STAR WARS) (2015) #1 5TH PRINT Very Fine
DARTH VADER (STAR WARS) (2015) #1 CASSADAY Very Fine
DARTH VADER (STAR WARS) (2015) #1 DEL MUNDO Very Fine
DARTH VADER (STAR WARS) (2015) #1 FIGURE VAR Near Mint/Mint
DARTH VADER (STAR WARS) (2015) #1 MOVIE CVR Near Mint/Mint
DARTH VADER (STAR WARS) (2015) #1 PORTACIO Near Mint/Mint
DARTH VADER (STAR WARS) (2015) #1 YOUNG BABY Near Mint/Mint
DARTH VADER (STAR WARS) (2015) #3 2ND PRINT Near Mint/Mint
DARTH VADER (STAR WARS) (2015) #3 3RD PRINT Near Mint/Mint

DEMON DAYS: X-MEN (2021) #1 Near Mint/Mint

GI JOE (1982) (#1-155) (MARVEL) #21 NEWSSTAND Very Good


KANAN: LAST PADAWAN (STAR WARS) (2015) #4 PORTACIO

KANAN: LAST PADAWAN (STAR WARS) (2015) #4 PORTACIO Very Fine

MAESTRO (2020) #1 Near Mint/Mint
MAESTRO (2020) #2 Near Mint/Mint

MAGIK (1983) #4 Fine

MOON KNIGHT (1985) (#1-6) (MARVEL) (FIST OF KHONSHU) #1 Very Fine

SPIDER-MAN/VENOM FREE COMIC BOOK DAY (2019) #1 Very Fine

SPIDER-MAN: LIFE STORY (2019) #1 Very Fine

SPIDER-VERSE (2019) (#1-6) (MARVEL) #1 2ND PRINT Very Fine

THOR (1962) (#83-125 JOURNEY INTO MYSTERY, 126-502) #276 Very Fine
THOR (1962) (#83-125 JOURNEY INTO MYSTERY, 126-502) #277 Fine
THOR (1962) (#83-125 JOURNEY INTO MYSTERY, 126-502) #278 Fine
THOR (1962) (#83-125 JOURNEY INTO MYSTERY, 126-502) #279 Very Fine
THOR (1962) (#83-125 JOURNEY INTO MYSTERY, 126-502) #280 Near Mint/Mint
THOR (1962) (#83-125 JOURNEY INTO MYSTERY, 126-502) #281 Near Mint/Mint
THOR (1962) (#83-125 JOURNEY INTO MYSTERY, 126-502) #282 Near Mint/Mint
THOR (1962) (#83-125 JOURNEY INTO MYSTERY, 126-502) #283 Very Fine
THOR (1962) (#83-125 JOURNEY INTO MYSTERY, 126-502) #284 NEWSSTAND Near Mint/Mint
THOR (1962) (#83-125 JOURNEY INTO MYSTERY, 126-502) #284 NEWSSTAND Very Fine
THOR (1962) (#83-125 JOURNEY INTO MYSTERY, 126-502) #285 NEWSSTAND Near Mint/Mint
THOR (1962) (#83-125 JOURNEY INTO MYSTERY, 126-502) #286 NEWSSTAND Fine
THOR (1962) (#83-125 JOURNEY INTO MYSTERY, 126-502) #287 NEWSSTAND Very Fine
THOR (1962) (#83-125 JOURNEY INTO MYSTERY, 126-502) #288 NEWSSTAND Fine
THOR (1962) (#83-125 JOURNEY INTO MYSTERY, 126-502) #289 NEWSSTAND Near Mint/Mint
THOR (1962) (#83-125 JOURNEY INTO MYSTERY, 126-502) #290 NEWSSTAND Very Fine
THOR (1962) (#83-125 JOURNEY INTO MYSTERY, 126-502) #291 NEWSSTAND Fine
THOR (1962) (#83-125 JOURNEY INTO MYSTERY, 126-502) #292 NEWSSTAND Near Mint/Mint


THOR (1962) (#83-125 JOURNEY INTO MYSTERY, 126-502) #293

THOR (1962) (#83-125 JOURNEY INTO MYSTERY, 126-502) #293 Near Mint/Mint
THOR (1962) (#83-125 JOURNEY INTO MYSTERY, 126-502) #294 Near Mint/Mint
THOR (1962) (#83-125 JOURNEY INTO MYSTERY, 126-502) #295 Near Mint/Mint
THOR (1962) (#83-125 JOURNEY INTO MYSTERY, 126-502) #295 NEWSSTAND Very Fine
THOR (1962) (#83-125 JOURNEY INTO MYSTERY, 126-502) #296 Near Mint/Mint
THOR (1962) (#83-125 JOURNEY INTO MYSTERY, 126-502) #297 Very Fine
THOR (1962) (#83-125 JOURNEY INTO MYSTERY, 126-502) #298 Very Fine
THOR (1962) (#83-125 JOURNEY INTO MYSTERY, 126-502) #352 Near Mint/Mint
THOR (1962) (#83-125 JOURNEY INTO MYSTERY, 126-502) #353 Very Fine

TRUE BELIEVERS: AVENGERS VS. THANOS (2018) #1 Near Mint/Mint

TRUE BELIEVERS: CAPTAIN MAR-VELL (2019) #1 Near Mint/Mint
TRUE BELIEVERS: CAPTAIN MAR-VELL (2019) #1 Very Fine

TRUE BELIEVERS: CONAN - CURSE OF THE GOLDEN SKULL (2019) #1 Near Mint/Mint

TRUE BELIEVERS: CONAN - SWORDS IN NIGHT (2019) #1 Near Mint/Mint

TRUE BELIEVERS: CONAN RESURRECTION (2019) #1 Near Mint/Mint

TRUE BELIEVERS: CONAN THE BARBARIAN (2019) #1 Near Mint/Mint

TRUE BELIEVERS: FANTASTIC FOUR - COMING OF GALACTUS (2018) #1 Near Mint/Mint

TRUE BELIEVERS: FANTASTIC FOUR VS. DOCTOR DOOM (2018) #1 Near Mint/Mint

TRUE BELIEVERS: INFINITY GAUNTLET (2018) #1 Near Mint/Mint

TRUE BELIEVERS: INFINITY WAR (2018) #1 Near Mint/Mint


TRUE BELIEVERS: KING CONAN (2018) #1

TRUE BELIEVERS: KING CONAN (2018) #1 Very Fine

TRUE BELIEVERS: REBIRTH OF THANOS (2018) #1 Near Mint/Mint

TRUE BELIEVERS: THANOS - THE FIRST (2018) #1 Near Mint/Mint

TRUE BELIEVERS: THANOS RISING (2018) #1 Near Mint/Mint

TRUE BELIEVERS: WHAT IF CONAN WALKED THE EARTH TODAY (2019) #1 Near Mint/Mint

TWO-GUN KID (1948) #56 Good
TWO-GUN KID (1948) #62 Good
TWO-GUN KID (1948) #77 Good
TWO-GUN KID (1948) #80 Good
TWO-GUN KID (1948) #89 Fine
TWO-GUN KID (1948) #90 Good
TWO-GUN KID (1948) #100 Good
TWO-GUN KID (1948) #134 Good

WEB OF VENOM: WRAITH (2020) #1 Near Mint/Mint

WOLVERINE: ORIGINS (2006) #1 TURNER Near Mint/Mint
WOLVERINE: ORIGINS (2006) #1 QUESADA Near Mint/Mint
WOLVERINE: ORIGINS (2006) #1 TURNER Very Fine
WOLVERINE: ORIGINS (2006) #2 Near Mint/Mint
WOLVERINE: ORIGINS (2006) #2 VARIANT Near Mint/Mint
WOLVERINE: ORIGINS (2006) #3 Near Mint/Mint
WOLVERINE: ORIGINS (2006) #3 MESSAGE Near Mint/Mint
WOLVERINE: ORIGINS (2006) #4 QUESADA Near Mint/Mint
WOLVERINE: ORIGINS (2006) #5 Near Mint/Mint
WOLVERINE: ORIGINS (2006) #5 QUESADA Near Mint/Mint


WOLVERINE: ORIGINS (2006) #5 SKETCH INC

WOLVERINE: ORIGINS (2006) #5 SKETCH INC Very Fine
WOLVERINE: ORIGINS (2006) #6 QUESADA Near Mint/Mint
WOLVERINE: ORIGINS (2006) #6 QUESADA Very Fine
WOLVERINE: ORIGINS (2006) #6 Very Fine

X-MEN (1963) (#1-113, UNCANNY X-MEN #114-544) (MARVEL) #33 Fine

DC
ACTION COMICS (1938) (#0-600, 643-904) (DC) #511 NEWSSTAND Good

BATMAN (1940) (#0-713) (DC) #316 Good

CYBORG (2015) (#1-12) (DC) #1 Near Mint/Mint
CYBORG (2015) (#1-12) (DC) #2 Near Mint/Mint
CYBORG (2015) (#1-12) (DC) #2 Very Fine
CYBORG (2015) (#1-12) (DC) #3 Near Mint/Mint
CYBORG (2015) (#1-12) (DC) #3 Very Fine
CYBORG (2015) (#1-12) (DC) #4 Near Mint/Mint
CYBORG (2015) (#1-12) (DC) #4 Very Fine
CYBORG (2015) (#1-12) (DC) #5 Near Mint/Mint
CYBORG (2015) (#1-12) (DC) #5 LOONEY Very Fine
CYBORG (2015) (#1-12) (DC) #6 Near Mint/Mint
CYBORG (2015) (#1-12) (DC) #7 Near Mint/Mint
CYBORG (2015) (#1-12) (DC) #8 Near Mint/Mint
CYBORG (2015) (#1-12) (DC) #8 NEAL ADAMS Very Fine
CYBORG (2015) (#1-12) (DC) #12 Near Mint/Mint

FALLING IN LOVE (1955) #138 Fair

HEROES IN CRISIS (2018) #1 Near Mint/Mint
HEROES IN CRISIS (2018) #2 VARIANT Near Mint/Mint
HEROES IN CRISIS (2018) #3 Near Mint/Mint
HEROES IN CRISIS (2018) #4 Near Mint/Mint
HEROES IN CRISIS (2018) #5 VARIANT Near Mint/Mint
HEROES IN CRISIS (2018) #6 VARIANT Near Mint/Mint
HEROES IN CRISIS (2018) #7 VARIANT Near Mint/Mint
HEROES IN CRISIS (2018) #9 Near Mint/Mint

HOUSE OF MYSTERY (1951) #202 Very Good

OUR FIGHTING FORCES (1954) #21 Fair
OUR FIGHTING FORCES (1954) #32 Very Good
OUR FIGHTING FORCES (1954) #34 Good
OUR FIGHTING FORCES (1954) #36 Good
OUR FIGHTING FORCES (1954) #43 Fair
OUR FIGHTING FORCES (1954) #45 Fair
OUR FIGHTING FORCES (1954) #50 Very Good
OUR FIGHTING FORCES (1954) #52 Good
OUR FIGHTING FORCES (1954) #57 Good
OUR FIGHTING FORCES (1954) #59 Very Good
OUR FIGHTING FORCES (1954) #61 Very Good
OUR FIGHTING FORCES (1954) #63 Good
OUR FIGHTING FORCES (1954) #66 Very Good
OUR FIGHTING FORCES (1954) #68 Good
OUR FIGHTING FORCES (1954) #68 Fair
OUR FIGHTING FORCES (1954) #69 Good
OUR FIGHTING FORCES (1954) #71 Good
OUR FIGHTING FORCES (1954) #72 Good
OUR FIGHTING FORCES (1954) #73 Good
OUR FIGHTING FORCES (1954) #74 Good


OUR FIGHTING FORCES (1954) #75

OUR FIGHTING FORCES (1954) #75 Good
OUR FIGHTING FORCES (1954) #77 Good
OUR FIGHTING FORCES (1954) #78 Fair
OUR FIGHTING FORCES (1954) #79 Good
OUR FIGHTING FORCES (1954) #80 Good
OUR FIGHTING FORCES (1954) #81 Very Good
OUR FIGHTING FORCES (1954) #82 Fair
OUR FIGHTING FORCES (1954) #83 Good
OUR FIGHTING FORCES (1954) #84 Good
OUR FIGHTING FORCES (1954) #85 Very Good
OUR FIGHTING FORCES (1954) #86 Good
OUR FIGHTING FORCES (1954) #87 Fair
OUR FIGHTING FORCES (1954) #88 Very Good
OUR FIGHTING FORCES (1954) #89 Very Good
OUR FIGHTING FORCES (1954) #90 Good
OUR FIGHTING FORCES (1954) #91 Very Good
OUR FIGHTING FORCES (1954) #92 Very Good
OUR FIGHTING FORCES (1954) #93 Very Good
OUR FIGHTING FORCES (1954) #94 Fair
OUR FIGHTING FORCES (1954) #95 Very Good
OUR FIGHTING FORCES (1954) #96 Good
OUR FIGHTING FORCES (1954) #97 Very Good
OUR FIGHTING FORCES (1954) #98 Good
OUR FIGHTING FORCES (1954) #99 Fair
OUR FIGHTING FORCES (1954) #100 Fair
OUR FIGHTING FORCES (1954) #101 Very Good
OUR FIGHTING FORCES (1954) #102 Fine
OUR FIGHTING FORCES (1954) #102 Good
OUR FIGHTING FORCES (1954) #103 Very Good
OUR FIGHTING FORCES (1954) #104 Good
OUR FIGHTING FORCES (1954) #105 Good


OUR FIGHTING FORCES (1954) #106

OUR FIGHTING FORCES (1954) #106 Very Good
OUR FIGHTING FORCES (1954) #107 Very Good
OUR FIGHTING FORCES (1954) #108 Very Good
OUR FIGHTING FORCES (1954) #109 Good
OUR FIGHTING FORCES (1954) #110 Very Good
OUR FIGHTING FORCES (1954) #111 Good
OUR FIGHTING FORCES (1954) #112 Very Good
OUR FIGHTING FORCES (1954) #113 Fine
OUR FIGHTING FORCES (1954) #114 Fine
OUR FIGHTING FORCES (1954) #115 Fine
OUR FIGHTING FORCES (1954) #116 Good
OUR FIGHTING FORCES (1954) #117 Very Good
OUR FIGHTING FORCES (1954) #118 Fair
OUR FIGHTING FORCES (1954) #120 Very Good
OUR FIGHTING FORCES (1954) #121 Good
OUR FIGHTING FORCES (1954) #122 Fine
OUR FIGHTING FORCES (1954) #123 Very Good
OUR FIGHTING FORCES (1954) #124 Good
OUR FIGHTING FORCES (1954) #125 Very Good
OUR FIGHTING FORCES (1954) #126 Very Good
OUR FIGHTING FORCES (1954) #127 Very Good
OUR FIGHTING FORCES (1954) #128 Fine
OUR FIGHTING FORCES (1954) #129 Fine
OUR FIGHTING FORCES (1954) #130 Very Good
OUR FIGHTING FORCES (1954) #131 Very Good
OUR FIGHTING FORCES (1954) #132 Very Good
OUR FIGHTING FORCES (1954) #133 Good
OUR FIGHTING FORCES (1954) #134 Good
OUR FIGHTING FORCES (1954) #135 Very Good
OUR FIGHTING FORCES (1954) #136 Fine
OUR FIGHTING FORCES (1954) #137 Very Good


OUR FIGHTING FORCES (1954) #138

OUR FIGHTING FORCES (1954) #138 Very Good
OUR FIGHTING FORCES (1954) #139 Good
OUR FIGHTING FORCES (1954) #140 Fine
OUR FIGHTING FORCES (1954) #141 Very Good
OUR FIGHTING FORCES (1954) #142 Very Good
OUR FIGHTING FORCES (1954) #143 Good
OUR FIGHTING FORCES (1954) #144 Good
OUR FIGHTING FORCES (1954) #144 Very Good
OUR FIGHTING FORCES (1954) #145 Good
OUR FIGHTING FORCES (1954) #146 Very Good
OUR FIGHTING FORCES (1954) #147 Very Good
OUR FIGHTING FORCES (1954) #148 Very Good
OUR FIGHTING FORCES (1954) #149 Fine
OUR FIGHTING FORCES (1954) #150 Good
OUR FIGHTING FORCES (1954) #151 Very Good
OUR FIGHTING FORCES (1954) #152 Very Good
OUR FIGHTING FORCES (1954) #153 Good
OUR FIGHTING FORCES (1954) #154 Good
OUR FIGHTING FORCES (1954) #154 Very Good
OUR FIGHTING FORCES (1954) #155 Very Good
OUR FIGHTING FORCES (1954) #156 Very Good
OUR FIGHTING FORCES (1954) #157 Good
OUR FIGHTING FORCES (1954) #158 Good
OUR FIGHTING FORCES (1954) #159 Fine
OUR FIGHTING FORCES (1954) #160 Fair
OUR FIGHTING FORCES (1954) #161 Very Good
OUR FIGHTING FORCES (1954) #162 Good
OUR FIGHTING FORCES (1954) #163 Fine
OUR FIGHTING FORCES (1954) #164 Good
OUR FIGHTING FORCES (1954) #166 Very Good
OUR FIGHTING FORCES (1954) #167 Very Good


OUR FIGHTING FORCES (1954) #168

OUR FIGHTING FORCES (1954) #168 Good
OUR FIGHTING FORCES (1954) #169 Good
OUR FIGHTING FORCES (1954) #170 Very Good
OUR FIGHTING FORCES (1954) #171 Fine
OUR FIGHTING FORCES (1954) #172 Fine
OUR FIGHTING FORCES (1954) #173 Fine
OUR FIGHTING FORCES (1954) #174 Fine
OUR FIGHTING FORCES (1954) #174 Very Good
OUR FIGHTING FORCES (1954) #175 Fine
OUR FIGHTING FORCES (1954) #176 Fine
OUR FIGHTING FORCES (1954) #177 Very Fine
OUR FIGHTING FORCES (1954) #178 Fine
OUR FIGHTING FORCES (1954) #179 Fine
OUR FIGHTING FORCES (1954) #180 Very Fine
OUR FIGHTING FORCES (1954) #181 Very Good

STAR TREK: THE NEXT GENERATION (1989) (#1-80) (DC) #50 Very Fine

STRANGE ADVENTURES (2020) (#1-12) (DC BLACK LABEL) #1 VARIANT Fine

SUPERMAN (2011) (#0-52) (DC NEW52) #32 NEWSSTAND Very Good

SUPERMAN/WONDER WOMAN (2013) #11 Fine

SUPERMAN: LEVIATHAN RISING SPECIAL (2019) #1 Very Fine

SUPERMAN: MAN OF STEEL (1991) #78 Near Mint/Mint

WONDER WOMAN (2016) (#1-83, #750-UP) (DC REBIRTH) #750 2000S Fine

WONDER WOMAN: 1984 (2020) #1 VARIANT Near Mint/Mint

DARK HORSE COMICS

ALIENS (1988) (#1-6) (DARK HORSE) (BLACK & WHITE) #5

ALIENS (1988) (#1-6) (DARK HORSE) (BLACK & WHITE) #5 Fine

IMAGE COMICS
CYBLADE (2008) #4 (Image Top Cow) Near Mint/Mint

CYBLADE/SHI: BATTLE FOR INDEPENDENTS #1 TUCCI (Image Top Cow) Near Mint/Mint
CYBLADE/SHI: BATTLE FOR INDEPENDENTS #1 TUCCI (Image Top Cow) Very Fine

INDEPENDENTS
ARCHIE'S CAR (ARCHIE CHRISTIAN SPIRE) (1979) #1 49 CENT CV (Archie: Spire Christian Comics) Good

CYBERRAD (1991) #3 NEWSSTAND (Continuity Publishing) Near Mint/Mint
CYBERRAD (1991) #4 NEWSSTAND (Continuity Publishing) Very Fine
CYBERRAD (1991) #4 NEWSSTAND (Continuity Publishing) Fine
CYBERRAD (1991) #6 (Continuity Publishing) Very Fine
CYBERRAD (1991) #7 NEWSSTAND (Continuity Publishing) Fine

CYBERWERX #1 (Mu Press) Fine
CYBERWERX #1 (Mu Press) Very Fine

CYBERZONE (1994) #2 (Jet Black Graphiks) Very Fine
CYBERZONE (1994) #4 (Jet Black Graphiks) Very Fine
CYBERZONE (1994) #5 (Jet Black Graphiks) Near Mint/Mint
CYBERZONE (1994) #5 (Jet Black Graphiks) Very Fine
CYBERZONE (1994) #6 (Jet Black Graphiks) Near Mint/Mint
CYBERZONE (1994) #6 (Jet Black Graphiks) Very Fine
CYBERZONE (1994) #7 (Jet Black Graphiks) Near Mint/Mint
CYBERZONE (1994) #7 (Jet Black Graphiks) Very Fine

CYBOARS (1996) #1 (Vintage Comics) Very Fine

CYBORG: THE COMIC BOOK (JEAN-CLAUDE VAN DAMME) (1989) #1 (CANNON VIDEO) Very Good

CYCLONE BILL AND THE TALL TALES (2004) #2 (Moonstone) Very Fine

CYCOPS (1988) #2 (Comics Interview Publications) Very Fine

CYGNUS X-1 (1995) #1 (Twisted Pearl Press) Near Mint/Mint
CYGNUS X-1 (1995) #2 (Twisted Pearl Press) Very Fine

CYNDER (1995) #1 (Immortelle Studios) Near Mint/Mint
CYNDER (1995) #1 (Immortelle Studios) Very Fine
CYNDER (1995) #2 (Immortelle Studios) Near Mint/Mint
CYNDER (1995) #3 (Immortelle Studios) Near Mint/Mint
CYNDER (1995) #3 (Immortelle Studios) Very Fine

CYNDER (SERIES II) (1996) #1 A. HUGHES (Immortal Comics) Very Fine
CYNDER (SERIES II) (1996) #2 (Immortal Comics) Fine
CYNDER (SERIES II) (1996) #2 VARIANT (Immortal Comics) Near Mint/Mint
CYNDER (SERIES II) (1996) #2 VARIANT (Immortal Comics) Very Fine
CYNDER (SERIES II) (1996) #2 VARIANT (Immortal Comics) Fine
CYNDER (SERIES II) (1996) #2 VARIANT (Immortal Comics) Very Good

CYNDER NIRA X RIFTS #1 (Immortelle Studios) Near Mint/Mint

CYNDER/HELLINA SPECIAL #1 (Immortelle Studios) Fine
CYNDER/HELLINA SPECIAL #1 (Immortelle Studios) Very Good

CYNICAL GIRL (2000) #1 (Mortco) Very Fine


CYRUS PERKINS & THE HAUNTED TAXI CAB (2015) #1

CYRUS PERKINS & THE HAUNTED TAXI CAB (2015) #1 (Action Lab Entertainment) Near Mint/Mint
CYRUS PERKINS & THE HAUNTED TAXI CAB (2015) #1 (Action Lab Entertainment) Very Fine
CYRUS PERKINS & THE HAUNTED TAXI CAB (2015) #2 (Action Lab Entertainment) Very Fine

PEACEMAKER (VOL.3) (1967) #1 MODERN (Charlton) Good

PENTHOUSE COMIX (COMIC SIZE) (1994) #6 (Penthouse) Near Mint/Mint
PENTHOUSE COMIX (COMIC SIZE) (1994) #7 (Penthouse) Near Mint/Mint

PENTHOUSE MEN'S ADVENTURE COMIX (COMIC SIZE) (1995) #1 (Penthouse) Near Mint/Mint

QUIVERS (BRIAN MICHAEL BENDIS) (1991) #2 (Caliber Press) Fine

STAR TREK (2011) (#1-60) (IDW Publishing) #34 SUBSCRIPT (IDW Publishing) Very Fine
STAR TREK (2011) (#1-60) (IDW Publishing) #50 (IDW Publishing) Very Fine
STAR TREK (2011) (#1-60) (IDW Publishing) #51 (IDW Publishing) Very Fine
STAR TREK (2011) (#1-60) (IDW Publishing) #52 (IDW Publishing) Very Fine

STAR TREK DEVIATIONS (2017) #1 (IDW Publishing) Very Fine

STAR TREK/GREEN LANTERN (SPECTRUM WAR) (2015) #1 RODRIGUEZ (IDW Publishing) Very Fine

STAR TREK/GREEN LANTERN (VOL. 2) (STRANGER WORLDS) (2016) #4 (IDW Publishing) Near Mint/Mint

STAR TREK: BOLDLY GO (2016) #13 A SHASTEEN (IDW Publishing) Very Fine
STAR TREK: BOLDLY GO (2016) #14 A SHASTEEN (IDW Publishing) Very Fine
STAR TREK: BOLDLY GO (2016) #15 A SHASTEEN (IDW Publishing) Fine
STAR TREK: BOLDLY GO (2016) #16 A HERNANDE (IDW Publishing) Fine
STAR TREK: BOLDLY GO (2016) #17 A TO (IDW Publishing) Fine

STAR TREK: HELL'S MIRROR (2020) #1 A SMITH (IDW Publishing) Very Fine

STAR TREK: PICARD - COUNTDOWN (2019) #1 A (IDW Publishing) Very Fine


STAR TREK: PICARD - COUNTDOWN (2019) #2 A DUROCHER

STAR TREK: PICARD - COUNTDOWN (2019) #2 A DUROCHER (IDW Publishing) Fine
STAR TREK: PICARD - COUNTDOWN (2019) #3 A DUROCHER (IDW Publishing) Very Fine

STAR TREK: THE NEXT GENERATION - TERRA INCOGNITA (2018) #1 A SHASTEEN (IDW Publishing) Very Fine

STAR TREK: VOYAGER - MIRRORS & SMOKE (2019) #0 A WOODWARD (IDW Publishing) Very Fine

STAR TREK: WAYPOINT SPECIAL (2019) #1 (IDW Publishing) Fine

TRANSFORMERS: WINDBLADE - COMBINER WARS (2015) #3 (IDW Publishing) Very Fine
TRANSFORMERS: WINDBLADE - COMBINER WARS (2015) #4 (IDW Publishing) Fine

UNKINDNESS OF RAVENS (2020) #1 A PANOSIAN (Boom Studios Publishing) Near Mint/Mint