Jim Shooter Appearing On New Year's Day
Howdy!
I gave my lifelong friend, Jim Shooter, a call yesterday morning to make certain that he was still comfortable with signing autographs for fans in our Jason St. Mega-Store on this upcoming Saturday (New Year's Day). Jim was really rather emphatic that he would be there for us, come hell or high water, and that he wanted to sign autographs for the entire day (10-5).
In case you are wondering, my call to Jim was prompted by the last-minute decision of my co-producer (Miss Jessica) of our All-Ages Drag and Talent Show to suggest that we postpone last night's scheduled All-Ages event, and to also postpone January's show. Given the fact that so many of our Colorado young people remain unvaccinated, her concerns about safeguarding the health and safety of our youth performers seemed totally valid to me, so the postponements took immediate effect.

CONAN (1970) (#1-275) (CONAN THE BARBARIAN) (MARVEL) #1

As regards Jim Shooter's scheduled appearance, he is triple-vaccinated (as am I), and so are most of our staff. As regards our attendees, I can (obviously) make no such assurances, but we will be requiring masks in the store that day, and implementing special spacing protocols that should help greatly in providing safe social distancing.

JOURNEY INTO MYSTERY (1952) (#1-82) #77

To be specific, Jim will be signing autographs in our wide-open 2,000 square foot events area which will be partitioned off from the rest of the store. Heavy duty fans will be running around the perimeter of that restricted area to keep the airflow around Jim continually freshened. Fans wishing to meet Jim will then receive a numbered ticket as they enter the Mega-Store. We will be calling out those numbers on our store loudspeakers in groups of ten, with only those ten ticket-holders (and their families) allowed at any given moment in the events area with Jim. We do not think that this entirely eliminates any chance of infection, but it most certainly will help to significantly reduce the risks for everyone involved.

STAR WARS (1977) (#1-107) (MARVEL) #68 NEWSSTAND Near Mint/Mint

For those of you who live out-of-state and/or cannot attend in person, we will be offering a special $8 per item signing option, which provides you with a Jim Shooter autograph on any comic book, magazine, or book that you might wish to order from the broad spectrum of Jim Shooter creations that we currently have available on our website. Each autographed item will come with a special certificate of authenticity, with $2.50 from each fee will be donated to "Feeding Denver's Hungry." The rest of the fee will help us to cover Jim's travel costs, which are rather prodigious since his height (and very bad knees) require First-Class tickets.

BATMAN (1940) (#0-713) (DC) #135 Good

As regards the actual signing in Jason St., there is no limit on the number of items that you can ask Jim to sign for you, and you do not have to buy your items from us that day. The only limitation is that only the first three items are autographed for free, and then any additional items you wish signed are $5 each (with the same $2.50 donation per item donation being made to "Feeding Denver's Hungry"). Certificates of authenticity will also be available on site that day (only) for $3 each, but those are purely optional. Our goal is to have as many fans as possible meet Jim that day, while also keeping everyone safe. I think that our plan has a reasonable chance of accomplishing that goal.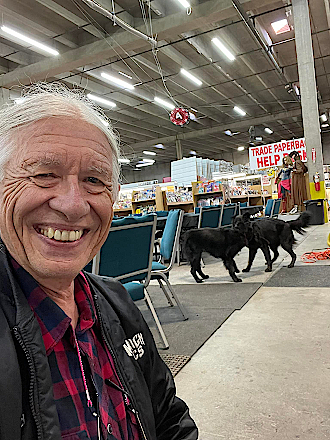 Chuck with Nicky and Freyja at the Mega store.

My only other news for today is that Will, Pam, and myself are now going into high gear on sorting, grading, and entering even more great back issues into our online inventory for you. As a case in point, I took both of our 11 month-old puppies (Nicky and Freyja) with me to Jason St. on Christmas Day to feed and comfort our store kitty, Cambridge, and to then spend a couple of quiet hours sorting through a huge stack of recently-acquired trade paperbacks and hardbacks. Through my personal efforts, I have already located over 1,000 out-of-print books for which we currently have zero copies in stock on our website, so that is one more area of our inventory which is about to markedly improve. I cannot think of a happier way to spend Christmas…
Happy collecting!
Chuck Rozanski/Bettie Pages,
President - Mile High Comics, Inc.
December 27, 2021

P.S. Despite Christmas now being behind us, we are planning for our very enthusiastic comics and toy buying efforts to continue unabated. The January-March quarter tends to be our very best period each year for our online back issue sales, so we definitely want to keep stocking up right now in order for us to be able to meet that anticipated surge in demand. The list below reflects only a tiny portion of what we have just purchased, but it does give a sense for the direction in which we are headed. All are available to you at a full 60% off until our current THANKYOU! codeword ends, sometime early in January. Only new issues, a few variants, and our professionally-graded items are exempt from the 60% off codeword discount. 'Nuff said.
MARVEL

AVENGERS (1963) (#1-402) (MARVEL) #92 Good

BLACK KNIGHT: CURSE OF THE EBONY BLADE (2021) #1 HANS Near Mint/Mint

CHAMPIONS (2020) (#1-UP) (MARVEL) #1 MOMOKO Near Mint/Mint

CONAN (1970) (#1-275) (CONAN THE BARBARIAN) (MARVEL) #1 Very Fine
CONAN (1970) (#1-275) (CONAN THE BARBARIAN) (MARVEL) #4 Near Mint/Mint
CONAN (1970) (#1-275) (CONAN THE BARBARIAN) (MARVEL) #5 Fair
CONAN (1970) (#1-275) (CONAN THE BARBARIAN) (MARVEL) #5 Very Fine
CONAN (1970) (#1-275) (CONAN THE BARBARIAN) (MARVEL) #6 Very Fine
CONAN (1970) (#1-275) (CONAN THE BARBARIAN) (MARVEL) #7 Very Fine
CONAN (1970) (#1-275) (CONAN THE BARBARIAN) (MARVEL) #8 Fair
CONAN (1970) (#1-275) (CONAN THE BARBARIAN) (MARVEL) #9 Near Mint/Mint
CONAN (1970) (#1-275) (CONAN THE BARBARIAN) (MARVEL) #10 Near Mint/Mint
CONAN (1970) (#1-275) (CONAN THE BARBARIAN) (MARVEL) #13 Fine
CONAN (1970) (#1-275) (CONAN THE BARBARIAN) (MARVEL) #13 Very Fine
CONAN (1970) (#1-275) (CONAN THE BARBARIAN) (MARVEL) #14 Fine
CONAN (1970) (#1-275) (CONAN THE BARBARIAN) (MARVEL) #14 Very Fine
CONAN (1970) (#1-275) (CONAN THE BARBARIAN) (MARVEL) #15 Fair
CONAN (1970) (#1-275) (CONAN THE BARBARIAN) (MARVEL) #16 Very Fine
CONAN (1970) (#1-275) (CONAN THE BARBARIAN) (MARVEL) #19 Very Fine
CONAN (1970) (#1-275) (CONAN THE BARBARIAN) (MARVEL) #20 Fair
CONAN (1970) (#1-275) (CONAN THE BARBARIAN) (MARVEL) #20 Very Fine
CONAN (1970) (#1-275) (CONAN THE BARBARIAN) (MARVEL) #21 Very Fine
CONAN (1970) (#1-275) (CONAN THE BARBARIAN) (MARVEL) #24 Fair
CONAN (1970) (#1-275) (CONAN THE BARBARIAN) (MARVEL) #24 Fine
CONAN (1970) (#1-275) (CONAN THE BARBARIAN) (MARVEL) #24 Good
CONAN (1970) (#1-275) (CONAN THE BARBARIAN) (MARVEL) #25 Very Fine


DAREDEVIL (1964) (#1-380) (MAN WITHOUT FEAR) (MARVEL) #163 NEWSSTAND Good
DAREDEVIL (1964) (#1-380) (MAN WITHOUT FEAR) (MARVEL) #168 NEWS JEWEL Very Good

DOCTOR STRANGE (1988) (#1-90) (MARVEL) (DR. STRANGE) #47 Very Fine
DOCTOR STRANGE (1988) (#1-90) (MARVEL) (DR. STRANGE) #49 Near Mint/Mint

GI JOE DIGEST #1 Very Fine

IRON MAN (1968) (#1-332) (INVINCIBLE IRON MAN)(MARVEL) #123 NEWSSTAND Good
IRON MAN (1968) (#1-332) (INVINCIBLE IRON MAN)(MARVEL) #128 NEWSSTAND Fair
IRON MAN (1968) (#1-332) (INVINCIBLE IRON MAN)(MARVEL) #131 NEWS JEWEL Good
IRON MAN (1968) (#1-332) (INVINCIBLE IRON MAN)(MARVEL) #132 NEWSSTAND Good

IRON MAN (1996) (#1-13) (HEROES REBORN) (MARVEL) #10 Fine

IRON MAN (1998) (#1-89) (MARVEL) #5 Near Mint/Mint
IRON MAN (1998) (#1-89) (MARVEL) #5 Fine
IRON MAN (1998) (#1-89) (MARVEL) #5 Very Fine

IRON MAN ANNUAL (1970) #5 Near Mint/Mint
IRON MAN ANNUAL (1970) #5 Very Fine

JOURNEY INTO MYSTERY (1952) (#1-82) #64 Good
JOURNEY INTO MYSTERY (1952) (#1-82) #66 Good
JOURNEY INTO MYSTERY (1952) (#1-82) #77 Very Good
JOURNEY INTO MYSTERY (1952) (#1-82) #79 Good

KA-ZAR (1981) (#1-34) (THE SAVAGE) (MARVEL) #1 NEWSSTAND Near Mint/Mint
KA-ZAR (1981) (#1-34) (THE SAVAGE) (MARVEL) #1 NEWSSTAND Very Fine
KA-ZAR (1981) (#1-34) (THE SAVAGE) (MARVEL) #1 NEWSSTAND Fine


KA-ZAR (1981) (#1-34) (THE SAVAGE) (MARVEL) #1 NEWSSTAND Very Good

KA-ZAR (1997) (#1-20) (MARVEL) #1 Fine
KA-ZAR (1997) (#1-20) (MARVEL) #1 Very Fine
KA-ZAR (1997) (#1-20) (MARVEL) #1 Very Good
KA-ZAR (1997) (#1-20) (MARVEL) #8 Fine
KA-ZAR (1997) (#1-20) (MARVEL) #8 W/O CD Very Fine
KA-ZAR (1997) (#1-20) (MARVEL) #8 Very Fine

KANAN: LAST PADAWAN (STAR WARS) (2015) #1 Fine
KANAN: LAST PADAWAN (STAR WARS) (2015) #1 YOUNG BABY Near Mint/Mint
KANAN: LAST PADAWAN (STAR WARS) (2015) #1 YOUNG BABY Fine
KANAN: LAST PADAWAN (STAR WARS) (2015) #1 Very Fine
KANAN: LAST PADAWAN (STAR WARS) (2015) #1 YOUNG BABY Good

KNIGHTS 4 (MARVEL KNIGHTS 4) (FANTASTIC FOUR) (2004) #13 Near Mint/Mint
KNIGHTS 4 (MARVEL KNIGHTS 4) (FANTASTIC FOUR) (2004) #13 Fine
KNIGHTS 4 (MARVEL KNIGHTS 4) (FANTASTIC FOUR) (2004) #13 Very Fine
KNIGHTS 4 (MARVEL KNIGHTS 4) (FANTASTIC FOUR) (2004) #16 Very Fine
KNIGHTS 4 (MARVEL KNIGHTS 4) (FANTASTIC FOUR) (2004) #30 Near Mint/Mint
KNIGHTS 4 (MARVEL KNIGHTS 4) (FANTASTIC FOUR) (2004) #30 Very Fine

LOGAN'S RUN (1977) (#1-7) (MARVEL) #1 Fine
LOGAN'S RUN (1977) (#1-7) (MARVEL) #1 Very Fine

MAGIK (1983) #2 Fine


MAGIK (1983) #2 NEWSSTAND Fine

MAN FROM ATLANTIS (1978) #7 Fine

MARVEL AGE (1983) #76 Near Mint/Mint
MARVEL AGE (1983) #76 Very Fine

MARVEL AGE SPIDER-MAN (2004) #10 Near Mint/Mint
MARVEL AGE SPIDER-MAN (2004) #10 Very Fine

MARVEL COMICS PRESENTS (1988) (#1-175) (MARVEL) #61 Very Fine
MARVEL COMICS PRESENTS (1988) (#1-175) (MARVEL) #72 Very Fine
MARVEL COMICS PRESENTS (1988) (#1-175) (MARVEL) #78 Fine
MARVEL COMICS PRESENTS (1988) (#1-175) (MARVEL) #78 Very Fine
MARVEL COMICS PRESENTS (1988) (#1-175) (MARVEL) #78 Very Good

MARVEL FANFARE (1982) #15 Fine
MARVEL FANFARE (1982) #15 Very Fine
MARVEL FANFARE (1982) #28 Near Mint/Mint

MARVEL HOLIDAY SPECIAL (2004) #1 Fine
MARVEL HOLIDAY SPECIAL (2004) #1 Very Fine

MARVEL PREMIERE (1972) #55 Fine
MARVEL PREMIERE (1972) #55 NEWSSTAND Very Good
MARVEL PREMIERE (1972) #55 Very Good

MARVEL PREVIEWS SPECIAL EDITION: DARK REIGN (2008) #1 Fine
MARVEL PREVIEWS SPECIAL EDITION: DARK REIGN (2008) #1 Near Mint/Mint
MARVEL PREVIEWS SPECIAL EDITION: DARK REIGN (2008) #1 Very Fine

MARVEL SAGA (1985) #1 NEWSSTAND Fine

MARVEL SPOTLIGHT (1979) (#1-11) (MARVEL) #11 Fine

MARVEL SUPER-HEROES SPECIAL EDITION (1990) #1 Near Mint/Mint


MARVEL SUPER-HEROES SPECIAL EDITION (1990) #1 Very Fine

MARVEL TEAM-UP (1972) (#1-150) (MARVEL) #98 Fine
MARVEL TEAM-UP (1972) (#1-150) (MARVEL) #98 NEWSSTAND Fine
MARVEL TEAM-UP (1972) (#1-150) (MARVEL) #109 Fine
MARVEL TEAM-UP (1972) (#1-150) (MARVEL) #109 NEWSSTAND Fine
MARVEL TEAM-UP (1972) (#1-150) (MARVEL) #109 Very Good
MARVEL TEAM-UP (1972) (#1-150) (MARVEL) #112 Fine
MARVEL TEAM-UP (1972) (#1-150) (MARVEL) #112 NEWSSTAND Fine
MARVEL TEAM-UP (1972) (#1-150) (MARVEL) #112 NEWSSTAND Very Good

MARVEL TEAM-UP ANNUAL (1976) #6 NEWSSTAND Near Mint/Mint
MARVEL TEAM-UP ANNUAL (1976) #6 NEWSSTAND Fine
MARVEL TEAM-UP ANNUAL (1976) #6 NEWSSTAND Good

MARVEL UNIVERSE (1998) #4 Fine

PETER PARKER (1976) (#1-263) (SPECTACULAR SPIDER-MAN) #1 Very Fine

SECRET WARS (1984) (#1-12) (LIMTED SERIES) (MARVEL) #8 NEWSSTAND Very Fine

SPIDER-MAN (1963) (AMAZING SPIDER-MAN) (#1-441) #200 NEWSSTAND Good
SPIDER-MAN (1963) (AMAZING SPIDER-MAN) (#1-441) #214 NEWSSTAND Good
SPIDER-MAN (1963) (AMAZING SPIDER-MAN) (#1-441) #238 NEWSSTAND Fine

STAR WARS (1977) (#1-107) (MARVEL) #68 NEWSSTAND Near Mint/Mint
STAR WARS (1977) (#1-107) (MARVEL) #68 NEWSSTAND Fine

STRANGE TALES (1951) (#1-85 ATLAS, #86-188 MARVEL) #79 Good
STRANGE TALES (1951) (#1-85 ATLAS, #86-188 MARVEL) #96 Good
STRANGE TALES (1951) (#1-85 ATLAS, #86-188 MARVEL) #98 Good


SUPER-VILLAIN TEAM-UP (1975) #1 Very Good

TALES OF SUSPENSE (1959) (#1-99) (ATLAS/MARVEL) #16 Good
TALES OF SUSPENSE (1959) (#1-99) (ATLAS/MARVEL) #24 Good
TALES OF SUSPENSE (1959) (#1-99) (ATLAS/MARVEL) #26 Very Good
TALES OF SUSPENSE (1959) (#1-99) (ATLAS/MARVEL) #27 Very Good
TALES OF SUSPENSE (1959) (#1-99) (ATLAS/MARVEL) #35 Very Good
TALES OF SUSPENSE (1959) (#1-99) (ATLAS/MARVEL) #46 Very Good

TALES TO ASTONISH (1959) (#1-21 ATLAS, #22-101 MARVEL) #29 Very Good

VISION/SCARLET WITCH (1985) #1 Fine

X-MEN (1963) (#1-113, UNCANNY X-MEN #114-544) (MARVEL) #112 JEWELERS Good
X-MEN (1963) (#1-113, UNCANNY X-MEN #114-544) (MARVEL) #130 Very Fine
X-MEN (1963) (#1-113, UNCANNY X-MEN #114-544) (MARVEL) #136 Fine
X-MEN (1963) (#1-113, UNCANNY X-MEN #114-544) (MARVEL) #139 Very Fine
X-MEN (1963) (#1-113, UNCANNY X-MEN #114-544) (MARVEL) #142 Very Fine
X-MEN (1963) (#1-113, UNCANNY X-MEN #114-544) (MARVEL) #150 NEWSSTAND Good

DC
ACTION COMICS (1938) (#0-600, 643-904) (DC) #273 Fair
ACTION COMICS (1938) (#0-600, 643-904) (DC) #286 Good

AQUAMAN (1962) (#1-63) (DC) #3 Good

BATMAN (1940) (#0-713) (DC) #135 Good
BATMAN (1940) (#0-713) (DC) #138 Good
BATMAN (1940) (#0-713) (DC) #214 Good

CHALLENGERS OF THE UNKNOWN (1958) (#1-87) (DC) #30 Very Good


DETECTIVE COMICS (1937) (#0-881) (DC) #288 Good
DETECTIVE COMICS (1937) (#0-881) (DC) #476 Good

FLASH (1959) (#105-350) (DC) #128 Good

FOX AND THE CROW (1951) #73 Good

GREEN LANTERN (1960) (#1-224) (DC) #10 Good
GREEN LANTERN (1960) (#1-224) (DC) #12 Good
GREEN LANTERN (1960) (#1-224) (DC) #13 Good
GREEN LANTERN (1960) (#1-224) (DC) #18 Good

HOUSE OF MYSTERY (1951) #107 Very Good
HOUSE OF MYSTERY (1951) #111 Fair
HOUSE OF MYSTERY (1951) #119 Very Good
HOUSE OF MYSTERY (1951) #121 Very Good
HOUSE OF MYSTERY (1951) #122 Good

HOUSE OF SECRETS (1956) #45 Good
HOUSE OF SECRETS (1956) #52 Very Good
HOUSE OF SECRETS (1956) #56 Good
HOUSE OF SECRETS (1956) #57 Very Good

LOIS LANE (1958) (#1-137) (SUPERMAN'S GIRL FRIEND) (DC) #23 Good

METAL MEN (1963) (#1-56) (DC) #37 Good

MY GREATEST ADVENTURE (1955) #52 Fair
MY GREATEST ADVENTURE (1955) #65 Good

SEA DEVILS (1961) #2 Very Good

STAR SPANGLED WAR STORIES (1952) #101 Good

SUPERMAN (1939) (#1-423) (DC) #147 Fair
SUPERMAN (1939) (#1-423) (DC) #149 Good
SUPERMAN (1939) (#1-423) (DC) #152 Fair
SUPERMAN (1939) (#1-423) (DC) #163 Good


TEEN TITANS (1980) (#1-91) (DC) #1 Fine

UNEXPECTED (1956) (TALES OF THE UNEXPECTED #1-104) #54 Fair

WORLDS FINEST (1941) (#2-323) (DC) (WORLD'S FINEST) #112 Fair
WORLDS FINEST (1941) (#2-323) (DC) (WORLD'S FINEST) #115 Good
WORLDS FINEST (1941) (#2-323) (DC) (WORLD'S FINEST) #116 Fair

INDEPENDENTS
BLOODSHOT REBORN (2015) (#1-18) (VALIANT) #11 HENRY (Valiant Comics) Near Mint/Mint
BLOODSHOT REBORN (2015) (#1-18) (VALIANT) #11 SOOK (Valiant Comics) Near Mint/Mint
BLOODSHOT REBORN (2015) (#1-18) (VALIANT) #11 VEREGGE (Valiant Comics) Near Mint/Mint
BLOODSHOT REBORN (2015) (#1-18) (VALIANT) #12 BODENHEIM (Valiant Comics) Very Fine
BLOODSHOT REBORN (2015) (#1-18) (VALIANT) #12 JIMENEZ (Valiant Comics) Very Fine
BLOODSHOT REBORN (2015) (#1-18) (VALIANT) #12 TORRE (Valiant Comics) Very Fine
BLOODSHOT REBORN (2015) (#1-18) (VALIANT) #12 VEREGGE (Valiant Comics) Near Mint/Mint
BLOODSHOT REBORN (2015) (#1-18) (VALIANT) #13 CHOI (Valiant Comics) Very Fine
BLOODSHOT REBORN (2015) (#1-18) (VALIANT) #13 OLIVER (Valiant Comics) Near Mint/Mint
BLOODSHOT REBORN (2015) (#1-18) (VALIANT) #13 VEREGGE (Valiant Comics) Near Mint/Mint
BLOODSHOT REBORN (2015) (#1-18) (VALIANT) #14 A GIORELLO (Valiant Comics) Fine
BLOODSHOT REBORN (2015) (#1-18) (VALIANT) #14 B OLIVER (Valiant Comics) Fine
BLOODSHOT REBORN (2015) (#1-18) (VALIANT) #14 D SEGOVIA (Valiant Comics) Near Mint/Mint
BLOODSHOT REBORN (2015) (#1-18) (VALIANT) #14 E HENRY (Valiant Comics) Near Mint/Mint
BLOODSHOT REBORN (2015) (#1-18) (VALIANT) #14 F BODENHEL (Valiant Comics) Very Fine
BLOODSHOT REBORN (2015) (#1-18) (VALIANT) #15 D BODENHEI (Valiant Comics) Fine
BLOODSHOT REBORN (2015) (#1-18) (VALIANT) #15 F LEMIRE (Valiant Comics) Fine
BLOODSHOT REBORN (2015) (#1-18) (VALIANT) #16 E ROBERTSO (Valiant Comics) Very Fine
BLOODSHOT REBORN (2015) (#1-18) (VALIANT) #17 E ROBERTSO (Valiant Comics) Near Mint/Mint

BLOODSHOT REBORN ANNUAL (2016) #1 A KANO (Valiant Comics) Near Mint/Mint
BLOODSHOT REBORN ANNUAL (2016) #1 D GRANT (Valiant Comics) Near Mint/Mint


BLOODSHOT SALVATION (2017) #1 A ROCAFORT (Valiant Comics) Very Fine
BLOODSHOT SALVATION (2017) #1 B PALOSZ (Valiant Comics) Near Mint/Mint
BLOODSHOT SALVATION (2017) #1 C GIORELLO (Valiant Comics) Near Mint/Mint
BLOODSHOT SALVATION (2017) #1 CVCPODCAST (Valiant Comics) Near Mint/Mint
BLOODSHOT SALVATION (2017) #1 D BODENHEI (Valiant Comics) Near Mint/Mint
BLOODSHOT SALVATION (2017) #1 MILE HIGH (Valiant Comics) Fine
BLOODSHOT SALVATION (2017) #2 A ROCAFORT (Valiant Comics) Near Mint/Mint
BLOODSHOT SALVATION (2017) #2 B PALOSZ (Valiant Comics) Near Mint/Mint
BLOODSHOT SALVATION (2017) #2 C TAN (Valiant Comics) Near Mint/Mint
BLOODSHOT SALVATION (2017) #2 D BLANK (Valiant Comics) Near Mint/Mint
BLOODSHOT SALVATION (2017) #2 I BODENHEI (Valiant Comics) Near Mint/Mint
BLOODSHOT SALVATION (2017) #3 A ROCAFORT (Valiant Comics) Near Mint/Mint
BLOODSHOT SALVATION (2017) #3 B PALOSZ (Valiant Comics) Fine
BLOODSHOT SALVATION (2017) #3 C ANACLETO (Valiant Comics) Near Mint/Mint
BLOODSHOT SALVATION (2017) #3 I BODENHEI (Valiant Comics) Near Mint/Mint
BLOODSHOT SALVATION (2017) #4 A SUAYAN (Valiant Comics) Near Mint/Mint
BLOODSHOT SALVATION (2017) #4 B RYP (Valiant Comics) Near Mint/Mint
BLOODSHOT SALVATION (2017) #4 C EVANS (Valiant Comics) Near Mint/Mint
BLOODSHOT SALVATION (2017) #4 I BODENHEI (Valiant Comics) Near Mint/Mint
BLOODSHOT SALVATION (2017) #5 A ROCAFORT (Valiant Comics) Very Fine
BLOODSHOT SALVATION (2017) #5 B PALOSZ (Valiant Comics) Near Mint/Mint
BLOODSHOT SALVATION (2017) #5 C ROBERTSO (Valiant Comics) Near Mint/Mint
BLOODSHOT SALVATION (2017) #5 I BODENHEI (Valiant Comics) Near Mint/Mint
BLOODSHOT SALVATION (2017) #6 A ROCAFORT (Valiant Comics) Very Fine
BLOODSHOT SALVATION (2017) #6 B GUEDES (Valiant Comics) Near Mint/Mint
BLOODSHOT SALVATION (2017) #6 C BIVENS (Valiant Comics) Near Mint/Mint
BLOODSHOT SALVATION (2017) #6 F BODENHEL (Valiant Comics) Very Fine
BLOODSHOT SALVATION (2017) #7 A LEMIRE (Valiant Comics) Near Mint/Mint
BLOODSHOT SALVATION (2017) #7 B ALLEN (Valiant Comics) Near Mint/Mint
BLOODSHOT SALVATION (2017) #7 C GUEDES (Valiant Comics) Near Mint/Mint
BLOODSHOT SALVATION (2017) #7 F BODENHEL (Valiant Comics) Near Mint/Mint
BLOODSHOT SALVATION (2017) #8 A ROCAFORT (Valiant Comics) Very Fine
BLOODSHOT SALVATION (2017) #8 B GUEDES (Valiant Comics) Near Mint/Mint
BLOODSHOT SALVATION (2017) #8 C ZAFFINO (Valiant Comics) Near Mint/Mint
BLOODSHOT SALVATION (2017) #8 F BODENHEL (Valiant Comics) Near Mint/Mint
BLOODSHOT SALVATION (2017) #9 A ROCAFORT (Valiant Comics) Near Mint/Mint
BLOODSHOT SALVATION (2017) #9 B GUEDES (Valiant Comics) Near Mint/Mint


BLOODSHOT SALVATION (2017) #9 C CAMUNCOL (Valiant Comics) Near Mint/Mint
BLOODSHOT SALVATION (2017) #9 F BODENHEL (Valiant Comics) Near Mint/Mint
BLOODSHOT SALVATION (2017) #10 A ROCAFORT (Valiant Comics) Very Fine
BLOODSHOT SALVATION (2017) #10 B GUEDES (Valiant Comics) Very Fine
BLOODSHOT SALVATION (2017) #11 A ROCAFORT (Valiant Comics) Very Fine
BLOODSHOT SALVATION (2017) #11 B GUEDES (Valiant Comics) Near Mint/Mint
BLOODSHOT SALVATION (2017) #12 A ROCAFORT (Valiant Comics) Near Mint/Mint
BLOODSHOT SALVATION (2017) #12 C BRIGHT (Valiant Comics) Near Mint/Mint

BLOODSHOT USA (2016) #1 A KANO (Valiant Comics) Near Mint/Mint
BLOODSHOT USA (2016) #1 B BRAITHWA (Valiant Comics) Near Mint/Mint
BLOODSHOT USA (2016) #1 C JOHNSON (Valiant Comics) Near Mint/Mint
BLOODSHOT USA (2016) #1 D STEGMAN (Valiant Comics) Near Mint/Mint
BLOODSHOT USA (2016) #1 E HAMNER (Valiant Comics) Near Mint/Mint
BLOODSHOT USA (2016) #1 F BLANK (Valiant Comics) Fine
BLOODSHOT USA (2016) #2 A BRAITHWA (Valiant Comics) Very Fine
BLOODSHOT USA (2016) #3 C JOHNSON (Valiant Comics) Very Fine
BLOODSHOT USA (2016) #3 D COSPLAY (Valiant Comics) Very Fine
BLOODSHOT USA (2016) #4 B HENRY (Valiant Comics) Near Mint/Mint
BLOODSHOT USA (2016) #4 C JOHNSON (Valiant Comics) Near Mint/Mint

BLOODSHOT'S DAY OFF (2017) #1 A KANO (Valiant Comics) Fine
BLOODSHOT'S DAY OFF (2017) #1 B EVANS (Valiant Comics) Fine
BLOODSHOT'S DAY OFF (2017) #1 C PHOTO (Valiant Comics) Near Mint/Mint

BOOK OF DEATH (2015) #1 CRAIN (Valiant Comics) Fine
BOOK OF DEATH (2015) #1 DESIGN (Valiant Comics) Very Fine
BOOK OF DEATH (2015) #1 DJURDJEVIC (Valiant Comics) Fine
BOOK OF DEATH (2015) #1 GILL (Valiant Comics) Fine
BOOK OF DEATH (2015) #1 NORD (Valiant Comics) Near Mint/Mint
BOOK OF DEATH (2015) #2 PEREZ (Valiant Comics) Very Fine
BOOK OF DEATH (2015) #2 CRAIN (Valiant Comics) Near Mint/Mint
BOOK OF DEATH (2015) #2 KANO (Valiant Comics) Near Mint/Mint
BOOK OF DEATH (2015) #2 NORD (Valiant Comics) Near Mint/Mint
BOOK OF DEATH (2015) #2 PEREZ (Valiant Comics) Fine
BOOK OF DEATH (2015) #2 RIVERA (Valiant Comics) Fine
BOOK OF DEATH (2015) #3 CRAIN (Valiant Comics) Near Mint/Mint
BOOK OF DEATH (2015) #3 NORD (Valiant Comics) Near Mint/Mint
BOOK OF DEATH (2015) #3 SEGOVIA (Valiant Comics) Near Mint/Mint
BOOK OF DEATH (2015) #4 NORD (Valiant Comics) Near Mint/Mint
BOOK OF DEATH (2015) #4 SAUVAGE (Valiant Comics) Near Mint/Mint


BOOK OF DEATH (2015) #4 SUAYAN (Valiant Comics) Near Mint/Mint

BOOK OF DEATH: FALL OF BLOODSHOT (2015) #1 PALO (Valiant Comics) Fine
BOOK OF DEATH: FALL OF BLOODSHOT (2015) #1 SANDOVAL (Valiant Comics) Fine

BOOK OF DEATH: FALL OF HARBINGER (2015) #1 ALLEN (Valiant Comics) Very Fine
BOOK OF DEATH: FALL OF HARBINGER (2015) #1 PORTELA (Valiant Comics) Very Fine

BOOK OF DEATH: FALL OF NINJAK (2015) #1 KANO (Valiant Comics) Near Mint/Mint
BOOK OF DEATH: FALL OF NINJAK (2015) #1 MANN (Valiant Comics) Near Mint/Mint

BOOK OF DEATH: FALL OF X-O MANOWAR (2015) #1 LEE (Valiant Comics) Fine
BOOK OF DEATH: FALL OF X-O MANOWAR (2015) #1 NORD (Valiant Comics) Near Mint/Mint

BOOK OF DEATH: LEGENDS OF GEOMANCER (2015) #4 RYP (Valiant Comics) Fine

BRITANNIA (2016) #1 A NORD (Valiant Comics) Very Fine
BRITANNIA (2016) #1 B LAROSA (Valiant Comics) Near Mint/Mint
BRITANNIA (2016) #1 C BLANK (Valiant Comics) Very Fine
BRITANNIA (2016) #2 A NORD (Valiant Comics) Near Mint/Mint
BRITANNIA (2016) #2 B GORHAM (Valiant Comics) Near Mint/Mint
BRITANNIA (2016) #3 A NORD (Valiant Comics) Fine
BRITANNIA (2016) #3 B GORHAM (Valiant Comics) Near Mint/Mint
BRITANNIA (2016) #4 A NORD (Valiant Comics) Near Mint/Mint
BRITANNIA (2016) #4 B GORHAM (Valiant Comics) Near Mint/Mint
BRITANNIA (2016) #4 C PHOTO (Valiant Comics) Near Mint/Mint

BRITANNIA: LOST EAGLES OF ROME (2018) #1 A NORD (Valiant Comics) Very Fine
BRITANNIA: LOST EAGLES OF ROME (2018) #2 A NORD (Valiant Comics) Near Mint/Mint
BRITANNIA: LOST EAGLES OF ROME (2018) #3 A MACK (Valiant Comics) Near Mint/Mint
BRITANNIA: LOST EAGLES OF ROME (2018) #4 A MACK (Valiant Comics) Near Mint/Mint

BRITANNIA: WE WHO ARE ABOUT TO DIE (2017) #1 A NORD (Valiant Comics) Fine
BRITANNIA: WE WHO ARE ABOUT TO DIE (2017) #1 C BLANK (Valiant Comics) Near Mint/Mint
BRITANNIA: WE WHO ARE ABOUT TO DIE (2017) #2 B RYP (Valiant Comics) Near Mint/Mint
BRITANNIA: WE WHO ARE ABOUT TO DIE (2017) #3 A MACK (Valiant Comics) Near Mint/Mint
BRITANNIA: WE WHO ARE ABOUT TO DIE (2017) #3 B RYP (Valiant Comics) Near Mint/Mint
BRITANNIA: WE WHO ARE ABOUT TO DIE (2017) #4 A MACK (Valiant Comics) Near Mint/Mint
BRITANNIA: WE WHO ARE ABOUT TO DIE (2017) #4 B RYP (Valiant Comics) Near Mint/Mint

CVO: AFRICAN BLOOD (2006) #4 (IDW Publishing) Near Mint/Mint


CVO: COVERT VAMPIRIC OPERATIONS-ARTIFACT (2003) #3 (IDW Publishing) Near Mint/Mint

CVO: COVERT VAMPIRIC OPERATIONS-ROGUE STATE (2004) #3 (IDW Publishing) Near Mint/Mint

DEAD DROP (2015) #1 ALLEN (Valiant Comics) Fine
DEAD DROP (2015) #1 LEVEL (Valiant Comics) Fine
DEAD DROP (2015) #1 RYP (Valiant Comics) Very Fine
DEAD DROP (2015) #2 ALLEN (Valiant Comics) Fine
DEAD DROP (2015) #2 GORHAM (Valiant Comics) Very Fine
DEAD DROP (2015) #2 SANDOVAL (Valiant Comics) Fine
DEAD DROP (2015) #3 ALLEN (Valiant Comics) Fine
DEAD DROP (2015) #3 GORHAM (Valiant Comics) Fine

DELINQUENTS (2014) #1 BLANK CVR (Valiant Comics) Near Mint/Mint
DELINQUENTS (2014) #1 RIVERA (Valiant Comics) Very Fine

NINJA HIGH SCHOOL (1986) (#0-4) (ANTARCTIC) #1 (Antarctic Press) Very Fine