Local News - Comics and Toys Auction This Saturday Morning
Howdy!
The excitement is building here at Mile High Comics, as our annual holiday comics and toy auction draws nearer. In just under 48 hours, I will begin selling over 1,000 awesome comics, toys, statues, prints, and other collectibles, all with no minimum bids. We hope that you can be there when the auction begins at 11:30 AM on Saturday, at our Jason St. Mega-Store. We will have hot coffee, Christmas cookies, and an incredible bounty of cakes, pies, and other pastries waiting for you!
In addition to our main auction, we will also be selling a large number of donated items specifically to benefit the homeless of Denver through the "Feeding Denver's Hungry" charity. So you know, local "Good Girl" artist, Monte Moore, brought us in three large boxes of great books and prints from his personal collection for us to auction for "Feeding Denver's Hungry." My good friend from New Jersey, John Paul, also donated a stack of nice 1950's and 1960's comics. We could definitely use a few more donated items, however, so if you have any unwanted comics, toys, or other collectibles, please bring them in to any of our Mile High Comics stores and we will auction them for charity during the "Feeding Denver's Hungry" portion of our auction.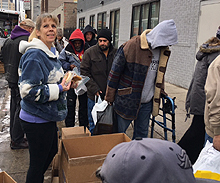 ICRME Empress 43 Norrie Reynolds spent 6 hours passing out meals today

Another donation that I would request would request of you are any spare sweaters, jackets, coats, or blankets that you might have available. It is a sad reality that the recent Denver Police Department "sweeps" of the homeless area near lower downtown have resulted in many homeless people losing their coats, blankets, and sleeping bags. Taking away these poor people's meager possessions, and then abandoning them to the bitter cold, borders on insanity in my opinion. I cannot comprehend how those people in our city government who ordered these cruel dispossessions can sleep in their warm beds at night knowing that they have condemned the poorest among us to wander the night in the freezing cold with no protection. Let them spend just one hour shivering uncontrollably in the dark, and I think they would be far less cavalier.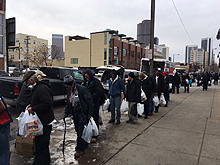 Our line for free food stretched over an entire city block today!

So you know, I have made it my personal mission to be out on the streets helping the homeless almost every day. The desperation that I see among the estimated 9,000+ people who currently are living on Denver's streets is enough to make one weep. If you could drop off a donation of warm used clothes at any of our Mile High Comics locations, I promise you that I will personally deliver them into the hands of someone who really needs them.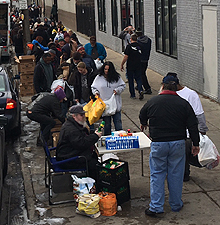 Our 30+ "Feeding Denver's Hungry" volunteers were kept non-stop busy helping waves of desperate people. The needs are just unbelievable...

On a related note, we provided bags of donated food to over 500 people today, and will now be putting together bags of toiletries to distribute next Thursday. Here are some items that we need in small individual sizes (like what you get at hotels...):
Soap
Toothbrushes
Toothpaste
Dental Floss
Shampoo
Deodorant
Mouthwash
Bandaids
Gold Bond Lotion (any)
We will also be distributing some new clothes next week, and especially need more of the excellent thermal socks sold by the Dollar Tree chain. We gave away over 500 pairs of those socks last week, and still totally ran out. If you have a Dollar Tree store nearby, please check and see if they have received a recent shipment of their excellent thermal socks. We will reimburse you for the cost of buying them, either in store credit, or in cash. We could also use hats, scarves, and gloves.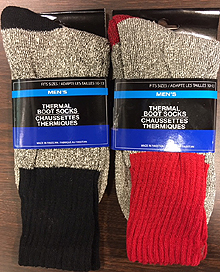 This is what the Dollar Tree Thermal Socks look like.

On a slightly delicate subject, we have had numerous requests for underwear, especially from some of the older women who have unexpectedly found themselves homeless after losing their apartments to Denver's escalating rents. If you could donate even one package of undergarments (men's or women's), I can assure you that you would make someone very, very happy. We have been asked for standard, and also thermal (long johns). Please help, if you can.
I will close with a quick mention that anyone who wishes to place a last-minute order through Mile High Comics at www.milehighcomics.com tonight through tomorrow (Friday) until 3 PM MST, can pick up that order at our Jason St. location starting at 12 (Noon) on Christmas Eve. (Please just make sure to put that ìthis is a rush order to be picked up at the Mega Store Christmas Eveî in the ìnotesî section of the order.) Our goal is to completely take the hassle out of your last-minute shopping. We have over ten million back issue comics, out-of-print trade paperbacks, and comics hardbacks listed on our website, so we are your last-minute shopping wonderland...
Happy collecting!
Chuck Rozanski,
President - Mile High Comics, Inc.
December 22, 2016

P.S. Below are photos of some of our auction items for Saturday. Please join us, and help us to support "Feeding Denver's Hungry!"
Mile High Comics - Jason Street Mega-Store


Mile High Comics Retail Store Locations