More Silver & Bronze Age 60% Off
Howdy!
After being absolutely incapacitated last Tuesday/Wednesday by a minor case of the sniffles that suddenly morphed in a ghastly reiteration of my 18-year West Nile Fever-induced encephalitis affliction, I managed to recover enough by Saturday morning to be the auctioneer for our annual "stocking stuffers!" sale. I was totally spent by the time that joyous 3-hour event concluded, but I was also sincerely grateful that my health had recovered to the point that I could even make it through the auction.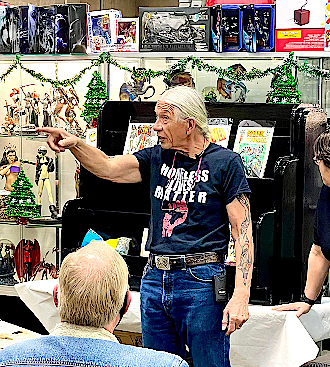 Chuck as auctioneer on Saturday

Between our auction, our Texas Hold'em Poker Tournament (which runs simultaneously thanks to Bobb Ringer and the volunteers from the Royal Poker Club), and donations made at our refreshment stand (thanks Trish!), we cleared over $2,100.00. Those funds will be turned over today to Jim Scharper's "Feeding Denver's Hungry" Community organization, to help them to provide desperately-needed groceries to elderly, disabled, and financially-challenged people in our area during the holidays. Health permitting, I will be once again out in the streets as a volunteer this Thursday, assisting Jim, and his amazing "Feeding Denver's Hungry" volunteers, in distributing both 20,000 lbs of food, and also warm clothing, to those who are in need.
Speaking of health, please, please, please get vaccinated. The pain and nausea from my encephalitis illness is absolutely wretched (akin to a crippling 36-hour migraine…), but I have been told that it is relatively minor as compared with the bad cases of COVID. This darn new Omicron variant is apparently capable of both breaking through initial 2-shot inoculations, and also re-infecting people who have already had COVID. That is really bad news for about 350 million people in the USA, and most especially for those who have not yet availed themselves of even a single dose of any vaccine.
Please understand that I do realize that for many people resisting vaccination has become a flashpoint of political/religious belief, and also a statement about personal freedom. I do totally understand and empathize, as I am about as independent and stubborn a cuss as you will ever meet. After flirting with my own death last week, however, I feel compelled to (gently) urge everyone to protect themselves (and their friends and loved ones) ASAP. My dear friends, Doctor Ralph Grasso, and Corky Blankenship, both died of COVID last winter, and I would feel horribly remiss if I did not speak out, and thus honor their memories. It is now looking like this Omicron wave is going to kill at least another quarter of a million Americans. Please do not risk having yourself be among them. 'Nuff said.
In (much) more cheery news, last weekend (Friday-Sunday) was our highest-grossing three-day period in our entire Jason St. Mega-Store history. Those record-setting three days totally validated all of my risky decisions to (Buy! Buy! Buy!) great collections of comics and toys throughout November and December. Honestly, we are just blowing last year's sales numbers away right now, both in the Mega-Store, and also online. I think Jason St. has already surpassed the entire month of December last year (in just 19 days), as revenues through yesterday were up a staggering 120% over 2020. Woo!

Mile High Comics gift certificates

As regards our online, with the shipping companies now totally overwhelmed, it is too late for anything but single comics and/or gift certificates to be mailed. Even those will have to be sent by the very expensive one-day or two-day FedEx, if you want them to actually arrive by Christmas. Contact Lynne MacAfee (lynne@milehighcomics.com) if you absolutely must have us send a "rush" package for you. We will absolutely try to help you with that last-minute gift.

GREEN LANTERN (1960) (#1-224) (DC) #100

For orders that do not need to arrive by Christmas, things are excellent right now. Our highly-professional back issues fulfillment team has been doing a great job of keeping up with the rush of orders that we have been receiving from our 60% off THANKYOU! codeword sale, so shipping delays are almost non-existent.

PETER PARKER (1976) (#1-263) (SPECTACULAR SPIDER-MAN) #27

Our available inventory is also continuing to grow for you, as both Will and Pam have been buying up to a dozen (!) collections a day in Jason St. They are scrambling to sort/grade/enter as many of those comics, magazines, and books for you as possible, but every time that they get rolling, yet another great collection walks in the door. It's gotten so crazy that I am having to come in early, and to leave late, just to keep up with all of the Mega-Store vacuuming and cleaning. We are all exhausted and a bit frazzled, but the truth of the matter is that we are also truly grateful for the phenomenal outpouring of kindness and support that we have been receiving from everyone during this critically-important holiday sales season. Above all else, we thank you for helping us to continue to live our lives of remarkable Mile High Comics joy.
Happy collecting!
Chuck Rozanski/Bettie Pages,
President - Mile High Comics, Inc.
December 20, 2021

P.S. Below is a listing of even more of the great Silver and Bronze Age comics from that awesome collection that Will Moulton purchased last Wednesday, along with everything else that was entered this weekend. All are available up your at 60% off when you utilize our THANKYOU! codeword at checkout. Only new issues, a few variants, and our professionally graded comics are exempt. Happy Solstice! Providence willing, everything will get even brighter from this day forward…
MARVEL

100 GREATEST MARVELS (2001) #3

100 GREATEST MARVELS (2001) #3 Near Mint/Mint
100 GREATEST MARVELS (2001) #6 Very Fine

ABSOLUTE CARNAGE (2019) #1 MIDTOWN ED Near Mint/Mint

ALL-NEW CAPTAIN AMERICA (2014) #1 Fine

ALL-NEW GHOST RIDER (2014) #1 YOUNG BABY Near Mint/Mint

ALL-NEW GUARDIANS OF THE GALAXY FREE COMIC BOOK DAY (2017) #1 MIDTOWN ED Near Mint/Mint

ALL-NEW X-FACTOR (2014) #1 Fine

ANNIHILATION (MARVEL) (2006) #1 Near Mint/Mint
ANNIHILATION (MARVEL) (2006) #1 VARIANT Very Fine
ANNIHILATION (MARVEL) (2006) #1 Very Fine
ANNIHILATION (MARVEL) (2006) #2 Near Mint/Mint
ANNIHILATION (MARVEL) (2006) #2 Very Fine
ANNIHILATION (MARVEL) (2006) #3 Near Mint/Mint
ANNIHILATION (MARVEL) (2006) #4 Near Mint/Mint
ANNIHILATION (MARVEL) (2006) #5 Near Mint/Mint
ANNIHILATION (MARVEL) (2006) #6 Near Mint/Mint

ANNIHILATION PROLOGUE (MARVEL) (2006) #1 Near Mint/Mint
ANNIHILATION PROLOGUE (MARVEL) (2006) #1 VARIANT Near Mint/Mint

ANNIHILATION SAGA (MARVEL) (2007) #1 Near Mint/Mint

ANNIHILATION: HERALDS OF GALACTUS (MARVEL) (2006) #1 Near Mint/Mint
ANNIHILATION: HERALDS OF GALACTUS (MARVEL) (2006) #2 Near Mint/Mint


ANNIHILATION: NOVA (MARVEL) (2006) #1

ANNIHILATION: NOVA (MARVEL) (2006) #1 Near Mint/Mint
ANNIHILATION: NOVA (MARVEL) (2006) #2 Near Mint/Mint
ANNIHILATION: NOVA (MARVEL) (2006) #3 Near Mint/Mint
ANNIHILATION: NOVA (MARVEL) (2006) #4 Near Mint/Mint

ANNIHILATION: NOVA CORPS FILES (MARVEL) (2006) #1 Near Mint/Mint

ANNIHILATION: RONAN THE ACCUSER (MARVEL) (2006) #1 Very Fine
ANNIHILATION: RONAN THE ACCUSER (MARVEL) (2006) #2 Near Mint/Mint
ANNIHILATION: RONAN THE ACCUSER (MARVEL) (2006) #3 Near Mint/Mint
ANNIHILATION: RONAN THE ACCUSER (MARVEL) (2006) #4 Near Mint/Mint

ANNIHILATION: SILVER SURFER (MARVEL) (2006) #1 Near Mint/Mint
ANNIHILATION: SILVER SURFER (MARVEL) (2006) #2 Near Mint/Mint
ANNIHILATION: SILVER SURFER (MARVEL) (2006) #3 Near Mint/Mint
ANNIHILATION: SILVER SURFER (MARVEL) (2006) #4 Near Mint/Mint

ANNIHILATION: SUPER SKRULL (MARVEL) (2006) #1 Near Mint/Mint
ANNIHILATION: SUPER SKRULL (MARVEL) (2006) #2 Near Mint/Mint
ANNIHILATION: SUPER SKRULL (MARVEL) (2006) #3 Near Mint/Mint
ANNIHILATION: SUPER SKRULL (MARVEL) (2006) #4 Near Mint/Mint

ANT-MAN (2015) (#1-5) (MARVEL) #1 Near Mint/Mint

AVENGERS (1963) (#1-402) (MARVEL) #57 Very Good
AVENGERS (1963) (#1-402) (MARVEL) #195 NEWSSTAND Fine
AVENGERS (1963) (#1-402) (MARVEL) #363 Very Fine

AVENGERS (1996) (#1-13) (HEROES REBORN) (MARVEL) #1 VARIANT Near Mint/Mint

AVENGERS (1998) (#0-84, 500-503) (MARVEL) #1 VARIANT Near Mint/Mint


AVENGERS (1998) (#0-84, 500-503) (MARVEL) #2 VARIANT

AVENGERS (1998) (#0-84, 500-503) (MARVEL) #2 VARIANT Near Mint/Mint
AVENGERS (1998) (#0-84, 500-503) (MARVEL) #2 VARIANT Very Good
AVENGERS (1998) (#0-84, 500-503) (MARVEL) #38 Near Mint/Mint
AVENGERS (1998) (#0-84, 500-503) (MARVEL) #57 Very Fine
AVENGERS (1998) (#0-84, 500-503) (MARVEL) #65 Very Fine
AVENGERS (1998) (#0-84, 500-503) (MARVEL) #66 Near Mint/Mint
AVENGERS (1998) (#0-84, 500-503) (MARVEL) #67 Near Mint/Mint
AVENGERS (1998) (#0-84, 500-503) (MARVEL) #68 Near Mint/Mint
AVENGERS (1998) (#0-84, 500-503) (MARVEL) #69 Very Fine
AVENGERS (1998) (#0-84, 500-503) (MARVEL) #70 Near Mint/Mint
AVENGERS (1998) (#0-84, 500-503) (MARVEL) #71 Near Mint/Mint
AVENGERS (1998) (#0-84, 500-503) (MARVEL) #72 Near Mint/Mint
AVENGERS (1998) (#0-84, 500-503) (MARVEL) #73 Very Fine
AVENGERS (1998) (#0-84, 500-503) (MARVEL) #74 Near Mint/Mint
AVENGERS (1998) (#0-84, 500-503) (MARVEL) #75 Near Mint/Mint
AVENGERS (1998) (#0-84, 500-503) (MARVEL) #78 Near Mint/Mint
AVENGERS (1998) (#0-84, 500-503) (MARVEL) #79 Near Mint/Mint
AVENGERS (1998) (#0-84, 500-503) (MARVEL) #79 Very Fine
AVENGERS (1998) (#0-84, 500-503) (MARVEL) #80 Near Mint/Mint
AVENGERS (1998) (#0-84, 500-503) (MARVEL) #81 Near Mint/Mint
AVENGERS (1998) (#0-84, 500-503) (MARVEL) #82 Near Mint/Mint
AVENGERS (1998) (#0-84, 500-503) (MARVEL) #83 Near Mint/Mint
AVENGERS (1998) (#0-84, 500-503) (MARVEL) #84 Near Mint/Mint
AVENGERS (1998) (#0-84, 500-503) (MARVEL) #500 Near Mint/Mint
AVENGERS (1998) (#0-84, 500-503) (MARVEL) #500 DIRECT CUT Near Mint/Mint
AVENGERS (1998) (#0-84, 500-503) (MARVEL) #500 DIRECT CUT Very Fine
AVENGERS (1998) (#0-84, 500-503) (MARVEL) #500 Very Fine
AVENGERS (1998) (#0-84, 500-503) (MARVEL) #501 Near Mint/Mint
AVENGERS (1998) (#0-84, 500-503) (MARVEL) #502 Near Mint/Mint
AVENGERS (1998) (#0-84, 500-503) (MARVEL) #503 Near Mint/Mint

AVENGERS ANNUAL (1967) #8 Very Good

AVENGERS FOREVER (1998) #1 Very Fine

AVENGERS UNIVERSE (2000) #1 Near Mint/Mint
AVENGERS UNIVERSE (2000) #2 Near Mint/Mint
AVENGERS UNIVERSE (2000) #3 Near Mint/Mint

BLACK WIDOW (2014) (#1-20) (MARVEL) #1 Near Mint/Mint

BULLSEYE (#1-5) (RUNNING WITH THE DEVIL) (MARVEL) (2017) #1 HIP HOP Very Fine

CAPTAIN MARVEL (2014) (#1-15) (MARVEL) #1 Near Mint/Mint

CHAMPIONS (2016) (#1-27) (MARVEL NOW) #1 Fine

CHEWBACCA (STAR WARS) (2015) #1 Fine
CHEWBACCA (STAR WARS) (2015) #2 Fine
CHEWBACCA (STAR WARS) (2015) #3 Fine
CHEWBACCA (STAR WARS) (2015) #4 Fine
CHEWBACCA (STAR WARS) (2015) #5 Fine

FALCON (1983) #1 Very Good

FANTASTIC FOUR (2014) (#1-14, #642-645) (MARVEL) #1 YOUNG BABY Fine

FANTASTIC FOUR ANNUAL (1963) #12 Very Fine
FANTASTIC FOUR ANNUAL (1963) #13 Fine

IRON FIST: LIVING WEAPON (2014) #1 DEL MUNDO Fine
IRON FIST: LIVING WEAPON (2014) #2 Fine


LOKI: AGENT OF ASGARD (2014) #1

LOKI: AGENT OF ASGARD (2014) #1 Near Mint/Mint
LOKI: AGENT OF ASGARD (2014) #2 Fine
LOKI: AGENT OF ASGARD (2014) #3 Fine
LOKI: AGENT OF ASGARD (2014) #4 Fine
LOKI: AGENT OF ASGARD (2014) #5 Fine
LOKI: AGENT OF ASGARD (2014) #6 Very Fine

LONGSHOT (1985) (#1-6) (MARVEL LIMITED SERIES) #6 Near Mint/Mint

PETER PARKER (1976) (#1-263) (SPECTACULAR SPIDER-MAN) #3 Very Fine
PETER PARKER (1976) (#1-263) (SPECTACULAR SPIDER-MAN) #4 Near Mint/Mint
PETER PARKER (1976) (#1-263) (SPECTACULAR SPIDER-MAN) #5 Near Mint/Mint
PETER PARKER (1976) (#1-263) (SPECTACULAR SPIDER-MAN) #6 Near Mint/Mint
PETER PARKER (1976) (#1-263) (SPECTACULAR SPIDER-MAN) #7 Near Mint/Mint
PETER PARKER (1976) (#1-263) (SPECTACULAR SPIDER-MAN) #8 Near Mint/Mint
PETER PARKER (1976) (#1-263) (SPECTACULAR SPIDER-MAN) #9 Very Fine
PETER PARKER (1976) (#1-263) (SPECTACULAR SPIDER-MAN) #10 Very Good
PETER PARKER (1976) (#1-263) (SPECTACULAR SPIDER-MAN) #11 Near Mint/Mint
PETER PARKER (1976) (#1-263) (SPECTACULAR SPIDER-MAN) #12 Near Mint/Mint
PETER PARKER (1976) (#1-263) (SPECTACULAR SPIDER-MAN) #13 Near Mint/Mint
PETER PARKER (1976) (#1-263) (SPECTACULAR SPIDER-MAN) #14 Near Mint/Mint
PETER PARKER (1976) (#1-263) (SPECTACULAR SPIDER-MAN) #15 Near Mint/Mint
PETER PARKER (1976) (#1-263) (SPECTACULAR SPIDER-MAN) #16 Near Mint/Mint
PETER PARKER (1976) (#1-263) (SPECTACULAR SPIDER-MAN) #17 Near Mint/Mint
PETER PARKER (1976) (#1-263) (SPECTACULAR SPIDER-MAN) #18 Near Mint/Mint
PETER PARKER (1976) (#1-263) (SPECTACULAR SPIDER-MAN) #19 Near Mint/Mint
PETER PARKER (1976) (#1-263) (SPECTACULAR SPIDER-MAN) #20 Near Mint/Mint
PETER PARKER (1976) (#1-263) (SPECTACULAR SPIDER-MAN) #21 Near Mint/Mint
PETER PARKER (1976) (#1-263) (SPECTACULAR SPIDER-MAN) #22 Near Mint/Mint
PETER PARKER (1976) (#1-263) (SPECTACULAR SPIDER-MAN) #23 Near Mint/Mint
PETER PARKER (1976) (#1-263) (SPECTACULAR SPIDER-MAN) #25 Near Mint/Mint


PETER PARKER (1976) (#1-263) (SPECTACULAR SPIDER-MAN) #26

PETER PARKER (1976) (#1-263) (SPECTACULAR SPIDER-MAN) #26 Near Mint/Mint
PETER PARKER (1976) (#1-263) (SPECTACULAR SPIDER-MAN) #27 Near Mint/Mint
PETER PARKER (1976) (#1-263) (SPECTACULAR SPIDER-MAN) #28 Fine
PETER PARKER (1976) (#1-263) (SPECTACULAR SPIDER-MAN) #29 Near Mint/Mint
PETER PARKER (1976) (#1-263) (SPECTACULAR SPIDER-MAN) #32 NEWSSTAND Very Fine
PETER PARKER (1976) (#1-263) (SPECTACULAR SPIDER-MAN) #36 NEWSSTAND Near Mint/Mint
PETER PARKER (1976) (#1-263) (SPECTACULAR SPIDER-MAN) #37 NEWSSTAND Near Mint/Mint
PETER PARKER (1976) (#1-263) (SPECTACULAR SPIDER-MAN) #38 NEWSSTAND Near Mint/Mint
PETER PARKER (1976) (#1-263) (SPECTACULAR SPIDER-MAN) #39 NEWSSTAND Fine
PETER PARKER (1976) (#1-263) (SPECTACULAR SPIDER-MAN) #40 NEWSSTAND Near Mint/Mint
PETER PARKER (1976) (#1-263) (SPECTACULAR SPIDER-MAN) #41 NEWSSTAND Near Mint/Mint
PETER PARKER (1976) (#1-263) (SPECTACULAR SPIDER-MAN) #58 NEWSSTAND Near Mint/Mint
PETER PARKER (1976) (#1-263) (SPECTACULAR SPIDER-MAN) #69 NEWSSTAND Fine
PETER PARKER (1976) (#1-263) (SPECTACULAR SPIDER-MAN) #70 NEWSSTAND Very Fine
PETER PARKER (1976) (#1-263) (SPECTACULAR SPIDER-MAN) #75 Near Mint/Mint
PETER PARKER (1976) (#1-263) (SPECTACULAR SPIDER-MAN) #76 Near Mint/Mint
PETER PARKER (1976) (#1-263) (SPECTACULAR SPIDER-MAN) #77 Near Mint/Mint
PETER PARKER (1976) (#1-263) (SPECTACULAR SPIDER-MAN) #78 Near Mint/Mint
PETER PARKER (1976) (#1-263) (SPECTACULAR SPIDER-MAN) #79 Near Mint/Mint
PETER PARKER (1976) (#1-263) (SPECTACULAR SPIDER-MAN) #80 Fine

RED SONJA (1983) (#1-2) (MARVEL) #1 NEWSSTAND Near Mint/Mint
RED SONJA (1983) (#1-2) (MARVEL) #2 Near Mint/Mint

SPIDER-MAN (1963) (AMAZING SPIDER-MAN) (#1-441) #205 NEWSSTAND Near Mint/Mint
SPIDER-MAN (1963) (AMAZING SPIDER-MAN) (#1-441) #206 NEWSSTAND Very Good
SPIDER-MAN (1963) (AMAZING SPIDER-MAN) (#1-441) #207 NEWSSTAND Near Mint/Mint
SPIDER-MAN (1963) (AMAZING SPIDER-MAN) (#1-441) #210 NEWSSTAND Very Fine
SPIDER-MAN (1963) (AMAZING SPIDER-MAN) (#1-441) #211 NEWSSTAND Near Mint/Mint
SPIDER-MAN (1963) (AMAZING SPIDER-MAN) (#1-441) #212 NEWSSTAND Good
SPIDER-MAN (1963) (AMAZING SPIDER-MAN) (#1-441) #213 NEWSSTAND Very Good


SPIDER-MAN (1963) (AMAZING SPIDER-MAN) (#1-441) #214 NEWSSTAND

SPIDER-MAN (1963) (AMAZING SPIDER-MAN) (#1-441) #214 NEWSSTAND Very Good
SPIDER-MAN (1963) (AMAZING SPIDER-MAN) (#1-441) #215 NEWSSTAND Very Good
SPIDER-MAN (1963) (AMAZING SPIDER-MAN) (#1-441) #216 NEWSSTAND Very Good
SPIDER-MAN (1963) (AMAZING SPIDER-MAN) (#1-441) #217 NEWSSTAND Very Good
SPIDER-MAN (1963) (AMAZING SPIDER-MAN) (#1-441) #218 NEWSSTAND Fine
SPIDER-MAN (1963) (AMAZING SPIDER-MAN) (#1-441) #219 NEWSSTAND Fine
SPIDER-MAN (1963) (AMAZING SPIDER-MAN) (#1-441) #220 NEWSSTAND Fine
SPIDER-MAN (1963) (AMAZING SPIDER-MAN) (#1-441) #221 NEWSSTAND Very Good
SPIDER-MAN (1963) (AMAZING SPIDER-MAN) (#1-441) #222 NEWSSTAND Very Good
SPIDER-MAN (1963) (AMAZING SPIDER-MAN) (#1-441) #223 NEWSSTAND Very Fine
SPIDER-MAN (1963) (AMAZING SPIDER-MAN) (#1-441) #224 NEWSSTAND Very Fine
SPIDER-MAN (1963) (AMAZING SPIDER-MAN) (#1-441) #225 NEWSSTAND Near Mint/Mint
SPIDER-MAN (1963) (AMAZING SPIDER-MAN) (#1-441) #226 NEWSSTAND Near Mint/Mint
SPIDER-MAN (1963) (AMAZING SPIDER-MAN) (#1-441) #226 NEWSSTAND Fine
SPIDER-MAN (1963) (AMAZING SPIDER-MAN) (#1-441) #227 NEWSSTAND Very Fine
SPIDER-MAN (1963) (AMAZING SPIDER-MAN) (#1-441) #228 NEWSSTAND Near Mint/Mint
SPIDER-MAN (1963) (AMAZING SPIDER-MAN) (#1-441) #229 NEWSSTAND Very Fine
SPIDER-MAN (1963) (AMAZING SPIDER-MAN) (#1-441) #232 NEWSSTAND Very Fine
SPIDER-MAN (1963) (AMAZING SPIDER-MAN) (#1-441) #233 NEWSSTAND Very Fine
SPIDER-MAN (1963) (AMAZING SPIDER-MAN) (#1-441) #234 NEWSSTAND Very Good
SPIDER-MAN (1963) (AMAZING SPIDER-MAN) (#1-441) #235 NEWSSTAND Very Fine
SPIDER-MAN (1963) (AMAZING SPIDER-MAN) (#1-441) #236 NEWSSTAND Very Fine
SPIDER-MAN (1963) (AMAZING SPIDER-MAN) (#1-441) #237 NEWSSTAND Very Fine
SPIDER-MAN (1963) (AMAZING SPIDER-MAN) (#1-441) #241 NEWSSTAND Very Fine
SPIDER-MAN (1963) (AMAZING SPIDER-MAN) (#1-441) #241 Very Fine
SPIDER-MAN (1963) (AMAZING SPIDER-MAN) (#1-441) #242 NEWSSTAND Near Mint/Mint
SPIDER-MAN (1963) (AMAZING SPIDER-MAN) (#1-441) #242 Very Fine
SPIDER-MAN (1963) (AMAZING SPIDER-MAN) (#1-441) #243 Near Mint/Mint
SPIDER-MAN (1963) (AMAZING SPIDER-MAN) (#1-441) #243 NEWSSTAND Near Mint/Mint
SPIDER-MAN (1963) (AMAZING SPIDER-MAN) (#1-441) #244 Fine


SPIDER-MAN ANNUAL (1964) (#1-28) (MARVEL) #12

SPIDER-MAN ANNUAL (1964) (#1-28) (MARVEL) #12 Very Fine

STAR WARS SPECIAL: C-3PO (2015) #1 Fine

SUPER-VILLAIN TEAM-UP (1975) #8 Very Good
SUPER-VILLAIN TEAM-UP (1975) #9 Very Fine
SUPER-VILLAIN TEAM-UP (1975) #10 Very Fine
SUPER-VILLAIN TEAM-UP (1975) #11 Very Fine
SUPER-VILLAIN TEAM-UP (1975) #12 Near Mint/Mint
SUPER-VILLAIN TEAM-UP (1975) #13 Near Mint/Mint
SUPER-VILLAIN TEAM-UP (1975) #14 Very Fine
SUPER-VILLAIN TEAM-UP (1975) #15 Very Good

VISION/SCARLET WITCH (1985) #6 Fine

WALLY THE WIZARD (1985) #5 (Marvel Star) Fine
WALLY THE WIZARD (1985) #5 (Marvel Star) Very Fine
WALLY THE WIZARD (1985) #5 (Marvel Star) Very Good

DC
ACTION COMICS (2016) (#957-UP) (DC REBIRTH) #957 Near Mint/Mint
ACTION COMICS (2016) (#957-UP) (DC REBIRTH) #958 VARIANT Fine

BATGIRL & THE BIRDS OF PREY REBIRTH (2016) #1 VARIANT Very Fine

BATMAN BEYOND REBIRTH (2016) #1 Near Mint/Mint

BATMAN: BEYOND (2016)(#1-50)(BATMAN BEYOND)(DC REBIRTH) #1 VARIANT Very Fine

BATMAN: JOKER WAR ZONE (2020) #1 Near Mint/Mint


BATWOMAN (2017) (#1-UP) (DC REBIRTH) #1 VARIANT

BATWOMAN (2017) (#1-UP) (DC REBIRTH) #1 VARIANT Very Fine

BLUE BEETLE (2016) (DC REBIRTH) (#1-UP) #1 VARIANT Very Fine

BRAVE AND THE BOLD (1955) #134 Very Fine
BRAVE AND THE BOLD (1955) #147 Near Mint/Mint

CYBORG (2016) (#1-UP) (DC REBIRTH) #1 Very Fine

CYBORG REBIRTH (2016) #1 Near Mint/Mint

DC UNIVERSE REBIRTH (DC REBIRTH) (2016) #1 WRAPAROUND Near Mint/Mint

DEATHSTROKE (2016) (#1-UP) (DC REBIRTH) #1 Near Mint/Mint

DEATHSTROKE REBIRTH (2016) #1 Very Fine

DETECTIVE COMICS (1937) (#0-881) (DC) #517 NEWSSTAND Near Mint/Mint

DOOM PATROL (2016) (#1-UP) (DC YOUNG ANIMAL) #1 BOLLAND Fine

FLASH (2016) (#1-88, #750-UP) (DC REBIRTH) #1 Near Mint/Mint

FLASH REBIRTH (2016) #1 Near Mint/Mint

GREEN LANTERN (1960) (#1-224) (DC) #100 Near Mint/Mint
GREEN LANTERN (1960) (#1-224) (DC) #119 Near Mint/Mint
GREEN LANTERN (1960) (#1-224) (DC) #120 Very Fine
GREEN LANTERN (1960) (#1-224) (DC) #121 Fine
GREEN LANTERN (1960) (#1-224) (DC) #122 Fine
GREEN LANTERN (1960) (#1-224) (DC) #123 Near Mint/Mint


GREEN LANTERN (1960) (#1-224) (DC) #124

GREEN LANTERN (1960) (#1-224) (DC) #124 Near Mint/Mint
GREEN LANTERN (1960) (#1-224) (DC) #125 Near Mint/Mint
GREEN LANTERN (1960) (#1-224) (DC) #127 Near Mint/Mint
GREEN LANTERN (1960) (#1-224) (DC) #129 Near Mint/Mint
GREEN LANTERN (1960) (#1-224) (DC) #138 NEWSSTAND Near Mint/Mint
GREEN LANTERN (1960) (#1-224) (DC) #139 NEWSSTAND Near Mint/Mint
GREEN LANTERN (1960) (#1-224) (DC) #140 NEWSSTAND Near Mint/Mint
GREEN LANTERN (1960) (#1-224) (DC) #141 Near Mint/Mint
GREEN LANTERN (1960) (#1-224) (DC) #142 NEWSSTAND Near Mint/Mint
GREEN LANTERN (1960) (#1-224) (DC) #143 Near Mint/Mint
GREEN LANTERN (1960) (#1-224) (DC) #144 NEWSSTAND Very Fine
GREEN LANTERN (1960) (#1-224) (DC) #148 Near Mint/Mint
GREEN LANTERN (1960) (#1-224) (DC) #149 NEWSSTAND Near Mint/Mint
GREEN LANTERN (1960) (#1-224) (DC) #150 NEWSSTAND Near Mint/Mint
GREEN LANTERN (1960) (#1-224) (DC) #151 NEWSSTAND Near Mint/Mint
GREEN LANTERN (1960) (#1-224) (DC) #152 NEWSSTAND Near Mint/Mint
GREEN LANTERN (1960) (#1-224) (DC) #153 NEWSSTAND Very Fine
GREEN LANTERN (1960) (#1-224) (DC) #155 NEWSSTAND Fine
GREEN LANTERN (1960) (#1-224) (DC) #156 NEWSSTAND Very Fine
GREEN LANTERN (1960) (#1-224) (DC) #159 Near Mint/Mint
GREEN LANTERN (1960) (#1-224) (DC) #161 Fine

HELLBLAZER (2016) (#1-24) (DC REBIRTH) #3 Very Fine
HELLBLAZER (2016) (#1-24) (DC REBIRTH) #6 Near Mint/Mint
HELLBLAZER (2016) (#1-24) (DC REBIRTH) #7 Near Mint/Mint
HELLBLAZER (2016) (#1-24) (DC REBIRTH) #9 Fine
HELLBLAZER (2016) (#1-24) (DC REBIRTH) #10 Fine

JUSTICE LEAGUE DARK (2018) (#1-UP) (DC UNIVERSE) #13 VARIANT Near Mint/Mint
JUSTICE LEAGUE DARK (2018) (#1-UP) (DC UNIVERSE) #14 VARIANT Near Mint/Mint
JUSTICE LEAGUE DARK (2018) (#1-UP) (DC UNIVERSE) #15 VARIANT Near Mint/Mint


JUSTICE LEAGUE DARK (2018) (#1-UP) (DC UNIVERSE) #16

JUSTICE LEAGUE DARK (2018) (#1-UP) (DC UNIVERSE) #16 Near Mint/Mint
JUSTICE LEAGUE DARK (2018) (#1-UP) (DC UNIVERSE) #18 VARIANT Near Mint/Mint
JUSTICE LEAGUE DARK (2018) (#1-UP) (DC UNIVERSE) #19 VARIANT Near Mint/Mint
JUSTICE LEAGUE DARK (2018) (#1-UP) (DC UNIVERSE) #20 VARIANT Near Mint/Mint
JUSTICE LEAGUE DARK (2018) (#1-UP) (DC UNIVERSE) #21 Near Mint/Mint
JUSTICE LEAGUE DARK (2018) (#1-UP) (DC UNIVERSE) #22 Near Mint/Mint
JUSTICE LEAGUE DARK (2018) (#1-UP) (DC UNIVERSE) #23 Very Fine
JUSTICE LEAGUE DARK (2018) (#1-UP) (DC UNIVERSE) #24 VARIANT Near Mint/Mint
JUSTICE LEAGUE DARK (2018) (#1-UP) (DC UNIVERSE) #25 VARIANT Near Mint/Mint
JUSTICE LEAGUE DARK (2018) (#1-UP) (DC UNIVERSE) #26 Near Mint/Mint

MAD MAX: FURY ROAD - FURIOSA (2015) #1 Very Fine

MAD MAX: FURY ROAD - MAD MAX (2015) #1 Near Mint/Mint
MAD MAX: FURY ROAD - MAD MAX (2015) #2 Very Fine

MAD MAX: FURY ROAD - NUX & IMMORTAL JOE (2015) #1 Near Mint/Mint

INDEPENDENTS
BATMAN/THE MAXX: ARKHAM DREAMS (2018) #1 B KIETH (IDW Publishing) Near Mint/Mint
BATMAN/THE MAXX: ARKHAM DREAMS (2018) #2 B KIETH (IDW Publishing) Near Mint/Mint
BATMAN/THE MAXX: ARKHAM DREAMS (2018) #3 B KIETH (IDW Publishing) Near Mint/Mint

CEREBUS (1977) #23 (Aardvark-Vanaheim) Near Mint/Mint
CEREBUS (1977) #24 (Aardvark-Vanaheim) Near Mint/Mint
CEREBUS (1977) #25 (Aardvark-Vanaheim) Near Mint/Mint
CEREBUS (1977) #26 (Aardvark-Vanaheim) Near Mint/Mint
CEREBUS (1977) #27 (Aardvark-Vanaheim) Near Mint/Mint
CEREBUS (1977) #28 (Aardvark-Vanaheim) Very Fine
CEREBUS (1977) #29 (Aardvark-Vanaheim) Very Fine

CEREBUS (1977) #30 (Aardvark-Vanaheim) Near Mint/Mint
CEREBUS (1977) #31 (Aardvark-Vanaheim) Near Mint/Mint
CEREBUS (1977) #32 (Aardvark-Vanaheim) Very Fine
CEREBUS (1977) #33 (Aardvark-Vanaheim) Near Mint/Mint
CEREBUS (1977) #34 (Aardvark-Vanaheim) Very Fine
CEREBUS (1977) #35 (Aardvark-Vanaheim) Near Mint/Mint
CEREBUS (1977) #36 (Aardvark-Vanaheim) Very Fine
CEREBUS (1977) #37 (Aardvark-Vanaheim) Near Mint/Mint
CEREBUS (1977) #38 (Aardvark-Vanaheim) Very Fine
CEREBUS (1977) #39 (Aardvark-Vanaheim) Near Mint/Mint
CEREBUS (1977) #40 (Aardvark-Vanaheim) Very Fine
CEREBUS (1977) #41 (Aardvark-Vanaheim) Near Mint/Mint
CEREBUS (1977) #42 (Aardvark-Vanaheim) Near Mint/Mint