Huge HOLIDAY Comics Sale Begins Today
Howdy!
I am very pleased to report that Lynne informed me last evening that our shipping of Domestic orders was absolutely current, and that the last of our International orders would be shipped today. Her timing of that good news could simply not be more perfect, as I was very much wanting to begin our annual 30% off HOLIDAY! codeword sale for you today. I can now ask Will to engage HOLIDAY! for you with the confidence of knowing that all of our website orders received over this weekend should ship next week without any difficulties. Enjoy!
My only other news for today is a quick mention that I spent four hours yesterday helping the volunteers of Feeding Denver's Hungry with handing out two tons of donated jackets, sweaters, boots, hats, gloves, scarves, and socks to hundreds of homeless people in lower downtown Denver. The temperatures are supposed to drop to sub-zero levels tomorrow night, so getting this cold weather clothing into the hands of our most vulnerable citizens by today was critical. We distributed over 500 pairs of brand new thermal socks, many of which we paid for with donated funds from those of you who shop with us online. Thank you!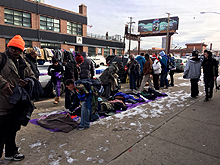 The donated used clothes we offered were greatly appreciated!
If you would like to participate in my socks for the homeless program, simply add a $25 gift certificate in with your next order. I will donate your $25 to the socks program, and then totally reimburse you in comics or books from our website. We can either mail you the gift certificate, or simply send you a registration number. Either way, your donation will help several people stay warm at night in Denver's bitter winter weather.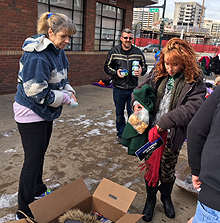 Feeding Denver's Hungry founder, Jim Scharper, and Empress 43 Norrie Reynolds, helping a young girl who arrived in stocking feet because someone stole her shoes while she was sleeping. We had donated boots in exactly her size!
FYI, frostbite is common among Denver's homeless, with losing toes on cold nights a disturbingly common occurrence. There are 9,000+ homeless people trying to live on the streets of Denver this winter, with fewer than 1,000 beds in shelters. Even with some churches allowing people to sleep on their floors on particularly bitter nights, there are still many hundreds of people forced to sleep in alleys, parks, and who simply have to walk all night to keep warm. I have made providing these people with thermal socks a personal mission. My efforts by no means change the world, but I am trying to help those in need, just a little.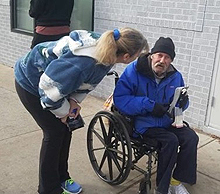 Imperial Court Empress 43 Norrie Reynolds handed out 500 pairs of thermal socks
Happy collecting!
Chuck Rozanski,
President - Mile High Comics, Inc.
December 16, 2016

P.S. Below are some fun photo arrays of comics that were added into our website inventory just yesterday. You can easily purchase them right now via our Premium New-In-stock and New-In-Stock links. All can be purchased at a 30% discount today when you utilize the new HOLIDAY! Codeword. Only new issues, a few variants, and our CGC's are excluded.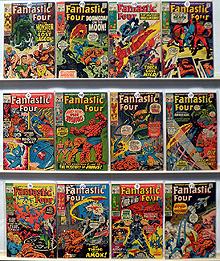 Some FANTASTIC FOUR comics that are Instock now!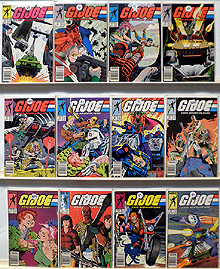 Some GI JOE comics that are Instock now!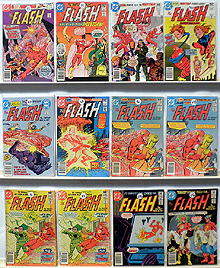 Some FLASH comics that are Instock now!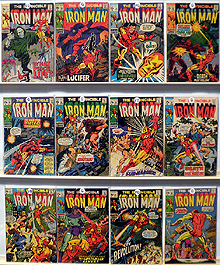 Some IRON MAN comics that are Instock now!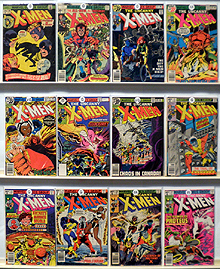 Some X-MEN comics that are Instock now!
All of our books are also on sale for you right now at 30%-40% off, but those steeply discounted book prices are listed for you right on the website, so the HOLIDAY! codeword does not apply to books. You can, however, combine books and comics together to achieve our free base shipping minimums of $50 Domestic, and $125 International. I hope that our providing you with free shipping, plus 30% off on your comics, helps to make your holidays just a little bit brighter!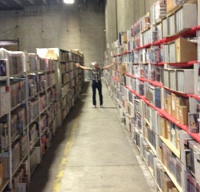 Chuck standing in 1 of our Trade paperback & Hardcover rows.