Huge List of Chuck's New Purchases
Howdy!
As shocking as it may seem, Christmas Eve is now just 14 days away. Yow! I definitely need to get in gear with my own holiday shopping, as I have been so busy driving around the country buying wonderful truckloads of comics and toys for everyone who shops with us here at Mile High Comics, that I have completely missed the fact that there are now only two Saturdays remaining before Christmas (which actually falls on a Saturday this year). To make a bad joke, I don't want to be with the guys who are buying beef jerky sticks to give to their loved ones in a 7-11, at 10 PM on Christmas Eve…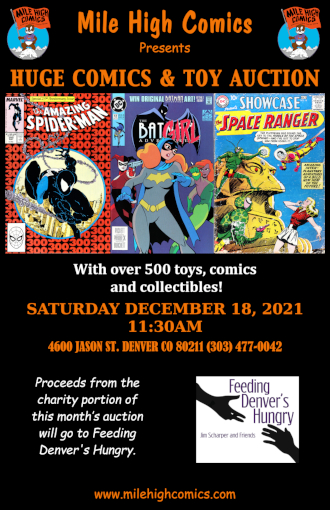 Holiday "stocking stuffer" auction flyer

The good news is that I will be working hard all day today to help others with their shopping. To be specific, I will be helping Will Moulton and Chris Boyd to create our awesome annual holiday "stocking stuffer" auction (Saturday, December 18th at 11:30 AM) from duplicates among my best collectibles purchases. My unearthing so many hard-to-find Marvel and DC graphic novels from the 1980's and 1990's and Treasury Editions from the 1970's and 1980's is a case in point, as I am now going to share some of those awesome books with our December 18th auction attendees on a completely no-minimum-bid basis. The same is true of duplicates of some of our most exciting pop culture toys and action figures, and (at least) a couple of nice limited edition statues. Suffice it to say, I am going to be very, very busy today!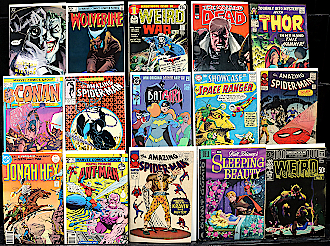 A few of the comics in the stocking stuffer auction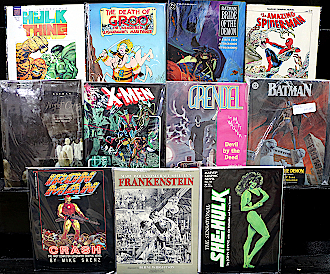 A few of the graphic novels in the stocking stuffer auction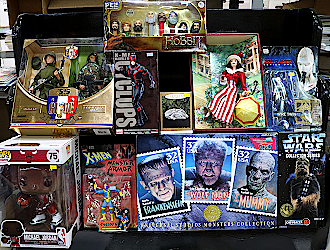 A few of the toys in the stocking stuffer auction

So you know, my helping out in the store is critically important right now, as Will and Pam have been totally focused on grading and entering as many of the 50,000+ scarce comics, magazines, and graphic novels from my recent buying trips into our Premium New-In-Stock link for you as is humanly possible. As a direct result of their Herculean efforts, today's listing of our new back issue arrivals is spectacularly long. As per usual, however, I only obtained one copy each of many of these scarce collectibles, so whomever places their order first for that scarce back issue, is the winner. Just saying…

Mile High Comics gift certificates

I have to go now, as I need to get hustling down to Jason St. to begin helping. I will close, however, by quickly mentioning that we do offer Mile High Comics gift certificates in any denomination. I cannot begin to tell you just how many happy faces that we see each year on December 26th, as legions of delighted people go on their annual gift certificate shopping sprees. In many regards that is why I stock us up so heavily for Christmas. The week after Christmas (and most especially December 26th) is actually busier for us, than the week before! That is true both in our Jason St. Mega-Store, and also through our website.
Happy collecting!
Chuck Rozanski/Bettie Pages,
President - Mile High Comics, Inc.
December 10, 2021

P.S. Our annual 50% off HOLIDAY! codeword sale is still in effect for you on all of the back issue comics and magazines listed below. Only new issues, a few variants, and our professionally-graded items are exempt. This is a great list!
MARVEL

AVENGERS (1963) (#1-402) (MARVEL) #350

AVENGERS (1963) (#1-402) (MARVEL) #350 Near Mint/Mint
AVENGERS (1963) (#1-402) (MARVEL) #350 Very Fine

CRYPT OF SHADOWS (2019) (#1-UP) (MARVEL) #1 Near Mint/Mint
CRYPT OF SHADOWS (2019) (#1-UP) (MARVEL) #1 CHRISTOPHE Near Mint/Mint

DOCTOR STRANGE (1988) (#1-90) (MARVEL) (DR. STRANGE) #1 Fine
DOCTOR STRANGE (1988) (#1-90) (MARVEL) (DR. STRANGE) #6 Very Fine

HELLRAISER-NIGHTBREED JIHAD (1991) #1 NEWSSTAND Near Mint/Mint

HULK (1962) (#1-6, #102-474, #600-635)(INCREDIBLE)(MV) #278 NEWSSTAND Good
HULK (1962) (#1-6, #102-474, #600-635)(INCREDIBLE)(MV) #324 NEWSSTAND Very Fine
HULK (1962) (#1-6, #102-474, #600-635)(INCREDIBLE)(MV) #330 NEWSSTAND Very Fine
HULK (1962) (#1-6, #102-474, #600-635)(INCREDIBLE)(MV) #331 NEWSSTAND Fine

LOGAN'S RUN (1977) (#1-7) (MARVEL) #1 Very Good
LOGAN'S RUN (1977) (#1-7) (MARVEL) #2 Near Mint/Mint
LOGAN'S RUN (1977) (#1-7) (MARVEL) #6 Good
LOGAN'S RUN (1977) (#1-7) (MARVEL) #7 Fine

MACHINE MAN (1978) (#1-19) (MARVEL) #7 Very Good

MARVEL TAILS (1983) #1 NEWSSTAND Fine

NEW AVENGERS (2004) (#1-64) (MARVEL) #8 ROMITA SR Near Mint/Mint

PETER PORKER, THE SPECTACULAR SPIDER-HAM (1985) #1 NEWSSTAND (Marvel Star) Very Good

RED SONJA (1983) (#1-2) (MARVEL) #1 NEWSSTAND Very Good
RED SONJA (1983) (#1-2) (MARVEL) #1 Very Good


RED SONJA (1983) (#1-2) (MARVEL) #2

RED SONJA (1983) (#1-2) (MARVEL) #2 Very Good

SHE-HULK (1989) (#1-60) (SENSATIONAL SHE-HULK)(MARVEL) #50 Near Mint/Mint

SILVER SURFER (1987) (#1-146) (MARVEL) #1 NEWSSTAND Very Good

SOLO AVENGERS (AVENGERS SPOTLIGHT #21-40) (1987) #26 NEWSSTAND Fine

SPIDER-MAN (1963) (AMAZING SPIDER-MAN) (#1-441) #240 NEWSSTAND Fine
SPIDER-MAN (1963) (AMAZING SPIDER-MAN) (#1-441) #241 NEWSSTAND Very Fine
SPIDER-MAN (1963) (AMAZING SPIDER-MAN) (#1-441) #242 NEWSSTAND Fine
SPIDER-MAN (1963) (AMAZING SPIDER-MAN) (#1-441) #243 NEWSSTAND Fine
SPIDER-MAN (1963) (AMAZING SPIDER-MAN) (#1-441) #244 NEWSSTAND Very Good
SPIDER-MAN (1963) (AMAZING SPIDER-MAN) (#1-441) #246 NEWSSTAND Very Good
SPIDER-MAN (1963) (AMAZING SPIDER-MAN) (#1-441) #247 NEWSSTAND Good
SPIDER-MAN (1963) (AMAZING SPIDER-MAN) (#1-441) #248 NEWSSTAND Fine
SPIDER-MAN (1963) (AMAZING SPIDER-MAN) (#1-441) #249 NEWSSTAND Fine
SPIDER-MAN (1963) (AMAZING SPIDER-MAN) (#1-441) #250 NEWSSTAND Very Fine
SPIDER-MAN (1963) (AMAZING SPIDER-MAN) (#1-441) #251 NEWSSTAND Fine
SPIDER-MAN (1963) (AMAZING SPIDER-MAN) (#1-441) #253 NEWSSTAND Very Fine
SPIDER-MAN (1963) (AMAZING SPIDER-MAN) (#1-441) #254 NEWSSTAND Good
SPIDER-MAN (1963) (AMAZING SPIDER-MAN) (#1-441) #255 NEWSSTAND Very Fine
SPIDER-MAN (1963) (AMAZING SPIDER-MAN) (#1-441) #256 NEWSSTAND Fine
SPIDER-MAN (1963) (AMAZING SPIDER-MAN) (#1-441) #257 NEWSSTAND Very Good
SPIDER-MAN (1963) (AMAZING SPIDER-MAN) (#1-441) #258 NEWSSTAND Very Fine
SPIDER-MAN (1963) (AMAZING SPIDER-MAN) (#1-441) #260 NEWSSTAND Fine
SPIDER-MAN (1963) (AMAZING SPIDER-MAN) (#1-441) #261 NEWSSTAND Very Fine
SPIDER-MAN (1963) (AMAZING SPIDER-MAN) (#1-441) #262 NEWSSTAND Very Fine
SPIDER-MAN (1963) (AMAZING SPIDER-MAN) (#1-441) #263 NEWSSTAND Fine
SPIDER-MAN (1963) (AMAZING SPIDER-MAN) (#1-441) #264 NEWSSTAND Fine
SPIDER-MAN (1963) (AMAZING SPIDER-MAN) (#1-441) #265 NEWSSTAND Very Fine


SPIDER-MAN (1963) (AMAZING SPIDER-MAN) (#1-441) #266 NEWSSTAND

SPIDER-MAN (1963) (AMAZING SPIDER-MAN) (#1-441) #266 NEWSSTAND Very Fine
SPIDER-MAN (1963) (AMAZING SPIDER-MAN) (#1-441) #267 NEWSSTAND Very Fine
SPIDER-MAN (1963) (AMAZING SPIDER-MAN) (#1-441) #268 NEWSSTAND Very Good
SPIDER-MAN (1963) (AMAZING SPIDER-MAN) (#1-441) #269 NEWSSTAND Fine
SPIDER-MAN (1963) (AMAZING SPIDER-MAN) (#1-441) #270 NEWSSTAND Very Fine
SPIDER-MAN (1963) (AMAZING SPIDER-MAN) (#1-441) #271 NEWSSTAND Fine
SPIDER-MAN (1963) (AMAZING SPIDER-MAN) (#1-441) #272 NEWSSTAND Fine

SPIDER-MAN ASHCAN #1 Near Mint/Mint

SPIDER-MAN: INDIA (2004) #1 Fine
SPIDER-MAN: INDIA (2004) #1 Very Fine

SPIDEY SUPER STORIES (1974) #21 Good

STRANGE TALES (1951) (#1-85 ATLAS, #86-188 MARVEL) #145 Very Good

THOR (1962) (#83-125 JOURNEY INTO MYSTERY, 126-502) #203 Good
THOR (1962) (#83-125 JOURNEY INTO MYSTERY, 126-502) #208 Very Good
THOR (1962) (#83-125 JOURNEY INTO MYSTERY, 126-502) #235 Very Good
THOR (1962) (#83-125 JOURNEY INTO MYSTERY, 126-502) #239 Fine
THOR (1962) (#83-125 JOURNEY INTO MYSTERY, 126-502) #243 Very Good
THOR (1962) (#83-125 JOURNEY INTO MYSTERY, 126-502) #267 Very Good
THOR (1962) (#83-125 JOURNEY INTO MYSTERY, 126-502) #284 NEWSSTAND Very Good

TOMB OF DRACULA (1972) (#1-70) (MARVEL) #56 Very Good

ULTIMATE COMICS: SPIDER-MAN (ALL-NEW) (2011) #1 UNBAGGED Very Fine

VENOM: SPACE KNIGHT (2015) #1 HIP HOP Good


WEB OF SPIDER-MAN (1985) (#1-129) (MARVEL) #31

WEB OF SPIDER-MAN (1985) (#1-129) (MARVEL) #31 Near Mint/Mint
WEB OF SPIDER-MAN (1985) (#1-129) (MARVEL) #32 Near Mint/Mint
WEB OF SPIDER-MAN (1985) (#1-129) (MARVEL) #33 Very Fine
WEB OF SPIDER-MAN (1985) (#1-129) (MARVEL) #49 Fine
WEB OF SPIDER-MAN (1985) (#1-129) (MARVEL) #49 NEWSSTAND Very Fine
WEB OF SPIDER-MAN (1985) (#1-129) (MARVEL) #49 NEWSSTAND Fine
WEB OF SPIDER-MAN (1985) (#1-129) (MARVEL) #49 Very Fine
WEB OF SPIDER-MAN (1985) (#1-129) (MARVEL) #67 Fine
WEB OF SPIDER-MAN (1985) (#1-129) (MARVEL) #67 Very Fine
WEB OF SPIDER-MAN (1985) (#1-129) (MARVEL) #79 Fine
WEB OF SPIDER-MAN (1985) (#1-129) (MARVEL) #79 NEWSSTAND Good
WEB OF SPIDER-MAN (1985) (#1-129) (MARVEL) #79 Very Fine
WEB OF SPIDER-MAN (1985) (#1-129) (MARVEL) #114 Near Mint/Mint
WEB OF SPIDER-MAN (1985) (#1-129) (MARVEL) #114 Fine
WEB OF SPIDER-MAN (1985) (#1-129) (MARVEL) #114 Very Fine

WEB OF SPIDER-MAN (2009) (#1-12) (MARVEL) #9 Fine
WEB OF SPIDER-MAN (2009) (#1-12) (MARVEL) #9 Very Fine

WEBSPINNERS: TALES OF SPIDER-MAN (1999) #14 Fine
WEBSPINNERS: TALES OF SPIDER-MAN (1999) #14 Very Fine

WEST COAST AVENGERS (1985) (#1-102) (MARVEL) #27 NEWSSTAND Fine
WEST COAST AVENGERS (1985) (#1-102) (MARVEL) #75 Fine
WEST COAST AVENGERS (1985) (#1-102) (MARVEL) #75 Very Good
WEST COAST AVENGERS (1985) (#1-102) (MARVEL) #76 Fine
WEST COAST AVENGERS (1985) (#1-102) (MARVEL) #76 Very Good
WEST COAST AVENGERS (1985) (#1-102) (MARVEL) #76 Very Fine
WEST COAST AVENGERS (1985) (#1-102) (MARVEL) #87 Fine
WEST COAST AVENGERS (1985) (#1-102) (MARVEL) #87 Very Fine
WEST COAST AVENGERS (1985) (#1-102) (MARVEL) #101 Fine


WEST COAST AVENGERS (1985) (#1-102) (MARVEL) #101 NEWSSTAND

WEST COAST AVENGERS (1985) (#1-102) (MARVEL) #101 NEWSSTAND Fine
WEST COAST AVENGERS (1985) (#1-102) (MARVEL) #101 Very Good
WEST COAST AVENGERS (1985) (#1-102) (MARVEL) #101 Very Fine

WHAT IF... (1989) (#1-114, & 200) (MARVEL) #10 Fine

WHAT IF? SPECIAL (WHAT IF IRON MAN HAD BEEN A TRAITOR) (1988) #1 NEWSSTAND Very Fine
WHAT IF? SPECIAL (WHAT IF IRON MAN HAD BEEN A TRAITOR) (1988) #1 NEWSSTAND Fine

DC
ACTION COMICS (1938) (#0-600, 643-904) (DC) #204 Good
ACTION COMICS (1938) (#0-600, 643-904) (DC) #231 Good
ACTION COMICS (1938) (#0-600, 643-904) (DC) #276 Fair
ACTION COMICS (1938) (#0-600, 643-904) (DC) #295 Good
ACTION COMICS (1938) (#0-600, 643-904) (DC) #312 Good
ACTION COMICS (1938) (#0-600, 643-904) (DC) #320 Fair
ACTION COMICS (1938) (#0-600, 643-904) (DC) #322 Good
ACTION COMICS (1938) (#0-600, 643-904) (DC) #335 Good
ACTION COMICS (1938) (#0-600, 643-904) (DC) #343 Very Good

ALL-AMERICAN MEN OF WAR (1952) #50 Good

BATMAN (1940) (#0-713) (DC) #138 Fair
BATMAN (1940) (#0-713) (DC) #142 Good
BATMAN (1940) (#0-713) (DC) #264 Very Good
BATMAN (1940) (#0-713) (DC) #290 Very Good
BATMAN (1940) (#0-713) (DC) #291 Good
BATMAN (1940) (#0-713) (DC) #316 Fine
BATMAN (1940) (#0-713) (DC) #323 Very Good
BATMAN (1940) (#0-713) (DC) #324 Good


BATMAN (1940) (#0-713) (DC) #330 NEWSSTAND

BATMAN (1940) (#0-713) (DC) #330 NEWSSTAND Very Good
BATMAN (1940) (#0-713) (DC) #331 NEWSSTAND Very Good
BATMAN (1940) (#0-713) (DC) #332 NEWSSTAND Very Good
BATMAN (1940) (#0-713) (DC) #335 NEWSSTAND Fine
BATMAN (1940) (#0-713) (DC) #345 NEWSSTAND Very Good
BATMAN (1940) (#0-713) (DC) #346 NEWS ATARI Very Good
BATMAN (1940) (#0-713) (DC) #351 NEWSSTAND Fine

BATMAN ADVENTURES (1992) #3 Fine

BATMAN VS. PREDATOR II: BLOODMATCH (1994) #1 Fine
BATMAN VS. PREDATOR II: BLOODMATCH (1994) #2 Near Mint/Mint
BATMAN VS. PREDATOR II: BLOODMATCH (1994) #3 Near Mint/Mint
BATMAN VS. PREDATOR II: BLOODMATCH (1994) #4 Near Mint/Mint

BATMAN VS. PREDATOR III: BLOOD TIES (1997) #1 Very Good
BATMAN VS. PREDATOR III: BLOOD TIES (1997) #2 Fine
BATMAN VS. PREDATOR III: BLOOD TIES (1997) #3 Fine
BATMAN VS. PREDATOR III: BLOOD TIES (1997) #4 Very Fine

BATMAN: GHOSTS-DARK KNIGHT HALLOWEEN SPECIAL (TIM SALE) (1995) #1 Near Mint/Mint

BATMAN: MADNESS - LEGENDS OF THE DARK KNIGHT HALLOWEEN (1994) #1 Near Mint/Mint

BATMAN: THE KILLING JOKE (ALAN MOORE) (1988) #1 Near Mint/Mint
BATMAN: THE KILLING JOKE (ALAN MOORE) (1988) #1 12TH PRINT Near Mint/Mint

BLACKHAWK (1957) (#108-273) (DC) #114 Fine
BLACKHAWK (1957) (#108-273) (DC) #116 Very Good

BRAVE AND THE BOLD (1955) #42 Good

CHUCK (2008) #1 Near Mint/Mint
CHUCK (2008) #2 Near Mint/Mint
CHUCK (2008) #4 Very Fine
CHUCK (2008) #5 Very Fine
CHUCK (2008) #6 Near Mint/Mint

CRUSADERS (DC IMPACT) (1992) #1 (DC: Impact Comics) Very Fine
CRUSADERS (DC IMPACT) (1992) #3 (DC: Impact Comics) Near Mint/Mint
CRUSADERS (DC IMPACT) (1992) #3 (DC: Impact Comics) Fine
CRUSADERS (DC IMPACT) (1992) #3 (DC: Impact Comics) Very Fine
CRUSADERS (DC IMPACT) (1992) #4 (DC: Impact Comics) Near Mint/Mint
CRUSADERS (DC IMPACT) (1992) #5 (DC: Impact Comics) Near Mint/Mint
CRUSADERS (DC IMPACT) (1992) #5 (DC: Impact Comics) Fine
CRUSADERS (DC IMPACT) (1992) #5 (DC: Impact Comics) Very Fine
CRUSADERS (DC IMPACT) (1992) #6 (DC: Impact Comics) Near Mint/Mint
CRUSADERS (DC IMPACT) (1992) #6 (DC: Impact Comics) Very Fine
CRUSADERS (DC IMPACT) (1992) #7 (DC: Impact Comics) Near Mint/Mint
CRUSADERS (DC IMPACT) (1992) #7 (DC: Impact Comics) Very Fine
CRUSADERS (DC IMPACT) (1992) #8 (DC: Impact Comics) Near Mint/Mint

DETECTIVE COMICS (1937) (#0-881) (DC) #248 Fine
DETECTIVE COMICS (1937) (#0-881) (DC) #291 Good
DETECTIVE COMICS (1937) (#0-881) (DC) #308 Fair
DETECTIVE COMICS (1937) (#0-881) (DC) #310 Fair
DETECTIVE COMICS (1937) (#0-881) (DC) #330 Fair
DETECTIVE COMICS (1937) (#0-881) (DC) #342 Very Good
DETECTIVE COMICS (1937) (#0-881) (DC) #347 Good
DETECTIVE COMICS (1937) (#0-881) (DC) #349 Good
DETECTIVE COMICS (1937) (#0-881) (DC) #351 Good
DETECTIVE COMICS (1937) (#0-881) (DC) #389 Good
DETECTIVE COMICS (1937) (#0-881) (DC) #446 Fine


DETECTIVE COMICS (1937) (#0-881) (DC) #461

DETECTIVE COMICS (1937) (#0-881) (DC) #461 Good
DETECTIVE COMICS (1937) (#0-881) (DC) #463 Very Good
DETECTIVE COMICS (1937) (#0-881) (DC) #480 Good
DETECTIVE COMICS (1937) (#0-881) (DC) #480 Very Good
DETECTIVE COMICS (1937) (#0-881) (DC) #490 Very Good
DETECTIVE COMICS (1937) (#0-881) (DC) #507 NEWSSTAND Very Good
DETECTIVE COMICS (1937) (#0-881) (DC) #508 NEWSSTAND Very Good
DETECTIVE COMICS (1937) (#0-881) (DC) #516 NEWSSTAND Good
DETECTIVE COMICS (1937) (#0-881) (DC) #524 Good
DETECTIVE COMICS (1937) (#0-881) (DC) #524 NEWSSTAND Very Good
DETECTIVE COMICS (1937) (#0-881) (DC) #531 NEWSSTAND Very Good

ELVIRA'S HOUSE OF MYSTERY (1986) #2 NEWSSTAND Very Fine
ELVIRA'S HOUSE OF MYSTERY (1986) #3 NEWSSTAND Very Fine
ELVIRA'S HOUSE OF MYSTERY (1986) #5 NEWSSTAND Fine
ELVIRA'S HOUSE OF MYSTERY (1986) #6 NEWSSTAND Fine
ELVIRA'S HOUSE OF MYSTERY (1986) #7 NEWSSTAND Very Good
ELVIRA'S HOUSE OF MYSTERY (1986) #8 NEWSSTAND Very Fine
ELVIRA'S HOUSE OF MYSTERY (1986) #9 NEWSSTAND Fine
ELVIRA'S HOUSE OF MYSTERY (1986) #10 NEWSSTAND Near Mint/Mint
ELVIRA'S HOUSE OF MYSTERY (1986) #11 NEWSSTAND Very Fine

HOUSE OF MYSTERY (1951) #108 Good
HOUSE OF MYSTERY (1951) #111 Good
HOUSE OF MYSTERY (1951) #120 Very Good
HOUSE OF MYSTERY (1951) #121 Good
HOUSE OF MYSTERY (1951) #123 Very Good
HOUSE OF MYSTERY (1951) #129 Very Good
HOUSE OF MYSTERY (1951) #157 Very Good
HOUSE OF MYSTERY (1951) #158 Fine
HOUSE OF MYSTERY (1951) #161 Good

HOUSE OF MYSTERY (1951) #162 Very Good
HOUSE OF MYSTERY (1951) #163 Very Good
HOUSE OF MYSTERY (1951) #164 Very Good

LEGENDS OF THE DARK KNIGHT HALLOWEEN SPECIAL (1993) #1 Near Mint/Mint

LEGION OF SUPER-HEROES (1984) (#1-63) (DC) #38 Very Fine

LOIS LANE (1958) (#1-137) (SUPERMAN'S GIRL FRIEND) (DC) #28 Good
LOIS LANE (1958) (#1-137) (SUPERMAN'S GIRL FRIEND) (DC) #50 Good

METAMORPHO (1965) #3 Very Good

MY GREATEST ADVENTURE (1955) #25 Very Good

MYSTERY IN SPACE (1951) (#1-117) (DC) #64 Good

STAR SPANGLED WAR STORIES (1952) #8 Fair

STRANGE ADVENTURES (1950) (#1-244) (DC) #117 Good
STRANGE ADVENTURES (1950) (#1-244) (DC) #124 Good
STRANGE ADVENTURES (1950) (#1-244) (DC) #126 Good

STRANGE ADVENTURES (2020) (#1-12) (DC BLACK LABEL) #1 Near Mint/Mint
STRANGE ADVENTURES (2020) (#1-12) (DC BLACK LABEL) #2 Near Mint/Mint
STRANGE ADVENTURES (2020) (#1-12) (DC BLACK LABEL) #3 Near Mint/Mint
STRANGE ADVENTURES (2020) (#1-12) (DC BLACK LABEL) #4 Near Mint/Mint
STRANGE ADVENTURES (2020) (#1-12) (DC BLACK LABEL) #5 Near Mint/Mint

SUPERBOY (1949) (#1-258) (DC) #58 Very Good
SUPERBOY (1949) (#1-258) (DC) #59 Good


SUPERMAN (1939) (#1-423) (DC) #122

SUPERMAN (1939) (#1-423) (DC) #122 Good
SUPERMAN (1939) (#1-423) (DC) #185 Good
SUPERMAN (1939) (#1-423) (DC) #189 Very Good
SUPERMAN (1939) (#1-423) (DC) #192 Very Good
SUPERMAN (1939) (#1-423) (DC) #195 Good

SWAMP THING (1972) (#1-24) #1 Good

UNEXPECTED (1956) (TALES OF THE UNEXPECTED #1-104) #50 Good
UNEXPECTED (1956) (TALES OF THE UNEXPECTED #1-104) #93 Very Good

WONDER WOMAN (1987) (#0-226) (DC) #154 Good
WONDER WOMAN (1987) (#0-226) (DC) #166 Good
WONDER WOMAN (1987) (#0-226) (DC) #171 Very Good

WONDER WOMAN (2016) (#1-83, #750-UP) (DC REBIRTH) #750 2000S Near Mint/Mint
WONDER WOMAN (2016) (#1-83, #750-UP) (DC REBIRTH) #751 VARIANT Very Fine
WONDER WOMAN (2016) (#1-83, #750-UP) (DC REBIRTH) #752 VARIANT Near Mint/Mint
WONDER WOMAN (2016) (#1-83, #750-UP) (DC REBIRTH) #753 Near Mint/Mint
WONDER WOMAN (2016) (#1-83, #750-UP) (DC REBIRTH) #754 Near Mint/Mint
WONDER WOMAN (2016) (#1-83, #750-UP) (DC REBIRTH) #755 Near Mint/Mint
WONDER WOMAN (2016) (#1-83, #750-UP) (DC REBIRTH) #756 VARIANT Near Mint/Mint
WONDER WOMAN (2016) (#1-83, #750-UP) (DC REBIRTH) #757 Near Mint/Mint
WONDER WOMAN (2016) (#1-83, #750-UP) (DC REBIRTH) #758 Near Mint/Mint
WONDER WOMAN (2016) (#1-83, #750-UP) (DC REBIRTH) #759 Near Mint/Mint
WONDER WOMAN (2016) (#1-83, #750-UP) (DC REBIRTH) #760 VARIANT Near Mint/Mint
WONDER WOMAN (2016) (#1-83, #750-UP) (DC REBIRTH) #761 VARIANT Near Mint/Mint
WONDER WOMAN (2016) (#1-83, #750-UP) (DC REBIRTH) #762 Near Mint/Mint
WONDER WOMAN (2016) (#1-83, #750-UP) (DC REBIRTH) #763 Near Mint/Mint

WONDER WOMAN ANNUAL (2017) #4 Near Mint/Mint


WORLDS FINEST (1941) (#2-323) (DC) (WORLD'S FINEST) #108

WORLDS FINEST (1941) (#2-323) (DC) (WORLD'S FINEST) #108 Good
WORLDS FINEST (1941) (#2-323) (DC) (WORLD'S FINEST) #110 Fair
WORLDS FINEST (1941) (#2-323) (DC) (WORLD'S FINEST) #114 Good
WORLDS FINEST (1941) (#2-323) (DC) (WORLD'S FINEST) #122 Good
WORLDS FINEST (1941) (#2-323) (DC) (WORLD'S FINEST) #124 Good
WORLDS FINEST (1941) (#2-323) (DC) (WORLD'S FINEST) #132 Good
WORLDS FINEST (1941) (#2-323) (DC) (WORLD'S FINEST) #134 Good
WORLDS FINEST (1941) (#2-323) (DC) (WORLD'S FINEST) #143 Good
WORLDS FINEST (1941) (#2-323) (DC) (WORLD'S FINEST) #145 Good
WORLDS FINEST (1941) (#2-323) (DC) (WORLD'S FINEST) #150 Very Good
WORLDS FINEST (1941) (#2-323) (DC) (WORLD'S FINEST) #154 Very Good
WORLDS FINEST (1941) (#2-323) (DC) (WORLD'S FINEST) #157 Good

YOUNG ALL-STARS (1987) #2 Fine
YOUNG ALL-STARS (1987) #2 Very Fine

DARK HORSE COMICS
BATMAN VS. PREDATOR (1991) #1 Near Mint/Mint
BATMAN VS. PREDATOR (1991) #1 DLX BATMAN Near Mint/Mint
BATMAN VS. PREDATOR (1991) #2 Fine
BATMAN VS. PREDATOR (1991) #2 DELUXE Fine
BATMAN VS. PREDATOR (1991) #3 DELUXE Very Good
BATMAN VS. PREDATOR (1991) #3 Very Fine

CRUSH (2003) (#1-4) (DARK HORSE/ROCKET COMICS) #4 Very Fine

INDIANA JONES & SHRINE OF THE SEA DEVIL #1 Near Mint/Mint

INDIANA JONES & THE ARMS OF GOLD (1994) #1 Near Mint/Mint
INDIANA JONES & THE ARMS OF GOLD (1994) #2 Near Mint/Mint


INDIANA JONES & THE ARMS OF GOLD (1994) #3

INDIANA JONES & THE ARMS OF GOLD (1994) #3 Near Mint/Mint
INDIANA JONES & THE ARMS OF GOLD (1994) #4 Fine

INDIANA JONES & THE GOLDEN FLEECE (1994) #1 Near Mint/Mint
INDIANA JONES & THE GOLDEN FLEECE (1994) #2 Near Mint/Mint

INDIANA JONES & THE IRON PHOENIX (1994) #1 Near Mint/Mint
INDIANA JONES & THE IRON PHOENIX (1994) #2 Near Mint/Mint
INDIANA JONES & THE IRON PHOENIX (1994) #3 Near Mint/Mint
INDIANA JONES & THE IRON PHOENIX (1994) #4 Near Mint/Mint

INDIANA JONES & THE SARGASSO PIRATES (1995) #1 Near Mint/Mint
INDIANA JONES & THE SARGASSO PIRATES (1995) #2 Near Mint/Mint
INDIANA JONES & THE SARGASSO PIRATES (1995) #3 Very Fine
INDIANA JONES & THE SARGASSO PIRATES (1995) #4 Near Mint/Mint

INDIANA JONES & THE SPEAR OF DESTINY (1995) #1 Near Mint/Mint
INDIANA JONES & THE SPEAR OF DESTINY (1995) #2 Very Fine
INDIANA JONES & THE SPEAR OF DESTINY (1995) #3 Fine
INDIANA JONES & THE SPEAR OF DESTINY (1995) #4 Near Mint/Mint

INDIANA JONES & THE TOMB OF THE GODS (2008) #1 Very Fine
INDIANA JONES & THE TOMB OF THE GODS (2008) #2 Very Good
INDIANA JONES & THE TOMB OF THE GODS (2008) #3 Fine
INDIANA JONES & THE TOMB OF THE GODS (2008) #4 Near Mint/Mint

INDIANA JONES AND THE FATE OF ATLANTIS (1991) #1 Very Fine
INDIANA JONES AND THE FATE OF ATLANTIS (1991) #2 Very Fine
INDIANA JONES AND THE FATE OF ATLANTIS (1991) #3 Very Fine

INDIANA JONES: THUNDER IN THE ORIENT (1993) #1 Near Mint/Mint


INDIANA JONES: THUNDER IN THE ORIENT (1993) #2

INDIANA JONES: THUNDER IN THE ORIENT (1993) #2 Very Fine
INDIANA JONES: THUNDER IN THE ORIENT (1993) #3 Near Mint/Mint
INDIANA JONES: THUNDER IN THE ORIENT (1993) #4 Near Mint/Mint
INDIANA JONES: THUNDER IN THE ORIENT (1993) #5 Near Mint/Mint
INDIANA JONES: THUNDER IN THE ORIENT (1993) #6 Near Mint/Mint

SHADOW STAR: FLOWERS FRAGRANCE TPB (VOL. 5) (2004) #1 Very Fine

IMAGE COMICS
CRUDE (2018) #1 Near Mint/Mint

CRY HAVOC (2015) #1 A KELLY Near Mint/Mint
CRY HAVOC (2015) #4 A KELLY Near Mint/Mint

CUTTER (2014) #2 Fine

PROPHET (1993) (#0-10) (IMAGE) #1 Near Mint/Mint

SEX CRIMINALS (2013) #1 Near Mint/Mint
SEX CRIMINALS (2013) #2 Very Fine
SEX CRIMINALS (2013) #3 Near Mint/Mint
SEX CRIMINALS (2013) #4 Fine
SEX CRIMINALS (2013) #5 Fine
SEX CRIMINALS (2013) #6 Near Mint/Mint
SEX CRIMINALS (2013) #7 Very Fine
SEX CRIMINALS (2013) #8 Fine
SEX CRIMINALS (2013) #9 Fine
SEX CRIMINALS (2013) #10 Near Mint/Mint
SEX CRIMINALS (2013) #11 UNBAGGED Near Mint/Mint
SEX CRIMINALS (2013) #13 Near Mint/Mint

SEX CRIMINALS (2013) #14 Near Mint/Mint
SEX CRIMINALS (2013) #17 A ZDARSKY Very Fine
SEX CRIMINALS (2013) #18 A ZDARSKY Very Fine
SEX CRIMINALS (2013) #19 A ZDARSKY Near Mint/Mint
SEX CRIMINALS (2013) #20 A ZDARSKY Near Mint/Mint
SEX CRIMINALS (2013) #21 A ZDARSKY Very Fine
SEX CRIMINALS (2013) #22 A ZDARSKY Near Mint/Mint
SEX CRIMINALS (2013) #23 A ZDARSKY Near Mint/Mint
SEX CRIMINALS (2013) #24 A ZDARSKY Near Mint/Mint
SEX CRIMINALS (2013) #25 A ZDARSKY Very Fine
SEX CRIMINALS (2013) #26 A ZDARSKY Near Mint/Mint
SEX CRIMINALS (2013) #27 A ZDARSKY Fine
SEX CRIMINALS (2013) #28 A ZDARSKY Near Mint/Mint
SEX CRIMINALS (2013) #29 A ZDARSKY Near Mint/Mint
SEX CRIMINALS (2013) #30 A ZDARSKY Fine

SEX CRIMINALS: SEXUAL GARY SPECIAL (2020) #1 A ZDARSKY Near Mint/Mint

SPAWN (1992) #1 Very Good

INDEPENDENTS
APACHE TRAIL (1957) #2 (America's Best) Fine

BACK TO THE FUTURE: BIFF TO THE FUTURE (2017) #1 (IDW Publishing) Near Mint/Mint
BACK TO THE FUTURE: BIFF TO THE FUTURE (2017) #3 (IDW Publishing) Very Fine
BACK TO THE FUTURE: BIFF TO THE FUTURE (2017) #4 (IDW Publishing) Very Fine
BACK TO THE FUTURE: BIFF TO THE FUTURE (2017) #5 (IDW Publishing) Near Mint/Mint
BACK TO THE FUTURE: BIFF TO THE FUTURE (2017) #5 SUBSCRIPT (IDW Publishing) Near Mint/Mint
BACK TO THE FUTURE: BIFF TO THE FUTURE (2017) #6 (IDW Publishing) Fine


BACK TO THE FUTURE: CITIZEN BROWN (2016) #1

BACK TO THE FUTURE: CITIZEN BROWN (2016) #1 (IDW Publishing) Near Mint/Mint
BACK TO THE FUTURE: CITIZEN BROWN (2016) #2 (IDW Publishing) Near Mint/Mint
BACK TO THE FUTURE: CITIZEN BROWN (2016) #3 SUBSCRIPT (IDW Publishing) Near Mint/Mint
BACK TO THE FUTURE: CITIZEN BROWN (2016) #4 SUBSCRIPT (IDW Publishing) Near Mint/Mint
BACK TO THE FUTURE: CITIZEN BROWN (2016) #5 (IDW Publishing) Near Mint/Mint

BACK TO THE FUTURE: TIME TRAIN (2017) #1 A LEVENS (IDW Publishing) Fine
BACK TO THE FUTURE: TIME TRAIN (2017) #2 A LEVENS (IDW Publishing) Near Mint/Mint
BACK TO THE FUTURE: TIME TRAIN (2017) #3 A LEVENS (IDW Publishing) Very Fine
BACK TO THE FUTURE: TIME TRAIN (2017) #4 A LEVENS (IDW Publishing) Near Mint/Mint
BACK TO THE FUTURE: TIME TRAIN (2017) #5 B MURPHY (IDW Publishing) Fine
BACK TO THE FUTURE: TIME TRAIN (2017) #6 A LEVENS (IDW Publishing) Fine

BERNI WRIGHTSON, MASTER OF MACABRE (1983) #1 (Eclipse Enterprises) Very Good
BERNI WRIGHTSON, MASTER OF MACABRE (1983) #2 (Eclipse Enterprises) Fine
BERNI WRIGHTSON, MASTER OF MACABRE (1983) #3 (Eclipse Enterprises) Very Fine
BERNI WRIGHTSON, MASTER OF MACABRE (1983) #4 (Eclipse Enterprises) Very Good
BERNI WRIGHTSON, MASTER OF MACABRE (1983) #5 (Eclipse Enterprises) Fine

BRUCE JONES' RAZOR'S EDGE #1 (Innovation Publishing) Fine

CRUSADERS VOL. 7: THE ARK (1974) #1 69 CENT CV (Chick Publications) Very Good

CRUSADERS VOL.12: ALBERTO (1974) #1 1979 (Chick Publications) Very Good

CRUX (2001) #25 (Crossgen Comics) Near Mint/Mint
CRUX (2001) #32 (Crossgen Comics) Near Mint/Mint

CRY FOR DAWN (1989) #5 (Cry For Dawn Productions) Fine

CRYING FREEMAN (1989) #5 (Viz Comics) Near Mint/Mint

CRYING FREEMAN (1989) #6 (Viz Comics) Near Mint/Mint

CRYING FREEMAN PART 2 (1990) #4 (Viz Comics) Near Mint/Mint
CRYING FREEMAN PART 2 (1990) #8 (Viz Comics) Near Mint/Mint
CRYING FREEMAN PART 2 (1990) #9 (Viz Comics) Near Mint/Mint
CRYING FREEMAN PART 3 (1991) #3 (Viz Comics) Near Mint/Mint
CRYING FREEMAN PART 3 (1991) #4 (Viz Comics) Near Mint/Mint
CRYING FREEMAN PART 3 (1991) #6 (Viz Comics) Near Mint/Mint
CRYING FREEMAN PART 3 (1991) #9 (Viz Comics) Near Mint/Mint
CRYING FREEMAN PART 4 (1992) #2 (Viz Comics) Near Mint/Mint
CRYING FREEMAN PART 4 (1992) #3 (Viz Comics) Near Mint/Mint

CRYPT OF DAWN (1996) #2 (Sirius) Fine
CRYPT OF DAWN (1996) #2 (Sirius) Very Fine
CRYPT OF DAWN (1996) #4 (Sirius) Fine
CRYPT OF DAWN (1996) #4 (Sirius) Near Mint/Mint
CRYPT OF DAWN (1996) #4 (Sirius) Very Fine
CRYPT OF DAWN (1996) #5 (Sirius) Fine
CRYPT OF DAWN (1996) #5 (Sirius) Very Fine
CRYPT OF DAWN (1996) #6 (Sirius) Near Mint/Mint
CRYPT OF DAWN (1996) #6 (Sirius) Very Fine

CRYPT OF SCREAMS (2016) #1 (American Mythology) Very Fine

CRYPTIC TALES (1987) #1 (Showcase Publications) Fine
CRYPTIC TALES (1987) #1 (Showcase Publications) Very Fine

CRYPTIC WRITINGS OF MEGADETH (1997) #1 (Chaos Comics) Near Mint/Mint
CRYPTIC WRITINGS OF MEGADETH (1997) #1 (Chaos Comics) Very Fine
CRYPTIC WRITINGS OF MEGADETH (1997) #3 (Chaos Comics) Near Mint/Mint
CRYPTIC WRITINGS OF MEGADETH (1997) #4 (Chaos Comics) Very Good

CRYPTOZOO CREW (2005) #1 (NBM) Very Fine

CUTIE HONEY VOL. 2 (1998) #6 (Ironcat) Very Fine

CVO: AFRICAN BLOOD (2006) #1 INCENTIVE (IDW Publishing) Near Mint/Mint

DEADWORLD (ARROW) (#1-9) (1986) #1 (Arrow Comics) Near Mint/Mint
DEADWORLD (ARROW) (#1-9) (1986) #2 (Arrow Comics) Very Fine
DEADWORLD (ARROW) (#1-9) (1986) #3 (Arrow Comics) Near Mint/Mint
DEADWORLD (ARROW) (#1-9) (1986) #4 (Arrow Comics) Very Fine
DEADWORLD (ARROW) (#1-9) (1986) #5 GRAPHIC (Arrow Comics) Fine
DEADWORLD (ARROW) (#1-9) (1986) #6 GRAPHIC (Arrow Comics) Fine
DEADWORLD (ARROW) (#1-9) (1986) #7 GRAPHIC (Arrow Comics) Very Fine
DEADWORLD (ARROW) (#1-9) (1986) #8 GRAPHIC (Arrow Comics) Very Fine
DEADWORLD (ARROW) (#1-9) (1986) #9 GRAPHIC (Arrow Comics) Fine

DEADWORLD (CALIBER) (#10-26) (1988) #10 GRAPHIC (Caliber Press) Very Fine
DEADWORLD (CALIBER) (#10-26) (1988) #11 GRAPHIC (Caliber Press) Fine
DEADWORLD (CALIBER) (#10-26) (1988) #12 GRAPHIC (Caliber Press) Very Fine
DEADWORLD (CALIBER) (#10-26) (1988) #13 GRAPHIC (Caliber Press) Near Mint/Mint
DEADWORLD (CALIBER) (#10-26) (1988) #14 GRAPHIC (Caliber Press) Fine
DEADWORLD (CALIBER) (#10-26) (1988) #15 GRAPHIC (Caliber Press) Fine
DEADWORLD (CALIBER) (#10-26) (1988) #16 GRAPHIC (Caliber Press) Very Fine
DEADWORLD (CALIBER) (#10-26) (1988) #17 GRAPHIC (Caliber Press) Very Fine
DEADWORLD (CALIBER) (#10-26) (1988) #18 GRAPHIC (Caliber Press) Near Mint/Mint
DEADWORLD (CALIBER) (#10-26) (1988) #19 GRAPHIC (Caliber Press) Near Mint/Mint
DEADWORLD (CALIBER) (#10-26) (1988) #20 GRAPHIC (Caliber Press) Very Fine
DEADWORLD (CALIBER) (#10-26) (1988) #21 GRAPHIC (Caliber Press) Fine
DEADWORLD (CALIBER) (#10-26) (1988) #22 GRAPHIC (Caliber Press) Near Mint/Mint
DEADWORLD (CALIBER) (#10-26) (1988) #23 GRAPHIC (Caliber Press) Fine
DEADWORLD (CALIBER) (#10-26) (1988) #24 GRAPHIC (Caliber Press) Very Fine


DEADWORLD (CALIBER) (#10-26) (1988) #25 GRAPHIC

DEADWORLD (CALIBER) (#10-26) (1988) #25 GRAPHIC (Caliber Press) Near Mint/Mint
DEADWORLD (CALIBER) (#10-26) (1988) #26 GRAPHIC (Caliber Press) Near Mint/Mint

DEADWORLD (CALIBER) (VOL.2) (1993) #1 (Caliber Press) Very Fine
DEADWORLD (CALIBER) (VOL.2) (1993) #2 (Caliber Press) Near Mint/Mint
DEADWORLD (CALIBER) (VOL.2) (1993) #3 (Caliber Press) Near Mint/Mint
DEADWORLD (CALIBER) (VOL.2) (1993) #4 (Caliber Press) Very Fine
DEADWORLD (CALIBER) (VOL.2) (1993) #5 (Caliber Press) Fine
DEADWORLD (CALIBER) (VOL.2) (1993) #6 (Caliber Press) Very Fine
DEADWORLD (CALIBER) (VOL.2) (1993) #7 (Caliber Press) Fine
DEADWORLD (CALIBER) (VOL.2) (1993) #8 (Caliber Press) Near Mint/Mint
DEADWORLD (CALIBER) (VOL.2) (1993) #9 (Caliber Press) Very Fine
DEADWORLD (CALIBER) (VOL.2) (1993) #10 (Caliber Press) Near Mint/Mint
DEADWORLD (CALIBER) (VOL.2) (1993) #11 (Caliber Press) Near Mint/Mint
DEADWORLD (CALIBER) (VOL.2) (1993) #12 (Caliber Press) Near Mint/Mint
DEADWORLD (CALIBER) (VOL.2) (1993) #13 (Caliber Press) Near Mint/Mint
DEADWORLD (CALIBER) (VOL.2) (1993) #14 (Caliber Press) Near Mint/Mint
DEADWORLD (CALIBER) (VOL.2) (1993) #15 (Caliber Press) Near Mint/Mint

DEADWORLD: BITS & PIECES REPRINTS (1991) #1 (Caliber Press) Near Mint/Mint

DEADWORLD: NECROPOLIS (1995) #1 (Caliber Press) Fine

DEADWORLD: TO KILL A KING (1992) #1 (Caliber Press) Near Mint/Mint
DEADWORLD: TO KILL A KING (1992) #2 (Caliber Press) Near Mint/Mint
DEADWORLD: TO KILL A KING (1992) #3 (Caliber Press) Near Mint/Mint

DIABLO HOUSE (2017) #1 A SANTIPER (IDW Publishing) Near Mint/Mint
DIABLO HOUSE (2017) #2 A SANTIPER (IDW Publishing) Near Mint/Mint
DIABLO HOUSE (2017) #3 A SANTIPER (IDW Publishing) Near Mint/Mint
DIABLO HOUSE (2017) #4 A SANTIPER (IDW Publishing) Near Mint/Mint

HALLOWEEN HORROR (1987) #1 (Eclipse Enterprises) Fine

HAUNTED HORROR (2012) #1 (IDW Publishing) Near Mint/Mint
HAUNTED HORROR (2012) #2 (IDW Publishing) Very Fine
HAUNTED HORROR (2012) #3 (IDW Publishing) Near Mint/Mint
HAUNTED HORROR (2012) #4 (IDW Publishing) Near Mint/Mint
HAUNTED HORROR (2012) #5 (IDW Publishing) Near Mint/Mint
HAUNTED HORROR (2012) #6 (IDW Publishing) Near Mint/Mint
HAUNTED HORROR (2012) #7 (IDW Publishing) Very Fine
HAUNTED HORROR (2012) #8 (IDW Publishing) Near Mint/Mint
HAUNTED HORROR (2012) #9 (IDW Publishing) Near Mint/Mint
HAUNTED HORROR (2012) #10 (IDW Publishing) Near Mint/Mint
HAUNTED HORROR (2012) #11 (IDW Publishing) Near Mint/Mint
HAUNTED HORROR (2012) #12 (IDW Publishing) Near Mint/Mint
HAUNTED HORROR (2012) #13 (IDW Publishing) Near Mint/Mint
HAUNTED HORROR (2012) #14 (IDW Publishing) Near Mint/Mint
HAUNTED HORROR (2012) #15 (IDW Publishing) Near Mint/Mint
HAUNTED HORROR (2012) #16 (IDW Publishing) Fine
HAUNTED HORROR (2012) #17 (IDW Publishing) Near Mint/Mint
HAUNTED HORROR (2012) #18 (IDW Publishing) Near Mint/Mint
HAUNTED HORROR (2012) #19 (IDW Publishing) Near Mint/Mint
HAUNTED HORROR (2012) #20 (IDW Publishing) Fine
HAUNTED HORROR (2012) #21 (IDW Publishing) Near Mint/Mint
HAUNTED HORROR (2012) #22 (IDW Publishing) Near Mint/Mint
HAUNTED HORROR (2012) #23 (IDW Publishing) Near Mint/Mint
HAUNTED HORROR (2012) #24 (IDW Publishing) Near Mint/Mint
HAUNTED HORROR (2012) #25 (IDW Publishing) Near Mint/Mint
HAUNTED HORROR (2012) #26 (IDW Publishing) Near Mint/Mint
HAUNTED HORROR (2012) #27 (IDW Publishing) Very Fine
HAUNTED HORROR (2012) #28 (IDW Publishing) Fine
HAUNTED HORROR (2012) #29 (IDW Publishing) Near Mint/Mint

HAUNTED HORROR (2012) #30 (IDW Publishing) Near Mint/Mint
HAUNTED HORROR (2012) #31 (IDW Publishing) Near Mint/Mint
HAUNTED HORROR (2012) #32 (IDW Publishing) Near Mint/Mint
HAUNTED HORROR (2012) #33 (IDW Publishing) Near Mint/Mint
HAUNTED HORROR (2012) #34 (IDW Publishing) Near Mint/Mint
HAUNTED HORROR (2012) #35 (IDW Publishing) Near Mint/Mint

HAUNTED LOVE (2016) #1 (IDW Publishing) Fine
HAUNTED LOVE (2016) #2 (IDW Publishing) Very Fine
HAUNTED LOVE (2016) #3 (IDW Publishing) Near Mint/Mint

HONEYMOONERS (TRIAD PUBLICATIONS) (1987) #4 (Triad Publications) Very Fine
HONEYMOONERS (TRIAD PUBLICATIONS) (1987) #7 (Triad Publications) Very Fine

HORROR COMICS (2019) #1 A LUNATIK (Antarctic Press) Near Mint/Mint
HORROR COMICS (2019) #2 A LUNATIK (Antarctic Press) Near Mint/Mint
HORROR COMICS (2019) #3 A LUNATIK (Antarctic Press) Near Mint/Mint

KILLER CULTS (PSYCHO KILLERS SPECIAL) (1992) #1 (Comicoz) Near Mint/Mint
KILLER CULTS (PSYCHO KILLERS SPECIAL) (1992) #2 (Comicoz) Very Fine
KILLER CULTS (PSYCHO KILLERS SPECIAL) (1992) #3 (Comicoz) Very Fine

MEN IN ACTION (1957) #2 (Ajax-Farrel Publ.) Good

MIKE SHAYNE PRIVATE EYE (1962) #1 (Dell Publishing) Very Good
MIKE SHAYNE PRIVATE EYE (1962) #2 (Dell Publishing) Good
MIKE SHAYNE PRIVATE EYE (1962) #3 (Dell Publishing) Very Good

MIRACLEMAN (1985) (#1-24) (ECLIPSE) #10 (Eclipse Enterprises) Fine
MIRACLEMAN (1985) (#1-24) (ECLIPSE) #11 (Eclipse Enterprises) Fine
MIRACLEMAN (1985) (#1-24) (ECLIPSE) #12 (Eclipse Enterprises) Very Good


MIRACLEMAN (1985) (#1-24) (ECLIPSE) #13

MIRACLEMAN (1985) (#1-24) (ECLIPSE) #13 (Eclipse Enterprises) Very Good

MUMMY MOVIE PREQUEL: RISE & FALL OF XANGO'S AX (2008) #3 (IDW Publishing) Near Mint/Mint

MUMMY, THE (HAMMER COMICS) (TITAN COMICS) (2016) #1 A MCCREA (Titan Distributing) Near Mint/Mint
MUMMY, THE (HAMMER COMICS) (TITAN COMICS) (2016) #2 C MCCAFFRE (Titan Distributing) Near Mint/Mint
MUMMY, THE (HAMMER COMICS) (TITAN COMICS) (2016) #3 A MCCREA (Titan Distributing) Near Mint/Mint

NAVY PATROL (1955) #1 (KEY PUBLICATIONS) Good

PAULA PERIL (2006) #1 (Atlantis Comics) Very Fine
PAULA PERIL (2006) #2 (Atlantis Comics) Very Fine

PHANTOM (1969) (#30-74) (CHARLTON) #44 (Charlton) Very Good

PRINCE VALIANT (1954) #1 FC #719 (Dell Publishing) Very Good

PSYCHO KILLERS CANNIBAL SPECIAL #1 (Comics Zone Productions) Near Mint/Mint

PSYCHO KILLERS CLASSICS (1992) #1 (Comics Zone Productions) Very Fine

PSYCHO KILLERS MAILMAN SPECIAL (1992) #1 (Comics Zone Productions) Very Fine

PSYCHO KILLERS MIA SPECIAL (1992) #1 (Comics Zone Productions) Fine
PSYCHO KILLERS MIA SPECIAL (1992) #2 (Comics Zone Productions) Near Mint/Mint

PSYCHO KILLERS PMS SPECIAL #1 (Comics Zone Productions) Near Mint/Mint

PSYCHO KILLERS STALKER SPECIAL (CELEBRITY STALKER) (1993) #1 (Comics Zone Productions) Near Mint/Mint
PSYCHO KILLERS STALKER SPECIAL (CELEBRITY STALKER) (1993) #2 (Comics Zone Productions) Near Mint/Mint


PSYCHO KILLERS VOL. 1: CHARLES MANSON (1991) #1

PSYCHO KILLERS VOL. 1: CHARLES MANSON (1991) #1 (Comics Zone Productions) Near Mint/Mint

PSYCHO KILLERS VOL. 2: DAVID BERKOWITZ - SON OF SAM (1992) #1 (Comics Zone Productions) Fine

PSYCHO KILLERS VOL. 3: ED GEIN (1992) #1 (Comics Zone Productions) Near Mint/Mint

PSYCHO KILLERS VOL. 4: HENRY LEE LUCAS (1992) #1 (Comics Zone Productions) Very Fine

PSYCHO KILLERS VOL. 5: JEFFREY DAHMER (1992) #1 (Comics Zone Productions) Near Mint/Mint

PSYCHO KILLERS VOL. 6: RICHARD RAMIREZ (1992) #1 (Comics Zone Productions) Near Mint/Mint

PSYCHO KILLERS VOL. 7: JUDIAS BUENOANO (1992) #1 (Comics Zone Productions) Very Fine

PSYCHO KILLERS VOL. 8: JOHN WAYNE GACY (1992) #1 (Comics Zone Productions) Near Mint/Mint

PSYCHO KILLERS VOL. 9: TED BUNDY (1992) #1 (Comics Zone Productions) Near Mint/Mint

PSYCHO KILLERS VOL.10: DEAN CORLL (1993) #1 (Comics Zone Productions) Near Mint/Mint

PSYCHO KILLERS VOL.12: ALBERT DESALVO (1993) #1 (Comics Zone Productions) Very Fine

PSYCHO KILLERS VOL.13: ANDREI CHIKATILO (1993) #1 (Comics Zone Productions) Near Mint/Mint

PSYCHO KILLERS VOL.14: AILEEN WUORNOS (1993) #1 (Comics Zone Productions) Near Mint/Mint

PSYCHO KILLERS VOL.15: CHARLES STARKWEATHER (1993) #1 (Comics Zone Productions) Very Fine

PSYCHO KILLERS VOL.16: WAYNE WILLIAMS (1993) #1 (Comics Zone Productions) Very Fine

PSYCHO KILLERS VOL.17: IAN BRADY/MYRA HINDLEY (1993) #1 (Comics Zone Productions) Very Fine

PSYCHO KILLERS: BLOODY BRITISH SPECIAL #1 (Comics Zone Productions) Near Mint/Mint

PSYCHO KILLERS: BODY COUNT SPECIAL #1 (Comics Zone Productions) Very Fine
PSYCHO KILLERS: BODY COUNT SPECIAL #2 (Comics Zone Productions) Very Fine


PSYCHO KILLERS: HUMAN VAMPYRE SPECIAL #1

PSYCHO KILLERS: HUMAN VAMPYRE SPECIAL #1 (Comics Zone Productions) Very Good

PSYCHO KILLERS: YOU AXED FOR IT (1993) #1 (Comics Zone Productions) Near Mint/Mint

SCARY CHRISTMAS (2019) #1 (American Mythology) Very Fine

SEDUCTION OF THE INNOCENT (1985) (#1-6) (ECLIPSE) #1 (Eclipse Enterprises) Fine
SEDUCTION OF THE INNOCENT (1985) (#1-6) (ECLIPSE) #2 (Eclipse Enterprises) Fine
SEDUCTION OF THE INNOCENT (1985) (#1-6) (ECLIPSE) #3 (Eclipse Enterprises) Very Good
SEDUCTION OF THE INNOCENT (1985) (#1-6) (ECLIPSE) #5 (Eclipse Enterprises) Fine
SEDUCTION OF THE INNOCENT 3-D (1985) #1 (Eclipse Enterprises) Fine

SOLDIER COMICS (1952) #4 (FAWCETT PUBLICATION) Good

SPOOF COMICS VOL.14: SANDMADAM (SANDMAN) (1993) #1 (Spoof Cards & Comics (Div./Friendly) Near Mint/Mint

THIEF OF BAGHDAD (1961) #1 FC #1229 (Dell Publishing) Fine

TOMB TALES (1997) #1 (Cryptic Entertainment) Near Mint/Mint
TOMB TALES (1997) #2 (Cryptic Entertainment) Near Mint/Mint
TOMB TALES (1997) #3 (Cryptic Entertainment) Near Mint/Mint
TOMB TALES (1997) #4 (Cryptic Entertainment) Near Mint/Mint
TOMB TALES (1997) #5 (Cryptic Entertainment) Near Mint/Mint
TOMB TALES (1997) #6 (Cryptic Entertainment) Very Fine
TOMB TALES (1997) #7 (Cryptic Entertainment) Near Mint/Mint

TWISTED TALES (1982) #1 (Pacific Comics) Fine
TWISTED TALES (1982) #2 (Pacific Comics) Fine
TWISTED TALES (1982) #5 (Pacific Comics) Very Fine
TWISTED TALES (1982) #6 (Pacific Comics) Fine
TWISTED TALES (1982) #7 (Pacific Comics) Fine

TWISTED TALES (1982) #8 (Pacific Comics) Very Good
TWISTED TALES (1982) #9 (Pacific Comics) Fine
TWISTED TALES (1982) #10 (Pacific Comics) Fine

TWISTED TALES (1988) #1 (Eclipse Enterprises) Fine

TWISTED TALES 3-D #1 (Blackthorne Publishing) Very Fine

TWISTED TALES OF BRUCE JONES (1985) #1 (Eclipse Enterprises) Near Mint/Mint
TWISTED TALES OF BRUCE JONES (1985) #2 (Eclipse Enterprises) Fine
TWISTED TALES OF BRUCE JONES (1985) #3 (Eclipse Enterprises) Very Fine
TWISTED TALES OF BRUCE JONES (1985) #4 (Eclipse Enterprises) Very Good