Sale! 30%-40% Off 250,000 Trade Paperbacks and HC's
Howdy!
I want to begin today by letting you know that Pam Brandle, Will Moulton, and Josh Valdez in our inventory department have been working quite diligently on adding into our online inventory thousands of great comics that we have purchased over the past two months. Pam was on vacation last week, but since she returned on Wednesday, our daily New-In-Stock and Premium New-In-Stock links have expanded greatly. I am asking Will to post those Premium New-In-Stock additions from yesterday for you at the end of this newsletter, as I think that they will give you a delightful taste of what is to come.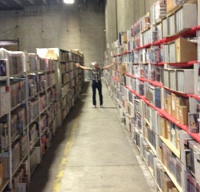 Chuck standing in 1 of our Trade paperback & Hardcover rows.
In other news, I want you to know that we have an excellent sale in effect for you right now on all 250,000+ of our trade paperbacks and hardbacks. Our immense stock of trade paperbacks are priced for you right now at 40% off of list price while all of our comics hardbacks are discounted at 30% off. Only new books, and a few oversize editions, are excluded from this wonderful holiday book sale. Our reduced book prices are posted for you right on our website, so no codeword is required. Please enjoy this great holiday book sale with our sincere thanks for your continuing support of our company.
Speaking of codewords, Lynne has been working long into the evening every night this week in order to finish filling all of the 30% off NANETTE3 codeword orders. She was shipping orders from the 2nd today, and invoicing orders from the 4th and the 5th, so we are keeping much closer to current shipping than we have during past codeword sales. If you still have a NANETTE3 codeword order in the pipeline, you should receive your shipping confirmation by early next week. Thank you for your patience.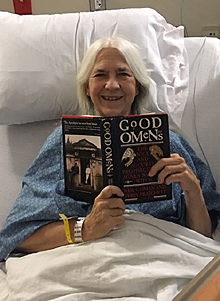 Just before her discharge Nanette was rereading Neil Gaiman and Terry Pratchett. Gaiman signed her copy when he visited our Mega-Store in 1993.
In other news, I am working from home today, as I have taken on the role of my wife, Nanette's, primary caregiver. She was discharged from the hospital last evening (a day ahead of schedule), which made her very happy, but her discomfort from her hip-replacement surgery is still quite severe. She can walk pretty well once she is upright, but rising from a sitting position still poses some significant challenges. That having been said, she is recovering faster than anyone could have imagined, so we are all very happy for her.
Another reason for me to stay home today is that I truly wore myself out yesterday helping to feed and clothe the homeless. The founder of Feeding Denver's Hungry, Jim Scharper, packed my minivan to the ceiling yesterday morning with 4 huge cases of bananas, 30 cases of yogurt, and over 130 quarts of donated pumpkin spice eggnog. In addition, I took along 60 pairs of thermal socks, 80 fleece-lined hats, and 200 pairs of gloves. All of that cold-weather gear was especially welcomed by our clients, as on the streets of Denver it was only 10 degrees Fahrenheit (-12 Celsius) yesterday at noon. Brrr...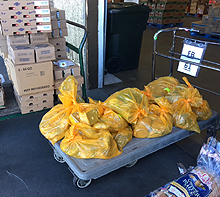 The orange bags contain unsold items from Starbucks cooler cases from all around Denver. My personal job is to carefully sort out all of these day-old bagels, paninis, breakfast sandwiches, and pastries, and to then repackage them in Ziplock bags for distribution to our clients. It is hard work, but my end results are incredibly popular. I sorted 35+ huge bags filled with leftovers this week...
So you know, Jim Scharper had his own truck totally packed, too, with hundreds of lunches filled with sandwiches, granola bars, cookies, chips, etc. All told, Jim estimates that just yesterday that we gave out enough food for 3,000 meals. Knowing that we helped that many people made our own suffering through the cold to distribute our truckloads of food much more bearable. I simply cannot imagine the hardships our clients go through while trying to survive this bitter cold each evening. By the City of Denver's best estimates there are 9,000+ homeless men, women, and children who need a safe place to stay each evening, with fewer than 1,000 shelter beds available. That math is what keeps me striving to help, in any way that I can.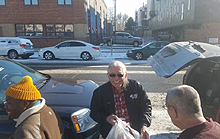 It was cold as heck on the streets of Denver yesterday, but everyone was happy and smiling after receiving a grocery bag filled with food, and the new gloves and warm thermal socks that I was offering.
If you would like to help us in our quest to feed Denver's homeless, please order a $25 gift certificate. Your $25 will be donated by us to help the people living on Denver's streets. I am currently on a quest to purchase 1,000 pairs of thermal socks, which will require only 52 donations of $25 in order to accomplish. If you buy a gift certificate we give your entire purchase cost back to you in comics from our website, which I personally donate to this very worthy cause. Also, just so you know, you do not have to pay any shipping on gift certificate. If you order one we can either mail you (for free) a physical gift certificate that you can give as a gift, or we can simply e-mail you a registration number that you can utilize on your next order.
Whichever gift certificate option that you choose, your $25 donation enters you into a drawing for an awesome $1,000 Mile High Comics shopping spree, which will be given away on December 31st. I am also providing all of the comics and/or books for this $1,000 prize, as I think that helping those who are sleeping on Denver's bitter streets this winter is such a critically important need. Thank you for any help that you can provide.
Happy collecting!
Chuck Rozanski,
President - Mile High Comics, Inc.
December 9, 2016

P.S. Below are just a few of the thousands of comics that Pam, Will, and Josh added into our website inventory on Thursday. Tomorrow's list will include an almost complete run of CONAN #1-#200 as well as a large grouping of mid-run THOR (1963) issues. There will be thousands more great comics posted in New-In-Stock over the next ten days!
MARVEL
ALPHA FLIGHT (1983) #51 Very Fine

AMAZING SPIDER-MAN (1999) (#1-700.5) (MARVEL) #1 Near Mint/Mint
AMAZING SPIDER-MAN (1999) (#1-700.5) (MARVEL) #2 VARIANT Near Mint/Mint
AMAZING SPIDER-MAN (1999) (#1-700.5) (MARVEL) #13 Near Mint/Mint
AMAZING SPIDER-MAN (1999) (#1-700.5) (MARVEL) #14 Near Mint/Mint

ANT-MAN'S BIG CHRISTMAS (MARVEL) (2000) #1 DF ALT CV Near Mint/Mint

AVENGERS (1963) (#1-402) (MARVEL) #4 WIZARD ACE Near Mint/Mint
AVENGERS (1963) (#1-402) (MARVEL) #100 Good
AVENGERS (1963) (#1-402) (MARVEL) #197 NEWSSTAND Fine
AVENGERS (1963) (#1-402) (MARVEL) #204 NEWSSTAND Very Fine
AVENGERS (1963) (#1-402) (MARVEL) #205 NEWSSTAND Fine
AVENGERS (1963) (#1-402) (MARVEL) #206 NEWSSTAND Fine
AVENGERS (1963) (#1-402) (MARVEL) #214 Very Fine

CABLE AND DEADPOOL (2003) #18 Very Fine

CAPTAIN AMERICA (2004) #9 Near Mint/Mint

CAT (1972) #3 Very Fine
CAT (1972) #4 Very Fine

DAREDEVIL (1964) (#1-380) (MAN WITHOUT FEAR) (MARVEL) #1 WIZARD ACE Near Mint/Mint

DAREDEVIL (1998) (#1-119, 500-512) (MARVEL) #2 VARIANT Near Mint/Mint
DAREDEVIL (1998) (#1-119, 500-512) (MARVEL) #5 VARIANT Near Mint/Mint

DAZZLER (1981) #42 NEWSSTAND Very Good

DEADPOOL (1997) (#0-69) (MARVEL) #43 Near Mint/Mint
DEADPOOL (1997) (#0-69) (MARVEL) #44 Near Mint/Mint

FANTASTIC FOUR (1961) (#1-416) (MARVEL) #48 WIZARD ACE Near Mint/Mint

HULK (1962) (#1-6, #102-635) (INCREDIBLE) (MARVEL) #1 WIZARD ACE Near Mint/Mint

HULK (1999) (#1-112) (MARVEL) #8 Near Mint/Mint

MARVEL PREMIERE (1972) #1 Fine

MARVEL PREMIERE (1972) #12 Fine
MARVEL PREMIERE (1972) #47 Fine

MARVEL PRESENTS (1975) #5 Very Fine
MARVEL PRESENTS (1975) #10 Very Fine
MARVEL PRESENTS (1975) #11 Very Fine

MOON KNIGHT (1980) (#1-38) (MARVEL) #6 Very Fine

SPIDER-MAN (1963) (AMAZING SPIDER-MAN) (#1-441) #1 WIZARD ACE Near Mint/Mint
SPIDER-MAN (1963) (AMAZING SPIDER-MAN) (#1-441) #14 WIZARD ACE Near Mint/Mint
SPIDER-MAN (1963) (AMAZING SPIDER-MAN) (#1-441) #129 WIZARD ACE Near Mint/Mint

ULTIMATE SPIDER-MAN (2000) #1 DFE ALT CV Near Mint/Mint
ULTIMATE SPIDER-MAN (2000) #27 DFE S&N Near Mint/Mint

UNIVERSE X #0 DFE ALT CV Near Mint/Mint

WOLVERINE (1988) #1 Fine

X-MEN (1963) (#1-113, UNCANNY X-MEN #114-544) (MARVEL) #94 WIZARD ACE Near Mint/Mint

X-MEN MOVIE: MAGNETO (2000) #1 DFE SKETCH Near Mint/Mint

X-MEN MOVIE: ROGUE (2000) #1 DFE SKETCH Near Mint/Mint

X-MEN MOVIE: WOLVERINE (2000) #1 DFE ALT CV Near Mint/Mint
X-MEN MOVIE: WOLVERINE (2000) #1 LEE SKETCH Near Mint/Mint

DC
BATMAN/BATGIRL (BATMAN AND BATGIRL) (1997) #1 Fine

BATMAN/POISON IVY (PRESTIGE) (1997) #1 Very Good

DANGER GIRL SPECIAL (2000) #1 DFE ALT CV (DC/Wildstorm) Near Mint/Mint

DARK HORSE COMICS
ANGEL (DARK HORSE) (TV) (1999) #7 DFE ALT CV Near Mint/Mint

FRAY (2001) #1 Near Mint/Mint

PLANET OF THE APES MOVIE ADAPTATION (2001) #1 DFE S&N Near Mint/Mint

PLANET OF THE APES: HUMAN WAR (2001) #1 DFERAINSGN Near Mint/Mint

STAR WARS (1998) #1 HOLOCHROME Near Mint/Mint
STAR WARS (1998) #4 HOLOCHROME Near Mint/Mint
STAR WARS (1998) #5 HOLOCHROME Near Mint/Mint
STAR WARS (1998) #6 HOLOCHROME Near Mint/Mint

STAR WARS BOBA FETT: ENEMY OF THE EMPIRE #1 Very Good

STAR WARS BOBA FETT: WHEN THE FAT LADY SWINGS #2 Fine

STAR WARS PHANTOM MENACE: QUEEN AMIDALA #1 DFE HOLO Near Mint/Mint

STAR WARS PHANTOM MENACE: QUI-GON JINN #1 DFE FOIL Near Mint/Mint
STAR WARS PHANTOM MENACE: QUI-GON JINN #1 DFE FOIL Very Fine

STAR WARS: JABBA THE HUTT-BETRAYAL #1 Fine

STAR WARS: JEDI COUNCIL #3 Very Fine

STAR WARS: JEDI QUEST (2001) #1 DFE RUBY Near Mint/Mint

XENA: WARRIOR PRINCESS (1999) #1 AUGOLDLOGO Near Mint/Mint

IMAGE COMICS
ALLEY CAT LINGERIE EDITION (1999) #1 (Image Top Cow) Near Mint/Mint


ALLEY CAT LINGERIE EDITION (1999) #1

APHRODITE IX (IMAGE TOP COW) (2000) #1 PREV EXCL (Image Top Cow) Near Mint/Mint

ARIA/ANGELA: HEAVENLY CREATURES (IMAGE AVALON STUDIOS) (1999) #1 GRAHAM VAR Near Mint/Mint
ARIA/ANGELA: HEAVENLY CREATURES (IMAGE AVALON STUDIOS) (1999) #1 INC C Near Mint/Mint
ARIA/ANGELA: HEAVENLY CREATURES (IMAGE AVALON STUDIOS) (1999) #1 INC D Near Mint/Mint

BATTLE OF THE PLANETS PIN-UP BOOK (2003) #1 DFE (Image Top Cow) Near Mint/Mint

DARK CROSSINGS SPECIAL #1 DFEALTFOIL (Image Top Cow) Near Mint/Mint

DARK MINDS/WITCHBLADE (2000) #1 DFEALTFOIL (Image Top Cow) Near Mint/Mint

DARKNESS (1996) #33 CON EXCLUS (Image Top Cow) Near Mint/Mint
DARKNESS (1996) #36 DFE FOIL (Image Top Cow) Near Mint/Mint

FATHOM (IMAG98) #3 MONSTERVAR (Image Top Cow) Near Mint/Mint
FATHOM (IMAG98) #9 GREEN FOIL (Image Top Cow) Near Mint/Mint
FATHOM (IMAG98) #12 DFE ALT CV (Image Top Cow) Near Mint/Mint

HELLSHOCK ASHCAN #1 B&W Near Mint/Mint

MAGDALENA CON PREVIEW (2003) #1 DFE B&W CV (Image Top Cow) Near Mint/Mint

MAGDALENA VOL. 2 (2003) #1 METALLIC (Image Top Cow) Near Mint/Mint


MAGDALENA VOL. 2 (2003) #1 METALLIC

MAGDALENA/ANGELUS (2000) #1 1/2 DLX (Image Top Cow) Near Mint/Mint

MAGDALENA/BLOOD LEGACY PREVIEW BOOK #1 CONVENTION (Image Top Cow) Near Mint/Mint

RISING STARS #9 WIZWORLDED (Image Top Cow) Near Mint/Mint

RISING STARS PRELUDE #1 DFE GOLD (Image Top Cow) Near Mint/Mint

SPAWN (1992) #100 CAPULLO Near Mint/Mint
SPAWN (1992) #100 MCFARLANE Near Mint/Mint
SPAWN (1992) #100 MIGNOLA Near Mint/Mint
SPAWN (1992) #100 MILLER Near Mint/Mint
SPAWN (1992) #100 ROSS Near Mint/Mint
SPAWN (1992) #100 WOOD Near Mint/Mint

TENTH: BLACK EMBRACE #1 CHROME Very Fine

TOMB RAIDER (1999) (#0-50) (IMAGE TOP COW) #5 DFE ALT CV (Image Top Cow) Near Mint/Mint

WITCHBLADE #1 GOLD MOVIE (Image Top Cow) Near Mint/Mint

WITCHBLADE ANIMATED ONE-SHOT (2003) #1 CHROME (Image Top Cow) Near Mint/Mint

WITCHBLADE/TOMB RAIDER #1 1/2 DLX (Image Top Cow) Near Mint/Mint

INDEPENDENTS
AMAZING DETECTIVE CASES (MARVEL ATLAS) (1950) #6 (Marvel Atlas Titles) Fair

AMAZING HEROES SWIMSUIT SPECIAL (FANTAGRAPHICS) #1 1992 (Fantagraphics) Very Good


AMAZING HEROES SWIMSUIT SPECIAL (FANTAGRAPHICS) #1 1992

APPRENTICE TO A GOD (ABALONE PRESS) (1992) #1 SIGNED (Abalone Press) Near Mint/Mint

BATTLESTAR GALACTICA 1999 TOURBOOK #1 DFE ALT CV (Realm Press) Near Mint/Mint

DREAMS OF THE DARKCHYLDE (2000) #1 CHROME (Darkchylde Entertainment) Near Mint/Mint

HALLOWEEN: BEHIND THE MASK #1 GLOW COVER (Chaos Comics) Near Mint/Mint

MORBID ANGEL #1 S&N LTD ED (London Night Studios) Near Mint/Mint

OMAHA THE CAT DANCER #2 STEELDRAGO (Kitchen Sink Publishing) Very Good
OMAHA THE CAT DANCER #2 STEELDRAGO (Kitchen Sink Publishing) Good

PERVERSION RUG #1 (Eros Comix (Fantagraphics)) Fine

PURGATORI: DARKEST HOUR (2001) #1 PREMIUM (Chaos Comics) Near Mint/Mint

RE-ANIMATOR (1991) #1 (Adventure Comics) Fine

ROBOTECH: THE MACROSS SAGA (1985) #1 (Comico) Fine

SATANIKA (1995) #1 (Verotik) Very Fine

TEENAGE MUTANT NINJA TURTLES PRESENTS: APRIL O'NEIL (1992) #3 (Archie Comics) Near Mint/Mint

TEENAGE MUTANT NINJA TURTLES/FLAMING CARROT #4 (Mirage Studios) Near Mint/Mint
TEENAGE MUTANT NINJA TURTLES/FLAMING CARROT #4 (Mirage Studios) Very Fine

TEENAGE MUTANT NINJA TURTLES: MUTANT UNIV. SOURCEBOOK (1992) #3 (Archie Comics) Near Mint/Mint

TEENAGE MUTANT NINJA TURTLES: THE MOVIE II, SECRET/OOZE (ARCHIE) #1 NEWSSTAND (Archie Comics) Near Mint/Mint

TEENAGE MUTANT NINJA TURTLES: YEAR OF THE TURTLE (1996) #2 (Archie Comics) Very Fine
TEENAGE MUTANT NINJA TURTLES: YEAR OF THE TURTLE (1996) #3 (Archie Comics) Near Mint/Mint
TEENAGE MUTANT NINJA TURTLES: YEAR OF THE TURTLE (1996) #3 (Archie Comics) Very Fine

TEKKEN SAGA (1997) #1 NEWSSTAND (Knightstone) Near Mint/Mint
TEKKEN SAGA (1997) #1 NEWSSTAND (Knightstone) Very Fine

TEMPLE SNARE (MU PRESS) (1990) #1 (Mu Press) Near Mint/Mint

TEMPTRESS #1 (Martyr Press) Very Fine