NANETTE3 Codeword Ending
Howdy!
I am in an awesomely good mood this morning, as my wife, Nanette, came through her hip-replacement surgery yesterday with zero complications. Her doctor told us that it became obvious as they began the procedure that this operation was long overdue, as Nanette had been clearly bearing with extremely painful bone-on-bone abrasion for quite some time. They discovered some equally painful bone spurs, which they also removed. While Nanette was pretty uncomfortable last evening after her anesthetic wore off, she did manage to get out of bed briefly, which is an excellent sign. I will be going to visit her in the hospital immediately after finishing this newsletter.
In news from Mile High Comics, we received quite a surge in last-minute NANETTE3 codeword orders overnight, for which we are quite grateful. Nanette typically pays our bills, and having the extra revenues from those orders makes it much easier for the rest of us to cover her responsibilities while she is recuperating. Thank you!
While most of our team is working on filling orders these days, Will Moulton has been doing a great job of continuing to add some very nice comics into our daily New-In-Stock and Premium New-In-Stock links. Pam is back from vacation today, so our listings of newly arrived items should grow even more robustly for the rest of this week. We only receive one copy of most items listed in New-In-Stock, so I urge you to order quickly if you see a scarce issue arrive.
My only other news for today is a quick reminder that I am still working to raise the cash needed to purchase 1,000 pairs of thermal socks for homeless teens and disabled adults living on the streets of Denver. If you purchase a $25 gift certificate from us this week, I will contribute that entire $25 to purchasing warm socks. In the meantime, you get your $25 back on your next order, and are entered into a drawing for a $1,000 Mile High Comics shopping spree. The drawing will be held on December 31st, and you are entered once for each $25 certificate you purchase. You need not, by the way, have the gift certificate mailed to you, as we can easily just send you a registration number. This drawing only has about 30 entries so far, so your odds of winning a quite reasonable.
Happy collecting!
Chuck Rozanski,
President - Mile High Comics, Inc.
December 7, 2016

FYI, it snowed here in Denver last night, and the temperature dropped to 11 degrees Fahrenheit (-12 Celsius) this morning. Temperatures tonight are projected to drop to zero (-17 Celsius). Warm socks are critical for these kids and our at-risk elders sleeping outside to avoid frostbite, and subsequently losing toes. I will again be out on the streets tomorrow passing out gloves, socks, and food with the other volunteers from Feeding Denver's Hungry. It will be cold.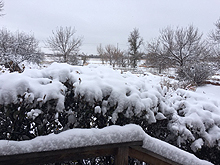 The mountains in Boulder usually are quite beautiful from our front porch. They are cloaked in bitter cold ice and snow today...