40% Off Golden And Silver Age Comics
Howdy!
Twelve years ago, during the worst moments of the Great Recession, I was essentially liquidating Mile High Comics. I was not only closing stores (including our Garden Grove Mega-Store), but our desperate need for cash flow in those fire days of economic hardship forced me to steeply discount our entire website, pretty much on a weekly basis.
In the end, we not only survived that dreadful experience, but we actually prospered. Our wonderful Jason St. Mega-Store has become a worldwide destination for avid comics fans, and our online/website inventory is actually nearly double in size today, as it was in 2008. All of that makes me happy, but what truly makes me happiest is that I eliminated all of our company debt in 2017 by selling our 56th Ave. warehouse building.
With no debt left on our books, we were as prepared as anyone could be for the awfulness brought on this year by COVID. We have still had to be cautious and carefully keep our expenses down, but unlike many of our brethren in the comics retailing world, we have not been forced to liquidate our comics inventory in order to stay afloat. Quite the opposite in fact, as absent the need to cover any bank payments, we have been able to keep buying private collections. This has not only helped us to expand our website offerings for you, but has also allowed us to help a great many people who have found themselves in distress due to COVID.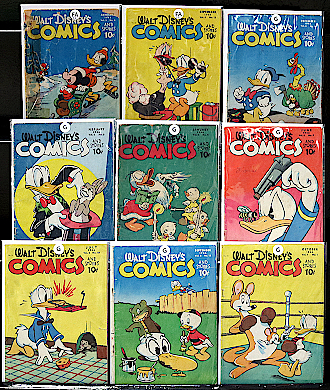 Some of the earlier Walt Disney's Comics & Stories we just got.

I mention these facts as a preamble to my presenting you with a very extensive list of new arrivals, almost all of which are available to you right now at a full 40% off when you type our new DECEMBER! codeword into the "codeword" line provided to you at checkout. This 40% discount applies to all ten million+ of our back issue comics and magazines, excepting only new issues, a few variants, and our professionally-graded items. This discount applies even to our 1940's Golden Age comics, and also to our 1950's and 1960's Silver Age issues.
Returning to the original premise of self-liquidating, I want to assure you that, in spite of these generous discounts we are currently offering, we are still prospering, and that our comics inventory is still growing each day. Truth be told, we are being offered an increasing number of collections every week, so in order to keep buying them, I am sharing these excellent deals with you. With your continuing support, we should be able to keep helping comics fans all around the world, for many decades to come. To me, that is the very best of positive outcomes, from this most difficult time in all our lives.
Happy collecting!
Chuck Rozanski/Bettie Pages,
President - Mile High Comics, Inc.
December 4, 2020
P.S. Here are some of the recently added items:
MARVEL

100TH ANNIVERSARY SPECIAL: FANTASTIC FOUR (2014) #1

100TH ANNIVERSARY SPECIAL: FANTASTIC FOUR (2014) #1 Near Mint/Mint

100TH ANNIVERSARY SPECIAL: GUARDIANS OF THE GALAXY (2014) #1 Fine

ALL-NEW DOOP (2014) #2 Near Mint/Mint
ALL-NEW DOOP (2014) #3 Near Mint/Mint
ALL-NEW DOOP (2014) #5 Near Mint/Mint

ALL-NEW GHOST RIDER (2014) #7 Near Mint/Mint
ALL-NEW GHOST RIDER (2014) #8 Very Fine

ALL-NEW INVADERS (2014) #3 Near Mint/Mint
ALL-NEW INVADERS (2014) #6 Near Mint/Mint
ALL-NEW INVADERS (2014) #7 Near Mint/Mint
ALL-NEW INVADERS (2014) #8 Near Mint/Mint
ALL-NEW INVADERS (2014) #10 Near Mint/Mint
ALL-NEW INVADERS (2014) #11 Very Fine

ANNIHILATION CONQUEST: WRAITH (MARVEL) (2007) #1 Very Good

BILL & TED'S EXCELLENT COMIC BOOK (1991) #2 Near Mint/Mint

DAREDEVIL (1964) (#1-380) (MAN WITHOUT FEAR) (MARVEL) #19 Fair
DAREDEVIL (1964) (#1-380) (MAN WITHOUT FEAR) (MARVEL) #254 ROMITAJRSN Good

DAREDEVIL ANNUAL (1967) #1 Good

DEADPOOL (2013) (#1-45, 250) (MARVEL) #23 Very Fine
DEADPOOL (2013) (#1-45, 250) (MARVEL) #24 Near Mint/Mint
DEADPOOL (2013) (#1-45, 250) (MARVEL) #25 Very Fine

DEADPOOL VS. CARNAGE (2014) #1 Very Fine
DEADPOOL VS. CARNAGE (2014) #2 Fine
DEADPOOL VS. CARNAGE (2014) #3 Near Mint/Mint
DEADPOOL VS. CARNAGE (2014) #4 Very Fine


DEADPOOL VS. X-FORCE (2014) #1

DEADPOOL VS. X-FORCE (2014) #1 Near Mint/Mint
DEADPOOL VS. X-FORCE (2014) #2 Fine
DEADPOOL VS. X-FORCE (2014) #3 Near Mint/Mint
DEADPOOL VS. X-FORCE (2014) #4 Very Fine

DEADPOOL'S ART OF WAR (2014) #1 Near Mint/Mint
DEADPOOL'S ART OF WAR (2014) #2 Very Fine

DEADPOOL: DRACULA'S GAUNTLET (2014) #2 Near Mint/Mint
DEADPOOL: DRACULA'S GAUNTLET (2014) #4 Near Mint/Mint
DEADPOOL: DRACULA'S GAUNTLET (2014) #5 Very Fine
DEADPOOL: DRACULA'S GAUNTLET (2014) #6 Very Fine
DEADPOOL: DRACULA'S GAUNTLET (2014) #7 Very Fine

DEATH OF WOLVERINE (2014) #1 Fine
DEATH OF WOLVERINE (2014) #2 Near Mint/Mint
DEATH OF WOLVERINE (2014) #3 Near Mint/Mint
DEATH OF WOLVERINE (2014) #4 Fine

DEATH OF WOLVERINE: DEADPOOL & CAPTAIN AMERICA (2014) #1 Near Mint/Mint

DEATH OF WOLVERINE: LIFE AFTER LOGAN (2014) #1 VARIANT Very Fine

DEATH OF WOLVERINE: LOGAN LEGACY (2014) #4 Very Fine

DEATH OF WOLVERINE: WEAPON X PROGRAM (2014) #1 Near Mint/Mint

ELEKTRA (2014) (#1-11) (MARVEL) (BLACKMAN) (DEL MUNDO) #3 Near Mint/Mint
ELEKTRA (2014) (#1-11) (MARVEL) (BLACKMAN) (DEL MUNDO) #4 Near Mint/Mint
ELEKTRA (2014) (#1-11) (MARVEL) (BLACKMAN) (DEL MUNDO) #6 Near Mint/Mint

FANTASTIC FOUR (1961) (#1-416) (MARVEL) #8 Fair
FANTASTIC FOUR (1961) (#1-416) (MARVEL) #9 Fair
FANTASTIC FOUR (1961) (#1-416) (MARVEL) #10 Good
FANTASTIC FOUR (1961) (#1-416) (MARVEL) #13 Fair


FANTASTIC FOUR (1961) (#1-416) (MARVEL) #53

FANTASTIC FOUR (1961) (#1-416) (MARVEL) #53 Fair

FANTASTIC FOUR (2014) (#1-14, #642-645) (MARVEL) #4 Near Mint/Mint
FANTASTIC FOUR (2014) (#1-14, #642-645) (MARVEL) #6 Near Mint/Mint
FANTASTIC FOUR (2014) (#1-14, #642-645) (MARVEL) #7 Near Mint/Mint
FANTASTIC FOUR (2014) (#1-14, #642-645) (MARVEL) #8 Near Mint/Mint
FANTASTIC FOUR (2014) (#1-14, #642-645) (MARVEL) #9 Near Mint/Mint
FANTASTIC FOUR (2014) (#1-14, #642-645) (MARVEL) #10 Near Mint/Mint
FANTASTIC FOUR (2014) (#1-14, #642-645) (MARVEL) #11 Near Mint/Mint
FANTASTIC FOUR (2014) (#1-14, #642-645) (MARVEL) #12 Near Mint/Mint

FANTASTIC FOUR ANNUAL (2014) #1 Near Mint/Mint

GUARDIANS 3000 (2014) #2 Near Mint/Mint

GUARDIANS OF THE GALAXY (1990) (#1-62) (MARVEL) #53 Very Fine
GUARDIANS OF THE GALAXY (1990) (#1-62) (MARVEL) #54 Very Fine
GUARDIANS OF THE GALAXY (1990) (#1-62) (MARVEL) #57 Very Fine
GUARDIANS OF THE GALAXY (1990) (#1-62) (MARVEL) #58 Very Fine
GUARDIANS OF THE GALAXY (1990) (#1-62) (MARVEL) #59 Very Fine
GUARDIANS OF THE GALAXY (1990) (#1-62) (MARVEL) #60 Fine
GUARDIANS OF THE GALAXY (1990) (#1-62) (MARVEL) #61 Fine

GUARDIANS OF THE GALAXY (2013) (#0.1-27) (MARVEL) #12 Near Mint/Mint
GUARDIANS OF THE GALAXY (2013) (#0.1-27) (MARVEL) #13 Near Mint/Mint
GUARDIANS OF THE GALAXY (2013) (#0.1-27) (MARVEL) #14 Near Mint/Mint
GUARDIANS OF THE GALAXY (2013) (#0.1-27) (MARVEL) #15 Near Mint/Mint
GUARDIANS OF THE GALAXY (2013) (#0.1-27) (MARVEL) #16 Near Mint/Mint
GUARDIANS OF THE GALAXY (2013) (#0.1-27) (MARVEL) #17 Near Mint/Mint
GUARDIANS OF THE GALAXY (2013) (#0.1-27) (MARVEL) #18 Near Mint/Mint
GUARDIANS OF THE GALAXY (2013) (#0.1-27) (MARVEL) #19 Near Mint/Mint
GUARDIANS OF THE GALAXY (2013) (#0.1-27) (MARVEL) #20 Near Mint/Mint

GUARDIANS OF THE GALAXY FCBD (2014) #1 Near Mint/Mint

GUARDIANS OF THE GALAXY PRELUDE (2014) #1 Near Mint/Mint
GUARDIANS OF THE GALAXY PRELUDE (2014) #2 Near Mint/Mint


GUARDIANS OF THE GALAXY: GALAXY'S MOST WANTED (2014) #1

GUARDIANS OF THE GALAXY: GALAXY'S MOST WANTED (2014) #1 Near Mint/Mint

HAWKEYE (2012) (#1-22) (MARVEL) (MATT FRACTION) #18 Near Mint/Mint
HAWKEYE (2012) (#1-22) (MARVEL) (MATT FRACTION) #19 Near Mint/Mint
HAWKEYE (2012) (#1-22) (MARVEL) (MATT FRACTION) #20 Near Mint/Mint

HOWARD THE DUCK (1976) (#1-33) #13 WHITMAN Good

HULK (2014) (#1-16) (MARVEL) #2 Near Mint/Mint
HULK (2014) (#1-16) (MARVEL) #3 Very Fine
HULK (2014) (#1-16) (MARVEL) #4 Very Fine
HULK (2014) (#1-16) (MARVEL) #5 Near Mint/Mint
HULK (2014) (#1-16) (MARVEL) #7 Near Mint/Mint
HULK (2014) (#1-16) (MARVEL) #8 Near Mint/Mint

INDESTRUCTIBLE HULK (2012) #20 Very Fine

INHUMAN (2014) (#1-14) (MARVEL) (INHUMANS) #1 Near Mint/Mint
INHUMAN (2014) (#1-14) (MARVEL) (INHUMANS) #2 Near Mint/Mint
INHUMAN (2014) (#1-14) (MARVEL) (INHUMANS) #3 Near Mint/Mint
INHUMAN (2014) (#1-14) (MARVEL) (INHUMANS) #4 Near Mint/Mint
INHUMAN (2014) (#1-14) (MARVEL) (INHUMANS) #6 Near Mint/Mint
INHUMAN (2014) (#1-14) (MARVEL) (INHUMANS) #7 Near Mint/Mint

IRON FIST: LIVING WEAPON (2014) #4 Near Mint/Mint
IRON FIST: LIVING WEAPON (2014) #5 Very Fine
IRON FIST: LIVING WEAPON (2014) #6 Near Mint/Mint

IRON MAN (2013) (#1-28) (MARVEL) #26 Near Mint/Mint
IRON MAN (2013) (#1-28) (MARVEL) #27 Near Mint/Mint
IRON MAN (2013) (#1-28) (MARVEL) #28 Near Mint/Mint

IRON MAN SPECIAL (2014) #1 Near Mint/Mint

IRON PATRIOT (2014) #1 Near Mint/Mint
IRON PATRIOT (2014) #2 Near Mint/Mint
IRON PATRIOT (2014) #3 Near Mint/Mint

IRON PATRIOT (2014) #4 Near Mint/Mint
IRON PATRIOT (2014) #5 Near Mint/Mint

KING IN BLACK (2020) #1 SECRET VAR Near Mint/Mint

KANAN: LAST PADAWAN (STAR WARS) (2015) #1 Fine

LOKI: AGENT OF ASGARD (2014) #2 Near Mint/Mint
LOKI: AGENT OF ASGARD (2014) #3 Very Fine
LOKI: AGENT OF ASGARD (2014) #4 Near Mint/Mint
LOKI: AGENT OF ASGARD (2014) #5 Very Fine
LOKI: AGENT OF ASGARD (2014) #6 Near Mint/Mint
LOKI: AGENT OF ASGARD (2014) #7 Near Mint/Mint

MAGNETO (2014) (#1-21) (MARVEL) #3 Near Mint/Mint
MAGNETO (2014) (#1-21) (MARVEL) #4 Near Mint/Mint
MAGNETO (2014) (#1-21) (MARVEL) #5 Near Mint/Mint
MAGNETO (2014) (#1-21) (MARVEL) #6 Near Mint/Mint
MAGNETO (2014) (#1-21) (MARVEL) #7 Near Mint/Mint
MAGNETO (2014) (#1-21) (MARVEL) #8 Near Mint/Mint
MAGNETO (2014) (#1-21) (MARVEL) #9 Near Mint/Mint
MAGNETO (2014) (#1-21) (MARVEL) #10 Near Mint/Mint
MAGNETO (2014) (#1-21) (MARVEL) #11 Very Fine

MARVEL KNIGHTS: HULK (2013) #4 Very Fine

MARVEL KNIGHTS: SPIDER-MAN (2013) #5 Near Mint/Mint

MARVEL MILESTONE EDITION: X-MEN (1991) #1 Fine
MARVEL MILESTONE EDITION: X-MEN (1991) #1 Very Fine
MARVEL MILESTONE EDITION: X-MEN (1991) #1 Very Good

NIGHT OF THE LIVING DEADPOOL (2014) #1 Near Mint/Mint
NIGHT OF THE LIVING DEADPOOL (2014) #2 Near Mint/Mint
NIGHT OF THE LIVING DEADPOOL (2014) #3 Near Mint/Mint
NIGHT OF THE LIVING DEADPOOL (2014) #4 Very Fine


ONYX OVERLORD (MOEBIUS) (1992) #1

ONYX OVERLORD (MOEBIUS) (1992) #1 Near Mint/Mint

PETER PARKER (1976) (#1-263) (SPECTACULAR SPIDER-MAN) #69 NEWSSTAND Near Mint/Mint
PETER PARKER (1976) (#1-263) (SPECTACULAR SPIDER-MAN) #112 NEWSSTAND Fine

SAVAGE HULK (2014) #2 Very Fine
SAVAGE HULK (2014) #4 Near Mint/Mint
SAVAGE HULK (2014) #6 Very Fine

SHE-HULK (2005) (#1-38) (MARVEL) #34 Very Fine

SPIDER-MAN (1963) (AMAZING SPIDER-MAN) (#1-441) #265 NEWSSTAND Good
SPIDER-MAN (1963) (AMAZING SPIDER-MAN) (#1-441) #279 NEWSSTAND Very Fine

STRANGE TALES (1951) (#1-85 ATLAS, #86-188 MARVEL) #106 Good

SUPERIOR IRON MAN (2014) #1 Near Mint/Mint

TRANSFORMERS UNIVERSE (1986) #2 Fine

TRANSFORMERS: HEADMASTERS (1987) #4 Very Fine

ULTIMATE COMICS: CAPTAIN AMERICA (2011) #4 Very Fine

ULTIMATE COMICS: SPIDER-MAN (ALL-NEW) (2011) #9 Near Mint/Mint
ULTIMATE COMICS: SPIDER-MAN (ALL-NEW) (2011) #10 Near Mint/Mint

ULTIMATE SPIDER-MAN TPB #12 Very Fine

UNCANNY X-FORCE (2010) (#1-35) (MARVEL) #23 Near Mint/Mint
UNCANNY X-FORCE (2010) (#1-35) (MARVEL) #24 Near Mint/Mint
UNCANNY X-FORCE (2010) (#1-35) (MARVEL) #25 Near Mint/Mint

VENOM (2011) (#1-42) (MARVEL) #15 Near Mint/Mint
VENOM (2011) (#1-42) (MARVEL) #16 Very Fine


VENOM (2011) (#1-42) (MARVEL) #18

VENOM (2011) (#1-42) (MARVEL) #18 Near Mint/Mint

WHAT IF... (1989) (#1-114, & 200) (MARVEL) #69 Fine
WHAT IF... (1989) (#1-114, & 200) (MARVEL) #74 Fine
WHAT IF... (1989) (#1-114, & 200) (MARVEL) #79 Fine
WHAT IF... (1989) (#1-114, & 200) (MARVEL) #83 Fine

WINTER SOLDIER (2012) (#1-19) (MARVEL) #5 Near Mint/Mint

WOLVERINE & THE X-MEN (2011) (#1-42) (MARVEL) #8 Near Mint/Mint
WOLVERINE & THE X-MEN (2011) (#1-42) (MARVEL) #10 Near Mint/Mint
WOLVERINE & THE X-MEN (2011) (#1-42) (MARVEL) #11 Very Fine

X-FACTOR (2005) (#1-50, 200-262) (MADROX) #234 Near Mint/Mint
X-FACTOR (2005) (#1-50, 200-262) (MADROX) #235 Near Mint/Mint
X-FACTOR (2005) (#1-50, 200-262) (MADROX) #236 Near Mint/Mint

X-MEN (1991) (#1-275) (MARVEL) #267 Near Mint/Mint

X-MEN '92 (2015) (#1-4) (SECRET WARS) #1 YOUNG BABY Very Fine

DC
ACTION COMICS (1938) (#0-600, 643-904) (DC) #258 Good
ACTION COMICS (1938) (#0-600, 643-904) (DC) #266 Very Good
ACTION COMICS (1938) (#0-600, 643-904) (DC) #298 Fair
ACTION COMICS (1938) (#0-600, 643-904) (DC) #299 Fair
ACTION COMICS (1938) (#0-600, 643-904) (DC) #303 Fair
ACTION COMICS (1938) (#0-600, 643-904) (DC) #335 Fair

ADVENTURE COMICS (1938) (#32-503) (DC) #286 Good
ADVENTURE COMICS (1938) (#32-503) (DC) #288 Good
ADVENTURE COMICS (1938) (#32-503) (DC) #307 Fair

ATOM (DC) (JUSTICE LEAGUE) (1962) #5 Fair

BATGIRL (2000) (#1-73) (DC) #1 2ND PRINT Very Fine


BATGIRL (2011) (#0-52) (DC NEW52) #40 MOVIESTYLE

BATGIRL (2011) (#0-52) (DC NEW52) #40 MOVIESTYLE Near Mint/Mint

BATMAN (1940) (#0-713) (DC) #126 Fair

CAPTAIN ACTION (1968) #1 Very Good

CHALLENGERS OF THE UNKNOWN (1958) (#1-87) (DC) #11 Fair
CHALLENGERS OF THE UNKNOWN (1958) (#1-87) (DC) #26 Fair
CHALLENGERS OF THE UNKNOWN (1958) (#1-87) (DC) #27 Fair

CRISIS ON INFINITE EARTHS HC BOX SET (2019) #1 Near Mint/Mint

DETECTIVE COMICS (1937) (#0-881) (DC) #271 Good
DETECTIVE COMICS (1937) (#0-881) (DC) #293 Good
DETECTIVE COMICS (1937) (#0-881) (DC) #308 Fair
DETECTIVE COMICS (1937) (#0-881) (DC) #309 Good
DETECTIVE COMICS (1937) (#0-881) (DC) #311 Fair
DETECTIVE COMICS (1937) (#0-881) (DC) #317 Good

EARTH 2 (2012) #19 Near Mint/Mint

FABLES (2002) #126 (DC: Vertigo Press) Very Fine
FABLES (2002) #127 (DC: Vertigo Press) Near Mint/Mint
FABLES (2002) #128 (DC: Vertigo Press) Near Mint/Mint

FLASH (1959) (#105-350) (DC) #115 Fair
FLASH (1959) (#105-350) (DC) #119 Fair
FLASH (1959) (#105-350) (DC) #120 Fair
FLASH (1959) (#105-350) (DC) #138 Good

GREEN LANTERN (1960) (#1-224) (DC) #8 Fair
GREEN LANTERN (1960) (#1-224) (DC) #17 Fair
GREEN LANTERN (1960) (#1-224) (DC) #18 Good

JIMMY OLSEN (1954) #46 Good
JIMMY OLSEN (1954) #65 Fair
JIMMY OLSEN (1954) #66 Fair

JUSTICE LEAGUE (2011) (#0-52) (DC NEW52) #50 2ND PRINT Very Fine

JUSTICE LEAGUE OF AMERICA (1960) (#1-261) (DC) #17 Fair
JUSTICE LEAGUE OF AMERICA (1960) (#1-261) (DC) #19 Fair
JUSTICE LEAGUE OF AMERICA (1960) (#1-261) (DC) #21 Fair
JUSTICE LEAGUE OF AMERICA (1960) (#1-261) (DC) #65 Fair

LOIS LANE (1958) (#1-137) (SUPERMAN'S GIRL FRIEND) (DC) #12 Fair

OMEGA MEN (1982) (#1-38) (DC) #20 Near Mint/Mint
OMEGA MEN (1982) (#1-38) (DC) #21 Near Mint/Mint
OMEGA MEN (1982) (#1-38) (DC) #22 Near Mint/Mint
OMEGA MEN (1982) (#1-38) (DC) #38 Near Mint/Mint

RIP HUNTER TIME MASTER (1961) #11 Fair
RIP HUNTER TIME MASTER (1961) #12 Fair
RIP HUNTER TIME MASTER (1961) #13 Good

SAUCER COUNTRY (2012) #14 Near Mint/Mint

STRANGE ADVENTURES (1950) (#1-244) (DC) #142 Fair

SUPERBOY (1949) (#1-258) (DC) #100 Fair

SUPERMAN (1939) (#1-423) (DC) #143 Good
SUPERMAN (1939) (#1-423) (DC) #147 Good

TIME WARP (2013) #1 Near Mint/Mint

TOMAHAWK (1950) #100 Fair
TOMAHAWK (1950) #118 Good

WONDER WOMAN (1942) (#1-329) (DC) #134 Good
WONDER WOMAN (1942) (#1-329) (DC) #135 Good
WONDER WOMAN (1942) (#1-329) (DC) #136 Good


WORLDS FINEST (1941) (#2-323) (DC) (WORLD'S FINEST) #112

WORLDS FINEST (1941) (#2-323) (DC) (WORLD'S FINEST) #112 Good
WORLDS FINEST (1941) (#2-323) (DC) (WORLD'S FINEST) #131 Fair
WORLDS FINEST (1941) (#2-323) (DC) (WORLD'S FINEST) #132 Fair
WORLDS FINEST (1941) (#2-323) (DC) (WORLD'S FINEST) #134 Fair

DARK HORSE COMICS
CONCRETE (1987) #1 Very Good
CONCRETE (1987) #2 Very Good
CONCRETE (1987) #3 Good
CONCRETE (1987) #5 Very Good
CONCRETE (1987) #6 Very Good

STAR WARS (1998) (#0-83) (DARK HORSE) #69 COMIC PACK Fine

STAR WARS MARA JADE: BY THE EMPEROR'S HAND #1 Near Mint/Mint

UMBRELLA ACADEMY (2007) #1 FCBD Very Fine

UMBRELLA ACADEMY: APOCALYPSE SUITE (2007) #1 Fine

IMAGE COMICS
AMERICA'S GOT POWERS (IMAGE) (2012) #5 Near Mint/Mint

APHRODITE IX: ARES ONE-SHOT (2018) #1 Near Mint/Mint

APHRODITE V (2018) #1 Near Mint/Mint
APHRODITE V (2018) #3 Near Mint/Mint
APHRODITE V (2018) #4 B IENCO Near Mint/Mint

ARES IX: DARKNESS ONE-SHOT (2018) #1 Near Mint/Mint

ARTIFACTS (IMAGE TOPCOW) (2010) #25 A (Image Top Cow) Near Mint/Mint
ARTIFACTS (IMAGE TOPCOW) (2010) #26 A (Image Top Cow) Near Mint/Mint

BEDLAM (2012) #3 Near Mint/Mint

CHEW (2009) #31 Near Mint/Mint
CHEW (2009) #32 Near Mint/Mint

CLONE (2012) #4 Near Mint/Mint
CLONE (2012) #5 Near Mint/Mint

CYBER FORCE (2018) #1 A SILVESTR Near Mint/Mint
CYBER FORCE (2018) #2 Near Mint/Mint
CYBER FORCE (2018) #3 Near Mint/Mint
CYBER FORCE (2018) #4 Near Mint/Mint
CYBER FORCE (2018) #5 Near Mint/Mint

EAST OF WEST (2013) #1 Near Mint/Mint
EAST OF WEST (2013) #2 Near Mint/Mint

INVINCIBLE (2003) #101 Near Mint/Mint
INVINCIBLE (2003) #102 Fine

INVINCIBLE UNIVERSE (2013) #1 Near Mint/Mint
INVINCIBLE UNIVERSE (2013) #2 Near Mint/Mint

JUPITER'S LEGACY (2013) #1 A Near Mint/Mint

MANHATTAN PROJECTS (2012) #9 Near Mint/Mint
MANHATTAN PROJECTS (2012) #10 Near Mint/Mint

MARA (2012) (#1-6) (IMAGE) #1 Near Mint/Mint
MARA (2012) (#1-6) (IMAGE) #2 Near Mint/Mint

SAGA (2012) #9 Near Mint/Mint
SAGA (2012) #10 Near Mint/Mint
SAGA (2012) #11 Near Mint/Mint
SAGA (2012) #12 Near Mint/Mint

SUPER DINOSAUR (2011) #17 Near Mint/Mint
SUPER DINOSAUR (2011) #18 Near Mint/Mint
SUPER DINOSAUR (2011) #19 Near Mint/Mint

WALKING DEAD (2003) (#1-193) (IMAGE) #107 Near Mint/Mint
WALKING DEAD (2003) (#1-193) (IMAGE) #108 Near Mint/Mint
WALKING DEAD (2003) (#1-193) (IMAGE) #109 Near Mint/Mint

WALKING DEAD SPECIAL FCBD (2013) #1 Near Mint/Mint

WITCHBLADE (1995) (#1-185, #500) (IMAGE) #163 B (Image Top Cow) Near Mint/Mint
WITCHBLADE (1995) (#1-185, #500) (IMAGE) #164 B (Image Top Cow) Near Mint/Mint
WITCHBLADE (1995) (#1-185, #500) (IMAGE) #165 B (Image Top Cow) Fine

INDEPENDENTS
ABBOTT AND COSTELLO (1968) #6 (Charlton) Very Good

ADVENTURES OF THE FLY (ARCHIE) (1959) #5 (Archie Comics) Fair
ADVENTURES OF THE FLY (ARCHIE) (1959) #8 (Archie Comics) Good
ADVENTURES OF THE FLY (ARCHIE) (1959) #23 (Archie Comics) Fair

ALVIN FOR PRESIDENT (1964) #1 (Dell Publishing) Good

ANNA MERCURY (AVATAR) (WARREN ELLIS) (2008) #1 WRAPAROUND (Avatar Comics) Very Fine
ANNA MERCURY (AVATAR) (WARREN ELLIS) (2008) #2 WRAPAROUND (Avatar Comics) Near Mint/Mint
ANNA MERCURY (AVATAR) (WARREN ELLIS) (2008) #3 WRAPAROUND (Avatar Comics) Near Mint/Mint
ANNA MERCURY (AVATAR) (WARREN ELLIS) (2008) #4 WRAPAROUND (Avatar Comics) Near Mint/Mint

BAMM-BAMM & PEBBLES FLINTSTONE(GOLD KEY)(HANNA-BARBERA) (1964) #1 (Gold Key) Good

BATTLE ANGEL ALITA BOOK 2 (Viz Comics) (MANGA) (1993) #7 (Viz Comics) Good

BEETLE BAILEY (1969) (#67-119) (CHARLTON) #76 (Charlton) Good


BLACK GAS (2005) #2 WRAPAROUND

BLACK GAS (2005) #2 WRAPAROUND (Avatar Comics) Fine
BLACK GAS (2005) #3 (Avatar Comics) Near Mint/Mint

BLACK GAS 2 (2006) #1 (Avatar Comics) Very Fine
BLACK GAS 2 (2006) #2 GORE (Avatar Comics) Near Mint/Mint
BLACK GAS 2 (2006) #3 WRAPAROUND (Avatar Comics) Near Mint/Mint

BLACK SUMMER (2007) #1 (Avatar Comics) Near Mint/Mint
BLACK SUMMER (2007) #3 (Avatar Comics) Very Fine
BLACK SUMMER (2007) #4 WRAPAROUND (Avatar Comics) Near Mint/Mint
BLACK SUMMER (2007) #5 WRAPAROUND (Avatar Comics) Very Fine
BLACK SUMMER (2007) #7 (Avatar Comics) Very Fine

BLOODSHOT (1997) (#1-16) (ACCLAIM/VALIANT) #1 RETAILER (Acclaim/Valiant) Near Mint/Mint
BLOODSHOT (1997) (#1-16) (ACCLAIM/VALIANT) #15 (Acclaim/Valiant) Very Fine
BLOODSHOT (1997) (#1-16) (ACCLAIM/VALIANT) #16 (Acclaim/Valiant) Near Mint/Mint

CAPTAIN ATOM (1965) (#78-89) (CHARLTON) #81 (Charlton) Good

CASPER THE GHOST (1958) #26 (Harvey Comics) Fair
CASPER THE GHOST (1958) #68 (Harvey Comics) Good
CASPER THE GHOST (1958) #75 (Harvey Comics) Good

CHIP 'N' DALE RESCUE RANGERS (1990) #3 (Walt Disney Company) Very Good
CHIP 'N' DALE RESCUE RANGERS (1990) #10 (Walt Disney Company) Near Mint/Mint
CHIP 'N' DALE RESCUE RANGERS (1990) #15 (Walt Disney Company) Fine
CHIP 'N' DALE RESCUE RANGERS (1990) #17 (Walt Disney Company) Fine

CLASSICS ILLUSTRATED (1942) #122 HRN146 ED3 (Gilberton Publications) Very Good

COMIC RELIEF MAGAZINE (1989) #34 (Page One, Inc.) Near Mint/Mint

CROSSED (2008) #0 (Avatar Comics) Very Fine

DEADSIDE (SHADOWMAN PRESENTS) (1999) #1 (Acclaim/Valiant) Near Mint/Mint


DEADSIDE (SHADOWMAN PRESENTS) (1999) #2

DEADSIDE (SHADOWMAN PRESENTS) (1999) #2 (Acclaim/Valiant) Near Mint/Mint
DEADSIDE (SHADOWMAN PRESENTS) (1999) #3 (Acclaim/Valiant) Very Fine

DENNIS THE MENACE GIANTS (1955) #34 (FAWCETT PUBLICATION) Good
DENNIS THE MENACE GIANTS (1955) #36 (FAWCETT PUBLICATION) Good

DEPUTY DAWG (1961) #1 10164-508 (Dell Publishing) Very Good

DOCTOR SOLAR, MAN OF THE ATOM (1962) (#1-27) (GOLD KEY) #1 (Gold Key) Fair

DOCTOR WHO: 13TH DOCTOR (2018) #0 B PHOTO (Titan Distributing) Near Mint/Mint
DOCTOR WHO: 13TH DOCTOR (2018) #1 B PHOTO (Titan Distributing) Near Mint/Mint
DOCTOR WHO: 13TH DOCTOR (2018) #2 B BROOKS (Titan Distributing) Fine
DOCTOR WHO: 13TH DOCTOR (2018) #4 B BROOKS (Titan Distributing) Near Mint/Mint
DOCTOR WHO: 13TH DOCTOR (2018) #5 B PHOTO (Titan Distributing) Near Mint/Mint
DOCTOR WHO: 13TH DOCTOR (2018) #6 B PHOTO (Titan Distributing) Near Mint/Mint
DOCTOR WHO: 13TH DOCTOR (2018) #7 B PHOTO (Titan Distributing) Near Mint/Mint
DOCTOR WHO: 13TH DOCTOR (2018) #9 B PHOTO (Titan Distributing) Near Mint/Mint
DOCTOR WHO: 13TH DOCTOR (2018) #10 B PHOTO (Titan Distributing) Near Mint/Mint
DOCTOR WHO: 13TH DOCTOR (2018) #11 B PHOTO (Titan Distributing) Near Mint/Mint
DOCTOR WHO: 13TH DOCTOR (2018) #12 B PHOTO (Titan Distributing) Near Mint/Mint

DOCTOR WHO: PRISONERS OF TIME (2013) #1 (IDW Publishing) Near Mint/Mint

DOCTOR WHO: ROAD TO THE 13TH DOCTOR (2018) #1 B PHOTO (Titan Distributing) Near Mint/Mint
DOCTOR WHO: ROAD TO THE 13TH DOCTOR (2018) #2 B PHOTO (Titan Distributing) Near Mint/Mint

DOKTOR SLEEPLESS (2007) #1 (Avatar Comics) Near Mint/Mint
DOKTOR SLEEPLESS (2007) #2 (Avatar Comics) Fine
DOKTOR SLEEPLESS (2007) #3 (Avatar Comics) Fine
DOKTOR SLEEPLESS (2007) #4 (Avatar Comics) Near Mint/Mint
DOKTOR SLEEPLESS (2007) #5 (Avatar Comics) Fine
DOKTOR SLEEPLESS (2007) #6 (Avatar Comics) Near Mint/Mint
DOKTOR SLEEPLESS (2007) #7 (Avatar Comics) Near Mint/Mint
DOKTOR SLEEPLESS (2007) #8 (Avatar Comics) Near Mint/Mint
DOKTOR SLEEPLESS (2007) #9 (Avatar Comics) Near Mint/Mint
DOKTOR SLEEPLESS (2007) #10 WRAPAROUND (Avatar Comics) Near Mint/Mint


DOKTOR SLEEPLESS MANUAL (2008) #1 WRAPAROUND

DOKTOR SLEEPLESS MANUAL (2008) #1 WRAPAROUND (Avatar Comics) Fine

DONALD & MICKEY (1993) #20 (Gladstone) Very Fine
DONALD & MICKEY (1993) #21 (Gladstone) Fine
DONALD & MICKEY (1993) #22 (Gladstone) Very Fine

DONALD DUCK (1940) (Dell Publishing) (#1-84) #1 FC #189 (Dell Publishing) Good
DONALD DUCK (1940) (Dell Publishing) (#1-84) #1 FC #275 (Dell Publishing) Good
DONALD DUCK (1940) (Dell Publishing) (#1-84) #1 FC #300 (Dell Publishing) Good

DONALD DUCK ADVENTURES (1987) (#1-48) (GLADSTONE) #6 (Gladstone) Fine
DONALD DUCK ADVENTURES (1987) (#1-48) (GLADSTONE) #7 (Gladstone) Very Fine
DONALD DUCK ADVENTURES (1987) (#1-48) (GLADSTONE) #9 (Gladstone) Near Mint/Mint

DONALD DUCK ADVENTURES (1990) (#1-38) (WALT DISNEY) #1 (Walt Disney Company) Near Mint/Mint
DONALD DUCK ADVENTURES (1990) (#1-38) (WALT DISNEY) #1 (Walt Disney Company) Very Fine
DONALD DUCK ADVENTURES (1990) (#1-38) (WALT DISNEY) #3 (Walt Disney Company) Near Mint/Mint
DONALD DUCK ADVENTURES (1990) (#1-38) (WALT DISNEY) #4 (Walt Disney Company) Very Fine
DONALD DUCK ADVENTURES (1990) (#1-38) (WALT DISNEY) #5 (Walt Disney Company) Fine
DONALD DUCK ADVENTURES (1990) (#1-38) (WALT DISNEY) #10 (Walt Disney Company) Fine
DONALD DUCK ADVENTURES (1990) (#1-38) (WALT DISNEY) #10 (Walt Disney Company) Very Fine
DONALD DUCK ADVENTURES (1990) (#1-38) (WALT DISNEY) #16 (Walt Disney Company) Near Mint/Mint
DONALD DUCK ADVENTURES (1990) (#1-38) (WALT DISNEY) #23 (Walt Disney Company) Very Fine
DONALD DUCK ADVENTURES (1990) (#1-38) (WALT DISNEY) #25 (Walt Disney Company) Fine
DONALD DUCK ADVENTURES (1990) (#1-38) (WALT DISNEY) #26 (Walt Disney Company) Fine
DONALD DUCK ADVENTURES (1990) (#1-38) (WALT DISNEY) #28 (Walt Disney Company) Very Fine
DONALD DUCK ADVENTURES (1990) (#1-38) (WALT DISNEY) #34 (Walt Disney Company) Very Fine
DONALD DUCK ADVENTURES (1990) (#1-38) (WALT DISNEY) #37 NEWSSTAND (Walt Disney Company) Very Fine
DONALD DUCK ADVENTURES (1990) (#1-38) (WALT DISNEY) #38 (Walt Disney Company) Very Fine

DUCK TALES (1988) (#1-13) (GLADSTONE) #9 (Gladstone) Very Fine
DUCK TALES (1988) (#1-13) (GLADSTONE) #10 (Gladstone) Fine

DUCK TALES (1990) (#1-18) (WALT DISNEY) #1 (Walt Disney Company) Near Mint/Mint
DUCK TALES (1990) (#1-18) (WALT DISNEY) #2 (Walt Disney Company) Near Mint/Mint
DUCK TALES (1990) (#1-18) (WALT DISNEY) #3 (Walt Disney Company) Near Mint/Mint
DUCK TALES (1990) (#1-18) (WALT DISNEY) #10 (Walt Disney Company) Near Mint/Mint


ETERNAL WARRIORS: IMMORTAL ENEMY (1998) #1

ETERNAL WARRIORS: IMMORTAL ENEMY (1998) #1 (Acclaim/Valiant) Near Mint/Mint

F-TROOP (Dell Publishing) #3 (Dell Publishing) Good

FELIX THE CAT (1943) (#1-19) (Dell Publishing) #3 (Dell Publishing) Fair
FELIX THE CAT (1943) (#1-19) (Dell Publishing) #9 (Dell Publishing) Good

FLINTSTONES (1962) (#7-60) (GOLD KEY) #42 (Gold Key) Very Good

FORBIDDEN WORLDS (1951) #90 (ACG) Fair

GI JOE (VOL. 2) (2011) #21 (IDW Publishing) Near Mint/Mint

GOLDEN LEGACY (1966) #6 (Fitzgerald Publishing Co.) Fair
GOLDEN LEGACY (1966) #10 (Fitzgerald Publishing Co.) Good

GOOFY ADVENTURES (DISNEY) (1990) #1 (Walt Disney Company) Fine
GOOFY ADVENTURES (DISNEY) (1990) #3 (Walt Disney Company) Near Mint/Mint
GOOFY ADVENTURES (DISNEY) (1990) #6 (Walt Disney Company) Very Fine
GOOFY ADVENTURES (DISNEY) (1990) #11 (Walt Disney Company) Near Mint/Mint
GOOFY ADVENTURES (DISNEY) (1990) #14 (Walt Disney Company) Very Fine
GOOFY ADVENTURES (DISNEY) (1990) #15 (Walt Disney Company) Very Fine

GRAVEL (2008) #0 WRAPAROUND (Avatar Comics) Near Mint/Mint
GRAVEL (2008) #1 WRAPAROUND (Avatar Comics) Near Mint/Mint
GRAVEL (2008) #2 WRAPAROUND (Avatar Comics) Near Mint/Mint
GRAVEL (2008) #3 WRAPAROUND (Avatar Comics) Near Mint/Mint
GRAVEL (2008) #5 WRAPAROUND (Avatar Comics) Near Mint/Mint
GRAVEL (2008) #6 WRAPAROUND (Avatar Comics) Near Mint/Mint

GYRO GEARLOOSE (1962) #1 (Dell Publishing) Fair

HARVEY HITS (1957) #94 (Harvey Comics) Good
HARVEY HITS (1957) #96 (Harvey Comics) Good
HARVEY HITS (1957) #99 (Harvey Comics) Good

HAVE GUN, WILL TRAVEL (1958) #6 (Dell Publishing) Good


I AIM AT THE STARS (1961) #1 FC #1148

I AIM AT THE STARS (1961) #1 FC #1148 (Dell Publishing) Good

JERICHO: SEASON 4 (2012) #2 (IDW Publishing) Near Mint/Mint

JUGHEAD (1949) (#1-352) #126 (Archie Comics) Very Good

JUNIOR WOODCHUCKS (1991) #2 (Walt Disney Company) Very Fine

LEGEND OF CUSTER (1968) #1 (Dell Publishing) Very Good

LIFE WITH ARCHIE (1958) #22 (Archie Comics) Good

LITTLE ARCHIE (1956) #32 (Archie Comics) Good
LITTLE ARCHIE (1956) #38 (Archie Comics) Good

LITTLE MONSTERS (GOLD KEY) (1964) #3 (Gold Key) Good

LITTLE SAD SACK #8 (Harvey Comics) Very Good

LONE RANGER'S FAMOUS HORSE HI-YO SILVER (1952) #21 (Dell Publishing) Fair

M.A.R.S. PATROL (GOLD KEY) (1966) #4 (Gold Key) Very Good

MAGNUS ROBOT FIGHTER (1997) (#1-18) (VALIANT) #18 (Acclaim/Valiant) Near Mint/Mint

MARGE'S LITTLE LULU (1962) (#165-206) (GOLD KEY) #167 (Gold Key) Good

MARGE'S TUBBY (1952) #27 (Dell Publishing) Fair

MICKEY AND DONALD (1988) #5 (Gladstone) Very Good
MICKEY AND DONALD (1988) #6 (Gladstone) Fine
MICKEY AND DONALD (1988) #7 (Gladstone) Fine
MICKEY AND DONALD (1988) #8 (Gladstone) Very Fine
MICKEY AND DONALD (1988) #9 (Gladstone) Very Good
MICKEY AND DONALD (1988) #10 (Gladstone) Fine
MICKEY AND DONALD (1988) #11 (Gladstone) Fine
MICKEY AND DONALD (1988) #12 (Gladstone) Very Good

MICKEY AND DONALD (1988) #13 (Gladstone) Very Good
MICKEY AND DONALD (1988) #14 (Gladstone) Very Good
MICKEY AND DONALD (1988) #15 (Gladstone) Very Good
MICKEY AND DONALD (1988) #16 (Gladstone) Very Good
MICKEY AND DONALD (1988) #18 (Gladstone) Very Good

MICKEY MOUSE (1941) (#1-84) (Dell Publishing) #59 (Dell Publishing) Good

MIGHTY SAMSON (1964) #14 (Gold Key) Very Good

MONKEES (1967) #8 (Dell Publishing) Very Good

MUNSTERS (GOLD KEY) (#1-16) (1965) #1 (Gold Key) Good

MYSTERY COMICS DIGEST (1972) #4 (Gold Key) Good

NEW TERRYTOONS (1962) (#1-54) (GOLDKEY) #2 (Gold Key) Very Good

OFFICIAL BUZ SAWYER #2 (Pioneer Comics) Near Mint/Mint

ONI PRESS COLOR SPECIAL #2002 (Oni Press Inc.) Near Mint/Mint

PACIFIC PRESENTS (1982) #1 (Pacific Comics) Near Mint/Mint
PACIFIC PRESENTS (1982) #2 (Pacific Comics) Near Mint/Mint
PACIFIC PRESENTS (1982) #4 (Pacific Comics) Near Mint/Mint

PARTS UNKNOWN (1992) (#1-4) (ECLIPSE) #2 (Eclipse Enterprises) Near Mint/Mint

PEP COMICS (1946) (#56-411) (ARCHIE) #171 (Archie Comics) Good

PHANTOM (1962) (#1-17) (GOLD KEY) #9 (Gold Key) Fair

PHANTOM BLOT (GOLD KEY) #7 (Gold Key) Good

PITT CREW #2 (Full Bleed Studios) Near Mint/Mint
PITT CREW #3 (Full Bleed Studios) Near Mint/Mint


QUANTUM & WOODY (1997) (#0-32) (ACCLAIM/VALIANT) #0 AE VARIANT

QUANTUM & WOODY (1997) (#0-32) (ACCLAIM/VALIANT) #0 AE VARIANT (Acclaim/Valiant) Near Mint/Mint

QUICK DRAW MCGRAW (Dell Publishing) (1960) #4 (Dell Publishing) Fair
QUICK DRAW MCGRAW (Dell Publishing) (1960) #11 (Dell Publishing) Good

QUICK DRAW MCGRAW (1962) (#12-15) (GOLD KEY) #12 (Gold Key) Very Good

RAT PATROL (1967) #5 (Dell Publishing) Good

RICHIE RICH (1960) #32 (Harvey Comics) Fair

RICHIE RICH MILLIONS (1961) #16 (Harvey Comics) Good

RIPLEY'S BELIEVE IT OR NOT! TRUE GHOST STORIES (1965) #2 (Gold Key) Good

SAD SACK (1949) #99 (Harvey Comics) Good
SAD SACK (1949) #183 (Harvey Comics) Very Good

SAD SACK AND THE SARGE (1957) #51 (Harvey Comics) Good
SAD SACK AND THE SARGE (1957) #57 (Harvey Comics) Good

SAD SACK LAUGH SPECIAL (1958) #25 (Harvey Comics) Good
SAD SACK LAUGH SPECIAL (1958) #27 (Harvey Comics) Good
SAD SACK LAUGH SPECIAL (1958) #31 (Harvey Comics) Good

SAD SACK'S ARMY LIFE (1963) #4 (Harvey Comics) Fair
SAD SACK'S ARMY LIFE (1963) #9 (Harvey Comics) Good
SAD SACK'S ARMY LIFE (1963) #10 (Harvey Comics) Good

SAD SACK'S FUNNY FRIENDS (1955) #61 (Harvey Comics) Very Good
SAD SACK'S FUNNY FRIENDS (1955) #67 (Harvey Comics) Very Good

SAD SAD SACK WORLD (1964) #6 (Harvey Comics) Good


SHADOWMAN (1996) (#1-20) (ACCLAIM/VALIANT) #19

SHADOWMAN (1996) (#1-20) (ACCLAIM/VALIANT) #19 (Acclaim/Valiant) Near Mint/Mint
SHADOWMAN (1996) (#1-20) (ACCLAIM/VALIANT) #20 (Acclaim/Valiant) Near Mint/Mint

SHADOWMAN VOL. 3 (1999) #1 (Acclaim/Valiant) Near Mint/Mint
SHADOWMAN VOL. 3 (1999) #2 PHOTO (Acclaim/Valiant) Fine

SHAOLIN COWBOY (2007) (#1-7) (BURLYMAN) #1 (Burlyman Entertainment) Near Mint/Mint
SHAOLIN COWBOY (2007) (#1-7) (BURLYMAN) #2 (Burlyman Entertainment) Near Mint/Mint
SHAOLIN COWBOY (2007) (#1-7) (BURLYMAN) #3 (Burlyman Entertainment) Near Mint/Mint
SHAOLIN COWBOY (2007) (#1-7) (BURLYMAN) #4 (Burlyman Entertainment) Near Mint/Mint
SHAOLIN COWBOY (2007) (#1-7) (BURLYMAN) #5 DELGADO (Burlyman Entertainment) Near Mint/Mint
SHAOLIN COWBOY (2007) (#1-7) (BURLYMAN) #6 DARROW (Burlyman Entertainment) Near Mint/Mint
SHAOLIN COWBOY (2007) (#1-7) (BURLYMAN) #7 SEVERIN (Burlyman Entertainment) Near Mint/Mint

SHI (1994) (#1-12) #3 3X SIGNED (Crusade) Fine

SNAKE EYES (GI JOE) (2011) #21 (IDW Publishing) Near Mint/Mint

SPACE ADVENTURES (CHARLTON) (VOL 3) (1967) #60 (Charlton) Good

SPACE FAMILY ROBINSON (1962) (#1-54) (GOLD KEY) #9 (Gold Key) Fair

STAR TREK (2011) (#1-60) (IDW Publishing) #17 (IDW Publishing) Very Fine
STAR TREK (2011) (#1-60) (IDW Publishing) #19 (IDW Publishing) Very Fine

STAR TREK: COUNTDOWN TO DARKNESS (2013) #1 A (IDW Publishing) Very Fine

STARBLAZER (UK) (1979) #7 (D.C. Thomson & Com. Ltd) Very Good

STRANGE KILLINGS (2002) #2 WRAPAROUND (Avatar Comics) Near Mint/Mint

STRANGE KISS #1 (Avatar Comics) Near Mint/Mint
STRANGE KISS #2 (Avatar Comics) Near Mint/Mint

STRANGER KISSES (2000) #2 (Avatar Comics) Near Mint/Mint

SUPERCAR (1962) #1 (Gold Key) Fair

TALES OF THE GREEN BERET (1967) #1 (Dell Publishing) Very Good

TALESPIN (TAKE OFF)(#1-4) (1991) #2 (Walt Disney Company) Very Fine

TARZAN (1962) (#132-206) (GOLD KEY) #155 (Gold Key) Fair
TARZAN (1962) (#132-206) (GOLD KEY) #173 (Gold Key) Good
TARZAN (1962) (#132-206) (GOLD KEY) #173 (Gold Key) Very Good

THIS IS YOUR LIFE DONALD DUCK (1960) #1 FC #1109 (Dell Publishing) Good

TIM VIGIL ARTWORKS 1976-1990 GN (1991) #1 (Rebel Creations) Fine

TOM AND JERRY (1948) (#1-212) (Dell Publishing) #180 (Dell Publishing) Very Good

TOP CAT (1962) (#1-3) (Dell Publishing) #1 (Dell Publishing) Good

TOP CAT (1962) (#4-31) (GOLD KEY) #9 (Gold Key) Fair

TRINITY ANGELS (1997) #1 RETAILER (Acclaim/Valiant) Very Fine

TUROK (1998) (#1-4) (ACCLAIM VALIANT) #3 (Acclaim/Valiant) Near Mint/Mint
TUROK (1998) (#1-4) (ACCLAIM VALIANT) #4 (Acclaim/Valiant) Near Mint/Mint

TUROK/SHADOWMAN (1999) #1 (Acclaim/Valiant) Very Fine

TUROK, SON OF STONE (1954) (#1-29) (Dell Publishing) #12 (Dell Publishing) Good

UNCLE SCROOGE (1962) (GOLD KEY) (#40-173) #62 (Gold Key) Good
UNCLE SCROOGE (1962) (GOLD KEY) (#40-173) #64 (Gold Key) Good

UNDERSEA AGENT (TOWER) #6 (Tower Comics) Very Good

UNFUNNIES (2003) #2 (Avatar Comics) Near Mint/Mint


UNKNOWN WORLDS (AMERICAN COMIC GROUP) #18

UNKNOWN WORLDS (AMERICAN COMIC GROUP) #18 (ACG) Fair

VOYAGE TO THE BOTTOM OF THE SEA (1961) #1 FC #1230 (Dell Publishing) Fair
VOYAGE TO THE BOTTOM OF THE SEA (1964) #4 (Gold Key) Good

WALT DISNEY GIANT (1995) #1 (Gladstone) Near Mint/Mint
WALT DISNEY GIANT (1995) #2 (Gladstone) Near Mint/Mint
WALT DISNEY GIANT (1995) #3 (Gladstone) Near Mint/Mint
WALT DISNEY GIANT (1995) #4 (Gladstone) Near Mint/Mint
WALT DISNEY GIANT (1995) #5 (Gladstone) Near Mint/Mint
WALT DISNEY GIANT (1995) #5 (Gladstone) Very Fine
WALT DISNEY GIANT (1995) #6 (Gladstone) Near Mint/Mint
WALT DISNEY GIANT (1995) #7 (Gladstone) Near Mint/Mint

WALT DISNEY'S COMICS AND STORIES (1940) (#1-263) (Dell Publishing) #52 (Dell Publishing) Fair
WALT DISNEY'S COMICS AND STORIES (1940) (#1-263) (Dell Publishing) #60 (Dell Publishing) Fair
WALT DISNEY'S COMICS AND STORIES (1940) (#1-263) (Dell Publishing) #63 (Dell Publishing) Good
WALT DISNEY'S COMICS AND STORIES (1940) (#1-263) (Dell Publishing) #64 (Dell Publishing) Good
WALT DISNEY'S COMICS AND STORIES (1940) (#1-263) (Dell Publishing) #65 (Dell Publishing) Good
WALT DISNEY'S COMICS AND STORIES (1940) (#1-263) (Dell Publishing) #69 (Dell Publishing) Good
WALT DISNEY'S COMICS AND STORIES (1940) (#1-263) (Dell Publishing) #70 (Dell Publishing) Good
WALT DISNEY'S COMICS AND STORIES (1940) (#1-263) (Dell Publishing) #72 (Dell Publishing) Good
WALT DISNEY'S COMICS AND STORIES (1940) (#1-263) (Dell Publishing) #73 (Dell Publishing) Good
WALT DISNEY'S COMICS AND STORIES (1940) (#1-263) (Dell Publishing) #79 (Dell Publishing) Good
WALT DISNEY'S COMICS AND STORIES (1940) (#1-263) (Dell Publishing) #82 (Dell Publishing) Good
WALT DISNEY'S COMICS AND STORIES (1940) (#1-263) (Dell Publishing) #83 (Dell Publishing) Very Good
WALT DISNEY'S COMICS AND STORIES (1940) (#1-263) (Dell Publishing) #84 (Dell Publishing) Good
WALT DISNEY'S COMICS AND STORIES (1940) (#1-263) (Dell Publishing) #85 (Dell Publishing) Good
WALT DISNEY'S COMICS AND STORIES (1940) (#1-263) (Dell Publishing) #88 (Dell Publishing) Fair
WALT DISNEY'S COMICS AND STORIES (1940) (#1-263) (Dell Publishing) #89 (Dell Publishing) Good
WALT DISNEY'S COMICS AND STORIES (1940) (#1-263) (Dell Publishing) #96 (Dell Publishing) Very Good
WALT DISNEY'S COMICS AND STORIES (1940) (#1-263) (Dell Publishing) #97 (Dell Publishing) Fair
WALT DISNEY'S COMICS AND STORIES (1940) (#1-263) (Dell Publishing) #97 (Dell Publishing) Very Good
WALT DISNEY'S COMICS AND STORIES (1940) (#1-263) (Dell Publishing) #98 (Dell Publishing) Good
WALT DISNEY'S COMICS AND STORIES (1940) (#1-263) (Dell Publishing) #99 (Dell Publishing) Good
WALT DISNEY'S COMICS AND STORIES (1940) (#1-263) (Dell Publishing) #100 (Dell Publishing) Good
WALT DISNEY'S COMICS AND STORIES (1940) (#1-263) (Dell Publishing) #101 (Dell Publishing) Good


WALT DISNEY'S COMICS AND STORIES (1940) (#1-263) (Dell Publishing) #106

WALT DISNEY'S COMICS AND STORIES (1940) (#1-263) (Dell Publishing) #106 (Dell Publishing) Very Good
WALT DISNEY'S COMICS AND STORIES (1940) (#1-263) (Dell Publishing) #107 (Dell Publishing) Good
WALT DISNEY'S COMICS AND STORIES (1940) (#1-263) (Dell Publishing) #108 (Dell Publishing) Good
WALT DISNEY'S COMICS AND STORIES (1940) (#1-263) (Dell Publishing) #112 (Dell Publishing) Good
WALT DISNEY'S COMICS AND STORIES (1940) (#1-263) (Dell Publishing) #113 (Dell Publishing) Good
WALT DISNEY'S COMICS AND STORIES (1940) (#1-263) (Dell Publishing) #115 (Dell Publishing) Good
WALT DISNEY'S COMICS AND STORIES (1940) (#1-263) (Dell Publishing) #116 (Dell Publishing) Good
WALT DISNEY'S COMICS AND STORIES (1940) (#1-263) (Dell Publishing) #122 (Dell Publishing) Good
WALT DISNEY'S COMICS AND STORIES (1940) (#1-263) (Dell Publishing) #123 (Dell Publishing) Very Good
WALT DISNEY'S COMICS AND STORIES (1940) (#1-263) (Dell Publishing) #124 (Dell Publishing) Good
WALT DISNEY'S COMICS AND STORIES (1940) (#1-263) (Dell Publishing) #125 (Dell Publishing) Good
WALT DISNEY'S COMICS AND STORIES (1940) (#1-263) (Dell Publishing) #126 (Dell Publishing) Very Good
WALT DISNEY'S COMICS AND STORIES (1940) (#1-263) (Dell Publishing) #127 (Dell Publishing) Very Good
WALT DISNEY'S COMICS AND STORIES (1940) (#1-263) (Dell Publishing) #128 (Dell Publishing) Good
WALT DISNEY'S COMICS AND STORIES (1940) (#1-263) (Dell Publishing) #129 (Dell Publishing) Good
WALT DISNEY'S COMICS AND STORIES (1940) (#1-263) (Dell Publishing) #130 (Dell Publishing) Good
WALT DISNEY'S COMICS AND STORIES (1940) (#1-263) (Dell Publishing) #131 (Dell Publishing) Good
WALT DISNEY'S COMICS AND STORIES (1940) (#1-263) (Dell Publishing) #132 (Dell Publishing) Good
WALT DISNEY'S COMICS AND STORIES (1940) (#1-263) (Dell Publishing) #134 (Dell Publishing) Good
WALT DISNEY'S COMICS AND STORIES (1940) (#1-263) (Dell Publishing) #135 (Dell Publishing) Good
WALT DISNEY'S COMICS AND STORIES (1940) (#1-263) (Dell Publishing) #136 (Dell Publishing) Good
WALT DISNEY'S COMICS AND STORIES (1940) (#1-263) (Dell Publishing) #137 (Dell Publishing) Good
WALT DISNEY'S COMICS AND STORIES (1940) (#1-263) (Dell Publishing) #138 (Dell Publishing) Very Good
WALT DISNEY'S COMICS AND STORIES (1940) (#1-263) (Dell Publishing) #139 (Dell Publishing) Good
WALT DISNEY'S COMICS AND STORIES (1940) (#1-263) (Dell Publishing) #140 (Dell Publishing) Very Good
WALT DISNEY'S COMICS AND STORIES (1940) (#1-263) (Dell Publishing) #141 (Dell Publishing) Good
WALT DISNEY'S COMICS AND STORIES (1940) (#1-263) (Dell Publishing) #144 (Dell Publishing) Very Good
WALT DISNEY'S COMICS AND STORIES (1940) (#1-263) (Dell Publishing) #145 (Dell Publishing) Good
WALT DISNEY'S COMICS AND STORIES (1940) (#1-263) (Dell Publishing) #146 (Dell Publishing) Good
WALT DISNEY'S COMICS AND STORIES (1940) (#1-263) (Dell Publishing) #146 (Dell Publishing) Very Good
WALT DISNEY'S COMICS AND STORIES (1940) (#1-263) (Dell Publishing) #147 (Dell Publishing) Good
WALT DISNEY'S COMICS AND STORIES (1940) (#1-263) (Dell Publishing) #148 (Dell Publishing) Good
WALT DISNEY'S COMICS AND STORIES (1940) (#1-263) (Dell Publishing) #149 (Dell Publishing) Good
WALT DISNEY'S COMICS AND STORIES (1940) (#1-263) (Dell Publishing) #150 (Dell Publishing) Good
WALT DISNEY'S COMICS AND STORIES (1940) (#1-263) (Dell Publishing) #151 (Dell Publishing) Good
WALT DISNEY'S COMICS AND STORIES (1940) (#1-263) (Dell Publishing) #152 (Dell Publishing) Good


WALT DISNEY'S COMICS AND STORIES (1940) (#1-263) (Dell Publishing) #153

WALT DISNEY'S COMICS AND STORIES (1940) (#1-263) (Dell Publishing) #153 (Dell Publishing) Good
WALT DISNEY'S COMICS AND STORIES (1940) (#1-263) (Dell Publishing) #154 (Dell Publishing) Good
WALT DISNEY'S COMICS AND STORIES (1940) (#1-263) (Dell Publishing) #155 (Dell Publishing) Good
WALT DISNEY'S COMICS AND STORIES (1940) (#1-263) (Dell Publishing) #155 (Dell Publishing) Fair
WALT DISNEY'S COMICS AND STORIES (1940) (#1-263) (Dell Publishing) #156 (Dell Publishing) Good
WALT DISNEY'S COMICS AND STORIES (1940) (#1-263) (Dell Publishing) #157 (Dell Publishing) Good
WALT DISNEY'S COMICS AND STORIES (1940) (#1-263) (Dell Publishing) #157 (Dell Publishing) Very Good
WALT DISNEY'S COMICS AND STORIES (1940) (#1-263) (Dell Publishing) #158 (Dell Publishing) Good
WALT DISNEY'S COMICS AND STORIES (1940) (#1-263) (Dell Publishing) #159 (Dell Publishing) Good
WALT DISNEY'S COMICS AND STORIES (1940) (#1-263) (Dell Publishing) #161 (Dell Publishing) Good
WALT DISNEY'S COMICS AND STORIES (1940) (#1-263) (Dell Publishing) #162 (Dell Publishing) Good
WALT DISNEY'S COMICS AND STORIES (1940) (#1-263) (Dell Publishing) #163 (Dell Publishing) Good
WALT DISNEY'S COMICS AND STORIES (1940) (#1-263) (Dell Publishing) #164 (Dell Publishing) Good
WALT DISNEY'S COMICS AND STORIES (1940) (#1-263) (Dell Publishing) #165 (Dell Publishing) Good
WALT DISNEY'S COMICS AND STORIES (1940) (#1-263) (Dell Publishing) #166 (Dell Publishing) Very Good
WALT DISNEY'S COMICS AND STORIES (1940) (#1-263) (Dell Publishing) #167 (Dell Publishing) Fine
WALT DISNEY'S COMICS AND STORIES (1940) (#1-263) (Dell Publishing) #168 (Dell Publishing) Good
WALT DISNEY'S COMICS AND STORIES (1940) (#1-263) (Dell Publishing) #168 (Dell Publishing) Fair
WALT DISNEY'S COMICS AND STORIES (1940) (#1-263) (Dell Publishing) #168 (Dell Publishing) Very Good
WALT DISNEY'S COMICS AND STORIES (1940) (#1-263) (Dell Publishing) #169 (Dell Publishing) Good
WALT DISNEY'S COMICS AND STORIES (1940) (#1-263) (Dell Publishing) #170 (Dell Publishing) Good
WALT DISNEY'S COMICS AND STORIES (1940) (#1-263) (Dell Publishing) #171 (Dell Publishing) Very Good
WALT DISNEY'S COMICS AND STORIES (1940) (#1-263) (Dell Publishing) #173 (Dell Publishing) Very Good
WALT DISNEY'S COMICS AND STORIES (1940) (#1-263) (Dell Publishing) #175 (Dell Publishing) Very Good
WALT DISNEY'S COMICS AND STORIES (1940) (#1-263) (Dell Publishing) #176 (Dell Publishing) Very Good
WALT DISNEY'S COMICS AND STORIES (1940) (#1-263) (Dell Publishing) #177 (Dell Publishing) Good
WALT DISNEY'S COMICS AND STORIES (1940) (#1-263) (Dell Publishing) #179 (Dell Publishing) Good
WALT DISNEY'S COMICS AND STORIES (1940) (#1-263) (Dell Publishing) #180 (Dell Publishing) Good
WALT DISNEY'S COMICS AND STORIES (1940) (#1-263) (Dell Publishing) #181 (Dell Publishing) Good
WALT DISNEY'S COMICS AND STORIES (1940) (#1-263) (Dell Publishing) #187 (Dell Publishing) Good
WALT DISNEY'S COMICS AND STORIES (1940) (#1-263) (Dell Publishing) #188 (Dell Publishing) Good
WALT DISNEY'S COMICS AND STORIES (1940) (#1-263) (Dell Publishing) #189 (Dell Publishing) Fair
WALT DISNEY'S COMICS AND STORIES (1940) (#1-263) (Dell Publishing) #190 (Dell Publishing) Good
WALT DISNEY'S COMICS AND STORIES (1940) (#1-263) (Dell Publishing) #191 (Dell Publishing) Good


WALT DISNEY'S COMICS AND STORIES (1940) (#1-263) (Dell Publishing) #193

WALT DISNEY'S COMICS AND STORIES (1940) (#1-263) (Dell Publishing) #193 (Dell Publishing) Good
WALT DISNEY'S COMICS AND STORIES (1940) (#1-263) (Dell Publishing) #195 (Dell Publishing) Very Good
WALT DISNEY'S COMICS AND STORIES (1940) (#1-263) (Dell Publishing) #196 (Dell Publishing) Good
WALT DISNEY'S COMICS AND STORIES (1940) (#1-263) (Dell Publishing) #196 (Dell Publishing) Very Good
WALT DISNEY'S COMICS AND STORIES (1940) (#1-263) (Dell Publishing) #197 (Dell Publishing) Good
WALT DISNEY'S COMICS AND STORIES (1940) (#1-263) (Dell Publishing) #198 (Dell Publishing) Fair
WALT DISNEY'S COMICS AND STORIES (1940) (#1-263) (Dell Publishing) #198 (Dell Publishing) Good
WALT DISNEY'S COMICS AND STORIES (1940) (#1-263) (Dell Publishing) #199 (Dell Publishing) Good
WALT DISNEY'S COMICS AND STORIES (1940) (#1-263) (Dell Publishing) #200 (Dell Publishing) Good
WALT DISNEY'S COMICS AND STORIES (1940) (#1-263) (Dell Publishing) #201 (Dell Publishing) Good
WALT DISNEY'S COMICS AND STORIES (1940) (#1-263) (Dell Publishing) #202 (Dell Publishing) Good
WALT DISNEY'S COMICS AND STORIES (1940) (#1-263) (Dell Publishing) #203 (Dell Publishing) Good
WALT DISNEY'S COMICS AND STORIES (1940) (#1-263) (Dell Publishing) #204 (Dell Publishing) Good
WALT DISNEY'S COMICS AND STORIES (1940) (#1-263) (Dell Publishing) #204 (Dell Publishing) Very Good
WALT DISNEY'S COMICS AND STORIES (1940) (#1-263) (Dell Publishing) #205 (Dell Publishing) Good
WALT DISNEY'S COMICS AND STORIES (1940) (#1-263) (Dell Publishing) #206 (Dell Publishing) Good
WALT DISNEY'S COMICS AND STORIES (1940) (#1-263) (Dell Publishing) #207 (Dell Publishing) Good
WALT DISNEY'S COMICS AND STORIES (1940) (#1-263) (Dell Publishing) #208 (Dell Publishing) Fair
WALT DISNEY'S COMICS AND STORIES (1940) (#1-263) (Dell Publishing) #209 (Dell Publishing) Good
WALT DISNEY'S COMICS AND STORIES (1940) (#1-263) (Dell Publishing) #210 (Dell Publishing) Good
WALT DISNEY'S COMICS AND STORIES (1940) (#1-263) (Dell Publishing) #211 (Dell Publishing) Good
WALT DISNEY'S COMICS AND STORIES (1940) (#1-263) (Dell Publishing) #212 (Dell Publishing) Good
WALT DISNEY'S COMICS AND STORIES (1940) (#1-263) (Dell Publishing) #212 (Dell Publishing) Fair
WALT DISNEY'S COMICS AND STORIES (1940) (#1-263) (Dell Publishing) #213 (Dell Publishing) Good
WALT DISNEY'S COMICS AND STORIES (1940) (#1-263) (Dell Publishing) #214 15 CENT CV (Dell Publishing) Good
WALT DISNEY'S COMICS AND STORIES (1940) (#1-263) (Dell Publishing) #215 (Dell Publishing) Fair
WALT DISNEY'S COMICS AND STORIES (1940) (#1-263) (Dell Publishing) #216 (Dell Publishing) Fair
WALT DISNEY'S COMICS AND STORIES (1940) (#1-263) (Dell Publishing) #216 (Dell Publishing) Good
WALT DISNEY'S COMICS AND STORIES (1940) (#1-263) (Dell Publishing) #217 (Dell Publishing) Good
WALT DISNEY'S COMICS AND STORIES (1940) (#1-263) (Dell Publishing) #218 (Dell Publishing) Good
WALT DISNEY'S COMICS AND STORIES (1940) (#1-263) (Dell Publishing) #219 (Dell Publishing) Good
WALT DISNEY'S COMICS AND STORIES (1940) (#1-263) (Dell Publishing) #220 (Dell Publishing) Good
WALT DISNEY'S COMICS AND STORIES (1940) (#1-263) (Dell Publishing) #221 (Dell Publishing) Good
WALT DISNEY'S COMICS AND STORIES (1940) (#1-263) (Dell Publishing) #223 (Dell Publishing) Fair
WALT DISNEY'S COMICS AND STORIES (1940) (#1-263) (Dell Publishing) #223 (Dell Publishing) Good


WALT DISNEY'S COMICS AND STORIES (1940) (#1-263) (Dell Publishing) #225

WALT DISNEY'S COMICS AND STORIES (1940) (#1-263) (Dell Publishing) #225 (Dell Publishing) Good
WALT DISNEY'S COMICS AND STORIES (1940) (#1-263) (Dell Publishing) #226 (Dell Publishing) Good
WALT DISNEY'S COMICS AND STORIES (1940) (#1-263) (Dell Publishing) #227 (Dell Publishing) Good
WALT DISNEY'S COMICS AND STORIES (1940) (#1-263) (Dell Publishing) #229 (Dell Publishing) Fair
WALT DISNEY'S COMICS AND STORIES (1940) (#1-263) (Dell Publishing) #229 (Dell Publishing) Good
WALT DISNEY'S COMICS AND STORIES (1940) (#1-263) (Dell Publishing) #230 (Dell Publishing) Good
WALT DISNEY'S COMICS AND STORIES (1940) (#1-263) (Dell Publishing) #230 (Dell Publishing) Very Good
WALT DISNEY'S COMICS AND STORIES (1940) (#1-263) (Dell Publishing) #231 (Dell Publishing) Good
WALT DISNEY'S COMICS AND STORIES (1940) (#1-263) (Dell Publishing) #233 (Dell Publishing) Fair
WALT DISNEY'S COMICS AND STORIES (1940) (#1-263) (Dell Publishing) #234 (Dell Publishing) Fair
WALT DISNEY'S COMICS AND STORIES (1940) (#1-263) (Dell Publishing) #234 (Dell Publishing) Very Good
WALT DISNEY'S COMICS AND STORIES (1940) (#1-263) (Dell Publishing) #235 (Dell Publishing) Fair
WALT DISNEY'S COMICS AND STORIES (1940) (#1-263) (Dell Publishing) #237 (Dell Publishing) Good
WALT DISNEY'S COMICS AND STORIES (1940) (#1-263) (Dell Publishing) #238 (Dell Publishing) Good
WALT DISNEY'S COMICS AND STORIES (1940) (#1-263) (Dell Publishing) #239 (Dell Publishing) Good
WALT DISNEY'S COMICS AND STORIES (1940) (#1-263) (Dell Publishing) #240 (Dell Publishing) Good
WALT DISNEY'S COMICS AND STORIES (1940) (#1-263) (Dell Publishing) #241 (Dell Publishing) Good
WALT DISNEY'S COMICS AND STORIES (1940) (#1-263) (Dell Publishing) #242 (Dell Publishing) Fair
WALT DISNEY'S COMICS AND STORIES (1940) (#1-263) (Dell Publishing) #243 (Dell Publishing) Good
WALT DISNEY'S COMICS AND STORIES (1940) (#1-263) (Dell Publishing) #244 (Dell Publishing) Good
WALT DISNEY'S COMICS AND STORIES (1940) (#1-263) (Dell Publishing) #244 (Dell Publishing) Very Good
WALT DISNEY'S COMICS AND STORIES (1940) (#1-263) (Dell Publishing) #245 (Dell Publishing) Good
WALT DISNEY'S COMICS AND STORIES (1940) (#1-263) (Dell Publishing) #246 (Dell Publishing) Good
WALT DISNEY'S COMICS AND STORIES (1940) (#1-263) (Dell Publishing) #247 (Dell Publishing) Good
WALT DISNEY'S COMICS AND STORIES (1940) (#1-263) (Dell Publishing) #248 (Dell Publishing) Good
WALT DISNEY'S COMICS AND STORIES (1940) (#1-263) (Dell Publishing) #249 (Dell Publishing) Good
WALT DISNEY'S COMICS AND STORIES (1940) (#1-263) (Dell Publishing) #250 (Dell Publishing) Fair
WALT DISNEY'S COMICS AND STORIES (1940) (#1-263) (Dell Publishing) #251 (Dell Publishing) Very Good
WALT DISNEY'S COMICS AND STORIES (1940) (#1-263) (Dell Publishing) #252 (Dell Publishing) Good
WALT DISNEY'S COMICS AND STORIES (1940) (#1-263) (Dell Publishing) #254 (Dell Publishing) Good
WALT DISNEY'S COMICS AND STORIES (1940) (#1-263) (Dell Publishing) #257 (Dell Publishing) Good
WALT DISNEY'S COMICS AND STORIES (1940) (#1-263) (Dell Publishing) #258 (Dell Publishing) Very Good
WALT DISNEY'S COMICS AND STORIES (1940) (#1-263) (Dell Publishing) #259 (Dell Publishing) Good
WALT DISNEY'S COMICS AND STORIES (1940) (#1-263) (Dell Publishing) #260 (Dell Publishing) Good

WALT DISNEY'S COMICS AND STORIES (1962) (#264-473) (Gold Key) #264 (Gold Key) Good
WALT DISNEY'S COMICS AND STORIES (1962) (#264-473) (Gold Key) #272 (Gold Key) Good


WALT DISNEY'S COMICS AND STORIES (1962) (#264-473) (Gold Key) #285

WALT DISNEY'S COMICS AND STORIES (1962) (#264-473) (Gold Key) #285 (Gold Key) Good
WALT DISNEY'S COMICS AND STORIES (1962) (#264-473) (Gold Key) #292 (Gold Key) Fair
WALT DISNEY'S COMICS AND STORIES (1962) (#264-473) (Gold Key) #298 (Gold Key) Good

X-O MANOWAR (1996) (#1-21) (ACCLAIM/VALIANT) #20 (Acclaim/Valiant) Very Fine
X-O MANOWAR (1996) (#1-21) (ACCLAIM/VALIANT) #21 (Acclaim/Valiant) Near Mint/Mint

X-O MANOWAR (2012) (#0-50) (VALIANT) #1 NORD (Valiant Comics) Near Mint/Mint
X-O MANOWAR (2012) (#0-50) (VALIANT) #2 (Valiant Comics) Near Mint/Mint

ZORRO (1966) (#1-9) (GOLD KEY) #9 (Gold Key) Fair