30% Off Codeword Sale Ending
Howdy!
The 30% off NANETTE3 codeword sale that I put into effect for you on Wednesday accomplished exactly what I was hoping. That additional 30% discount off of our already drastically lowered back issue comics prices has prompted an unprecedented surge in orders over the past 36 hours. I would like to personally thank everyone who has placed an order with us during this NANETTE3 sale, as you have done much to ease the mind of my wife, Nanette, about our company finances while she is in the hospital. With her hip-replacement surgery now only four days away, anything that makes her feel more at ease is very much appreciated.
If you have not yet taken advantage of the NANETTE3 codeword, you have only a limited time left in which to do so. Because demand has been so strong, I will need to be ending this special 30% off sale on Wednesday, at noon. Simply put, our shipping capacity is already committed through next Thursday. That means that orders received today will ship at the end of next week at the earliest, and orders received over the weekend will begin shipping during the week following. Please be accepting of this delayed shipping if you place an order with us this weekend. While no one likes shipping delays, I would think that receiving an extra 30% off would be excellent compensation for waiting a bit longer for your order to arrive.
In other news, we just received Mike Deodato's awesome cover to our exclusive Mile High Comics variant edition of STAR WARS (2015) #26. If you do not already have a subscription set up to our STAR WARS variants, I urge you to do so right away. Contact Mario in our new comics subscription department via nice@milehighcomics.com for more details.

STAR WARS #26 Mile High Exclusive cover

So you know, we only print 3,000 copies of each of our STAR WARS variants, and they tend to melt away quickly. That is why we never wholesale our variants to anyone, and limit our clients to only three copies per issue. Advance ordering on our variants only costs you $19.95 each, which is not bad at all when you consider that they are among the scarcest STAR WARS comics ever released. We have quietly been publishing a Mile High Comics variant edition to every single STAR WARS (2015) #1-#25, which is the first time in history that this has ever been done by any third party with an ongoing Marvel Comics series. FYI, our next five covers (#26-30) will all be Yoda & A Jedi Knight cover by Mike Deodato...
My final item for today is a plug for my good friend, Jim Shooter's, first new story in several years. After a decade spent as Editor-In-Chief at Marvel Comics (1978-1987), Jim founded Valiant, Defiant, and Broadway comics, and wrote stories for every publisher in the comics world. Jim has since been living a quiet life in upstate New York, but the siren call of his many friends in the comics world has finally coaxed him back into writing new comics stories. BEDTIME STORIES FOR IMPRESSIONABLE CHILDREN #1 is in the current DIAMOND PREVIEWS (December) magazine, and can be ordered through Mario in our subscription department, or via your local retail comics shop. It will ship on February 22nd. Here is a synopsis of Jim Shooter's first issue:
Former Marvel Editor-in-Chief Jim Shooter at American Mythology? You bet! The legendary comics writer behind Secret Wars and Unity and fellow DEFIANT alum (and acclaimed storyboard and development artist) Joe James (Dark Dominion, Knights on Broadway) join creator-writer J.C. Vaughn(Zombie-Proof, Vampire, PA), newcomer writer-artist James Nelms, and cover artist Mark Wheatley (Breathtaker, Frankenstein Mobster) for a new take on the classic horror anthology, Bedtime Stories For Impressionable Children. American Mythology's Year of Horror begins right here!

BEDTIME STORIES FOR IMPRESSIONABLE CHILDREN #1 Cover A


BEDTIME STORIES FOR IMPRESSIONABLE CHILDREN #1 Cover B


BEDTIME STORIES FOR IMPRESSIONABLE CHILDREN #1 Blank Cover

Happy collecting!
Chuck Rozanski,
President - Mile High Comics, Inc.
December 1, 2016

P.S. We are now about halfway to our goal of being able to purchase 1,000 pairs of socks for homeless teens and disabled elderly people forced to live on Denver's streets. If you would like to contribute to this goal, order a $25 gift certificate from us. We can either send you the certificate (free of shipping charges) or simply e-mail you a registration number. You can then use 100% of that credit on your next order. In the meantime, I will contribute your entire $25 towards the socks fund. You will also be entered one time into a drawing for a $1,000 gift certificate for each $25 certificate that you purchase. I will give out that $1,000 at the end of December.
Below is a photo of me helping Jim Scharper's "Feeding Denver's Hungry" organization distribute $2,500 in donated gift cards yesterday to the homeless in downtown Denver. We also gave out 175 pairs of brand new gloves, which I purchased from gift certificate money that came in after our $4,320.00 Snow Ball donation check had already been written. Nighttime temperatures are supposed to drop into single digits by Tuesday, so warm socks and gloves are a critical need for those sleeping outside. My sincere thanks go out to those of you who have already helped.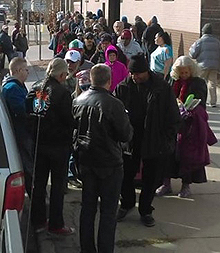 Passing out gift cards to a huge crowd!