Black Friday Giveaways End Wednesday
Howdy!
I spent a goodly portion of this past weekend sorting books and comics from my recent acquisitions in our Jason St. Mega-Store. The longer that I worked, the more that I was amazed at just how much great material that I was able to pick up over the past six months. No matter where I turned, I just kept finding even more excellent books and comics. Our challenge at this point is to sort my acquisitions, and to make those items available to you as quickly as possible. Will, Pam, and Josh are all very focused on this goal, so you can fully expect that our New-In-stock and Premium New-In-Stock links are going to be loaded with great items for you all week.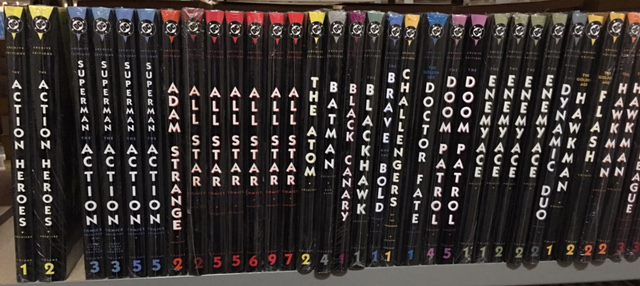 A few of the Hardcovers found this weekend.

On a closely related topic, have you taken a look at our overall website listings lately? I ask you this question because the website statistics that I review each Monday are telling me that we have added a minimum of 65,000 additional options for you into our comics and books listings just since May 1st. These new listings run the gamut from lower grade comics priced at only fifty cents each, up to Very Fine and Near Mint Silver Age comics priced in the hundreds of dollars. Whatever it is that you collect, the odds are quite good that we have located some of the very issues that you have been seeking.

A few more of the Hardcovers found this weekend.

In addition to adding tens of thousands of comics, books, and magazines, we have also lowered almost all of our prices. Many of our prices on modern issues are now so low in fact, that they are below original cover price. As regards our Silver Age and Bronze Age titles, I find it somewhat shocking that prices on many of the issues that we currently are offering on our website are actually lower than what we were asking for those same issues 20 years ago. The reason for those abnormally low prices is that many Baby Boomer collectors are liquidating right now as they either retire, or downsize their homes. With so many collections of 1950's-1980's comics entering the market at the same time, prices have stabilized at a very attractive level. That having been said, I strongly encourage you to pick up as many of these older comics as you can afford right now, as I do not see these bargain prices continuing indefinitely.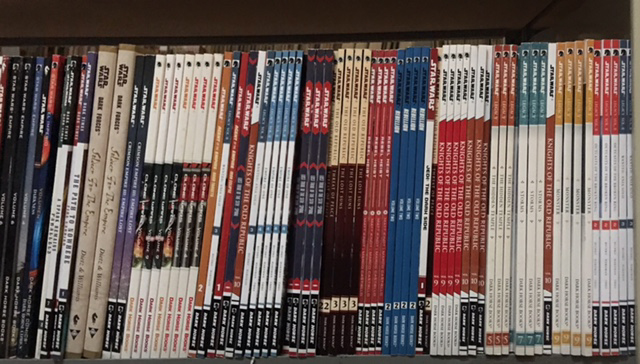 Even more of the Trade Paperbacks & Hardcovers found this weekend.

I will close by mentioning that our shipping of orders is almost completely current right now. In the past, we found ourselves running significantly behind after holidays, but we managed to avoid that difficulty this year. We do have a few extra orders to ship today because we were closed last Thursday for the Thanksgiving holiday, but even that minor backlog should be completely mitigated by the end of the week. With luck, we will be able to provide you with same-day shipping throughout this upcoming holiday season.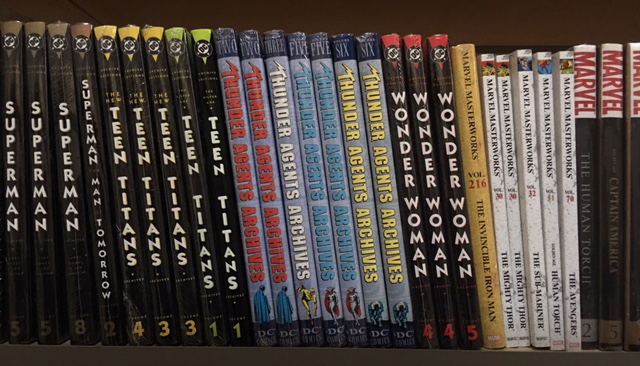 And still more of the Trade Paperbacks & Hardcovers found this weekend.

Happy collecting!
Chuck Rozanski,
President - Mile High Comics, Inc.
November 28, 2016

P.S. Below are all of the free books and comics that we offered as special bonus items for Black Friday. You can still request one of the items from the list below for each $50 in orders you place with us, but please note that this year's Black Friday promotion ends this upcoming Wednesday, at noon. Tell us in the "notes" as to which free items that you would like included with your order.

AMAZING SPIDER-MAN (1999) #1 in Near Mint
Only $9.95


AVENGERS ANNUAL (1967) #4 in Fine
Only $9.95


BATMAN (1940) #610 in Near Mint
Only $9.95


CAPTAIN AMERICA (1968) #132 in Fine
Only $9.95


GI JOE #27 2nd Print in Near Mint
Only $9.95


STAR WARS (1977) #10 in Very Fine
Only $9.95


STAR WARS (2015) #1 MCLEOD cover in Near Mint
Only $9.95


STRANGE TALES (1951) #155 in Very Good
Only $9.95


UNCANNY X-MEN (2013) #1 DEADPOOL Cover in Near Mint
Only $9.95


WALKING DEAD (2003) #75 SDCC 2010 Cover in Near Mint
Only $9.95


WALKING DEAD (2003) #115 NYCC Cover in Near Mint
Only $9.95


X-MEN ANNUAL (1970) #6 Newsstand in Near Mint
Only $9.95

Free Trade Paperbacks for every $50 you spent (Just make to put in the "notes" section of your order)

ARANA VOL. 1: HEART OF THE SPIDER DIGEST TPB (MARVEL) (2005) #1
Only $9.95

BLACK PANTHER: CIVIL WAR TPB (2007) #1
Only $9.95

BUGS BUNNY & FRIENDS: A COMIC CELEBRATION TPB (1998) #1
Only $9.95

DARK REIGN: ELEKTRA TPB (2009) #1
Only $9.95

DARKNESS VOL. 5: DEMON INSIDE TPB (2006) #1
Only $9.95

ESSENTIAL SAVAGE SHE-HULK TPB (2006) #1
Only $9.95

FATHOM TPB (2002) #1
Only $9.95

HEROES REBORN: THE RETURN TPB (2009) #1
Only $9.95

MIGHTY AVENGERS: SECRET INVASION BOOK II TPB (VOL. 4) (2009) #1
Only $9.95

NAM TRADE PAPERBACK (1987) #3
Only $9.95

PUNISHER WAR JOURNAL: GOIN OUT WEST (VOL.2) TPB (2008) #1
Only $9.95

SPIDER-MAN: FAMILY TIES TPB (2009) #1
Only $9.95

THOR VS. HERCULES TPB (2010) #1
Only $9.95

ULTIMATUM: MARCH ON ULTIMATUM TPB (2009) #1
Only $9.95

WOLVERINE: FIRST CLASS - ROOKIE TPB (2008) #1
Only $9.95

X-MEN: DIVIDED WE STAND TPB (2008) #1
Only $9.95