Black Friday Comics Book Sale - $1,000 Shopping Spree Winner
Howdy!
I am truly beat today, as I loaded and unloaded 5,000 lbs of comics (120 long boxes...) in Dallas yesterday. What I purchased there was an incredible private collection that was offered to me only after the seller had already received the insanely low offer of $20/box from a major local retailer. After I heard the story of that ridiculous offer, I agreed to fly down to Texas on very short notice, and was able to pay this dedicated fan considerably more than $20/box for his lifetime of accumulation.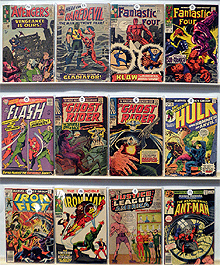 A few of the comics picked up from Texas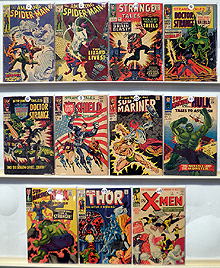 A few more of the comics picked up from Texas

While my trip to Texas was an amazing success, it does mean that I am going to postpone my buying trip to the East Coast by five weeks. I was originally going to leave for New York on Friday evening, but we now have 120 more long boxes of comics to sort, which will keep us busy all through December. Simply put, there's no point in my buying comics that we cannot sort any time soon. That being the case, I am now shooting for the first week of January for my next East Coast buying trip. Also, on a side note, my beloved wife, Nanette, is having hip replacement surgery on December 6th. As much as I love going out and buying comics, I think it best that I spend some time helping her to prepare for this major medical procedure. I apologize to those of you who are awaiting my arrival on the East Coast, but this short delay is important.
In other comics news, our Black Friday sale on Trade Paperbacks and Hardbacks begins today, with all of our Trade Paperbacks on our website discounted by 40% off, and all of our Hardback comics collections discounted by 30% off. There are no additional discounts on our back issue comics and/or magazines, as I already lowered all of our comics prices for you by 50%-70% off four weeks ago. We do, however, have a selection of exceptionally nice free items that you can receive as a reward for placing a minimum $50 order with us that we have listed for you at the end of this newsletter. Just mention in the "notes" as to which free items you would like. Please have a wonderful holiday, and try to find some time to enjoy your comics.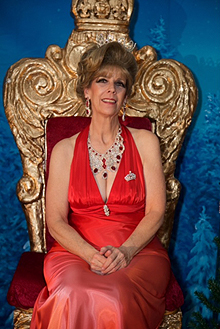 Norrie Reynolds, Empress 43 of the Imperial Court of the Rocky Mountain Empire

Moving on, I want to sincerely thank everyone who purchased a gift certificate from us over the past three weeks. Thanks to your kindness, our effort to help Imperial Court of the Rocky Mountain Empire Empress 43 Norrie Reynold's Snow Ball charities (Rainbow Alley and Urban Peak) was a remarkable success. Through your contributions we were able to purchase over $2,000 in brand new hoodies, scarves, gloves, underwear, and socks to give out to homeless teens. We also sponsored 50 young people into the ball from local colleges who could otherwise have not been able to afford to attend, and still had enough left over to present our Empress with a cash donation check for $4,320.00. This donation will help considerably as Rainbow Alley and Urban Peak prepare to help kids on the street get through the bitter winter. Thank you to everyone who contributed!
In case you are wondering, our winner of the $1,000.00 Mile High Comics shopping spree that I personally donated was Douglas of Carmel, California. Congratulations, Douglas! If you purchased a gift certificate and did not win, do not despair. I am starting another $1,000.00 gift certificate contest today. This next drawing will include an entry for any $25 gift certificates purchased between now and December 31st. Funds from this next series of $25 gift certificates will go to help the elderly and disabled who are helped by Jim Scharper's "Feeding Denver's Hungry" organization. I have a source of inexpensive gloves, so that will be our main contribution this winter.
So you know, I already have 600 more pairs of gloves on order, in addition to the 300 pairs currently sitting in the back seat of my van. We will be distributing free meals (and gloves) to the homeless tomorrow on the streets of lower downtown. If you live near Denver and would like to help us, we will start packing meals at 9 AM at Li'l Devils Bar, just off the corner of Broadway and Alameda. We should start passing out meals around 11AM, and be done by noon. Helping to feed those who have nothing is an awesome way to give back on Thanksgiving...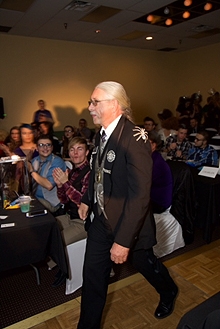 Chuck being honored at Snow Ball

Happy collecting!
Chuck Rozanski,
President - Mile High Comics, Inc.
November 23, 2016

Here are the free Bonus Book items we have for you as Black Friday specials. You can choose one item free for every $50 of your order, or purchase them for only $9.95 each. Enjoy!

AMAZING SPIDER-MAN (1999) #1 in Near Mint
Only $9.95


AVENGERS ANNUAL (1967) #4 in Fine
Only $9.95


BATMAN (1940) #610 in Near Mint
Only $9.95


CAPTAIN AMERICA (1968) #132 in Fine
Only $9.95


GI JOE #27 2nd Print in Near Mint
Only $9.95


STAR WARS (1977) #10 in Very Fine
Only $9.95


STAR WARS (2015) #1 MCLEOD cover in Near Mint
Only $9.95


STRANGE TALES (1951) #155 in Very Good
Only $9.95


UNCANNY X-MEN (2013) #1 DEADPOOL Cover in Near Mint
Only $9.95


WALKING DEAD (2003) #75 SDCC 2010 Cover in Near Mint
Only $9.95


WALKING DEAD (2003) #115 NYCC Cover in Near Mint
Only $9.95


X-MEN ANNUAL (1970) #6 Newsstand in Near Mint
Only $9.95

Free Trade Paperbacks for every $50 you spent (Just make to put in the "notes" section of your order)

ARANA VOL. 1: HEART OF THE SPIDER DIGEST TPB (MARVEL) (2005) #1
Only $9.95

BLACK PANTHER: CIVIL WAR TPB (2007) #1
Only $9.95

BUGS BUNNY & FRIENDS: A COMIC CELEBRATION TPB (1998) #1
Only $9.95

DARK REIGN: ELEKTRA TPB (2009) #1
Only $9.95

DARKNESS VOL. 5: DEMON INSIDE TPB (2006) #1
Only $9.95

ESSENTIAL SAVAGE SHE-HULK TPB (2006) #1
Only $9.95

FATHOM TPB (2002) #1
Only $9.95

HEROES REBORN: THE RETURN TPB (2009) #1
Only $9.95

MIGHTY AVENGERS: SECRET INVASION BOOK II TPB (VOL. 4) (2009) #1
Only $9.95

NAM TRADE PAPERBACK (1987) #3
Only $9.95

PUNISHER WAR JOURNAL: GOIN OUT WEST (VOL.2) TPB (2008) #1
Only $9.95

SPIDER-MAN: FAMILY TIES TPB (2009) #1
Only $9.95

THOR VS. HERCULES TPB (2010) #1
Only $9.95

ULTIMATUM: MARCH ON ULTIMATUM TPB (2009) #1
Only $9.95

WOLVERINE: FIRST CLASS - ROOKIE TPB (2008) #1
Only $9.95

X-MEN: DIVIDED WE STAND TPB (2008) #1
Only $9.95