Last Day For Free HALLOWEEN COMICFEST Variants
Howdy!
Ever since we dropped all of our list prices for older comics and magazines on our website by 50% - 70% off, we have been receiving a steady stream of orders from both entirely new clients, and from clients who ordered from us in the past, but have not utilize our services in quite some time. What this is telling me is that my recent decision to forego codeword promotions in favor of simply listing our low prices on the website was a good one. Our sales volume has certainly reflected that fact, as we are exceptionally busy right now, during a period of the year that is typically not robust in the comics world.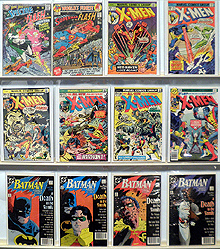 A few of the comics entered in the last couple weeks.

If you have not yet perused our new website prices, I urge you to do so as soon as you can. With the price inflation spurred by codewords now completely removed from our website, many of our online pricing levels are remarkably attractive. Especially in light of the fact that we continue to also offer free shipping on comics orders over $50 heading to addresses in the USA, and on require a $125 minimum for free shipping to International destinations. Books and oversize items do still incur per item fees because of their extra weight, but our baseline free shipping offer is still the very best in the entire comics world.

ARCHIE'S MADHOUSE HALLOWEEN COMICFEST MINI COMIC (2016)

We also continue to offer free Bonus Book items to our online patrons. Today is the last day, however, that you can request free copies of this year's 32 different 2016 HALLOWEEN COMICFEST specials. As of 10 AM tomorrow, we will be giving away any uncommitted copies of these fun holiday variants to fans visiting our three retail stores. If our response from Free Comic Book Day is any indication, we'll completely run out of half of these HALLOWEEN COMICFEST comics by tomorrow afternoon. If you hurry, however, you can still request an entire set of all 32 be included in your package for free if you place a $150 order, or you can request single issues for every $10 increment of a smaller order. Just let us know in the "Notes" as to which issues that you would like to receive. Cutoff on these requests is noon, on Saturday.

SCOOBY APOCALYPSE & HANNA-BARBERA HALLOWEEN COMICFEST (2016)

In other news, I slept quite fitfully last night, as I spent most of yesterday working with the awesome volunteers at "Feeding Denver's Hungry." Stuffing 800 bags with snacks and creating 200 sandwiches was fun, but when we hit the streets to actually pass out the bags, it was an emotionally wrenching experience. I grew up relatively poor, so I know what it means to do without some comforts, but seeing how absolutely desperate many of these older and disabled people are today is the stuff of nightmares. I could not stop imagining how horrible it would be to find yourself at age 80 sleeping on a sidewalk, and having to hobble between soup kitchens and homeless shelters seeking food.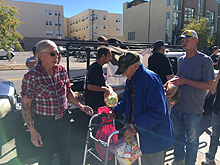 Chuck helping a man with a walker

In addition to older and disabled folks, there are now well over 1,000 teens also forced to live on the streets of Denver. There are also a dismaying number of entire families who have lost their only shelter to Denver's rapidly rising rents. Our economy here in Denver is booming, and for those who have found ways to benefit, life is actually getting quite a bit better. But for those who have missed out on this new economic bonanza, the realities of day-to-day living can sometimes be unbelievably harsh. It is those people that I am personally seeking to help, both through my involvement with "Feeding Denver's Hungry," and also in my role as Prince Royale 42 of the Imperial Court of the Rocky Mountain Empire.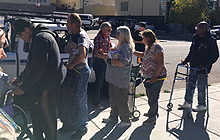 More disabled homeless people seeking food.

In any event, I did want to mention that my latest fundraising effort for Denver's homeless has already spurred 30 readers of this newsletter to order $25 gift certificates. The sum of their actions will already allow $750 be donated to ICRME Empress 43 Norrie Reynolds' two Snow Ball charities of Urban Peak and Rainbow Alley. Urban Peak specifically helps all homeless teens in Denver, while Rainbow Alley works with Urban Peak to fulfill the more specialized needs of the hundreds of LGBTQ youth who find themselves homeless. My sincere personal thanks go out to everyone who has already purchased a gift certificate.
If you would like to help me with this effort, it is quite simple. Just order a $25 gift certificates from us, and we will then either mail you a certificate, or (if you prefer) simply e-mail you a registration number that you can use on your next order. Your cost is then effectively nothing, as you get back $25 in merchandise for your $25 donation. In addition, you will then also be automatically registered into a drawing for a $1,000 Mile High Comics shopping spree. We had only 151 people register last time, so your odds of winning this awesome shopping spree are actually rather good. Our Empress's annual Snow Ball will be held on November 19th, so that will be the final cutoff for entering this drawing.
In closing, I want to thank everyone who has supported us in any way lately. This includes everyone who has shopped in our stores, ordered through eBay, been a member of our new comics subscription service, or shopped via our website. I am acutely aware that we are only able to offer $1,000 shopping sprees as incentives for helping the poor because of your kindness and continuing support of our efforts. May all the blessings of Providence be upon you...
Happy Collecting!
Chuck Rozanski,
President - Mile High Comics, Inc.
October 28, 2016

P.S. if you live anywhere near Denver, we will be hosting a huge Texas Hold'em Poker Tournament on November 12th, starting at 11 AM. We just raised money through our last tournament to expand to seven regulation tables, and purchased new clay chips for up 100 players! The entry fee is $25, but if you register in advance at any of our stores, you get your money back immediately in the form of $25 gift certificates. All proceeds will then be donated to the ICRME and Snow Ball charities. Our poker tournaments are incredibly fun, as we raise the blinds every 15 minutes. As a result, most games last only about 3 hours.
The photo below is of me handing an ICRME check to Jim Scharper, the founder of "Feeding Denver's Hungry," for $3,975.00. We are joined by ICRME Emperor 43 Manny Sexton and ICRME Empress 43 Norrie Reyonlds. This check is the net of what we raised at our last Mile High Comics poker tournament, and our last Jason St. no-minimum-bid auction. Leveraged through the discounted prices offered to non-profits by The Food Bank Of The Rockies, our donations should help Jim to purchase over $50,000 in food for the poor. That should help us to provide meals until at least Christmas.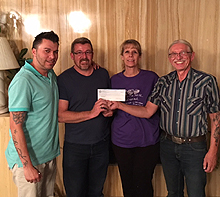 Emperor 43 Manny Sexton, Empress 43 Norrie Reyonlds, and Prince Royale 42 Chuck Rozanski handing over the $3.975 check to Jim Sharper

With the bitter cold of winter just weeks away, and many of our newly homeless never before having lived outdoors in the cold, frostbite is now our biggest concern. That is why I am heading to the army surplus store immediately after finishing this newsletter to buy 300 pairs of steeply discounted pairs of gloves. We will give them all away to the poor next week, just as the weather is projected to begin turning. Any help you can provide us in this effort would be most appreciated,