Win a $1,000 Mile High Comics Shopping Spree
Howdy!
I stopped by the side of the Boulder Turnpike this morning and gave two elderly ladies bags of food. As their signs indicate, Gail and Dolly are not out there scamming anyone, or trying to get money for some illicit purpose. They are just two elderly ladies in very poor health who have found themselves in the unbelievable situation of being totally homeless in one of the richest cities in America. If they do not plead by the side of the road for assistance, they will have no place to sleep tonight.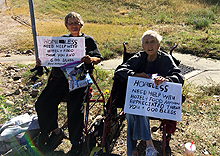 Gail and Dolly on the side of the Boulder Turnpike

If you think these ladies are alone in their plight, think again. I have been using my iPhone camera to document many of the women I have seen of late that are finding themselves in such dire straits that they are being forced to live on the streets. Simply put, Denver rents have been escalating at an unbelievable pace over the past three years, to over double what they were in 2014. As a result, the efficiency apartments and SRO's (single room occupancy) hotels that used to be the line of last resort for the urban poor have become unaffordable to those on a fixed income. Some are able to move in with relatives, or live in cars, but the poorest are living day-to-day, with very limited options but to sleep on the streets. With bitter cold weather coming within the next few weeks, I truly despair for these women.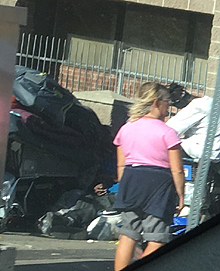 Another homeless woman in Downtown Denver

All of the above having been said, I am immediately beginning a new program by which you can make a donation to help the poor. This particular program is for Empress 43 Norrie Reynolds' Snow Ball charities, which are Urban Peak and Rainbow Alley. Both of these groups help homeless teens with food and shelter. Purchase a $25 gift certificate from us between now and November 19th, and we will enter you into a drawing for a $1,000 Mile High Comics shopping spree once for each $25 gift certificate that you purchase. Meanwhile, the $25 cost of your certificate will be donated to help the poor. Our last drawing had only 151 participants, so your odds of winning the $1,000 shopping spree are quite good.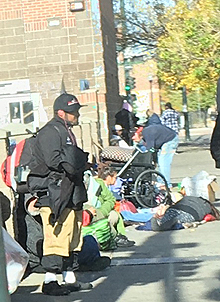 A row of homless people in Downtown Denver

On a related note, I wanted to let you know that tomorrow (Thursday) is one of the two days each month that we make sandwiches and fill food bags at "Feeding Denver's Hungry." The combined revenues of our poker tournament last month, our last auction, and our online Gift Certificate drive resulted in approximately $7,100! being donated to "Feeding Denver's Hungry." I am heading over to the Denver Food Bank this afternoon with "Feeding Denver's Hungry" founder, Jim Scharper, to spend a little bit of that money, and will make certain that Gail and Dolly get a meal delivered to them tomorrow. If you purchased a gift certificate during our last fundraiser, these two nice ladies said to be sure and send their thanks and gratitude to you.
Moving on to news from Mile High Comics, our steep reduction in back issue prices on our website has resulted in an overnight doubling of our back issue sales. We are especially selling quite a few back issues under $2. Quite a few people are also taking advantage of our free HALLOWEEN COMICFEST variants offer. As a result, we are running low on copies of a few of these fun seasonal variants. We do still have enough in stock to make complete sets of all 32 editions, if you can meet the $150 minimum order requirement for a free set. Individual issues can be yours for free at a rate of one per every $10 increment of your order. Just let us know in the "notes" as to which free HALLOWEEN COMICFEST issues that you are seeking.

NIGHTMARE BEFORE CHRISTMAS HALLOWEEN COMICFEST MINI (2016)


HAUNTED MANSION HALLOWEEN COMICFEST (2016)

Please bear in mind that we are not allowed to ship out orders containing any of these limited edition comics until next Monday October 31st.
Happy Collecting!
Chuck Rozanski,
President - Mile High Comics, Inc.
October 26, 2016