Local News - Huge Shipment of $1 Comics Arrives + Poker Tournament Saturday
Howdy!
A very brief newsletter today, as I am focused on sorting through boxes that contain over 100,000 back issue comics. I just picked up these 100,000 recent back issues in Las Vegas, paying hardly anything at all for them because they were included in a deal I made for 10,000+ Silver Age and Bronze Age comics. As a result I have no qualms about putting most of them on sale in Jason St. for only $1 each. The trick is that there are just a few issues (about 4%) that we do need for our online business, so I do have to first go through each box before I can put them on sale. If you can visit Jason St. tomorrow, I am hoping to have at least 5,000 more comics on sale for you at $1 each...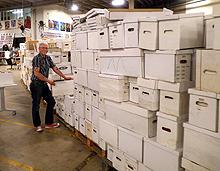 Chuck going through the 100,000 comics

In other news, our incredibly fun benefit Texas Hold'em poker tournament will begin at 11:00 AM tomorrow (Saturday), also at Jason St. The buy-in is only $25, with the proceeds being dedicated to helping us pay for two more tables and additional poker chips. Please join us, if you can! Our larger bi-monthly tournaments have grown to over 50 players, so we definitely need to add to our capacity before next month's benefit for the homeless teens helped by Urban Peak. Tomorrow's game is limited to only 32 players (we only have four dealers...), but we do still have about a dozen empty seats available as of right now (Friday afternoon). Top prize for tomorrow's tournament is a $500 Mile High Comics shopping spree!
My only other news for today is a quick reminder that our next huge no-minimum-bid comics and collectibles auction will be held on next Saturday morning, October 29th, at 11:30 AM. This auction will be a 50-50, with half of the items being from the store, and the other half being donated items that we will be auctioning for Rainbow Alley, a local shelter for LGBTQ kids. If you have any unwanted collectibles at home that you would like to donate for us to auction next Saturday for the kids, please drop them off at any of our Mile High Comics retail stores. We accept any kinds of comics, toys and/or collectibles.
Happy collecting!,
Chuck Rozanski,
President - Mile High Comics, Inc.
October 21, 2016

Mile High Comics - Jason Street Mega-Store


Mile High Comics Retail Store Locations