60% Off on All Comics NANETTE2 Codeword Ends Saturday
Howdy!
I cannot begin to express to you just how happy I am today to be back at the Mile High Comics Jason St. Mega-Store. After four months of being almost constantly on the road, I am finally taking a brief respite from traveling. Before I could bring my latest series of comics-buying adventures to a temporary halt, however, I first had to return to the San Jose and Las Vegas areas in order to pack up and ship my last two major comics purchases.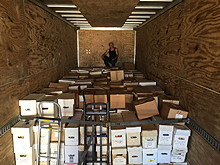 Chuck after loading 400 boxes in Santa Clara, CA

In order to get that task accomplished, I cleared 400 long boxes from a storage in Santa Clara, CA on Tuesday, and then hopped a late night plane to Las Vegas. Our trucker drove all night, and met me in Las Vegas in the morning. To my surprise, the unit in Las Vegas actually contained more comics than the one in Santa Clara. In total, I believe picked up about 40,000 lbs! of comics and books on this trip.
Because I had only the truck driver and the seller to help me, I had to pack all of the boxes into the front of the truck by myself, after my helpers first loaded them for me on to the tailgate. At age 61, moving all that weight proved to be quite a challenge. Suffice it to say, however, I got the job done. That having been said, I am leaving today's unpacking of my huge truck to the stalwart young men who work for me here in Denver. After moving those 40,000 lbs of boxes into the truck and then stacking them all neatly, I am definitely feeling it today...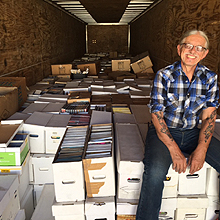 Chuck after filling his rented 53' semi-trailer in Las Vegas

In other news, life has been very good here at Mile High Comics while I was away. Will, Pam, and Josh are continuing to add thousands of great comics for you each day into our New-In-Stock and Premium New-In-Stock. As a direct result, the number of different titles, issue numbers, and grades available to you on our website today is over 1,000 items greater than it was just on Monday, and about 55,000 items more than what we had available for you on April 1st.
So you know, keeping this phenomenal growth in the number of available items on our website continuing unchecked for you is precisely why I continue to avidly seek out even more great comics collections. our website already contains the largest and most comprehensive selection of American comics available anywhere in the world, but we are seeking to expand upon that preeminence daily through constant additions to our daily New-In-Stock and Premium New-In-Stock . I sincerely thank you for supporting us during this period of intense growth and expansion, as it has helped us enormously.
As regards our current discount promotion, I want to let you know that the 60% off NANETTE2 codeword sale will be ending sometime midday on Saturday. It is time for our annual HALLOWEEN sale, and we are just now formulating our final plans for exactly how that very dynamic promotion will be implemented. One plan (which we are all leaning toward trying...) is to ditch our codeword program entirely after Saturday, and instead focus on straight pricing. I'll have more details for you about this new program in Saturday's newsletter.

Mile High Comics variant edition of STAR WARS (2015) #24

My final item for today is a quick mention that our exclusive Mile High Comics variant edition of STAR WARS (2015) #24 will be releasing next Wednesday. Place an order with us today, and you can still receive this scarce STAR WARS issue at only $19.95 per copy. Once it releases on Wednesday, the price rises automatically to $24.95. Limit three copies per client, please.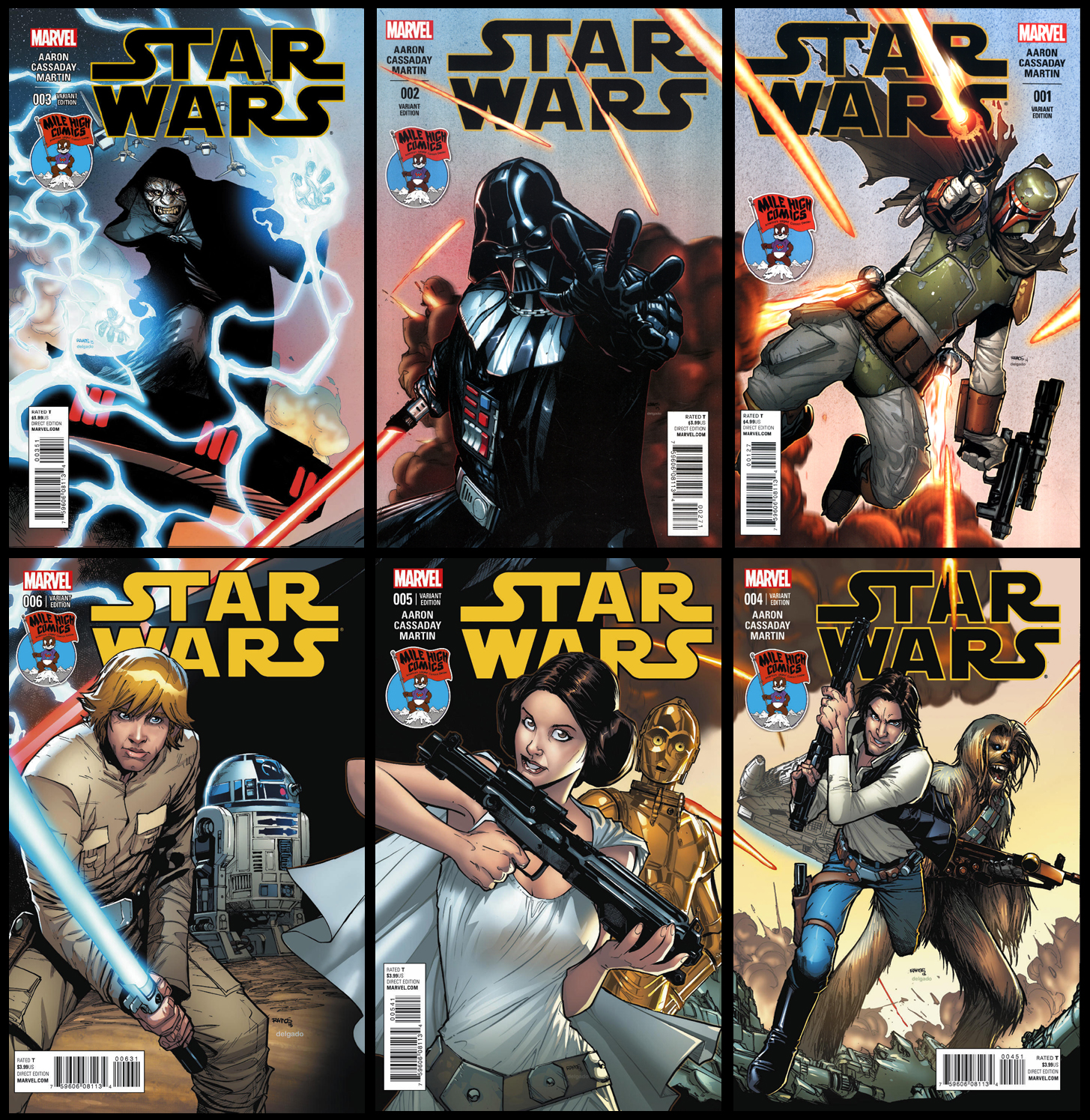 Mile High Comics variant edition of STAR WARS (2015) #1-6

FYI, #24 issue is actually the 33rd exclusive STAR WARS variant that we have released with the Mile High Comics logo on the cover (STAR WARS (2015) #1-#24, PRINCESS LEIA #1-#5, VADER DOWN #1, DARTH VADER #13-#15), all of which have had tiny print runs. Picking up some of our rare variants today, before the next STAR WARS film releases in December, might be a good idea. Most of our issues had print runs of only 3,000 copies, making them among the rarest STAR WARS comics ever released.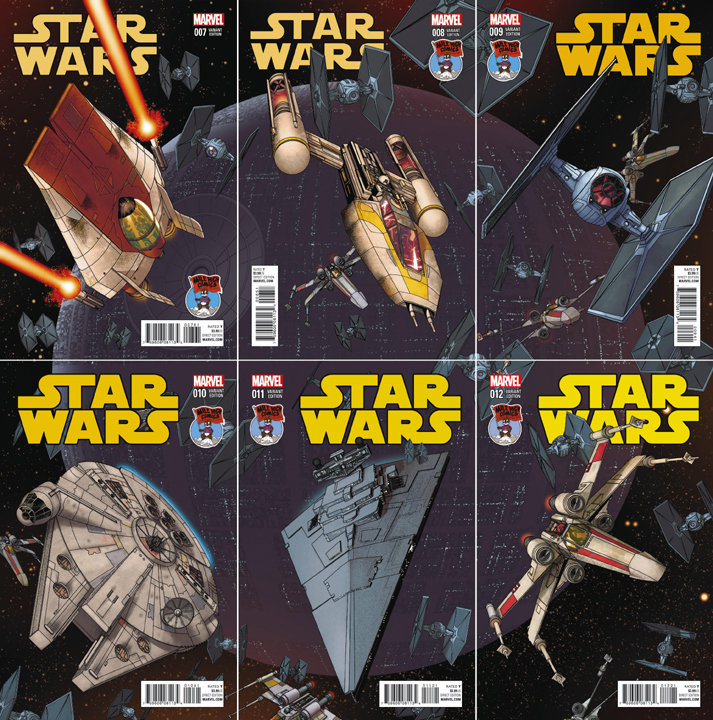 Mile High Comics variant edition of STAR WARS (2015) #7-12

Happy Collecting!
Chuck Rozanski,
President - Mile High Comics, Inc.
October 20, 2016

P.S. Below are a few of some Lithographs and Prints we received from the Prescott, AZ deal (one copy of each):

EDGAR ALLAN POE PORTFOLIO BY BERNI WRIGHTSON PORTFOLIO (1976)
Signed & Numbered #1822/2000
Only $399.95


ALADDIN EXCLUSIVE COMMEMORATIVE LITHOGRAPH (DISNEY) (1993)
Only $25.00


ALADDIN EXCLUSIVE COMMEMORATIVE LITHOGRAPH (DISNEY) (1993) (damaged)
Only $15.00


CINDERELLA EXCLUSIVE COMMEMORATIVE LITHOGRAPH (DISNEY) (1995)
Only $30.00


FOX & THE HOUND EXCLUSIVE COMMEMORATIVE LITHOGRAPH (1994)
Only $30.00


POCAHONTAS EXCLUSIVE COMMEMORATIVE LITOGRAPH (DISNEY) (1995)
Only $25.00


SNOW WHITE & THE SEVEN DWARFS EXCLUSIVE DELUXE VIDEO ED (1994)
Only $74.95


SNOW WHITE & THE SEVEN DWARFS EXCLUSIVE LITHOGRAPH (1994)
Only $30.00


TARZAN LITHOGRAPH (DISNEY) (2000)
Only $25.00

And below are just a few of the great comics that Will, Pam, and Josh have added for you this week:
MARVEL
ALL-NEW ALL-DIFFERENT AVENGERS (2015) #9 ROSS Near Mint/Mint

ALL-NEW INHUMANS (2015) #5 HIP HOP Near Mint/Mint

AMAZING SPIDER-MAN (1999) (#1-700.5) (MARVEL) #34 NEWSSTAND Very Fine
AMAZING SPIDER-MAN (1999) (#1-700.5) (MARVEL) #666 TRADESMART Very Fine


AMAZING SPIDER-MAN (1999) (#1-700.5) (MARVEL) #699

AMAZING SPIDER-MAN (1999) (#1-700.5) (MARVEL) #699 Fine

AMAZING SPIDER-MAN (2014) (#1-20.1) (MARVEL) #1 MILE HIGH Near Mint/Mint
AMAZING SPIDER-MAN (2014) (#1-20.1) (MARVEL) #1 CAMPBELL Near Mint/Mint
AMAZING SPIDER-MAN (2014) (#1-20.1) (MARVEL) #4 Near Mint/Mint

AVENGERS (1963) (#1-402) (MARVEL) #191 NEWSSTAND Very Fine
AVENGERS (1963) (#1-402) (MARVEL) #192 NEWSSTAND Very Fine
AVENGERS (1963) (#1-402) (MARVEL) #193 NEWSSTAND Fine
AVENGERS (1963) (#1-402) (MARVEL) #194 NEWSSTAND Near Mint/Mint
AVENGERS (1963) (#1-402) (MARVEL) #195 Fine
AVENGERS (1963) (#1-402) (MARVEL) #196 NEWSSTAND Fine
AVENGERS (1963) (#1-402) (MARVEL) #197 NEWSSTAND Fine
AVENGERS (1963) (#1-402) (MARVEL) #199 Fine
AVENGERS (1963) (#1-402) (MARVEL) #200 Fine
AVENGERS (1963) (#1-402) (MARVEL) #201 Fine
AVENGERS (1963) (#1-402) (MARVEL) #202 Very Fine
AVENGERS (1963) (#1-402) (MARVEL) #204 Fine
AVENGERS (1963) (#1-402) (MARVEL) #205 Fine
AVENGERS (1963) (#1-402) (MARVEL) #206 Near Mint/Mint
AVENGERS (1963) (#1-402) (MARVEL) #208 Near Mint/Mint
AVENGERS (1963) (#1-402) (MARVEL) #209 Near Mint/Mint
AVENGERS (1963) (#1-402) (MARVEL) #210 Near Mint/Mint
AVENGERS (1963) (#1-402) (MARVEL) #211 Very Fine
AVENGERS (1963) (#1-402) (MARVEL) #212 Near Mint/Mint
AVENGERS (1963) (#1-402) (MARVEL) #213 Fine
AVENGERS (1963) (#1-402) (MARVEL) #214 Very Fine
AVENGERS (1963) (#1-402) (MARVEL) #215 Near Mint/Mint
AVENGERS (1963) (#1-402) (MARVEL) #216 Near Mint/Mint
AVENGERS (1963) (#1-402) (MARVEL) #217 Fine
AVENGERS (1963) (#1-402) (MARVEL) #219 Fine
AVENGERS (1963) (#1-402) (MARVEL) #220 Fine
AVENGERS (1963) (#1-402) (MARVEL) #221 Near Mint/Mint
AVENGERS (1963) (#1-402) (MARVEL) #222 Fine
AVENGERS (1963) (#1-402) (MARVEL) #223 Very Fine
AVENGERS (1963) (#1-402) (MARVEL) #225 Near Mint/Mint
AVENGERS (1963) (#1-402) (MARVEL) #227 Near Mint/Mint
AVENGERS (1963) (#1-402) (MARVEL) #228 Near Mint/Mint
AVENGERS (1963) (#1-402) (MARVEL) #229 Near Mint/Mint
AVENGERS (1963) (#1-402) (MARVEL) #233 Near Mint/Mint
AVENGERS (1963) (#1-402) (MARVEL) #234 Near Mint/Mint
AVENGERS (1963) (#1-402) (MARVEL) #236 Fine

AVENGERS (2013) (#1-44) (MARVEL) #24 HASTINGS Near Mint/Mint

AVENGERS ANNUAL (1967) #1 Very Good
AVENGERS ANNUAL (1967) #2 Very Good
AVENGERS ANNUAL (1967) #3 Very Good
AVENGERS ANNUAL (1967) #4 Very Good
AVENGERS ANNUAL (1967) #5 Fine
AVENGERS ANNUAL (1967) #6 Fine
AVENGERS ANNUAL (1967) #7 Fine
AVENGERS ANNUAL (1967) #8 Fine
AVENGERS ANNUAL (1967) #9 Very Fine
AVENGERS ANNUAL (1967) #10 Fine
AVENGERS ANNUAL (1967) #11 Fine

BISHOP: THE LAST X-MAN (1999) #15 Near Mint/Mint
BISHOP: THE LAST X-MAN (1999) #16 Fine

CABLE (1993) #3 Very Good

CABLE AND DEADPOOL (2003) #46 ZOMBIE Near Mint/Mint

CAPTAIN AMERICA & .. (#620-UP) (2011) #635 Near Mint/Mint

CAPTAIN AMERICA (2004) #34 Fine
CAPTAIN AMERICA (2004) #613 Near Mint/Mint
CAPTAIN AMERICA (2004) #616 Near Mint/Mint

CAPTAIN AMERICA (2011) #1 MOVIE CVR Near Mint/Mint

CAPTAIN AMERICA ANNUAL (1971) #9 NEWSSTAND Near Mint/Mint

CAPTAIN AMERICA: REBORN (2009) #6 CASSADAY Near Mint/Mint

CAPTAIN MARVEL (1968) (#1-62) (MARVEL) #13 Fine

CIVIL WAR II (2016) #1 HASTINGS Near Mint/Mint

CIVIL WAR: HOUSE OF M (2008) #1 Fine
CIVIL WAR: HOUSE OF M (2008) #2 Fine
CIVIL WAR: HOUSE OF M (2008) #3 Very Good
CIVIL WAR: HOUSE OF M (2008) #4 Fine

DAREDEVIL (1964) (#1-380) (MAN WITHOUT FEAR) (MARVEL) #26 Good
DAREDEVIL (1964) (#1-380) (MAN WITHOUT FEAR) (MARVEL) #27 Very Good
DAREDEVIL (1964) (#1-380) (MAN WITHOUT FEAR) (MARVEL) #28 Very Good
DAREDEVIL (1964) (#1-380) (MAN WITHOUT FEAR) (MARVEL) #30 Good
DAREDEVIL (1964) (#1-380) (MAN WITHOUT FEAR) (MARVEL) #34 Very Good

DAREDEVIL (1998) (#1-119, 500-512) (MARVEL) #111 VARIANT Very Fine
DAREDEVIL (1998) (#1-119, 500-512) (MARVEL) #506 IRON MAN Fine

DAREDEVIL ANNUAL (1967) #1 Very Good

DEADPOOL (2012) (#1-45, 250) (MARVEL) #29 HASTINGS Very Fine

DEADPOOL'S SECRET SECRET WARS (2015) #2 GWEN Near Mint/Mint
DEADPOOL'S SECRET SECRET WARS (2015) #3 Near Mint/Mint

DEATH OF WOLVERINE (2014) #1 Near Mint/Mint
DEATH OF WOLVERINE (2014) #1 CANADA VAR Near Mint/Mint
DEATH OF WOLVERINE (2014) #1 DEADPOOL Near Mint/Mint
DEATH OF WOLVERINE (2014) #1 DFE ALT CV Near Mint/Mint
DEATH OF WOLVERINE (2014) #1 MILE HIGH Near Mint/Mint
DEATH OF WOLVERINE (2014) #2 Near Mint/Mint
DEATH OF WOLVERINE (2014) #2 CANADA VAR Near Mint/Mint
DEATH OF WOLVERINE (2014) #3 Near Mint/Mint
DEATH OF WOLVERINE (2014) #4 Near Mint/Mint
DEATH OF WOLVERINE (2014) #4 LAND Near Mint/Mint

DOCTOR STRANGE (1974) (#1-81) (MARVEL) #70 NEWSSTAND Fine
DOCTOR STRANGE (1974) (#1-81) (MARVEL) #78 NEWSSTAND Very Fine

EMPIRE OF THE DEAD: ACT ONE (GEORGE A. ROMERO) (2013) #1 Near Mint/Mint

FANTASTIC FOUR (1961) (#1-416) (MARVEL) #58 Good

FANTASTIC FOUR (1997) (#1-79, 509-611) (MARVEL) #1 1/2 Near Mint/Mint
FANTASTIC FOUR (1997) (#1-79, 509-611) (MARVEL) #67 Near Mint/Mint

FANTASTIC FOUR (2014) (#1-14, #642-645) (MARVEL) #1 HASTINGS Near Mint/Mint

FIGMENT (2014) #1 Near Mint/Mint
FIGMENT (2014) #2 Near Mint/Mint
FIGMENT (2014) #3 Near Mint/Mint
FIGMENT (2014) #4 Near Mint/Mint
FIGMENT (2014) #5 Near Mint/Mint

INFINITY (2013) #1 PARTY B&W Near Mint/Mint

INFINITY GAUNTLET (1991) #3 Very Fine
INFINITY GAUNTLET (1991) #5 Near Mint/Mint

INVINCIBLE IRON MAN (2008) #10 SECRET VAR Very Fine
INVINCIBLE IRON MAN (2008) #14 VARIANT Near Mint/Mint
INVINCIBLE IRON MAN (2008) #22 Near Mint/Mint
INVINCIBLE IRON MAN (2008) #513 Near Mint/Mint
INVINCIBLE IRON MAN (2008) #517 Near Mint/Mint

MARVEL SUPER SPECIAL (1977) #2 Near Mint/Mint

NIGHT OF THE LIVING DEADPOOL (2014) #1 Near Mint/Mint
NIGHT OF THE LIVING DEADPOOL (2014) #2 Near Mint/Mint


NIGHT OF THE LIVING DEADPOOL (2014) #3

NIGHT OF THE LIVING DEADPOOL (2014) #3 Near Mint/Mint
NIGHT OF THE LIVING DEADPOOL (2014) #4 Near Mint/Mint

ORIGIN 2 (WOLVERINE) (2013) #1 HASTINGS Near Mint/Mint

ORIGINAL SIN (2014) #1 HASTINGS Near Mint/Mint

PRINCESS LEIA (STAR WARS) (2015) #1 MILE HIGH Near Mint/Mint
PRINCESS LEIA (STAR WARS) (2015) #1 YOUNG BABY Near Mint/Mint
PRINCESS LEIA (STAR WARS) (2015) #2 MILE HIGH Near Mint/Mint
PRINCESS LEIA (STAR WARS) (2015) #3 MILE HIGH Near Mint/Mint
PRINCESS LEIA (STAR WARS) (2015) #4 MILE HIGH Near Mint/Mint

ROCKET RACCOON (1985) #1 Very Fine
ROCKET RACCOON (1985) #2 Fine

ROCKET RACCOON (2014) #1 Near Mint/Mint
ROCKET RACCOON (2014) #1 LOOTCRATE Near Mint/Mint
ROCKET RACCOON (2014) #1 YOUNG BABY Near Mint/Mint
ROCKET RACCOON (2014) #2 Near Mint/Mint

SAVAGE SWORD OF CONAN (MAGAZINE) (1974) #17 Very Good
SAVAGE SWORD OF CONAN (MAGAZINE) (1974) #18 Very Fine
SAVAGE SWORD OF CONAN (MAGAZINE) (1974) #19 Very Fine
SAVAGE SWORD OF CONAN (MAGAZINE) (1974) #20 Fine
SAVAGE SWORD OF CONAN (MAGAZINE) (1974) #21 Very Fine
SAVAGE SWORD OF CONAN (MAGAZINE) (1974) #22 Very Fine
SAVAGE SWORD OF CONAN (MAGAZINE) (1974) #23 Very Fine
SAVAGE SWORD OF CONAN (MAGAZINE) (1974) #24 Very Fine
SAVAGE SWORD OF CONAN (MAGAZINE) (1974) #25 Very Fine
SAVAGE SWORD OF CONAN (MAGAZINE) (1974) #26 Very Fine
SAVAGE SWORD OF CONAN (MAGAZINE) (1974) #27 Near Mint/Mint
SAVAGE SWORD OF CONAN (MAGAZINE) (1974) #28 Very Fine
SAVAGE SWORD OF CONAN (MAGAZINE) (1974) #29 Very Fine
SAVAGE SWORD OF CONAN (MAGAZINE) (1974) #30 Very Fine
SAVAGE SWORD OF CONAN (MAGAZINE) (1974) #32 Very Fine
SAVAGE SWORD OF CONAN (MAGAZINE) (1974) #33 Fine
SAVAGE SWORD OF CONAN (MAGAZINE) (1974) #34 Very Fine
SAVAGE SWORD OF CONAN (MAGAZINE) (1974) #35 Very Fine
SAVAGE SWORD OF CONAN (MAGAZINE) (1974) #36 Fine
SAVAGE SWORD OF CONAN (MAGAZINE) (1974) #37 Very Fine
SAVAGE SWORD OF CONAN (MAGAZINE) (1974) #38 Very Fine
SAVAGE SWORD OF CONAN (MAGAZINE) (1974) #39 Very Fine
SAVAGE SWORD OF CONAN (MAGAZINE) (1974) #40 Very Fine
SAVAGE SWORD OF CONAN (MAGAZINE) (1974) #41 Near Mint/Mint
SAVAGE SWORD OF CONAN (MAGAZINE) (1974) #42 Very Fine
SAVAGE SWORD OF CONAN (MAGAZINE) (1974) #43 Fine
SAVAGE SWORD OF CONAN (MAGAZINE) (1974) #44 Very Fine
SAVAGE SWORD OF CONAN (MAGAZINE) (1974) #45 Very Fine
SAVAGE SWORD OF CONAN (MAGAZINE) (1974) #46 Fine
SAVAGE SWORD OF CONAN (MAGAZINE) (1974) #47 Very Fine
SAVAGE SWORD OF CONAN (MAGAZINE) (1974) #48 Very Fine
SAVAGE SWORD OF CONAN (MAGAZINE) (1974) #49 Near Mint/Mint
SAVAGE SWORD OF CONAN (MAGAZINE) (1974) #50 NEWSSTAND Very Fine


SAVAGE SWORD OF CONAN (MAGAZINE) (1974) #50

SAVAGE SWORD OF CONAN (MAGAZINE) (1974) #50 Very Fine
SAVAGE SWORD OF CONAN (MAGAZINE) (1974) #51 NEWSSTAND Very Fine
SAVAGE SWORD OF CONAN (MAGAZINE) (1974) #52 NEWSSTAND Near Mint/Mint
SAVAGE SWORD OF CONAN (MAGAZINE) (1974) #53 NEWSSTAND Very Fine
SAVAGE SWORD OF CONAN (MAGAZINE) (1974) #54 NEWSSTAND Very Fine
SAVAGE SWORD OF CONAN (MAGAZINE) (1974) #55 NEWSSTAND Fine
SAVAGE SWORD OF CONAN (MAGAZINE) (1974) #56 NEWSSTAND Very Fine
SAVAGE SWORD OF CONAN (MAGAZINE) (1974) #58 NEWSSTAND Very Fine
SAVAGE SWORD OF CONAN (MAGAZINE) (1974) #59 NEWSSTAND Very Fine
SAVAGE SWORD OF CONAN (MAGAZINE) (1974) #60 NEWSSTAND Very Good
SAVAGE SWORD OF CONAN (MAGAZINE) (1974) #61 NEWSSTAND Very Good
SAVAGE SWORD OF CONAN (MAGAZINE) (1974) #62 NEWSSTAND Fine
SAVAGE SWORD OF CONAN (MAGAZINE) (1974) #64 NEWSSTAND Very Fine
SAVAGE SWORD OF CONAN (MAGAZINE) (1974) #65 NEWSSTAND Fine
SAVAGE SWORD OF CONAN (MAGAZINE) (1974) #68 NEWSSTAND Very Fine
SAVAGE SWORD OF CONAN (MAGAZINE) (1974) #69 Very Fine
SAVAGE SWORD OF CONAN (MAGAZINE) (1974) #73 Very Fine
SAVAGE SWORD OF CONAN (MAGAZINE) (1974) #76 Very Fine
SAVAGE SWORD OF CONAN (MAGAZINE) (1974) #77 NEWSSTAND Very Good
SAVAGE SWORD OF CONAN (MAGAZINE) (1974) #79 NEWSSTAND Fine

SCARLET (2010) #1 Near Mint/Mint

SCOOBY-DOO #1 Very Fine

SECRET WAR (2004) #2 Very Fine

SPIDER-MAN (1963) (AMAZING SPIDER-MAN) (#1-441) #361 Near Mint/Mint
SPIDER-MAN (1963) (AMAZING SPIDER-MAN) (#1-441) #410 NEWSSTAND Very Good
SPIDER-MAN (1963) (AMAZING SPIDER-MAN) (#1-441) #423 NEWSSTAND Very Good

SPIDER-MAN 2099 (2014) #1 MIDTOWN ED Good

SPIDER-MAN, FIRE-STAR, AND ICEMAN (1983) #1 DENVER Fine

STAR BRAND (1986) #1 NEWSSTAND Very Fine

STAR WARS (1977) #1 WHITMAN Good
STAR WARS (1977) #2 WHITMAN Good
STAR WARS (1977) #3 WHITMAN Good

STAR WARS (2015) #1 COMICX Near Mint/Mint

SUPERIOR SPIDER-MAN (2013) #30 Near Mint/Mint
SUPERIOR SPIDER-MAN (2013) #32 YOUNG BABY Near Mint/Mint

THOR (2007) #609 IRON MAN Near Mint/Mint

WINTER SOLDIER (2012) #2 Near Mint/Mint
WINTER SOLDIER (2012) #3 Near Mint/Mint
WINTER SOLDIER (2012) #5 Near Mint/Mint
WINTER SOLDIER (2012) #10 Near Mint/Mint

X-BABIES (2009) #1 Very Fine
X-BABIES (2009) #2 Near Mint/Mint

X-BABIES (2009) #3 Near Mint/Mint
X-BABIES (2009) #4 Very Fine

X-FACTOR (1986) #5 NEWSSTAND Very Fine
X-FACTOR (1986) #5 Very Fine
X-FACTOR (1986) #6 Very Fine

X-FORCE (1991) #2 Very Fine
X-FORCE (1991) #11 Fine

X-MEN (1963) (#1-113, UNCANNY X-MEN #114-544) (MARVEL) #219 Near Mint/Mint
X-MEN (1963) (#1-113, UNCANNY X-MEN #114-544) (MARVEL) #220 Near Mint/Mint
X-MEN (1963) (#1-113, UNCANNY X-MEN #114-544) (MARVEL) #223 Near Mint/Mint
X-MEN (1963) (#1-113, UNCANNY X-MEN #114-544) (MARVEL) #225 Near Mint/Mint
X-MEN (1963) (#1-113, UNCANNY X-MEN #114-544) (MARVEL) #226 Near Mint/Mint
X-MEN (1963) (#1-113, UNCANNY X-MEN #114-544) (MARVEL) #227 Near Mint/Mint
X-MEN (1963) (#1-113, UNCANNY X-MEN #114-544) (MARVEL) #231 Near Mint/Mint
X-MEN (1963) (#1-113, UNCANNY X-MEN #114-544) (MARVEL) #232 Near Mint/Mint
X-MEN (1963) (#1-113, UNCANNY X-MEN #114-544) (MARVEL) #236 Near Mint/Mint

X-MEN AND THE TEEN TITANS (1982) #1 Near Mint/Mint

X-MEN ANNUAL (1970) #10 Fine
X-MEN ANNUAL (1970) #14 Fine

DC
AQUAMAN (1994) (#0-75) (DC) #2 NEWSSTAND Very Good

AQUAMAN (2011) (#0-52) (DC NEW52) #0 Fine

BATGIRL (2011) (#0-52) (DC NEW52) #0 Near Mint/Mint
BATGIRL (2011) (#0-52) (DC NEW52) #13 Near Mint/Mint
BATGIRL (2011) (#0-52) (DC NEW52) #13 2ND PRINT Very Fine

BATMAN (1940) (#0-713) (DC) #213 Good
BATMAN (1940) (#0-713) (DC) #404 Near Mint/Mint
BATMAN (1940) (#0-713) (DC) #405 Near Mint/Mint
BATMAN (1940) (#0-713) (DC) #406 Very Fine
BATMAN (1940) (#0-713) (DC) #407 Fine

BATMAN (2011) (#0-52) (DC NEW52) #0 Fine
BATMAN (2011) (#0-52) (DC NEW52) #13 Near Mint/Mint
BATMAN (2011) (#0-52) (DC NEW52) #13 2ND PRINT Fine
BATMAN (2011) (#0-52) (DC NEW52) #23 .1 Near Mint/Mint
BATMAN (2011) (#0-52) (DC NEW52) #40 Near Mint/Mint
BATMAN (2011) (#0-52) (DC NEW52) #40 MOVIESTYLE Near Mint/Mint
BATMAN (2011) (#0-52) (DC NEW52) #41 JOKER Near Mint/Mint

BATMAN & ROBIN (2011) #0 Very Fine

BATMAN AND THE OUTSIDERS (1983) #5 Near Mint/Mint

BATMAN ANNUAL (1961) #25 2ND PRINT Very Fine

BATMAN INCORPORATED (2010) #8 Very Fine

BATMAN INCORPORATED (2012) #8 2ND PRINT Near Mint/Mint
BATMAN INCORPORATED (2012) #10 Near Mint/Mint
BATMAN INCORPORATED (2012) #11 Very Fine

BATMAN: JOKER'S DAUGHTER (2014) #1 Very Fine

BATMAN: THE CULT (JIM STARLIN) (BERNI WRIGHTSON) (1988) #1 Fine
BATMAN: THE CULT (JIM STARLIN) (BERNI WRIGHTSON) (1988) #2 Fine

BATMAN: THE DARK KNIGHT (2011) #13 Very Fine


BATMAN: THE DARK KNIGHT (2011) #14

BATMAN: THE DARK KNIGHT (2011) #14 Fine

BATMAN: THE KILLING JOKE (ALAN MOORE) (1988) #1 Near Mint/Mint

BLACKEST NIGHT (2009) #1 Near Mint/Mint

BRAVE AND THE BOLD (2006) #7 Near Mint/Mint
BRAVE AND THE BOLD (2006) #16 Near Mint/Mint
BRAVE AND THE BOLD (2006) #31 Near Mint/Mint
BRAVE AND THE BOLD (2006) #33 Very Fine

CATWOMAN (2011) #13 Near Mint/Mint

CATWOMAN ANNUAL #3 Near Mint/Mint

CATWOMAN/VAMPIRELLA: FURIES (1997) #1 Near Mint/Mint

DARK KNIGHT (1986) #1 1ST PRT Fine
DARK KNIGHT (1986) #2 1ST PRT Very Fine
DARK KNIGHT (1986) #3 1ST PRT Very Fine
DARK KNIGHT (1986) #4 1ST PRT Near Mint/Mint

DC COMICS PRESENTS (1978) #27 NEWSSTAND Good
DC COMICS PRESENTS (1978) #39 Near Mint/Mint
DC COMICS PRESENTS (1978) #59 Near Mint/Mint
DC COMICS PRESENTS (1978) #62 Near Mint/Mint
DC COMICS PRESENTS (1978) #63 Near Mint/Mint
DC COMICS PRESENTS (1978) #66 Near Mint/Mint
DC COMICS PRESENTS (1978) #70 Near Mint/Mint
DC COMICS PRESENTS (1978) #74 Near Mint/Mint
DC COMICS PRESENTS (1978) #84 Near Mint/Mint
DC COMICS PRESENTS (1978) #87 Very Fine
DC COMICS PRESENTS (1978) #89 Near Mint/Mint
DC COMICS PRESENTS (1978) #91 Very Fine
DC COMICS PRESENTS (1978) #92 Near Mint/Mint
DC COMICS PRESENTS (1978) #93 Very Fine
DC COMICS PRESENTS (1978) #95 Near Mint/Mint

DC COMICS PRESENTS: GREEN LANTERN - WILLWORLD (2011) #1 Near Mint/Mint

DC VS. MARVEL (1996) #1 Near Mint/Mint
DC VS. MARVEL (1996) #4 Near Mint/Mint

DEATHSTROKE (2011) (#0-20) (DC NEW52) #0 Near Mint/Mint
DEATHSTROKE (2014) (#1-20) (DC NEW52) #1 Near Mint/Mint

DETECTIVE COMICS (1937) (#1-881) (DC) #359 Fair
DETECTIVE COMICS (1937) (#1-881) (DC) #361 Very Good
DETECTIVE COMICS (1937) (#1-881) (DC) #363 Fine
DETECTIVE COMICS (1937) (#1-881) (DC) #366 Very Good
DETECTIVE COMICS (1937) (#1-881) (DC) #368 Fair
DETECTIVE COMICS (1937) (#1-881) (DC) #369 Good

DETECTIVE COMICS (1937) (#1-881) (DC) #370 Very Good
DETECTIVE COMICS (1937) (#1-881) (DC) #371 Very Good
DETECTIVE COMICS (1937) (#1-881) (DC) #455 Fine
DETECTIVE COMICS (1937) (#1-881) (DC) #489 Fine
DETECTIVE COMICS (1937) (#1-881) (DC) #491 Very Good
DETECTIVE COMICS (1937) (#1-881) (DC) #524 Fine
DETECTIVE COMICS (1937) (#1-881) (DC) #525 NEWSSTAND Fine
DETECTIVE COMICS (1937) (#1-881) (DC) #526 Fine
DETECTIVE COMICS (1937) (#1-881) (DC) #566 Very Fine
DETECTIVE COMICS (1937) (#1-881) (DC) #608 Near Mint/Mint
DETECTIVE COMICS (1937) (#1-881) (DC) #647 Near Mint/Mint
DETECTIVE COMICS (1937) (#1-881) (DC) #653 Very Fine

HARLEY QUINN (2013) (#0-30) (DC NEW52) #0 Very Good
HARLEY QUINN (2013) (#0-30) (DC NEW52) #1 VARIANT Near Mint/Mint
HARLEY QUINN (2013) (#0-30) (DC NEW52) #4 VARIANT Near Mint/Mint

HARLEY QUINN: BE CAREFUL WHAT YOU WISH FOR (LOOT CRATE) (2016) #1 UNBAGGED Near Mint/Mint

JOKER (1975) #2 Good

JUSTICE LEAGUE (DC NEW52) (2011) #15 Near Mint/Mint

JUSTICE LEAGUE DARK (2011) #23 .1 DELUXE Near Mint/Mint
JUSTICE LEAGUE DARK (2011) #23 .2 DELUXE Near Mint/Mint

JUSTICE LEAGUE OF AMERICA (2006) #38 VARIANT Near Mint/Mint

JUSTICE LEAGUE OF AMERICA (2013) #1 Near Mint/Mint
JUSTICE LEAGUE OF AMERICA (2013) #6 Near Mint/Mint

KATANA (2013) #1 Near Mint/Mint

LIONEL PLAY WORLD DC SUPER HEROES SERIES (1980) #2 Good

NEW SUICIDE SQUAD (2014) #1 Near Mint/Mint
NEW SUICIDE SQUAD (2014) #2 Near Mint/Mint

PHANTOM STRANGER (2012) #1 Very Fine

SECRET SIX (2014) #1 Very Fine

SUICIDE SQUAD (1987) (#1-67) (DC) #1 Very Fine

SUICIDE SQUAD (2011) (#0-30) (DC NEW52) #0 Very Fine

SUPERMAN: MAN OF STEEL (1991) #18 NEWSSTAND Near Mint/Mint
SUPERMAN: MAN OF STEEL (1991) #18 NEWSSTAND Very Fine

TEEN TITANS (1966) (#1-53) (DC) #24 Fine

TEEN TITANS (1980) (#1-91) (DC) #3 Very Fine
TEEN TITANS (1980) (#1-91) (DC) #9 NEWSSTAND Very Fine
TEEN TITANS (1980) (#1-91) (DC) #10 Very Fine

WONDER WOMAN (2011) (#0-52) (DC NEW52) #36 Near Mint/Mint

IMAGE COMICS
ANGELA (IMAGE) (1994) #3 NEWSSTAND Fine

BEAUTY (2015) #1 A HAUN Near Mint/Mint

BIG MAN PLANS (2015) #1 Near Mint/Mint
BIG MAN PLANS (2015) #2 Near Mint/Mint
BIG MAN PLANS (2015) #3 Near Mint/Mint

BITCH PLANET (2014) #1 A Near Mint/Mint
BITCH PLANET (2014) #2 A Near Mint/Mint
BITCH PLANET (2014) #3 A Near Mint/Mint

DARKNESS (1996) #1 FAN CLUB (Image Top Cow) Near Mint/Mint

FADE OUT (2014) #1 Near Mint/Mint
FADE OUT (2014) #2 Near Mint/Mint
FADE OUT (2014) #3 Near Mint/Mint

FADE OUT (2014) #4 Near Mint/Mint
FADE OUT (2014) #7 Near Mint/Mint

FATALE (2012) #1 A Near Mint/Mint
FATALE (2012) #2 Near Mint/Mint
FATALE (2012) #3 Near Mint/Mint

LOW (2014) #1 Near Mint/Mint

OUTCAST (ROBERT KIRKMAN & PAUL AZACETA) (2014) #1 Near Mint/Mint
OUTCAST (ROBERT KIRKMAN & PAUL AZACETA) (2014) #2 Near Mint/Mint
OUTCAST (ROBERT KIRKMAN & PAUL AZACETA) (2014) #3 Near Mint/Mint
OUTCAST (ROBERT KIRKMAN & PAUL AZACETA) (2014) #4 Near Mint/Mint
OUTCAST (ROBERT KIRKMAN & PAUL AZACETA) (2014) #5 Near Mint/Mint
OUTCAST (ROBERT KIRKMAN & PAUL AZACETA) (2014) #6 Near Mint/Mint
OUTCAST (ROBERT KIRKMAN & PAUL AZACETA) (2014) #8 Near Mint/Mint
OUTCAST (ROBERT KIRKMAN & PAUL AZACETA) (2014) #9 Near Mint/Mint

RAT QUEENS (2013) #1 Near Mint/Mint

RUMBLE (2014) #1 Near Mint/Mint
RUMBLE (2014) #2 Near Mint/Mint
RUMBLE (2014) #2 2ND PRINT Near Mint/Mint
RUMBLE (2014) #3 Near Mint/Mint
RUMBLE (2014) #5 Near Mint/Mint

SAGA (2012) #14 Near Mint/Mint
SAGA (2012) #15 Near Mint/Mint
SAGA (2012) #16 Near Mint/Mint
SAGA (2012) #17 Near Mint/Mint
SAGA (2012) #18 Near Mint/Mint
SAGA (2012) #19 Near Mint/Mint
SAGA (2012) #20 Near Mint/Mint
SAGA (2012) #21 Near Mint/Mint
SAGA (2012) #24 Near Mint/Mint
SAGA (2012) #25 Near Mint/Mint
SAGA (2012) #26 Near Mint/Mint
SAGA (2012) #28 Near Mint/Mint
SAGA (2012) #29 Near Mint/Mint

SEX CRIMINALS (2013) #1 Near Mint/Mint

SPREAD (2014) #1 Near Mint/Mint
SPREAD (2014) #2 Near Mint/Mint
SPREAD (2014) #3 Near Mint/Mint
SPREAD (2014) #4 Near Mint/Mint
SPREAD (2014) #7 B Near Mint/Mint
SPREAD (2014) #8 Near Mint/Mint
SPREAD (2014) #10 Near Mint/Mint

STRANGE GIRL (2005) #4 Near Mint/Mint
STRANGE GIRL (2005) #5 Near Mint/Mint

INDEPENDENTS
28 DAYS LATER (2009) #3 B (Boom Studios Publishing) Near Mint/Mint
28 DAYS LATER (2009) #4 B (Boom Studios Publishing) Near Mint/Mint
28 DAYS LATER (2009) #6 A (Boom Studios Publishing) Near Mint/Mint
28 DAYS LATER (2009) #7 A (Boom Studios Publishing) Near Mint/Mint
28 DAYS LATER (2009) #8 A (Boom Studios Publishing) Near Mint/Mint
28 DAYS LATER (2009) #9 A (Boom Studios Publishing) Near Mint/Mint
28 DAYS LATER (2009) #10 B (Boom Studios Publishing) Near Mint/Mint
28 DAYS LATER (2009) #11 A (Boom Studios Publishing) Near Mint/Mint
28 DAYS LATER (2009) #12 A (Boom Studios Publishing) Near Mint/Mint
28 DAYS LATER (2009) #13 B (Boom Studios Publishing) Near Mint/Mint
28 DAYS LATER (2009) #14 (Boom Studios Publishing) Near Mint/Mint
28 DAYS LATER (2009) #15 (Boom Studios Publishing) Near Mint/Mint
28 DAYS LATER (2009) #16 (Boom Studios Publishing) Near Mint/Mint
28 DAYS LATER (2009) #17 (Boom Studios Publishing) Near Mint/Mint

28 DAYS LATER (2009) #18 (Boom Studios Publishing) Near Mint/Mint
28 DAYS LATER (2009) #19 (Boom Studios Publishing) Near Mint/Mint
28 DAYS LATER (2009) #20 (Boom Studios Publishing) Near Mint/Mint
28 DAYS LATER (2009) #21 (Boom Studios Publishing) Near Mint/Mint
28 DAYS LATER (2009) #22 (Boom Studios Publishing) Near Mint/Mint
28 DAYS LATER (2009) #23 (Boom Studios Publishing) Near Mint/Mint
28 DAYS LATER (2009) #24 (Boom Studios Publishing) Near Mint/Mint

99 (2007) #1 (Teshkeel Media Group) Near Mint/Mint

AMAZING HEROES (FANTAGRAPHICS) (1981) #97 (Fantagraphics) Near Mint/Mint
AMAZING HEROES (FANTAGRAPHICS) (1981) #97 (Fantagraphics) Very Fine

BIG BLACK KISS #3 (Vortex Comics, Inc.) Near Mint/Mint

BOOK OF DEATH: LEGENDS OF GEOMANCER (2015) #1 SAUVAGE (Valiant Comics) Near Mint/Mint

BROOKLYN ANIMAL CONTROL ONE-SHOT (2015) #1 (IDW Publishing) Near Mint/Mint

GODKILLER: WALK AMONG US (2014) #1 (Black Mask) Near Mint/Mint
GODKILLER: WALK AMONG US (2014) #2 A (Black Mask) Near Mint/Mint
GODKILLER: WALK AMONG US (2014) #3 (Black Mask) Near Mint/Mint
GODKILLER: WALK AMONG US (2014) #4 A (Black Mask) Near Mint/Mint
GODKILLER: WALK AMONG US (2014) #4 B (Black Mask) Near Mint/Mint
GODKILLER: WALK AMONG US (2014) #5 (Black Mask) Near Mint/Mint
GODKILLER: WALK AMONG US (2014) #6 (Black Mask) Near Mint/Mint

PERVERT CLUB #1 (A.M. Works) Very Fine
PERVERT CLUB #2 (A.M. Works) Very Fine
PERVERT CLUB #5 (A.M. Works) Very Fine
PERVERT CLUB #7 (A.M. Works) Near Mint/Mint

PROFESSOR COFFIN (1985) #20 (Charlton) Very Fine
PROFESSOR COFFIN (1985) #21 (Charlton) Very Fine

PUSSYCATS (2015) #0 (E-Comix) Near Mint/Mint
PUSSYCATS (2015) #1 (E-Comix) Near Mint/Mint
PUSSYCATS (2015) #2 (E-Comix) Near Mint/Mint

RAPHAEL: BAD MOON RISING (TEENAGE MUTANT NINJA TURTLES) (2007) #1 (Mirage Studios) Near Mint/Mint
RAPHAEL: BAD MOON RISING (TEENAGE MUTANT NINJA TURTLES) (2007) #2 (Mirage Studios) Very Fine
RAPHAEL: BAD MOON RISING (TEENAGE MUTANT NINJA TURTLES) (2007) #3 (Mirage Studios) Near Mint/Mint

ROT & RUIN (2014) #1 (IDW Publishing) Near Mint/Mint
ROT & RUIN (2014) #2 (IDW Publishing) Near Mint/Mint
ROT & RUIN (2014) #3 SUBSCRIPT (IDW Publishing) Near Mint/Mint
ROT & RUIN (2014) #4 (IDW Publishing) Near Mint/Mint

SABRINA (2014) #1 ROSEMARY (Archie Comics) Near Mint/Mint
SABRINA (2014) #2 HACK (Archie Comics) Near Mint/Mint
SABRINA (2014) #3 (Archie Comics) Near Mint/Mint

SALLY OF THE WASTELAND (2014) #1 (Titan Distributing) Near Mint/Mint
SALLY OF THE WASTELAND (2014) #2 (Titan Distributing) Near Mint/Mint
SALLY OF THE WASTELAND (2014) #3 (Titan Distributing) Near Mint/Mint


SALLY OF THE WASTELAND (2014) #4

SALLY OF THE WASTELAND (2014) #4 (Titan Distributing) Near Mint/Mint
SALLY OF THE WASTELAND (2014) #5 (Titan Distributing) Near Mint/Mint

STRANGE DAYS (1984) #1 (Eclipse Enterprises) Near Mint/Mint

STRANGE DETECTIVE TALES: DEAD LOVE (2005) #1 (ODDGOD PRESS) Near Mint/Mint

STRANGE KILLINGS (2002) #1 WRAPAROUND (Avatar Comics) Near Mint/Mint

TEENS AT PLAY WINTER BREAK SPECIAL (2009) #1 (Eros Comix (Fantagraphics)) Fine