More Marvel and DC Silver Age plus Rare Books
Howdy!
I thought it might interest you to know that our website experienced an unseasonably large surge in business over this past weekend. For the most part, I believe that this sudden expansion in interest resulted from the amazing number of missing titles and issue numbers that we have been adding into our site over the past 180 days. Will and Pam have been accomplishing miracles during those six months, oftentimes grading well over 1,000 comics and magazines per day.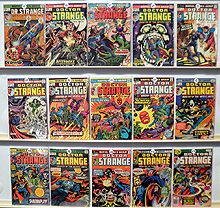 Some of the Doctor Strange comics just added

As a case in point, I quickly scanned our listings of the classic SAVAGE SWORD OF CONAN magazine a few months back, and was dismayed to see that we were totally out-of-stock on almost every issue between #1-#50. Looking at that same title on a whim this morning, we were only missing four issues out of the first 50, with availability in two (or more) grades being the norm.
While seeing tangible evidence of our excellent progress in rebuilding our stock of early issues of SAVAGE SWORD OF CONAN is heartening, it makes me feel even better to know that this is only the initial stage of our restocking program. Simply put, ever since the beginning of May, when we finally finished the Herculean task of combining our 56th Ave. operations into Jason St., our total focus has been on sorting and grading an ever-increasing number of comics and magazines to offer to those of you who cannot regularly visit our Mega-Store. That effort is now bearing wonderful fruit, as our sales are rising steadily even during a period which is typically our slowest time of year.
All of this positive energy makes it far easier for me to shoulder the responsibility for shipping home even more comics for Will and Pam to grade for you. To explain, I will need to be at the Denver airport at 5 AM tomorrow morning to catch a crack-of-dawn flight for San Francisco, where I will be loading approximately 200,000 smaller press titles into a semi-trailer for shipment to Denver. Before that truck heads to Jason St., however, it will first stop in Las Vegas, where I will be waiting on Wednesday morning to load an additional 125,000 comics (including 10,000+ Silver Age and Bronze Age issues!) for Will and Pam. I then get to fly home to Denver late on Wednesday evening, to spearhead the process of sorting our newest acquisitions on Friday. Whew!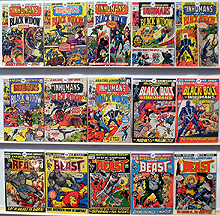 Some of the Amazing Adventure comics just added

One point I do want to stress about all of my recent purchasing of collections is that we frequently only receive a single copy of any given issue. On Sunday morning, for example, we uploaded some excellent runs of AMAZING ADVENTURES (1970), DOCTOR STRANGE (1974), MAN-THING (1974), MARVEL PREMIERE (1972), SHIELD (1968), and FLASH (1959), all of which contained only single copies. These beloved issues (as well as the extremely rare book sets that we listed on Friday) were all from the collection of the gentleman who's estate I purchased in Precott, AZ last week.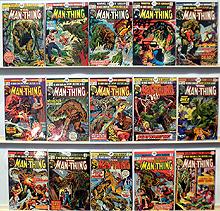 Some of the Man-Thing comics just added

All of the above having been said, I also want you to know that there have been instances where we have finally been able to add some duplicates for you into website inventory. Duplication is very important for you, as the foremost criteria of our pricing of comics on our website is a daily analysis of the number of copies that we have on hand of any given title and issue. The more copies that we have in stock, the greater the discount that our computerized pricing algorithm applies to that issue.
That is one reason why, if you look at our website today, you will see substantially lower prices on some issues as compared with a couple of months ago. That trend of decreasing prices pleases me very much, as it means that we are truly making collecting easier and more affordable for you. Assuming, of course, that we can keep locating and adding even more desirable back issues into our inventory.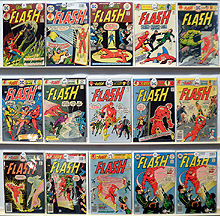 Some of the Flash comics just added

I now need to start working on logistics for tomorrow's trip, but before I go I want to pass on a couple more quick tips. First, our 60% off NANETTE2 codeword sale is still in effect for you through this Saturday 10/22, at which time it will be replaced by our annual HALLOWEEN codeword. I have not yet decided on the discount for the HALLOWEEN codeword. NANETTE2 applies a 60% discount to all ten million of our back issue comics and magazines, excluding only new issues, a few varaints, and our CGC's.
Second, there are several more books and book sets from my Prescott, AZ purchase included with this newsletter. All are single copies, so order quickly if you wish to add some of these great books to your personal library. All are already discounted at 20% off from list price, so the NANETTE2 codeword does not apply to books.

CARL BARKS LIBRARY OF WALT DISNEY HC SLIPCASE SET (1984) #6 SLPCS GOOD


CARL BARKS LIBRARY OF WALT DISNEY HC SLIPCASE SET (1984) #7 SLPCS GOOD


CARL BARKS LIBRARY OF WALT DISNEY HC SLIPCASE SET (1984) #8 SLPCS GOOD


CARL BARKS LIBRARY OF WALT DISNEY HC SLIPCASE SET (1984) #9 SLPCS GOOD


CARL BARKS LIBRARY OF WALT DISNEY HC SLIPCASE SET (1984) #10 SLPCS GOOD


FRONTLINE COMBAT HC SLIPCASE SET


SHOCK SUSPENSTORIES HC SLIPCASE SET

Happy Collecting!
Chuck Rozanski,
President - Mile High Comics, Inc.
October 17, 2016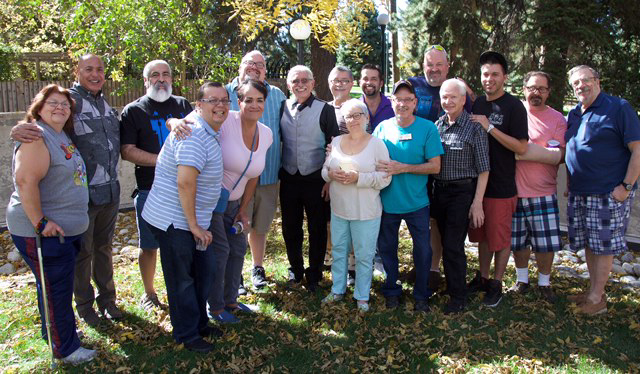 Chuck with members of the Imperial Court of the Rocky Mountain Empire after presentation of our $4,000 donation check to Feeding Denver's Hungry.

P.S. After finally receiving payment for a couple credit memos that were ordered as a part of the FEEDING DENVER'S HUNGRY benefit, we drew the winner on October 3rd His name is Tim, and he lives in Penfield, New York. Congratulations!
If you who did not win the $1,000 gift certificate in this first drawing, I promise you that you will get another chance later this month. I am beginning a promotion today where you can again donate $25, and receive a $25 gift certificate in return. Just use the link in this newsletter, or mention that you would like to purchase a gift certificate in the "notes" portion of our order form. We can either mail you your gift certificate, or e-mail you a registration number that you can then use with your next order.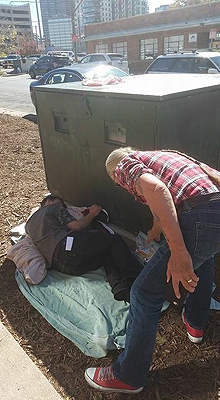 Chuck leaving a meal for a homeless teen sleeping outside the Urban Peak offices.
Sadly, kids learn that they have to sleep during the daytime because they have to stay
on the move at night out of fear of attack.

In case you are wondering, our beneficiaries this time are two awesome local groups here in Denver that help teens in need: RAINBOW ALLEY and URBAN PEAK. Both of these groups help homeless teens to find shelter and jobs, and/or to get them back into school. Cold weather is coming very soon, so I will also be working to get warm clothes for these desperate kids either through purchasing, or via a donation box that we're setting up at Jason St.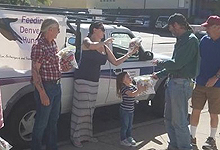 Our volunteers oftentimes bring their kids along to help distribute meals. They are very welcome!

FYI, these two groups are also Norrie Reynolds' official 2016 Snow Ball charities, which she is allowed to designate in her role as Empress 43 of the Imperial Court of the Rocky Mountain Empire. Her glittering Snow Ball gala is scheduled for November 19th, at the Timbers Hotel at I-70 and Peoria. I am hoping to provide her with a donation check to be split between RAINBOW ALLEY and URBAN PEAK at her event. Your purchasing a $25 gift certificate would be most appreciated.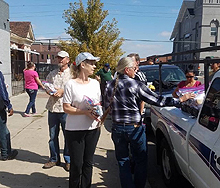 Chuck and Empress 43 Norrie Reynolds distributing meals to the homeless

I'll close by quickly mentioning that your odds of winning one of our drawings are quite good, as we had only 151 entries in this last drawing. That having been said, we still netted an awesome total of $3,775 for FEEDING DENVER'S HUNGRY. Mile High Comics then added $225 more, to round up our donation to an even $4,000! That will make a huge difference to this all-volunteer organization, as we can leverage that money on a 20-1 basis at the Food Bank of the Rockies, resulting in our being able to distribute about $80,000 in food to Denver's homeless this winter. Thank you for helping us to make this awesome contribution to FEEDING DENVER'S HUNGRY