Mile High Comics Is Giving Away Comics to Help The Homeless
Howdy!
Today is a day of many thanks, as we have been on a roll here at Mile High Comics s regards our charitable efforts. First, I want to thank everyone who came to our no-minimum-bid comics and toys auction this Past Saturday at Jason St. By the time that the auction was done we had successfully raised $1,684.00 for little Shirley Hurtado of San Juan, Costa Rica. Shirley was born with a congenital heart defect that cost her both of her arms at the elbows, and both of her legs just below her knees. The money that we raised on Saturday will go to cover a substantial portion of the $2,700 cost of replacing her old wooden prosthetic legs (that she has also outgrown...) with new ones made of polycarbonate. Our thanks go out to my good friend and Emperor of New York, Henry Bastos-Wood, for making us aware of this beautiful little girl's desperate need for help.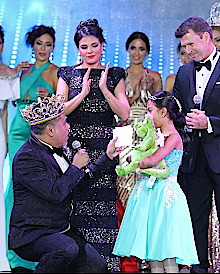 New York Emperor Henry Bastos-Wood with 9 year-old Shirley Hurtado.

Another charitable effort that ended successfully was our advance sale of copies of our extremely limited (only 750 copies, worldwide!) Mile High Comics variant edition of WALKING DEAD #1, . We sold enough copies to be able to donate $2,000 to the Matthew Shepard Foundation on Friday, which just happened to also be the 20th anniversary of Matthew's passing.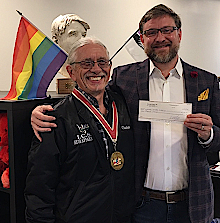 Dropping off $2,000 to Jason Marsden, the Executive Director of the Matthew Shepard Foundation (and a 30/year client of Mile High Comics!)

In case you did not already know, Matthew Shepard passed away in 1998 from injuries (and exposure) that he suffered at the hands of homophobic bigots who robbed and tortured him, and then left him to die hanging on a barb wire fence on the open prairie outside of Laramie, Wyoming. Since the time of Matthew's passing his parents, Dennis and Judy Shepard, have worked diligently to pass legislation to make hate crimes based upon race, religion, gender, orientation, or national origin to be special offenses under state and federal law. Their success is one reason that so many of the rioters were charged with Federal hate crimes (in addition to simple assault) after the disturbances in Charlottesville. Here at Mile High Comics, we proudly support Dennis and Judy Shepard in their efforts to guarantee civil rights for all.
Our final charitable effort this weekend was to stage one of our wonderful Texas Hold'em poker tournaments. We had 64 players this month, who donated a total of $1,703, all of which will go to purchase warm winter clothes for the homeless here in Denver (via "Feeding Denver's Hungry") and in Albuquerque (via "A Light In The Night"). I took $534 over to a local Dollar Tree this morning, and loaded my minivan with hundreds of socks, hats, and scarves. That was an excellent start to our goal of buying warm winter clothes for the 2,000+ people that we serve.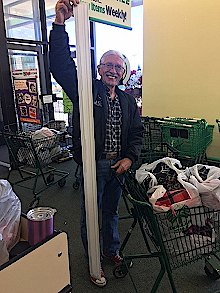 Chuck filled five carts today at Dollar Tree and received a six-foot receipt!

So you know, I have six more Dollar Tree locations near me, but nowhere near enough money to buy all of what we need for everyone that waits in line for our help outside the offices of the "Colorado Coalition For The Homeless". I do, however, still have twelve days left before we begin our next clothing distribution, so I am once again going to ask for your help. My deal for you is very simple, and essentially costs you nothing: just order a Mile High Comics gift certificate for $25, and we will donate every cent of that $25 toward buying more warm winter clothes for the poor. In the meantime, you will receive the $25 certificate (or just the have the certificate registration number sent to you by e-mail, if you wish) that you can then use to purchase anything that you might wish from our website. We actually totally lose out in this deal, as we are giving away thousands of dollars in merchandise, but I do not mind because I think that it is critically important that all of us who have been blessed with some measure of good fortune to give back to our Community. What better way to help those in need than by purchasing comic books or trade paperbacks? Please order a gift certificate from us today, if you can.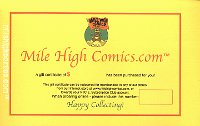 Mile High Comics gift certificate

I will close with a quick reminder that our annual 60% off HALLOWEEN! Codeword sale is in effect for you on all ten million of our back issue comics and magazines listed for sale on our website. This back issue comics and magazines sale is so huge that it only excludes new issues, a few variants, and our professionally-graded comics. Please do enjoy this great annual comics sale with our sincere thanks for all your kindness, and for your supporting Mile High Comics.
Happy collecting!
Chuck Rozanski,
President - Mile High Comics, Inc.
October 15, 2018


WALKING DEAD #1 15th Anniversary Edition Mile High Exclusive

P.S. We do have a few of our Mile High Comics WALKING DEAD #1 variant editions available at $29.95 each. This price is only guaranteed to hold through Friday, however, so please do not procrastinate in placing your order with us. Also, below are listed some of the great comics that just arrived in our website inventory. We have been blessed with an amazing number of great collections here at Jason St.!
MARVEL

AMAZING SPIDER-MAN (1999) (#1-700.5) (MARVEL) #531

AMAZING SPIDER-MAN (1999) (#1-700.5) (MARVEL) #531 Near Mint/Mint

AMAZING SPIDER-MAN (2017) (#789-801) (MARVEL LEGACY) #800 Near Mint/Mint
AMAZING SPIDER-MAN (2017) (#789-801) (MARVEL LEGACY) #800 CASSADAY Near Mint/Mint

ANNIHILATION: NOVA (MARVEL) (2006) #1 Fine

ANNIHILATION: RONAN THE ACCUSER (MARVEL) (2006) #1 Near Mint/Mint

ANNIHILATION: SILVER SURFER (MARVEL) (2006) #1 Near Mint/Mint

BIZARRE ADVENTURES (1981) #34 Very Fine

BLACK WIDOW 2: THINGS THEY SAY ABOUT HER (2005) #5 Near Mint/Mint

CABLE AND DEADPOOL (2003) #25 Near Mint/Mint
CABLE AND DEADPOOL (2003) #27 Near Mint/Mint

CAPTAIN AMERICA (1968) (#100-454) (MARVEL) #259 Very Fine
CAPTAIN AMERICA (1968) (#100-454) (MARVEL) #362 Very Good
CAPTAIN AMERICA (2004) (#1-50, 600-619) (MARVEL) #17 Near Mint/Mint

DAREDEVIL (1998) (#1-119, 500-512) (MARVEL) #84 Near Mint/Mint

DOMINO (1997) (#1-3) (MARVEL) #1 Very Fine

FALCON (2017) (#1-UP) (MARVEL LEGACY) #1 Near Mint/Mint

FANTASTIC FOUR (1997) (#1-79, 509-611) (MARVEL) #537 Near Mint/Mint

GENERATIONS: MORALES & PETER PARKER SPIDER-MAN (2017) #1 Near Mint/Mint

HULK (1999) (#1-112) (MARVEL) #92 Near Mint/Mint
HULK (1999) (#1-112) (MARVEL) #94 Near Mint/Mint

MARVEL TEAM-UP (1972) (#1-150) (MARVEL) #124 Near Mint/Mint

MARVEL ZOMBIES (2005) #1 2ND PRINT Near Mint/Mint
MARVEL ZOMBIES (2005) #3 Near Mint/Mint


MIRACLEMAN (2014) (#1-16) (MARVEL) #14 PETERSON

MIRACLEMAN (2014) (#1-16) (MARVEL) #14 PETERSON Near Mint/Mint
MIRACLEMAN (2014) (#1-16) (MARVEL) #14 WEEKS Near Mint/Mint
MIRACLEMAN (2014) (#1-16) (MARVEL) #15 SALE Near Mint/Mint
MIRACLEMAN (2014) (#1-16) (MARVEL) #15 SIENKIEWIC Near Mint/Mint

MS. MARVEL (2006) (#1-50) (MARVEL) (CAROL DANVERS) #1 Very Fine

MS. MARVEL GIANT-SIZE (2006) #1 Near Mint/Mint
MS. MARVEL GIANT-SIZE (2006) #1 Very Fine

NEMESIS PREMIERE HC (2011) #1 Fine

NEW MUTANTS (1983) (#1-100) (MARVEL) #83 Near Mint/Mint
NEW MUTANTS (1983) (#1-100) (MARVEL) #86 Fine
NEW MUTANTS (1983) (#1-100) (MARVEL) #89 Very Good
NEW MUTANTS (1983) (#1-100) (MARVEL) #90 NEWSSTAND Very Good
NEW MUTANTS (1983) (#1-100) (MARVEL) #91 Very Good

NEW X-MEN: ACADEMY X (2004) #25 Near Mint/Mint

OMEGA (1976) (#1-10) (OMEGA THE UNKNOWN) (MARVEL) #9 Very Good

PETER PARKER (1976) (#1-263) (SPECTACULAR SPIDER-MAN) #99 Near Mint/Mint
PETER PARKER (1976) (#1-263) (SPECTACULAR SPIDER-MAN) #101 Very Fine

PETER PARKER ANNUAL (1979) #8 Near Mint/Mint

POWER MAN/IRON FIST (LUKE CAGE, POWER MAN #1-49) (1972) #107 NEWSSTAND Very Fine

POWER PACK (1984) (#1-62) (MARVEL) #5 NEWSSTAND Near Mint/Mint

ROCKET RACCOON & GROOT (2015) #1 Near Mint/Mint

SECRET WARS (1984) #1 Very Fine
SECRET WARS (1984) #2 Fine
SECRET WARS (1984) #3 Very Good
SECRET WARS (1984) #5 Fine
SECRET WARS (1984) #6 Near Mint/Mint
SECRET WARS (1984) #7 Fine
SECRET WARS (1984) #8 Fine
SECRET WARS (1984) #9 Fine
SECRET WARS (1984) #11 Fine
SECRET WARS (1984) #12 Near Mint/Mint

SECRET WARS TPB (2005) #1 Near Mint/Mint

SENTRY (2005) (#1-8) (MARVEL LIMITED SERIES) #8 Near Mint/Mint

SHE-HULK TPB (1992) #1 Near Mint/Mint

SLEEPWALKER (1991) #1 Very Fine

SPIDER-MAN (1963) (AMAZING SPIDER-MAN) (#1-441) #348 INSERT Very Good
SPIDER-MAN (1963) (AMAZING SPIDER-MAN) (#1-441) #365 Very Fine
SPIDER-MAN (1963) (AMAZING SPIDER-MAN) (#1-441) #400 DELUXE Very Fine
SPIDER-MAN (1963) (AMAZING SPIDER-MAN) (#1-441) #420 Near Mint/Mint

SPIDER-MAN 2099 (1992) (#1-46) (MARVEL) #46 Fine

SPIDER-MAN ANNUAL (1964) #16 NEWSSTAND Fine

SPIDER-MAN: SAGA OF THE ALIEN COSTUME TPB (1988) #1 Fine

STAR TREK (1980) (#1-18) (MARVEL) #5 NEWSSTAND Very Fine
STAR TREK (1980) (#1-18) (MARVEL) #7 NEWSSTAND Very Fine
STAR TREK (1980) (#1-18) (MARVEL) #8 NEWSSTAND Near Mint/Mint
STAR TREK (1980) (#1-18) (MARVEL) #11 NEWSSTAND Fine
STAR TREK (1980) (#1-18) (MARVEL) #13 NEWSSTAND Very Fine
STAR TREK (1980) (#1-18) (MARVEL) #16 Very Fine
STAR TREK (1980) (#1-18) (MARVEL) #18 Fine

STAR WARS (2015) (#1-UP) (MARVEL) #3 MILE HIGH Near Mint/Mint
STAR WARS (2015) (#1-UP) (MARVEL) #23 MILE HIGH Near Mint/Mint

STAR WARS LEGENDS EPIC COLLECTION: EMPIRE TPB (2015) #3 Fine

STAR WARS: DARTH MAUL - SON OF DATHOMIR TPB (2ND ED.) (2017) #1 Near Mint/Mint

STAR WARS: DOCTOR APHRA VOL. 2: DOCTOR APHRA ENORMO TPB (2018) #1 Near Mint/Mint

THOR (1962) (#83-125 JOURNEY INTO MYSTERY, 126-502) #349 Near Mint/Mint
THOR (1962) (#83-125 JOURNEY INTO MYSTERY, 126-502) #353 Near Mint/Mint
THOR (1962) (#83-125 JOURNEY INTO MYSTERY, 126-502) #355 Near Mint/Mint

THUNDERCATS (1986) (#1-24) (MARVEL/STAR) #3 NEWSSTAND Very Fine
THUNDERCATS (1986) (#1-24) (MARVEL/STAR) #4 NEWSSTAND Fine
THUNDERCATS (1986) (#1-24) (MARVEL/STAR) #5 NEWSSTAND Very Fine


ULTIMATE SPIDER-MAN (2000) #93

ULTIMATE SPIDER-MAN (2000) #93 Near Mint/Mint

ULTIMATES (2015) #3 Near Mint/Mint

VENOM: LETHAL PROTECTOR (1993) #5 Near Mint/Mint

VENOM: TOOTH & CLAW (1996) #1 Near Mint/Mint
VENOM: TOOTH & CLAW (1996) #2 Near Mint/Mint
VENOM: TOOTH & CLAW (1996) #3 Near Mint/Mint

WEIRD WONDER TALES (1973) #10 Fine

WEST COAST AVENGERS (1984) (#1-4) (MARVEL) #1 Very Fine
WEST COAST AVENGERS (1984) (#1-4) (MARVEL) #2 Near Mint/Mint
WEST COAST AVENGERS (1984) (#1-4) (MARVEL) #3 Near Mint/Mint
WEST COAST AVENGERS (1984) (#1-4) (MARVEL) #4 Near Mint/Mint

WOLVERINE (1988) (#1/2-189) (MARVEL) #75 Near Mint/Mint
WOLVERINE (1988) (#1/2-189) (MARVEL) #100 Very Fine

X-MEN (1963) (#1-113, UNCANNY X-MEN #114-544) (MARVEL) #472 Very Fine
X-MEN (1991) (#1-275) (MARVEL) #185 Near Mint/Mint

X-STATIX PRESENTS DEAD GIRL (2005) #2 Near Mint/Mint

DC
ADVENTURES OF SUPERMAN (#0,#424-649) (1987) #649 NEWSSTAND Fine

AMERICAN VIRGIN (DC VERTIGO) (STEVEN SEAGLE) (2006) #2 (DC: Vertigo Press) Very Fine

ANIMAL MAN (1988) (#1-89) (DC/VERTIGO) #16 (DC: Vertigo Press) Near Mint/Mint

AZRAEL (1995) (#1-100) (DC) #91 Near Mint/Mint

BATGIRL (2000) (#1-73) (DC) #73 Near Mint/Mint

BATGIRL ADVENTURES (1998) #1 Near Mint/Mint

BATMAN: GOTHAM KNIGHTS (2000) #74 Near Mint/Mint

BATMAN: LAST ANGEL TPB (1994) #1 Fine


BATMAN: YEAR ONE HUNDRED (PAUL POPE) (PRESTIGE) (2006) #1

BATMAN: YEAR ONE HUNDRED (PAUL POPE) (PRESTIGE) (2006) #1 Near Mint/Mint
BATMAN: YEAR ONE HUNDRED (PAUL POPE) (PRESTIGE) (2006) #3 Very Fine

BLUE DEVIL (1984) #1 Near Mint/Mint
BLUE DEVIL (1984) #5 Near Mint/Mint

CRISIS ON INFINITE EARTHS (1985) #10 Very Fine
CRISIS ON INFINITE EARTHS (1985) #11 NEWSSTAND Fine

CRISIS ON INFINITE EARTHS TPB (2000) #1 6TH PRINT Near Mint/Mint

DANGER GIRL: HAWAIIAN PUNCH (2003) #1 (DC/Wildstorm) Near Mint/Mint

DANGER GIRL: VIVA LAS DANGER (2003) #1 (DC/Wildstorm) Very Fine

DEATH OF SUPERMAN TPB #1 Near Mint/Mint

DMZ (2005) #4 (DC: Vertigo Press) Near Mint/Mint
DMZ (2005) #6 (DC: Vertigo Press) Near Mint/Mint

FACES OF THE DC UNIVERSE POSTCARD SET (1998) #1 Near Mint/Mint

FLASH (1959) (#105-350) (DC) #322 Very Fine

HELLBLAZER (1988) (#1-300) (DC VERTIGO) #61 (DC: Vertigo Press) Very Fine
HELLBLAZER (1988) (#1-300) (DC VERTIGO) #69 (DC: Vertigo Press) Near Mint/Mint
HELLBLAZER (1988) (#1-300) (DC VERTIGO) #80 (DC: Vertigo Press) Very Fine
HELLBLAZER (1988) (#1-300) (DC VERTIGO) #83 (DC: Vertigo Press) Fine
HELLBLAZER (1988) (#1-300) (DC VERTIGO) #116 (DC: Vertigo Press) Very Fine
HELLBLAZER (1988) (#1-300) (DC VERTIGO) #166 (DC: Vertigo Press) Fine
HELLBLAZER (1988) (#1-300) (DC VERTIGO) #167 (DC: Vertigo Press) Fine
HELLBLAZER (1988) (#1-300) (DC VERTIGO) #167 (DC: Vertigo Press) Very Fine
HELLBLAZER (1988) (#1-300) (DC VERTIGO) #206 (DC: Vertigo Press) Fine
HELLBLAZER (1988) (#1-300) (DC VERTIGO) #207 (DC: Vertigo Press) Fine
HELLBLAZER (1988) (#1-300) (DC VERTIGO) #207 (DC: Vertigo Press) Very Fine
HELLBLAZER (1988) (#1-300) (DC VERTIGO) #219 (DC: Vertigo Press) Near Mint/Mint
HELLBLAZER (1988) (#1-300) (DC VERTIGO) #221 (DC: Vertigo Press) Very Fine
HELLBLAZER (1988) (#1-300) (DC VERTIGO) #227 (DC: Vertigo Press) Fine
HELLBLAZER (1988) (#1-300) (DC VERTIGO) #285 (DC: Vertigo Press) Near Mint/Mint
HELLBLAZER (1988) (#1-300) (DC VERTIGO) #287 (DC: Vertigo Press) Near Mint/Mint
HELLBLAZER (1988) (#1-300) (DC VERTIGO) #287 (DC: Vertigo Press) Very Fine
HELLBLAZER (1988) (#1-300) (DC VERTIGO) #288 (DC: Vertigo Press) Very Fine
HELLBLAZER (1988) (#1-300) (DC VERTIGO) #293 (DC: Vertigo Press) Very Fine


INFINITE CRISIS (2005) #5 LEE NEWS

INFINITE CRISIS (2005) #5 LEE NEWS Fine

NIGHTWING (2011) (#0-30) (DC NEW52) #0 Near Mint/Mint

OUR ARMY AT WAR (1952) #252 Very Good

PLANETARY (1999) #19 (DC/Wildstorm) Near Mint/Mint

PREACHER (1995) #23 (DC: Vertigo Press) Near Mint/Mint

PREACHER: ALAMO TPB (VOL. 9) (2001) #1 2ND PRINT (DC: Vertigo Press) Fine

PREACHER: GONE TO TEXAS TPB (VOL. 1) (1996) #1 7TH PRINT (DC: Vertigo Press) Very Fine

PREACHER: PROUD AMERICANS TPB (VOL. 3) (1997) #1 4TH PRINT (DC: Vertigo Press) Very Fine

RONIN (1983) #6 Good

SCALPED (2006) #20 Fine

SECRET ORIGINS (1986) (#1-50) (DC) #50 Fine

SECRET ORIGINS TPB (1989) #1 Good

STRANGE ADVENTURES (1950) (#1-244) (DC) #235 Very Good

SUPERBOY (1949) (#1-258) (DC) #113 Good
SUPERBOY (1949) (#1-258) (DC) #167 Very Good
SUPERBOY (1949) (#1-258) (DC) #181 Very Good
SUPERBOY (1949) (#1-258) (DC) #195 Very Good
SUPERBOY (1949) (#1-258) (DC) #197 Fine
SUPERBOY (1949) (#1-258) (DC) #197 Very Good
SUPERBOY (1949) (#1-258) (DC) #202 Good

SUPERMAN (1939) (#1-423) (DC) #239 Very Good
SUPERMAN (1939) (#1-423) (DC) #243 Good
SUPERMAN (1939) (#1-423) (DC) #265 Very Good
SUPERMAN (1939) (#1-423) (DC) #266 Very Good
SUPERMAN (1939) (#1-423) (DC) #272 Good
SUPERMAN (1939) (#1-423) (DC) #331 Very Good

SUPERMAN FAMILY (1974) #167 Very Good


SUPERMAN: RETURN OF SUPERMAN TPB #1

SUPERMAN: RETURN OF SUPERMAN TPB #1 Good

SWAMP THING, SAGA OF (1982) #26 NEWSSTAND (DC: Vertigo Press) Fine
SWAMP THING, SAGA OF (1982) #85 (DC: Vertigo Press) Very Fine

SWAMP THING, SAGA OF MILLENNIUM EDITION (2000) #21 (DC: Vertigo Press) Near Mint/Mint

TEEN TITANS (1966) (#1-53) (DC) #42 Good
TEEN TITANS (1966) (#1-53) (DC) #53 Fine

UNKNOWN SOLDIER (1977) (#205-268) (DC) #225 Very Good
UNKNOWN SOLDIER (1977) (#205-268) (DC) #226 Very Fine
UNKNOWN SOLDIER (1977) (#205-268) (DC) #227 Very Fine
UNKNOWN SOLDIER (1977) (#205-268) (DC) #227 Very Good
UNKNOWN SOLDIER (1977) (#205-268) (DC) #231 Fine

WEIRD WAR TALES (1971) (#1-124) (DC) #17 Good
WEIRD WAR TALES (1971) (#1-124) (DC) #19 Very Good
WEIRD WAR TALES (1971) (#1-124) (DC) #111 NEWSSTAND Near Mint/Mint

WONDER WOMAN (1987) (#0-226) (DC) #118 Near Mint/Mint

WORLDS FINEST (1941) (#2-323) (DC) (WORLD'S FINEST) #205 Good
WORLDS FINEST (1941) (#2-323) (DC) (WORLD'S FINEST) #223 Good
WORLDS FINEST (1941) (#2-323) (DC) (WORLD'S FINEST) #249 Very Good
WORLDS FINEST (1941) (#2-323) (DC) (WORLD'S FINEST) #256 Very Good

DARK HORSE COMICS
CONAN (2004) (#1-50) (DARK HORSE) #50 Near Mint/Mint

GOON (2003) (#1-44) (DARK HORSE) (ERIC POWELL) #17 Near Mint/Mint

HARD BOILED (MAGAZINE) (1990) #3 Near Mint/Mint

PREDATOR: STRANGE ROUX (1996) #1 Near Mint/Mint

STAR WARS ADVENTURES TPB (2009) #5 Fine

STAR WARS TALES #1 Very Fine

STAR WARS: CLONE WARS VOL. 5: IN SERVICE OF REPUBLICTPB (2010) #1 Very Fine


STAR WARS: DARK EMPIRE (1992) #3 SIGNED

STAR WARS: DARK EMPIRE (1992) #3 SIGNED Fine
STAR WARS: DARK EMPIRE (1992) #4 Fine

IMAGE COMICS
BOMB QUEEN (2006) #1 Near Mint/Mint

DANGER GIRL (1998) (#1-4) (IMAGE) #1 Near Mint/Mint

GUNCANDY (2005) #1 Near Mint/Mint

INVINCIBLE (2003) #28 Very Fine

SATELLITE SAM (2013) #8 Near Mint/Mint

SPAWN (1992) #4 Very Fine
SPAWN (1992) #22 Near Mint/Mint
SPAWN (1992) #63 Near Mint/Mint

TEN GRAND (2013) #1 DFE VIRGIN Very Fine

WALKING DEAD (#1-UP) (IMAGE) (2003) #1 15THANNMHC Near Mint/Mint

WALKING DEAD NOVEL VOL. 3: FALL OF THE GOVERNOR HC (2013) #1 (St Martin's Press) Near Mint/Mint

WITCHBLADE (1995) #95 (Image Top Cow) Near Mint/Mint

INDEPENDENTS
30 DAYS OF NIGHT: DEAD SPACE (2005) #1 (IDW Publishing) Near Mint/Mint

ARMY OF DARKNESS VS. RE-ANIMATOR (DYNAMITE) (2005) #4 BRADSHAW (DYNAMITE Entertainment) Very Fine

BLACK GAS (2005) #2 (Avatar Comics) Near Mint/Mint

CLASSICS ILLUSTRATED (1942) #64 HRN146 ED6 (Gilberton Publications) Very Good
CLASSICS ILLUSTRATED (1942) #132 HRN132 ED1 (Gilberton Publications) Very Good

COVEN: DARK SISTER (2001) #2 RIO CVR (Avatar Comics) Near Mint/Mint

COVEN: SPELLCASTER #1 FINCH CVR (Avatar Comics) Near Mint/Mint

COVEN: TOOTH & NAIL (2001) #1 RIO CVR (Avatar Comics) Near Mint/Mint

CYBERFROG VS. CREED #1 (Harris Comics) Fine

DARIA JONTAK (2001) #1 DELUXE (Realm Press) Very Fine

DOCTOR WHO: 10TH DOCTOR (2014) #2 ZHANG (TITAN BOOKS) Near Mint/Mint
DOCTOR WHO: 10TH DOCTOR - YEAR THREE (2017) #10 A IANNICEL (Titan Distributing) Near Mint/Mint

DOCTOR WHO: 11TH DOCTOR (2014) #3 GLASS (TITAN BOOKS) Very Fine

DOCTOR WHO: 11TH DOCTOR - YEAR THREE (2017) #5 A FLOREAN (Titan Distributing) Near Mint/Mint
DOCTOR WHO: 11TH DOCTOR - YEAR THREE (2017) #8 B PHOTO (Titan Distributing) Near Mint/Mint
DOCTOR WHO: 11TH DOCTOR - YEAR THREE (2017) #10 A KLEBS JR (Titan Distributing) Near Mint/Mint

DOCTOR WHO: 12TH DOCTOR - YEAR THREE (2017) #2 E ZANFARDI (Titan Distributing) Near Mint/Mint
DOCTOR WHO: 12TH DOCTOR - YEAR THREE (2017) #3 A ALVES (Titan Distributing) Near Mint/Mint
DOCTOR WHO: 12TH DOCTOR - YEAR THREE (2017) #3 B PHOTO (Titan Distributing) Near Mint/Mint
DOCTOR WHO: 12TH DOCTOR - YEAR THREE (2017) #4 A MYERS (Titan Distributing) Near Mint/Mint
DOCTOR WHO: 12TH DOCTOR - YEAR THREE (2017) #4 B PHOTO (Titan Distributing) Near Mint/Mint
DOCTOR WHO: 12TH DOCTOR - YEAR THREE (2017) #4 D SZRAMSKI (Titan Distributing) Near Mint/Mint
DOCTOR WHO: 12TH DOCTOR - YEAR THREE (2017) #5 C SHEDD (Titan Distributing) Near Mint/Mint
DOCTOR WHO: 12TH DOCTOR - YEAR THREE (2017) #7 A IANNICEL (Titan Distributing) Near Mint/Mint
DOCTOR WHO: 12TH DOCTOR - YEAR THREE (2017) #7 B BROOKS (Titan Distributing) Near Mint/Mint

DOCTOR WHO: GHOST STORIES (2017) #1 C MYERS (Titan Distributing) Near Mint/Mint
DOCTOR WHO: GHOST STORIES (2017) #1 D FUSO (Titan Distributing) Near Mint/Mint
DOCTOR WHO: GHOST STORIES (2017) #2 A LACLAUST (Titan Distributing) Near Mint/Mint
DOCTOR WHO: GHOST STORIES (2017) #2 D GUERRERO (Titan Distributing) Near Mint/Mint
DOCTOR WHO: GHOST STORIES (2017) #3 A SHEDD (Titan Distributing) Near Mint/Mint
DOCTOR WHO: GHOST STORIES (2017) #3 B PHOTO (Titan Distributing) Near Mint/Mint
DOCTOR WHO: GHOST STORIES (2017) #3 C CALERO (Titan Distributing) Near Mint/Mint
DOCTOR WHO: GHOST STORIES (2017) #4 C CENTURIO (Titan Distributing) Near Mint/Mint

DRACULINA (MAG) #28 (Draculina Publishing) Near Mint/Mint
DRACULINA (MAG) #29 (Draculina Publishing) Near Mint/Mint
DRACULINA (MAG) #30 (Draculina Publishing) Near Mint/Mint

ELEGANT LADIES #1 (Jabberwocky) Near Mint/Mint

EVIL ERNIE (1991) #3 (Eternity Comics (World/Imperial)) Fine

FRANK FRAZETTA FANTASY ILLUSTRATED #2 VARIANT (Frank Frazetta Fantasy Illustrated) Near Mint/Mint
FRANK FRAZETTA FANTASY ILLUSTRATED #3 (Frank Frazetta Fantasy Illustrated) Near Mint/Mint
FRANK FRAZETTA FANTASY ILLUSTRATED #4 (Frank Frazetta Fantasy Illustrated) Near Mint/Mint


FRANK FRAZETTA FANTASY ILLUSTRATED #5

FRANK FRAZETTA FANTASY ILLUSTRATED #5 (Frank Frazetta Fantasy Illustrated) Near Mint/Mint
FRANK FRAZETTA FANTASY ILLUSTRATED #6 (Frank Frazetta Fantasy Illustrated) Near Mint/Mint
FRANK FRAZETTA FANTASY ILLUSTRATED #8 (Frank Frazetta Fantasy Illustrated) Very Fine

FRIGHT NIGHT (1988) #1 (Now Comics) Near Mint/Mint
FRIGHT NIGHT (1988) #2 (Now Comics) Near Mint/Mint

FSC: THWAR AND THUS (VOL.5) (2005) #1 (NEKO PRESS) Near Mint/Mint

GOODIES (1982) #89 (Jabberwocky) Fine

HEAVY METAL (MAG) #9607 (Heavy Metal) Near Mint/Mint

HEAVY METAL FALL SPECIAL #1996 (Magazine) Near Mint/Mint

LADY DEATH: ABANDON ALL HOPE (2005) #3 WRAPAROUND (Avatar Comics) Near Mint/Mint

LOOSE ENDS (2011) (#1-3) (12 GUAGE) #2 (12-GAUGE COMICS) Near Mint/Mint
LOOSE ENDS (2011) (#1-3) (12 GUAGE) #3 (12-GAUGE COMICS) Near Mint/Mint

LOST IN SPACE (INNOVATION) (1991) #7 (Innovation Publishing) Very Fine

NAZA (1963) #6 (Dell Publishing) Very Fine

NECROTIC DEAD FLESH ON LIVING BODY GN (2001) #1 (CROSS PLAINS COMICS, INC) Very Fine

REAL GHOSTBUSTERS (1988) #4 (Now Comics) Near Mint/Mint

REGGIE AND ME (1966) #67 (Archie Comics) Very Good

RICHIE RICH SUCCESS STORIES (1964) #6 (Harvey Comics) Good

SCOOBY DOO (GOLD KEY) #21 (Gold Key) Good

SHE'S A NIGHTMARE GN (2003) #1 TPB (High Aims.Comix) Near Mint/Mint

SUPERMARKET (2006) #1 (IDW Publishing) Near Mint/Mint

TAROT: WITCH OF THE BLACK ROSE (2000) #100 VARIANT (Broadsword Comics) Near Mint/Mint


TARZAN (1962) (#132-206) (GOLD KEY) #145

TARZAN (1962) (#132-206) (GOLD KEY) #145 (Gold Key) Good

TEENAGE MUTANT NINJA TURTLES (1984) (#1-62) (MIRAGE) #32 2ND PRT (Mirage Studios) Very Fine

TOM CORBETT: SPACE CADET (1952) #1 FC #400 (Dell Publishing) Fair

UNKNOWN WORLDS (AMERICAN COMIC GROUP) #47 (ACG) Good