60% Off 10,000 More Comics - Silver Age
Howdy!
I am on a cross country driving marathon. I returned on Friday from buying a nice comics collection in Wisconsin, which was an exhausting 2,100 mile round trip in just two days. This morning, I am leaving for Prescott, Arizona, which will be a trip of about 1,600 miles. This nice thing about today's journey is that it will take me through Moab, Utah and the periphery of Canyonlands National Park. The views should be awesome!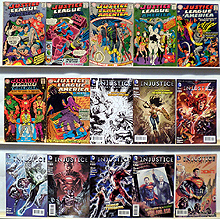 Some Justice League & Injustice comics from the Wisconsin collection

I really want to get going, so I am not going to wax poetic today. I would, however, like to request that you consider placing at least a small order with us this week. I have been going out on the road for over three months, and have managed to bring back to Colorado over a dozen great comics collections, consisting of over 200,000 issues in total. Those collections have contained comics from 1946-2016, including titles from darn near every publisher, and in every grade imaginable.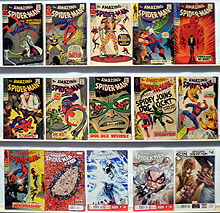 Some Spider-Man comics from the Wisconsin collection

My goal in seeking out this incredible bounty of great comics is to somehow find issues that are prominent on your own personal want list. It's my personal mission when purchasing collections to somehow locate issues for you that have been unavailable on our website in quite some time. Will, Pam, and Josh have since been grading and adding those comics I have purchased into our inventory at an astounding rate of nearly 10,000 individual issues per week. All we ask of you at this point is that you provide us with at least a little psychological support by placing a small order. If you help us even a little, I promise you that I will continue to work very hard to locate even more great back issues for you. Thank you for your support!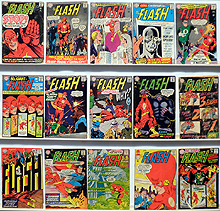 Some Flash comics from the Wisconsin collection

Happy Collecting!
Chuck Rozanski,
President - Mile High Comics, Inc.
October 10, 2016

Below is a listing of a few of the comics at were added to our website for you last Friday. I can't provide you with the entire list, as the huge list that I included with Wednesday's newsletter actually was so large that it crashed our mail server. Yow! Visit to our weekly New-In-Stock link to see all of the titles and issues that we added for you last week. Most qualify for the 60% off discount provided by the NANETTE2 codeword. Only new issues, a few variants and our CGC's are excluded from this incredibly generous codeword sale.
MARVEL
ALL-NEW CAPTAIN AMERICA: FEAR HIM (2015) #1 Very Fine


ALL-NEW CAPTAIN AMERICA: FEAR HIM (2015) #2

ALL-NEW CAPTAIN AMERICA: FEAR HIM (2015) #2 Very Fine

AMAZING X-MEN (2013) #5 Near Mint/Mint

AVENGERS (1997) (#0-84, 500-503) (MARVEL) #500 Near Mint/Mint
AVENGERS (1997) (#0-84, 500-503) (MARVEL) #501 Fine

AVENGERS ANNUAL (2012) #1 Very Fine

AVENGERS ASSEMBLE (2012) #18 Very Fine

AVENGERS: INITIATIVE (2007) #12 Near Mint/Mint

AVENGING SPIDER-MAN (2011) #16 Near Mint/Mint
AVENGING SPIDER-MAN (2011) #17 Near Mint/Mint

BLACK PANTHER (2009) (#1-12 & #513-529) (MARVEL) #1 Near Mint/Mint
BLACK PANTHER (2009) (#1-12 & #513-529) (MARVEL) #2 Fine
BLACK PANTHER (2009) (#1-12 & #513-529) (MARVEL) #3 Near Mint/Mint

BREAKING INTO COMICS: THE MARVEL WAY (2010) #1 Very Fine

CAPTAIN AMERICA (2012) #23 Very Fine

CARNAGE (2010) #1 ZIRCHER Near Mint/Mint
CARNAGE (2010) #2 Very Fine

DAREDEVIL (1964) (#1-380) (MAN WITHOUT FEAR) (MARVEL) #254 NEWSSTAND Very Good
DAREDEVIL (1964) (#1-380) (MAN WITHOUT FEAR) (MARVEL) #257 Very Fine

DAREDEVIL (1998) (#1-119, 500-512) (MARVEL) #100 TURNER Fine
DAREDEVIL (1998) (#1-119, 500-512) (MARVEL) #100 WRAPAROUND Very Fine
DAREDEVIL (1998) (#1-119, 500-512) (MARVEL) #116 Near Mint/Mint

DAREDEVIL: FATHER (2004) #6 Near Mint/Mint

FANTASTIC FOUR (2014) (#1-14, #642-645) (MARVEL) #2 Near Mint/Mint

FANTASTIC FOUR (2014) (#1-14, #642-645) (MARVEL) #3 Near Mint/Mint
FANTASTIC FOUR (2014) (#1-14, #642-645) (MARVEL) #4 Near Mint/Mint

HEROES FOR HIRE (2010) #1 Near Mint/Mint

INHUMANS VOL. 3 (2000) #1 Very Good

IRON MAN (2012) (#1-28) (MARVEL) #12 Near Mint/Mint
IRON MAN (2012) (#1-28) (MARVEL) #14 Near Mint/Mint

IRON MAN/THOR (2010) #3 Very Fine
IRON MAN/THOR (2010) #4 Very Fine

KA-ZAR (1974) #11 Near Mint/Mint
KA-ZAR (1974) #12 Very Fine

KA-ZAR (1981) #11 Near Mint/Mint
KA-ZAR (1981) #12 Very Fine

MAN-THING (1974) #1 Very Fine
MAN-THING (1974) #2 Very Fine
MAN-THING (1974) #3 Very Fine

MAN-THING (1979) #1 Very Fine

MARVEL 1602 (2003) #7 Near Mint/Mint

MARVEL CHILLERS (1975) #3 Very Fine
MARVEL CHILLERS (1975) #4 Very Fine

MARVEL FEATURE (1971) #1 Fine
MARVEL FEATURE (1971) #2 Fine

MARVEL FEATURE (1971) #3 Very Fine

MARVEL FEATURE (1975) #1 Very Fine

MARVEL SUPER-HEROES (1967) #20 Good
MARVEL SUPER-HEROES (1967) #21 Fine
MARVEL SUPER-HEROES (1967) #22 Very Good

MARVEL ZOMBIES (VOL.5) (2010) #1 Fine

MARVEL ZOMBIES RETURN (2009) #1 Very Fine
MARVEL ZOMBIES RETURN (2009) #2 Very Fine

MARVELS: EYE OF THE CAMERA (2008) #5 B&W Near Mint/Mint
MARVELS: EYE OF THE CAMERA (2008) #5 Very Fine

MOON KNIGHT (1989) (#1-60) (MARVEL) (MARC SPECTOR) #4 Near Mint/Mint

NEW AVENGERS (2004) #63 Very Fine

NEW AVENGERS ANNUAL (2006) #3 Fine
NEW AVENGERS ANNUAL (2011) #1 Very Fine

NEW AVENGERS: FINALE (2010) #1 Near Mint/Mint

NOVA (2013) (#1-31) (SAM ALEXANDER) (MARVEL) #2 Near Mint/Mint
NOVA (2013) (#1-31) (SAM ALEXANDER) (MARVEL) #7 Near Mint/Mint
NOVA (2013) (#1-31) (SAM ALEXANDER) (MARVEL) #15 Near Mint/Mint

OUR LOVE STORY (1969) #2 Good
OUR LOVE STORY (1969) #7 Good

PUNISHER (1987) (#1-104) (MARVEL) #8 NEWSSTAND Fine
PUNISHER (1987) (#1-104) (MARVEL) #11 Fine

PUNISHER (2009) (#1-21) (MARVEL) #1 VARIANT Fine

RUNAWAYS (2008) #9 WOLVERINE Very Fine

SILVER SURFER (2011) (#1-5) (MARVEL) #1 Near Mint/Mint

SPIDER-MAN (1963) (AMAZING SPIDER-MAN) (#1-441) #425 Very Fine
SPIDER-MAN (1963) (AMAZING SPIDER-MAN) (#1-441) #426 Very Fine
SPIDER-MAN (1963) (AMAZING SPIDER-MAN) (#1-441) #427 Very Fine

SPIDER-MAN VS. WOLVERINE (1987) #1 Fine

SPIDER-MAN: TRIAL OF VENOM (1992) #1 Fine

SUPERIOR SPIDER-MAN (2013) #9 Near Mint/Mint
SUPERIOR SPIDER-MAN (2013) #10 Near Mint/Mint

SUPERIOR SPIDER-MAN ANNUAL (2013) #1 Near Mint/Mint

WEB OF SPIDER-MAN (1985) #31 NEWSSTAND Fine

X-MEN: LEGACY (2013) #23 Near Mint/Mint

DC
ACTION COMICS (1938) (#0-904) (DC) #775 2ND PRINT Near Mint/Mint
ACTION COMICS (1938) (#0-904) (DC) #796 Very Fine

ACTION COMICS (2011) (#0-52) (DC NEW52) #21 COMBO Near Mint/Mint
ACTION COMICS (2011) (#0-52) (DC NEW52) #23 .1 DELUXE Near Mint/Mint

ACTION COMICS ANNUAL (1987) #11 VARIANT Near Mint/Mint


ACTION COMICS ANNUAL (1987) #13

ACTION COMICS ANNUAL (1987) #13 Near Mint/Mint

ADVENTURE COMICS (1938) #425 Fine
ADVENTURE COMICS (1938) #425 Very Fine
ADVENTURE COMICS (1938) #425 Very Good

ADVENTURE COMICS (2009) #9 512VARIANT Very Fine

ALL-OUT WAR (1979) #1 Very Good

ALL-STAR (1976) #60 Fine
ALL-STAR (1976) #61 Fine
ALL-STAR (1976) #61 Very Fine
ALL-STAR (1976) #61 Very Good

ALL-STAR SQUADRON (1981) #5 NEWSSTAND Very Good
ALL-STAR SQUADRON (1981) #65 NEWSSTAND Fine

AMERICAN VAMPIRE (DC VERTIGO) (2010) #1 Very Fine

AQUAMAN (1994) (#0-75) (DC) #1 NEWSSTAND Good

ARKHAM REBORN (2009) #1 VARIANT Near Mint/Mint

ARMY AT WAR (DC) (KUBERT) (1978) #1 Fine
ARMY AT WAR (DC) (KUBERT) (1978) #1 Very Good

ATOM (DC) (JUSTICE LEAGUE) (1962) #21 Fair
ATOM (DC) (JUSTICE LEAGUE) (1962) #22 Fair
ATOM (DC) (JUSTICE LEAGUE) (1962) #23 Very Good

AZRAEL (DC) (2009) #18 Very Good

BATMAN (1940) (#0-713) (DC) #343 JEWELERS Very Fine
BATMAN (1940) (#0-713) (DC) #343 Very Fine

BATMAN (1940) (#0-713) (DC) #347 Very Fine
BATMAN (1940) (#0-713) (DC) #348 Fine

BATMAN (2011) (#0-52) (DC NEW52) #0 BLANK CVR Very Fine
BATMAN (2011) (#0-52) (DC NEW52) #2 Very Fine
BATMAN (2011) (#0-52) (DC NEW52) #3 Near Mint/Mint

BATMAN & ROBIN ADVENTURES (1995) #25 Near Mint/Mint

BATMAN & SUPERMAN: WORLD'S FINEST (1999) #1 Near Mint/Mint

BATMAN 10-CENT ADVENTURE (2002) #1 BIGPLANET Fine

BATMAN AND ROBIN (2009) #1 VARIANT Near Mint/Mint
BATMAN AND ROBIN (2009) #6 VARIANT Near Mint/Mint
BATMAN AND ROBIN (2009) #7 VARIANT Near Mint/Mint

BATMAN ANNUAL (2012) #1 Near Mint/Mint

BATMAN BEGINS SPECIAL DVD ISSUE (2005) #1 Near Mint/Mint

BATMAN INCORPORATED (2010) #5 VARIANT Near Mint/Mint

BATMAN INCORPORATED: LEVIATHAN STRIKES (2011) #1 Near Mint/Mint

BATMAN LEGENDS (BRITISH) (UK) (2004) #30 Near Mint/Mint

BATMAN/DEATHBLOW: AFTER THE FIRE (BATMAN AND DEATHBLOW) (2002) #1 Very Fine

BATMAN/HELLBOY/STARMAN (DC) (DARK HORSE) (1999) #1 Very Fine

BATMAN/LOBO (ELSEWORLDS) (PRESTIGE) (2000) #1 Fine

BATMAN/SPAWN: WAR DEVIL (DC) (IMAGE) (PRESTIGE) (1994) #1 S&N Near Mint/Mint

BATMAN/SUPERMAN (2013) #3 Near Mint/Mint

BATMAN/SUPERMAN (2013) #4 Near Mint/Mint

BATMAN: BATTLE FOR THE COWL (2009) #2 VARIANT Good

BATMAN: BEYOND (3RD SERIES) (#1-6) (BATMAN BEYOND) (2010) #1 VARIANT Very Fine

BATMAN: CASTLE OF THE BAT (ELSEWORLDS) (PRESTIGE) (1994) #1 Near Mint/Mint

BATMAN: DARK VICTORY (JEPH LOEB) (TIM SALE) (1999) #0 WIZ WORLD Fine

BATMAN: DARK VICTORY (JEPH LOEB) (TIM SALE) (1999) #1 Fine
BATMAN: DARK VICTORY (JEPH LOEB) (TIM SALE) (1999) #2 Near Mint/Mint

BATMAN: NO MAN'S LAND (1999) #1 Near Mint/Mint

BATMAN: ODYSSEY (NEAL ADAMS) (2010) #3 VARIANT Near Mint/Mint

BATMAN: ODYSSEY (VOL. 2) (NEAL ADAMS) (2011) #1 VARIANT Near Mint/Mint
BATMAN: ODYSSEY (VOL. 2) (NEAL ADAMS) (2011) #5 VARIANT Near Mint/Mint
BATMAN: ODYSSEY (VOL. 2) (NEAL ADAMS) (2011) #6 VARIANT Near Mint/Mint

BATMAN: ORPHEUS RISING (ALEX SIMMONS) (2001) #1 DFE S&N Near Mint/Mint
BATMAN: ORPHEUS RISING (ALEX SIMMONS) (2001) #1 DFE S&N Very Fine

BATMAN: REIGN OF TERROR (MIKE W. BARR) (ELSEWORLDS) (1999) #1 Near Mint/Mint

BATMAN: THE ANIMATED MOVIE - MASK OF THE PHANTASM (1993) #1 DIGEST Fine

BATMAN: THE DARK KNIGHT (2010) #3 VARIANT Near Mint/Mint

BATMAN: THE LONG HALLOWEEN (JEPH LOEB) (TIM SALE) (1996) #3 Near Mint/Mint
BATMAN: THE LONG HALLOWEEN (JEPH LOEB) (TIM SALE) (1996) #5 Near Mint/Mint

BATMAN: TURNING POINTS (GREG RUCKA) (2001) #1 DFE S&N Fine

BATMAN: TWO-FACE-CRIME & PUNISHMENT (PRESTIGE) (1995) #1 DFE S&N Near Mint/Mint

BATMAN: VENGEANCE OF BANE SPECIAL (1993) #1 2ND PRINT Fine

BATMAN: WIDENING GYRE (KEVIN SMITH) (2009) #2 SKETCH CV Very Fine

BATMAN: YEAR ONE HUNDRED (PAUL POPE) (PRESTIGE) (2006) #1 Near Mint/Mint

BEST OF DC COMICS DIGEST (1977) #37 Good


BEST OF DC COMICS DIGEST (1977) #37

BEST OF DC COMICS DIGEST (1977) #37 Very Good

BIONICLE (DC) (LEGO CLUB MEMBERS ONLY) (2001) #6 Very Fine

BIONICLE UNMASKED (DC) (2003) #1 Fine

BIONICLE: IGNITION (DC) (LEGO CLUB) (2006) #5 Near Mint/Mint

BIRDS OF PREY (DC) (1998) #3 Near Mint/Mint
BIRDS OF PREY (DC) (1998) #5 Near Mint/Mint

BIRDS OF PREY: CATWOMAN (2003) #2 Near Mint/Mint

BLACK MAGIC (1973) #1 Fine
BLACK MAGIC (1973) #1 Very Good

BLACKEST NIGHT: BATMAN (2009) #3 VARIANT Near Mint/Mint

BLACKEST NIGHT: TITANS (2009) #2 VARIANT Near Mint/Mint
BLACKEST NIGHT: TITANS (2009) #3 VARIANT Near Mint/Mint

BOMBA, THE JUNGLE BOY (1967) #2 Fine
BOMBA, THE JUNGLE BOY (1967) #3 Fine

BOY COMMANDOS (1973) #1 Fine
BOY COMMANDOS (1973) #1 Near Mint/Mint

BRAVE AND THE BOLD (1955) #109 Fine
BRAVE AND THE BOLD (1955) #110 Fine
BRAVE AND THE BOLD (1955) #110 Very Fine
BRAVE AND THE BOLD (1955) #132 JEWELERS Very Fine
BRAVE AND THE BOLD (1955) #133 Very Fine

BRIGHTEST DAY (2010) #2 VARIANT Near Mint/Mint
BRIGHTEST DAY (2010) #5 VARIANT Near Mint/Mint

CATWOMAN (2001) #14 NEWSSTAND Near Mint/Mint
CATWOMAN (2001) #18 NEWSSTAND Near Mint/Mint

CATWOMAN 1,000,000 #1 Very Fine

CHALLENGERS OF THE UNKNOWN (1958) #77 Fine
CHALLENGERS OF THE UNKNOWN (1958) #78 Fine

CHAMPION SPORTS (1973) #1 Fine

CHAMPION SPORTS (1973) #1 Very Fine

DARK KNIGHT (1986) #3 2ND PRT Near Mint/Mint
DARK KNIGHT (1986) #4 1ST PRT Very Fine
DARK KNIGHT (1986) #4 1ST PRT Fine

DC COMICS PRESENTS (1978) #3 WHITMAN Fine
DC COMICS PRESENTS (1978) #7 BRITISH Fine

DC FIRST: GREEN LANTERN/GREEN LANTERN (2002) #1 NEWSSTAND Near Mint/Mint

DC SPECIAL (1968) #22 Fine
DC SPECIAL (1968) #22 Near Mint/Mint

DC SPECIAL BLUE RIBBON DIGEST (1980) #1 Very Fine
DC SPECIAL BLUE RIBBON DIGEST (1980) #10 Fine

DC SPECIAL SERIES (1977) #2 Fine
DC SPECIAL SERIES (1977) #2 Very Fine

DC SUPER-STARS (1976) #8 Near Mint/Mint
DC SUPER-STARS (1976) #8 Fine
DC SUPER-STARS (1976) #8 Very Fine
DC SUPER-STARS (1976) #13 Fine
DC SUPER-STARS (1976) #13 Very Good
DC SUPER-STARS (1976) #13 Very Fine
DC SUPER-STARS (1976) #18 Fine
DC SUPER-STARS (1976) #18 Very Good

DC UNIVERSE LEGACIES (2010) #1 VARIANT Very Fine
DC UNIVERSE LEGACIES (2010) #2 VARIANT Near Mint/Mint

DEMON (1972) #8 Fine
DEMON (1972) #8 Very Good
DEMON (1972) #11 Fine

DETECTIVE COMICS (1937) (#1-881) (DC) #359 TOY R US Very Fine
DETECTIVE COMICS (1937) (#1-881) (DC) #449 Fine

DETECTIVE COMICS (1937) (#1-881) (DC) #452 Fine
DETECTIVE COMICS (1937) (#1-881) (DC) #452 Very Good

DETECTIVE COMICS (2011) (#0-52) (DC NEW52) #16 COMBO Near Mint/Mint
DETECTIVE COMICS (2011) (#0-52) (DC NEW52) #17 COMBO Near Mint/Mint

DETECTIVE COMICS ANNUAL (1988) #10 NEWSSTAND Very Fine

DEXTER'S LABORATORY #34 Very Fine

EARTH 2 (2012) #3 Near Mint/Mint
EARTH 2 (2012) #14 Near Mint/Mint
EARTH 2 (2012) #15 .1 DELUXE Near Mint/Mint

EARTH 2 ANNUAL (2013) #1 Very Fine

FIRESTORM (1978) #1 Very Fine

FIRST ISSUE SPECIAL (1975) #7 Fine
FIRST ISSUE SPECIAL (1975) #9 Fine

FLASH (1959) (#105-350) (DC) #129 Fair
FLASH (1959) (#105-350) (DC) #131 Fair
FLASH (1959) (#105-350) (DC) #133 Fair
FLASH (1959) (#105-350) (DC) #134 Fair
FLASH (1959) (#105-350) (DC) #135 Fair
FLASH (1959) (#105-350) (DC) #138 Fair
FLASH (1959) (#105-350) (DC) #139 Fair
FLASH (1959) (#105-350) (DC) #140 Fair
FLASH (1959) (#105-350) (DC) #141 Fair
FLASH (1959) (#105-350) (DC) #142 Good
FLASH (1959) (#105-350) (DC) #143 Good
FLASH (1959) (#105-350) (DC) #144 Fair
FLASH (1959) (#105-350) (DC) #145 Fair
FLASH (1959) (#105-350) (DC) #146 Fair
FLASH (1959) (#105-350) (DC) #147 Very Good
FLASH (1959) (#105-350) (DC) #148 Good
FLASH (1959) (#105-350) (DC) #150 Very Good
FLASH (1959) (#105-350) (DC) #151 Good
FLASH (1959) (#105-350) (DC) #152 Good
FLASH (1959) (#105-350) (DC) #153 Good
FLASH (1959) (#105-350) (DC) #154 Fair
FLASH (1959) (#105-350) (DC) #155 Fair
FLASH (1959) (#105-350) (DC) #156 Very Good

FLASH (1959) (#105-350) (DC) #157 Good
FLASH (1959) (#105-350) (DC) #158 Fair
FLASH (1959) (#105-350) (DC) #159 Fair
FLASH (1959) (#105-350) (DC) #160 Good
FLASH (1959) (#105-350) (DC) #161 Good
FLASH (1959) (#105-350) (DC) #162 Good
FLASH (1959) (#105-350) (DC) #163 Very Good
FLASH (1959) (#105-350) (DC) #164 Very Good
FLASH (1959) (#105-350) (DC) #165 Good
FLASH (1959) (#105-350) (DC) #166 Very Good
FLASH (1959) (#105-350) (DC) #167 Good

FLASH (1987) (#0-247) (DC) #1 Fine
FLASH (1987) (#0-247) (DC) #164 Near Mint/Mint

FLASH (2011) (#0-52) (DC NEW52) #1 VARIANT Near Mint/Mint

FLASH: FASTEST MAN ALIVE (2006) #13 DC NATION Very Fine

FLASHPOINT (2011) #1 VARIANT Near Mint/Mint
FLASHPOINT (2011) #1 VARIANT Very Fine

FOUR STAR BATTLE TALES (1973) #1 Fine
FOUR STAR BATTLE TALES (1973) #1 Very Good

FREEDOM FIGHTERS (1976) #1 Fine
FREEDOM FIGHTERS (1976) #3 Very Fine

FRINGE (2008) #3 Near Mint/Mint
FRINGE (2008) #4 Near Mint/Mint
FRINGE (2008) #5 Near Mint/Mint
FRINGE (2008) #6 Near Mint/Mint

GREEN LANTERN (1960) #57 Very Good
GREEN LANTERN (1960) #89 Good

HAWKMAN (1964) #1 Good
HAWKMAN (1964) #4 Very Good

HAWKMAN (1964) #5 Fine
HAWKMAN (1964) #7 Good

MYSTERY IN SPACE (1951) #89 Fair

PHANTOM STRANGER (1969) #21 Very Good

SUPERBOY (2011) #19 Near Mint/Mint

SUPERBOY ANNUAL (2013) #1 Near Mint/Mint

SUPERMAN (1986) (#0-226, #650-714) (DC) #701 VARIANT Near Mint/Mint
SUPERMAN (1986) (#0-226, #650-714) (DC) #702 VARIANT Near Mint/Mint
SUPERMAN (1986) (#0-226, #650-714) (DC) #707 VARIANT Near Mint/Mint

SUPERMAN (2011) (#0-52) (DC NEW52) #23 .3 DELUXE Near Mint/Mint

SUPERMAN ANNUAL (2012) #1 Near Mint/Mint

SUPERMAN: WORLD OF NEW KRYPTON (2009) #12 VARIANT Near Mint/Mint

TEEN TITANS (2003) #50 VARIANT Near Mint/Mint

TEEN TITANS (2011) #0 Near Mint/Mint

TEEN TITANS ANNUAL (2012) #2 Near Mint/Mint

VAMPIRE DIARIES (2013) #4 Near Mint/Mint

DARK HORSE COMICS
ALIEN VS. PREDATOR: FIRE & STONE (DARK HORSE) (AVP) (2014) #1 MIGNOLA Near Mint/Mint

ALIENS (DARK HORSE) (1988) #1 Fine

ALIENS VS. PREDATOR: THREE WORLD WAR (DARK HORSE) (AVP) (2010) #1 Near Mint/Mint
ALIENS VS. PREDATOR: THREE WORLD WAR (DARK HORSE) (AVP) (2010) #2 Near Mint/Mint

ALIENS: FIRE & STONE (DARK HORSE) (2014) #1 STAPLES Very Fine


ALIENS: FIRE & STONE (2014) #2

ALIENS: FIRE & STONE (DARK HORSE) (2014) #2 Near Mint/Mint

CATALYST COMIX (2013) #2 Near Mint/Mint

CONCRETE (1987) #2 Very Good

FRANKENSTEIN UNDERGROUND (2015) #2 Near Mint/Mint

HELLBOY & THE BPRD (2014) #1 Near Mint/Mint
HELLBOY & THE BPRD (2014) #3 Near Mint/Mint
HELLBOY & THE BPRD (2014) #4 Near Mint/Mint
HELLBOY & THE BPRD (2014) #5 Very Fine

HELLBOY IN HELL (2012) #1 Near Mint/Mint
HELLBOY IN HELL (2012) #2 Near Mint/Mint
HELLBOY IN HELL (2012) #3 Near Mint/Mint
HELLBOY IN HELL (2012) #4 Near Mint/Mint
HELLBOY IN HELL (2012) #5 Very Fine
HELLBOY IN HELL (2012) #6 Near Mint/Mint

KING TIGER (2015) #3 Near Mint/Mint

PASTAWAYS (2015) #1 KOLINS Near Mint/Mint

PREDATOR: FIRE & STONE (2014) #1 BROWN Near Mint/Mint

PROMETHEUS: FIRE & STONE (2014) #1 PALUMBO Very Fine

PROMETHEUS: FIRE & STONE - OMEGA (2015) #1 Near Mint/Mint

TERMINATOR: SALVATION - FINAL BATTLE (2013) #5 Near Mint/Mint
TERMINATOR: SALVATION - FINAL BATTLE (2013) #6 Near Mint/Mint

THIS DAMNED BAND (2015) #2 Near Mint/Mint

VAMPIRELLA (1991) #1 Near Mint/Mint
VAMPIRELLA (1991) #2 Near Mint/Mint

VAMPIRELLA (1991) #3 Very Fine
VAMPIRELLA (1991) #4 Very Fine

INDEPENDENTS
BATTLE CHASERS COLLECTED EDITION (DC WILDSTORM) (1999) #2 (DC/Wildstorm) Very Fine

BEAUTIFUL STORIES FOR UGLY CHILDREN (1989) #2 (DC: Piranha Press) Very Fine
BEAUTIFUL STORIES FOR UGLY CHILDREN (1989) #7 (DC: Piranha Press) Near Mint/Mint
BEAUTIFUL STORIES FOR UGLY CHILDREN (1989) #7 (DC: Piranha Press) Very Fine

BLOODSHOT (2012) #18 CRAIN (Valiant Comics) Near Mint/Mint
BLOODSHOT (2012) #20 MOLINA (Valiant Comics) Near Mint/Mint

BOYS (2006) #1 (DC/Wildstorm) Near Mint/Mint
BOYS (2006) #5 (DC/Wildstorm) Near Mint/Mint

CRIMSON SPECIAL: SCARLET X BLOOD ON THE MOON (1999) #1 DFE ALTS&N (DC/Wildstorm) Near Mint/Mint

CROSSED (2008) #1 (Avatar Comics) Very Fine
CROSSED (2008) #2 AUXILIARY (Avatar Comics) Near Mint/Mint
CROSSED (2008) #3 WRAPAROUND (Avatar Comics) Near Mint/Mint

DANGER GIRL: HAWAIIAN PUNCH (2003) #1 (DC/Wildstorm) Near Mint/Mint

EX MACHINA (2004) #50 (DC/Wildstorm) Very Fine

FABLES (2002) #6 (DC: Vertigo Press) Fine
FABLES (2002) #6 (DC: Vertigo Press) Near Mint/Mint
FABLES (2002) #6 (DC: Vertigo Press) Very Fine
FABLES (2002) #7 (DC: Vertigo Press) Fine

FABLES: LAST CASTLE (2003) #1 (DC: Vertigo Press) Near Mint/Mint

FAUST (#1-13) (NORTHSTAR & REBEL PUBLISHING) (1988) #1 SIGNED (Northstar Publications) Near Mint/Mint

FAUST/777 THE WRATH #1 (Avatar Comics) Near Mint/Mint
FAUST/777 THE WRATH #2 (Avatar Comics) Near Mint/Mint

FRIDAY THE 13TH (2006) #1 BRADSTREET (DC/Wildstorm) Near Mint/Mint

GOTHIC NIGHTS (1995) #1 SIGNED (Rebel Studios) Fine

GRIMM (2013) #9 PHOTO (DYNAMITE Entertainment) Near Mint/Mint

GRIMM (2013) #11 PHOTO (DYNAMITE Entertainment) Near Mint/Mint
GRIMM (2013) #12 PHOTO (DYNAMITE Entertainment) Near Mint/Mint

HARBINGER (2012) #1 SUAYAN (Valiant Comics) Near Mint/Mint
HARBINGER (2012) #2 LOZZI (Valiant Comics) Near Mint/Mint

HARBINGER WARS (2013) #3 ZIRCHER (Valiant Comics) Near Mint/Mint

HARBINGER: BLEEDING MONK (2014) #0 2014 CRAIN (Valiant Comics) Near Mint/Mint

LADY DEATH/VAMPIRELLA: DARK HEARTS (1999) #1 (Chaos Comics) Near Mint/Mint

LADY MECHANIKA (2010) #1 B (Aspen) Near Mint/Mint

PHANTOM (1966) (#18-28) (KING) #27 (King Comics) Very Good

RICHIE RICH (1960) #96 (Harvey Comics) Good
RICHIE RICH (1960) #98 (Harvey Comics) Good

RICHIE RICH JACKPOTS (1972) #1 (Harvey Comics) Good

RICHIE RICH MILLIONS (1961) #43 (Harvey Comics) Very Good

SIXTH GUN (2010) #16 (Oni Press Inc.) Near Mint/Mint
SIXTH GUN (2010) #20 (Oni Press Inc.) Near Mint/Mint

SIXTH GUN: SONS OF THE GUN (2013) #5 (Oni Press Inc.) Near Mint/Mint

SOULFIRE (VOL. 3) (2011) #1 C (Aspen) Very Fine

TALISMAN: ROAD OF TRIALS (2009) #0 SAN DIEGO (Del Rey Book) Near Mint/Mint

UNITY (2013) #7 HAIRSINE (Valiant Comics) Near Mint/Mint

VAMPIRELLA (1992) #1 (Harris Comics) Near Mint/Mint
VAMPIRELLA (1992) #2 (Harris Comics) Near Mint/Mint

VAMPIRELLA (2001) #1 MAYHEW (Harris Comics) Very Fine

VAMPIRELLA OF DRAKULON #1 (Harris Comics) Very Fine

VAMPIRELLA PRESENTS JULIE STRAIN SPECIAL #1 (Harris Comics) Near Mint/Mint

VAMPIRELLA/DRACULA: CENTENNIAL #1 BOLTON (Harris Comics) Near Mint/Mint

VAMPIRELLA/LADY DEATH #1 (Harris Comics) Very Fine

VAMPIRELLA/PAINKILLER JANE #1 (Harris Comics) Fine

X-O MANOWAR (2012) #1 RIBIC (Valiant Comics) Near Mint/Mint