Local News - Saturday Auction Delayed - STAR WARS and DEADPOOL Variants
Our no-minimum-bid comics and toys auction that was originally scheduled for this Saturday at our Jason St. Mega-Store will need to be delayed by two weeks. This delay resulted from a serious illness within the family of a key member of our auction team. While his family member recovers, the rest of us will work to make our upcoming auction even better for everyone. Our new Jason St. auction date is Saturday, October 24th, beginning at 11:30 AM.
In addition to auctioning over 500 of our own items, we are also planning to have a small benefit portion of the auction, with all the proceeds going to help the kids at Rainbow Alley. Rainbow Alley is located in the basement of The Center (on East Colfax), and provides a refuge for LGBTQ kids who are either homeless, or who are seeking a safe place to be with their peers after school. I have been supporting this wonderful organization for the past two years, and would be most appreciative if you could donate a few unwanted items from your collection for the benefit of these at-risk teens. You can drop off your donations of comics, toys, or any other collectibles at any of our Mile High Comics locations. The Rainbow Alley portion of our auction is being conducted through the auspices of the Imperial Court of the Rocky Mountain Empire, a registered 501-C3 charity.
In other news, we were just offered an incredibly good deal by Marvel Comics. They are publishing an upcoming STAR WARS one-shot edition, called VADER DOWN #1 , which will release just about exactly when the new STAR WARS movie premieres. VADER DOWN #1 will be the bridge issue between stories featured in STAR WARS (2015) #13 & #14 and DARTH VADER (2015) #13, #14, & #15. What makes Marvel's offer to us very attractive is that they have offered us the opportunity to have Katie Cook draw covers to all five of the issues mentioned above in her charming Young Baby style. If you check out the rough sketch below, I think you will see why I jumped at this opportunity.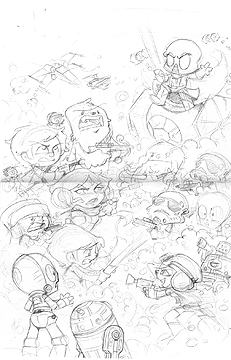 VADER DOWN #1 MILE HIGH
NOT FINAL COVER

All of the above having been said, I think that the deal I have for you on these six variant covers is also very beneficial. Place an advance order with us (either through one of our stores or online) for our exclusive Katie Cook STAR WARS #13 & #14 and DARTH VADER #13, #14, & #15 at $19.95 each, and you will then qualify to purchase a copy of our exclusive Mile High Comics Katie Cook VADER DOWN #1 variant edition (featuring the finished version of the cover shown above) for only $9.95. Our advance order stand-alone price for this fun VADER DOWN #1 variant edition will be $19.95, so you save $10 by ordering a complete set.
On related topic, we are starting to run very low on our remaining stock of our Mile High Comics variant editions of STAR WARS (2015) #1-#6 . As a result, our backlist prices on all six of these issues will be rising by $5-$10 each as of Saturday, at noon. If you have not yet filled in your set of our STAR WARS variants, I urge you to do so immediately. Demand for all of our STAR WARS variants is gaining momentum as the date of the release of the new movie (December 18th) draws nearer. We have fewer than 1,000 copies each left on issues #1 and #2, so we expect them to totally sell out in December. Given how fast that they are currently selling, I would not be surprised if our Mile High Comics STAR WARS (2015) #1 variant breaks the $100 barrier by January...

DEADPOOL (2015) #1 MHC VARIANT

While I do not want to make today's newsletter all about our variants, I do need to also mention that we are currently accepting advance reservations at all of our stores for our upcoming exclusive Mile High Comics DEADPOOL (2015) #1-#6 variant editions. What makes this issue extremely important is that it is only the first of what we are intending to be a very long run of Mile High Comics DEADPOOL variant editions. As we did with STAR WARS, we have signed an advance contract to publish Mile High Comics exclusives for DEADPOOL (2015) #1-#6 , all featuring "Postcards from the Marvel Universe!" covers. If sales go as expected, we plan to continue publishing Mile High DEADPOOL variants pretty much indefinitely.
So you know, we fully expect that advance orders on this title will be initially slow, as DEADPOOL is currently a cult favorite, not a mainstream character. After having seen the trailer for the upcoming movie, however, I am absolutely convinced that DEADPOOL is going to become a huge hit for the early part of 2016, with that momentum from the movie boosting the title enormously. Presuming that my prediction comes to pass, I expect our DEADPOOL (2015) #1 variant edition to be at least a $50 issue by the time that we head to San Diego in mid-July. FYI, issue #1 ships in just four weeks, and our print run will be tiny...
Happy collecting!
Chuck Rozanski,
President - Mile High Comics, Inc.
October 7, 2015

Mile High Comics - Jason Street Mega-Store


Mile High Comics Retail Store Locations