60% Off Marvel New-In-Stock Listing

Howdy!

I flew home from Las Vegas at midnight last evening, exhausted, but happy. My trip to Nevada to purchase comics was an unqualified success, with my obtaining over 100,000 back issues in that one deal, including 10,000+ Silver Age and Bronze Age (1965-1984) issues. I also picked up over 2,000 out-of-print trade paperbacks and hardbacks, so my buying trip was amazingly fruitful.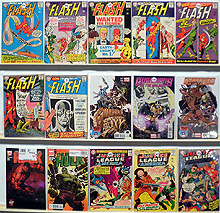 Some Comics from the last few collections

While I still have to go back to NV in two weeks to pack up those 100,000 comics and books, I am leaving at the crack of dawn tomorrow to look at even more collections in Milwaukee and Chicago. I will be driving a van on this particular trip, as I want to be able to bring those collections back with me, rather than having to ship them. Sadly, all of the shipping companies have recently raised their rates (again), which makes it harder for me to be able to pay sellers top dollar for their collections. That having been said, when I can drive a van out and take care of the shipping myself, it saves everyone from those dreadful shipping costs. Win-win!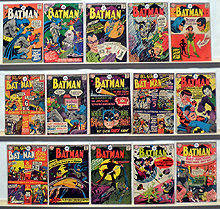 Some of the Batman Comics from the last few collections

As regards news from Mile High Comics, it really is a case of our working our tails off every day to add even more purchasing options for you on our website. Pam, Will, and Josh have been amazing in their productivity of late, grading tens of thousands of comics for you from the collections that I have just located. Because we all want you to share in the bounty of our success and hard work, all of these comics are available to you right now at a full 60% off via our NANETTE2 codeword sale. Only new issues, a few variants, and our CGC-graded issues are excluded from this amazing discount sale.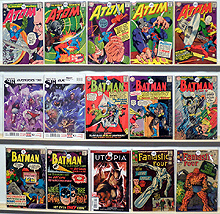 Some more Comics from the last few collections

I will stop writing now, and let our remarkable Marvel Comics New-In-Stock listing from this past week illustrate for you the breadth of titles we have just added for you. Similarly expansive lists of DC, Dark Horse, Image, etc. are available in the 7-day New-In-Stock link. Please do enjoy all of the great opportunities with our sincere thanks for your continuing support of our efforts.
Happy Collecting!
Chuck Rozanski,
President - Mile High Comics, Inc.
October 5, 2016

P.S. While the New-In-Stock list below reflects amazing diversity, please understand that we generally only receive a single issue of a title in that particular grade. If you would like to add some of these great comics to your collection at 60% off, please be sure and place your order with us as quickly as possible. Thank you!

A-FORCE (2015) #5 Near Mint
A-FORCE (2016) #1 Near Mint,#2 Very Fine,#9 Near Mint
AGE OF ULTRON VS. MARVEL ZOMBIES (2015) #2 Very Fine,#4 Near Mint
AGENTS OF SHIELD (2016) #1 Very Fine,#2 Near Mint,#5 Very Fine
ALL-NEW ALL-DIFFERENT AVENGERS (2015) #1 Very Fine,#1 Near Mint
ALL-NEW ALL-DIFFERENT AVENGERS FREE COMIC BOOK DAY (2015) #1 Fine,#1 Very Fine
ALL-NEW ALL-DIFFERENT MARVEL POINT ONE (2015) #1 Near Mint
ALL-NEW GHOST RIDER (2014) #1 Very Fine
ALL-NEW INHUMANS (2015) #1 Fine,#1 Very Fine,#2 Near Mint,#3 Very Fine
ALL-NEW INVADERS (2014) #1 Very Fine
ALL-NEW MARVEL NOW PREVIEWS (2014) #1 Very Fine
ALL-NEW WOLVERINE (2015) #1 Fine,#1 Very Fine,#1 Near Mint,#2 Fine,#2 Near Mint,#13 Near Mint
ALL-NEW X-FACTOR (2014) #1 Very Fine,#2 Very Fine
ALL-NEW X-MEN (2012) #23 Near Mint
ALL-NEW X-MEN (2015) #5 Near Mint
ALL-WINNERS SQUAD: BAND OF HEROES (2011) #1 Fine,#2 Fine,#3 Near Mint,#4 Fine,#5 Near Mint
ALPHA FLIGHT (1983) #28 NEWSSTAND Near Mint,#29 Good,#30 Near Mint,#31 Very Fine,#32 Near Mint,#34 Near Mint,#35 Near Mint,#36 Near Mint,#37 Near Mint,#38 Near Mint,#39 NEWSSTAND Near Mint,#40 Near Mint,#41 Near Mint,#42 Near Mint,#43 Near Mint,#44 Near Mint
AMAZING ADVENTURES (1970) #1 Good,#2 Very Good,#3 Good,#4 Very Good,#5 Good,#6 Very Good,#7 Very Good,#8 Very Good,#10 Very Good
AMAZING SPIDER-MAN (1999) #20 Near Mint,#574 Fine,#575 Near Mint,#576 Near Mint,#577 VARIANT Very Fine,#578 Fine,#579 Fine,#580 Fine,#581 Fine,#582 Fine,#583 Fine,#584 Fine,#585 Fine,#586 Very Fine,#587 Very Fine,#588 Very Fine,#589 Very Good,#590 Very Good,#591 Very Fine,#592 Fine,#593 Very Fine,#594 Fine,#595 Fine,#596 Very Fine,#597 Fine,#598 Fine,#599 Near Mint,#600 ROMITA JR. Fine,#600 ROSS Near Mint,#634 VILLAINS Fine
AMAZING SPIDER-MAN (2015) #1 Very Fine,#1 .2 Near Mint,#2 Very Fine,#2 Near Mint,#5 Near Mint,#6 Near Mint,#19 Near Mint,#19 KUDER Near Mint
AMAZING SPIDER-MAN '96 #1 Very Fine
AMAZING SPIDER-MAN 1999 ANNUAL #1 Fine
AMAZING SPIDER-MAN 2000 ANNUAL #1 Fine
AMAZING SPIDER-MAN 2001 ANNUAL #1 Very Fine
AMAZING SPIDER-MAN ANNUAL (2008) #1 Very Good,#36 Very Good
AMAZING SPIDER-MAN SUPER SPECIAL (1995) #1 Near Mint
AMAZING SPIDER-MAN: RENEW YOUR VOWS (2015) #1 Very Fine,#3 Very Fine,#4 Near Mint
ANGELA: QUEEN OF HEL (2015) #3 Near Mint
ASTONISHING TALES (1970) #1 Very Good,#2 Good,#3 Good,#4 Very Good,#5 Good,#6 Very Good,#7 Good,#8 Very Good
AVENGERS (1963) #3 Fair,#31 Very Good,#32 Good,#33 Good,#34 Good,#37 Good,#38 Very Good,#40 Very Good,#41 Good,#42 Good,#43 Very Good,#44 Fine,#45 Fine,#46 Fine,#47 Fine,#48 Fine,#49 Fine,#50 Good,#51 Very Fine,#52 Fine,#53 Very Good,#54 Very Good,#55 Fine,#56 Good,#57 Fair,#59 Very Good,#60 Fine,#61 Fine,#62 Very Good,#63 Very Good,#66 Fine,#67 Good,#68 Fine,#70 Very Good,#71 Very Good,#72 Very Good,#73 Good,#74 Very Fine,#75 Good,#76 Fair,#77 Good,#78 Good,#79 Very Good,#80 Good,#81 Very Good,#82 Good,#83 Good,#84 Good,#85 Good,#86 Good,#87 Very Good,#88 Good,#89 Good,#90 Very Good,#91 Good,#92 Very Good,#94 Good,#95 Good,#96 Very Good,#97 Very Good,#98 Very Good,#99 Very Good,#101 Very Good,#102 Very Good,#103 Very Good,#104 Very Good,#105 Good,#106 Very Good,#107 Very Good,#108 Good,#109 Very Good,#110 Very Good,#111 Very Good,#112 Very Good,#113 Very Good,#114 Very Good,#115 Very Good,#116 Very Good,#117 Very Good,#118 Good,#119 Good,#120 Very Good,#121 Very Good,#122 Fine,#123 Fine,#125 Very Good,#126 Very Good,#127 Very Good,#128 Fine,#129 Fine,#130 Good,#131 Fine,#132 Very Good,#133 Very Good,#134 Very Good,#135 Very Good,#135 Very Fine,#136 Very Good,#137 Fair,#138 Good,#212 Fine,#212 Very Fine,#216 Fine,#216 Very Fine,#217 Fine,#217 Very Fine,#224 Very Fine,#281 Very Good,#282 Very Good,#283 Fine,#284 Fine,#285 Fine,#286 Very Good,#287 NEWSSTAND Very Good,#288 Very Good,#289 Very Good,#290 Very Good,#291 Very Good,#292 Very Good,#293 Fine,#294 Very Good,#295 Fine,#296 Very Good,#297 NEWSSTAND Fine,#298 Very Good,#299 Fine,#300 Fine,#301 Very Good,#302 Fine,#303 Fine,#304 Very Good,#305 Very Good,#306 Fine,#307 Very Good,#308 Very Good,#309 NEWSSTAND Fine,#310 NEWSSTAND Fine,#311 NEWSSTAND Fine,#312 Very Good,#313 Very Good,#314 NEWSSTAND Very Good,#315 Very Good,#316 Very Good,#317 Very Good,#318 Very Good
AVENGERS (1997) #29 Near Mint,#30 Very Fine,#30 Near Mint,#35 Very Fine,#36 Very Fine,#36 Near Mint,#41 Near Mint,#42 Very Fine,#42 Near Mint,#43 Fine,#43 Near Mint,#44 Fine,#45 Fine,#45 Near Mint,#46 Fine,#46 Near Mint,#47 Fine,#47 Very Fine,#47 Near Mint,#48 Near Mint,#49 Near Mint,#55 Near Mint,#58 Very Fine,#63 Very Fine
AVENGERS (MARVEL) (2015) #0 Very Fine,#0 Near Mint
AVENGERS ANNUAL (1967) #4 Fair,#4 Good,#5 Good,#5 Very Good,#6 Very Good,#7 Very Good,#8 Very Good,#16 Fine
AVENGERS ASSEMBLE (2012) #23 Fine
AVENGERS GIANT-SIZE (1974) #1 Very Good,#2 Good,#3 Very Good,#4 Very Good
AVENGERS INDEX #1 Fine,#2 Fine,#3 Fine,#4 Fine,#5 Very Fine,#6 Very Fine,#7 Fine
AVENGERS PRIME (2010) #2 Good,#3 Very Fine,#4 Fine,#5 Near Mint
AVENGERS STANDOFF: WELCOME TO PLEASANT HILL (2016) #1 Very Fine
AVENGERS UNDERCOVER (2014) #1 Very Fine
AVENGERS VS. INFINITY (2015) #1 Good,#1 Fine,#1 Very Fine,#1 Near Mint,#1 LIM Near Mint
AVENGERS: CHILDREN'S CRUSADE (2010) #1 Very Fine,#2 Fine,#3 Very Fine,#4 Fine,#5 Near Mint,#6 Very Fine,#7 Near Mint,#8 Near Mint,#9 Near Mint
AVENGERS: CHILDREN'S CRUSADE - YOUNG AVENGERS (2011) #1 Fine
AVENGERS: X-SANCTION (2011) #1 Good,#2 Very Fine
BEAVIS & BUTT-HEAD (1994) #1 Very Fine,#2 Fine,#3 Very Fine,#4 Very Fine,#5 Very Fine
BIZARRE ADVENTURES (1981) #34 Very Fine
BLACK PANTHER (2016) (#1-UP) (MARVEL) #6 Near Mint,#6 RIBIC Near Mint
BLACK PANTHER EPIC COLLECTION: PANTHER'S RAGE TPB (2016) #1 Near Mint
BLACK WIDOW (2014) #1 Very Fine
BLACK WIDOW (2016) #1 Near Mint
BULLSEYE: GREATEST HITS (2004) #1 Very Good,#2 Good,#3 Fine,#4 Very Good,#5 Very Good
BULLWINKLE AND ROCKY (1987) #1 Very Fine
CABLE (1993) #65 Near Mint,#66 Near Mint,#67 Near Mint,#68 Very Fine,#69 Near Mint,#70 Near Mint,#71 Near Mint,#72 Near Mint,#73 Fine,#74 Near Mint,#75 Near Mint,#76 Near Mint,#77 Near Mint,#78 Near Mint,#79 Near Mint,#80 Near Mint,#81 Near Mint,#82 Near Mint,#83 Near Mint,#84 Near Mint,#85 Near Mint,#86 Near Mint,#87 Near Mint,#88 Near Mint,#89 Near Mint,#90 Near Mint,#91 Near Mint,#92 Near Mint,#93 Near Mint,#94 Near Mint,#95 Near Mint,#96 Near Mint,#97 Near Mint,#98 Near Mint,#99 Near Mint,#100 Near Mint,#101 Near Mint,#102 Near Mint,#103 Near Mint,#104 Near Mint,#105 Near Mint,#106 Near Mint,#107 Near Mint
CAGE (2016) (#1-UP) (MARVEL NOW) (LUKE CAGE) #1 Near Mint,#1 VON Near Mint
CAPTAIN AMERICA & BUCKY (#620-UP) (2011) #636 Near Mint,#637 Very Good,#638 Near Mint,#639 Near Mint,#640 Near Mint
CAPTAIN AMERICA: HOMECOMING (2014) #1 Very Good
CAPTAIN AMERICA: LIVING LEGEND (2013) #1 Very Fine,#2 Near Mint,#3 Near Mint,#4 Fine
CAPTAIN AMERICA: SAM WILSON (2015) #1 Very Fine,#4 Very Fine,#4 Near Mint,#13 Near Mint,#13 STERANKO Near Mint
CAPTAIN AMERICA: STEVE ROGERS (2016) #4 Good,#5 Near Mint,#5 CHEN Near Mint
CAPTAIN MARVEL (1968) #11 Very Fine
CAPTAIN MARVEL (2014) #1 Fine
CAPTAIN MARVEL (2016) (#1-UP) (MARVEL) #1 Near Mint,#9 Near Mint,#9 SAMNEE Near Mint
CARNAGE (2015) #9 Very Fine
CAT (1972) #1 Fine,#2 Fine,#3 Fine,#4 Fine
CATACLYSM: ULTIMATES LAST STAND (2013) #4 Very Fine,#5 Very Fine
CHAMPIONS (2016) (#1-UP) (MARVEL NOW) #1 Near Mint,#1 A ADAMS Near Mint,#1 FOSGITTB&W Near Mint,#1 MILE HIGH Near Mint,#1 MILE HIGH Near Mint,#1 NYCC Near Mint
CHEWBACCA (STAR WARS) (2015) #2 Very Fine
CHILLERS GIANT-SIZE (1974) #1 Very Good
CIVIL WAR II (2016) #2 3RD PRINT Near Mint
CIVIL WAR II: AMAZING SPIDER-MAN (2016) #4 BIANCHI Near Mint
CIVIL WAR II: KINGPIN (2016) #3 Fine,#3 Near Mint,#3 EPTING VAR Near Mint
CIVIL WAR II: X-MEN (2016) #4 WILLIAMS Near Mint
CLOAK & DAGGER (2010) #1 Near Mint
CLOAK AND DAGGER (1983) #1 Near Mint
CONTEST OF CHAMPIONS (2015) #1 Near Mint,#4 Near Mint,#5 GAME VAR Very Fine,#6 Near Mint
COSMIC POWERS (1994) #1 Very Fine,#2 Very Fine,#3 Fine,#4 Very Fine
COSMIC POWERS UNLIMITED (1995) #1 Near Mint,#2 Very Fine,#3 Very Fine,#4 Very Fine,#5 Near Mint
COYOTE (1983) #6 Very Good,#7 Good,#8 Very Good,#9 Near Mint,#10 Fine,#11 Near Mint,#12 Fine,#13 Near Mint,#14 Near Mint,#15 Near Mint,#16 Very Fine
CREATURES GIANT-SIZE (1974) #1 Near Mint
DAKOTA NORTH (1986) #1 NEWSSTAND Fine,#2 Near Mint,#3 Fine,#4 Fine,#5 Very Fine,#5 NEWSSTAND Very Fine
DAREDEVIL (1964) #20 Good,#21 Good,#22 Good,#48 Very Good,#49 Fine,#50 Fine,#57 Fine,#58 Very Good,#61 Fine,#62 Fine,#73 Fine,#77 Fine,#81 Fine,#82 Very Fine,#83 Fine,#84 Very Fine,#85 Very Fine,#86 Fine,#87 Near Mint,#88 Very Fine,#89 Very Fine,#90 Very Fine,#91 Very Fine,#92 Fine,#93 Very Fine,#94 Near Mint,#95 Fine,#96 Very Fine,#97 Very Fine,#98 Fine,#99 Near Mint,#100 Fine,#101 Very Fine,#102 Very Fine,#103 Fine,#104 Very Fine,#105 Very Fine,#106 Fine,#107 Near Mint,#109 Fine,#111 Very Fine,#112 Very Fine,#115 Very Fine,#116 Very Fine,#117 Near Mint,#118 Near Mint,#119 Very Fine,#120 Near Mint,#121 Very Fine,#122 Very Fine,#123 Near Mint,#124 Very Fine,#125 Near Mint,#126 Very Fine,#127 Very Fine,#128 Near Mint,#129 Fine,#130 Very Fine,#131 Very Fine,#132 Very Fine,#133 Near Mint,#134 Near Mint,#135 Fine,#136 Very Fine,#137 Very Fine,#138 Fine,#139 Very Fine,#140 Very Fine,#141 Very Fine,#142 Fine,#143 Near Mint,#144 Very Fine,#147 Near Mint,#148 Very Fine,#149 Fine,#150 Very Fine,#151 Near Mint,#152 Near Mint,#153 Near Mint,#154 Near Mint,#155 Near Mint,#156 Near Mint,#157 Near Mint,#158 Near Mint,#159 Fine,#160 Near Mint,#161 Near Mint,#162 NEWSSTAND Near Mint,#163 NEWSSTAND Very Fine,#164 NEWSSTAND Near Mint,#165 NEWSSTAND Very Fine,#166 Very Fine,#167 Fine,#168 Fine,#169 Fine,#170 Very Fine,#171 Very Fine,#172 Very Fine,#173 Very Fine,#174 Near Mint,#175 NEWSSTAND Near Mint,#176 Near Mint,#177 Near Mint,#178 Near Mint,#179 Near Mint,#180 Very Good,#181 Near Mint,#182 Near Mint,#183 Near Mint,#186 Fine,#188 Near Mint,#191 Near Mint,#192 Near Mint,#193 Near Mint,#194 Near Mint,#195 Near Mint,#196 Near Mint,#197 Near Mint,#199 Near Mint,#200 Fine,#201 Near Mint,#202 Near Mint,#203 Near Mint,#205 Near Mint,#206 Very Fine,#207 Near Mint,#208 Near Mint,#209 Near Mint,#210 Near Mint,#211 Near Mint,#212 Near Mint,#213 Near Mint,#214 Fine,#215 Near Mint,#216 Near Mint,#217 Near Mint,#218 Fine,#219 Near Mint,#220 Very Fine,#221 Near Mint,#222 Near Mint,#223 Near Mint,#224 Near Mint,#225 Near Mint,#226 Fine,#227 Near Mint,#228 Near Mint,#228 NEWSSTAND Near Mint,#229 Near Mint,#230 Near Mint,#231 Near Mint,#232 Near Mint,#233 Near Mint,#234 Near Mint,#235 Near Mint,#236 Fine,#237 Very Good,#238 Fine,#239 Very Good,#240 Fine,#241 Near Mint,#242 Near Mint,#243 Good,#244 Fine,#245 Fine,#246 Very Good,#247 Fine,#248 Near Mint,#249 Fine,#250 Very Fine,#251 Very Fine,#252 Very Good,#253 Very Fine,#254 Fine,#255 Near Mint,#256 Very Fine,#257 Fine,#258 Very Good,#259 Near Mint,#260 Near Mint,#261 Fine,#262 Very Good,#263 Very Good,#264 Very Good,#265 Very Good,#266 Near Mint,#267 Very Good,#268 Near Mint,#269 Very Fine,#270 Near Mint,#271 Near Mint,#272 Near Mint,#274 Near Mint,#275 Very Good,#276 Near Mint,#278 Fine,#280 Near Mint,#281 Near Mint,#282 Very Fine,#283 Very Fine,#284 Near Mint,#285 Near Mint,#286 Fine,#287 Near Mint,#288 Near Mint,#289 Near Mint,#290 Very Fine,#291 Near Mint,#292 Fine,#293 Near Mint,#294 Near Mint,#296 Near Mint,#297 Near Mint,#298 Near Mint,#299 Near Mint,#300 Good,#301 Good,#302 Good,#303 Good
DAREDEVIL (2015) #1 Near Mint,#2 Fine,#3 RIVERA Near Mint
DAREDEVIL ANNUAL (1967) #1 Fair,#2 Fine,#4 Fine,#4 1989 Very Good
DAREDEVIL: BATTLIN' JACK MURDOCK (2007) #1 Fair,#2 Very Good,#3 Fine,#4 Fine
DAREDEVIL: END OF DAYS (2012) #8 Very Fine
DARK REIGN: FANTASTIC FOUR (2009) #1 Very Good,#2 Very Good,#3 Very Good,#4 Fine,#5 Near Mint
DARK REIGN: LETHAL LEGION (2009) #1 Very Good,#2 Very Good,#3 Very Good
DARK REIGN: MISTER NEGATIVE (2009) #1 Good,#2 Very Good,#3 Fine
DARK REIGN: SINISTER SPIDER-MAN (2009) #1 Very Good,#2 Very Fine,#3 Very Fine,#4 Near Mint
DARK REIGN: ZODIAC (2009) #1 Very Good,#2 Very Good,#3 Very Good
DARK X-MEN (2009) #1 Fine,#2 Fine,#3 Fine,#4 Very Fine,#5 Very Fine
DARK X-MEN: BEGINNING (2009) #1 Very Good,#2 Fine,#3 Very Good
DARTH VADER (STAR WARS) (2015) #1 BLANK CVR Very Fine,#1 BLANK CVR Near Mint,#1 FIGURE VAR Very Fine,#1 FIGURE VAR Near Mint,#1 MOVIE CVR Very Fine,#1 MOVIE CVR Near Mint,#7 Very Fine,#8 Very Fine,#9 Very Fine,#10 Very Fine,#11 Very Fine,#12 Very Fine,#13 Fine,#13 Very Fine,#13 MILE HIGH Very Good,#14 MILE HIGH Very Good,#15 Fine,#15 Very Fine,#16 Fine,#16 Very Fine
DARTH VADER ANNUAL (STAR WARS) (2015) #1 Very Fine
DAZZLER (1981) #32 NEWSSTAND Fine
DEADPOOL (1993) #1 Very Fine,#2 Near Mint
DEADPOOL (2008) #37 Very Fine,#38 Very Fine,#39 Near Mint,#900 Fine
DEADPOOL (2012) #41 Fine,#45 250 Fine
DEADPOOL (2016) (#1-UP) (MARVEL) #1 Near Mint,#3 Very Fine,#3 Near Mint,#3 .1 Very Fine,#4 Very Fine,#5 Near Mint,#7 Near Mint,#14 KOBLISH Near Mint,#18 RETAILER Near Mint,#19 Near Mint,#19 KOBLISH Near Mint
DEADPOOL & CABLE: SPLIT SECOND (2015) #1 Fine,#1 Near Mint
DEADPOOL & THE MERCS FOR MONEY (VOL. 2) (2016) #1 HIP HOP Near Mint,#4 Near Mint
DEADPOOL ANNUAL (2016) #1 Near Mint,#1 LIM Near Mint,#1 YOUNG BABY Near Mint
DEADPOOL VS. CARNAGE (2014) #1 Very Fine
DEADPOOL VS. THANOS (2015) #1 Very Fine,#2 Near Mint,#3 Very Fine,#4 Very Fine
DEADPOOL: BACK IN BLACK (2016) #1 Near Mint,#1 LIM Near Mint
DEATH OF WOLVERINE: DEADPOOL & CAPTAIN AMERICA (2014) #1 2ND PRINT Fine
DEATH OF X (2016) #1 Near Mint,#1 CHOI Near Mint,#1 GUICE Near Mint,#1 KUDER Near Mint,#1 KUDER B&W Near Mint
DEATHLOK (2009) #1 Near Mint,#2 Fine,#3 Fine,#4 Fine,#5 Fine,#6 Fine,#7 Fine
DEFENDERS (1972) #1 Very Fine,#2 Fine,#3 Fine,#4 Fine,#5 Fine,#6 Fine,#7 Good,#8 Fine,#9 Fine,#10 Very Fine,#11 Fine,#12 Very Fine,#14 Very Fine,#16 Near Mint,#17 Near Mint,#18 Very Fine,#19 Very Fine,#20 Near Mint,#21 Near Mint,#22 Near Mint,#23 Near Mint,#24 Very Fine,#25 Fine,#26 Very Fine,#27 Near Mint,#28 Very Fine,#29 Very Fine,#30 Very Good,#31 Fine,#32 Very Fine,#33 Fine,#34 Near Mint,#35 Near Mint,#36 Near Mint,#37 Very Fine,#38 Very Fine,#39 Near Mint,#40 Very Fine,#41 Near Mint,#42 Near Mint,#43 Very Fine,#44 Very Fine,#45 Near Mint,#46 Near Mint,#47 Near Mint,#48 Very Fine,#49 Very Fine,#50 Near Mint,#51 Very Fine,#52 Very Good,#53 Near Mint,#54 Near Mint,#55 Very Fine,#56 Fine,#57 Near Mint,#58 Very Fine,#59 Near Mint,#60 Near Mint,#61 Very Fine,#62 Near Mint,#63 Fine,#64 Near Mint,#65 Near Mint,#66 Very Fine,#67 Very Fine,#68 Near Mint,#69 Near Mint,#70 Near Mint,#71 Very Fine,#72 Fine,#73 NEWSSTAND Near Mint,#74 Near Mint,#75 Near Mint,#76 Very Fine,#77 Near Mint,#78 NEWSSTAND Very Fine,#79 NEWSSTAND Near Mint,#80 NEWSSTAND Near Mint,#81 NEWSSTAND Near Mint,#82 NEWSSTAND Near Mint,#83 Near Mint,#84 NEWSSTAND Very Fine,#85 NEWSSTAND Very Fine,#86 Near Mint,#87 Very Fine,#88 Near Mint,#89 Very Fine,#90 Fine,#91 Very Fine,#92 Near Mint,#93 Near Mint,#94 Near Mint,#95 Near Mint,#96 Near Mint,#97 Near Mint,#98 Near Mint,#99 Very Fine,#100 Fine,#135 Very Fine,#135 Near Mint
DOCTOR STRANGE (1974) #79 Very Good,#80 Very Good
DOCTOR STRANGE (2015) #1 Very Fine,#1 Near Mint,#6 Near Mint,#11 Near Mint,#12 Near Mint,#12 SMITH Near Mint
DOCTOR STRANGE ANNUAL (2016) #1 Near Mint,#1 LIM Near Mint
DOCTOR WHO MAGAZINE #491 Near Mint,#492 Very Fine,#492 Near Mint,#493 Very Fine,#494 Near Mint
DOOM 2099 (1993) #43 Very Fine
DRACULA GIANT-SIZE (1974) #2 Very Fine,#3 Very Fine,#4 Fine,#5 Fine
DRAX (2015) #1 Very Fine,#2 Near Mint,#11 Near Mint
ENCHANTED TIKI ROOM (2016) #1 Near Mint,#1 FIGURE VAR Near Mint,#1 GRANDT Near Mint
EXILES (2001) #1 Very Fine
EXTRAORDINARY X-MEN (2015) #1 Fine,#1 Very Fine,#1 Near Mint,#2 Fine,#2 Very Fine,#2 Near Mint,#3 Near Mint,#4 Near Mint,#5 Very Fine,#6 Very Fine,#7 Very Fine,#7 Near Mint,#14 Near Mint
FALL OF THE HULKS: RED HULK (2009) #1 Near Mint,#2 Fine,#3 Fine,#4 Fine
FALL OF THE HULKS: SAVAGE SHE-HULKS (2010) #1 Near Mint,#2 Near Mint,#3 Near Mint
FANTASTIC FOUR (1961) #20 Fair,#21 Good,#23 Good,#24 Very Good,#25 Fair,#26 Fair,#27 Good,#28 Fair,#29 Fair,#30 Good,#31 Good,#33 Good,#36 Very Good,#38 Fair,#39 Good,#40 Good,#41 Good,#43 Very Good,#44 SINNOTTSGN Good,#45 SINNOTTSGN Good,#46 SINNOTTSGN Good,#47 SINNOTTSGN Good,#48 SINNOTTSGN Good,#49 SINNOTTSGN Fair,#50 SINNOTTSGN Fair,#51 Fair,#51 SINNOTTSGN Fair,#51 SINNOTTSGN Good,#52 SINNOTTSGN Fair,#53 SINNOTTSGN Fair,#54 SINNOTTSGN Good,#55 SINNOTTSGN Fair,#56 SINNOTTSGN Fair,#57 SINNOTTSGN Good,#58 SINNOTTSGN Very Good,#59 SINNOTTSGN Fair,#60 SINNOTTSGN Very Good,#61 SINNOTTSGN Good,#62 SINNOTTSGN Good,#63 SINNOTTSGN Good,#64 SINNOTTSGN Fair,#66 SINNOTTSGN Good,#67 SINNOTTSGN Good,#68 SINNOTTSGN Very Good,#69 Good,#70 SINNOTTSGN Fair,#71 SINNOTTSGN Good,#72 SINNOTTSGN Good,#73 SINNOTTSGN Very Good,#74 SINNOTTSGN Good,#75 SINNOTTSGN Very Good,#76 SINNOTTSGN Good,#77 SINNOTTSGN Good,#78 Good,#79 SINNOTTSGN Good,#81 Good,#82 Fine,#83 Good,#84 Very Good,#85 Very Good,#86 Good,#87 Very Good,#88 Fine,#89 Very Good,#90 Very Good,#91 Very Good,#92 Good,#93 Good,#94 Good,#95 Good,#95 Very Good,#96 Good,#98 Good,#99 Good,#100 SINNOTTSGN Good,#101 Good,#102 Good,#103 Good,#104 Good,#105 Good,#106 Good,#107 Good,#108 Good,#109 Good,#111 Good,#112 SINNOTTSGN Good,#113 Very Good,#114 Good,#115 Good,#117 Good,#117 Very Good,#118 Very Good,#119 THOMAS SGN Good,#120 Fair,#120 Good,#121 Very Good,#122 Good,#123 Very Good,#124 Good,#125 Very Good,#126 THOMAS SGN Good,#127 THOMAS SGN Good,#128 THOMAS SGN Very Good,#164 Very Fine,#182 Fine,#182 Very Fine,#296 Near Mint
FANTASTIC FOUR (1996) #1 Good,#2 Fine,#3 NEWSSTAND Very Good,#5 Very Good,#6 Fine,#7 Fine
FANTASTIC FOUR (1997) #49 Very Fine,#52 Near Mint,#536 Very Good,#537 2ND PRINT Fine,#538 Fine,#539 Very Good,#540 Very Good,#542 Good,#543 Fine,#544 Good,#545 Very Good,#546 Fine,#547 Good,#548 Good,#549 Very Good,#550 Fine,#551 Fine,#552 Very Good,#553 Fine,#561 MONKEY Near Mint,#570 Fine,#570 VARIANT Very Good,#571 Near Mint,#572 Very Fine,#573 Very Fine,#574 Very Fine,#575 Very Fine,#576 Very Fine,#577 Near Mint,#578 Near Mint,#578 IRON MAN Near Mint,#579 Very Fine,#580 Near Mint,#581 Near Mint,#582 Near Mint,#583 Near Mint,#584 Near Mint,#585 Near Mint,#586 Near Mint,#587 UNBAGGED Fine,#588 Very Fine,#600 Fine,#601 Near Mint,#602 Near Mint,#603 Near Mint,#604 Near Mint,#605 Near Mint,#605 .1 Fine,#606 Fine,#607 Fine,#608 Fine,#609 Near Mint,#610 Very Fine,#611 Fine
FANTASTIC FOUR (2012) #1 Good,#2 Fine,#3 Good,#4 Very Fine,#5 Fine,#6 Very Good,#7 Very Good,#8 Very Good,#9 Near Mint,#10 Near Mint,#11 Near Mint,#12 Fine,#13 Very Fine,#14 Near Mint,#15 Fine,#16 Fine
FANTASTIC FOUR (2014) #1 Very Fine
FANTASTIC FOUR ANNUAL (1963) #3 Good,#6 Very Good,#8 Good,#9 Very Good
FANTASTIC FOUR GIANT-SIZE (GIANT-SIZE SUPER-STARS) (1974) #1 Fine,#3 Very Fine,#4 Very Fine,#5 Near Mint
FANTASTIC FOUR VS. THE X-MEN (1987) #1 Fine,#2 Fine,#3 Fine,#4 Fine
FEAR (ADVENTURE INTO...) (1970) #1 Fine,#2 Fine,#3 Fine,#4 Fine,#5 Very Good,#6 Fine,#7 Near Mint,#8 Very Good,#9 Fine,#10 Fine,#11 Fine,#12 Very Fine,#13 Fine,#14 Very Good,#15 Very Fine,#16 Fine,#17 Fine,#18 Near Mint,#19 Very Fine,#20 Very Fine,#21 Very Good,#22 Near Mint,#23 Near Mint,#25 Very Fine,#26 Fine,#27 Near Mint,#28 Fine,#29 Fine,#30 Fine,#31 Very Good
FEAR ITSELF: FF (2011) #1 Very Good
FEAR ITSELF: HOME FRONT (2011) #1 Fine,#2 Fine,#3 Fine,#4 Fine,#5 Fine,#6 Very Fine,#7 Near Mint
FEAR ITSELF: SPIDER-MAN (2011) #1 Fine,#2 Very Fine,#3 Near Mint
FEAR ITSELF: UNCANNY X-FORCE (2011) #1 Near Mint,#2 Near Mint,#3 Fine
FEAR ITSELF: WOLVERINE (2011) #1 Very Good,#2 Very Fine,#3 Fine
FEAR ITSELF: YOUTH IN REVOLT (2011) #1 Very Good,#2 Very Good,#3 Good,#4 Very Good,#5 Very Good,#6 Fine
FF (2011) #1 Near Mint,#2 Near Mint,#3 Near Mint,#4 Fine,#5 Near Mint,#6 Fine,#7 Fine,#8 Very Fine,#9 Fine,#10 Near Mint,#11 Very Fine,#12 Fine,#13 Near Mint,#14 Near Mint,#15 Very Fine,#16 Fine,#17 Near Mint,#18 Near Mint,#19 Fine,#20 Fine,#21 Fine,#22 Very Fine,#23 Very Good
FIGMENT 2 (2015) #4 Very Fine
FRANKENSTEIN (1973) #1 FREIDRICH Good,#2 FREIDRICH Very Good,#3 FREIDRICH Very Good,#4 FREIDRICH Fine,#5 FREIDRICH Good,#6 FREIDRICH Very Good,#7 Fine,#9 Very Good
FRIENDLY NEIGHBORHOOD SPIDER-MAN (2005) #1 Very Good,#2 Very Good,#3 Very Fine,#4 Very Good,#8 Fine,#9 Good,#10 Fine,#11 Fine,#13 Fine,#14 Fine,#15 Fine,#16 Fine,#17 Very Good,#18 Good,#19 Very Good,#20 Good,#20 Very Good,#22 Fine,#23 Fine,#24 Fine
FRIENDLY NEIGHBORHOOD SPIDER-MAN ANNUAL (2007) #1 Good
FURY: SHIELD 50TH ANNIVERSARY (2015) #1 WARD Near Mint
FUTURE IMPERFECT (2015) #1 Near Mint
GHOST RIDER (1973) #23 Fine,#23 Very Fine,#24 Fine,#27 Fine
GUARDIANS OF INFINITY (2015) #1 Very Fine,#2 Fine
GUARDIANS OF THE GALAXY (2013) #12 Near Mint,#27 Near Mint
GUARDIANS OF THE GALAXY (2015) #1 Fine,#2 Very Fine,#3 Very Fine,#4 Very Fine,#5 Near Mint
GUARDIANS OF THE GALAXY PRELUDE (2014) #1 Very Fine
HERALDS (2010) #1 Very Good,#2 Fine,#3 Fine,#4 Fine,#5 Fine
HERCULES (2015) #1 Very Fine,#2 DAUTERMAN Very Good
HOWARD THE DUCK (2015) #3 Very Fine,#3 Near Mint
HOWARD THE DUCK (NOVEMBER) (2015) #4 Very Fine,#4 Very Fine,#4 Near Mint
HOWLING COMMANDOS OF SHIELD (2015) #2 Fine,#2 Very Fine,#2 Near Mint,#3 Very Fine,#3 Near Mint,#4 Very Fine,#4 Near Mint
HULK (1962) #102 FREIDRICH Good,#103 Very Good,#104 Very Good,#105 Very Good,#106 2X SIGNED Good,#107 2X SIGNED Good,#108 TRIMPE SGN Good,#109 TRIMPE SGN Good,#110 TRIMPE SGN Good,#111 TRIMPE SGN Very Good,#112 TRIMPE SGN Good,#113 Very Good,#113 TRIMPE SGN Good,#114 Fine,#114 TRIMPE SGN Very Good,#115 TRIMPE SGN Good,#116 TRIMPE SGN Good,#117 TRIMPE SGN Very Good,#118 TRIMPE SGN Good,#119 Very Good,#120 Very Good,#121 Very Good,#121 Fine,#122 Very Good,#122 Fine,#123 Very Good,#124 Good,#124 Very Fine,#125 Good,#125 Fine,#126 Good,#126 Very Good,#127 Very Good,#128 Fair,#128 Very Good,#128 Fine,#129 Good,#130 Very Good,#130 Fine,#131 Very Good,#132 Good,#132 Very Good,#134 Very Good,#135 Very Good,#136 Very Good,#137 Fine,#138 Good,#138 Very Good,#139 Good,#139 Very Good,#139 Very Fine,#140 Good,#140 Very Good,#140 Fine,#141 Very Good,#141 Very Fine,#142 Very Good,#142 Fine,#143 Good,#143 Very Good,#143 Near Mint,#144 Fair,#144 Good,#144 Near Mint,#146 Good,#147 Good,#148 Good,#148 Very Fine,#149 Fine,#150 Very Good,#150 Fine,#151 Good,#151 Fine,#152 Very Good,#152 Fine,#153 Good,#153 Very Good,#153 Fine,#154 Near Mint,#155 Fine,#155 Very Fine,#156 Very Good,#156 Near Mint,#157 Very Good,#157 Fine,#158 Very Fine,#159 Fine,#160 Fine,#161 Fine,#162 Very Fine,#163 Very Fine,#164 Fine,#165 Near Mint,#166 Fine,#167 Very Fine,#168 Very Fine,#169 Fine,#170 Very Fine,#171 Near Mint,#172 Fine,#173 Near Mint,#176 Fine,#178 Fine,#182 Very Fine,#183 Very Fine,#184 Near Mint,#185 Near Mint,#186 Fine,#187 Very Fine,#188 Very Fine,#189 Very Fine,#190 Very Fine,#191 Near Mint,#192 Very Fine,#193 Near Mint,#194 Very Fine,#196 Very Fine,#197 Fine,#199 Near Mint,#200 Near Mint,#201 Near Mint,#202 Near Mint,#203 Near Mint,#204 Near Mint,#205 Near Mint,#206 Near Mint,#207 Near Mint,#208 Near Mint,#209 Very Fine,#210 Near Mint,#211 Near Mint,#212 Very Fine,#213 Near Mint,#214 Near Mint,#215 Near Mint,#216 Very Fine,#217 Near Mint,#218 Near Mint,#219 Near Mint,#220 Very Fine,#221 Near Mint,#222 Very Fine,#223 Fine,#224 Near Mint,#225 Near Mint,#226 Near Mint,#227 Very Fine,#227 Near Mint,#228 Near Mint,#229 Very Fine,#230 Near Mint,#231 Near Mint,#232 Near Mint,#233 Near Mint,#234 Near Mint,#235 Near Mint,#236 Near Mint,#237 NEWSSTAND Near Mint,#238 Near Mint,#239 NEWSSTAND Very Fine,#240 NEWSSTAND Fine,#241 Near Mint,#242 NEWSSTAND Near Mint,#243 NEWSSTAND Fine,#244 NEWSSTAND Near Mint,#245 Fine,#246 NEWSSTAND Near Mint,#247 NEWSSTAND Very Fine,#248 NEWSSTAND Near Mint,#249 NEWSSTAND Near Mint,#250 Near Mint,#251 Near Mint,#252 Near Mint,#253 Near Mint,#254 Near Mint,#255 Fine,#256 Near Mint,#257 Near Mint,#258 Near Mint,#259 Near Mint,#260 Near Mint,#261 Very Fine,#262 Fine,#263 Near Mint,#264 Near Mint,#285 NEWSSTAND Good,#286 Good,#287 NEWSSTAND Very Good,#288 NEWSSTAND Good,#313 Near Mint,#315 Fine,#316 Very Fine,#317 Near Mint,#318 Very Good,#319 Fine,#320 Fine
HULK (1999) #8 Near Mint,#92 2ND PRINT Fine
HULK ANNUAL (1968) #1 Fine,#1 FREIDRICH Very Good,#2 Very Good,#2 Fine,#3 Very Good,#3 Very Fine,#4 Fair,#4 Good,#4 Fine,#5 Near Mint,#6 Near Mint,#7 Very Fine,#8 Near Mint,#9 Fine,#10 Very Fine,#14 Near Mint
IMMORTAL WEAPONS (2009) #1 Fine,#2 Very Fine,#3 Fine,#4 Fine,#5 Near Mint
INDESTRUCTIBLE HULK (2012) #18 Fine,#19 Very Fine
INHUMANITY (2013) #2 Fine
INHUMANITY: AWAKENING (2013) #2 Near Mint
INVADERS (1975) #1 Fair,#2 Good,#2 Very Good,#3 Good,#3 Very Good,#3 Fine,#4 Very Good,#6 Good,#6 Very Good,#8 Fair,#9 Good,#11 Very Good,#12 Very Good,#13 Very Good,#15 WHITMAN Very Good,#18 Good,#19 Good,#21 Very Good,#21 Fine,#22 Very Good,#22 Fine,#24 Fine,#25 Very Good,#25 Fine,#26 Good,#26 Very Fine,#26 Near Mint,#27 Fair,#27 Good,#27 Very Fine,#28 Very Good,#28 Very Fine,#29 Very Fine,#30 Very Fine,#31 Fine,#31 Very Fine,#33 Fine,#34 Good,#34 Very Fine,#35 Very Fine,#36 Good,#36 Very Good,#37 Good,#37 Very Good,#37 Near Mint,#37 WHITMAN Very Good,#38 Very Good,#38 Very Fine,#39 Fine,#39 Very Fine,#40 NEWSSTAND Very Good,#40 NEWSSTAND Fine,#40 NEWSSTAND Very Fine,#41 NEWSSTAND Very Good,#41 NEWSSTAND Fine
INVADERS GIANT-SIZE (1975) #1 Very Good,#1 Near Mint
INVINCIBLE IRON MAN (2008) #6 Very Fine,#6 Near Mint,#25 IRON MAN Very Fine
INVINCIBLE IRON MAN (2015) #1 Fine,#1 Very Fine,#2 Very Good,#2 Very Fine,#2 Near Mint,#3 Near Mint,#3 Near Mint,#4 Very Fine,#4 Near Mint,#14 Near Mint
IRON FIST (1975) #1 Very Fine,#4 Very Good,#6 Fine,#7 Fine,#14 Very Fine,#15 Good
IRON MAN (1968) #90 Very Good,#118 Good,#184 Very Good,#194 Fine,#201 Good,#213 Good,#233 Fine,#237 NEWSSTAND Good,#263 Very Good,#264 Very Good,#265 Good,#266 Fine,#267 Near Mint,#268 Good,#272 Very Good,#275 Fine
IRON MAN (1996) #1 Near Mint,#2 NEWSSTAND Near Mint,#3 NEWSSTAND Very Fine,#4 NEWSSTAND Very Good
IRON MAN (1997) #64 Very Fine
IRON MAN (2012) #20 INH Near Mint
IRON MAN & SUB-MARINER (1968) #1 Good
IRON MAN 2.0 (2011) #1 Fine,#2 Near Mint,#3 Near Mint,#4 Fine,#5 Very Fine,#6 Fine,#7 Very Good,#7 .1 Very Good
IRON MAN: VIVA LAS VEGAS (2008) #1 Near Mint,#2 Near Mint
IRON PATRIOT (2014) #1 Very Fine
JESSICA JONES (MARVEL NOW) (2016) #1 Near Mint,#1 AJA Near Mint,#1 DEODATO Near Mint
JOHN CARTER (1977) #1 Near Mint,#2 Near Mint,#3 Very Good,#4 Fine,#5 Very Good,#6 Near Mint,#7 Near Mint,#8 Near Mint,#9 Near Mint,#10 Near Mint,#11 Near Mint,#12 Near Mint,#13 Near Mint,#15 Near Mint,#16 Near Mint,#17 Near Mint,#18 Near Mint,#19 Near Mint,#20 Near Mint,#21 Near Mint,#22 Near Mint,#23 Near Mint,#24 Fine,#25 NEWSSTAND Very Fine,#26 Near Mint,#27 Near Mint,#28 Fine
JOHN CARTER ANNUAL (1977) #1 Very Good,#2 Near Mint,#3 Fine
JOURNEY INTO MYSTERY (2011) (#622-UP) #622 Fine,#623 Fine,#624 Fine,#625 Fine,#626 Good,#626 .1 Fine,#627 Near Mint,#628 Near Mint,#629 Fine,#630 Near Mint,#631 Fine,#632 Near Mint
JUGGERNAUT THE EIGHTH DAY (1999) #1 Very Fine
KANAN: LAST PADAWAN (STAR WARS) (2015) #10 Very Fine,#11 Fine
KARNAK (2015) #1 Very Good,#1 Very Fine,#1 Near Mint
KITTY PRYDE AND WOLVERINE (1984) #2 Good,#3 Good,#4 Fine,#5 Very Fine,#6 Fine
LOGAN (2008) #1 Near Mint,#2 Very Fine,#2 B&W Fine,#3 Fine
LOKI: AGENT OF ASGARD (2014) #1 Very Fine
MAN-THING GIANT-SIZE (1974) #1 Fine,#2 Very Fine,#4 Very Fine
MARVEL COMICS PRESENTS (1988) #132 Near Mint,#135 Very Good,#136 Near Mint
MARVEL FEATURE (1971) #1 Very Good
MARVEL PREMIERE (1972) #1 Very Fine,#2 Near Mint,#3 Very Fine,#4 Very Fine,#5 Very Fine,#6 Near Mint,#7 Very Fine,#8 Very Fine,#9 Near Mint,#10 Very Good,#11 Near Mint,#12 Near Mint,#13 Very Fine,#14 Very Fine,#18 Near Mint,#19 Near Mint,#20 Near Mint,#21 Near Mint,#22 Near Mint,#23 Near Mint,#24 Near Mint,#25 Near Mint,#26 Near Mint,#27 Near Mint,#28 Near Mint,#29 Near Mint,#30 Very Fine,#31 Near Mint,#32 Very Fine,#33 Near Mint,#34 Near Mint,#35 Near Mint,#36 Near Mint,#37 Very Fine,#39 Near Mint,#40 Very Fine,#41 Near Mint,#42 Near Mint,#43 Near Mint,#44 Very Fine,#45 Near Mint,#46 Near Mint,#47 Very Fine,#48 Near Mint,#49 Very Fine,#50 Near Mint,#51 NEWSSTAND Very Fine,#52 NEWSSTAND Near Mint,#53 NEWSSTAND Very Fine,#54 NEWSSTAND Very Fine,#55 NEWSSTAND Near Mint,#56 Very Fine,#57 Near Mint,#58 NEWSSTAND Very Fine,#59 Near Mint,#60 Near Mint,#61 Very Fine
MARVEL SPOTLIGHT (1971) #2 Fine,#3 Fine,#6 Fine,#7 Very Fine,#8 Near Mint,#9 Near Mint,#10 Fine,#11 Very Fine,#12 Fine,#13 Near Mint,#17 Very Fine,#18 Near Mint,#20 Near Mint,#21 Near Mint,#22 Near Mint,#23 Near Mint,#24 Near Mint,#25 Near Mint,#27 Very Fine,#28 Near Mint,#29 Near Mint,#30 Near Mint,#31 Near Mint,#32 Very Fine,#33 Very Fine
MARVEL SPOTLIGHT (1979) #6 NEWSSTAND Very Fine
MARVEL SUPER-HERO CONTEST OF CHAMPIONS (1982) #1 Near Mint,#2 Very Fine,#3 Near Mint
MARVEL SUPER-HEROES (1967) #12 Good,#13 Good,#14 Fair,#17 Good,#18 Good,#19 Very Good,#20 Very Good,#21 Very Good,#22 Good,#23 Very Good,#24 Very Good,#25 Fair,#26 Very Good,#27 Very Good,#28 Good,#29 Good,#30 Good
MARVEL SUPER-HEROES ANNUAL (1966) #1 Very Good
MARVEL TEAM-UP (1972) #1 Very Good,#2 Very Fine,#3 Near Mint,#4 Very Good,#5 Very Good,#6 Near Mint,#7 Very Fine,#8 Fine,#9 Near Mint,#10 Fine,#11 Fine,#12 Very Fine,#13 Fine,#14 Very Fine,#15 Very Fine,#16 Near Mint,#17 Very Fine,#18 Near Mint,#19 Very Fine,#20 Near Mint,#26 Near Mint,#28 Very Fine,#29 Near Mint,#30 Very Good,#31 Near Mint,#32 Near Mint,#33 Near Mint,#34 Near Mint,#35 Near Mint,#36 Near Mint,#37 Very Good,#38 Good,#39 Near Mint,#40 Near Mint,#41 Fine,#42 Very Fine,#43 Near Mint,#44 Near Mint,#45 Near Mint,#46 Near Mint,#47 Very Fine,#48 Near Mint,#49 Very Good,#50 Near Mint,#51 Very Fine,#52 Very Fine,#53 Near Mint,#54 Near Mint,#55 Near Mint,#56 Fine,#57 Near Mint,#58 Near Mint,#59 Near Mint,#60 Near Mint,#61 Near Mint,#63 Near Mint,#64 Near Mint,#64 Near Mint,#66 Near Mint,#67 Near Mint,#68 Near Mint,#69 Near Mint,#70 Near Mint,#71 Near Mint,#72 Very Fine,#73 Very Fine,#74 Near Mint,#75 Near Mint,#76 Near Mint,#77 Near Mint,#78 Near Mint,#79 Near Mint,#80 Very Fine,#81 NEWSSTAND Near Mint,#82 Near Mint,#83 NEWSSTAND Very Fine,#84 Near Mint,#85 Very Fine,#86 Near Mint,#87 Near Mint,#88 NEWSSTAND Very Fine,#89 NEWSSTAND Near Mint,#90 NEWSSTAND Near Mint,#91 NEWSSTAND Very Fine,#92 NEWSSTAND Near Mint,#93 Very Fine,#94 NEWSSTAND Very Fine,#95 NEWSSTAND Very Fine,#96 Very Fine,#97 Near Mint,#98 Near Mint,#99 Very Fine,#100 Near Mint,#101 Near Mint,#102 Near Mint,#103 Very Fine,#104 Near Mint,#105 Very Fine,#106 Near Mint,#107 Very Fine,#107 Very Fine,#108 Very Fine,#109 Near Mint,#110 Near Mint
MARVEL TEAM-UP ANNUAL (1976) #1 Fine,#2 NEWSSTAND Near Mint,#3 Near Mint,#4 Near Mint
MARVEL TWO-IN-ONE (1974) #1 Very Fine,#4 Fine,#5 Very Fine,#6 Very Fine,#7 Near Mint,#8 Near Mint,#9 Near Mint,#10 Near Mint,#11 Very Fine,#12 Near Mint,#13 Near Mint,#14 Very Fine,#15 Very Fine,#16 Fine,#17 Very Fine,#19 Near Mint,#20 Near Mint,#21 Very Fine,#22 Very Fine,#23 Near Mint,#24 Near Mint,#25 Very Fine,#26 Near Mint,#27 Near Mint,#28 Near Mint,#29 Near Mint,#30 Near Mint,#31 Very Fine,#32 Very Fine,#33 Near Mint,#34 Near Mint,#35 Near Mint,#36 Near Mint,#37 Very Fine,#38 Near Mint,#39 Very Fine,#40 Near Mint,#41 Near Mint,#42 Near Mint,#43 Very Fine,#44 Near Mint,#45 Near Mint,#46 Very Fine,#47 Very Fine,#48 Near Mint,#49 Near Mint,#50 Near Mint,#51 Near Mint,#52 NEWSSTAND Near Mint,#53 Near Mint,#54 Near Mint,#55 Near Mint,#56 Near Mint,#57 Near Mint,#58 NEWSSTAND Very Fine,#59 NEWSSTAND Near Mint,#60 NEWSSTAND Near Mint,#61 NEWSSTAND Near Mint,#62 NEWSSTAND Near Mint,#63 NEWSSTAND Very Fine,#64 NEWSSTAND Near Mint,#65 NEWSSTAND Very Fine,#66 Very Fine,#66 NEWSSTAND Very Fine,#67 Very Fine,#68 Near Mint,#69 Near Mint,#70 Fine,#71 Near Mint,#72 Very Fine,#73 Near Mint,#74 Fine,#75 Very Good,#76 Very Fine,#77 Very Fine,#78 Good,#79 Good,#80 Near Mint,#81 Good
MARVEL TWO-IN-ONE ANNUAL (1976) #1 Very Fine,#2 Very Fine,#3 Fine,#4 Near Mint,#5 Near Mint,#6 Very Fine
MARVEL UNIVERSE (1983) #1 Near Mint,#2 Very Fine,#3 Fine,#4 Near Mint,#5 Near Mint,#6 Fine,#7 Very Fine,#8 Very Fine,#9 Near Mint,#10 Near Mint,#11 Near Mint,#12 Very Fine,#13 Fine,#14 Very Fine,#15 Very Fine
MARVILLE (2002) #4 Good
MASTER OF KUNG FU (1974) #15 Fine,#16 Very Fine,#20 Very Fine,#21 Near Mint,#22 Near Mint,#23 Very Fine,#24 Near Mint,#25 Near Mint,#26 Fine,#27 Near Mint,#28 Near Mint,#29 Near Mint,#30 Near Mint,#31 Near Mint,#32 Near Mint,#34 Near Mint,#35 Near Mint,#36 Very Fine,#37 Near Mint,#38 Fine,#39 Fine,#40 Very Fine,#41 Very Fine,#42 Very Fine,#43 Fine,#44 Near Mint,#45 Very Fine,#46 Near Mint,#47 Very Fine,#48 Very Fine,#49 Near Mint,#50 Near Mint,#51 Very Fine,#52 Near Mint,#53 Very Fine,#54 Near Mint,#55 Fine,#56 Very Fine,#57 Near Mint,#58 Near Mint,#59 Near Mint,#60 Near Mint,#61 Near Mint,#62 Near Mint,#63 Near Mint,#65 Near Mint,#67 Near Mint,#68 Near Mint,#69 Very Fine,#70 Very Fine,#71 Near Mint,#72 Near Mint,#73 Near Mint,#74 Near Mint,#75 Near Mint,#76 Near Mint,#77 Near Mint,#78 NEWSSTAND Near Mint,#79 Near Mint,#80 Near Mint,#81 Near Mint,#82 Near Mint,#83 NEWSSTAND Near Mint,#84 NEWSSTAND Near Mint,#85 NEWSSTAND Near Mint,#86 NEWSSTAND Near Mint,#87 NEWSSTAND Near Mint,#88 NEWSSTAND Near Mint,#89 NEWSSTAND Fine,#90 NEWSSTAND Near Mint,#91 Near Mint,#92 Near Mint,#93 Near Mint,#94 Very Fine,#95 Near Mint,#96 Fine,#97 Very Fine,#98 Fine,#99 Very Fine,#100 Fine,#101 Very Good,#102 Near Mint,#103 Near Mint,#104 Near Mint,#105 Near Mint,#106 Fine,#107 Near Mint,#108 Near Mint,#109 Very Fine,#110 Near Mint,#111 Near Mint,#112 Near Mint,#113 Near Mint,#114 Near Mint,#115 Very Fine,#116 Near Mint,#117 Near Mint,#118 Near Mint,#119 Near Mint,#120 Near Mint,#121 Near Mint,#122 Near Mint,#123 Near Mint,#124 Near Mint,#125 Near Mint
MASTER OF KUNG FU ANNUAL (1976) #1 Very Fine
MASTER OF KUNG FU GIANT-SIZE (1974) #1 Very Good,#2 Fine,#3 Fine,#4 Very Fine
MASTER OF KUNG FU: BLEEDING BLACK (1991) #1 Near Mint
MIGHTY THOR (2011) #1 Near Mint,#2 Very Fine,#3 Near Mint,#4 Very Fine,#5 Very Fine,#6 Very Fine,#7 Fine,#8 Near Mint,#9 Near Mint,#10 Near Mint,#11 Near Mint,#12 Very Fine
MIGHTY THOR (FEMALE THOR) (JANE FOSTER) (2015) #1 Near Mint
MINIMUM CARNAGE: ALPHA (2012) #1 Very Fine
MODELS, INC. (2009) #1 VARIANT Fine,#2 VARIANT Fine,#3 ZOMBIE Near Mint
MOON GIRL & DEVIL DINOSAUR (2015) #1 Very Fine,#1 Near Mint,#3 Near Mint,#11 Near Mint
MOON KNIGHT (1980) #1 Near Mint,#2 Fine,#3 Near Mint,#4 Very Fine,#5 Near Mint,#6 Very Fine,#7 Near Mint,#8 Near Mint,#9 Near Mint,#10 Near Mint,#11 Near Mint,#12 Near Mint,#13 Near Mint,#14 Very Fine,#15 Near Mint,#16 Very Fine,#17 Very Fine,#18 Very Fine,#19 Near Mint,#20 Very Fine,#21 Near Mint,#22 Very Fine,#23 Very Fine,#24 Near Mint,#25 Near Mint,#26 Near Mint,#27 Near Mint,#28 Very Fine,#29 Very Fine,#30 Very Fine,#31 Near Mint
MOON KNIGHT (2014) #1 Very Fine
MOON KNIGHT (2016) #6 CLASSIC Near Mint
MOON KNIGHT (FIST OF KHONSHU) (1985) #1 Near Mint
MOON KNIGHT (MARC SPECTOR) (1989) #57 Near Mint
MORBIUS: LIVING VAMPIRE (2013) #1 Good,#2 Very Good,#3 Fine,#4 Near Mint,#5 Fine,#6 Very Fine,#7 Very Fine,#8 Fine,#9 Near Mint
MRS. DEADPOOL & THE HOWLING COMMANDOS (2015) #4 Near Mint
MS. MARVEL (1977) #1 Fine,#2 Very Fine,#4 Fine,#5 Near Mint,#6 Near Mint,#7 Very Fine,#8 Near Mint,#9 Near Mint,#10 Near Mint,#11 Fine,#12 Near Mint,#13 Very Fine,#14 Near Mint,#15 Very Good,#15 Very Fine,#16 Near Mint,#17 Very Fine,#18 Near Mint,#19 Very Fine,#20 Near Mint,#21 Very Fine,#22 Very Fine,#23 Near Mint
MS. MARVEL (2015) (#1-UP) (MARVEL) (KAMALA KHAN) #1 Near Mint,#11 Fine,#11 Near Mint,#11 MAYHEW Near Mint
MS. MARVEL: WAR OF THE MARVELS MUST HAVE (2009) #1 Near Mint
MUTANT X (1998) #1 Fine,#2 Fine,#3 Very Fine,#4 Very Good,#5 Very Good,#6 Very Good,#7 Very Good,#8 Fine,#9 Fine,#10 Fine,#11 Fine,#12 Good,#13 Near Mint,#14 Fine,#15 Fine,#16 Very Fine,#17 Fine,#18 Very Fine,#19 Fine,#20 Near Mint,#21 Near Mint,#22 Very Fine,#23 Fine,#24 Fine,#25 Fine,#26 Fine,#27 Fine,#28 Fine,#29 Near Mint,#30 Fine,#31 Near Mint,#32 Near Mint
MUTANT X (2002) #1 Near Mint
MUTANT X 1999 ANNUAL #1 Very Fine
MUTANT X 2000 ANNUAL #1 Near Mint
MUTANT X 2001 ANNUAL #1 Very Fine
NAMOR: FIRST MUTANT ANNUAL (2011) #1 Very Fine
NEW AVENGERS (2013) #13 Fine
NEW AVENGERS (2015) #1 Very Fine,#3 Near Mint,#4 Near Mint,#6 Near Mint,#16 Near Mint
NEW AVENGERS HC (2007) #5 Near Mint
NEW MUTANTS #1 Very Fine,#2 Very Good,#3 Very Fine,#4 Very Fine,#5 Very Good,#6 Very Fine,#7 Very Good,#8 Very Good,#9 Very Fine,#10 Very Fine,#11 Near Mint,#13 Fine,#14 NEWSSTAND Fine,#15 Very Fine,#17 NEWSSTAND Very Good,#18 NEWSSTAND Good,#19 NEWSSTAND Very Good,#20 Very Good,#22 Very Good,#23 Near Mint,#24 Very Good,#25 Very Fine,#26 NEWSSTAND Fine,#27 NEWSSTAND Very Good,#28 Fine,#30 NEWSSTAND Very Good,#32 Fine,#34 NEWSSTAND Fair,#35 NEWSSTAND Very Good,#36 Very Good,#37 Very Good,#38 NEWS JEWEL Very Good,#39 NEWS JEWEL Good,#40 NEWS JEWEL Fine,#41 NEWS JEWEL Fine,#42 NEWSSTAND Fine,#43 Fine,#44 Near Mint,#47 Good,#49 Good,#50 Fine,#53 Very Good,#54 Near Mint,#55 NEWSSTAND Very Good,#56 Near Mint,#58 NEWSSTAND Very Good,#59 NEWSSTAND Very Good,#60 NEWSSTAND Fair,#61 Fair,#62 Fair,#63 Good,#64 Good,#65 Very Good,#66 Very Good,#67 Near Mint,#72 Fine,#73 Fine,#76 Good,#77 Very Good,#78 Good,#79 Very Good,#80 Good,#81 Near Mint,#82 Good,#83 Fine,#84 Very Good,#85 Very Fine,#86 Very Fine,#87 Near Mint,#87 2ND PRT Near Mint,#88 Fine,#89 Near Mint,#90 Fine,#91 Very Good,#92 Near Mint,#94 Near Mint,#95 Fine,#96 NEWSSTAND Near Mint,#97 NEWSSTAND Near Mint,#98 NEWS JEWEL Near Mint,#99 Near Mint,#100 Near Mint
NEW MUTANTS ANNUAL #4 Very Fine,#6 Very Fine,#7 Good
NEW MUTANTS SPECIAL EDITION #1 Very Good
NEW WARRIORS (2014) #1 Very Fine
NEW WARRIORS ANNUAL #2 Near Mint
NIGHTHAWK (2016) #5 Near Mint
NIGHTWATCH #1 Near Mint
NOVA (1976) #1 Very Fine,#2 Very Fine,#4 Very Fine,#5 Very Fine,#6 Near Mint,#7 Very Fine,#8 Near Mint,#9 Near Mint,#10 Near Mint,#11 Near Mint,#12 Near Mint,#13 Near Mint,#14 Near Mint,#15 Very Fine,#16 Very Fine,#17 Near Mint,#18 Near Mint,#19 Near Mint,#20 Near Mint,#21 Near Mint,#22 Very Fine,#23 Near Mint,#24 Near Mint,#25 Very Fine
NOVA (2016) (#1-UP) (SAM ALEXANDER) (MARVEL) #1 Very Fine,#11 Near Mint
PETER PARKER (1976) #3 Very Fine,#3 Near Mint,#119 Near Mint
PETER PARKER: SPIDER-MAN (1999) #2 VARIANT Very Good,#3 Very Good,#4 Very Good,#5 Fine,#6 Fine,#7 Very Good,#8 Very Good,#9 Fine,#10 Fine,#11 Fine,#12 Fine,#13 Fine,#14 Fine,#15 Fine,#16 Very Fine,#17 Very Good,#18 Very Fine,#19 Very Fine,#20 Fine,#21 Near Mint,#22 Near Mint,#23 Near Mint,#24 Fine,#25 Fine,#26 Fine,#27 Fine,#28 Fine,#29 Fine,#30 Fine,#31 Very Good,#32 Very Good,#33 Very Good,#34 Very Good,#35 Very Good,#37 Very Good,#38 Good,#39 Fine,#40 Good,#41 Fine,#42 Very Good,#43 Very Good,#44 Fine,#45 Fine,#46 Fine,#47 Fine,#48 Good,#51 Fine,#52 Very Good,#53 Very Good,#54 Very Good,#55 Very Good,#56 Very Good,#57 Very Good
PETER PARKER: SPIDER-MAN 1999 ANNUAL #1 Fine
PETER PARKER: SPIDER-MAN 2000 ANNUAL #1 Very Fine
PETER PARKER: SPIDER-MAN 2001 ANNUAL #1 Fine
POWER MAN & IRON FIST (2016) #1 Near Mint
PUNISHER (2000) #10 Fine,#11 Near Mint,#12 Fine
PUNISHER (2001) #1 Fine,#2 Near Mint,#3 Fine,#4 Fine,#5 Very Good,#6 Good,#7 Very Good,#8 Fine,#9 Fine,#10 Good,#12 Very Good,#13 Near Mint
PUNISHER (2009) #16 IRON MAN Very Fine
PUNISHER (2014) #1 Very Fine
PUNISHER ANNUAL #6 NO BAG Very Good
PUNISHER IN BLOOD (2010) #1 Near Mint,#2 Near Mint,#3 Near Mint,#4 Near Mint,#5 Very Fine
PUNISHER WAR ZONE (2008) #1 Good,#2 Near Mint,#3 Fine,#4 Near Mint,#5 Near Mint,#6 Near Mint
PUNISHER: TRIAL OF THE PUNISHER (2013) #1 Near Mint,#2 Near Mint
QUASAR #58 Near Mint
RED SONJA (1977) #1 Fine,#3 Very Fine,#4 Very Fine,#5 Very Fine,#6 Very Fine,#7 Fine,#8 Near Mint,#9 Very Fine,#10 Near Mint,#11 Near Mint,#12 Fine,#13 Near Mint,#14 Fine,#15 Very Fine
RED SONJA (1983) #1 NEWSSTAND Very Fine,#2 Near Mint
RED SONJA (1983 2) #1 Near Mint,#2 Near Mint,#3 Near Mint,#4 Very Good,#5 Near Mint,#6 Near Mint,#7 Very Fine,#8 Near Mint,#9 Near Mint,#10 Near Mint,#11 Near Mint,#12 Near Mint
RED SONJA MOVIE SPECIAL #1 Near Mint,#2 Near Mint
RED WOLF (2015) #1 Very Fine,#3 Near Mint
REN & STIMPY #1 UNBAGGED Very Good
RESCUE (2010) #1 Near Mint
ROCKET RACCOON & GROOT (2015) #2 Near Mint,#3 Fine,#3 Very Fine,#8 Fine,#10 Near Mint
SCARLET SPIDER (2012) #10 Fine
SCARLET WITCH (2015) #11 Near Mint
SECRET AVENGERS (2010) #1 Very Fine,#2 Very Fine,#2 2ND PRINT Very Fine,#2 VARIANT Fine,#3 Very Fine,#4 Very Fine,#5 Very Fine,#6 Fine,#7 Fine,#8 Near Mint,#9 Near Mint,#10 Near Mint,#11 Near Mint,#12 Very Fine,#12 .1 Fine,#13 Fine,#14 Near Mint,#15 Fine,#16 Near Mint,#17 Fine,#18 Fine,#19 Very Fine,#20 Near Mint,#21 Near Mint,#21 .1 Near Mint,#22 Near Mint,#23 Near Mint,#24 Fine,#25 Near Mint,#26 Fine,#27 Fine,#28 Fine,#29 Fine,#30 Fine,#31 Fine,#32 Fine,#33 Fine
SECRET WARS (1984) #1 Near Mint,#1 SPANISH ED Fine,#1 SPANISH ED Very Fine,#2 Very Fine,#3 Near Mint,#4 Near Mint,#5 Near Mint,#6 Near Mint,#7 Near Mint,#8 Very Fine,#9 Near Mint,#10 Near Mint,#11 Near Mint,#12 Near Mint
SECRET WARS (2015) #1 MIDTOWN ED Near Mint,#5 MILE HIGH Fine,#6 Very Fine,#7 Very Fine,#8 Fine,#8 Near Mint,#9 Fine
SECRET WARS FREE COMIC BOOK DAY (2015) #0 Very Fine
SECRET WARS II (1985) #1 NEWSSTAND Very Good,#1 NEWSSTAND Fine,#1 NEWSSTAND Very Fine,#1 NEWSSTAND Near Mint,#3 NEWSSTAND Very Fine,#7 NEWSSTAND Fine
SECRET WARS: AGENTS OF ATLAS (2015) #1 Near Mint
SENSATIONAL SPIDER-MAN #0 Fine,#1 Fine,#2 Fine,#3 Fine,#4 Fine,#5 Near Mint,#6 Very Fine,#7 Very Good,#8 Very Good,#9 Fine,#10 Fine,#11 Fine
SENSATIONAL SPIDER-MAN '96 #1 Fine
SENSATIONAL SPIDER-MAN (#23-UP) (2006) #23 Very Good,#24 Fine,#25 Very Good,#26 Near Mint,#27 Fine,#28 Very Good,#29 Very Fine,#30 Fine,#31 Very Good,#32 Fine,#33 Fine,#34 Fine,#35 Very Good,#36 Very Good,#37 Very Good,#38 Very Fine,#39 Fine,#40 Very Good,#41 Fine
SENSATIONAL SPIDER-MAN ANNUAL (2007) #1 Fine
SHADOWLAND: ELEKTRA (2010) #1 Fine
SHADOWLAND: POWER MAN (2010) #1 Very Good,#2 Fine,#3 Fine,#4 Near Mint
SHADOWLAND: SPIDER-MAN (2010) #1 Fine
SHANNA THE SHE-DEVIL (1972) #1 Fine,#1 Very Fine,#2 Very Fine,#2 Near Mint,#3 Fine,#3 Very Fine,#4 Fine,#5 Fine
SHE-HULK (2014) #1 Fine
SHE-HULK 2 (2005) #8 Very Good
SHIELD (2010) #5 VARIANT Very Fine
SHIELD (2014) #10 Fine
SIF (2010) #1 Near Mint
SILK (NOVEMBER) (2015) #1 Very Fine,#1 Near Mint,#1 Near Mint,#2 Near Mint,#3 Very Fine,#3 Near Mint
SILVER SURFER (1968) #5 Fine,#6 Very Good,#7 Very Fine,#8 Fine,#9 Very Good,#11 Very Fine,#12 Very Fine,#13 Very Fine,#14 Very Fine,#15 Very Fine,#16 Near Mint,#17 Very Fine,#18 Very Fine
SILVER SURFER (1982) #1 Near Mint
SILVER SURFER (1987) #1 Very Fine,#2 Near Mint,#3 Very Fine,#4 Fine,#5 Fair,#6 Near Mint,#7 Near Mint,#8 Near Mint,#9 Near Mint,#10 Near Mint,#11 Near Mint,#12 Near Mint,#13 Near Mint,#14 Very Fine,#15 Near Mint,#16 Near Mint,#17 Very Fine,#18 Very Fine,#19 Fine,#20 Fine,#21 Fine,#22 Near Mint,#23 Very Good,#24 Near Mint,#25 Fine,#26 Very Good,#27 Very Fine,#28 Fine,#29 Near Mint,#30 Near Mint,#31 Near Mint,#32 Fine,#32 2ND PRINT Very Fine,#33 Near Mint,#34 Near Mint,#35 Near Mint,#36 Very Fine,#37 Near Mint,#38 Fine,#39 Near Mint,#40 Very Fine,#41 Good,#42 Very Fine,#43 Fine,#44 Fine,#45 Very Fine,#46 Fine,#47 Very Fine,#48 Near Mint,#49 Near Mint,#50 Near Mint,#51 Near Mint,#52 Near Mint,#53 Fine,#54 Very Good,#55 Near Mint,#56 Fine,#57 Near Mint,#58 Near Mint,#59 W/INSERT Near Mint,#60 Near Mint,#61 Good,#62 Near Mint,#63 Good,#64 Near Mint,#65 Very Good,#66 Very Good,#67 Very Good,#68 Near Mint,#70 Fine,#71 Fine,#72 Fine,#73 Fine,#74 Very Fine,#75 Fine,#76 Very Good,#77 Fine,#78 Near Mint,#79 Very Good,#80 Near Mint,#81 Near Mint,#82 Fine,#83 Good,#84 Fine,#85 Near Mint,#86 Good,#87 Near Mint,#88 Near Mint,#89 Fine,#90 Very Fine,#91 Fine,#92 Near Mint,#93 Fine,#94 Very Good,#95 Fine,#96 Fine,#97 Near Mint,#98 Fine,#99 Fine,#100 Near Mint,#101 Fine,#102 Fine,#103 Fine,#104 Near Mint,#105 Near Mint,#106 Fine,#107 Fine,#108 Very Fine,#109 Near Mint,#110 Very Fine,#111 Near Mint,#112 Very Fine,#113 Near Mint,#114 Near Mint,#115 Fine,#116 Near Mint,#117 Near Mint,#118 Fine,#119 Near Mint,#120 Near Mint,#121 Very Fine,#122 Very Fine,#123 Fine,#124 Very Fine,#125 Very Fine,#126 Fine,#127 Fine,#128 Near Mint,#129 Near Mint,#130 Fine,#131 Near Mint,#132 Near Mint,#133 Near Mint,#134 Fine,#135 Near Mint,#136 Near Mint,#137 Near Mint,#138 Near Mint,#139 Near Mint,#140 Very Good,#141 Near Mint,#142 Very Fine,#143 Near Mint,#144 Fine,#145 Near Mint,#146 Fine
SILVER SURFER (1988) #1 Very Fine,#2 Very Fine
SILVER SURFER (2003) #1 Near Mint,#3 Very Good,#4 Very Good,#5 Very Good,#6 Near Mint,#7 Fine,#8 Fine,#9 Very Fine,#10 Very Fine,#11 Near Mint,#12 Near Mint,#13 Near Mint,#14 Very Fine
SILVER SURFER (2014) #1 Very Fine,#1 YOUNG BABY Fine
SILVER SURFER (2016) (#1-UP) (MARVEL) #1 Near Mint,#1 HIP HOP Near Mint,#2 Very Fine
SILVER SURFER '97 #1 Near Mint
SILVER SURFER ANNUAL #1 Very Fine,#2 Very Fine,#3 Near Mint,#4 Fine,#5 Near Mint,#6 UNBAGGED Near Mint,#7 Fine
SILVER SURFER MINUS #1 Near Mint
SILVER SURFER/THOR 1998 MARVEL ANNUAL (1998) #1 Very Fine
SILVER SURFER: REQUIEM (2007) #1 Fine,#2 Fine,#3 Very Fine,#4 Very Fine
SIX GUNS (2011) #1 Near Mint,#2 Fine,#3 Fine,#4 Fine,#5 Near Mint
SPECTACULAR SPIDER-MAN (2003) #1 Fine,#2 Very Good,#3 Fine,#4 Good,#5 Fine,#6 Good,#7 Very Good,#8 Fine,#9 Very Good,#10 Very Good,#11 Very Good,#12 Very Good,#13 Fine,#14 Very Good,#15 Fine,#16 Fine,#17 Very Fine,#18 Fine,#19 Fine,#20 Very Good,#21 Good,#22 Very Good,#23 Fine,#24 Very Good,#25 Fine,#26 Fine,#27 Very Good
SPECTACULAR SPIDER-MAN: SUPER SIZE SPECIAL #1 Very Fine
SPIDER-GWEN (DECEMBER) (2015) #1 Very Fine,#2 Very Fine,#2 Near Mint,#3 Near Mint,#4 Near Mint,#5 Very Fine,#12 Fine,#12 Near Mint,#12 RETAILER Near Mint,#12 RETAILER Near Mint
SPIDER-ISLAND (2015) #5 Very Fine
SPIDER-ISLAND: CLOAK & DAGGER (2011) #1 Near Mint,#2 Near Mint,#3 Near Mint
SPIDER-ISLAND: HEROES FOR HIRE (2011) #1 Near Mint
SPIDER-MAN (1963) #230 ROMITA SGN Good,#238 W/O SIGNED Good,#239 NEWS SGN Good,#248 FRENZ SGN Very Good,#251 NEWS SGN Good,#252 FRENZ SGN Very Good,#255 NEWS SGN Very Good,#256 FRENZ SGN Very Good,#257 NEWS SGN Very Good,#258 FRENZ SGN Good,#259 FRENZ SGN Very Good,#260 FRENZ SGN Fine,#261 FRENZ SGN Fine,#265 FRENZ SGN Fine,#270 FRENZ SGN Very Good,#275 FRENZ SGN Very Good,#276 NEWS SGN Good,#280 FRENZ SGN Very Good,#281 FRENZ SGN Good,#335 NEWSSTAND Very Good,#338 NEWSSTAND Fine,#339 Very Good,#340 NEWSSTAND Fine,#341 NEWSSTAND Fine,#344 NEWS JEWEL Near Mint,#346 Fine,#348 INSERT Near Mint,#349 Very Good,#350 Near Mint,#351 Near Mint,#352 Good,#353 Fine,#354 Good,#355 Very Good,#356 Good,#357 Very Good,#358 Near Mint,#359 Near Mint,#360 NEWSSTAND Very Fine,#361 NEWSSTAND Very Fine,#362 NEWSSTAND Very Fine,#363 Near Mint,#364 Near Mint
SPIDER-MAN '97 #1 Good,#1 Very Good
SPIDER-MAN (MARVEL KNIGHTS) (2004) #2 Good,#3 Very Good,#4 Fine,#5 Fine,#6 Very Fine,#7 Fine,#8 Fine,#9 Fine,#10 Near Mint,#11 Fine,#12 Fine,#13 Fine,#14 Good,#15 Very Good,#16 Fine,#17 Fine,#18 Very Good,#19 Fine,#20 Fine,#21 Fine
SPIDER-MAN (MILES MORALES) (2016) #8 Near Mint
SPIDER-MAN 2099 (2015) #1 Very Fine,#1 Near Mint,#2 Very Fine,#2 Near Mint,#3 Very Fine,#3 Near Mint,#3 Near Mint,#4 Very Fine,#4 Near Mint,#5 Very Fine,#5 Near Mint,#16 Near Mint
SPIDER-MAN ANNUAL (1964) #1 Good,#2 Good,#3 ROMITA SGN Good,#5 Fair,#6 Fair,#6 Good,#7 Fair,#9 Good,#10 Good,#11 Very Good,#12 Fine,#13 NEWSSTAND Fine,#14 Very Good,#15 Very Good,#16 Very Good,#17 NEWSSTAND Good,#18 Very Good,#19 Fine,#20 Fine,#21 Fine,#22 NEWSSTAND Fine,#23 Near Mint,#27 Fair,#28 Fine
SPIDER-MAN GIANT-SIZE (1974) #1 Good,#2 Good,#3 Good,#4 Fair,#5 Good
SPIDER-MAN HALLOWEEN MASK (1981) #1 Near Mint
SPIDER-MAN HOLIDAY SPECIAL #1995 Fine
SPIDER-MAN MINUS (1963) #1 Good
SPIDER-MAN SUPER SPECIAL (1995) #1 Near Mint
SPIDER-MAN UNLIMITED (2004) #1 Good,#1 Very Good,#2 Very Good,#3 Fine,#4 Very Good,#5 Very Good,#6 Good,#7 Fine,#8 Very Fine,#9 Fine,#10 Fine,#11 Near Mint,#12 Fine,#13 Very Good,#14 Fine,#15 Fine
SPIDER-MAN/DEADPOOL (2015) #1 Fine,#1 Very Fine,#3 Very Fine,#3 Near Mint,#9 Near Mint
SPIDER-MAN/DEVIL DINOSAUR 1998 MARVEL ANNUAL (1998) #1 Very Good
SPIDER-MAN/ELEKTRA 1998 MARVEL ANNUAL (1998) #1 Very Good
SPIDER-MAN: COMPLETE CLONE SAGA EPIC TPB (2ND EDITION) (2016) #1 Near Mint
SPIDER-MAN: NOIR (2008) #1 Very Fine,#2 Fine,#3 Fine,#4 Very Fine
SPIDER-MAN: NOIR - EYES WITHOUT A FACE (2009) #1 Fine,#2 VARIANT Near Mint,#3 Very Fine,#4 Near Mint
SPIDER-VERSE (2015) #3 Very Fine
SPIDER-WOMAN (1978) #17 NEWSSTAND Good
SPIDER-WOMAN (2016) (#1-UP) (JESSICA DREW) (MARVEL) #1 Very Fine,#1 Near Mint,#1 Near Mint,#2 Fine,#2 Very Fine,#2 Near Mint,#3 Near Mint,#11 Near Mint
SPIDEY (2015) #1 Near Mint,#2 Near Mint,#2 Near Mint,#3 Near Mint,#11 Near Mint
SQUADRON SUPREME (2015) #12 Near Mint
STAN LEE MEETS DR. STRANGE (2006) #1 Near Mint
STAR WARS (1977) #1 Fine,#2 Very Fine,#3 Very Fine,#4 Fine,#4 Fine,#5 Very Fine,#8 Near Mint,#9 Near Mint,#11 Very Fine,#12 Near Mint,#13 Near Mint,#14 Near Mint,#15 Near Mint,#16 Near Mint,#19 Near Mint,#21 Fine,#21 Near Mint,#22 Near Mint,#23 Near Mint,#24 Near Mint,#25 NEWSSTAND Near Mint,#26 Near Mint,#27 Near Mint,#28 Near Mint,#29 Near Mint,#30 NEWSSTAND Very Fine,#31 NEWSSTAND Fine,#32 Very Fine,#33 NEWSSTAND Near Mint,#34 NEWSSTAND Near Mint,#35 Near Mint,#36 NEWSSTAND Fine,#37 NEWSSTAND Near Mint,#38 Very Fine,#40 NEWSSTAND Near Mint,#41 Fine,#42 Near Mint,#43 Near Mint,#44 Very Fine,#45 Near Mint,#46 Very Fine,#47 Very Fine,#48 Very Fine,#49 Near Mint,#50 Near Mint,#51 Near Mint,#52 Very Fine,#53 Fine,#54 Near Mint,#56 Near Mint,#57 Near Mint,#60 Fine,#61 Near Mint,#62 Near Mint,#63 Near Mint,#64 Near Mint,#66 Near Mint,#67 Near Mint,#68 Fine,#71 Near Mint,#72 Near Mint,#78 Fine,#79 Fine
STAR WARS (2015) #1 BAM Near Mint,#1 BAM B&W Near Mint,#1 THINKGEEK Near Mint,#7 MILE HIGH Fine,#7 MILE HIGH Very Fine,#8 MILE HIGH Fine,#8 MILE HIGH Very Fine,#11 Very Fine,#12 Fine,#12 Very Fine,#13 Fine,#13 Very Fine,#14 Very Fine,#15 Very Fine,#16 Very Fine,#16 IMMONEN Very Fine,#17 YU Very Fine,#23 Near Mint,#23 Near Mint,#23 FIGURE VAR Near Mint,#23 FIGURE VAR Near Mint,#23 MILE HIGH Near Mint,#23 MILE HIGH Near Mint,#23 MILE HIGH Near Mint,#23 MOLINA Near Mint,#23 SKETCH CV Near Mint
STAR WARS ANNUAL (1979) #1 Very Fine
STAR WARS ANNUAL (2015) #1 Very Fine
STAR WARS LEGENDS EPIC COLLECTION: LEGACY TPB (2016) #1 Near Mint
STAR WARS: FORCE AWAKENS - SHATTERED EMPIRE (2015) #2 Very Fine,#3 Very Fine,#4 Very Fine
STAR WARS: FORCE AWAKENS ADAPTATION (2016) #4 Near Mint,#4 PHOTO Near Mint,#4 SKETCH CV Near Mint
STAR WARS: HAN SOLO (2016) #3 Near Mint,#3 PHOTO Near Mint
STAR-LORD (2015) #1 Fine,#1 Very Fine,#1 Near Mint,#2 Fine,#2 Very Fine,#2 Near Mint,#3 Very Fine,#3 Near Mint,#3 Near Mint,#6 Very Fine
STARBRAND & NIGHTMASK (2015) #1 Near Mint,#2 Near Mint
STRANGE TALES (1951) #75 Good
STRANGE TALES ANNUAL (1962) #1 Fair
SUB-MARINER (1968) #8 THOMAS SGN Good
SUB-MARINER: DEPTHS (2008) #1 Very Good,#2 Fine,#3 Very Good,#4 Near Mint,#5 Near Mint
SUPERIOR CARNAGE ANNUAL (2014) #1 Fine
SUPERIOR SPIDER-MAN (2013) #11 Near Mint,#26 Very Fine,#27 Very Fine,#28 Very Fine,#29 Very Fine,#30 Very Fine
SUPERIOR SPIDER-MAN ANNUAL (2013) #2 Near Mint
SURVIVE (2014) #1 Near Mint
TALES OF SUSPENSE (1959) #51 Good,#52 Fair,#53 Good,#54 Good,#55 Fair,#56 Good,#57 Good,#58 Good,#59 Good,#60 Good,#61 Good,#62 Very Good,#63 Fair,#64 Good,#65 Very Good,#66 Fair,#67 Good,#68 Good,#69 Very Good,#71 Good,#72 Fair,#73 Good,#73 THOMAS SGN Good,#75 Good,#76 Good,#77 Good,#78 Very Good,#79 Very Good,#80 Good,#81 Fair,#82 Good,#83 Good,#84 Good,#85 Good,#86 Good,#87 Good,#88 Good,#90 Very Good,#91 Good,#92 Good,#93 Good,#94 Good,#95 Good,#96 Good,#97 Good,#98 Good,#99 Very Good
TALES TO ASTONISH (1959) #72 Good,#73 Very Good,#74 Good,#75 Good,#78 Good,#79 Good,#80 Good,#81 Good,#82 Good,#88 Fair,#89 Good,#90 Very Good,#91 Good,#93 Good,#94 Fair,#96 Fair,#97 Good,#98 Good,#99 Good,#100 Very Good,#100 Very Good,#101 Good,#101 Fine
TARZAN (MARV77) #1 Very Fine,#2 Near Mint,#3 Near Mint,#4 Near Mint,#5 Near Mint,#6 Near Mint,#7 Near Mint,#8 Near Mint,#9 Near Mint,#10 Near Mint,#11 Near Mint,#12 Near Mint,#13 Near Mint,#14 Near Mint,#15 Near Mint,#16 Near Mint,#17 Near Mint,#18 Near Mint,#19 Very Fine,#20 Near Mint,#21 Near Mint,#22 Very Fine,#23 Near Mint,#24 Near Mint,#25 Near Mint,#26 NEWSSTAND Near Mint,#27 Near Mint,#28 Near Mint,#29 Very Fine
TARZAN ANNUAL #1 Very Fine,#2 Near Mint,#3 Near Mint
THANOS QUEST #1 NEWSSTAND Near Mint,#2 NEWSSTAND Near Mint
THING #1 Very Good,#4 Very Fine,#5 Near Mint,#6 Good,#19 Very Fine,#20 Near Mint,#21 Near Mint,#22 Near Mint,#23 Near Mint
THOR (1962) #161 Very Good,#162 Good,#164 Very Good,#169 Fine,#170 Good,#174 Fine,#180 Fine,#181 Very Fine,#182 Fine,#183 Fine,#184 Fine,#185 Fine,#186 Very Fine,#187 Fine,#188 Fine,#189 Fine,#190 Very Good,#191 Fine,#192 Fine,#193 Fine,#194 Very Fine,#195 Fine,#196 Very Fine,#197 Very Fine,#198 Fine,#199 Very Fine,#200 Fine,#201 Near Mint,#202 Near Mint,#203 Very Fine,#204 Fine,#205 Fine,#206 Fine,#207 Fine,#208 Very Fine,#209 Fine,#210 Very Fine,#211 Very Fine,#212 Fine,#212 Very Fine,#213 Very Fine,#214 Fine,#215 Very Fine,#216 Fine,#217 Fine,#218 Fine,#218 Very Fine,#219 Very Fine,#220 Near Mint,#221 Very Fine,#224 Near Mint,#225 Fine,#226 Very Fine,#228 Very Fine,#229 Very Fine,#230 Fine,#231 Very Good,#232 Very Fine,#233 Fine,#234 Near Mint,#235 Near Mint,#236 Near Mint,#237 Fine,#238 Near Mint,#239 Near Mint,#240 Near Mint,#241 Very Fine,#242 Near Mint,#243 Very Fine,#244 Near Mint,#245 Near Mint,#246 Very Fine,#247 Fine,#248 Fine,#249 Very Fine,#250 Very Fine,#252 Fine,#253 Fine,#254 Fine,#255 Very Fine,#256 Very Fine,#257 Very Good,#258 Very Fine,#259 Near Mint,#260 Near Mint,#261 Very Fine,#262 Very Fine,#263 Very Fine,#264 Very Fine,#265 Very Fine,#266 Very Fine,#267 Very Fine,#268 Near Mint,#269 Very Fine,#270 Very Fine,#271 Near Mint,#272 Fine,#273 Very Good,#274 Near Mint,#275 Near Mint,#276 Near Mint,#277 Very Fine,#278 Very Fine,#279 Fine,#280 Very Good,#281 Near Mint,#282 Fine,#283 Near Mint,#284 Very Fine,#285 NEWSSTAND Near Mint,#286 Very Fine,#287 Near Mint,#288 Very Fine,#289 Near Mint,#290 NEWSSTAND Near Mint,#291 NEWSSTAND Fine,#292 NEWSSTAND Fine,#293 NEWSSTAND Near Mint,#294 NEWSSTAND Very Fine,#295 NEWSSTAND Fine,#296 NEWSSTAND Fine,#297 NEWSSTAND Fine,#298 Very Fine,#299 Fine,#300 Very Fine,#301 Fine,#302 NEWSSTAND Very Fine,#303 Near Mint,#304 Fine,#305 Very Fine,#306 Near Mint,#307 Fine,#308 Very Fine,#309 Near Mint,#310 Near Mint,#311 Near Mint,#312 Fine,#313 Near Mint,#337 Very Fine,#337 NEWSSTAND Fine,#338 NEWSSTAND Fine,#339 Fine,#341 Very Good,#342 Very Good,#343 Good,#345 NEWSSTAND Very Good,#346 Very Fine,#347 Very Fine,#348 Near Mint,#349 Near Mint,#350 Near Mint,#351 Very Fine,#352 Near Mint,#353 Near Mint,#354 Very Fine,#355 Very Fine,#356 Fine,#357 Near Mint,#358 Near Mint,#359 Near Mint,#360 Very Good,#361 Fine,#362 Very Fine,#363 Very Fine,#364 Very Fine,#365 NEWSSTAND Very Fine,#366 NEWSSTAND Very Fine,#367 Very Fine,#368 Fine,#369 Near Mint,#370 Very Fine,#371 Near Mint,#372 Very Good,#373 Very Fine,#374 NEWSSTAND Very Fine,#375 Very Fine,#376 Very Fine,#377 Near Mint,#378 Near Mint,#379 Near Mint,#380 Very Fine,#381 Near Mint,#382 Near Mint,#383 Near Mint,#384 Near Mint,#387 NEWSSTAND Fine,#388 NEWSSTAND Fine,#389 NEWSSTAND Fine,#390 NEWSSTAND Fine,#391 NEWSSTAND Fine,#392 NEWSSTAND Very Good,#393 NEWSSTAND Very Good,#394 Very Good,#395 Very Good,#396 Fine,#397 Fine,#398 Fine,#399 Fine,#401 Fine,#402 Fine,#403 Very Good,#404 Good,#405 Fine,#406 Fine,#407 Fine,#408 NEWSSTAND Very Fine,#409 Very Fine,#410 Fine,#414 NEWSSTAND Very Good,#434 NEWSSTAND Fine,#462 Fine,#463 Good,#464 Very Good,#465 Fine,#466 Very Good,#468 Near Mint,#469 Very Good,#470 Fine
THOR (1998) #3 Very Fine,#4 Very Fine,#5 Very Fine,#6 Near Mint,#7 Very Fine,#8 Very Fine,#9 Near Mint,#10 Very Fine,#11 Very Fine,#12 Very Fine,#13 Very Fine,#14 Very Fine,#15 Very Fine,#16 Very Fine,#17 Very Fine,#18 Very Fine,#19 Near Mint,#20 Near Mint,#21 Very Fine,#22 Very Fine,#23 Very Fine,#24 Very Fine,#25 DELUXE Near Mint,#26 Very Fine,#27 Near Mint,#28 Near Mint,#29 Very Fine,#30 Very Fine,#31 Very Fine,#32 Very Good,#33 Near Mint,#34 Very Fine,#35 Very Fine,#36 Very Fine,#37 Fine,#38 Very Fine,#39 Fine,#40 Very Fine,#41 Near Mint,#42 Very Fine,#43 Very Fine,#44 Very Fine,#45 Near Mint,#46 Near Mint,#47 Very Fine,#48 Near Mint,#49 Very Fine,#50 Near Mint,#51 Very Fine,#52 Very Fine,#53 Very Fine,#54 Very Fine,#55 Fine,#56 Fine,#57 Very Fine,#58 Very Fine,#59 Very Fine,#60 Very Fine,#61 Very Fine,#62 Very Fine,#63 Very Fine,#64 Very Fine,#65 Very Fine,#66 Fine,#67 Very Fine,#68 Very Fine,#69 Near Mint,#70 Near Mint,#71 Very Fine,#72 Fine,#73 Very Fine,#74 Near Mint,#75 Very Fine,#76 Very Fine,#77 Very Fine,#78 Near Mint,#79 Very Fine,#80 Very Fine,#81 Near Mint,#82 Very Fine,#83 Fine,#84 Very Fine,#85 Fine
THOR (2007) #1 Very Good,#1 TURNER Very Fine,#2 Very Good,#2 Very Fine,#2 DELL OTTO Good,#3 Fine,#3 Very Fine,#4 Very Fine,#4 VARIANT Fine,#5 Very Fine,#5 VARIANT Very Fine,#6 VARIANT Very Fine,#7 Fine,#7 Very Fine,#7 VARIANT Fine,#8 Very Fine,#9 Very Fine,#10 Very Fine,#11 Very Fine,#11 Near Mint,#12 Fine,#12 Very Fine,#600 Very Fine,#600 DJURDJEVIC Fine,#601 Near Mint,#602 Fine,#603 Near Mint,#604 Near Mint,#605 Near Mint,#606 Very Fine,#607 Fine,#608 Very Fine,#609 Near Mint,#610 Near Mint,#611 Fine,#612 Fine,#613 Fine,#614 Fine,#615 Fine,#616 Near Mint,#617 Near Mint,#617 TRON VAR Very Fine,#618 Near Mint,#619 Near Mint,#620 Near Mint,#621 Near Mint
THOR 2000 ANNUAL #1 Very Fine
THOR 2001 ANNUAL #1 Very Fine
THOR ANNUAL (1965) #3 Very Good,#4 Fine,#5 Very Good,#6 Fine,#7 Fine,#8 Very Fine,#9 Fine,#1999 Very Fine
THOR GIANT-SIZE FINALE (2009) #1 Near Mint
THOR: FOR ASGARD (2010) #1 Fine,#2 Very Good,#3 Near Mint,#4 Near Mint,#5 Near Mint,#6 Very Fine
THOR: RAGE OF THOR (2010) #1 Very Fine
THORS (2015) #3 Fine,#4 Fine
THUNDERBOLTS (1997) #113 Fine,#114 Good,#126 Fine,#127 Fine,#128 2ND PRINT Fine,#128 3RD PRINT Fine,#129 Fine,#132 Good,#133 Very Good,#134 Very Good,#135 Very Good,#136 Fine,#137 Very Fine,#138 Fine,#139 Near Mint,#140 Fine,#141 Near Mint,#142 Fine,#143 Fine,#143 IRON MAN Near Mint,#144 Near Mint,#145 Fine,#146 Near Mint,#147 Near Mint,#148 Near Mint,#149 Fine,#150 Very Fine,#151 Very Fine,#152 Near Mint,#153 Near Mint,#154 Fine,#155 Very Fine,#156 Very Fine,#157 Near Mint,#158 Near Mint,#159 Fine,#160 Fine,#161 Fine,#162 Fine,#163 Near Mint,#163 .1 Fine,#164 Fine,#165 Fine,#166 Fine,#167 Fine,#168 Fine,#169 Fine,#170 Near Mint,#171 Near Mint,#172 Fine,#173 Near Mint,#174 Fine
THUNDERBOLTS (2016) #5 Near Mint
THUNDERBOLTS: REASON IN MADNESS (2008) #1 Fine
THUNDERCATS (1986) #3 Good
TOMB OF DRACULA (1972) #3 Fine,#4 Fine,#5 Very Fine,#6 Fine,#8 Good,#11 Very Fine,#12 Very Fine,#13 Very Fine,#14 Near Mint,#15 Very Fine,#18 Very Fine,#20 Near Mint,#21 Near Mint,#22 Very Fine,#23 Near Mint,#25 Very Fine,#29 Very Fine,#30 Near Mint,#32 Near Mint,#33 Near Mint,#34 Very Fine,#35 Very Fine,#36 Very Fine,#39 Near Mint,#40 Near Mint,#43 Very Fine,#44 Very Fine,#45 Very Fine,#46 Near Mint,#47 Very Fine,#48 Fine,#49 Very Fine,#50 Very Fine,#51 Very Fine,#52 Very Fine,#53 Fine,#54 Near Mint,#55 Very Fine,#56 Near Mint,#57 Near Mint,#58 Near Mint,#59 Very Fine,#60 Near Mint,#61 Fine,#63 Near Mint,#64 Fine,#65 Very Fine,#66 Near Mint,#67 Near Mint,#68 Near Mint,#69 Near Mint,#70 Near Mint
TOMB OF DRACULA (1991) #2 NEWSSTAND Fine,#3 NEWSSTAND Very Good,#4 NEWSSTAND Near Mint
TOTALLY AWESOME HULK (2015) #10 Near Mint
TRUE BELIEVERS: DEADPOOL VARIANTS (2015) #1 Very Fine
TYPHOID #1 Near Mint,#2 Fine,#4 Near Mint
ULTIMATE ADVENTURES (2002) #1 Fine,#2 Fine,#3 Very Good,#4 Fine,#5 Fine,#6 Very Good
ULTIMATE AVENGERS VS. NEW ULTIMATES (2011) #1 Very Fine,#2 Near Mint,#3 Near Mint,#4 Near Mint
ULTIMATE CAPTAIN AMERICA ANNUAL (2008) #1 Very Good
ULTIMATE COMICS: ARMOR WARS (2009) #1 RRP Near Mint,#2 Very Fine,#3 Near Mint,#4 Very Fine
ULTIMATE COMICS: AVENGERS (2009) #1 Fine,#1 VILLAINS Very Fine,#2 Near Mint,#3 Near Mint,#4 Very Fine,#5 Fine,#6 Near Mint
ULTIMATE COMICS: AVENGERS 2 (2010) #1 Very Fine,#2 Very Fine,#3 Very Fine,#4 Very Fine,#5 Near Mint,#6 Near Mint
ULTIMATE COMICS: AVENGERS 3 (2010) #1 Very Fine,#2 Near Mint,#3 Near Mint,#4 Near Mint,#5 Very Fine,#6 Very Fine
ULTIMATE COMICS: CAPTAIN AMERICA (2011) #1 VARIANT Very Fine,#2 Near Mint,#3 Near Mint,#4 Near Mint
ULTIMATE COMICS: DOOM (2010) #1 Very Fine,#2 Very Fine,#3 Very Fine,#4 Very Fine
ULTIMATE COMICS: ENEMY (2010) #1 VILLAINS Very Fine,#2 Near Mint,#3 Near Mint,#4 Very Fine
ULTIMATE COMICS: MYSTERY (2010) #1 VILLAINS Very Fine,#2 Near Mint,#3 Near Mint,#4 Near Mint
ULTIMATE COMICS: NEW ULTIMATES (2010) #1 Very Fine,#2 Very Fine,#3 Near Mint,#4 Very Fine,#5 Near Mint
ULTIMATE COMICS: SPIDER-MAN (2009) #1 Fine,#1 VILLAINS Very Fine,#2 Near Mint,#3 Very Fine,#4 Fine,#5 Very Fine,#6 Near Mint,#7 Near Mint,#8 Very Fine,#9 Very Fine,#10 Near Mint,#11 Near Mint,#12 Very Fine,#13 Near Mint,#14 Near Mint,#15 Near Mint,#150 Near Mint,#151 Near Mint,#152 Very Fine,#153 Very Fine,#154 Near Mint,#155 Very Fine,#156 Near Mint,#157 VARIANT Near Mint,#158 VARIANT Near Mint,#159 VARIANT Near Mint,#160 BAGLEY Near Mint
ULTIMATE COMICS: SPIDER-MAN (2011) #200 BAGLEY Very Fine
ULTIMATE COMICS: THOR (2010) #1 Near Mint,#2 Near Mint,#3 Very Fine,#4 Near Mint
ULTIMATE COMICS: X (2010) #1 Very Fine,#1 VARIANT Near Mint,#2 Very Fine,#3 Near Mint,#4 Very Fine,#5 Near Mint
ULTIMATE DAREDEVIL & ELEKTRA (2002) #1 Fine,#2 Very Fine,#3 Fine,#4 Fine
ULTIMATE EXTINCTION (2005) #1 Fine,#2 Very Fine,#3 Very Fine,#4 Very Fine,#5 Fine
ULTIMATE FANTASTIC FOUR (2003) #1 Very Good,#2 Fine,#3 Very Fine,#4 Very Fine,#5 Very Fine,#6 Very Fine,#7 Fine,#8 Very Fine,#9 Very Fine,#10 Fine,#11 Very Good,#12 Fine,#13 Fine,#14 Very Fine,#15 Very Fine,#16 Fine,#17 Very Fine,#18 Fine,#19 Fine,#20 Very Fine,#21 Very Fine,#22 Very Fine,#23 Very Fine,#24 Fine,#25 Fine,#26 Fine,#27 Very Fine,#28 Very Fine,#29 Very Fine,#30 Very Good,#31 Very Fine,#32 Fine,#33 Fine,#34 Fine,#35 Very Fine,#36 Fine,#37 Very Fine,#38 Fine,#39 Fine,#40 Very Good,#40 Fine,#41 Fine,#42 Fine,#43 Very Fine,#44 Very Fine,#45 Fine,#46 Very Fine,#47 Fine,#48 Very Fine,#49 Fine,#50 Very Fine,#51 Very Fine,#52 Very Fine,#53 Fine,#54 Fine,#55 Very Fine,#56 Very Fine,#57 Very Fine,#58 Fine,#59 Very Fine,#60 Fine
ULTIMATE FANTASTIC FOUR ANNUAL (2005) #1 Very Fine,#2 Very Good
ULTIMATE FANTASTIC FOUR/X-MEN SPECIAL (2005) #2 Very Good
ULTIMATE HULK ANNUAL (2008) #1 Fine
ULTIMATE HUMAN (2008) #1 Fine,#2 Very Fine,#3 Very Fine,#4 Very Fine
ULTIMATE IRON MAN (2005) #1 Fine,#2 Fine,#3 Very Fine,#4 Fine,#5 Fine
ULTIMATE IRON MAN II (2007) #1 Fine,#2 Fine,#3 Fine,#4 Very Good,#5 Fine
ULTIMATE MARVEL (TEAM-UP) (2001) #1 Fine,#2 Very Fine,#3 Fine,#4 Very Fine,#5 Very Fine,#6 Very Fine,#7 Near Mint,#8 Near Mint,#9 Very Fine,#10 Very Fine,#11 Very Fine,#12 Very Fine,#13 Very Fine,#14 Very Fine,#15 Fine,#16 Fine
ULTIMATE NIGHTMARE (2004) #1 Very Good,#2 Fine,#3 Fine,#4 Very Good,#5 Very Good
ULTIMATE ORIGINS (2008) #1 Good,#1 VARIANT Very Good,#1 VARIANT Very Good,#2 Very Fine,#2 VARIANT Fine,#3 Fine,#3 VARIANT Fine,#4 Fine,#4 Very Fine,#4 VARIANT Very Fine,#5 Very Fine,#5 VARIANT Fine
ULTIMATE POWER (2006) #1 Very Good,#2 Fine,#3 Very Fine,#4 Very Fine,#5 Very Fine,#6 Very Fine,#7 Very Fine,#8 Fine,#9 Very Fine
ULTIMATE SECRET (2004) #1 Fine,#2 Fine,#3 Fine,#4 Fine
ULTIMATE SIX (2003) #1 Very Good,#2 Fine,#3 Fine,#4 Very Fine,#5 Fine,#6 Fine,#7 Fine
ULTIMATE SPIDER-MAN (2000) #1 Fine,#2 Very Fine,#3 Very Fine,#4 Fine,#5 Fine,#6 Very Fine,#7 Very Fine,#8 Very Fine,#9 Very Fine,#10 Very Fine,#11 Very Fine,#12 Very Fine,#13 Very Fine,#14 Very Fine,#15 Very Fine,#16 Fine,#17 Very Fine,#18 Very Fine,#19 Near Mint,#20 Very Fine,#21 Fine,#22 Fine,#23 Very Fine,#24 Very Fine,#25 Very Good,#26 Fine,#27 Very Fine,#28 Very Fine,#29 Very Fine,#30 Very Fine,#31 Very Fine,#32 Fine,#33 Fine,#34 Fine,#35 Fine,#36 Very Good,#37 Very Good,#38 Fine,#39 Fine,#40 Fine,#41 Fine,#42 Fine,#43 Fine,#44 Fine,#45 Very Good,#46 Fine,#47 Very Good,#48 Very Good,#49 Fine,#50 Fine,#51 Fine,#52 Fine,#53 Fine,#54 Fine,#55 Fine,#56 Fine,#57 Fine,#58 Fine,#59 Fine,#60 Very Fine,#61 Fine,#62 Very Fine,#63 Fine,#64 Very Good,#65 Very Good,#66 Very Good,#67 Very Good,#68 Very Good,#69 Fine,#70 Very Good,#71 Fine,#72 Fine,#73 Fine,#74 Fine,#75 Very Fine,#76 Very Fine,#77 Very Fine,#78 Fine,#79 Fine,#80 Very Fine,#81 Fine,#82 Very Fine,#83 Fine,#84 Fine,#85 Fine,#86 Very Fine,#87 Fine,#88 Fine,#89 Very Good,#90 Fine,#91 Very Fine,#92 Fine,#93 Fine,#94 Very Fine,#95 Very Fine,#96 Very Fine,#97 Very Fine,#98 Fine,#99 Very Fine,#100 Very Fine,#101 Very Fine,#102 Very Fine,#103 Fine,#104 Very Good,#105 Fine,#106 Fine,#107 Fine,#108 Very Fine,#109 Fine,#110 Fine,#111 Fine,#112 Fine,#113 Fine,#114 Very Fine,#115 Fine,#116 Fine,#117 Very Fine,#118 Fine,#119 Very Fine,#120 Very Fine,#121 Very Good,#122 Fine,#123 Very Fine,#124 Very Good,#125 Very Good,#126 Near Mint,#127 Very Fine,#128 Very Fine,#129 Very Fine,#130 Fine,#131 Near Mint,#132 Fine,#133 Very Fine
ULTIMATE SPIDER-MAN ANNUAL (2005) #1 Fine,#2 Very Fine,#3 Fine
ULTIMATE SPIDER-MAN SUPER SPECIAL (2002) #1 Fine
ULTIMATE VISION (2006) #0 Very Good,#1 Very Good,#2 Very Good,#3 Fine,#4 Very Fine,#5 Fine
ULTIMATE WAR (2002) #1 Fine,#2 Fine,#3 Very Good,#4 Very Good
ULTIMATE WOLVERINE VS. HULK (2005) #1 Fine,#2 Fine,#3 Very Good,#4 Very Fine,#5 Fine,#6 Very Fine
ULTIMATE X-MEN (2000) #1 Fine,#2 Fine,#2 Very Fine,#3 Very Fine,#4 Very Good,#4 Fine,#5 Good,#5 Very Fine,#6 Very Fine,#6 Near Mint,#7 Good,#7 Very Fine,#8 Good,#8 Very Fine,#9 Fine,#9 Very Fine,#10 Good,#10 Very Fine,#11 Fine,#11 Very Fine,#12 Good,#12 Very Fine,#13 Very Good,#13 Fine,#14 Very Fine,#15 Very Good,#15 Very Fine,#16 Very Good,#16 Fine,#17 Very Good,#17 Fine,#18 Fair,#18 Very Fine,#19 Fine,#19 Very Fine,#20 Very Fine,#21 Very Good,#22 Very Fine,#23 Very Fine,#24 Near Mint,#25 Fine,#26 Very Good,#27 Very Good,#28 Fine,#29 Fine,#30 Very Fine,#31 Fine,#32 Very Good,#33 Very Fine,#34 Very Good,#35 Very Good,#36 Fine,#37 Fine,#38 Very Good,#39 Very Good,#40 Very Good,#41 Fine,#42 Fine,#43 Very Good,#44 Very Fine,#45 Fine,#46 Fine,#47 Fine,#48 Fine,#49 Very Good,#50 Fine,#51 Very Fine,#52 Good,#53 Very Fine,#54 Very Good,#55 Very Good,#56 Very Good,#57 Very Good,#58 Fine,#59 Very Good,#60 Very Good,#61 Very Good,#62 Fine,#63 Fine,#64 Fine,#65 Fine,#66 Very Fine,#67 Fine,#68 Fine,#69 Fine,#70 Very Fine,#71 Fine,#72 Fine,#73 Very Fine,#74 Fine,#75 Fine,#76 Fine,#77 Fine,#78 Fine,#79 Fine,#80 Fine,#81 Very Fine,#82 Very Fine,#83 Fine,#84 Fine,#85 Fine,#86 Fine,#87 Very Fine,#88 Fine,#89 Fine,#90 Fine,#91 Fine,#92 Fine,#93 Fine,#94 Fine,#95 Fine,#96 Fine,#97 Very Fine,#98 Very Fine,#99 Fine,#100 Very Fine
ULTIMATE X-MEN ANNUAL (2005) #1 Very Fine,#2 Fine
ULTIMATE X-MEN COLLECTED EDITION (2001) #1 Fair
ULTIMATE X-MEN/FANTASTIC FOUR ANNUAL (2008) #1 Fine
ULTIMATE X-MEN/FANTASTIC FOUR SPECIAL (2005) #1 Fine
ULTIMATES (2002) #1 Very Good,#2 Near Mint,#3 Fine,#4 Very Fine,#5 Very Fine,#6 Fine,#7 Very Fine,#8 Very Fine,#9 Fine,#10 Fine,#11 Fine,#12 Very Good,#13 Very Good
ULTIMATES (2015) #1 Near Mint,#11 Near Mint
ULTIMATES 2 (2004) #1 Fine,#2 Fine,#3 Fine,#4 Fine,#5 Fine,#6 Fine,#7 Fine,#8 Fine,#9 Very Good,#10 Fine,#11 Fine,#12 Fine,#13 Fine
ULTIMATES 2 ANNUAL (2005) #1 Fine
ULTIMATES 3 (2007) #1 HEROES Fine,#2 Fine,#3 Fine,#4 Fine,#5 Fine
ULTIMATES ANNUAL (2005) #2 Very Good
ULTIMATUM (2008) #1 Very Good,#2 Very Good,#2 Fine,#3 Very Good,#3 Very Fine,#4 Very Good,#4 Very Fine,#5 Very Fine,#5 VARIANT Good
ULTIMATUM: FANTASTIC FOUR REQUIEM (2009) #1 Fine
ULTIMATUM: SPIDER-MAN REQUIEM (2009) #1 Fine,#2 Fine
ULTIMATUM: X-MEN REQUIEM (2009) #1 Fine
UNBEATABLE SQUIRREL GIRL (OCTOBER) (2015) #1 Very Fine,#1 Near Mint,#5 Very Fine,#6 MOORE Very Fine,#12 Near Mint
UNCANNY AVENGERS (DECEMBER) (2015) #1 Very Fine,#1 Near Mint,#2 Fine,#2 Very Fine,#3 Fine,#3 Very Fine,#4 Very Fine,#6 Near Mint,#7 Near Mint
UNCANNY AVENGERS ANNUAL (2015) #1 Very Fine
UNCANNY INHUMANS (2015) #1 Very Fine,#2 Very Fine,#7 Very Fine
UNCANNY X-MEN (2013) #34 Near Mint,#35 Near Mint,#600 Fine,#600 Very Fine
UNCANNY X-MEN (2016) #1 Near Mint,#4 Near Mint,#14 Near Mint
UNCANNY X-MEN 2000 ANNUAL #1 Fine
UNCANNY X-MEN 2001 ANNUAL #1 Fine
UNCANNY X-MEN ANNUAL (2006) #3 Fine
VADER DOWN (STAR WARS) (2015) #1 Very Fine,#1 GAMESTOP Near Mint,#1 MILE HIGH Fine,#1 WANTEDCOMI Near Mint
VALKYRIE (2010) #1 Near Mint
VAULT OF EVIL #1 Good,#1 Very Fine,#15 Very Good
VENOM (2003) #3 Near Mint
VENOM SUPER SIZE SPECIAL (1995) #1 Fine
VENOM: SPACE KNIGHT (2015) #1 Very Fine,#1 Near Mint,#2 Very Fine,#4 Near Mint
VISION (2015) #1 Very Fine,#1 Near Mint
WAR OF KINGS (2009) #2 VARIANT Fine,#4 VARIANT Fine
WARLOCK AND THE INFINITY WATCH (1992) #8 Near Mint,#9 Near Mint,#11 Fine,#12 Fine,#13 Fine,#14 Fine,#15 Fine,#16 Fine,#17 Fine,#18 Fine,#21 Near Mint,#22 Fine,#23 Fine,#24 Fine,#25 Near Mint,#26 Fine,#27 Very Fine,#28 Near Mint,#29 Near Mint,#30 Near Mint,#31 Fine,#32 Near Mint,#33 Fine,#34 Fine,#35 Fine,#36 Very Fine,#37 Very Fine,#38 Near Mint,#39 Near Mint,#40 Near Mint,#41 Very Fine,#42 Near Mint
WEAPON X (2002) #1 WIZARD 1/2 Very Fine
WEAPON X: NOIR (2010) #1 VARIANT Near Mint
WEB OF SPIDER-MAN SUPER SIZE SPECIAL (1995) #1 Very Fine
WEB WARRIORS (2015) #1 Fine,#1 Very Fine,#2 Very Fine,#3 Very Fine,#6 Near Mint,#11 Near Mint,#11 DUARTE Near Mint
WEREWOLF BY NIGHT (1972) #1 Fine,#2 Very Fine,#3 Very Fine,#4 Very Fine,#5 Very Good,#6 Very Fine,#7 Very Fine,#8 Fine,#9 Fine,#10 Near Mint,#11 Fine,#12 Fine,#13 Very Fine,#15 Near Mint,#16 Very Fine,#18 Fine,#19 Very Fine,#20 Near Mint,#22 Near Mint,#23 Good,#25 Very Fine,#27 Very Fine,#28 Near Mint,#29 Very Fine,#30 Near Mint,#31 Near Mint,#34 Very Fine,#35 Very Fine,#36 Fine,#37 Fine,#38 Fine,#39 Fine,#40 Fine,#41 Near Mint,#42 Very Fine
WEREWOLF BY NIGHT GIANT-SIZE (1974) #2 Very Fine,#3 Near Mint,#4 Near Mint,#5 Very Fine
WHAT IF... (1977) #1 Fine,#2 Very Fine,#3 Very Fine,#4 Very Fine,#5 Near Mint,#6 Very Fine,#7 Near Mint,#8 Very Fine,#9 Near Mint,#10 Near Mint,#11 Near Mint,#12 Near Mint,#13 Fine,#14 Near Mint,#15 NEWSSTAND Near Mint,#16 Near Mint,#17 Fine,#18 Near Mint,#19 NEWSSTAND Near Mint,#20 Near Mint,#21 Near Mint,#22 Very Fine,#23 Very Fine,#24 Near Mint,#25 Near Mint,#26 Near Mint,#27 Very Fine,#28 Near Mint,#29 Very Fine,#35 Very Fine
WHAT IF... (1989) #43 Very Good
WHAT IF: AGE OF ULTRON (2014) #1 Very Fine
WHAT IF: INFINITY - DARK REIGN (2015) #1 Very Fine
WHAT IF: INFINITY - GUARDIANS OF THE GALAXY (2015) #1 Fine
WINTER SOLDIER (2012) #13 Fine,#14 Near Mint
WINTER SOLDIER: BITTER MARCH (2014) #1 Fine
WOLVERINE (1982) #1 NEWSSTAND Very Fine,#2 Very Fine,#3 Very Good,#4 NEWSSTAND Very Good
WOLVERINE (1988) #1 Near Mint,#2 NEWSSTAND Near Mint,#3 Near Mint,#4 NEWSSTAND Fine,#5 NEWSSTAND Fine,#6 Very Fine,#7 NEWSSTAND Very Fine,#8 NEWSSTAND Near Mint,#9 NEWSSTAND Near Mint,#10 NEWSSTAND Very Fine,#11 Near Mint,#12 Near Mint,#13 Very Fine,#14 NEWSSTAND Near Mint,#15 Near Mint,#16 Near Mint,#17 Very Fine,#18 Near Mint,#19 Fine,#20 Very Good,#21 Fine,#22 Fine,#23 NEWSSTAND Very Good,#24 Fine,#25 Fine,#26 Near Mint,#27 Near Mint,#28 Fine,#29 Fine,#30 Near Mint,#31 Fine,#32 Fine,#33 Fine,#34 Fine,#35 NEWSSTAND Fine,#36 Very Fine,#37 Near Mint,#38 Near Mint,#39 Very Fine,#40 NEWSSTAND Near Mint,#41 Near Mint,#42 Very Good,#43 Very Good,#44 Near Mint,#45 Fine,#46 Near Mint,#47 Fine,#48 Near Mint,#49 Near Mint,#50 Very Good,#51 Near Mint,#52 Fine,#53 Fine,#54 Fine,#55 Good,#56 Fine,#57 Very Good,#58 Very Good,#59 Very Good,#60 Fine,#61 Good,#62 Fine,#63 Very Good,#64 NEWSSTAND Near Mint,#65 Near Mint,#67 Near Mint,#68 Good,#69 Good,#70 Fine,#71 Fine,#72 Near Mint,#73 NEWSSTAND Near Mint,#75 Near Mint,#98 Near Mint,#100 DELUXE Fine
WOLVERINE (2014) #1 Fine
WOLVERINE & DEADPOOL: DECOY (2011) #1 Very Fine
WOLVERINE & THE X-MEN (2011) #1 BLANK CVR Fine,#42 Very Fine
WOLVERINE & THE X-MEN (2014) #1 Near Mint
WOLVERINE 2000 ANNUAL #1 Very Good,#1 Fine
WOLVERINE: KILLING (1993) #1 Near Mint
WOLVERINE: NOIR (2009) #1 Near Mint,#1 VARIANT Near Mint,#2 Near Mint,#2 VARIANT Near Mint,#3 Near Mint,#3 NEWSSTAND Near Mint,#3 VARIANT Near Mint,#4 Near Mint
WORLD CHAMPIONSHIP WRESTLING (1992) #1 Fine,#3 Very Fine
X-FACTOR (1986) #7 Fine,#11 Fine,#12 Very Good,#14 NEWSSTAND Very Good,#15 Very Fine,#16 Very Good,#19 Near Mint,#20 Near Mint,#21 Near Mint,#35 Fine,#36 NEWSSTAND Very Fine,#42 Good,#46 NEWSSTAND Very Fine,#50 Near Mint,#55 Very Good,#56 Near Mint,#60 NEWSSTAND Near Mint,#61 NEWSSTAND Near Mint,#62 NEWSSTAND Near Mint,#66 Fine,#68 NEWSSTAND Very Good,#70 Fine,#72 Very Good,#73 Good,#74 Good,#76 Very Good,#77 Very Good,#78 Good,#83 Good,#84 Near Mint,#85 W/O CARD Good,#86 Very Good,#87 Fine,#88 Very Good,#92 NEWSSTAND Near Mint,#95 Good,#96 NEWSSTAND Very Fine,#98 Good,#99 Very Good,#100 DELUXE Fine,#100 DELUXE Near Mint,#101 Very Good,#107 Very Good,#108 DELUXE Good,#112 Fair,#113 Fair,#114 Good,#115 Fair,#116 Fair,#117 Fair,#118 Very Good,#119 Very Good,#120 Fine,#120 Very Fine,#121 Good,#121 Very Good,#122 Very Good,#123 Very Good,#127 Very Fine,#130 Fine,#131 Fine,#132 Very Good
X-FACTOR ANNUAL (1986) #1 Good,#2 NEWSSTAND Good,#3 Very Good,#4 Good,#5 Very Good,#6 Good,#7 NEWSSTAND Good,#9 Fine
X-FORCE (2014) #1 Fine
X-MEN (1963) #6 Fair,#9 Very Good,#10 Good,#11 Very Good,#12 Very Good,#14 Good,#15 Good,#16 Fine,#19 Fine,#20 Fair,#20 Fine,#21 Good,#21 Very Good,#22 Very Good,#22 Very Good,#23 Fair,#23 Very Good,#24 Good,#24 Good,#25 Good,#27 Very Good,#27 Very Good,#28 Good,#28 Good,#29 Good,#29 Very Good,#30 Good,#30 Fine,#31 Very Good,#31 Very Good,#32 Good,#33 Good,#33 Very Good,#34 Very Good,#34 Very Good,#35 Good,#36 Good,#36 Very Good,#37 Very Good,#37 Very Good,#37 Very Good,#38 Fair,#39 Fair,#40 Very Good,#40 Fine,#41 Very Good,#41 Very Good,#42 Good,#42 Fine,#43 Fair,#43 Fine,#44 Very Good,#45 Very Good,#46 Very Good,#46 Fine,#47 Fair,#47 Near Mint,#48 Fair,#48 Fine,#49 Fair,#49 Very Fine,#50 Very Good,#51 Good,#51 Fine,#52 Good,#52 Very Good,#53 Good,#53 Fine,#54 Good,#55 Good,#55 Very Fine,#56 Very Good,#56 Very Fine,#57 Very Good,#57 Fine,#58 Good,#59 Good,#59 Very Good,#60 Very Good,#61 Good,#62 Good,#62 Very Good,#63 Very Good,#64 Very Good,#65 Good,#65 Very Good,#66 Good,#67 Good,#68 Fair,#69 Good,#70 Very Good,#71 Good,#71 Fine,#72 Very Good,#73 Very Good,#74 Good,#74 Very Good,#75 Good,#75 Very Good,#76 Very Good,#76 JEWELERS Fair,#77 Very Good,#77 Fine,#78 Very Good,#79 Very Good,#90 Fine,#92 Good,#93 Very Good,#94 Near Mint,#95 Fine,#96 Good,#99 Near Mint,#100 Good,#100 Near Mint,#102 Very Good,#102 Fine,#103 Fair,#104 Fine,#105 Fine,#106 Fine,#106 Very Fine,#108 Good,#108 BRITISH Near Mint,#109 Good,#110 Fair,#111 Fine,#112 Good,#113 Fair,#113 Near Mint,#114 Good,#114 Very Fine,#115 Good,#116 Good,#117 Fine,#118 Very Fine,#119 Very Good,#120 Fine,#121 Good,#121 Near Mint,#122 Fine,#122 NEWSSTAND Good,#123 Near Mint,#123 NEWSSTAND Good,#124 NEWSSTAND Very Good,#124 NEWSSTAND Very Good,#125 Very Good,#125 Very Fine,#126 Very Good,#126 NEWSSTAND Very Good,#127 Fine,#127 Very Fine,#128 Very Good,#128 Near Mint,#129 NEWSSTAND Good,#129 NEWSSTAND Fine,#130 Fine,#130 Very Fine,#130 NEWSSTAND Very Good,#131 Very Fine,#131 NEWSSTAND Good,#132 Good,#132 NEWSSTAND Very Good,#133 Fine,#133 NEWSSTAND Fine,#134 Good,#134 Near Mint,#135 NEWSSTAND Good,#135 NEWSSTAND Good,#136 Very Good,#136 NEWSSTAND Fine,#137 Very Good,#137 NEWSSTAND Good,#138 Good,#138 Near Mint,#139 NEWSSTAND Very Good,#139 NEWSSTAND Fine,#140 Very Good,#140 Very Good,#141 Very Good,#141 NEWS JEWEL Very Good,#142 NEWS JEWEL Fine,#142 NEWSSTAND Good,#143 Near Mint,#143 NEWSSTAND Good,#144 NEWS JEWEL Very Good,#144 NEWSSTAND Good,#145 Near Mint,#145 NEWSSTAND Very Good,#146 Fine,#146 NEWSSTAND Very Good,#147 Fine,#147 NEWSSTAND Very Good,#148 Fine,#148 NEWS JEWEL Very Good,#149 Near Mint,#149 NEWSSTAND Good,#150 Very Good,#150 Near Mint,#151 NEWSSTAND Good,#152 Near Mint,#153 NEWSSTAND Very Good,#154 NEWSSTAND Good,#155 Very Fine,#156 NEWSSTAND Very Good,#157 NEWSSTAND Very Good,#158 Very Fine,#159 Near Mint,#160 NEWS JEWEL Very Good,#161 NEWS JEWEL Very Good,#162 NEWS JEWEL Good,#163 NEWS JEWEL Fine,#164 NEWSSTAND Fair,#165 NEWSSTAND Very Good,#166 Near Mint,#167 NEWSSTAND Good,#168 NEWSSTAND Good,#169 NEWSSTAND Good,#170 Very Good,#171 NEWSSTAND Good,#172 Near Mint,#173 Very Good,#174 Good,#175 Good,#176 Good,#177 Good,#178 Near Mint,#179 Good,#180 Near Mint,#181 Good,#182 Very Good,#183 NEWSSTAND Good,#184 Very Good,#185 Very Good,#186 Fair,#187 Fair,#188 Good,#189 NEWSSTAND Near Mint,#190 Fair,#191 Near Mint,#192 Good,#193 Fine,#194 NEWSSTAND Fair,#195 Near Mint,#196 Very Good,#197 Very Good,#198 NEWSSTAND Fair,#199 Fine,#200 Fine,#201 NEWSSTAND Good,#202 NEWSSTAND Good,#203 NEWSSTAND Very Good,#204 Near Mint,#205 NEWS JEWEL Very Good,#206 NEWS JEWEL Very Fine,#207 NEWSSTAND Very Good,#208 NEWSSTAND Very Good,#209 NEWSSTAND Fair,#210 NEWSSTAND Fine,#211 NEWSSTAND Good,#212 NEWSSTAND Fine,#213 NEWSSTAND Fine,#214 Very Good,#215 Good,#216 Fine,#217 Good,#218 NEWSSTAND Very Good,#219 Very Fine,#220 Good,#221 NEWSSTAND Fine,#222 NEWSSTAND Very Fine,#223 NEWSSTAND Fair,#224 Good,#225 NEWSSTAND Fine,#226 NEWSSTAND Fine,#227 Very Good,#228 NEWSSTAND Fair,#229 Very Good,#230 NEWSSTAND Near Mint,#231 NEWSSTAND Very Good,#232 Fine,#233 Fine,#234 Near Mint,#235 Near Mint,#236 JEWELERS Very Fine,#237 Fine,#238 Very Good,#239 Fine,#240 Very Fine,#241 Fine,#242 Very Good,#243 Near Mint,#244 Very Good,#245 Fine,#246 Fine,#247 Fair,#248 NEWSSTAND Very Good,#248 NEWSSTAND Near Mint,#249 Very Good,#250 Very Good,#251 Fine,#252 Near Mint,#253 Very Good,#254 Very Good,#255 Near Mint,#256 Very Fine,#257 Near Mint,#258 Near Mint,#259 Fair,#260 Very Good,#261 Near Mint,#261 NEWSSTAND Very Good,#262 Very Good,#263 Very Good,#264 Near Mint,#265 Very Good,#266 Fine,#266 NEWSSTAND Near Mint,#267 Fine,#267 NEWSSTAND Near Mint,#268 Very Good,#268 NEWSSTAND Near Mint,#269 Fine,#270 Fine,#270 NEWSSTAND Near Mint,#271 Fine,#271 NEWSSTAND Near Mint,#272 Fine,#272 NEWSSTAND Near Mint,#273 Fine,#274 Very Fine,#275 NEWSSTAND Near Mint,#276 Fine,#277 Near Mint,#278 Very Good,#279 Very Good,#280 Near Mint,#282 Very Good,#283 Good,#284 Fair,#285 Very Good,#286 NEWSSTAND Near Mint,#287 Very Good,#288 Good,#289 Fair,#290 Very Good,#291 Good,#292 Good,#293 Fair,#294 Near Mint,#295 NEWSSTAND Near Mint,#296 NEWSSTAND Very Good,#297 Good,#298 NEWSSTAND Near Mint,#299 NEWSSTAND Near Mint,#300 NEWSSTAND Near Mint,#301 Fine,#302 Very Good,#303 Good,#304 NEWSSTAND Near Mint,#304 NEWSSTAND Near Mint,#305 NEWSSTAND Near Mint,#309 Very Good,#310 Very Good,#311 Good,#313 Fine,#316 DELUXENEWS Near Mint,#317 DELUXE Near Mint,#318 DELUXENEWS Good,#320 DELUXE Fair,#321 DELUXE Good,#321 DELUXE Very Good,#322 Fine,#322 Near Mint,#323 Fine,#324 Very Good,#325 Near Mint,#326 Near Mint,#327 Good,#328 Near Mint,#329 Near Mint,#330 Fine,#331 Near Mint,#332 Near Mint,#333 Near Mint,#382 Near Mint,#383 Near Mint,#384 Near Mint,#385 Near Mint,#386 Near Mint,#387 Fine,#388 Fine,#389 Very Good,#390 Very Good,#390 Near Mint,#391 Very Fine,#392 UNBAGGED Near Mint,#393 Very Fine,#394 Fine,#395 VARIANT Good,#396 Fine,#397 Very Good,#398 Fine,#399 Near Mint,#402 Near Mint,#403 Near Mint,#404 Fine,#405 Near Mint,#406 Near Mint,#407 Near Mint
X-MEN (1991) #8 Fine,#10 Near Mint,#11 Fine,#12 Very Good,#13 Near Mint,#14 Very Fine,#16 W/O CARD Good,#17 Very Good,#18 Very Fine,#19 Fine,#20 Very Good,#21 Near Mint,#30 Very Fine,#36 FOIL COVER Near Mint,#38 DELUXE Very Good
X-MEN '92 (2016) #7 Near Mint
X-MEN ADVENTURES (1992) #4 Very Good,#5 Fine,#6 Fine,#7 Fine,#8 Very Good,#9 Fine,#10 Fine
X-MEN ADVENTURES SEASON II (1994) #2 Very Good,#3 Very Good,#4 Fine,#5 Fine,#6 Fine,#7 Very Good,#8 Fine,#9 Fine,#10 Fine,#11 Very Good,#12 Very Good,#13 Very Good
X-MEN ADVENTURES SEASON III (1995) #1 Very Fine,#2 Fine,#3 Good,#4 Very Good,#5 Fine,#6 Fine
X-MEN ANNUAL (1970) #1 Good,#2 Very Good,#3 Near Mint,#3 NEWSSTAND Very Good,#4 Very Good,#5 Near Mint,#5 NEWSSTAND Good,#6 Good,#7 Good,#9 Very Good,#11 Fine,#12 Good,#12 Very Good,#13 Fair,#14 Very Good,#16 Good,#17 UNBAGGED Fair
X-MEN ANNUAL (1992) #2 Good,#3 Fair
X-MEN ARCHIVES SKETCHBOOK (2000) #1 Fine
X-MEN/HEROES FOR HOPE (1985) #1 NEWSSTAND Very Good,#1 NEWSSTAND Fine
X-MEN: APOCALYPSE WARS HC (2016) #1 Near Mint
X-MEN: LEGACY (2012) #300 Very Fine
X-MEN: NOIR (2008) #1 Near Mint,#1 VARIANT Near Mint,#2 Near Mint,#3 Near Mint,#3 VARIANT Near Mint,#4 Near Mint,#4 VARIANT A Near Mint
X-MEN: NOIR - MARK OF CAIN (2009) #1 VARIANT Near Mint,#2 VARIANT Near Mint,#3 VARIANT Near Mint,#4 VARIANT Near Mint
X-MEN: PHOENIX (1999) #1 Very Fine,#2 Near Mint,#3 Near Mint
X-MEN: THE HIDDEN YEARS (1999) #1 Fine,#2 Near Mint,#3 Fine,#4 Fine,#5 Near Mint,#6 Near Mint,#7 Fine,#8 Near Mint,#9 Near Mint,#10 Near Mint,#11 Near Mint,#12 Near Mint,#13 Near Mint,#14 Near Mint,#15 Fine,#16 Very Fine,#17 Very Fine,#18 Near Mint,#19 Very Fine,#20 Near Mint,#21 Near Mint,#22 Fine
X-TREME X-MEN (2001) #2 Very Fine,#3 Good,#4 Fine,#5 Very Good,#6 Fine,#7 Fine,#8 Fine,#9 Fine,#10 Fine,#11 Very Good,#12 Very Good,#13 Very Good,#14 Fine,#15 Very Good,#16 Fine,#17 Near Mint,#18 Fine,#19 Very Fine,#20 Near Mint,#21 Fine,#22 Fine,#23 Very Fine,#24 Fine,#25 Very Fine,#26 Good,#27 Fine,#28 Fine,#29 Very Good,#31 Very Good,#33 Very Good,#35 Very Good,#36 Very Good,#37 Very Good,#38 Very Good,#40 Near Mint,#41 Very Good,#42 Very Good,#43 Very Good,#44 Near Mint,#45 Very Good,#46 Fine
X-TREME X-MEN 2001 ANNUAL #1 Near Mint