1,000 Silver Age and Bronze Age Comics - Many Higher Grades
Howdy!
I will begin today's newsletter by quickly mentioning that our 60% off NANETTE2 codeword sale remains in effect for you, and that we are continuing to add thousands of comics into our New-In-Stock link from the awesome collections that I purchased over the past couple of weeks. The 60% off NANETTE2 sale applies to all ten million of our back issue comics and magazines, excluding only new issues, a few variants, and our CGC's.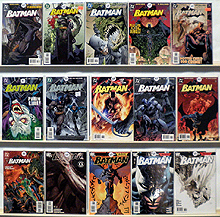 Some of the Batman Comics from the last few collections

Moving on to today's news, I am off to Las Vegas this evening to consider purchasing remnants of one of our erstwhile "competitors." In a classic case of clearly not understanding the economics of offering a vast selection of back issue comics online, these folks spent well over a million dollars trying to replicate our business model at Mile High Comics. It took them less than two years to flush their working capital down the drain, come to the realization that they were on a foolish quest, and then fold.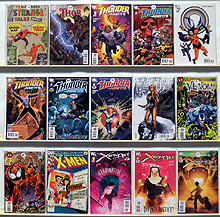 Some Comics from the last few collections

So what went wrong with their plan? For starters, they grossly underestimated the cost of sorting, grading, and listing ten million comics. Anyone can buy a huge number of comics these days, but coming up with systems to integrate those purchases into a functioning database is really quite hard, and also dreadfully expensive. We have been sorting comics and building our inventory for 46 years, but even after already having expended many millions of dollars (years ago) on the labor required to accomplish these tasks, our operating earnings remain quite low.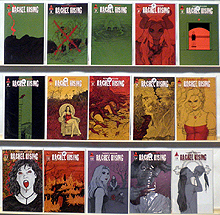 Some Rachel Rising Comics from the last few collections

All of the above having been said, I think it important that you know that I do not think that there will ever again be another company like Mile High Comics. If you are a comics fan and enjoy the convenience of being able to shop at a single-source back issue supplier, you might want to light a candle for my continued good health. Simply put, while there are plenty of places these days to shop for comics, a fully integrated comics supplier that seeks to carry all the comics ever published has become an obsolete concept. It is just too darn expensive, and the rate of return on invested capital is far too low.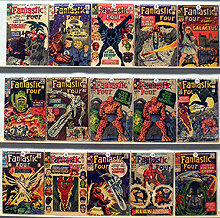 Some Fantastic Four Signed Comics from the last few collections

So, why do I keep endlessly buying more comics? In all honesty, that's a question that I ask myself pretty much every day. After all, I already own ten million back issue, which is enough to allow me to sell 1,000 comics per day for the next 27 years! In all honesty, at this point in my life I am working on creating benefit for other comics fans that I hope will supersede my own lifetime. We work incredibly hard here at Mile High Comics to document all comics being created, including even the most obscure of small press titles. We also subsidize an ongoing program that seeks to document and scan the incredible output of variant editions being produced these days, and also to establish which past titles had newsstand editions. Keeping that data continually updated for you is one of the primary reasons why I keep at my daily efforts, even though it long ago stopped making any real economic sense. 'Nuff said.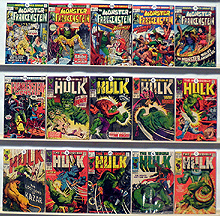 Some more Signed Comics from the last few collections

I'll stop waxing poetic now, and quickly mention that I recently purchased an awesome collection of signed comics from a long time fan. He had his comics signed by creators at shows (some of which I attended), so I can attest to their authenticity. See today's Premium New-In-Stock for a listing of these scarce signed books. I also purchased a collection of 1,000 lower grade (Fair/Good/Very Good) 1960's Archie, Harvey, and Gold Key comics on Saturday. These fun comics are relatively inexpensive (especially at 60% off...), and quite diverse. I hope that we can have some of them available to you in New-In-Stock by tomorrow.
Happy Collecting!
Chuck Rozanski,
President - Mile High Comics, Inc.
October 3, 2016

P.S. Saturday's Premium New-In-Stock list was HUGE! Here is but a sampling...
MARVEL
ALPHA FLIGHT (1983) #28 NEWSSTAND Near Mint/Mint


ALPHA FLIGHT (1983) #39 NEWSSTAND

ALPHA FLIGHT (1983) #39 NEWSSTAND Near Mint/Mint

AMAZING SPIDER-MAN (1999) #20 Near Mint/Mint
AMAZING SPIDER-MAN (1999) #575 Near Mint/Mint
AMAZING SPIDER-MAN (1999) #576 Near Mint/Mint
AMAZING SPIDER-MAN (1999) #577 VARIANT Very Fine
AMAZING SPIDER-MAN (1999) #579 Fine
AMAZING SPIDER-MAN (1999) #581 Fine
AMAZING SPIDER-MAN (1999) #582 Fine
AMAZING SPIDER-MAN (1999) #583 Fine
AMAZING SPIDER-MAN (1999) #584 Fine
AMAZING SPIDER-MAN (1999) #585 Fine
AMAZING SPIDER-MAN (1999) #586 Very Fine
AMAZING SPIDER-MAN (1999) #587 Very Fine
AMAZING SPIDER-MAN (1999) #588 Very Fine
AMAZING SPIDER-MAN (1999) #589 Very Good
AMAZING SPIDER-MAN (1999) #590 Very Good
AMAZING SPIDER-MAN (1999) #591 Very Fine
AMAZING SPIDER-MAN (1999) #592 Fine
AMAZING SPIDER-MAN (1999) #593 Very Fine
AMAZING SPIDER-MAN (1999) #594 Fine
AMAZING SPIDER-MAN (1999) #595 Fine
AMAZING SPIDER-MAN (1999) #596 Very Fine
AMAZING SPIDER-MAN (1999) #597 Fine
AMAZING SPIDER-MAN (1999) #598 Fine
AMAZING SPIDER-MAN (1999) #599 Near Mint/Mint
AMAZING SPIDER-MAN (1999) #600 ROMITA JR. Fine
AMAZING SPIDER-MAN (1999) #600 ROSS Near Mint/Mint
AMAZING SPIDER-MAN (1999) #634 VILLAINS Fine

AMAZING SPIDER-MAN (2015) #19 KUDER Near Mint/Mint

AMAZING SPIDER-MAN 2000 ANNUAL #1 Fine

AMAZING SPIDER-MAN 2001 ANNUAL #1 Very Fine

AMAZING SPIDER-MAN SUPER SPECIAL: PLANET OF THE SYMBIOT (1995) #1 Near Mint/Mint

BIZARRE ADVENTURES (1981) #34 Very Fine

CAGE (2016) (#1-UP) (MARVEL NOW) (LUKE CAGE) #1 VON Near Mint/Mint

CHAMPIONS (2016) (#1-UP) (MARVEL NOW) #1 A ADAMS Near Mint/Mint
CHAMPIONS (2016) (#1-UP) (MARVEL NOW) #1 FOSGITTB&W Near Mint/Mint
CHAMPIONS (2016) (#1-UP) (MARVEL NOW) #1 MILE HIGH Near Mint/Mint

CHILLERS GIANT-SIZE (1974) #1 Very Good

CIVIL WAR II: X-MEN (2016) #4 WILLIAMS Near Mint/Mint

CLOAK & DAGGER (2010) #1 Near Mint/Mint

DAREDEVIL (1964) (#1-380) (MAN WITHOUT FEAR) (MARVEL) #83 Fine
DAREDEVIL (1964) (#1-380) (MAN WITHOUT FEAR) (MARVEL) #84 Very Fine
DAREDEVIL (1964) (#1-380) (MAN WITHOUT FEAR) (MARVEL) #85 Very Fine
DAREDEVIL (1964) (#1-380) (MAN WITHOUT FEAR) (MARVEL) #86 Fine
DAREDEVIL (1964) (#1-380) (MAN WITHOUT FEAR) (MARVEL) #87 Near Mint/Mint
DAREDEVIL (1964) (#1-380) (MAN WITHOUT FEAR) (MARVEL) #88 Very Fine
DAREDEVIL (1964) (#1-380) (MAN WITHOUT FEAR) (MARVEL) #89 Very Fine
DAREDEVIL (1964) (#1-380) (MAN WITHOUT FEAR) (MARVEL) #90 Very Fine
DAREDEVIL (1964) (#1-380) (MAN WITHOUT FEAR) (MARVEL) #91 Very Fine
DAREDEVIL (1964) (#1-380) (MAN WITHOUT FEAR) (MARVEL) #92 Fine
DAREDEVIL (1964) (#1-380) (MAN WITHOUT FEAR) (MARVEL) #93 Very Fine
DAREDEVIL (1964) (#1-380) (MAN WITHOUT FEAR) (MARVEL) #94 Near Mint/Mint
DAREDEVIL (1964) (#1-380) (MAN WITHOUT FEAR) (MARVEL) #95 Fine
DAREDEVIL (1964) (#1-380) (MAN WITHOUT FEAR) (MARVEL) #96 Very Fine
DAREDEVIL (1964) (#1-380) (MAN WITHOUT FEAR) (MARVEL) #97 Very Fine
DAREDEVIL (1964) (#1-380) (MAN WITHOUT FEAR) (MARVEL) #98 Fine
DAREDEVIL (1964) (#1-380) (MAN WITHOUT FEAR) (MARVEL) #99 Near Mint/Mint
DAREDEVIL (1964) (#1-380) (MAN WITHOUT FEAR) (MARVEL) #100 Fine
DAREDEVIL (1964) (#1-380) (MAN WITHOUT FEAR) (MARVEL) #101 Very Fine
DAREDEVIL (1964) (#1-380) (MAN WITHOUT FEAR) (MARVEL) #102 Very Fine
DAREDEVIL (1964) (#1-380) (MAN WITHOUT FEAR) (MARVEL) #103 Fine
DAREDEVIL (1964) (#1-380) (MAN WITHOUT FEAR) (MARVEL) #104 Very Fine
DAREDEVIL (1964) (#1-380) (MAN WITHOUT FEAR) (MARVEL) #105 Very Fine
DAREDEVIL (1964) (#1-380) (MAN WITHOUT FEAR) (MARVEL) #106 Fine
DAREDEVIL (1964) (#1-380) (MAN WITHOUT FEAR) (MARVEL) #107 Near Mint/Mint
DAREDEVIL (1964) (#1-380) (MAN WITHOUT FEAR) (MARVEL) #109 Fine
DAREDEVIL (1964) (#1-380) (MAN WITHOUT FEAR) (MARVEL) #112 Very Fine
DAREDEVIL (1964) (#1-380) (MAN WITHOUT FEAR) (MARVEL) #115 Very Fine
DAREDEVIL (1964) (#1-380) (MAN WITHOUT FEAR) (MARVEL) #116 Very Fine
DAREDEVIL (1964) (#1-380) (MAN WITHOUT FEAR) (MARVEL) #117 Near Mint/Mint
DAREDEVIL (1964) (#1-380) (MAN WITHOUT FEAR) (MARVEL) #118 Near Mint/Mint
DAREDEVIL (1964) (#1-380) (MAN WITHOUT FEAR) (MARVEL) #119 Very Fine
DAREDEVIL (1964) (#1-380) (MAN WITHOUT FEAR) (MARVEL) #120 Near Mint/Mint
DAREDEVIL (1964) (#1-380) (MAN WITHOUT FEAR) (MARVEL) #121 Very Fine
DAREDEVIL (1964) (#1-380) (MAN WITHOUT FEAR) (MARVEL) #122 Very Fine
DAREDEVIL (1964) (#1-380) (MAN WITHOUT FEAR) (MARVEL) #123 Near Mint/Mint
DAREDEVIL (1964) (#1-380) (MAN WITHOUT FEAR) (MARVEL) #124 Very Fine
DAREDEVIL (1964) (#1-380) (MAN WITHOUT FEAR) (MARVEL) #125 Near Mint/Mint
DAREDEVIL (1964) (#1-380) (MAN WITHOUT FEAR) (MARVEL) #126 Very Fine
DAREDEVIL (1964) (#1-380) (MAN WITHOUT FEAR) (MARVEL) #127 Very Fine
DAREDEVIL (1964) (#1-380) (MAN WITHOUT FEAR) (MARVEL) #128 Near Mint/Mint
DAREDEVIL (1964) (#1-380) (MAN WITHOUT FEAR) (MARVEL) #129 Fine
DAREDEVIL (1964) (#1-380) (MAN WITHOUT FEAR) (MARVEL) #130 Very Fine
DAREDEVIL (1964) (#1-380) (MAN WITHOUT FEAR) (MARVEL) #131 Very Fine
DAREDEVIL (1964) (#1-380) (MAN WITHOUT FEAR) (MARVEL) #132 Very Fine

DAREDEVIL (1964) (#1-380) (MAN WITHOUT FEAR) (MARVEL) #133 Near Mint/Mint
DAREDEVIL (1964) (#1-380) (MAN WITHOUT FEAR) (MARVEL) #134 Near Mint/Mint
DAREDEVIL (1964) (#1-380) (MAN WITHOUT FEAR) (MARVEL) #135 Fine
DAREDEVIL (1964) (#1-380) (MAN WITHOUT FEAR) (MARVEL) #136 Very Fine
DAREDEVIL (1964) (#1-380) (MAN WITHOUT FEAR) (MARVEL) #137 Very Fine
DAREDEVIL (1964) (#1-380) (MAN WITHOUT FEAR) (MARVEL) #138 Fine
DAREDEVIL (1964) (#1-380) (MAN WITHOUT FEAR) (MARVEL) #139 Very Fine
DAREDEVIL (1964) (#1-380) (MAN WITHOUT FEAR) (MARVEL) #140 Very Fine
DAREDEVIL (1964) (#1-380) (MAN WITHOUT FEAR) (MARVEL) #141 Very Fine
DAREDEVIL (1964) (#1-380) (MAN WITHOUT FEAR) (MARVEL) #142 Fine
DAREDEVIL (1964) (#1-380) (MAN WITHOUT FEAR) (MARVEL) #143 Near Mint/Mint
DAREDEVIL (1964) (#1-380) (MAN WITHOUT FEAR) (MARVEL) #147 Near Mint/Mint
DAREDEVIL (1964) (#1-380) (MAN WITHOUT FEAR) (MARVEL) #148 Very Fine
DAREDEVIL (1964) (#1-380) (MAN WITHOUT FEAR) (MARVEL) #149 Fine
DAREDEVIL (1964) (#1-380) (MAN WITHOUT FEAR) (MARVEL) #150 Very Fine
DAREDEVIL (1964) (#1-380) (MAN WITHOUT FEAR) (MARVEL) #151 Near Mint/Mint
DAREDEVIL (1964) (#1-380) (MAN WITHOUT FEAR) (MARVEL) #152 Near Mint/Mint
DAREDEVIL (1964) (#1-380) (MAN WITHOUT FEAR) (MARVEL) #153 Near Mint/Mint
DAREDEVIL (1964) (#1-380) (MAN WITHOUT FEAR) (MARVEL) #154 Near Mint/Mint
DAREDEVIL (1964) (#1-380) (MAN WITHOUT FEAR) (MARVEL) #155 Near Mint/Mint
DAREDEVIL (1964) (#1-380) (MAN WITHOUT FEAR) (MARVEL) #156 Near Mint/Mint
DAREDEVIL (1964) (#1-380) (MAN WITHOUT FEAR) (MARVEL) #157 Near Mint/Mint
DAREDEVIL (1964) (#1-380) (MAN WITHOUT FEAR) (MARVEL) #158 Near Mint/Mint
DAREDEVIL (1964) (#1-380) (MAN WITHOUT FEAR) (MARVEL) #159 Fine
DAREDEVIL (1964) (#1-380) (MAN WITHOUT FEAR) (MARVEL) #160 Near Mint/Mint
DAREDEVIL (1964) (#1-380) (MAN WITHOUT FEAR) (MARVEL) #161 Near Mint/Mint
DAREDEVIL (1964) (#1-380) (MAN WITHOUT FEAR) (MARVEL) #162 NEWSSTAND Near Mint/Mint
DAREDEVIL (1964) (#1-380) (MAN WITHOUT FEAR) (MARVEL) #163 NEWSSTAND Very Fine
DAREDEVIL (1964) (#1-380) (MAN WITHOUT FEAR) (MARVEL) #164 NEWSSTAND Near Mint/Mint
DAREDEVIL (1964) (#1-380) (MAN WITHOUT FEAR) (MARVEL) #165 NEWSSTAND Very Fine
DAREDEVIL (1964) (#1-380) (MAN WITHOUT FEAR) (MARVEL) #166 Very Fine
DAREDEVIL (1964) (#1-380) (MAN WITHOUT FEAR) (MARVEL) #167 Fine
DAREDEVIL (1964) (#1-380) (MAN WITHOUT FEAR) (MARVEL) #168 Fine
DAREDEVIL (1964) (#1-380) (MAN WITHOUT FEAR) (MARVEL) #169 Fine
DAREDEVIL (1964) (#1-380) (MAN WITHOUT FEAR) (MARVEL) #170 Very Fine
DAREDEVIL (1964) (#1-380) (MAN WITHOUT FEAR) (MARVEL) #171 Very Fine
DAREDEVIL (1964) (#1-380) (MAN WITHOUT FEAR) (MARVEL) #172 Very Fine
DAREDEVIL (1964) (#1-380) (MAN WITHOUT FEAR) (MARVEL) #173 Very Fine
DAREDEVIL (1964) (#1-380) (MAN WITHOUT FEAR) (MARVEL) #174 Near Mint/Mint
DAREDEVIL (1964) (#1-380) (MAN WITHOUT FEAR) (MARVEL) #175 NEWSSTAND Near Mint/Mint
DAREDEVIL (1964) (#1-380) (MAN WITHOUT FEAR) (MARVEL) #176 Near Mint/Mint
DAREDEVIL (1964) (#1-380) (MAN WITHOUT FEAR) (MARVEL) #177 Near Mint/Mint
DAREDEVIL (1964) (#1-380) (MAN WITHOUT FEAR) (MARVEL) #178 Near Mint/Mint
DAREDEVIL (1964) (#1-380) (MAN WITHOUT FEAR) (MARVEL) #179 Near Mint/Mint
DAREDEVIL (1964) (#1-380) (MAN WITHOUT FEAR) (MARVEL) #180 Very Good
DAREDEVIL (1964) (#1-380) (MAN WITHOUT FEAR) (MARVEL) #181 Near Mint/Mint
DAREDEVIL (1964) (#1-380) (MAN WITHOUT FEAR) (MARVEL) #182 Near Mint/Mint
DAREDEVIL (1964) (#1-380) (MAN WITHOUT FEAR) (MARVEL) #183 Near Mint/Mint
DAREDEVIL (1964) (#1-380) (MAN WITHOUT FEAR) (MARVEL) #186 Fine
DAREDEVIL (1964) (#1-380) (MAN WITHOUT FEAR) (MARVEL) #188 Near Mint/Mint
DAREDEVIL (1964) (#1-380) (MAN WITHOUT FEAR) (MARVEL) #191 Near Mint/Mint
DAREDEVIL (1964) (#1-380) (MAN WITHOUT FEAR) (MARVEL) #192 Near Mint/Mint
DAREDEVIL (1964) (#1-380) (MAN WITHOUT FEAR) (MARVEL) #193 Near Mint/Mint
DAREDEVIL (1964) (#1-380) (MAN WITHOUT FEAR) (MARVEL) #194 Near Mint/Mint
DAREDEVIL (1964) (#1-380) (MAN WITHOUT FEAR) (MARVEL) #195 Near Mint/Mint
DAREDEVIL (1964) (#1-380) (MAN WITHOUT FEAR) (MARVEL) #196 Near Mint/Mint

DAREDEVIL (1964) (#1-380) (MAN WITHOUT FEAR) (MARVEL) #197 Near Mint/Mint
DAREDEVIL (1964) (#1-380) (MAN WITHOUT FEAR) (MARVEL) #199 Near Mint/Mint
DAREDEVIL (1964) (#1-380) (MAN WITHOUT FEAR) (MARVEL) #200 Fine

DAREDEVIL (2015) #3 RIVERA Near Mint/Mint

DAREDEVIL ANNUAL (1967) #1 Fair
DAREDEVIL ANNUAL (1967) #2 Fine
DAREDEVIL ANNUAL (1967) #4 Fine

DEADPOOL (2008) (#1-63, 900) (MARVEL) #37 Very Fine
DEADPOOL (2008) (#1-63, 900) (MARVEL) #38 Very Fine
DEADPOOL (2008) (#1-63, 900) (MARVEL) #39 Near Mint/Mint
DEADPOOL (2008) (#1-63, 900) (MARVEL) #900 Fine

DEADPOOL (2012) (#1-45, 250) (MARVEL) #41 Fine

DEATH OF X (2016) #1 KUDER Near Mint/Mint
DEATH OF X (2016) #1 KUDER B&W Near Mint/Mint

DOCTOR STRANGE (2015) (#1-UP) (MARVEL) #12 SMITH Near Mint/Mint

DRACULA GIANT-SIZE (1974) #2 Very Fine
DRACULA GIANT-SIZE (1974) #3 Very Fine
DRACULA GIANT-SIZE (1974) #4 Fine
DRACULA GIANT-SIZE (1974) #5 Fine

ENCHANTED TIKI ROOM (2016) #1 GRANDT Near Mint/Mint

FANTASTIC FOUR (1997) (#1-79, 509-611) (MARVEL) #561 MONKEY Near Mint/Mint
FANTASTIC FOUR (1997) (#1-79, 509-611) (MARVEL) #571 Near Mint/Mint
FANTASTIC FOUR (1997) (#1-79, 509-611) (MARVEL) #577 Near Mint/Mint
FANTASTIC FOUR (1997) (#1-79, 509-611) (MARVEL) #578 Near Mint/Mint
FANTASTIC FOUR (1997) (#1-79, 509-611) (MARVEL) #578 IRON MAN Near Mint/Mint
FANTASTIC FOUR (1997) (#1-79, 509-611) (MARVEL) #583 Near Mint/Mint
FANTASTIC FOUR (1997) (#1-79, 509-611) (MARVEL) #584 Near Mint/Mint
FANTASTIC FOUR (1997) (#1-79, 509-611) (MARVEL) #585 Near Mint/Mint
FANTASTIC FOUR (1997) (#1-79, 509-611) (MARVEL) #586 Near Mint/Mint
FANTASTIC FOUR (1997) (#1-79, 509-611) (MARVEL) #588 Very Fine
FANTASTIC FOUR (1997) (#1-79, 509-611) (MARVEL) #600 Fine
FANTASTIC FOUR (1997) (#1-79, 509-611) (MARVEL) #601 Near Mint/Mint
FANTASTIC FOUR (1997) (#1-79, 509-611) (MARVEL) #603 Near Mint/Mint
FANTASTIC FOUR (1997) (#1-79, 509-611) (MARVEL) #604 Near Mint/Mint
FANTASTIC FOUR (1997) (#1-79, 509-611) (MARVEL) #605 Near Mint/Mint

FANTASTIC FOUR (1997) (#1-79, 509-611) (MARVEL) #609 Near Mint/Mint
FANTASTIC FOUR (1997) (#1-79, 509-611) (MARVEL) #610 Very Fine

FANTASTIC FOUR (2013) (#1-16) (MARVEL) #16 Fine

FANTASTIC FOUR GIANT-SIZE (GIANT-SIZE SUPER-STARS) (1974) #1 Fine
FANTASTIC FOUR GIANT-SIZE (GIANT-SIZE SUPER-STARS) (1974) #3 Very Fine
FANTASTIC FOUR GIANT-SIZE (GIANT-SIZE SUPER-STARS) (1974) #4 Very Fine
FANTASTIC FOUR GIANT-SIZE (GIANT-SIZE SUPER-STARS) (1974) #5 Near Mint/Mint

FEAR (ADVENTURE INTO...) (1970) #1 Fine
FEAR (ADVENTURE INTO...) (1970) #2 Fine
FEAR (ADVENTURE INTO...) (1970) #3 Fine
FEAR (ADVENTURE INTO...) (1970) #4 Fine
FEAR (ADVENTURE INTO...) (1970) #5 Very Good
FEAR (ADVENTURE INTO...) (1970) #6 Fine
FEAR (ADVENTURE INTO...) (1970) #7 Near Mint/Mint
FEAR (ADVENTURE INTO...) (1970) #8 Very Good
FEAR (ADVENTURE INTO...) (1970) #9 Fine
FEAR (ADVENTURE INTO...) (1970) #10 Fine
FEAR (ADVENTURE INTO...) (1970) #11 Fine
FEAR (ADVENTURE INTO...) (1970) #12 Very Fine
FEAR (ADVENTURE INTO...) (1970) #13 Fine
FEAR (ADVENTURE INTO...) (1970) #14 Very Good
FEAR (ADVENTURE INTO...) (1970) #15 Very Fine
FEAR (ADVENTURE INTO...) (1970) #16 Fine
FEAR (ADVENTURE INTO...) (1970) #17 Fine
FEAR (ADVENTURE INTO...) (1970) #18 Near Mint/Mint
FEAR (ADVENTURE INTO...) (1970) #19 Very Fine
FEAR (ADVENTURE INTO...) (1970) #20 Very Fine
FEAR (ADVENTURE INTO...) (1970) #21 Very Good
FEAR (ADVENTURE INTO...) (1970) #22 Near Mint/Mint
FEAR (ADVENTURE INTO...) (1970) #23 Near Mint/Mint
FEAR (ADVENTURE INTO...) (1970) #25 Very Fine
FEAR (ADVENTURE INTO...) (1970) #26 Fine
FEAR (ADVENTURE INTO...) (1970) #27 Near Mint/Mint
FEAR (ADVENTURE INTO...) (1970) #28 Fine
FEAR (ADVENTURE INTO...) (1970) #29 Fine
FEAR (ADVENTURE INTO...) (1970) #30 Fine
FEAR (ADVENTURE INTO...) (1970) #31 Very Good

FF (2011) #1 Near Mint/Mint

GUARDIANS OF THE GALAXY PRELUDE (2014) #1 Very Fine

HULK (1999) (#1-112) (MARVEL) #8 Near Mint/Mint
HULK (1999) (#1-112) (MARVEL) #92 2ND PRINT Fine

INVADERS (1975) #28 Very Fine
INVADERS (1975) #29 Very Fine
INVADERS (1975) #30 Very Fine
INVADERS (1975) #31 Fine
INVADERS (1975) #31 Very Fine
INVADERS (1975) #33 Fine

INVADERS (1975) #34 Very Fine
INVADERS (1975) #35 Very Fine
INVADERS (1975) #37 Near Mint/Mint
INVADERS (1975) #38 Very Fine
INVADERS (1975) #39 Very Fine
INVADERS (1975) #40 NEWSSTAND Very Fine
INVADERS (1975) #40 NEWSSTAND Fine
INVADERS (1975) #41 NEWSSTAND Fine
INVADERS (1975) #41 NEWSSTAND Very Good

INVADERS GIANT-SIZE (1975) #1 Near Mint/Mint
INVADERS GIANT-SIZE (1975) #1 Very Good

INVINCIBLE IRON MAN (2008) #25 IRON MAN Very Fine

IRON FIST (1975) #4 Very Good
IRON FIST (1975) #6 Fine
IRON FIST (1975) #7 Fine
IRON FIST (1975) #15 Good

LOKI: AGENT OF ASGARD (2014) #1 Very Fine

MAN-THING GIANT-SIZE (1974) #1 Fine
MAN-THING GIANT-SIZE (1974) #2 Very Fine
MAN-THING GIANT-SIZE (1974) #4 Very Fine

MARVEL PREMIERE (1972) #27 Near Mint/Mint
MARVEL PREMIERE (1972) #28 Near Mint/Mint
MARVEL PREMIERE (1972) #29 Near Mint/Mint
MARVEL PREMIERE (1972) #30 Very Fine
MARVEL PREMIERE (1972) #31 Near Mint/Mint
MARVEL PREMIERE (1972) #32 Very Fine
MARVEL PREMIERE (1972) #33 Near Mint/Mint
MARVEL PREMIERE (1972) #34 Near Mint/Mint
MARVEL PREMIERE (1972) #35 Near Mint/Mint
MARVEL PREMIERE (1972) #36 Near Mint/Mint
MARVEL PREMIERE (1972) #37 Very Fine
MARVEL PREMIERE (1972) #39 Near Mint/Mint
MARVEL PREMIERE (1972) #40 Very Fine
MARVEL PREMIERE (1972) #41 Near Mint/Mint
MARVEL PREMIERE (1972) #42 Near Mint/Mint
MARVEL PREMIERE (1972) #43 Near Mint/Mint
MARVEL PREMIERE (1972) #44 Very Fine
MARVEL PREMIERE (1972) #45 Near Mint/Mint
MARVEL PREMIERE (1972) #46 Near Mint/Mint

MARVEL PREMIERE (1972) #47 Very Fine
MARVEL PREMIERE (1972) #48 Near Mint/Mint
MARVEL PREMIERE (1972) #49 Very Fine
MARVEL PREMIERE (1972) #50 Near Mint/Mint
MARVEL PREMIERE (1972) #51 NEWSSTAND Very Fine
MARVEL PREMIERE (1972) #52 NEWSSTAND Near Mint/Mint
MARVEL PREMIERE (1972) #53 NEWSSTAND Very Fine
MARVEL PREMIERE (1972) #54 NEWSSTAND Very Fine
MARVEL PREMIERE (1972) #55 NEWSSTAND Near Mint/Mint
MARVEL PREMIERE (1972) #57 Near Mint/Mint
MARVEL PREMIERE (1972) #58 NEWSSTAND Very Fine
MARVEL PREMIERE (1972) #59 Near Mint/Mint
MARVEL PREMIERE (1972) #60 Near Mint/Mint
MARVEL PREMIERE (1972) #61 Very Fine

MARVEL SPOTLIGHT (1971) #2 Fine
MARVEL SPOTLIGHT (1971) #3 Fine
MARVEL SPOTLIGHT (1971) #6 Fine
MARVEL SPOTLIGHT (1971) #7 Very Fine
MARVEL SPOTLIGHT (1971) #8 Near Mint/Mint
MARVEL SPOTLIGHT (1971) #9 Near Mint/Mint
MARVEL SPOTLIGHT (1971) #10 Fine
MARVEL SPOTLIGHT (1971) #11 Very Fine
MARVEL SPOTLIGHT (1971) #12 Fine
MARVEL SPOTLIGHT (1971) #13 Near Mint/Mint
MARVEL SPOTLIGHT (1971) #17 Very Fine
MARVEL SPOTLIGHT (1971) #18 Near Mint/Mint
MARVEL SPOTLIGHT (1971) #20 Near Mint/Mint
MARVEL SPOTLIGHT (1971) #21 Near Mint/Mint
MARVEL SPOTLIGHT (1971) #22 Near Mint/Mint
MARVEL SPOTLIGHT (1971) #23 Near Mint/Mint
MARVEL SPOTLIGHT (1971) #24 Near Mint/Mint
MARVEL SPOTLIGHT (1971) #25 Near Mint/Mint
MARVEL SPOTLIGHT (1971) #27 Very Fine
MARVEL SPOTLIGHT (1971) #28 Near Mint/Mint
MARVEL SPOTLIGHT (1971) #29 Near Mint/Mint
MARVEL SPOTLIGHT (1971) #30 Near Mint/Mint
MARVEL SPOTLIGHT (1971) #31 Near Mint/Mint
MARVEL SPOTLIGHT (1971) #32 Very Fine
MARVEL SPOTLIGHT (1971) #33 Very Fine

MARVEL SPOTLIGHT (1979) #6 NEWSSTAND Very Fine

MARVEL SUPER-HERO CONTEST OF CHAMPIONS (1982) #3 Near Mint/Mint

MARVEL TEAM-UP (1972) #69 Near Mint/Mint
MARVEL TEAM-UP (1972) #70 Near Mint/Mint
MARVEL TEAM-UP (1972) #71 Near Mint/Mint
MARVEL TEAM-UP (1972) #72 Very Fine
MARVEL TEAM-UP (1972) #73 Very Fine
MARVEL TEAM-UP (1972) #74 Near Mint/Mint
MARVEL TEAM-UP (1972) #75 Near Mint/Mint
MARVEL TEAM-UP (1972) #76 Near Mint/Mint

MARVEL TEAM-UP (1972) #77 Near Mint/Mint
MARVEL TEAM-UP (1972) #78 Near Mint/Mint
MARVEL TEAM-UP (1972) #79 Near Mint/Mint
MARVEL TEAM-UP (1972) #81 NEWSSTAND Near Mint/Mint
MARVEL TEAM-UP (1972) #83 NEWSSTAND Very Fine
MARVEL TEAM-UP (1972) #86 Near Mint/Mint
MARVEL TEAM-UP (1972) #88 NEWSSTAND Very Fine
MARVEL TEAM-UP (1972) #89 NEWSSTAND Near Mint/Mint
MARVEL TEAM-UP (1972) #90 NEWSSTAND Near Mint/Mint
MARVEL TEAM-UP (1972) #91 NEWSSTAND Very Fine
MARVEL TEAM-UP (1972) #92 NEWSSTAND Near Mint/Mint
MARVEL TEAM-UP (1972) #94 NEWSSTAND Very Fine
MARVEL TEAM-UP (1972) #95 NEWSSTAND Very Fine
MARVEL TEAM-UP (1972) #100 Near Mint/Mint
MARVEL TEAM-UP (1972) #102 Near Mint/Mint
MARVEL TEAM-UP (1972) #107 Very Fine

MARVEL TWO-IN-ONE (1974) #1 Very Fine
MARVEL TWO-IN-ONE (1974) #4 Fine
MARVEL TWO-IN-ONE (1974) #5 Very Fine
MARVEL TWO-IN-ONE (1974) #6 Very Fine
MARVEL TWO-IN-ONE (1974) #7 Near Mint/Mint
MARVEL TWO-IN-ONE (1974) #8 Near Mint/Mint
MARVEL TWO-IN-ONE (1974) #9 Near Mint/Mint
MARVEL TWO-IN-ONE (1974) #10 Near Mint/Mint
MARVEL TWO-IN-ONE (1974) #11 Very Fine
MARVEL TWO-IN-ONE (1974) #12 Near Mint/Mint
MARVEL TWO-IN-ONE (1974) #13 Near Mint/Mint
MARVEL TWO-IN-ONE (1974) #14 Very Fine
MARVEL TWO-IN-ONE (1974) #15 Very Fine
MARVEL TWO-IN-ONE (1974) #16 Fine
MARVEL TWO-IN-ONE (1974) #17 Very Fine
MARVEL TWO-IN-ONE (1974) #19 Near Mint/Mint
MARVEL TWO-IN-ONE (1974) #20 Near Mint/Mint
MARVEL TWO-IN-ONE (1974) #21 Very Fine
MARVEL TWO-IN-ONE (1974) #22 Very Fine
MARVEL TWO-IN-ONE (1974) #23 Near Mint/Mint
MARVEL TWO-IN-ONE (1974) #24 Near Mint/Mint
MARVEL TWO-IN-ONE (1974) #25 Very Fine
MARVEL TWO-IN-ONE (1974) #26 Near Mint/Mint
MARVEL TWO-IN-ONE (1974) #27 Near Mint/Mint
MARVEL TWO-IN-ONE (1974) #28 Near Mint/Mint
MARVEL TWO-IN-ONE (1974) #29 Near Mint/Mint
MARVEL TWO-IN-ONE (1974) #30 Near Mint/Mint
MARVEL TWO-IN-ONE (1974) #31 Very Fine
MARVEL TWO-IN-ONE (1974) #32 Very Fine
MARVEL TWO-IN-ONE (1974) #33 Near Mint/Mint
MARVEL TWO-IN-ONE (1974) #34 Near Mint/Mint
MARVEL TWO-IN-ONE (1974) #35 Near Mint/Mint
MARVEL TWO-IN-ONE (1974) #36 Near Mint/Mint
MARVEL TWO-IN-ONE (1974) #37 Very Fine

MARVEL TWO-IN-ONE (1974) #38 Near Mint/Mint
MARVEL TWO-IN-ONE (1974) #39 Very Fine
MARVEL TWO-IN-ONE (1974) #40 Near Mint/Mint
MARVEL TWO-IN-ONE (1974) #41 Near Mint/Mint
MARVEL TWO-IN-ONE (1974) #42 Near Mint/Mint
MARVEL TWO-IN-ONE (1974) #43 Very Fine
MARVEL TWO-IN-ONE (1974) #44 Near Mint/Mint
MARVEL TWO-IN-ONE (1974) #45 Near Mint/Mint
MARVEL TWO-IN-ONE (1974) #46 Very Fine
MARVEL TWO-IN-ONE (1974) #47 Very Fine
MARVEL TWO-IN-ONE (1974) #48 Near Mint/Mint
MARVEL TWO-IN-ONE (1974) #49 Near Mint/Mint
MARVEL TWO-IN-ONE (1974) #51 Near Mint/Mint
MARVEL TWO-IN-ONE (1974) #52 NEWSSTAND Near Mint/Mint
MARVEL TWO-IN-ONE (1974) #54 Near Mint/Mint
MARVEL TWO-IN-ONE (1974) #55 Near Mint/Mint
MARVEL TWO-IN-ONE (1974) #58 NEWSSTAND Very Fine
MARVEL TWO-IN-ONE (1974) #59 NEWSSTAND Near Mint/Mint
MARVEL TWO-IN-ONE (1974) #60 NEWSSTAND Near Mint/Mint
MARVEL TWO-IN-ONE (1974) #61 NEWSSTAND Near Mint/Mint
MARVEL TWO-IN-ONE (1974) #62 NEWSSTAND Near Mint/Mint
MARVEL TWO-IN-ONE (1974) #63 NEWSSTAND Very Fine
MARVEL TWO-IN-ONE (1974) #64 NEWSSTAND Near Mint/Mint
MARVEL TWO-IN-ONE (1974) #65 NEWSSTAND Very Fine
MARVEL TWO-IN-ONE (1974) #66 NEWSSTAND Very Fine

MARVEL TWO-IN-ONE ANNUAL (1976) #1 Very Fine
MARVEL TWO-IN-ONE ANNUAL (1976) #2 Very Fine
MARVEL TWO-IN-ONE ANNUAL (1976) #4 Near Mint/Mint
MARVEL TWO-IN-ONE ANNUAL (1976) #5 Near Mint/Mint

MODELS, INC. (2009) #3 ZOMBIE Near Mint/Mint

MOON KNIGHT (1980) #1 Near Mint/Mint
MOON KNIGHT (1980) #2 Fine
MOON KNIGHT (1980) #3 Near Mint/Mint
MOON KNIGHT (1980) #4 Very Fine
MOON KNIGHT (1980) #5 Near Mint/Mint
MOON KNIGHT (1980) #6 Very Fine
MOON KNIGHT (1980) #7 Near Mint/Mint
MOON KNIGHT (1980) #8 Near Mint/Mint
MOON KNIGHT (1980) #9 Near Mint/Mint
MOON KNIGHT (1980) #10 Near Mint/Mint
MOON KNIGHT (1980) #11 Near Mint/Mint
MOON KNIGHT (1980) #12 Near Mint/Mint
MOON KNIGHT (1980) #13 Near Mint/Mint
MOON KNIGHT (1980) #14 Very Fine
MOON KNIGHT (1980) #15 Near Mint/Mint
MOON KNIGHT (1980) #16 Very Fine

MOON KNIGHT (1980) #17 Very Fine
MOON KNIGHT (1980) #18 Very Fine
MOON KNIGHT (1980) #19 Near Mint/Mint
MOON KNIGHT (1980) #20 Very Fine
MOON KNIGHT (1980) #21 Near Mint/Mint
MOON KNIGHT (1980) #22 Very Fine
MOON KNIGHT (1980) #23 Very Fine
MOON KNIGHT (1980) #24 Near Mint/Mint
MOON KNIGHT (1980) #25 Near Mint/Mint
MOON KNIGHT (1980) #26 Near Mint/Mint
MOON KNIGHT (1980) #27 Near Mint/Mint
MOON KNIGHT (1980) #28 Very Fine
MOON KNIGHT (1980) #29 Very Fine
MOON KNIGHT (1980) #30 Very Fine
MOON KNIGHT (1980) #31 Near Mint/Mint

MOON KNIGHT (2014) #1 Very Fine

MS. MARVEL (1977) (#1-23) (MARVEL) (CAROL DANVERS) #1 Fine
MS. MARVEL (1977) (#1-23) (MARVEL) (CAROL DANVERS) #2 Very Fine
MS. MARVEL (1977) (#1-23) (MARVEL) (CAROL DANVERS) #4 Fine
MS. MARVEL (1977) (#1-23) (MARVEL) (CAROL DANVERS) #5 Near Mint/Mint
MS. MARVEL (1977) (#1-23) (MARVEL) (CAROL DANVERS) #6 Near Mint/Mint
MS. MARVEL (1977) (#1-23) (MARVEL) (CAROL DANVERS) #21 Very Fine
MS. MARVEL (1977) (#1-23) (MARVEL) (CAROL DANVERS) #22 Very Fine
MS. MARVEL (1977) (#1-23) (MARVEL) (CAROL DANVERS) #23 Near Mint/Mint

NEW MUTANTS (1983) #1 Very Fine
NEW MUTANTS (1983) #11 Near Mint/Mint
NEW MUTANTS (1983) #14 NEWSSTAND Fine
NEW MUTANTS (1983) #15 Very Fine
NEW MUTANTS (1983) #17 NEWSSTAND Very Good
NEW MUTANTS (1983) #18 NEWSSTAND Good
NEW MUTANTS (1983) #19 NEWSSTAND Very Good
NEW MUTANTS (1983) #23 Near Mint/Mint
NEW MUTANTS (1983) #25 Very Fine
NEW MUTANTS (1983) #26 NEWSSTAND Fine
NEW MUTANTS (1983) #27 NEWSSTAND Very Good
NEW MUTANTS (1983) #28 Fine
NEW MUTANTS (1983) #35 NEWSSTAND Very Good
NEW MUTANTS (1983) #42 NEWSSTAND Fine
NEW MUTANTS (1983) #43 Fine
NEW MUTANTS (1983) #44 Near Mint/Mint
NEW MUTANTS (1983) #50 Fine
NEW MUTANTS (1983) #54 Near Mint/Mint
NEW MUTANTS (1983) #55 NEWSSTAND Very Good
NEW MUTANTS (1983) #56 Near Mint/Mint
NEW MUTANTS (1983) #58 NEWSSTAND Very Good
NEW MUTANTS (1983) #59 NEWSSTAND Very Good
NEW MUTANTS (1983) #67 Near Mint/Mint
NEW MUTANTS (1983) #72 Fine
NEW MUTANTS (1983) #73 Fine
NEW MUTANTS (1983) #81 Near Mint/Mint

NEW MUTANTS (1983) #85 Very Fine
NEW MUTANTS (1983) #86 Very Fine
NEW MUTANTS (1983) #87 Near Mint/Mint
NEW MUTANTS (1983) #87 2ND PRT Near Mint/Mint
NEW MUTANTS (1983) #88 Fine
NEW MUTANTS (1983) #89 Near Mint/Mint
NEW MUTANTS (1983) #90 Fine
NEW MUTANTS (1983) #91 Very Good
NEW MUTANTS (1983) #92 Near Mint/Mint
NEW MUTANTS (1983) #94 Near Mint/Mint
NEW MUTANTS (1983) #95 Fine
NEW MUTANTS (1983) #96 NEWSSTAND Near Mint/Mint
NEW MUTANTS (1983) #97 NEWSSTAND Near Mint/Mint
NEW MUTANTS (1983) #99 Near Mint/Mint
NEW MUTANTS (1983) #100 Near Mint/Mint

NEW MUTANTS ANNUAL (1983) #4 Very Fine
NEW MUTANTS ANNUAL (1983) #6 Very Fine
NEW MUTANTS ANNUAL (1983) #7 Good

NOVA (1976) (#1-25) (RICHARD RIDER) (MARVEL) #1 Very Fine
NOVA (1976) (#1-25) (RICHARD RIDER) (MARVEL) #2 Very Fine
NOVA (1976) (#1-25) (RICHARD RIDER) (MARVEL) #4 Very Fine
NOVA (1976) (#1-25) (RICHARD RIDER) (MARVEL) #5 Very Fine
NOVA (1976) (#1-25) (RICHARD RIDER) (MARVEL) #6 Near Mint/Mint
NOVA (1976) (#1-25) (RICHARD RIDER) (MARVEL) #7 Very Fine
NOVA (1976) (#1-25) (RICHARD RIDER) (MARVEL) #8 Near Mint/Mint
NOVA (1976) (#1-25) (RICHARD RIDER) (MARVEL) #9 Near Mint/Mint
NOVA (1976) (#1-25) (RICHARD RIDER) (MARVEL) #10 Near Mint/Mint
NOVA (1976) (#1-25) (RICHARD RIDER) (MARVEL) #11 Near Mint/Mint
NOVA (1976) (#1-25) (RICHARD RIDER) (MARVEL) #12 Near Mint/Mint
NOVA (1976) (#1-25) (RICHARD RIDER) (MARVEL) #13 Near Mint/Mint
NOVA (1976) (#1-25) (RICHARD RIDER) (MARVEL) #14 Near Mint/Mint
NOVA (1976) (#1-25) (RICHARD RIDER) (MARVEL) #15 Very Fine
NOVA (1976) (#1-25) (RICHARD RIDER) (MARVEL) #16 Very Fine
NOVA (1976) (#1-25) (RICHARD RIDER) (MARVEL) #17 Near Mint/Mint
NOVA (1976) (#1-25) (RICHARD RIDER) (MARVEL) #18 Near Mint/Mint
NOVA (1976) (#1-25) (RICHARD RIDER) (MARVEL) #19 Near Mint/Mint
NOVA (1976) (#1-25) (RICHARD RIDER) (MARVEL) #20 Near Mint/Mint
NOVA (1976) (#1-25) (RICHARD RIDER) (MARVEL) #21 Near Mint/Mint
NOVA (1976) (#1-25) (RICHARD RIDER) (MARVEL) #22 Very Fine
NOVA (1976) (#1-25) (RICHARD RIDER) (MARVEL) #23 Near Mint/Mint
NOVA (1976) (#1-25) (RICHARD RIDER) (MARVEL) #24 Near Mint/Mint
NOVA (1976) (#1-25) (RICHARD RIDER) (MARVEL) #25 Very Fine

PETER PARKER: SPIDER-MAN (1999) #29 Fine

PUNISHER (2014) (#1-20) (ALL-NEW MARVEL NOW) #1 Very Fine

RED SONJA (1977) #1 Fine
RED SONJA (1977) #3 Very Fine
RED SONJA (1977) #4 Very Fine
RED SONJA (1977) #5 Very Fine
RED SONJA (1977) #6 Very Fine
RED SONJA (1977) #7 Fine
RED SONJA (1977) #8 Near Mint/Mint

RED SONJA (1977) #9 Very Fine
RED SONJA (1977) #10 Near Mint/Mint
RED SONJA (1977) #11 Near Mint/Mint
RED SONJA (1977) #13 Near Mint/Mint
RED SONJA (1977) #15 Very Fine

SECRET AVENGERS (2010) #2 2ND PRINT Very Fine

SECRET WARS (1984) #1 Near Mint/Mint
SECRET WARS (1984) #2 Very Fine
SECRET WARS (1984) #3 Near Mint/Mint
SECRET WARS (1984) #4 Near Mint/Mint
SECRET WARS (1984) #5 Near Mint/Mint
SECRET WARS (1984) #6 Near Mint/Mint
SECRET WARS (1984) #7 Near Mint/Mint
SECRET WARS (1984) #8 Very Fine
SECRET WARS (1984) #9 Near Mint/Mint
SECRET WARS (1984) #10 Near Mint/Mint
SECRET WARS (1984) #11 Near Mint/Mint
SECRET WARS (1984) #12 Near Mint/Mint

SECRET WARS (2015) #5 MILE HIGH Fine

SHANNA THE SHE-DEVIL (1972) #1 Fine
SHANNA THE SHE-DEVIL (1972) #1 Very Fine
SHANNA THE SHE-DEVIL (1972) #2 Near Mint/Mint
SHANNA THE SHE-DEVIL (1972) #2 Very Fine
SHANNA THE SHE-DEVIL (1972) #3 Fine
SHANNA THE SHE-DEVIL (1972) #3 Very Fine
SHANNA THE SHE-DEVIL (1972) #4 Fine
SHANNA THE SHE-DEVIL (1972) #5 Fine

SHE-HULK (2014) #1 Fine

SHIELD (2010) #5 VARIANT Very Fine

SIF (2010) #1 Near Mint/Mint

SILVER SURFER (2014) #1 Very Fine

SPECTACULAR SPIDER-MAN: SUPER SIZE SPECIAL #1 Very Fine

SPIDER-MAN (MARVEL KNIGHTS) (2004) #10 Near Mint/Mint
SPIDER-MAN (MARVEL KNIGHTS) (2004) #20 Fine

SPIDER-MAN ANNUAL (1964) #1 Good
SPIDER-MAN ANNUAL (1964) #2 Good
SPIDER-MAN ANNUAL (1964) #5 Fair
SPIDER-MAN ANNUAL (1964) #6 Fair
SPIDER-MAN ANNUAL (1964) #6 Good

SPIDER-MAN ANNUAL (1964) #7 Fair
SPIDER-MAN ANNUAL (1964) #9 Good
SPIDER-MAN ANNUAL (1964) #10 Good
SPIDER-MAN ANNUAL (1964) #12 Fine
SPIDER-MAN ANNUAL (1964) #13 NEWSSTAND Fine
SPIDER-MAN ANNUAL (1964) #15 Very Good
SPIDER-MAN ANNUAL (1964) #22 NEWSSTAND Fine
SPIDER-MAN ANNUAL (1964) #28 Fine

SPIDER-MAN GIANT-SIZE (1974) #1 Good
SPIDER-MAN GIANT-SIZE (1974) #2 Good
SPIDER-MAN GIANT-SIZE (1974) #3 Good
SPIDER-MAN GIANT-SIZE (1974) #4 Fair
SPIDER-MAN GIANT-SIZE (1974) #5 Good

SPIDER-MAN SUPER SPECIAL (1995) #1 Near Mint/Mint

SPIDER-MAN/DEADPOOL (2015) #1 Fine
SPIDER-MAN/DEADPOOL (2015) #1 Very Fine
SPIDER-MAN/DEADPOOL (2015) #3 Near Mint/Mint
SPIDER-MAN/DEADPOOL (2015) #3 Very Fine

STAR WARS (2015) #7 MILE HIGH Very Fine
STAR WARS (2015) #7 MILE HIGH Fine
STAR WARS (2015) #8 MILE HIGH Very Fine
STAR WARS (2015) #8 MILE HIGH Fine
STAR WARS (2015) #16 IMMONEN Very Fine
STAR WARS (2015) #17 YU Very Fine

STRANGE TALES ANNUAL (1962) #1 Fair

SUPERIOR SPIDER-MAN (2013) #11 Near Mint/Mint
SUPERIOR SPIDER-MAN (2013) #26 Very Fine
SUPERIOR SPIDER-MAN (2013) #27 Very Fine
SUPERIOR SPIDER-MAN (2013) #28 Very Fine
SUPERIOR SPIDER-MAN (2013) #29 Very Fine
SUPERIOR SPIDER-MAN (2013) #30 Very Fine

SUPERIOR SPIDER-MAN ANNUAL (2013) #2 Near Mint/Mint

THOR (1962) #337 Very Fine
THOR (2007) #617 TRON VAR Very Fine

THUNDERBOLTS (1997) #143 IRON MAN Near Mint/Mint

ULTIMATE FANTASTIC FOUR (2003) #22 Very Fine

ULTIMATE SPIDER-MAN (2000) #1 Fine
ULTIMATE SPIDER-MAN (2000) #2 Very Fine
ULTIMATE SPIDER-MAN (2000) #3 Very Fine

ULTIMATE SPIDER-MAN (2000) #4 Fine
ULTIMATE SPIDER-MAN (2000) #5 Fine
ULTIMATE SPIDER-MAN (2000) #6 Very Fine
ULTIMATE SPIDER-MAN (2000) #7 Very Fine
ULTIMATE SPIDER-MAN (2000) #8 Very Fine

UNCANNY TALES (1952) #26 TRIMMED (Marvel Atlas Titles) Good

UNCANNY X-MEN (2013) #34 Near Mint/Mint
UNCANNY X-MEN (2013) #35 Near Mint/Mint

VADER DOWN (STAR WARS) (2015) #1 MILE HIGH Fine

VALKYRIE (2010) #1 Near Mint/Mint

VAULT OF EVIL #1 Good
VAULT OF EVIL #15 Very Good

VENOM SUPER SIZE SPECIAL (1995) #1 Fine

WAR OF KINGS (2009) #2 VARIANT Fine
WAR OF KINGS (2009) #4 VARIANT Fine

WEB OF SPIDER-MAN SUPER SIZE SPECIAL (1995) #1 Very Fine

WHAT IF... (1977) #1 Fine
WHAT IF... (1977) #2 Very Fine
WHAT IF... (1977) #3 Very Fine
WHAT IF... (1977) #4 Very Fine
WHAT IF... (1977) #5 Near Mint/Mint
WHAT IF... (1977) #6 Very Fine
WHAT IF... (1977) #7 Near Mint/Mint
WHAT IF... (1977) #8 Very Fine
WHAT IF... (1977) #15 NEWSSTAND Near Mint/Mint
WHAT IF... (1977) #16 Near Mint/Mint
WHAT IF... (1977) #18 Near Mint/Mint
WHAT IF... (1977) #19 NEWSSTAND Near Mint/Mint
WHAT IF... (1977) #20 Near Mint/Mint
WHAT IF... (1977) #21 Near Mint/Mint
WHAT IF... (1977) #22 Very Fine
WHAT IF... (1977) #23 Very Fine
WHAT IF... (1977) #24 Near Mint/Mint
WHAT IF... (1977) #25 Near Mint/Mint
WHAT IF... (1977) #26 Near Mint/Mint
WHAT IF... (1977) #27 Very Fine
WHAT IF... (1977) #28 Near Mint/Mint
WHAT IF... (1977) #29 Very Fine
WHAT IF... (1977) #35 Very Fine

WHAT IF: AGE OF ULTRON (2014) #1 Very Fine

WOLVERINE & DEADPOOL: DECOY (2011) #1 Very Fine

X-FACTOR (1986) #19 Near Mint/Mint
X-FACTOR (1986) #36 NEWSSTAND Very Fine

X-FACTOR (1986) #60 NEWSSTAND Near Mint/Mint
X-FACTOR (1986) #61 NEWSSTAND Near Mint/Mint
X-FACTOR (1986) #62 NEWSSTAND Near Mint/Mint
X-FACTOR (1986) #68 NEWSSTAND Very Good

X-MEN (1963) (#1-113, UNCANNY X-MEN #114-544) (MARVEL) #21 Good
X-MEN (1963) (#1-113, UNCANNY X-MEN #114-544) (MARVEL) #37 Very Good
X-MEN (1963) (#1-113, UNCANNY X-MEN #114-544) (MARVEL) #100 Good
X-MEN (1963) (#1-113, UNCANNY X-MEN #114-544) (MARVEL) #102 Very Good
X-MEN (1963) (#1-113, UNCANNY X-MEN #114-544) (MARVEL) #106 Fine
X-MEN (1963) (#1-113, UNCANNY X-MEN #114-544) (MARVEL) #108 Good
X-MEN (1963) (#1-113, UNCANNY X-MEN #114-544) (MARVEL) #113 Fair
X-MEN (1963) (#1-113, UNCANNY X-MEN #114-544) (MARVEL) #114 Good
X-MEN (1963) (#1-113, UNCANNY X-MEN #114-544) (MARVEL) #172 Near Mint/Mint
X-MEN (1963) (#1-113, UNCANNY X-MEN #114-544) (MARVEL) #304 NEWSSTAND Near Mint/Mint
X-MEN (1963) (#1-113, UNCANNY X-MEN #114-544) (MARVEL) #305 NEWSSTAND Near Mint/Mint
X-MEN (1963) (#1-113, UNCANNY X-MEN #114-544) (MARVEL) #316 DELUXENEWS Near Mint/Mint

X-MEN (1991) (#1-275) (MARVEL) #8 Fine
X-MEN (1991) (#1-275) (MARVEL) #30 Very Fine

X-MEN: LEGACY (2013) #300 Very Fine

DC
ADVENTURE COMICS (1938) #329 Good

AQUAMAN (1962) (#1-63) (DC) #24 Good

BATMAN (1940) (#0-713) (DC) #173 Good
BATMAN (1940) (#0-713) (DC) #179 Good
BATMAN (1940) (#0-713) (DC) #608 Very Fine
BATMAN (1940) (#0-713) (DC) #610 Very Fine
BATMAN (1940) (#0-713) (DC) #611 Very Fine
BATMAN (1940) (#0-713) (DC) #613 Very Fine
BATMAN (1940) (#0-713) (DC) #614 Fine
BATMAN (1940) (#0-713) (DC) #615 Very Fine

BATMAN (1940) (#0-713) (DC) #616 Very Fine
BATMAN (1940) (#0-713) (DC) #617 Very Fine
BATMAN (1940) (#0-713) (DC) #618 Very Fine
BATMAN (1940) (#0-713) (DC) #619 VILLIANS Fine
BATMAN (1940) (#0-713) (DC) #651 Very Fine
BATMAN (1940) (#0-713) (DC) #687 Very Fine
BATMAN (1940) (#0-713) (DC) #688 Very Fine
BATMAN (1940) (#0-713) (DC) #689 Very Fine
BATMAN (1940) (#0-713) (DC) #690 Near Mint/Mint
BATMAN (1940) (#0-713) (DC) #691 Very Fine
BATMAN (1940) (#0-713) (DC) #692 Near Mint/Mint
BATMAN (1940) (#0-713) (DC) #693 Near Mint/Mint
BATMAN (1940) (#0-713) (DC) #694 Near Mint/Mint
BATMAN (1940) (#0-713) (DC) #695 Near Mint/Mint
BATMAN (1940) (#0-713) (DC) #696 Very Fine
BATMAN (1940) (#0-713) (DC) #697 Fine
BATMAN (1940) (#0-713) (DC) #698 Very Fine
BATMAN (1940) (#0-713) (DC) #699 Near Mint/Mint
BATMAN (1940) (#0-713) (DC) #700 Near Mint/Mint
BATMAN (1940) (#0-713) (DC) #701 Very Fine
BATMAN (1940) (#0-713) (DC) #702 Very Fine
BATMAN (1940) (#0-713) (DC) #703 Very Fine
BATMAN (1940) (#0-713) (DC) #704 Very Fine
BATMAN (1940) (#0-713) (DC) #705 Very Fine
BATMAN (1940) (#0-713) (DC) #706 Near Mint/Mint
BATMAN (1940) (#0-713) (DC) #707 Very Fine
BATMAN (1940) (#0-713) (DC) #708 Very Fine
BATMAN (1940) (#0-713) (DC) #709 Fine
BATMAN (1940) (#0-713) (DC) #710 Very Fine
BATMAN (1940) (#0-713) (DC) #711 Very Fine
BATMAN (1940) (#0-713) (DC) #712 Very Fine

BATMAN ETERNAL (2014) #1 Near Mint/Mint

BATMAN/DOC SAVAGE SPECIAL (BATMAN AND DOC SAVAGE) (2009) #1 Fine

BATMAN: STREETS OF GOTHAM (PAUL DINI) (2009) #9 Near Mint/Mint
BATMAN: STREETS OF GOTHAM (PAUL DINI) (2009) #10 Very Fine
BATMAN: STREETS OF GOTHAM (PAUL DINI) (2009) #11 Very Fine

BRAVE AND THE BOLD (1955) #63 Fine

DETECTIVE COMICS (1937) (#1-881) (DC) #827 Very Fine
DETECTIVE COMICS (1937) (#1-881) (DC) #831 Very Fine
DETECTIVE COMICS (1937) (#1-881) (DC) #833 Very Fine
DETECTIVE COMICS (1937) (#1-881) (DC) #834 Fine
DETECTIVE COMICS (1937) (#1-881) (DC) #835 Very Fine
DETECTIVE COMICS (1937) (#1-881) (DC) #836 Very Fine
DETECTIVE COMICS (1937) (#1-881) (DC) #837 Fine
DETECTIVE COMICS (1937) (#1-881) (DC) #838 Very Fine
DETECTIVE COMICS (1937) (#1-881) (DC) #839 Near Mint/Mint
DETECTIVE COMICS (1937) (#1-881) (DC) #848 Very Fine
DETECTIVE COMICS (1937) (#1-881) (DC) #850 Fine
DETECTIVE COMICS (1937) (#1-881) (DC) #852 Very Fine
DETECTIVE COMICS (1937) (#1-881) (DC) #854 Very Fine
DETECTIVE COMICS (1937) (#1-881) (DC) #856 Very Fine
DETECTIVE COMICS (1937) (#1-881) (DC) #857 Very Fine

DETECTIVE COMICS (1937) (#1-881) (DC) #859 Near Mint/Mint
DETECTIVE COMICS (1937) (#1-881) (DC) #860 VARIANT Very Fine
DETECTIVE COMICS (1937) (#1-881) (DC) #860 Very Fine
DETECTIVE COMICS (1937) (#1-881) (DC) #862 Very Fine
DETECTIVE COMICS (1937) (#1-881) (DC) #870 Very Fine

DOC SAVAGE (2010) #1 VARIANT Very Fine

GREEN LANTERN CORPS (2006) #58 2ND PRINT Very Fine

HARLEY QUINN (2016) (#1-UP) (DC REBIRTH) #1 DFE ALT CV Near Mint/Mint

HARLEY QUINN & HER GANG OF HARLEYS (2016) #6 VARIANT Near Mint/Mint

MILLENNIUM (1988) #5 NO MONTH Near Mint/Mint

PREACHER SPECIAL: SAINT OF KILLERS (1996) #1 (DC: Vertigo Press) Very Fine
PREACHER SPECIAL: SAINT OF KILLERS (1996) #2 (DC: Vertigo Press) Near Mint/Mint
PREACHER SPECIAL: SAINT OF KILLERS (1996) #3 (DC: Vertigo Press) Very Fine
PREACHER SPECIAL: SAINT OF KILLERS (1996) #4 (DC: Vertigo Press) Near Mint/Mint

ROBIN (1993) #168 VARIANT Near Mint/Mint

SANDMAN (1988) #1 (DC: Vertigo Press) Near Mint/Mint
SANDMAN (1988) #2 (DC: Vertigo Press) Fine
SANDMAN (1988) #3 (DC: Vertigo Press) Near Mint/Mint
SANDMAN (1988) #4 (DC: Vertigo Press) Very Fine
SANDMAN (1988) #5 (DC: Vertigo Press) Near Mint/Mint

SANDMAN MILLENNIUM EDITION #1 (DC: Vertigo Press) Near Mint/Mint

SENSATION COMICS FEATURING WONDER WOMAN (2014) #11 Near Mint/Mint

STAR SPANGLED WAR STORIES (1952) #203 Very Good

SUPERMAN (2011) (#0-52) (DC NEW52) #41 Near Mint/Mint
SUPERMAN (2011) (#0-52) (DC NEW52) #41 Very Fine

SUPERMAN/WONDER WOMAN (2013) #18 Very Fine

SUPERMAN: LOIS LANE (2014) #1 Very Fine

UNEXPECTED (TALES OF THE UNEXPECTED #1-104) (1956) #134 Good
UNEXPECTED (TALES OF THE UNEXPECTED #1-104) (1956) #135 Fine
UNEXPECTED (TALES OF THE UNEXPECTED #1-104) (1956) #154 Very Fine
UNEXPECTED (TALES OF THE UNEXPECTED #1-104) (1956) #159 Good
UNEXPECTED (TALES OF THE UNEXPECTED #1-104) (1956) #160 Good


UNEXPECTED (TALES OF THE UNEXPECTED #1-104) (1956) #165

UNEXPECTED (TALES OF THE UNEXPECTED #1-104) (1956) #165 Very Good
UNEXPECTED (TALES OF THE UNEXPECTED #1-104) (1956) #180 Very Good
UNEXPECTED (TALES OF THE UNEXPECTED #1-104) (1956) #190 Very Fine

UNKNOWN SOLDIER (1977) #214 Fine
UNKNOWN SOLDIER (1977) #230 Fine

DARK HORSE COMICS
JAMES BOND 007: SERPENT'S TOOTH (1992) #3 Near Mint/Mint

MASSIVE (2012) #29 Very Fine

IMAGE COMICS
RASPUTIN (2014) #6 B Near Mint/Mint

REVENGE (2014) #1 Fine

SEX (2013) #19 Fine

SOUTHERN BASTARDS (2014) #6 Very Fine

SPAWN (1992) #247 Near Mint/Mint
SPAWN (1992) #250 YOUNG Very Fine
SPAWN (1992) #254 Very Fine

TECH JACKET (2014) #2 Near Mint/Mint

TEN GRAND (2013) #11 Near Mint/Mint

INDEPENDENTS
A&A (ARCHER & ARMSTRONG) (2016) #8 D VEREGGE (Valiant Comics) Near Mint/Mint

ANNIHILATOR (LEGENDARY COMICS) (2014) #1 (Legendary Comics) Very Fine
ANNIHILATOR (LEGENDARY COMICS) (2014) #2 (Legendary Comics) Near Mint/Mint
ANNIHILATOR (LEGENDARY COMICS) (2014) #3 (Legendary Comics) Near Mint/Mint
ANNIHILATOR (LEGENDARY COMICS) (2014) #4 (Legendary Comics) Near Mint/Mint


ANNIHILATOR (LEGENDARY COMICS) (2014) #5

ANNIHILATOR (LEGENDARY COMICS) (2014) #5 (Legendary Comics) Near Mint/Mint
ANNIHILATOR (LEGENDARY COMICS) (2014) #6 (Legendary Comics) Near Mint/Mint

ARMY OF DARKNESS/XENA: FOREVER & A DAY (2016) #1 F BROWNVIR (DYNAMITE Entertainment) Near Mint/Mint

BETTY BOOP (2016) #1 F CHAYKB&W (DYNAMITE Entertainment) Near Mint/Mint

BIG TROUBLE IN LITTLE CHINA (2014) #5 ROSSMO (Boom Studios Publishing) Near Mint/Mint

CALIBAN (2014) #2 WRAPAROUND (Avatar Comics) Very Fine
CALIBAN (2014) #3 WRAPAROUND (Avatar Comics) Near Mint/Mint
CALIBAN (2014) #4 (Avatar Comics) Near Mint/Mint
CALIBAN (2014) #5 TERROR (Avatar Comics) Near Mint/Mint
CALIBAN (2014) #6 WRAPAROUND (Avatar Comics) Near Mint/Mint
CALIBAN (2014) #7 TERROR (Avatar Comics) Near Mint/Mint

DEMON (JASON SHIGA) (2014) #1 (Shigabooks) Near Mint/Mint

DOC SAVAGE SPECIAL (2014) #1 (DYNAMITE Entertainment) Near Mint/Mint

ECHO (2008) #4 NEWSSTAND (Abstract Studio) Near Mint/Mint

HOMIES (2016) #1 D HUERTB&W (DYNAMITE Entertainment) Near Mint/Mint

IGNITION CITY (2009) #2 WRAPAROUND (Avatar Comics) Near Mint/Mint

JAMES BOND 007: PERMISSION TO DIE (1989) #1 (Eclipse Enterprises) Near Mint/Mint
JAMES BOND 007: PERMISSION TO DIE (1989) #2 (Eclipse Enterprises) Near Mint/Mint
JAMES BOND 007: PERMISSION TO DIE (1989) #3 (Eclipse Enterprises) Near Mint/Mint

JUSTICE INC. (2014) #5 ROSS (DYNAMITE Entertainment) Near Mint/Mint

LADY DEATH: APOCALYPSE (2015) #4 SULTRY (Boundless Comics) Very Fine

LEGEND OF OZ: WICKED WEST (2015) #1 A (Aspen) Near Mint/Mint

LITTLE NEMO: RETURN TO SLUMBERLAND (2014) #4 (IDW Publishing) Near Mint/Mint

MS. MYSTIC (1982) #1 (Pacific Comics) Near Mint/Mint
MS. MYSTIC (1982) #2 (Pacific Comics) Very Fine

NEONOMICON (2010) #1 BOOK/DEAD (Avatar Comics) Near Mint/Mint
NEONOMICON (2010) #2 (Avatar Comics) Near Mint/Mint

NEONOMICON (2010) #3 (Avatar Comics) Near Mint/Mint
NEONOMICON (2010) #4 (Avatar Comics) Near Mint/Mint

NEONOMICON HORNBOOK (2009) #1 (Avatar Comics) Near Mint/Mint

PATHFINDER: ORIGINS (2015) #3 FARAS (DYNAMITE Entertainment) Fine

RACHEL RISING (2011) #1 (Abstract Studio) Near Mint/Mint
RACHEL RISING (2011) #2 (Abstract Studio) Near Mint/Mint
RACHEL RISING (2011) #3 (Abstract Studio) Fine
RACHEL RISING (2011) #4 (Abstract Studio) Fine
RACHEL RISING (2011) #5 (Abstract Studio) Fine
RACHEL RISING (2011) #6 (Abstract Studio) Fine
RACHEL RISING (2011) #7 (Abstract Studio) Fine
RACHEL RISING (2011) #8 (Abstract Studio) Very Fine
RACHEL RISING (2011) #9 (Abstract Studio) Very Fine
RACHEL RISING (2011) #10 (Abstract Studio) Near Mint/Mint
RACHEL RISING (2011) #11 (Abstract Studio) Near Mint/Mint
RACHEL RISING (2011) #12 (Abstract Studio) Very Fine
RACHEL RISING (2011) #13 (Abstract Studio) Near Mint/Mint
RACHEL RISING (2011) #15 (Abstract Studio) Near Mint/Mint
RACHEL RISING (2011) #21 (Abstract Studio) Near Mint/Mint
RACHEL RISING (2011) #22 (Abstract Studio) Near Mint/Mint
RACHEL RISING (2011) #27 (Abstract Studio) Near Mint/Mint
RACHEL RISING (2011) #28 (Abstract Studio) Near Mint/Mint
RACHEL RISING (2011) #29 (Abstract Studio) Very Fine
RACHEL RISING (2011) #30 (Abstract Studio) Near Mint/Mint
RACHEL RISING (2011) #33 (Abstract Studio) Near Mint/Mint
RACHEL RISING (2011) #34 (Abstract Studio) Very Fine

REGULAR SHOW (2013) #1 G (Boom Studios Publishing) Near Mint/Mint
REGULAR SHOW (2013) #1 G (Boom Studios Publishing) Very Fine
REGULAR SHOW (2013) #1 G (Boom Studios Publishing) Fine

SABRINA (2014) #3 VARIANT (Archie Comics) Near Mint/Mint

SHADOW 2014 ONE-SHOT (2014) #1 (DYNAMITE Entertainment) Near Mint/Mint

TAROT: WITCH OF THE BLACK ROSE #100 BLANK CVR (Broadsword Comics) Very Fine

TWILIGHT ZONE (1961) (Dell Publishing) #1 FC #1173 (Dell Publishing) Very Good

TWILIGHT ZONE (1962) (#1-91) (GOLD KEY) #27 (Gold Key) Fine
TWILIGHT ZONE (1962) (#1-91) (GOLD KEY) #29 (Gold Key) Good
TWILIGHT ZONE (1962) (#1-91) (GOLD KEY) #41 (Gold Key) Very Good


TWILIGHT ZONE (1962) (#1-91) (GOLD KEY) #53

TWILIGHT ZONE (1962) (#1-91) (GOLD KEY) #53 (Gold Key) Very Good
TWILIGHT ZONE (1962) (#1-91) (GOLD KEY) #54 (Gold Key) Very Good
TWILIGHT ZONE (1962) (#1-91) (GOLD KEY) #55 (Gold Key) Very Good
TWILIGHT ZONE (1962) (#1-91) (GOLD KEY) #59 WHITMAN (Gold Key) Fine
TWILIGHT ZONE (1962) (#1-91) (GOLD KEY) #61 (Gold Key) Very Good
TWILIGHT ZONE (1962) (#1-91) (GOLD KEY) #68 WHITMAN (Gold Key) Good
TWILIGHT ZONE (1962) (#1-91) (GOLD KEY) #82 (Gold Key) Fine
TWILIGHT ZONE (1962) (#1-91) (GOLD KEY) #85 (Gold Key) Good
TWILIGHT ZONE (1962) (#1-91) (GOLD KEY) #92 (Gold Key) Fine
TWILIGHT ZONE (1962) (#1-91) (GOLD KEY) #92 (Gold Key) Very Good

U.S. AIR FORCE (1958) #35 (Charlton) Very Good

UNCLE SCROOGE (2015) #4 (IDW Publishing) Near Mint/Mint
UNCLE SCROOGE (2015) #7 (IDW Publishing) Near Mint/Mint

UNITY (2013) #18 EISMA (Valiant Comics) Near Mint/Mint

UNKNOWN WORLDS (AMERICAN COMIC GROUP) #35 (ACG) Good

VALLEY OF THE DINOSAURS (1975) #1 (Charlton) Fine

VAMPIRELLA: FEARY TALES (2014) #3 ROACH (DYNAMITE Entertainment) Near Mint/Mint

VICKI (1975) #3 (Atlas/Seaboard) Very Good

VOLTRON (1985) #1 (Modern) Very Fine

VOYAGE TO THE BOTTOM OF THE SEA (1964) #11 (Gold Key) Good

VOYAGE TO THE DEEP (1962) #1 (Dell Publishing) Very Good

WALT DISNEY'S COMICS AND STORIES (1940) (#1-263) (Dell Publishing) #143 (Dell Publishing) Good

WELCOME BACK (2015) #1 SAWYER (Boom Studios Publishing) Very Fine

ZOMBIE TRAMP (2014) #5 VARIANT (Danger Zone) Very Fine


ZOMBIE TRAMP (VOL. 2) (2013) #1

ZOMBIE TRAMP (VOL. 2) (2013) #1 (Action Lab Entertainment) Very Fine

ZOMBIES VS. ROBOTS (2015) #1 BLANK CVR (IDW Publishing) Very Fine