189,000 More Great Comics Added - 60% Off
Howdy!
Out of simple curiosity, I took a moment to look at our "singles" files yesterday afternoon. As many of you already know from my YouTube videos, we file all of our comics by the internal identifier numbers on the label we affix to each issue. We first began this numbering program six years ago, after our old alphabetic system of filing became hopelessly inefficient due to the proliferation of new comics titles.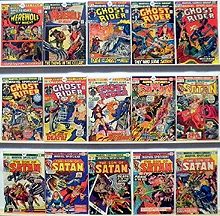 Some of the Marvel Spotlight Comics from the last few collections

Since switching to our numbering system six years ago, we have since added 2,690,000 single issues, and well over 2,000,000 more comics in packs of ten. That is on top of the 6,000,000 comics that were already contained in our legacy alphabetic systems at the time that we switched to the new numbering system. In a nutshell, it is the sum of those numbers that allow me to honestly represent that we have about ten million back issues in stock right now, even after some measure of depletions from our recent 60% off NANETTE2 codeword sale.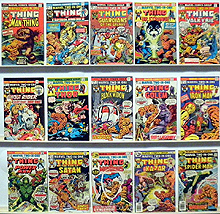 Some of the Marvel Two-in-One Comics from the last few collections

All of the above having been said, the reason why I checked up on our inventory numbers yesterday is that I wanted to derive some sort of idea of our progress since June. Simply put, our moving our online inventory from 56th Ave. into Jason St. during the first and second quarters severely disrupted our ability to sort and grade comics. By June 1st, however, we were pretty much back on track with shipping, so our inventory teams were able to return their focus to sorting and grading the comics from the collections I was purchasing.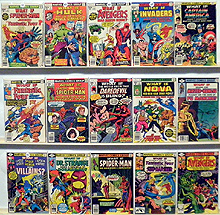 Some of the What If Comics from the last few collections

The net result of my investigation was that we have added 168,000! singles and just under 100,000 comics in tens to our active inventory since June 1st. Of even greater importance than the sheer mass is the fact that these comics that we've added have been of such high quality that over 50,000 of them filled holes that previously existed in our website inventory. As a result, our daily eBay listings (which are imported from our website data...) have skyrocketed from 335,000 to 385,000 total items! A jump of 50,000+ additional items in just 4 months is an clear indicator that we have been buying and grading comics at a truly remarkable pace.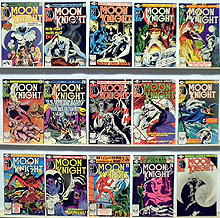 Some of the Moon Knight Comics from the last few collections

Where an am leading to with all this data is that if you have not perused our website listings in a while, right now would be an excellent time. Not only do we have a vastly increased selection available to you, but our current 60% off NANETTE2 codeword allows you to slash all of our list prices to only 40%. This very generous sale includes all ten million of our back issue comics and magazines, excluding only new issues, a few variants, and our CGC's. Please do enjoy this awesome codeword sale with our sincere thanks for your continuing support of Mile High Comics.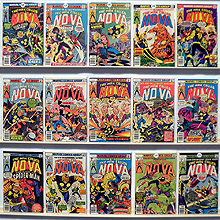 Some of the Nova Comics from the last few collections

I will close by again mentioning that I am actively seeking even more collections. I will be traveling to Las Vegas on Monday and Tuesday of next week, Central Arizona and Phoenix the week after, and the upper East Coast and Southern Canada the week after that. If you have a collection that you might be seeking to sell, and live in any of those regions, please contact my assistant, Will Moulton, atmoulton@milehighcomics.com. He will discuss price and terms, and then try to set up a personal visit by me to your home. I am also available to fly and/or drive to other areas later in October.
Happy Collecting!
Chuck Rozanski,
President - Mile High Comics, Inc.
September 30, 2016

P.S. Below is a small sampling of the incredible Premium New-In-Stock list from this past week. Will and Pam have added an astounding number of Silver Age and Bronze Age comics to our website inventory over the past week, as well as a huge number of scarce recent issues and variants. Almost all qualify for the 60% off NANETTE2 codeword. Even more will post to our website tomorrow (Saturday) at about noon.
MARVEL
ALL-NEW ALL-DIFFERENT MARVEL POINT ONE (2015) #1 Near Mint/Mint

ALL-NEW GHOST RIDER (2014) #1 Very Fine

ALL-NEW INHUMANS (2015) #1 Fine

ALL-NEW INHUMANS (2015) #1 Very Fine

ALL-NEW INVADERS (2014) #1 Very Fine

ALL-NEW WOLVERINE (2015) #1 Near Mint/Mint
ALL-NEW WOLVERINE (2015) #1 Very Fine
ALL-NEW WOLVERINE (2015) #2 Near Mint/Mint
ALL-NEW WOLVERINE (2015) #2 Fine

ALL-NEW X-FACTOR (2014) #1 Very Fine
ALL-NEW X-FACTOR (2014) #2 Very Fine

ALL-NEW X-MEN (2012) #23 Near Mint/Mint

ALL-WINNERS SQUAD: BAND OF HEROES (2011) #5 Near Mint/Mint

AMAZING SPIDER-MAN (2015) #1 Very Fine

AMAZING SPIDER-MAN: RENEW YOUR VOWS (2015) #1 Very Fine

AVENGERS (2015) (#0) (MARVEL) #0 Near Mint/Mint

AVENGERS ANNUAL (1967) #4 Good

AVENGERS ASSEMBLE (2012) #23 Fine

AVENGERS UNDERCOVER (2014) #1 Very Fine

AVENGERS VS. INFINITY (2015) #1 Near Mint/Mint
AVENGERS VS. INFINITY (2015) #1 LIM Near Mint/Mint

BLACK WIDOW (2014) #1 Very Fine
BLACK WIDOW (2016) #1 Near Mint/Mint

CAPTAIN MARVEL (2014) (#1-15) (MARVEL) #1 Fine

CONTEST OF CHAMPIONS (2015) #1 Near Mint/Mint

COSMIC POWERS UNLIMITED (1995) #1 Near Mint/Mint
COSMIC POWERS UNLIMITED (1995) #5 Near Mint/Mint

COYOTE (1983) #11 Near Mint/Mint
COYOTE (1983) #13 Near Mint/Mint

DAREDEVIL (1964) (#1-380) (MAN WITHOUT FEAR) (MARVEL) #20 Good
DAREDEVIL (1964) (#1-380) (MAN WITHOUT FEAR) (MARVEL) #21 Good
DAREDEVIL (1964) (#1-380) (MAN WITHOUT FEAR) (MARVEL) #22 Good

DAREDEVIL (1964) (#1-380) (MAN WITHOUT FEAR) (MARVEL) #48 Very Good
DAREDEVIL (1964) (#1-380) (MAN WITHOUT FEAR) (MARVEL) #49 Fine
DAREDEVIL (1964) (#1-380) (MAN WITHOUT FEAR) (MARVEL) #50 Fine
DAREDEVIL (1964) (#1-380) (MAN WITHOUT FEAR) (MARVEL) #57 Fine
DAREDEVIL (1964) (#1-380) (MAN WITHOUT FEAR) (MARVEL) #58 Very Good
DAREDEVIL (1964) (#1-380) (MAN WITHOUT FEAR) (MARVEL) #61 Fine
DAREDEVIL (1964) (#1-380) (MAN WITHOUT FEAR) (MARVEL) #62 Fine
DAREDEVIL (1964) (#1-380) (MAN WITHOUT FEAR) (MARVEL) #73 Fine
DAREDEVIL (1964) (#1-380) (MAN WITHOUT FEAR) (MARVEL) #77 Fine
DAREDEVIL (1964) (#1-380) (MAN WITHOUT FEAR) (MARVEL) #81 Fine
DAREDEVIL (1964) (#1-380) (MAN WITHOUT FEAR) (MARVEL) #82 Very Fine

DARTH VADER (STAR WARS) (2015) #1 BLANK CVR Near Mint/Mint
DARTH VADER (STAR WARS) (2015) #1 FIGURE VAR Near Mint/Mint
DARTH VADER (STAR WARS) (2015) #1 MOVIE CVR Near Mint/Mint
DARTH VADER (STAR WARS) (2015) #1 BLANK CVR Very Fine
DARTH VADER (STAR WARS) (2015) #1 FIGURE VAR Very Fine
DARTH VADER (STAR WARS) (2015) #1 MOVIE CVR Very Fine
DARTH VADER (STAR WARS) (2015) #10 Very Fine
DARTH VADER (STAR WARS) (2015) #13 MILE HIGH Very Good
DARTH VADER (STAR WARS) (2015) #14 MILE HIGH Very Good

DEADPOOL (2012) (#1-45, 250) (MARVEL) #45 250 Fine

DEADPOOL VS. CARNAGE (2014) #1 Very Fine

DEADPOOL VS. THANOS (2015) #1 Very Fine

DOCTOR WHO MAGAZINE #491 Near Mint/Mint
DOCTOR WHO MAGAZINE #494 Near Mint/Mint

FURY: SHIELD 50TH ANNIVERSARY (2015) #1 WARD Near Mint/Mint

FUTURE IMPERFECT (2015) #1 Near Mint/Mint

GUARDIANS OF THE GALAXY (2013) #12 Near Mint/Mint

HERCULES (2015) #2 DAUTERMAN Very Good

HOWARD THE DUCK (MAY) (2015) #3 Near Mint/Mint
HOWARD THE DUCK (MAY) (2015) #3 Very Fine

INVADERS (1975) #1 Fair
INVADERS (1975) #2 Good

INVADERS (1975) #2 Very Good
INVADERS (1975) #3 Fine
INVADERS (1975) #3 Good
INVADERS (1975) #3 Very Good
INVADERS (1975) #4 Very Good
INVADERS (1975) #6 Very Good
INVADERS (1975) #11 Very Good
INVADERS (1975) #12 Very Good
INVADERS (1975) #13 Very Good
INVADERS (1975) #21 Fine
INVADERS (1975) #21 Very Good
INVADERS (1975) #26 Near Mint/Mint
INVADERS (1975) #26 Very Fine
INVADERS (1975) #27 Very Fine

IRON PATRIOT (2014) #1 Very Fine

NEW AVENGERS HC (2007) #5 Near Mint/Mint

SECRET WARS (1984) #1 SPANISH ED Very Fine
SECRET WARS (1984) #1 SPANISH ED Fine

STAR WARS (1977) #8 Near Mint/Mint
STAR WARS (1977) #9 Near Mint/Mint
STAR WARS (1977) #11 Very Fine
STAR WARS (1977) #12 Near Mint/Mint
STAR WARS (1977) #13 Near Mint/Mint
STAR WARS (1977) #14 Near Mint/Mint
STAR WARS (1977) #15 Near Mint/Mint
STAR WARS (1977) #16 Near Mint/Mint
STAR WARS (1977) #19 Near Mint/Mint
STAR WARS (1977) #21 Near Mint/Mint
STAR WARS (1977) #21 Fine
STAR WARS (1977) #22 Near Mint/Mint
STAR WARS (1977) #23 Near Mint/Mint
STAR WARS (1977) #24 Near Mint/Mint
STAR WARS (1977) #25 NEWSSTAND Near Mint/Mint
STAR WARS (1977) #26 Near Mint/Mint
STAR WARS (1977) #27 Near Mint/Mint
STAR WARS (1977) #28 Near Mint/Mint
STAR WARS (1977) #29 Near Mint/Mint
STAR WARS (1977) #30 NEWSSTAND Very Fine
STAR WARS (1977) #31 NEWSSTAND Fine

STAR WARS (1977) #32 Very Fine
STAR WARS (1977) #33 NEWSSTAND Near Mint/Mint
STAR WARS (1977) #34 NEWSSTAND Near Mint/Mint
STAR WARS (1977) #35 Near Mint/Mint
STAR WARS (1977) #36 NEWSSTAND Fine
STAR WARS (1977) #37 NEWSSTAND Near Mint/Mint
STAR WARS (1977) #38 Very Fine
STAR WARS (1977) #40 NEWSSTAND Near Mint/Mint
STAR WARS (1977) #41 Fine
STAR WARS (1977) #42 Near Mint/Mint
STAR WARS (1977) #43 Near Mint/Mint
STAR WARS (1977) #44 Very Fine
STAR WARS (1977) #45 Near Mint/Mint
STAR WARS (1977) #46 Very Fine
STAR WARS (1977) #47 Very Fine
STAR WARS (1977) #48 Very Fine
STAR WARS (1977) #49 Near Mint/Mint
STAR WARS (1977) #50 Near Mint/Mint
STAR WARS (1977) #51 Near Mint/Mint
STAR WARS (1977) #52 Very Fine
STAR WARS (1977) #53 Fine
STAR WARS (1977) #54 Near Mint/Mint
STAR WARS (1977) #56 Near Mint/Mint
STAR WARS (1977) #57 Near Mint/Mint
STAR WARS (1977) #60 Fine
STAR WARS (1977) #61 Near Mint/Mint
STAR WARS (1977) #62 Near Mint/Mint
STAR WARS (1977) #63 Near Mint/Mint
STAR WARS (1977) #64 Near Mint/Mint
STAR WARS (1977) #66 Near Mint/Mint
STAR WARS (1977) #67 Near Mint/Mint
STAR WARS (1977) #68 Fine
STAR WARS (1977) #71 Near Mint/Mint
STAR WARS (1977) #72 Near Mint/Mint
STAR WARS (1977) #78 Fine
STAR WARS (1977) #79 Fine

STAR WARS (2015) #23 MILE HIGH Near Mint/Mint

STAR WARS ANNUAL (1979) #1 Very Fine

WOLVERINE (1988) #2 NEWSSTAND Near Mint/Mint

WOLVERINE (1988) #4 NEWSSTAND Fine
WOLVERINE (1988) #5 NEWSSTAND Fine
WOLVERINE (1988) #7 NEWSSTAND Very Fine
WOLVERINE (1988) #8 NEWSSTAND Near Mint/Mint
WOLVERINE (1988) #9 NEWSSTAND Near Mint/Mint
WOLVERINE (1988) #14 NEWSSTAND Near Mint/Mint
WOLVERINE (1988) #35 NEWSSTAND Fine
WOLVERINE (1988) #36 Very Fine
WOLVERINE (1988) #37 Near Mint/Mint
WOLVERINE (1988) #38 Near Mint/Mint
WOLVERINE (1988) #40 NEWSSTAND Near Mint/Mint
WOLVERINE (1988) #64 NEWSSTAND Near Mint/Mint
WOLVERINE (1988) #73 NEWSSTAND Near Mint/Mint
WOLVERINE (1988) #75 Near Mint/Mint
WOLVERINE (1988) #100 DELUXE Fine

WOLVERINE: KILLING (1993) #1 Near Mint/Mint

X-MEN (1963) (#1-113, UNCANNY X-MEN #114-544) (MARVEL) #15 Good
X-MEN (1963) (#1-113, UNCANNY X-MEN #114-544) (MARVEL) #16 Fine
X-MEN (1963) (#1-113, UNCANNY X-MEN #114-544) (MARVEL) #19 Fine
X-MEN (1963) (#1-113, UNCANNY X-MEN #114-544) (MARVEL) #20 Fine
X-MEN (1963) (#1-113, UNCANNY X-MEN #114-544) (MARVEL) #21 Very Good
X-MEN (1963) (#1-113, UNCANNY X-MEN #114-544) (MARVEL) #22 Very Good
X-MEN (1963) (#1-113, UNCANNY X-MEN #114-544) (MARVEL) #23 Very Good
X-MEN (1963) (#1-113, UNCANNY X-MEN #114-544) (MARVEL) #24 Good
X-MEN (1963) (#1-113, UNCANNY X-MEN #114-544) (MARVEL) #27 Very Good
X-MEN (1963) (#1-113, UNCANNY X-MEN #114-544) (MARVEL) #28 Good
X-MEN (1963) (#1-113, UNCANNY X-MEN #114-544) (MARVEL) #29 Good
X-MEN (1963) (#1-113, UNCANNY X-MEN #114-544) (MARVEL) #30 Fine
X-MEN (1963) (#1-113, UNCANNY X-MEN #114-544) (MARVEL) #31 Very Good
X-MEN (1963) (#1-113, UNCANNY X-MEN #114-544) (MARVEL) #33 Very Good
X-MEN (1963) (#1-113, UNCANNY X-MEN #114-544) (MARVEL) #34 Very Good
X-MEN (1963) (#1-113, UNCANNY X-MEN #114-544) (MARVEL) #36 Very Good
X-MEN (1963) (#1-113, UNCANNY X-MEN #114-544) (MARVEL) #37 Very Good
X-MEN (1963) (#1-113, UNCANNY X-MEN #114-544) (MARVEL) #40 Fine
X-MEN (1963) (#1-113, UNCANNY X-MEN #114-544) (MARVEL) #41 Very Good

X-MEN (1963) (#1-113, UNCANNY X-MEN #114-544) (MARVEL) #42 Fine
X-MEN (1963) (#1-113, UNCANNY X-MEN #114-544) (MARVEL) #43 Fine
X-MEN (1963) (#1-113, UNCANNY X-MEN #114-544) (MARVEL) #46 Fine
X-MEN (1963) (#1-113, UNCANNY X-MEN #114-544) (MARVEL) #47 Near Mint/Mint
X-MEN (1963) (#1-113, UNCANNY X-MEN #114-544) (MARVEL) #48 Fine
X-MEN (1963) (#1-113, UNCANNY X-MEN #114-544) (MARVEL) #49 Very Fine
X-MEN (1963) (#1-113, UNCANNY X-MEN #114-544) (MARVEL) #51 Fine
X-MEN (1963) (#1-113, UNCANNY X-MEN #114-544) (MARVEL) #52 Very Good
X-MEN (1963) (#1-113, UNCANNY X-MEN #114-544) (MARVEL) #53 Fine
X-MEN (1963) (#1-113, UNCANNY X-MEN #114-544) (MARVEL) #55 Very Fine
X-MEN (1963) (#1-113, UNCANNY X-MEN #114-544) (MARVEL) #56 Very Fine
X-MEN (1963) (#1-113, UNCANNY X-MEN #114-544) (MARVEL) #57 Fine
X-MEN (1963) (#1-113, UNCANNY X-MEN #114-544) (MARVEL) #59 Very Good
X-MEN (1963) (#1-113, UNCANNY X-MEN #114-544) (MARVEL) #62 Very Good
X-MEN (1963) (#1-113, UNCANNY X-MEN #114-544) (MARVEL) #65 Very Good
X-MEN (1963) (#1-113, UNCANNY X-MEN #114-544) (MARVEL) #71 Fine
X-MEN (1963) (#1-113, UNCANNY X-MEN #114-544) (MARVEL) #74 Very Good
X-MEN (1963) (#1-113, UNCANNY X-MEN #114-544) (MARVEL) #75 Very Good
X-MEN (1963) (#1-113, UNCANNY X-MEN #114-544) (MARVEL) #76 Very Good
X-MEN (1963) (#1-113, UNCANNY X-MEN #114-544) (MARVEL) #77 Fine
X-MEN (1963) (#1-113, UNCANNY X-MEN #114-544) (MARVEL) #90 Fine
X-MEN (1963) (#1-113, UNCANNY X-MEN #114-544) (MARVEL) #102 Fine
X-MEN (1963) (#1-113, UNCANNY X-MEN #114-544) (MARVEL) #103 Fair
X-MEN (1963) (#1-113, UNCANNY X-MEN #114-544) (MARVEL) #104 Fine
X-MEN (1963) (#1-113, UNCANNY X-MEN #114-544) (MARVEL) #105 Fine
X-MEN (1963) (#1-113, UNCANNY X-MEN #114-544) (MARVEL) #106 Very Fine
X-MEN (1963) (#1-113, UNCANNY X-MEN #114-544) (MARVEL) #108 BRITISH Near Mint/Mint
X-MEN (1963) (#1-113, UNCANNY X-MEN #114-544) (MARVEL) #109 Good
X-MEN (1963) (#1-113, UNCANNY X-MEN #114-544) (MARVEL) #110 Fair
X-MEN (1963) (#1-113, UNCANNY X-MEN #114-544) (MARVEL) #111 Fine
X-MEN (1963) (#1-113, UNCANNY X-MEN #114-544) (MARVEL) #112 Good
X-MEN (1963) (#1-113, UNCANNY X-MEN #114-544) (MARVEL) #113 Near Mint/Mint
X-MEN (1963) (#1-113, UNCANNY X-MEN #114-544) (MARVEL) #114 Very Fine
X-MEN (1963) (#1-113, UNCANNY X-MEN #114-544) (MARVEL) #115 Good
X-MEN (1963) (#1-113, UNCANNY X-MEN #114-544) (MARVEL) #116 Good
X-MEN (1963) (#1-113, UNCANNY X-MEN #114-544) (MARVEL) #117 Fine
X-MEN (1963) (#1-113, UNCANNY X-MEN #114-544) (MARVEL) #118 Very Fine
X-MEN (1963) (#1-113, UNCANNY X-MEN #114-544) (MARVEL) #119 Very Good
X-MEN (1963) (#1-113, UNCANNY X-MEN #114-544) (MARVEL) #120 Fine
X-MEN (1963) (#1-113, UNCANNY X-MEN #114-544) (MARVEL) #121 Near Mint/Mint
X-MEN (1963) (#1-113, UNCANNY X-MEN #114-544) (MARVEL) #122 Fine
X-MEN (1963) (#1-113, UNCANNY X-MEN #114-544) (MARVEL) #123 Near Mint/Mint
X-MEN (1963) (#1-113, UNCANNY X-MEN #114-544) (MARVEL) #124 NEWSSTAND Very Good
X-MEN (1963) (#1-113, UNCANNY X-MEN #114-544) (MARVEL) #125 Very Fine
X-MEN (1963) (#1-113, UNCANNY X-MEN #114-544) (MARVEL) #126 NEWSSTAND Very Good
X-MEN (1963) (#1-113, UNCANNY X-MEN #114-544) (MARVEL) #127 Very Fine
X-MEN (1963) (#1-113, UNCANNY X-MEN #114-544) (MARVEL) #128 Near Mint/Mint
X-MEN (1963) (#1-113, UNCANNY X-MEN #114-544) (MARVEL) #129 NEWSSTAND Good
X-MEN (1963) (#1-113, UNCANNY X-MEN #114-544) (MARVEL) #130 Very Fine
X-MEN (1963) (#1-113, UNCANNY X-MEN #114-544) (MARVEL) #131 Very Fine
X-MEN (1963) (#1-113, UNCANNY X-MEN #114-544) (MARVEL) #132 Good
X-MEN (1963) (#1-113, UNCANNY X-MEN #114-544) (MARVEL) #133 Fine
X-MEN (1963) (#1-113, UNCANNY X-MEN #114-544) (MARVEL) #134 Near Mint/Mint
X-MEN (1963) (#1-113, UNCANNY X-MEN #114-544) (MARVEL) #135 NEWSSTAND Good
X-MEN (1963) (#1-113, UNCANNY X-MEN #114-544) (MARVEL) #136 NEWSSTAND Fine
X-MEN (1963) (#1-113, UNCANNY X-MEN #114-544) (MARVEL) #137 NEWSSTAND Good
X-MEN (1963) (#1-113, UNCANNY X-MEN #114-544) (MARVEL) #138 Near Mint/Mint
X-MEN (1963) (#1-113, UNCANNY X-MEN #114-544) (MARVEL) #139 NEWSSTAND Fine
X-MEN (1963) (#1-113, UNCANNY X-MEN #114-544) (MARVEL) #140 Very Good

X-MEN (1963) (#1-113, UNCANNY X-MEN #114-544) (MARVEL) #143 Near Mint/Mint
X-MEN (1963) (#1-113, UNCANNY X-MEN #114-544) (MARVEL) #145 Near Mint/Mint
X-MEN (1963) (#1-113, UNCANNY X-MEN #114-544) (MARVEL) #146 NEWSSTAND Very Good
X-MEN (1963) (#1-113, UNCANNY X-MEN #114-544) (MARVEL) #147 NEWSSTAND Very Good
X-MEN (1963) (#1-113, UNCANNY X-MEN #114-544) (MARVEL) #149 NEWSSTAND Good
X-MEN (1963) (#1-113, UNCANNY X-MEN #114-544) (MARVEL) #150 Near Mint/Mint
X-MEN (1963) (#1-113, UNCANNY X-MEN #114-544) (MARVEL) #152 Near Mint/Mint
X-MEN (1963) (#1-113, UNCANNY X-MEN #114-544) (MARVEL) #153 NEWSSTAND Very Good
X-MEN (1963) (#1-113, UNCANNY X-MEN #114-544) (MARVEL) #154 NEWSSTAND Good
X-MEN (1963) (#1-113, UNCANNY X-MEN #114-544) (MARVEL) #155 Very Fine
X-MEN (1963) (#1-113, UNCANNY X-MEN #114-544) (MARVEL) #156 NEWSSTAND Very Good
X-MEN (1963) (#1-113, UNCANNY X-MEN #114-544) (MARVEL) #157 NEWSSTAND Very Good
X-MEN (1963) (#1-113, UNCANNY X-MEN #114-544) (MARVEL) #158 Very Fine
X-MEN (1963) (#1-113, UNCANNY X-MEN #114-544) (MARVEL) #159 Near Mint/Mint
X-MEN (1963) (#1-113, UNCANNY X-MEN #114-544) (MARVEL) #165 NEWSSTAND Very Good
X-MEN (1963) (#1-113, UNCANNY X-MEN #114-544) (MARVEL) #166 Near Mint/Mint
X-MEN (1963) (#1-113, UNCANNY X-MEN #114-544) (MARVEL) #169 NEWSSTAND Good
X-MEN (1963) (#1-113, UNCANNY X-MEN #114-544) (MARVEL) #171 NEWSSTAND Good
X-MEN (1963) (#1-113, UNCANNY X-MEN #114-544) (MARVEL) #173 Very Good
X-MEN (1963) (#1-113, UNCANNY X-MEN #114-544) (MARVEL) #178 Near Mint/Mint
X-MEN (1963) (#1-113, UNCANNY X-MEN #114-544) (MARVEL) #180 Near Mint/Mint
X-MEN (1963) (#1-113, UNCANNY X-MEN #114-544) (MARVEL) #182 Very Good
X-MEN (1963) (#1-113, UNCANNY X-MEN #114-544) (MARVEL) #183 NEWSSTAND Good
X-MEN (1963) (#1-113, UNCANNY X-MEN #114-544) (MARVEL) #189 NEWSSTAND Near Mint/Mint
X-MEN (1963) (#1-113, UNCANNY X-MEN #114-544) (MARVEL) #191 Near Mint/Mint
X-MEN (1963) (#1-113, UNCANNY X-MEN #114-544) (MARVEL) #193 Fine
X-MEN (1963) (#1-113, UNCANNY X-MEN #114-544) (MARVEL) #195 Near Mint/Mint
X-MEN (1963) (#1-113, UNCANNY X-MEN #114-544) (MARVEL) #199 Fine
X-MEN (1963) (#1-113, UNCANNY X-MEN #114-544) (MARVEL) #200 Fine
X-MEN (1963) (#1-113, UNCANNY X-MEN #114-544) (MARVEL) #201 NEWSSTAND Good
X-MEN (1963) (#1-113, UNCANNY X-MEN #114-544) (MARVEL) #203 NEWSSTAND Very Good
X-MEN (1963) (#1-113, UNCANNY X-MEN #114-544) (MARVEL) #204 Near Mint/Mint
X-MEN (1963) (#1-113, UNCANNY X-MEN #114-544) (MARVEL) #207 NEWSSTAND Very Good
X-MEN (1963) (#1-113, UNCANNY X-MEN #114-544) (MARVEL) #208 NEWSSTAND Very Good
X-MEN (1963) (#1-113, UNCANNY X-MEN #114-544) (MARVEL) #210 NEWSSTAND Fine
X-MEN (1963) (#1-113, UNCANNY X-MEN #114-544) (MARVEL) #211 NEWSSTAND Good
X-MEN (1963) (#1-113, UNCANNY X-MEN #114-544) (MARVEL) #212 NEWSSTAND Fine
X-MEN (1963) (#1-113, UNCANNY X-MEN #114-544) (MARVEL) #213 NEWSSTAND Fine
X-MEN (1963) (#1-113, UNCANNY X-MEN #114-544) (MARVEL) #218 NEWSSTAND Very Good
X-MEN (1963) (#1-113, UNCANNY X-MEN #114-544) (MARVEL) #219 Very Fine
X-MEN (1963) (#1-113, UNCANNY X-MEN #114-544) (MARVEL) #221 NEWSSTAND Fine
X-MEN (1963) (#1-113, UNCANNY X-MEN #114-544) (MARVEL) #222 NEWSSTAND Very Fine
X-MEN (1963) (#1-113, UNCANNY X-MEN #114-544) (MARVEL) #225 NEWSSTAND Fine
X-MEN (1963) (#1-113, UNCANNY X-MEN #114-544) (MARVEL) #226 NEWSSTAND Fine
X-MEN (1963) (#1-113, UNCANNY X-MEN #114-544) (MARVEL) #230 NEWSSTAND Near Mint/Mint
X-MEN (1963) (#1-113, UNCANNY X-MEN #114-544) (MARVEL) #231 NEWSSTAND Very Good
X-MEN (1963) (#1-113, UNCANNY X-MEN #114-544) (MARVEL) #234 Near Mint/Mint
X-MEN (1963) (#1-113, UNCANNY X-MEN #114-544) (MARVEL) #235 Near Mint/Mint
X-MEN (1963) (#1-113, UNCANNY X-MEN #114-544) (MARVEL) #239 Fine
X-MEN (1963) (#1-113, UNCANNY X-MEN #114-544) (MARVEL) #240 Very Fine
X-MEN (1963) (#1-113, UNCANNY X-MEN #114-544) (MARVEL) #241 Fine
X-MEN (1963) (#1-113, UNCANNY X-MEN #114-544) (MARVEL) #243 Near Mint/Mint
X-MEN (1963) (#1-113, UNCANNY X-MEN #114-544) (MARVEL) #244 Very Good
X-MEN (1963) (#1-113, UNCANNY X-MEN #114-544) (MARVEL) #248 NEWSSTAND Near Mint/Mint
X-MEN (1963) (#1-113, UNCANNY X-MEN #114-544) (MARVEL) #248 NEWSSTAND Very Good
X-MEN (1963) (#1-113, UNCANNY X-MEN #114-544) (MARVEL) #251 Fine
X-MEN (1963) (#1-113, UNCANNY X-MEN #114-544) (MARVEL) #252 Near Mint/Mint
X-MEN (1963) (#1-113, UNCANNY X-MEN #114-544) (MARVEL) #255 Near Mint/Mint

X-MEN (1963) (#1-113, UNCANNY X-MEN #114-544) (MARVEL) #256 Very Fine
X-MEN (1963) (#1-113, UNCANNY X-MEN #114-544) (MARVEL) #257 Near Mint/Mint
X-MEN (1963) (#1-113, UNCANNY X-MEN #114-544) (MARVEL) #258 Near Mint/Mint
X-MEN (1963) (#1-113, UNCANNY X-MEN #114-544) (MARVEL) #261 Near Mint/Mint
X-MEN (1963) (#1-113, UNCANNY X-MEN #114-544) (MARVEL) #261 NEWSSTAND Very Good
X-MEN (1963) (#1-113, UNCANNY X-MEN #114-544) (MARVEL) #264 Near Mint/Mint
X-MEN (1963) (#1-113, UNCANNY X-MEN #114-544) (MARVEL) #266 Fine
X-MEN (1963) (#1-113, UNCANNY X-MEN #114-544) (MARVEL) #267 Fine
X-MEN (1963) (#1-113, UNCANNY X-MEN #114-544) (MARVEL) #267 NEWSSTAND Near Mint/Mint
X-MEN (1963) (#1-113, UNCANNY X-MEN #114-544) (MARVEL) #268 NEWSSTAND Near Mint/Mint
X-MEN (1963) (#1-113, UNCANNY X-MEN #114-544) (MARVEL) #268 Very Good
X-MEN (1963) (#1-113, UNCANNY X-MEN #114-544) (MARVEL) #269 Fine
X-MEN (1963) (#1-113, UNCANNY X-MEN #114-544) (MARVEL) #270 NEWSSTAND Near Mint/Mint
X-MEN (1963) (#1-113, UNCANNY X-MEN #114-544) (MARVEL) #271 Fine
X-MEN (1963) (#1-113, UNCANNY X-MEN #114-544) (MARVEL) #271 NEWSSTAND Near Mint/Mint
X-MEN (1963) (#1-113, UNCANNY X-MEN #114-544) (MARVEL) #272 NEWSSTAND Near Mint/Mint
X-MEN (1963) (#1-113, UNCANNY X-MEN #114-544) (MARVEL) #274 Very Fine
X-MEN (1963) (#1-113, UNCANNY X-MEN #114-544) (MARVEL) #275 NEWSSTAND Near Mint/Mint
X-MEN (1963) (#1-113, UNCANNY X-MEN #114-544) (MARVEL) #282 Very Good
X-MEN (1963) (#1-113, UNCANNY X-MEN #114-544) (MARVEL) #286 NEWSSTAND Near Mint/Mint
X-MEN (1963) (#1-113, UNCANNY X-MEN #114-544) (MARVEL) #295 NEWSSTAND Near Mint/Mint
X-MEN (1963) (#1-113, UNCANNY X-MEN #114-544) (MARVEL) #298 NEWSSTAND Near Mint/Mint
X-MEN (1963) (#1-113, UNCANNY X-MEN #114-544) (MARVEL) #299 NEWSSTAND Near Mint/Mint
X-MEN (1963) (#1-113, UNCANNY X-MEN #114-544) (MARVEL) #300 NEWSSTAND Near Mint/Mint
X-MEN (1963) (#1-113, UNCANNY X-MEN #114-544) (MARVEL) #304 NEWSSTAND Near Mint/Mint

X-MEN ANNUAL (1970) #3 Near Mint/Mint

DC
ACTION COMICS (2011) (#0-52) (DC NEW52) #41 Very Fine
ACTION COMICS (2011) (#0-52) (DC NEW52) #42 Very Fine

BATGIRL (2011) (#0-52) (DC NEW52) #41 Near Mint/Mint

BATMAN (1940) (#0-713) (DC) #267 Very Good
BATMAN (1940) (#0-713) (DC) #408 Very Fine
BATMAN (1940) (#0-713) (DC) #409 NEWSSTAND Very Good
BATMAN (1940) (#0-713) (DC) #410 NEWSSTAND Fine
BATMAN (1940) (#0-713) (DC) #430 NEWSSTAND Good
BATMAN (1940) (#0-713) (DC) #431 NEWSSTAND Fine
BATMAN (1940) (#0-713) (DC) #432 NEWSSTAND Fine
BATMAN (1940) (#0-713) (DC) #447 NEWSSTAND Fine

BATMAN (1940) (#0-713) (DC) #451 NEWSSTAND Fine
BATMAN (1940) (#0-713) (DC) #452 NEWSSTAND Fine
BATMAN (1940) (#0-713) (DC) #454 NEWSSTAND Very Good
BATMAN (1940) (#0-713) (DC) #457 NEWSSTAND Good
BATMAN (1940) (#0-713) (DC) #458 NEWSSTAND Very Fine
BATMAN (1940) (#0-713) (DC) #459 NEWSSTAND Near Mint/Mint
BATMAN (1940) (#0-713) (DC) #460 NEWSSTAND Near Mint/Mint
BATMAN (1940) (#0-713) (DC) #461 NEWSSTAND Near Mint/Mint
BATMAN (1940) (#0-713) (DC) #465 NEWSSTAND Very Good
BATMAN (1940) (#0-713) (DC) #474 Near Mint/Mint
BATMAN (1940) (#0-713) (DC) #475 NEWSSTAND Near Mint/Mint
BATMAN (1940) (#0-713) (DC) #477 NEWSSTAND Fine
BATMAN (1940) (#0-713) (DC) #478 NEWSSTAND Near Mint/Mint
BATMAN (1940) (#0-713) (DC) #486 Fine
BATMAN (1940) (#0-713) (DC) #487 Very Fine
BATMAN (1940) (#0-713) (DC) #488 Very Fine
BATMAN (1940) (#0-713) (DC) #490 Very Fine
BATMAN (1940) (#0-713) (DC) #491 Near Mint/Mint
BATMAN (1940) (#0-713) (DC) #491 NEWSSTAND Fine
BATMAN (1940) (#0-713) (DC) #491 NEWSSTAND Very Good
BATMAN (1940) (#0-713) (DC) #492 Near Mint/Mint
BATMAN (1940) (#0-713) (DC) #492 NEWSSTAND Near Mint/Mint
BATMAN (1940) (#0-713) (DC) #492 NEWSSTAND Very Good
BATMAN (1940) (#0-713) (DC) #494 NEWSSTAND Very Fine
BATMAN (1940) (#0-713) (DC) #494 NEWSSTAND Fine
BATMAN (1940) (#0-713) (DC) #494 NEWSSTAND Very Good
BATMAN (1940) (#0-713) (DC) #497 Very Good
BATMAN (1940) (#0-713) (DC) #503 NEWSSTAND Near Mint/Mint

BATMAN (2011) (#0-52) (DC NEW52) #41 Near Mint/Mint

BATMAN/SUPERMAN (2013) #21 Near Mint/Mint

BATMAN/TEENAGE MUTANT NINJA TURTLES (2015) #1 Near Mint/Mint
BATMAN/TEENAGE MUTANT NINJA TURTLES (2015) #1 Very Fine

BATMAN: ARKHAM KNIGHT (2015) #10 Near Mint/Mint

BATMAN: EUROPA (2016) #2 Near Mint/Mint

BATMAN: SHADOW OF THE BAT (1992) #3 Near Mint/Mint
BATMAN: SHADOW OF THE BAT (1992) #9 Near Mint/Mint
BATMAN: SHADOW OF THE BAT (1992) #10 Near Mint/Mint


BATMAN: SHADOW OF THE BAT (1992) #11

BATMAN: SHADOW OF THE BAT (1992) #11 Near Mint/Mint
BATMAN: SHADOW OF THE BAT (1992) #13 Fine
BATMAN: SHADOW OF THE BAT (1992) #15 Near Mint/Mint

CONSTANTINE: THE HELLBLAZER (2015) #1 Very Fine

DARK KNIGHT III: THE MASTER RACE (2015) #2 Near Mint/Mint

DETECTIVE COMICS (1937) (#1-881) (DC) #576 NEWSSTAND Very Good
DETECTIVE COMICS (1937) (#1-881) (DC) #577 NEWSSTAND Fine
DETECTIVE COMICS (1937) (#1-881) (DC) #589 Fine
DETECTIVE COMICS (1937) (#1-881) (DC) #593 NEWSSTAND Very Good
DETECTIVE COMICS (1937) (#1-881) (DC) #594 NEWSSTAND Very Good
DETECTIVE COMICS (1937) (#1-881) (DC) #596 NEWSSTAND Very Good
DETECTIVE COMICS (1937) (#1-881) (DC) #597 NEWSSTAND Very Good
DETECTIVE COMICS (1937) (#1-881) (DC) #599 NEWSSTAND Very Good
DETECTIVE COMICS (1937) (#1-881) (DC) #601 NEWSSTAND Very Good
DETECTIVE COMICS (1937) (#1-881) (DC) #602 NEWSSTAND Very Good
DETECTIVE COMICS (1937) (#1-881) (DC) #604 NEWSSTAND Very Good
DETECTIVE COMICS (1937) (#1-881) (DC) #625 NEWSSTAND Very Fine
DETECTIVE COMICS (1937) (#1-881) (DC) #626 NEWSSTAND Near Mint/Mint
DETECTIVE COMICS (1937) (#1-881) (DC) #627 NEWSSTAND Fine
DETECTIVE COMICS (1937) (#1-881) (DC) #639 Near Mint/Mint
DETECTIVE COMICS (1937) (#1-881) (DC) #647 Very Fine
DETECTIVE COMICS (1937) (#1-881) (DC) #655 Near Mint/Mint
DETECTIVE COMICS (1937) (#1-881) (DC) #656 Very Fine
DETECTIVE COMICS (1937) (#1-881) (DC) #658 NEWSSTAND Near Mint/Mint

DETECTIVE COMICS (2011) (#0-52) (DC NEW52) #27 A Near Mint/Mint

FOREVER EVIL (2013) #6 Very Fine

JUSTICE LEAGUE (DC NEW52) (2011) #41 Near Mint/Mint

JUSTICE LEAGUE OF AMERICA (2015) #1 Very Fine

JUSTICE LEAGUE UNITED (2014) #14 Near Mint/Mint

LEGENDS OF THE DARK KNIGHT (BATMAN) (1989) #15 Near Mint/Mint
LEGENDS OF THE DARK KNIGHT (BATMAN) (1989) #17 Near Mint/Mint
LEGENDS OF THE DARK KNIGHT (BATMAN) (1989) #50 Fine
LEGENDS OF THE DARK KNIGHT (BATMAN) (1989) #50 Very Fine

SUPERGIRL (1985) (#1) (DC) #1 Near Mint/Mint

SUPERMAN (1939) (#1-423) (DC) #400 Near Mint/Mint

SUPERMAN (1986) (#0-226, #650-714) (DC) #22 Near Mint/Mint
SUPERMAN (1986) (#0-226, #650-714) (DC) #75 BAGGED Fine

WORLD OF KRYPTON (1987) #1 Near Mint/Mint
WORLD OF KRYPTON (1987) #3 Near Mint/Mint
WORLD OF KRYPTON (1987) #4 Near Mint/Mint

DARK HORSE COMICS
ABE SAPIEN (2013) #19 Very Fine
ABE SAPIEN (2013) #27 Near Mint/Mint

ANGEL & FAITH SEASON 10 (2014) #20 FISCHER Near Mint/Mint

BPRD: HELL ON EARTH (2013) #136 Near Mint/Mint

BUFFY THE VAMPIRE SLAYER SEASON 10 (2014) #8 ISAACS Very Fine

GROO: FRIENDS & FOES (2014) #2 Very Fine

STAR WARS: DARK EMPIRE (1992) #1 Near Mint/Mint
STAR WARS: DARK EMPIRE (1992) #2 Fine
STAR WARS: DARK EMPIRE (1992) #3 Near Mint/Mint
STAR WARS: DARK EMPIRE (1992) #4 Fine
STAR WARS: DARK EMPIRE (1992) #5 Fine
STAR WARS: DARK EMPIRE (1992) #6 Fine

STAR WARS: DARK EMPIRE II (1994) #1 Fine
STAR WARS: DARK EMPIRE II (1994) #2 Fine
STAR WARS: DARK EMPIRE II (1994) #3 Fine
STAR WARS: DARK EMPIRE II (1994) #4 Fine
STAR WARS: DARK EMPIRE II (1994) #5 Fine
STAR WARS: DARK EMPIRE II (1994) #6 Fine

STAR WARS: DROIDS (1994) #5 Fine

STAR WARS: HEIR TO THE EMPIRE (1995) #1 Near Mint/Mint
STAR WARS: HEIR TO THE EMPIRE (1995) #2 Fine
STAR WARS: HEIR TO THE EMPIRE (1995) #3 Near Mint/Mint


STAR WARS: HEIR TO THE EMPIRE (1995) #4

STAR WARS: HEIR TO THE EMPIRE (1995) #4 Near Mint/Mint
STAR WARS: HEIR TO THE EMPIRE (1995) #5 Near Mint/Mint
STAR WARS: HEIR TO THE EMPIRE (1995) #6 Near Mint/Mint

STAR WARS: TALES OF THE JEDI (1993) #5 Fine

SUPERMAN VS. ALIENS (1995) #1 Fine
SUPERMAN VS. ALIENS (1995) #2 Very Fine
SUPERMAN VS. ALIENS (1995) #3 Fine

SUPERMAN VS. TERMINATOR: DEATH TO THE FUTURE (2000) #1 Near Mint/Mint
SUPERMAN VS. TERMINATOR: DEATH TO THE FUTURE (2000) #3 Near Mint/Mint
SUPERMAN VS. TERMINATOR: DEATH TO THE FUTURE (2000) #4 Near Mint/Mint

IMAGE COMICS
BITCH PLANET (2014) #4 A Near Mint/Mint

BLACK MAGICK (2015) #1 B Near Mint/Mint

CHEW (2009) #48 Very Fine

CHRONONAUTS (2015) #1 F OTTLEY Very Fine

DESCENDER (2015) #4 Near Mint/Mint

HAUNT (2009) #25 Near Mint/Mint

INJECTION (2015) #3 A Near Mint/Mint

ISLAND (2015) #1 Very Fine

MAXX (1993) #20 Fine
MAXX (1993) #22 Fine
MAXX (1993) #23 Fine
MAXX (1993) #24 Fine
MAXX (1993) #25 Fine

MAXX (1993) #26 Near Mint/Mint
MAXX (1993) #27 Fine
MAXX (1993) #29 Very Fine

SPAWN (1992) #1 Very Good
SPAWN (1992) #9 Fine
SPAWN (1992) #30 NEWSSTAND Near Mint/Mint
SPAWN (1992) #31 NEWSSTAND Near Mint/Mint
SPAWN (1992) #32 NEWSSTAND Near Mint/Mint
SPAWN (1992) #185 PORTACIO Good
SPAWN (1992) #186 Very Fine
SPAWN (1992) #187 Very Fine
SPAWN (1992) #188 Near Mint/Mint
SPAWN (1992) #189 Very Fine
SPAWN (1992) #190 Fine
SPAWN (1992) #191 Fine
SPAWN (1992) #192 Very Fine
SPAWN (1992) #193 B&W Near Mint/Mint
SPAWN (1992) #194 Near Mint/Mint
SPAWN (1992) #195 Near Mint/Mint
SPAWN (1992) #196 Near Mint/Mint
SPAWN (1992) #197 Near Mint/Mint
SPAWN (1992) #198 Very Fine
SPAWN (1992) #199 Near Mint/Mint
SPAWN (1992) #200 B Near Mint/Mint
SPAWN (1992) #201 Near Mint/Mint
SPAWN (1992) #202 Near Mint/Mint
SPAWN (1992) #203 Near Mint/Mint
SPAWN (1992) #204 Near Mint/Mint
SPAWN (1992) #205 Near Mint/Mint
SPAWN (1992) #206 Near Mint/Mint
SPAWN (1992) #207 Near Mint/Mint
SPAWN (1992) #208 Near Mint/Mint
SPAWN (1992) #209 Near Mint/Mint
SPAWN (1992) #210 Near Mint/Mint
SPAWN (1992) #211 Near Mint/Mint
SPAWN (1992) #212 Near Mint/Mint
SPAWN (1992) #213 Near Mint/Mint
SPAWN (1992) #214 Near Mint/Mint
SPAWN (1992) #215 Near Mint/Mint
SPAWN (1992) #216 Near Mint/Mint
SPAWN (1992) #217 Near Mint/Mint
SPAWN (1992) #218 Near Mint/Mint

SPAWN (1992) #219 Near Mint/Mint
SPAWN (1992) #220 B Near Mint/Mint
SPAWN (1992) #221 A Near Mint/Mint
SPAWN (1992) #222 Near Mint/Mint
SPAWN (1992) #223 Near Mint/Mint
SPAWN (1992) #224 Near Mint/Mint
SPAWN (1992) #225 OBAMA Near Mint/Mint
SPAWN (1992) #226 Near Mint/Mint
SPAWN (1992) #227 Near Mint/Mint
SPAWN (1992) #228 Near Mint/Mint
SPAWN (1992) #229 Near Mint/Mint
SPAWN (1992) #230 Near Mint/Mint
SPAWN (1992) #231 Very Fine
SPAWN (1992) #232 Near Mint/Mint
SPAWN (1992) #233 Near Mint/Mint
SPAWN (1992) #235 Near Mint/Mint
SPAWN (1992) #236 Near Mint/Mint
SPAWN (1992) #237 Very Fine
SPAWN (1992) #238 Near Mint/Mint
SPAWN (1992) #239 Very Fine
SPAWN (1992) #240 Near Mint/Mint
SPAWN (1992) #241 Near Mint/Mint
SPAWN (1992) #242 Near Mint/Mint
SPAWN (1992) #243 Near Mint/Mint
SPAWN (1992) #244 Near Mint/Mint
SPAWN (1992) #245 Very Fine
SPAWN (1992) #246 Near Mint/Mint
SPAWN (1992) #247 Near Mint/Mint
SPAWN (1992) #248 Very Fine
SPAWN (1992) #249 Near Mint/Mint
SPAWN (1992) #250 MURPHY Near Mint/Mint

SPAWN RESURRECTION (2015) #1 MCFARLANE Near Mint/Mint

INDEPENDENTS
ADVENTURE TIME (2012) #36 A (Boom Studios Publishing) Near Mint/Mint
ADVENTURE TIME (2012) #39 A (Boom Studios Publishing) Near Mint/Mint
ADVENTURE TIME (2012) #40 A (Boom Studios Publishing) Near Mint/Mint
ADVENTURE TIME (2012) #40 B (Boom Studios Publishing) Near Mint/Mint

ADVENTURE TIME: MARCELINE GONE ADRIFT (2015) #5 B (Boom Studios Publishing) Near Mint/Mint

BACK ISSUE (TWOMORROWS) (2003) #85 (Twomorrows Publishing) Fine


CAVEWOMAN: FALLEN ONE-SHOT (2014) #1 C

CAVEWOMAN: FALLEN ONE-SHOT (2014) #1 C (Amryl Entertainment) Very Fine

CAVEWOMAN: MUTATION (2012) #1 MASSEYNUDE (Amryl Entertainment) Near Mint/Mint

CAVEWOMAN: NATURAL SELECTION (2012) #1 MASSEYNUDE (Amryl Entertainment) Near Mint/Mint
CAVEWOMAN: NATURAL SELECTION (2012) #1 MASSEYNUDE (Amryl Entertainment) Very Fine

CAVEWOMAN: PRIMAL ONE-SHOT (2013) #1 DURHAMNUDE (Amryl Entertainment) Near Mint/Mint

CAVEWOMAN: SEA MONSTERS (2013) #1 DURHAMNUDE (Amryl Entertainment) Very Fine

CHASTITY (2014) #2 LUPACCHINO (DYNAMITE Entertainment) Near Mint/Mint

CLUSTER (2015) #1 A (Boom Studios Publishing) Near Mint/Mint

DJANGO/ZORRO (2014) #2 LEE (DYNAMITE Entertainment) Near Mint/Mint

FAMOUS MONSTERS OF FILMLAND (#250-UP) (2010) #283 (IDW Publishing) Near Mint/Mint

FANGORIA (MAG) #344 (Starlog) Very Fine

GI JOE (#156-UP) (2010) #200 A (IDW Publishing) Very Fine

GOD IS DEAD (2013) #29 CARNAGE (Avatar Comics) Fine
GOD IS DEAD (2013) #38 (Avatar Comics) Near Mint/Mint
GOD IS DEAD (2013) #39 (Avatar Comics) Near Mint/Mint

GRIMM FAIRY TALES: HELSING (2014) #4 A (Zenescope Entertainment Inc) Fine

GRIMM FAIRY TALES: TALES OF TERROR (2014) #9 C (Zenescope Entertainment Inc) Near Mint/Mint

INSUFFERABLE (2015) #3 (IDW Publishing) Near Mint/Mint

JOHN CARTER: WARLORD OF MARS (2014) #9 BENES (DYNAMITE Entertainment) Near Mint/Mint

JUDGE DREDD MEGAZINE (VOL.4) (2001) #364 (Fleetway-Quality Comics) Fine
JUDGE DREDD MEGAZINE (VOL.4) (2001) #366 (Fleetway-Quality Comics) Very Fine
JUDGE DREDD MEGAZINE (VOL.4) (2001) #367 (Fleetway-Quality Comics) Near Mint/Mint

RUE MORGUE MAGAZINE (2003) #160 (MARRS MEDIA INC) Near Mint/Mint

TALES OF TERROR (1985) #1 (Eclipse Enterprises) Near Mint/Mint
TALES OF TERROR (1985) #2 (Eclipse Enterprises) Fine
TALES OF TERROR (1985) #3 (Eclipse Enterprises) Fine

TALES OF TERROR (1985) #4 (Eclipse Enterprises) Near Mint/Mint
TALES OF TERROR (1985) #5 (Eclipse Enterprises) Fine
TALES OF TERROR (1985) #6 (Eclipse Enterprises) Near Mint/Mint
TALES OF TERROR (1985) #6 (Eclipse Enterprises) Fine
TALES OF TERROR (1985) #7 (Eclipse Enterprises) Near Mint/Mint
TALES OF TERROR (1985) #8 (Eclipse Enterprises) Near Mint/Mint
TALES OF TERROR (1985) #9 (Eclipse Enterprises) Very Fine
TALES OF TERROR (1985) #10 (Eclipse Enterprises) Near Mint/Mint
TALES OF TERROR (1985) #11 (Eclipse Enterprises) Near Mint/Mint
TALES OF TERROR (1985) #12 (Eclipse Enterprises) Very Fine
TALES OF TERROR (1985) #13 (Eclipse Enterprises) Very Fine

TIGRESS #1 (Hero Comics) Near Mint/Mint

TWISTED TALES (1982) #7 (Pacific Comics) Fine
TWISTED TALES (1982) #8 (Pacific Comics) Fine
TWISTED TALES (1982) #9 (Pacific Comics) Fine
TWISTED TALES (1982) #10 (Pacific Comics) Fine
TWISTED TALES (1988) #1 (Eclipse Enterprises) Near Mint/Mint