Local News - New Silver Age Collection, Poker Tournament, Pro Wrestling
Howdy!
Life continues to be quite busy here at Mile High Comics. For starters, I returned home to Denver on Tuesday afternoon from another of my epic 1,000 mile drives, bringing back with me with 4,500 excellent comics from a choice collection in Lincoln, Nebraska. The X-MEN #94 and MS. MARVEL #18 from that new collection already sold this morning, but thousands of other great back issues from that deal are being added to our website inventory by Will and Pam this afternoon.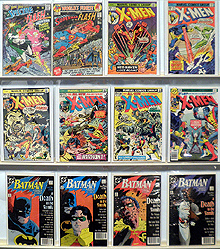 Comics from the Nebraska Collection

I mention that new collection because I want to be certain that you are aware that every single back issues listed for you in our daily Premium New-In-Stock listing can be made immediately available to you if you simply stop by our Jason St. Mega-Store. Hundreds of astute comics fans have already availed themselves of this wonderful new service, which only came about as a result of our recent consolidation of our 56th Ave. warehouse into Jason St.
To purchase any of the ten million comics which constitute our online inventory all you need to do is to stop by our "HELP DESK," which is conveniently located midway toward the rear of Jason St. If everyone is pulling orders at the moment you arrive, we have a very convenient bell that you can ring for instant service. Having this new "HELP DESK" in Jason St. has already doubled our back issue sales, so as I'm sure that you can well imagine, we are all thrilled by its success! This same instant availability applies to our 250,000 trade paperbacks and hardbacks...
In other local news, we are hosting a very special Texas Hold'em poker tournament at our Jason St. Mega- Store on Saturday morning, October 22nd. This tournament is a benefit for us to be able to purchase a bit more poker equipment, as we were so successful that we ran out of tables and chips during our tournament three weeks ago. We did some research online, and we can purchase 3 new poker tables (and chips) with the revenues from a 36-player tournament, or 4 tables if we get 45 players. Due to a shortage of dealers, we cannot handle more than 45 players for the tournament on the 22nd, so please do be sure and sign up in advance. Registration is $25, and as per usual, you will immediately receive a $25 gift certificate as a reward for registering in advance. Grand prize will be a $500 shopping spree.
My only other bit of news for today is a quick announcement about an awesome evening of pro wrestling that will take place at our Jason St. Mega-Store on Saturday evening, October 15th. New Era wrestling is inviting all 500 of their regular attendees to this event, so it could end up being quite a raucous, and a very fun evening for wrestling fans of all ages.
Happy Collecting!
Chuck Rozanski,
President - Mile High Comics, Inc.
September 29, 2016

MARVEL
AVENGERS (1963) (#1-402) (MARVEL) #212 Fine
AVENGERS (1963) (#1-402) (MARVEL) #212 Very Fine
AVENGERS (1963) (#1-402) (MARVEL) #216 Fine

AVENGERS (1963) (#1-402) (MARVEL) #216 Very Fine
AVENGERS (1963) (#1-402) (MARVEL) #217 Fine
AVENGERS (1963) (#1-402) (MARVEL) #217 Very Fine
AVENGERS (1963) (#1-402) (MARVEL) #224 Very Fine

CREATURES GIANT-SIZE (1974) #1 Near Mint/Mint

DAREDEVIL (1964) (#1-380) (MAN WITHOUT FEAR) (MARVEL) #144 Very Fine

HULK (1962) (#1-6, #102-635) (INCREDIBLE) (MARVEL) #113 Very Good
HULK (1962) (#1-6, #102-635) (INCREDIBLE) (MARVEL) #114 Fine
HULK (1962) (#1-6, #102-635) (INCREDIBLE) (MARVEL) #121 Fine
HULK (1962) (#1-6, #102-635) (INCREDIBLE) (MARVEL) #122 Fine
HULK (1962) (#1-6, #102-635) (INCREDIBLE) (MARVEL) #124 Very Fine
HULK (1962) (#1-6, #102-635) (INCREDIBLE) (MARVEL) #125 Fine
HULK (1962) (#1-6, #102-635) (INCREDIBLE) (MARVEL) #126 Good
HULK (1962) (#1-6, #102-635) (INCREDIBLE) (MARVEL) #128 Very Good
HULK (1962) (#1-6, #102-635) (INCREDIBLE) (MARVEL) #130 Fine
HULK (1962) (#1-6, #102-635) (INCREDIBLE) (MARVEL) #139 Very Fine
HULK (1962) (#1-6, #102-635) (INCREDIBLE) (MARVEL) #140 Fine
HULK (1962) (#1-6, #102-635) (INCREDIBLE) (MARVEL) #141 Very Fine
HULK (1962) (#1-6, #102-635) (INCREDIBLE) (MARVEL) #142 Fine
HULK (1962) (#1-6, #102-635) (INCREDIBLE) (MARVEL) #143 Near Mint/Mint
HULK (1962) (#1-6, #102-635) (INCREDIBLE) (MARVEL) #144 Near Mint/Mint
HULK (1962) (#1-6, #102-635) (INCREDIBLE) (MARVEL) #148 Very Fine
HULK (1962) (#1-6, #102-635) (INCREDIBLE) (MARVEL) #149 Fine
HULK (1962) (#1-6, #102-635) (INCREDIBLE) (MARVEL) #150 Fine

MARVEL FEATURE (1971) #1 Very Good

MARVEL PREMIERE (1972) #1 Very Fine
MARVEL PREMIERE (1972) #2 Near Mint/Mint
MARVEL PREMIERE (1972) #3 Very Fine
MARVEL PREMIERE (1972) #4 Very Fine
MARVEL PREMIERE (1972) #5 Very Fine
MARVEL PREMIERE (1972) #6 Near Mint/Mint
MARVEL PREMIERE (1972) #7 Very Fine
MARVEL PREMIERE (1972) #8 Very Fine
MARVEL PREMIERE (1972) #9 Near Mint/Mint
MARVEL PREMIERE (1972) #10 Very Good
MARVEL PREMIERE (1972) #11 Near Mint/Mint
MARVEL PREMIERE (1972) #12 Near Mint/Mint
MARVEL PREMIERE (1972) #13 Very Fine
MARVEL PREMIERE (1972) #14 Very Fine
MARVEL PREMIERE (1972) #18 Near Mint/Mint
MARVEL PREMIERE (1972) #19 Near Mint/Mint

MARVEL PREMIERE (1972) #20 Near Mint/Mint
MARVEL PREMIERE (1972) #21 Near Mint/Mint
MARVEL PREMIERE (1972) #22 Near Mint/Mint
MARVEL PREMIERE (1972) #23 Near Mint/Mint
MARVEL PREMIERE (1972) #24 Near Mint/Mint
MARVEL PREMIERE (1972) #25 Near Mint/Mint
MARVEL PREMIERE (1972) #26 Near Mint/Mint

MS. MARVEL (1977) (#1-23) (MARVEL) (CAROL DANVERS) #7 Very Fine
MS. MARVEL (1977) (#1-23) (MARVEL) (CAROL DANVERS) #8 Near Mint/Mint
MS. MARVEL (1977) (#1-23) (MARVEL) (CAROL DANVERS) #9 Near Mint/Mint
MS. MARVEL (1977) (#1-23) (MARVEL) (CAROL DANVERS) #10 Near Mint/Mint
MS. MARVEL (1977) (#1-23) (MARVEL) (CAROL DANVERS) #11 Fine
MS. MARVEL (1977) (#1-23) (MARVEL) (CAROL DANVERS) #12 Near Mint/Mint
MS. MARVEL (1977) (#1-23) (MARVEL) (CAROL DANVERS) #13 Very Fine
MS. MARVEL (1977) (#1-23) (MARVEL) (CAROL DANVERS) #14 Near Mint/Mint
MS. MARVEL (1977) (#1-23) (MARVEL) (CAROL DANVERS) #15 Very Fine
MS. MARVEL (1977) (#1-23) (MARVEL) (CAROL DANVERS) #15 Very Good
MS. MARVEL (1977) (#1-23) (MARVEL) (CAROL DANVERS) #16 Near Mint/Mint
MS. MARVEL (1977) (#1-23) (MARVEL) (CAROL DANVERS) #17 Very Fine
MS. MARVEL (1977) (#1-23) (MARVEL) (CAROL DANVERS) #18 Near Mint/Mint
MS. MARVEL (1977) (#1-23) (MARVEL) (CAROL DANVERS) #19 Very Fine
MS. MARVEL (1977) (#1-23) (MARVEL) (CAROL DANVERS) #20 Near Mint/Mint

SILVER SURFER (1968) #5 Fine
SILVER SURFER (1968) #6 Very Good
SILVER SURFER (1968) #7 Very Fine
SILVER SURFER (1968) #8 Fine
SILVER SURFER (1968) #9 Very Good
SILVER SURFER (1968) #11 Very Fine
SILVER SURFER (1968) #12 Very Fine
SILVER SURFER (1968) #13 Very Fine
SILVER SURFER (1968) #14 Very Fine

SILVER SURFER (1968) #15 Very Fine
SILVER SURFER (1968) #16 Near Mint/Mint
SILVER SURFER (1968) #17 Very Fine
SILVER SURFER (1968) #18 Very Fine

TALES TO ASTONISH (1959) #96 Fair
TALES TO ASTONISH (1959) #97 Good
TALES TO ASTONISH (1959) #98 Good
TALES TO ASTONISH (1959) #99 Good
TALES TO ASTONISH (1959) #100 Very Good
TALES TO ASTONISH (1959) #101 Fine

TOMB OF DRACULA (1972) #3 Fine
TOMB OF DRACULA (1972) #4 Fine
TOMB OF DRACULA (1972) #5 Very Fine
TOMB OF DRACULA (1972) #6 Fine
TOMB OF DRACULA (1972) #8 Good
TOMB OF DRACULA (1972) #11 Very Fine
TOMB OF DRACULA (1972) #12 Very Fine
TOMB OF DRACULA (1972) #13 Very Fine
TOMB OF DRACULA (1972) #14 Near Mint/Mint

WEREWOLF BY NIGHT (1972) #1 Fine
WEREWOLF BY NIGHT (1972) #2 Very Fine
WEREWOLF BY NIGHT (1972) #3 Very Fine
WEREWOLF BY NIGHT (1972) #4 Very Fine
WEREWOLF BY NIGHT (1972) #5 Very Good
WEREWOLF BY NIGHT (1972) #6 Very Fine

WOLVERINE (1982) #1 NEWSSTAND Very Fine
WOLVERINE (1982) #2 Very Fine
WOLVERINE (1982) #3 Very Good
WOLVERINE (1982) #4 NEWSSTAND Very Good

WOLVERINE (1988) #1 Near Mint/Mint
WOLVERINE (1988) #10 NEWSSTAND Very Fine

X-MEN (1963) (#1-113, UNCANNY X-MEN #114-544) (MARVEL) #9 Very Good
X-MEN (1963) (#1-113, UNCANNY X-MEN #114-544) (MARVEL) #10 Good
X-MEN (1963) (#1-113, UNCANNY X-MEN #114-544) (MARVEL) #11 Very Good
X-MEN (1963) (#1-113, UNCANNY X-MEN #114-544) (MARVEL) #12 Very Good

X-MEN (1963) (#1-113, UNCANNY X-MEN #114-544) (MARVEL) #14 Good
X-MEN (1963) (#1-113, UNCANNY X-MEN #114-544) (MARVEL) #92 Good
X-MEN (1963) (#1-113, UNCANNY X-MEN #114-544) (MARVEL) #93 Very Good
X-MEN (1963) (#1-113, UNCANNY X-MEN #114-544) (MARVEL) #94 Near Mint/Mint
X-MEN (1963) (#1-113, UNCANNY X-MEN #114-544) (MARVEL) #95 Fine
X-MEN (1963) (#1-113, UNCANNY X-MEN #114-544) (MARVEL) #96 Good
X-MEN (1963) (#1-113, UNCANNY X-MEN #114-544) (MARVEL) #99 Near Mint/Mint
X-MEN (1963) (#1-113, UNCANNY X-MEN #114-544) (MARVEL) #100 Near Mint/Mint
X-MEN (1963) (#1-113, UNCANNY X-MEN #114-544) (MARVEL) #266 NEWSSTAND Near Mint/Mint

DC
ADVENTURE COMICS (1938) #379 Very Good

BATMAN (1940) (#0-713) (DC) #426 NEWSSTAND Fine
BATMAN (1940) (#0-713) (DC) #427 NEWSSTAND Fine
BATMAN (1940) (#0-713) (DC) #428 NEWSSTAND Very Fine
BATMAN (1940) (#0-713) (DC) #429 NEWSSTAND Fine

BRAVE AND THE BOLD (1955) #72 Good

CAPTAIN ACTION (1968) #1 Good
CAPTAIN ACTION (1968) #1 Very Good
CAPTAIN ACTION (1968) #2 Good
CAPTAIN ACTION (1968) #2 Very Good

JIMMY OLSEN (1954) #97 Good
JIMMY OLSEN (1954) #97 Very Good
JIMMY OLSEN (1954) #99 Good
JIMMY OLSEN (1954) #99 Fine
JIMMY OLSEN (1954) #99 Very Good
JIMMY OLSEN (1954) #106 Very Good
JIMMY OLSEN (1954) #110 Fine
JIMMY OLSEN (1954) #123 Fine

SUPERMAN (1939) #190 Fine
SUPERMAN (1939) #191 Very Good

SUPERMAN (1939) #195 Very Good
SUPERMAN (1939) #290 Fine

WORLDS FINEST (1941) #198 Fine