60% Off All Silver Age Comics
Howdy!
A very short newsletter today, as I am off for eastern Nebraska to look at yet another collection. This is a continuation of my efforts to greatly increase our offerings of great comics for you during the second half of 2016. Upcoming buying trips include Las Vegas (October 3rd), Central Arizona (October 10th), and the upper East Coast and Southern Canada (October 17th). If you live in any of these areas and have a collection that you might wish to sell, please contact my assistant, Will Moulton, at moulton@milehighcomics.com.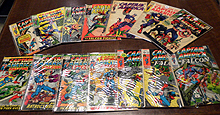 Some of the Captain America comics from the California collections

As regards the collections that I purchased in the Bay Area last week, Will and Pam have already been grading comics from those awesome collections. Take a look at our Premium New-In-Stock link from the past week, and you will be able to see a sampling of what I purchased. An interesting side note is that the two largest collections that I bought in CA were polar opposites as regards condition. One collection was nothing but Fair/Good/VG, while the other was nothing but Fine/VF/NM. The boxes from the two collections were scrambled when I packed them for shipment, which explains why you'll see such unusual groupings of grades in Premium New-In-Stock.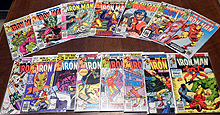 Some of the Iron Man comics from the California collections

On a closely related note, please do not forget that we have a 60% off NANETTE2 codeword sale in effect for you right now on all ten million of our back issue comics, including all of the great Silver and Bronze Age comics that I just purchased in California. This new codeword sale is my way of helping you be able to afford to add some of these great comics to your collection at significant savings. Please enjoy!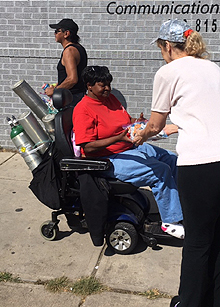 ICRME Empress 43 Norrie Reynolds passing out free meals to the homeless on Thursday at the St. Francis Center.

My only other bit of news for today is that our benefit auction for "Feeding Denver's Hungry" that we held last Saturday was quite successful. I am hoping to add to our donation to this very worthy cause with a few more contributions this week from those of you who live outside of Denver. My offer to you is quite generous: order a $25 gift certificate from us, and we'll either mail you the certificate, or e-mail you the registration number.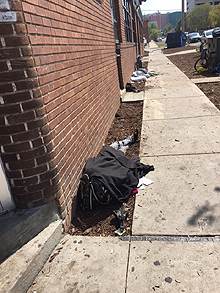 Homeless teens sleeping next to the Urban Peak building on Thursday.

You can then use all of that $25 certificate to reduce the cost of your next order with us. In the meantime, I will then donate your $25 donation to "Feeding Denver's Hungry" via my involvement with the Imperial Court of the Rocky Mountain Empire. I will also enter your name into a drawing that will be held this upcoming Saturday morning for a $1,000 Mile High Comics shopping spree. Your cost to enter this drawing is essentially nothing, as you get all of your $25 donation back in comics that I am personally contributing. Cold weather is coming, so please help, if you can. Every $1 you contribute pays for $20 in food at the Food Bank of the Rockies...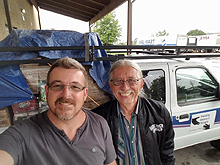 Chuck and "Feeding Denver's Hungry" founder Jim Scharper picking up at Food Bank of the Rockies.

Happy Collecting!
Chuck Rozanski,
President - Mile High Comics, Inc.
September 26, 2016