New Comics Collections Arrive - Half Price Sale
Howdy!
I spent over 20 hours between Friday, Saturday, and Sunday sorting comics for you from several large private collections that we just purchased. I am pleased to report that I kept going for so long because I discovered a delightful mix of Silver Age, Bronze Age, Copper Age, and Modern titles that we very much needed to fill in holes in our website inventory. I was so successful that I estimate that when Will and Pam get done with grading my treasures, that we will have filled at least 500 complete zeros on our website. Woo!
In case you are wondering, I get so excited about locating issues that we are missing because I still operate under the "old school" comic book dealer philosophy of trying to simultaneously keep in stock every single comic book, comics magazine, trade paperback, and comics hardback published since 1961. Given enough working capital, that task would have actually been relatively easy to accomplish when I began selling comics as a professional, way back in February of 1970. That having been said, I started out dirt poor (and living in my car...), so of course I never had the working capital to do the job right. Nonetheless, I persevered, and just kept right on buying more collections.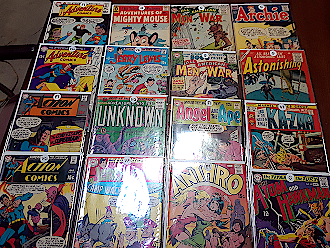 Some of the comics that just came in today!

It is now over 48 years since I first began my Herculean undertaking of trying to stock all of the comics published since 1961, and despite now owning well over ten million comics and books, I still do not have the means necessary. In great measure my inadequacy of working capital results from the simple truth that more comics are being published every single week, thus adding to the huge number of titles, issue numbers, variants, and grades that we need to stock in order to achieve my goal. In great measure, this is why I am the last "old school" comics dealer left in the world. Depending on your perspective, I am either too stubborn, or just too damn dumb, to give in to the seemingly inevitable conclusion that stocking everything published since 1961 just can't be done.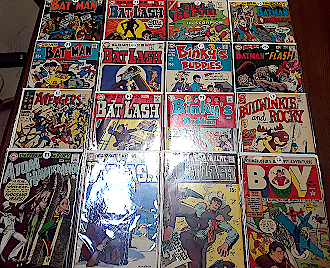 Some more of the comics that just came in today!

Well, I may be tilting at the proverbial windmills, but I simply refuse to give up . Watch our Premium New-In-Stock and the (much larger) overall New-In-Stock links this week, and you will see the tangible proof of the many thousands of scarce comics that we keep adding. I may never be able to win this inventory stocking war, but thanks to the kindness and support of our many thousands of supporters all around America and everywhere in the world, we are steadily adding to what has become the single largest selection of comic books, comic magazines, trade paperbacks, and hardbacks ever assembled in the history of the world. If you have placed an order with us, or shopped in one of our stores, I sincerely thank you!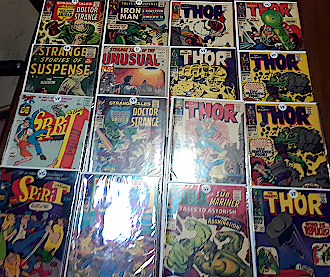 Even more of the comics that just came in today!

I will close today's newsletter by quickly mentioning that my beloved wife of 40+ years, Nanette, has told me (in no uncertain terms...) that I need to keep the 50% off codeword that I named after her in effect for you for another week if I want to be able to buy any more collections. As she has so cogently pointed out, I have no choice but to sell at least a few of my comics if I want to have the means with which to purchase more. Grrr...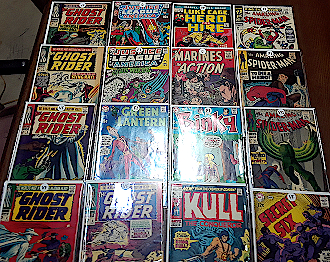 Still even more of the comics that just came in today!

The 50% off NANETTE! codeword applies to all ten million of our back issue comics and magazines, excluding only new issues, a few variants, and our professionally-graded issues. Please do enjoy this great half price sale with Nanette's heartfelt blessing, and my grumbling acquiescence.
Happy collecting!
Chuck Rozanski,
President - Mile High Comics, Inc.
September 24, 2018