Huge 60% Off Comics and Magazines Sale Ending Monday
Hi!
This is William with Mile High Comics. Chuck is out on the East Coast and asked me to write this newsletter. Chuck just called and he bought another collection. I don't know much about the collection but it will be three very full pallets so somewhere around 30,000 comics. More information on this collection Monday.

MOON KNIGHT (1989) (#1-60) (MARVEL) (MARC SPECTOR) #55

Meanwhile back here in Colorado our 60% off LABORDAY sale on all back issue comics and magazine (excluding only new issues, a few variants, and our professionally-graded comics) is running great. This sale will END Monday September 10th so if you see something you really want, now is the time to get that order in at only 40% of retail!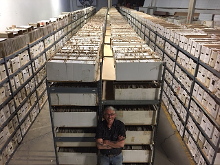 Chuck infront of our Back Issue Files

Even with pulling labor from other departments to make sure all the orders get out. We are still entering in some really great comics into our system. At the end of this newsletter I will link to just the stuff we uploaded today. As you will be able to tell, we are getting in tons of collections with all kinds of comics.
Have a Great Weekend!
William Moulton,
Executive Buyer - Mile High Comics, Inc.
September 7, 2018

P.S. This is just some of the stuff we put on today:
MARVEL

ANNIHILATION: SILVER SURFER (MARVEL) (2006) #3

ANNIHILATION: SILVER SURFER (MARVEL) (2006) #3 Near Mint/Mint

BLACK PANTHER (1998) (#1-62) (MARVEL) #7 Fine
BLACK PANTHER (1998) (#1-62) (MARVEL) #8 Fine
BLACK PANTHER (1998) (#1-62) (MARVEL) #9 Very Fine
BLACK PANTHER (1998) (#1-62) (MARVEL) #12 Fine
BLACK PANTHER (1998) (#1-62) (MARVEL) #14 Fine
BLACK PANTHER (1998) (#1-62) (MARVEL) #15 Near Mint/Mint
BLACK PANTHER (1998) (#1-62) (MARVEL) #16 Near Mint/Mint
BLACK PANTHER (1998) (#1-62) (MARVEL) #18 Near Mint/Mint
BLACK PANTHER (1998) (#1-62) (MARVEL) #19 Fine
BLACK PANTHER (1998) (#1-62) (MARVEL) #20 Near Mint/Mint
BLACK PANTHER (1998) (#1-62) (MARVEL) #21 Near Mint/Mint
BLACK PANTHER (1998) (#1-62) (MARVEL) #22 Very Fine
BLACK PANTHER (1998) (#1-62) (MARVEL) #23 Fine
BLACK PANTHER (1998) (#1-62) (MARVEL) #24 Very Fine
BLACK PANTHER (1998) (#1-62) (MARVEL) #25 Near Mint/Mint
BLACK PANTHER (1998) (#1-62) (MARVEL) #26 Near Mint/Mint
BLACK PANTHER (1998) (#1-62) (MARVEL) #27 Near Mint/Mint
BLACK PANTHER (1998) (#1-62) (MARVEL) #28 Near Mint/Mint
BLACK PANTHER (1998) (#1-62) (MARVEL) #29 Near Mint/Mint
BLACK PANTHER (1998) (#1-62) (MARVEL) #30 Very Fine
BLACK PANTHER (1998) (#1-62) (MARVEL) #31 Fine
BLACK PANTHER (1998) (#1-62) (MARVEL) #34 Near Mint/Mint
BLACK PANTHER (1998) (#1-62) (MARVEL) #35 Near Mint/Mint
BLACK PANTHER (1998) (#1-62) (MARVEL) #36 Very Fine
BLACK PANTHER (1998) (#1-62) (MARVEL) #37 Near Mint/Mint
BLACK PANTHER (1998) (#1-62) (MARVEL) #38 Very Fine
BLACK PANTHER (1998) (#1-62) (MARVEL) #39 Fine
BLACK PANTHER (1998) (#1-62) (MARVEL) #40 Near Mint/Mint
BLACK PANTHER (1998) (#1-62) (MARVEL) #41 Very Fine
BLACK PANTHER (1998) (#1-62) (MARVEL) #42 Near Mint/Mint
BLACK PANTHER (1998) (#1-62) (MARVEL) #44 Very Fine
BLACK PANTHER (1998) (#1-62) (MARVEL) #45 Near Mint/Mint
BLACK PANTHER (1998) (#1-62) (MARVEL) #46 Near Mint/Mint
BLACK PANTHER (1998) (#1-62) (MARVEL) #47 Fine
BLACK PANTHER (1998) (#1-62) (MARVEL) #48 Near Mint/Mint
BLACK PANTHER (1998) (#1-62) (MARVEL) #49 Fine
BLACK PANTHER (1998) (#1-62) (MARVEL) #50 Near Mint/Mint
BLACK PANTHER (1998) (#1-62) (MARVEL) #52 Near Mint/Mint
BLACK PANTHER (1998) (#1-62) (MARVEL) #54 Fine
BLACK PANTHER (1998) (#1-62) (MARVEL) #56 Very Fine
BLACK PANTHER (1998) (#1-62) (MARVEL) #57 Fine


BLACK PANTHER (1998) (#1-62) (MARVEL) #58

BLACK PANTHER (1998) (#1-62) (MARVEL) #58 Fine
BLACK PANTHER (1998) (#1-62) (MARVEL) #59 Near Mint/Mint
BLACK PANTHER (1998) (#1-62) (MARVEL) #60 Near Mint/Mint
BLACK PANTHER (1998) (#1-62) (MARVEL) #62 Very Fine

BLACK PANTHER (2005) (#1-41) (MARVEL) #1 Near Mint/Mint
BLACK PANTHER (2005) (#1-41) (MARVEL) #2 Near Mint/Mint
BLACK PANTHER (2005) (#1-41) (MARVEL) #7 Very Fine
BLACK PANTHER (2005) (#1-41) (MARVEL) #8 Fine
BLACK PANTHER (2005) (#1-41) (MARVEL) #9 Near Mint/Mint
BLACK PANTHER (2005) (#1-41) (MARVEL) #13 Near Mint/Mint
BLACK PANTHER (2005) (#1-41) (MARVEL) #17 Near Mint/Mint
BLACK PANTHER (2005) (#1-41) (MARVEL) #18 Near Mint/Mint
BLACK PANTHER (2005) (#1-41) (MARVEL) #20 Fine
BLACK PANTHER (2005) (#1-41) (MARVEL) #21 Near Mint/Mint
BLACK PANTHER (2005) (#1-41) (MARVEL) #25 Near Mint/Mint
BLACK PANTHER (2005) (#1-41) (MARVEL) #34 Near Mint/Mint
BLACK PANTHER (2005) (#1-41) (MARVEL) #35 Near Mint/Mint
BLACK PANTHER (2005) (#1-41) (MARVEL) #36 Near Mint/Mint
BLACK PANTHER (2005) (#1-41) (MARVEL) #39 Near Mint/Mint

BLACK PANTHER (2009) (#1-12 & #513-529) (MARVEL) #1 VARIANT Near Mint/Mint
BLACK PANTHER (2009) (#1-12 & #513-529) (MARVEL) #2 Fine
BLACK PANTHER (2009) (#1-12 & #513-529) (MARVEL) #3 Very Fine
BLACK PANTHER (2009) (#1-12 & #513-529) (MARVEL) #4 Fine
BLACK PANTHER (2009) (#1-12 & #513-529) (MARVEL) #5 Near Mint/Mint
BLACK PANTHER (2009) (#1-12 & #513-529) (MARVEL) #11 Near Mint/Mint
BLACK PANTHER (2009) (#1-12 & #513-529) (MARVEL) #12 Near Mint/Mint
BLACK PANTHER (2009) (#1-12 & #513-529) (MARVEL) #516 Fine
BLACK PANTHER (2009) (#1-12 & #513-529) (MARVEL) #519 Very Fine
BLACK PANTHER (2009) (#1-12 & #513-529) (MARVEL) #521 Near Mint/Mint
BLACK PANTHER (2009) (#1-12 & #513-529) (MARVEL) #522 Fine
BLACK PANTHER (2009) (#1-12 & #513-529) (MARVEL) #523 Fine
BLACK PANTHER (2009) (#1-12 & #513-529) (MARVEL) #524 Very Fine
BLACK PANTHER (2009) (#1-12 & #513-529) (MARVEL) #526 Very Fine
BLACK PANTHER (2009) (#1-12 & #513-529) (MARVEL) #527 Fine
BLACK PANTHER (2009) (#1-12 & #513-529) (MARVEL) #528 Near Mint/Mint

BLACK PANTHER (2016) (#1-18) (MARVEL) #2 Near Mint/Mint
BLACK PANTHER (2016) (#1-18) (MARVEL) #8 Fine

BLACK WIDOW (2014) (#1-20) (MARVEL) #1 Near Mint/Mint
BLACK WIDOW (2014) (#1-20) (MARVEL) #2 Very Fine
BLACK WIDOW (2014) (#1-20) (MARVEL) #3 Very Fine


BLACK WIDOW (2014) (#1-20) (MARVEL) #4

BLACK WIDOW (2014) (#1-20) (MARVEL) #4 Near Mint/Mint
BLACK WIDOW (2014) (#1-20) (MARVEL) #5 Near Mint/Mint
BLACK WIDOW (2014) (#1-20) (MARVEL) #7 Near Mint/Mint
BLACK WIDOW (2014) (#1-20) (MARVEL) #9 Near Mint/Mint
BLACK WIDOW (2014) (#1-20) (MARVEL) #10 Near Mint/Mint
BLACK WIDOW (2014) (#1-20) (MARVEL) #11 Near Mint/Mint
BLACK WIDOW (2014) (#1-20) (MARVEL) #13 Near Mint/Mint
BLACK WIDOW (2014) (#1-20) (MARVEL) #14 Near Mint/Mint
BLACK WIDOW (2014) (#1-20) (MARVEL) #15 Near Mint/Mint
BLACK WIDOW (2014) (#1-20) (MARVEL) #16 Near Mint/Mint
BLACK WIDOW (2014) (#1-20) (MARVEL) #17 Near Mint/Mint
BLACK WIDOW (2014) (#1-20) (MARVEL) #20 Near Mint/Mint

BLACK WIDOW (2016) (#1-UP) (MARVEL) #1 Near Mint/Mint
BLACK WIDOW (2016) (#1-UP) (MARVEL) #3 Very Fine

BLACK WIDOW: DEADLY ORIGIN (2009) #3 Near Mint/Mint
BLACK WIDOW: DEADLY ORIGIN (2009) #4 Near Mint/Mint

BUCKY BARNES: WINTER SOLDIER (2014) #3 Near Mint/Mint
BUCKY BARNES: WINTER SOLDIER (2014) #4 Near Mint/Mint
BUCKY BARNES: WINTER SOLDIER (2014) #6 Near Mint/Mint
BUCKY BARNES: WINTER SOLDIER (2014) #9 Near Mint/Mint

BULLSEYE: GREATEST HITS (2004) #5 Near Mint/Mint

CABLE (1993) (#1-107) (MARVEL) #1 Near Mint/Mint
CABLE (1993) (#1-107) (MARVEL) #16 DELUXE Very Fine

CABLE (2008) (#1-25) (MARVEL) #14 VARIANT Very Fine
CABLE (2008) (#1-25) (MARVEL) #15 VARIANT Very Fine

CABLE/MACHINE MAN 1998 MARVEL ANNUAL (1998) #1 Near Mint/Mint

CAPTAIN AMERICA & THE MIGHTY AVENGERS (2014) #8 Near Mint/Mint
CAPTAIN AMERICA & THE MIGHTY AVENGERS (2014) #9 Near Mint/Mint

CAPTAIN AMERICA: STEVE ROGERS (2016) #1 Near Mint/Mint
CAPTAIN AMERICA: STEVE ROGERS (2016) #2 Very Fine
CAPTAIN AMERICA: STEVE ROGERS (2016) #4 Near Mint/Mint

CATACLYSM: ULTIMATES - LAST STAND (2013) #3 Very Fine

CIVIL WAR (2006) (#1-7) #2 Near Mint/Mint
CIVIL WAR (2006) (#1-7) #5 Fine
CIVIL WAR (2006) (#1-7) #6 Near Mint/Mint
CIVIL WAR (2006) (#1-7) #7 Very Good

CIVIL WAR II: CHOOSING SIDES (2016) #1 Near Mint/Mint

CIVIL WAR: HOUSE OF M (2008) #1 Fine
CIVIL WAR: HOUSE OF M (2008) #2 Near Mint/Mint
CIVIL WAR: HOUSE OF M (2008) #3 Near Mint/Mint
CIVIL WAR: HOUSE OF M (2008) #4 Near Mint/Mint
CIVIL WAR: HOUSE OF M (2008) #5 Very Good

CIVIL WAR: INITIATIVE (2007) #1 Fine

CIVIL WAR: WAR CRIMES ONE-SHOT (2006) #1 Fine

CONAN (1997) (#1-3) (MARVEL) #1 Very Fine
CONAN (1997) (#1-3) (MARVEL) #2 Near Mint/Mint

CONTEST OF CHAMPIONS II (1999) #5 Near Mint/Mint

COSMIC POWERS (1994) #1 NEWSSTAND Near Mint/Mint
COSMIC POWERS (1994) #6 Near Mint/Mint

COSMIC POWERS UNLIMITED (1995) #1 Near Mint/Mint

EXCALIBUR (1988) (#1-125) (MARVEL) #121 Very Fine
EXCALIBUR (1988) (#1-125) (MARVEL) #123 Very Fine
EXCALIBUR (1988) (#1-125) (MARVEL) #124 Near Mint/Mint

FANTASTIC FOUR (1961) (#1-416) (MARVEL) #94 Good
FANTASTIC FOUR (1961) (#1-416) (MARVEL) #95 Good
FANTASTIC FOUR (1961) (#1-416) (MARVEL) #126 Good

GALACTUS THE DEVOURER (1999) #5 Very Fine

GAMBIT (1999) (#1-25) (MARVEL) #18 Near Mint/Mint

GAMBIT 1999 ANNUAL #1 Very Fine

GHOST RIDER (1990) (#1-94) (MARVEL) #50 FOIL COVER Very Fine

GI JOE #13 NEWSSTAND Good
GI JOE #96 NEWSSTAND Very Good
GI JOE #97 NEWSSTAND Very Good
GI JOE #103 NEWSSTAND Very Good
GI JOE #104 NEWSSTAND Very Good

GUARDIANS OF THE GALAXY (2008) (#1-25) (MARVEL) #6 Very Good

HAUNT OF HORROR: LOVECRAFT (2008) #2 Near Mint/Mint

HULK (1962) (#1-6, #102-474, #600-635)(INCREDIBLE)(MV) #418 SPECIAL Very Fine

INFINITY GAUNTLET (1991) #1 CGC 8.5 Very Fine

IRON FIST (1998) (#1-3) (MARVEL) #1 Very Fine
IRON FIST (1998) (#1-3) (MARVEL) #2 Near Mint/Mint

MARVEL UNIVERSE: THE END (2003) #6 Very Fine

MOON KNIGHT (1989) (#1-60) (MARVEL) (MARC SPECTOR) #55 Near Mint/Mint
MOON KNIGHT (1989) (#1-60) (MARVEL) (MARC SPECTOR) #55 Very Fine

MS. MARVEL (2006) (#1-50) (MARVEL) (CAROL DANVERS) #25 Near Mint/Mint

NEW MUTANTS (1983) (#1-100) (MARVEL) #87 2ND PRT Good
NEW MUTANTS (1983) (#1-100) (MARVEL) #98 CGC 8.5 Very Fine

PUNISHER (2011) (#1-16) (MARVEL) #5 Near Mint/Mint
PUNISHER (2011) (#1-16) (MARVEL) #10 Very Fine
PUNISHER (2011) (#1-16) (MARVEL) #16 Very Fine

PUNISHER (2014) (#1-20) (ALL-NEW MARVEL NOW) #1 Near Mint/Mint
PUNISHER (2014) (#1-20) (ALL-NEW MARVEL NOW) #2 Near Mint/Mint
PUNISHER (2014) (#1-20) (ALL-NEW MARVEL NOW) #8 Near Mint/Mint
PUNISHER (2014) (#1-20) (ALL-NEW MARVEL NOW) #9 Near Mint/Mint
PUNISHER (2014) (#1-20) (ALL-NEW MARVEL NOW) #11 Near Mint/Mint
PUNISHER (2014) (#1-20) (ALL-NEW MARVEL NOW) #12 Near Mint/Mint
PUNISHER (2014) (#1-20) (ALL-NEW MARVEL NOW) #13 Very Fine
PUNISHER (2014) (#1-20) (ALL-NEW MARVEL NOW) #14 Near Mint/Mint
PUNISHER (2014) (#1-20) (ALL-NEW MARVEL NOW) #18 Near Mint/Mint

PUNISHER (2016) (#1-17) (MARVEL) #2 Near Mint/Mint

PUNISHER ANNUAL (2016) #1 Near Mint/Mint

PUNISHER WAR ZONE (2008) #5 Very Fine

PUNISHER: CELL ONE-SHOT (2005) #1 Near Mint/Mint

PUNISHER: THE END (2004) #1 Near Mint/Mint

PUNISHER: TRIAL OF THE PUNISHER (2013) #1 Near Mint/Mint
PUNISHER: TRIAL OF THE PUNISHER (2013) #2 Near Mint/Mint

THOR (1998) (#1-85) (MARVEL) #1 VARIANT Near Mint/Mint

UNCANNY X-MEN (2013) (#1-35, 600) (MARVEL) #9 Near Mint/Mint
UNCANNY X-MEN (2013) (#1-35, 600) (MARVEL) #12 Near Mint/Mint
UNCANNY X-MEN (2013) (#1-35, 600) (MARVEL) #16 Near Mint/Mint
UNCANNY X-MEN (2013) (#1-35, 600) (MARVEL) #19 Near Mint/Mint
UNCANNY X-MEN (2013) (#1-35, 600) (MARVEL) #23 Near Mint/Mint
UNCANNY X-MEN (2013) (#1-35, 600) (MARVEL) #29 Near Mint/Mint

UNCANNY X-MEN (2016) (#1-19) (MARVEL) #1 Near Mint/Mint
UNCANNY X-MEN (2016) (#1-19) (MARVEL) #2 Near Mint/Mint
UNCANNY X-MEN (2016) (#1-19) (MARVEL) #4 Near Mint/Mint

UNWORTHY THOR (MARVEL NOW) (2016) #1 Near Mint/Mint
UNWORTHY THOR (MARVEL NOW) (2016) #2 Near Mint/Mint

VENOM ON TRIAL (1997) #1 Very Fine
VENOM ON TRIAL (1997) #2 Very Fine
VENOM ON TRIAL (1997) #3 Very Fine

VENOM: LETHAL PROTECTOR (1993) #1 Near Mint/Mint

WARLOCK AND THE INFINITY WATCH (1992) #23 Near Mint/Mint
WARLOCK AND THE INFINITY WATCH (1992) #25 Very Fine

X-FORCE (1991) (#1-129) (MARVEL) #11 Very Good

X-MEN (1963) (#1-113, UNCANNY X-MEN #114-544) (MARVEL) #424 Near Mint/Mint
X-MEN (1963) (#1-113, UNCANNY X-MEN #114-544) (MARVEL) #425 Near Mint/Mint
X-MEN (1963) (#1-113, UNCANNY X-MEN #114-544) (MARVEL) #426 Near Mint/Mint
X-MEN (1963) (#1-113, UNCANNY X-MEN #114-544) (MARVEL) #450 Very Fine
X-MEN (1963) (#1-113, UNCANNY X-MEN #114-544) (MARVEL) #451 Very Fine


X-MEN (1963) (#1-113, UNCANNY X-MEN #114-544) (MARVEL) #464

X-MEN (1963) (#1-113, UNCANNY X-MEN #114-544) (MARVEL) #464 Near Mint/Mint
X-MEN (1963) (#1-113, UNCANNY X-MEN #114-544) (MARVEL) #472 Near Mint/Mint
X-MEN (1963) (#1-113, UNCANNY X-MEN #114-544) (MARVEL) #479 Near Mint/Mint
X-MEN (1963) (#1-113, UNCANNY X-MEN #114-544) (MARVEL) #480 Near Mint/Mint
X-MEN (1963) (#1-113, UNCANNY X-MEN #114-544) (MARVEL) #482 Near Mint/Mint
X-MEN (1963) (#1-113, UNCANNY X-MEN #114-544) (MARVEL) #483 Near Mint/Mint
X-MEN (1963) (#1-113, UNCANNY X-MEN #114-544) (MARVEL) #484 Very Fine
X-MEN (1963) (#1-113, UNCANNY X-MEN #114-544) (MARVEL) #486 Fine
X-MEN (1963) (#1-113, UNCANNY X-MEN #114-544) (MARVEL) #489 Very Fine
X-MEN (1963) (#1-113, UNCANNY X-MEN #114-544) (MARVEL) #491 Very Fine
X-MEN (1963) (#1-113, UNCANNY X-MEN #114-544) (MARVEL) #492 Very Fine
X-MEN (1963) (#1-113, UNCANNY X-MEN #114-544) (MARVEL) #493 Fine
X-MEN (1963) (#1-113, UNCANNY X-MEN #114-544) (MARVEL) #494 Fine
X-MEN (1963) (#1-113, UNCANNY X-MEN #114-544) (MARVEL) #495 Near Mint/Mint
X-MEN (1963) (#1-113, UNCANNY X-MEN #114-544) (MARVEL) #496 Very Fine
X-MEN (1963) (#1-113, UNCANNY X-MEN #114-544) (MARVEL) #499 Near Mint/Mint
X-MEN (1963) (#1-113, UNCANNY X-MEN #114-544) (MARVEL) #500 ROSS Very Fine
X-MEN (1963) (#1-113, UNCANNY X-MEN #114-544) (MARVEL) #501 Very Fine
X-MEN (1963) (#1-113, UNCANNY X-MEN #114-544) (MARVEL) #502 Fine
X-MEN (1963) (#1-113, UNCANNY X-MEN #114-544) (MARVEL) #503 Near Mint/Mint
X-MEN (1963) (#1-113, UNCANNY X-MEN #114-544) (MARVEL) #504 Very Fine
X-MEN (1963) (#1-113, UNCANNY X-MEN #114-544) (MARVEL) #505 Very Fine
X-MEN (1963) (#1-113, UNCANNY X-MEN #114-544) (MARVEL) #506 Near Mint/Mint
X-MEN (1963) (#1-113, UNCANNY X-MEN #114-544) (MARVEL) #507 Very Good
X-MEN (1963) (#1-113, UNCANNY X-MEN #114-544) (MARVEL) #508 Near Mint/Mint
X-MEN (1963) (#1-113, UNCANNY X-MEN #114-544) (MARVEL) #509 Near Mint/Mint
X-MEN (1963) (#1-113, UNCANNY X-MEN #114-544) (MARVEL) #511 Very Fine
X-MEN (1963) (#1-113, UNCANNY X-MEN #114-544) (MARVEL) #523 Fine
X-MEN (1963) (#1-113, UNCANNY X-MEN #114-544) (MARVEL) #524 Very Fine
X-MEN (1963) (#1-113, UNCANNY X-MEN #114-544) (MARVEL) #525 Near Mint/Mint

X-MEN (1991) (#1-275) (MARVEL) #143 Near Mint/Mint

X-MEN: PHOENIX (LEGACY OF FIRE) (2003) #1 Very Fine
X-MEN: PHOENIX (LEGACY OF FIRE) (2003) #2 Near Mint/Mint

X-STATIX (2002) #11 Very Fine
X-STATIX (2002) #12 Fine

DC
BEFORE WATCHMEN: MINUTEMEN (2012) #5 Near Mint/Mint
BEFORE WATCHMEN: MINUTEMEN (2012) #6 Very Fine


BEFORE WATCHMEN: OZYMANDIAS (2012) #6

BEFORE WATCHMEN: OZYMANDIAS (2012) #6 Very Fine

BEFORE WATCHMEN: RORSCHACH (2012) #4 Near Mint/Mint

CRISIS ON INFINITE EARTHS (1985) #7 NEWSSTAND Fine

FIRESTORM (1982) (#1-100) #64 NEWSSTAND Fine

FLASH (1987) (#0-247) (DC) #1 Fine

GHOSTS (1971) #6 Very Good

GREEN LANTERN (1960) (#1-224) (DC) #58 Fair
GREEN LANTERN (1960) (#1-224) (DC) #135 NEWSSTAND Fine
GREEN LANTERN (1960) (#1-224) (DC) #210 Very Fine
GREEN LANTERN (1960) (#1-224) (DC) #214 Fine

GREEN LANTERN 80-PAGE ANNUAL #1 Near Mint/Mint

HAWK AND DOVE (1968) #3 Very Good

HAWKMAN (1985) (#1-4) (SHADOW WAR OF) (DC) #2 NEWSSTAND Very Fine

HEAVY LIQUID (1999) #4 (DC: Vertigo Press) Near Mint/Mint

HELLBLAZER (1988) (#1-300) (DC VERTIGO) #126 (DC: Vertigo Press) Very Fine
HELLBLAZER (1988) (#1-300) (DC VERTIGO) #144 (DC: Vertigo Press) Near Mint/Mint
HELLBLAZER (1988) (#1-300) (DC VERTIGO) #221 (DC: Vertigo Press) Near Mint/Mint

JLA 80-PAGE GIANT (1998) #1 Near Mint/Mint

JUSTICE LEAGUE OF AMERICA: THE NAIL (1998) #1 Near Mint/Mint

KAMANDI (1972) #12 Fine

LEGENDS OF THE DARK KNIGHT (BATMAN) (1989) #50 Near Mint/Mint
LEGENDS OF THE DARK KNIGHT (BATMAN) (1989) #176 NEWSSTAND Fine

LUCIFER (2000) (#1-75) (DC/VERTIGO) #23 (DC: Vertigo Press) Very Fine
LUCIFER (2000) (#1-75) (DC/VERTIGO) #24 (DC: Vertigo Press) Very Fine
LUCIFER (2000) (#1-75) (DC/VERTIGO) #25 (DC: Vertigo Press) Near Mint/Mint

NEW FRONTIERSMAN SPECIAL EDITION (BEFORE WATCHMEN) (2012) #1 Near Mint/Mint

OUTSIDERS (2003) (#1-50) #1 Near Mint/Mint

SUPERMAN: RED SON (2003) #2 Near Mint/Mint

TEEN TITANS (2003) (#1-100) (DC) #1 Near Mint/Mint
TEEN TITANS (2003) (#1-100) (DC) #1 TURNER Near Mint/Mint

DARK HORSE COMICS
HELLBOY, JR. #1 Very Fine
HELLBOY, JR. #2 Very Fine

HELLBOY: IN THE CHAPEL OF MOLOCH ONE-SHOT (2008) #1 Near Mint/Mint

IMAGE COMICS
BLOODWULF (1995) #1 MAGGOT Near Mint/Mint

CHRONONAUTS (2015) #2 B Very Fine
CHRONONAUTS (2015) #4 B Near Mint/Mint

CREECH (1997) #3 Very Fine

CURSE OF THE SPAWN (1996) #1 Near Mint/Mint

GEN-13 (1995) (#1-36) (IMAGE) #25 Very Fine
GEN-13 (1995) (#1-36) (IMAGE) #36 VARIANT Near Mint/Mint

GUNCANDY (2005) #1 Near Mint/Mint

HACK SLASH: MY FIRST MANIAC (2010) #2 A Very Fine
HACK SLASH: MY FIRST MANIAC (2010) #3 A Very Fine
HACK SLASH: MY FIRST MANIAC (2010) #4 A Fine

SPAWN (1992) #116 Near Mint/Mint
SPAWN (1992) #149 Near Mint/Mint
SPAWN (1992) #150 MCFARLANE Near Mint/Mint

WILDGUARD: FOOL'S GOLD (2005) #2 Near Mint/Mint

WITCHBLADE (1995) #87 (Image Top Cow) Fine
WITCHBLADE (1995) #87 VARIANT (Image Top Cow) Very Fine

WITCHBLADE (1995) #90 (Image Top Cow) Near Mint/Mint
WITCHBLADE (1995) #91 (Image Top Cow) Near Mint/Mint

INDEPENDENTS
GOAT H.A.E.D.U.S. SPECIAL (ACCLAIM/VALIANT) (1998) #1 (Acclaim/Valiant) Near Mint/Mint

HACK SLASH: LAND OF LOST TOYS (2005) #1 (Devil's Due) Near Mint/Mint

LA COSA NOSTROID (SCUD) (1996) #8 (Fire Man Press) Near Mint/Mint

LADY DEATH: ABANDON ALL HOPE (2005) #1 (Avatar Comics) Near Mint/Mint

LAND OF THE DEAD (2005) #1 PHOTO (IDW Publishing) Near Mint/Mint

LENORE (1998) #12 (Amaze Ink) Near Mint/Mint

LOVE AND ROCKETS VOL. 2 (2001) #14 (Fantagraphics) Near Mint/Mint

MARS ATTACKS (#1-5) (TOPPS) (1994) #3 (Topps Publishing) Very Fine

MEDIEVAL LADY DEATH (2005) #5 WRAPAROUND (Avatar Comics) Near Mint/Mint

MEDIEVAL LADY DEATH/BELLADONNA (2005) #1 WRAPAROUND (Avatar Comics) Near Mint/Mint

METAL GEAR SOLID: SONS OF LIBERTY (2005) #0 (IDW Publishing) Near Mint/Mint

NIGHT MARY (2005) #1 (IDW Publishing) Near Mint/Mint
NIGHT MARY (2005) #2 (IDW Publishing) Near Mint/Mint
NIGHT MARY (2005) #3 (IDW Publishing) Very Fine

RED SONJA (2005) (#0-80) (DYNAMITE) #1 TURNER (DYNAMITE Entertainment) Very Fine

ROB ZOMBIE SPOOKSHOW INTERNATIONAL (2003) #6 (Crossgen Comics) Near Mint/Mint

SAW: REBIRTH (2005) #1 (IDW Publishing) Near Mint/Mint

STRAY BULLETS (1995) (#1-40) (EL CAPITAN BOOK) #39 (El Capitan) Near Mint/Mint

TALES OF TEENAGE MUTANT NINJA TURTLES (#1-70) (MIRAGE) (2004) #12 (Mirage Studios) Fine
TALES OF TEENAGE MUTANT NINJA TURTLES (#1-70) (MIRAGE) (2004) #15 (Mirage Studios) Very Fine

TAROT: WITCH OF THE BLACK ROSE (2000) #34 VARIANT (Broadsword Comics) Very Fine

TICK: DAYS OF DRAMA (2005) #1 (New England Comics) Very Fine

UNHOLY (2004) (#1-4) (AVATAR) (BRIAN PULIDO'S) #3 ADRIAN (Avatar Comics) Near Mint/Mint

VINCENT PRICE: NIGHTWATCH #1 (Donn Cruze) Very Fine

WULF & BATSY (2005) (#1) (CHANTING MONK) #1 (Chanting Monk Studios) Very Fine

ZOMBIE TALES: OBLIVION (2005) #1 (Boom Productions) Near Mint/Mint