Annual 50% Off All Books and Comics Sale - 7 Days Only
Howdy,
Our annual 50% off LABORDAY! codeword sale is beginning today, with all of our back issue comics and books available to you at half price when you type LABORDAY! into the "Discount Codeword" box provided you on our online order form. This half price codeword sale applies to all ten million of our back issue comics and magazines, excluding only new issues, a few variants, and our CGC-graded issues.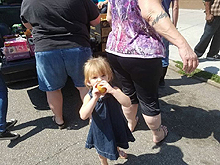 Our youngest volunteer takes her pay in apples!

LABORDAY! also applies to most of the comics and magazines that Will, Pam, and Josh have just entered into our Premium New-In-Stock and New-In-Stock links on our website. Over 2,600 newly arrived back issues were entered into New-In-Stock on Monday, so we are really on a roll when it comes to building up our website selection for you.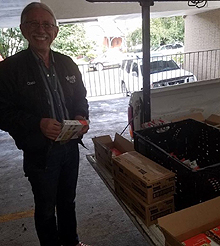 It takes us several hours on Wednesday afternoons to unpack all of the protein bars. We work outside, in a donated parking space...

In addition to the 50% codeword discounts on almost all of our ten million comics and magazines, this special holiday sale has also prompted us to slash all of the prices in half on our 250,000+ trade paperbacks and hardbacks. In case you had not noticed, I have been forced to really cut back on our book discounting this year, as some of the suppliers who provided us with out-of-print book titles in years past no longer have them available. Given that having a big book sale on Labor Day is somewhat of a tradition for us, however, I decided to go ahead and give you a shot at our books at half off for this next week, only. Please note, however, that the LABORDAY! codeword is not necessary on book purchases, as all of our book prices are already cut in half for you right on our website.
In other news, my $1,000.00 benefit drawing for "Feeding Denver's Hungry" has now received about 30 entries. If you would like to enter this drawing, all you need to do is to include a request for a $25 gift certificate as a part of your next order with us. You will then receive your $25 certificate by mail, and also be automatically entered into the drawing for the grand prize of a $1,000.00 Mile High Comics shopping spree. You can then use your $25 certificate on any order by just giving us the number in the "notes" section of the order form. This is an incredibly easy way for you to help people who truly are in need.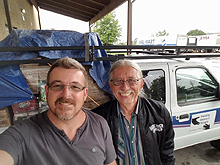 With Jim Scharper picking up at Food Bank of the Rockies

So you know, I am giving away all these comics and books because I helped distribute food with the "Feeding Denver's Hungry" last Thursday, and witnessed first hand the desperation of Denver's poor and homeless. I just could not believe it when a couple of elderly people led a blind man out of the St. Francis Center to receive his bag containing a free sandwich and snacks. Seriously?!? What the heck is wrong with our societal support systems when even blind people are forced to depend upon shelters? Believe me when I say that the high cost of apartments and rooming houses here in Denver has forced a truly dismaying number of our sick and elderly citizens into abject poverty. Your signing up for a $25 certificate will clearly not change the world, but since it's not really costing you anything, why not help? I'll donate the comics and books, if you just order a certificate. Thank you in advance for your kindness, and your consideration.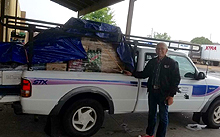 Jim's pickup was groaning after they loaded our two pallets!

Happy Collecting!
Chuck Rozanski,
President - Mile High Comics, Inc.
August 31, 2016

P.S. Below are listed for you a sampling of the 2,600 comics that we're added into Premium New-In-Stock on Tuesday. We purchased yet another major collection this morning, so tomorrow's New-In-Stock should be awesome, too.
MARVEL
AVENGERS (1963) (#1-402) (MARVEL) #197 NEWSSTAND Fine
AVENGERS (1963) (#1-402) (MARVEL) #198 NEWSSTAND Very Good

AVENGERS ANNUAL (1967) #9 NEWSSTAND Very Good

AVENGERS PRIME (2010) #1 Very Fine

CAPTAIN AMERICA (1968) #125 Fine

CAPTAIN AMERICA (1968) #126 Good
CAPTAIN AMERICA (1968) #127 Fine
CAPTAIN AMERICA (1968) #128 Good
CAPTAIN AMERICA (1968) #129 Fine
CAPTAIN AMERICA (1968) #130 Fine
CAPTAIN AMERICA (1968) #135 Good
CAPTAIN AMERICA (1968) #136 Fair
CAPTAIN AMERICA (1968) #138 Fine
CAPTAIN AMERICA (1968) #141 Very Good
CAPTAIN AMERICA (1968) #147 Very Good
CAPTAIN AMERICA (1968) #153 Good
CAPTAIN AMERICA (1968) #154 Good

CAPTAIN MARVEL (1968) #19 Fine
CAPTAIN MARVEL (1968) #36 Fine
CAPTAIN MARVEL (1968) #37 Fine
CAPTAIN MARVEL (1968) #38 Fine
CAPTAIN MARVEL (1968) #40 Fine
CAPTAIN MARVEL (1968) #41 Fine
CAPTAIN MARVEL (1968) #42 Fine
CAPTAIN MARVEL (1968) #43 Fine
CAPTAIN MARVEL (1968) #45 Fine
CAPTAIN MARVEL (1968) #46 Fine
CAPTAIN MARVEL (1968) #47 Fine
CAPTAIN MARVEL (1968) #49 Fine
CAPTAIN MARVEL (1968) #50 Fine
CAPTAIN MARVEL (1968) #51 Fine
CAPTAIN MARVEL (1968) #52 Fine
CAPTAIN MARVEL (1968) #53 Very Fine
CAPTAIN MARVEL (1968) #54 Fine
CAPTAIN MARVEL (1968) #55 Very Fine
CAPTAIN MARVEL (1968) #56 Fine
CAPTAIN MARVEL (1968) #57 Fine
CAPTAIN MARVEL (1968) #58 Fine
CAPTAIN MARVEL (1968) #59 Fine
CAPTAIN MARVEL (1968) #60 Fine
CAPTAIN MARVEL (1968) #62 Fine

CONAN (1970) #41 Very Good
CONAN (1970) #44 Fine
CONAN (1970) #47 MV MAILER Fine
CONAN (1970) #48 Very Good
CONAN (1970) #100 NEWSSTAND Very Good

FANTASTIC FOUR (1961) (#1-416) (MARVEL) #180 Very Good
FANTASTIC FOUR (1961) (#1-416) (MARVEL) #183 Fine
FANTASTIC FOUR (1961) (#1-416) (MARVEL) #186 Fine
FANTASTIC FOUR (1961) (#1-416) (MARVEL) #187 Fine
FANTASTIC FOUR (1961) (#1-416) (MARVEL) #189 Fine
FANTASTIC FOUR (1961) (#1-416) (MARVEL) #190 Fine
FANTASTIC FOUR (1961) (#1-416) (MARVEL) #191 PIZZAZZ Fine
FANTASTIC FOUR (1961) (#1-416) (MARVEL) #193 Fine
FANTASTIC FOUR (1961) (#1-416) (MARVEL) #200 Fine

GHOST RIDER (1973) #21 Fine
GHOST RIDER (1973) #22 Fine
GHOST RIDER (1973) #25 Fine
GHOST RIDER (1973) #26 Fine
GHOST RIDER (1973) #27 Fine
GHOST RIDER (1973) #29 Fine
GHOST RIDER (1973) #30 Very Fine

GHOST RIDER (1973) #31 Fine
GHOST RIDER (1973) #32 Fine
GHOST RIDER (1973) #33 Fine
GHOST RIDER (1973) #34 Fine
GHOST RIDER (1973) #35 Very Good
GHOST RIDER (1973) #39 NEWSSTAND Fine
GHOST RIDER (1973) #40 NEWSSTAND Fine

HULK (1962) (#1-6, #102-635) (INCREDIBLE) (MARVEL) #158 Good
HULK (1962) (#1-6, #102-635) (INCREDIBLE) (MARVEL) #159 Very Good
HULK (1962) (#1-6, #102-635) (INCREDIBLE) (MARVEL) #200 Fine
HULK (1962) (#1-6, #102-635) (INCREDIBLE) (MARVEL) #201 Fine
HULK (1962) (#1-6, #102-635) (INCREDIBLE) (MARVEL) #204 Fine
HULK (1962) (#1-6, #102-635) (INCREDIBLE) (MARVEL) #205 Fine
HULK (1962) (#1-6, #102-635) (INCREDIBLE) (MARVEL) #206 Fine
HULK (1962) (#1-6, #102-635) (INCREDIBLE) (MARVEL) #208 Fine
HULK (1962) (#1-6, #102-635) (INCREDIBLE) (MARVEL) #210 Fine
HULK (1962) (#1-6, #102-635) (INCREDIBLE) (MARVEL) #211 Very Fine
HULK (1962) (#1-6, #102-635) (INCREDIBLE) (MARVEL) #212 Very Good
HULK (1962) (#1-6, #102-635) (INCREDIBLE) (MARVEL) #213 Fine
HULK (1962) (#1-6, #102-635) (INCREDIBLE) (MARVEL) #215 Fine
HULK (1962) (#1-6, #102-635) (INCREDIBLE) (MARVEL) #217 Fine
HULK (1962) (#1-6, #102-635) (INCREDIBLE) (MARVEL) #219 Fine
HULK (1962) (#1-6, #102-635) (INCREDIBLE) (MARVEL) #220 Fine
HULK (1962) (#1-6, #102-635) (INCREDIBLE) (MARVEL) #221 PIZZAZZ Fine
HULK (1962) (#1-6, #102-635) (INCREDIBLE) (MARVEL) #222 Very Fine
HULK (1962) (#1-6, #102-635) (INCREDIBLE) (MARVEL) #234 Fine
HULK (1962) (#1-6, #102-635) (INCREDIBLE) (MARVEL) #235 VARIANT Very Fine
HULK (1962) (#1-6, #102-635) (INCREDIBLE) (MARVEL) #236 NEWSSTAND Fine
HULK (1962) (#1-6, #102-635) (INCREDIBLE) (MARVEL) #277 NEWSSTAND Very Good

LADY DEADPOOL (2010) #1 Near Mint/Mint

LEGENDARY STAR-LORD (2014) #2 Very Fine

MARVEL 1602 (2003) #7 Near Mint/Mint

MARVEL 1602: NEW WORLD (2005) #5 Very Fine

MARVEL PREMIERE (1972) #3 Good
MARVEL PREMIERE (1972) #15 Very Good
MARVEL PREMIERE (1972) #16 Very Good
MARVEL PREMIERE (1972) #17 Very Good
MARVEL PREMIERE (1972) #18 Fine
MARVEL PREMIERE (1972) #19 Fine
MARVEL PREMIERE (1972) #20 Fine
MARVEL PREMIERE (1972) #21 Fine
MARVEL PREMIERE (1972) #22 Very Good

MARVEL PREMIERE (1972) #23 Fine
MARVEL PREMIERE (1972) #24 Fine
MARVEL PREMIERE (1972) #25 Fine
MARVEL PREMIERE (1972) #26 Very Good
MARVEL PREMIERE (1972) #27 Very Good
MARVEL PREMIERE (1972) #47 Fine
MARVEL PREMIERE (1972) #48 NEWSSTAND Fine

MARVEL TEAM-UP (1972) #1 Good
MARVEL TEAM-UP (1972) #3 Very Good
MARVEL TEAM-UP (1972) #10 Good
MARVEL TEAM-UP (1972) #12 Very Good
MARVEL TEAM-UP (1972) #54 Fine

MARVEL TRIPLE ACTION GIANT-SIZE (1975) #2 Very Good

MASTER OF KUNG FU (1974) #17 Very Good
MASTER OF KUNG FU (1974) #18 Very Good

MS. MARVEL (1977) #2 Very Good
MS. MARVEL (1977) #4 Very Good
MS. MARVEL (1977) #5 Fine
MS. MARVEL (1977) #6 Fine
MS. MARVEL (1977) #7 Very Good
MS. MARVEL (1977) #8 Fine
MS. MARVEL (1977) #9 Fine
MS. MARVEL (1977) #10 Fine
MS. MARVEL (1977) #11 Fine
MS. MARVEL (1977) #12 Fine
MS. MARVEL (1977) #13 Fine
MS. MARVEL (1977) #15 Very Good
MS. MARVEL (1977) #19 Fine
MS. MARVEL (1977) #22 Fine
MS. MARVEL (1977) #23 Very Good

NEMESIS (2010) #1 Near Mint/Mint
NEMESIS (2010) #2 Very Fine

NEW AVENGERS (2004) #48 Near Mint/Mint
NEW AVENGERS (2004) #49 Near Mint/Mint
NEW AVENGERS (2004) #61 Near Mint/Mint
NEW AVENGERS (2004) #63 Very Fine

NEW AVENGERS (2010) #6 Near Mint/Mint
NEW AVENGERS (2010) #11 Near Mint/Mint

NEW AVENGERS (2010) #15 Near Mint/Mint
NEW AVENGERS (2010) #16 Near Mint/Mint

NEW AVENGERS ANNUAL (2006) #3 Near Mint/Mint
NEW AVENGERS ANNUAL (2011) #1 Very Fine

NEW AVENGERS GUEST STARRING FANTASTIC FOUR MILITARY (2005) #1 Fine

NEW AVENGERS: FINALE (2010) #1 Very Fine

NEW MUTANTS (1983) #25 Fine
NEW MUTANTS (1983) #26 Near Mint/Mint
NEW MUTANTS (1983) #27 Near Mint/Mint
NEW MUTANTS (1983) #28 Very Fine
NEW MUTANTS (1983) #46 Near Mint/Mint
NEW MUTANTS (1983) #59 Very Fine
NEW MUTANTS (1983) #60 Fine
NEW MUTANTS (1983) #61 Very Fine
NEW MUTANTS (1983) #71 Near Mint/Mint
NEW MUTANTS (1983) #72 Near Mint/Mint
NEW MUTANTS (1983) #73 Near Mint/Mint
NEW MUTANTS (1983) #74 Very Fine
NEW MUTANTS (1983) #75 Near Mint/Mint
NEW MUTANTS (1983) #83 Very Fine
NEW MUTANTS (1983) #84 Very Fine
NEW MUTANTS (1983) #85 Near Mint/Mint
NEW MUTANTS (1983) #86 Very Fine
NEW MUTANTS (1983) #93 Near Mint/Mint
NEW MUTANTS (1983) #94 Near Mint/Mint
NEW MUTANTS (1983) #95 Very Fine
NEW MUTANTS (1983) #96 Near Mint/Mint
NEW MUTANTS (1983) #97 Near Mint/Mint
NEW MUTANTS (1983) #99 Very Fine
NEW MUTANTS (1983) #100 Very Fine

NEW MUTANTS (2003) #7 Near Mint/Mint

NEW MUTANTS (2009) #1 KUBERT Very Fine
NEW MUTANTS (2009) #1 ROSS Near Mint/Mint
NEW MUTANTS (2009) #2 Near Mint/Mint
NEW MUTANTS (2009) #11 Near Mint/Mint
NEW MUTANTS (2009) #29 Near Mint/Mint
NEW MUTANTS (2009) #31 Near Mint/Mint
NEW MUTANTS (2009) #32 Near Mint/Mint

NEW MUTANTS ANNUAL (1983) #4 Near Mint/Mint
NEW MUTANTS ANNUAL (1983) #6 Near Mint/Mint
NEW MUTANTS ANNUAL (1983) #7 Very Fine

NOMAD (1992) #4 Fine

NOVA (1993) #6 Near Mint/Mint
NOVA (1993) #7 Near Mint/Mint

NYX (2003) #5 Near Mint/Mint

NYX (2003) #6 Very Fine
NYX (2003) #7 Very Fine

NYX: NO WAY HOME (2008) #5 Very Fine
NYX: NO WAY HOME (2008) #6 Near Mint/Mint

OLD MAN LOGAN (2015) #2 Near Mint/Mint
OLD MAN LOGAN (2015) #4 Near Mint/Mint

ORIGINAL SIN (2014) #5 .1 2ND PRT Fine

ORIGINAL SIN ANNUAL (2014) #1 Very Fine

ORIGINAL SINS (2014) #2 Very Fine
ORIGINAL SINS (2014) #4 Near Mint/Mint
ORIGINAL SINS (2014) #4 Very Fine
ORIGINAL SINS (2014) #5 Very Good

ORORO: BEFORE THE STORM (2005) #4 Very Fine

POWER MAN/IRON FIST (LUKE CAGE, POWER MAN #1-49) (1972) #16 Fine
POWER MAN/IRON FIST (LUKE CAGE, POWER MAN #1-49) (1972) #17 Fine
POWER MAN/IRON FIST (LUKE CAGE, POWER MAN #1-49) (1972) #18 Very Good
POWER MAN/IRON FIST (LUKE CAGE, POWER MAN #1-49) (1972) #20 Fine
POWER MAN/IRON FIST (LUKE CAGE, POWER MAN #1-49) (1972) #21 Fine
POWER MAN/IRON FIST (LUKE CAGE, POWER MAN #1-49) (1972) #22 Fine
POWER MAN/IRON FIST (LUKE CAGE, POWER MAN #1-49) (1972) #23 Fine
POWER MAN/IRON FIST (LUKE CAGE, POWER MAN #1-49) (1972) #24 Very Good

ROGUE (2004) #2 Near Mint/Mint
ROGUE (2004) #6 Near Mint/Mint
ROGUE (2004) #7 Near Mint/Mint
ROGUE (2004) #8 Very Fine
ROGUE (2004) #9 Very Fine
ROGUE (2004) #10 Very Fine
ROGUE (2004) #11 Near Mint/Mint
ROGUE (2004) #12 Very Fine

RUNAWAYS (2003) #2 Very Fine
RUNAWAYS (2003) #3 Near Mint/Mint
RUNAWAYS (2003) #4 Very Fine
RUNAWAYS (2003) #5 Near Mint/Mint

RUNE VS. VENOM (1995) #1 (Marvel Malibu/Ultraverse) Very Fine

SHADOWS & LIGHT (1997) #1 Very Fine

SHE-HULK 2 (2005) #1 Near Mint/Mint
SHE-HULK 2 (2005) #8 Near Mint/Mint

SHIELD (2010) #1 Near Mint/Mint

SHIELD (2014) #2 Near Mint/Mint

SIEGE (2010) #2 Near Mint/Mint
SIEGE (2010) #3 Near Mint/Mint

SIEGE: LOKI (2010) #1 Near Mint/Mint

SIEGE: SPIDER-MAN (2010) #1 Near Mint/Mint

SIF (2010) #1 Near Mint/Mint

SILVER SABLE (1992) #23 Near Mint/Mint

SILVER SURFER (1987) #128 Near Mint/Mint

SILVER SURFER ANNUAL #1 Near Mint/Mint
SILVER SURFER ANNUAL #2 Very Fine

SIREN: INFINITY (1995) #1 LIMITED (Marvel Malibu/Ultraverse) Near Mint/Mint

SON OF M (2005) #5 Near Mint/Mint

SPIDER-MAN (1963) (AMAZING SPIDER-MAN) (#1-441) #112 Very Good

SPIDER-MAN GIANT-SIZE (1974) #4 Very Good

STRANGE (2004) #5 Near Mint/Mint

STRANGE TALES (1951) #149 Very Good
STRANGE TALES (1951) #161 Fine
STRANGE TALES (1951) #163 Fair
STRANGE TALES (1951) #170 Fine
STRANGE TALES (1951) #178 Very Good
STRANGE TALES (1951) #179 Fine
STRANGE TALES (1951) #180 Very Good
STRANGE TALES (1951) #185 Fine
STRANGE TALES (1951) #186 Fine
STRANGE TALES (1951) #187 Fine

SUB-MARINER (1968) #22 Very Good
SUB-MARINER (1968) #54 Very Good
SUB-MARINER (1968) #55 Very Good
SUB-MARINER (1968) #56 Very Good
SUB-MARINER (1968) #57 Fine
SUB-MARINER (1968) #60 Very Good
SUB-MARINER (1968) #63 Very Good
SUB-MARINER (1968) #64 Fine
SUB-MARINER (1968) #65 Very Good
SUB-MARINER (1968) #66 Fine
SUB-MARINER (1968) #67 Very Good
SUB-MARINER (1968) #69 Very Good

SUPERIOR (2010) #1 Near Mint/Mint
SUPERIOR (2010) #2 Near Mint/Mint
SUPERIOR (2010) #3 Near Mint/Mint
SUPERIOR (2010) #4 Near Mint/Mint
SUPERIOR (2010) #5 Near Mint/Mint
SUPERIOR (2010) #7 Near Mint/Mint

THUNDERBOLTS (1997) #100 Near Mint/Mint
THUNDERBOLTS (1997) #104 Near Mint/Mint
THUNDERBOLTS (1997) #130 Very Fine

THUNDERBOLTS (1997) #131 Near Mint/Mint
THUNDERBOLTS (1997) #150 Near Mint/Mint

UNITED STATES OF MURDER, INC. (2014) #1 Fine
UNITED STATES OF MURDER, INC. (2014) #2 Near Mint/Mint
UNITED STATES OF MURDER, INC. (2014) #3 Near Mint/Mint
UNITED STATES OF MURDER, INC. (2014) #4 Near Mint/Mint

VALKYRIE (2010) #1 Near Mint/Mint

WOLVERINE (1988) #133 Near Mint/Mint
WOLVERINE (1988) #134 Near Mint/Mint
WOLVERINE (1988) #136 Near Mint/Mint
WOLVERINE (1988) #137 Near Mint/Mint
WOLVERINE (1988) #138 Near Mint/Mint
WOLVERINE (1988) #140 Near Mint/Mint
WOLVERINE (1988) #143 Near Mint/Mint
WOLVERINE (1988) #145 Near Mint/Mint
WOLVERINE (1988) #147 Near Mint/Mint
WOLVERINE (1988) #148 Near Mint/Mint
WOLVERINE (1988) #150 Near Mint/Mint
WOLVERINE (1988) #154 Near Mint/Mint
WOLVERINE (1988) #155 Near Mint/Mint
WOLVERINE (1988) #156 Very Fine
WOLVERINE (1988) #159 Near Mint/Mint
WOLVERINE (1988) #164 Near Mint/Mint
WOLVERINE (1988) #165 Near Mint/Mint
WOLVERINE (1988) #166 Near Mint/Mint
WOLVERINE (1988) #167 Near Mint/Mint
WOLVERINE (1988) #180 Near Mint/Mint
WOLVERINE (1988) #186 Near Mint/Mint
WOLVERINE (1988) #188 Near Mint/Mint
WOLVERINE (1988) #189 Near Mint/Mint

WOLVERINE (2003) #6 Near Mint/Mint
WOLVERINE (2003) #43 Near Mint/Mint
WOLVERINE (2003) #64 Near Mint/Mint
WOLVERINE (2003) #65 Near Mint/Mint
WOLVERINE (2003) #66 Near Mint/Mint
WOLVERINE (2003) #67 Near Mint/Mint
WOLVERINE (2003) #68 Near Mint/Mint
WOLVERINE (2003) #69 Near Mint/Mint
WOLVERINE (2003) #70 Near Mint/Mint
WOLVERINE (2003) #71 Near Mint/Mint

WONDERFUL WIZARD OF OZ (2008) #1 Near Mint/Mint
WONDERFUL WIZARD OF OZ (2008) #2 Near Mint/Mint
WONDERFUL WIZARD OF OZ (2008) #3 Very Fine
WONDERFUL WIZARD OF OZ (2008) #4 Near Mint/Mint


WONDERFUL WIZARD OF OZ (2008) #5

WONDERFUL WIZARD OF OZ (2008) #5 Very Fine
WONDERFUL WIZARD OF OZ (2008) #6 Very Fine

DC
ACTION COMICS (1938) #417 Very Good
ACTION COMICS (1938) #428 Fine
ACTION COMICS (1938) #440 Fine
ACTION COMICS (1938) #441 Fine
ACTION COMICS (1938) #444 Fine
ACTION COMICS (1938) #445 Fine
ACTION COMICS (1938) #446 Fine
ACTION COMICS (1938) #447 Fine
ACTION COMICS (1938) #448 Very Fine
ACTION COMICS (1938) #452 Fine
ACTION COMICS (1938) #453 Fine
ACTION COMICS (1938) #454 Fine
ACTION COMICS (1938) #455 Fine
ACTION COMICS (1938) #457 Fine
ACTION COMICS (1938) #458 Fine
ACTION COMICS (1938) #473 Fine
ACTION COMICS (1938) #474 Fine
ACTION COMICS (1938) #475 Fine
ACTION COMICS (1938) #477 Fine
ACTION COMICS (1938) #478 Fine
ACTION COMICS (1938) #479 Fine
ACTION COMICS (1938) #480 Fine
ACTION COMICS (1938) #481 Fine
ACTION COMICS (1938) #482 Fine
ACTION COMICS (1938) #483 Fine
ACTION COMICS (1938) #484 Fine
ACTION COMICS (1938) #488 Fine
ACTION COMICS (1938) #489 Fine

BATMAN: THE KILLING JOKE (ALAN MOORE) (1988) #1 Fine

BRAVE AND THE BOLD (1955) #117 Very Good

CAPTAIN ATOM (DC1987) #24 Near Mint/Mint

DARK KNIGHT (1986) #1 3RD PRT Fine
DARK KNIGHT (1986) #2 1ST PRT Fine
DARK KNIGHT (1986) #3 1ST PRT Good
DARK KNIGHT (1986) #4 1ST PRT Fine

DC 100 PAGE SUPER SPECTACULAR (1971) #14 Good

DC SPECIAL (1968) #28 Very Good

DC SPECIAL SERIES (1977) #1 Very Good

DETECTIVE COMICS (1937) (#1-881) (DC) #460 Very Good
DETECTIVE COMICS (1937) (#1-881) (DC) #461 Very Good
DETECTIVE COMICS (1937) (#1-881) (DC) #462 Fine
DETECTIVE COMICS (1937) (#1-881) (DC) #463 Fine
DETECTIVE COMICS (1937) (#1-881) (DC) #464 Very Good
DETECTIVE COMICS (1937) (#1-881) (DC) #465 Fine
DETECTIVE COMICS (1937) (#1-881) (DC) #466 Fine
DETECTIVE COMICS (1937) (#1-881) (DC) #467 Fine
DETECTIVE COMICS (1937) (#1-881) (DC) #468 Fine
DETECTIVE COMICS (1937) (#1-881) (DC) #469 Fine
DETECTIVE COMICS (1937) (#1-881) (DC) #470 Fine

DETECTIVE COMICS (1937) (#1-881) (DC) #471 Very Good
DETECTIVE COMICS (1937) (#1-881) (DC) #472 Very Good
DETECTIVE COMICS (1937) (#1-881) (DC) #473 Fine
DETECTIVE COMICS (1937) (#1-881) (DC) #474 Very Good
DETECTIVE COMICS (1937) (#1-881) (DC) #475 Fine
DETECTIVE COMICS (1937) (#1-881) (DC) #476 Fine
DETECTIVE COMICS (1937) (#1-881) (DC) #477 Fine
DETECTIVE COMICS (1937) (#1-881) (DC) #478 Fine
DETECTIVE COMICS (1937) (#1-881) (DC) #479 Very Good
DETECTIVE COMICS (1937) (#1-881) (DC) #480 Very Good
DETECTIVE COMICS (1937) (#1-881) (DC) #485 Very Good

FLASH (1959) #223 Very Good

GOTHAM CITY SIRENS (2009) #25 Near Mint/Mint

GREEN ARROW (1988) #26 Near Mint/Mint
GREEN ARROW (1988) #27 Near Mint/Mint
GREEN ARROW (1988) #28 Near Mint/Mint
GREEN ARROW (1988) #35 Near Mint/Mint
GREEN ARROW (1988) #37 Near Mint/Mint
GREEN ARROW (1988) #40 Near Mint/Mint
GREEN ARROW (1988) #47 Very Fine
GREEN ARROW (1988) #48 Near Mint/Mint
GREEN ARROW (1988) #49 Near Mint/Mint
GREEN ARROW (1988) #50 Near Mint/Mint
GREEN ARROW (1988) #74 Near Mint/Mint
GREEN ARROW (1988) #75 Near Mint/Mint
GREEN ARROW (1988) #83 Near Mint/Mint
GREEN ARROW (1988) #84 Near Mint/Mint
GREEN ARROW (1988) #85 Near Mint/Mint
GREEN ARROW (1988) #86 Near Mint/Mint
GREEN ARROW (1988) #89 Near Mint/Mint
GREEN ARROW (1988) #91 Near Mint/Mint
GREEN ARROW (1988) #96 Near Mint/Mint
GREEN ARROW (1988) #97 Near Mint/Mint
GREEN ARROW (1988) #102 Near Mint/Mint
GREEN ARROW (1988) #103 Near Mint/Mint
GREEN ARROW (1988) #104 Near Mint/Mint
GREEN ARROW (1988) #105 Near Mint/Mint
GREEN ARROW (1988) #106 Near Mint/Mint
GREEN ARROW (1988) #108 Near Mint/Mint
GREEN ARROW (1988) #109 Near Mint/Mint
GREEN ARROW (1988) #110 Near Mint/Mint
GREEN ARROW (1988) #118 Near Mint/Mint
GREEN ARROW (1988) #119 Near Mint/Mint
GREEN ARROW (1988) #125 Near Mint/Mint
GREEN ARROW (1988) #126 Near Mint/Mint
GREEN ARROW (1988) #127 Near Mint/Mint
GREEN ARROW (1988) #128 Near Mint/Mint
GREEN ARROW (1988) #129 Near Mint/Mint
GREEN ARROW (1988) #130 Near Mint/Mint
GREEN ARROW (1988) #131 Near Mint/Mint
GREEN ARROW (1988) #132 Near Mint/Mint

GREEN ARROW (1988) #133 Near Mint/Mint
GREEN ARROW (1988) #134 Near Mint/Mint
GREEN ARROW (1988) #135 Near Mint/Mint
GREEN ARROW (1988) #136 Near Mint/Mint
GREEN ARROW (1988) #137 Near Mint/Mint

GREEN ARROW (2001) #2 Very Fine
GREEN ARROW (2001) #40 Near Mint/Mint
GREEN ARROW (2001) #45 Near Mint/Mint
GREEN ARROW (2001) #46 Near Mint/Mint
GREEN ARROW (2001) #69 Near Mint/Mint

GREEN ARROW (2010) #2 Near Mint/Mint
GREEN ARROW (2010) #3 VARIANT Near Mint/Mint
GREEN ARROW (2010) #30 Near Mint/Mint
GREEN ARROW (2010) #31 Near Mint/Mint
GREEN ARROW (2010) #32 Near Mint/Mint

GREEN ARROW/BLACK CANARY (2007) #15 Near Mint/Mint
GREEN ARROW/BLACK CANARY (2007) #29 Near Mint/Mint

GREEN ARROW/BLACK CANARY WEDDING SPECIAL (2007) #1 Near Mint/Mint

JUST IMAGINE: WONDER WOMAN (2001) #1 Near Mint/Mint

NEW GUARDIANS (1988) #2 Near Mint/Mint

OMAC (1991) #4 Near Mint/Mint

ROBIN (1993) #7 Near Mint/Mint
ROBIN (1993) #11 Near Mint/Mint
ROBIN (1993) #13 Near Mint/Mint
ROBIN (1993) #14 Near Mint/Mint
ROBIN (1993) #73 Near Mint/Mint
ROBIN (1993) #100 Near Mint/Mint
ROBIN (1993) #126 Near Mint/Mint
ROBIN (1993) #146 Near Mint/Mint
ROBIN (1993) #175 Near Mint/Mint
ROBIN (1993) #182 Very Fine
ROBIN (1993) #183 Near Mint/Mint

RONIN (1983) #1 Very Fine
RONIN (1983) #2 Very Fine
RONIN (1983) #3 Fine
RONIN (1983) #4 Near Mint/Mint
RONIN (1983) #5 Near Mint/Mint
RONIN (1983) #6 Very Fine

ROSE AND THORN (2003) #3 Near Mint/Mint
ROSE AND THORN (2003) #4 Near Mint/Mint
ROSE AND THORN (2003) #5 Near Mint/Mint
ROSE AND THORN (2003) #6 Near Mint/Mint

SANDMAN (1988) #4 (DC: Vertigo Press) Near Mint/Mint
SANDMAN (1988) #7 (DC: Vertigo Press) Near Mint/Mint
SANDMAN (1988) #10 (DC: Vertigo Press) Near Mint/Mint
SANDMAN (1988) #11 (DC: Vertigo Press) Near Mint/Mint
SANDMAN (1988) #12 (DC: Vertigo Press) Near Mint/Mint
SANDMAN (1988) #13 (DC: Vertigo Press) Near Mint/Mint

SANDMAN (1988) #14 (DC: Vertigo Press) Very Fine
SANDMAN (1988) #15 (DC: Vertigo Press) Near Mint/Mint
SANDMAN (1988) #16 (DC: Vertigo Press) Near Mint/Mint
SANDMAN (1988) #17 (DC: Vertigo Press) Near Mint/Mint
SANDMAN (1988) #19 (DC: Vertigo Press) Near Mint/Mint
SANDMAN (1988) #22 (DC: Vertigo Press) Near Mint/Mint
SANDMAN (1988) #24 (DC: Vertigo Press) Near Mint/Mint
SANDMAN (1988) #26 (DC: Vertigo Press) Near Mint/Mint
SANDMAN (1988) #27 (DC: Vertigo Press) Near Mint/Mint
SANDMAN (1988) #29 (DC: Vertigo Press) Very Fine
SANDMAN (1988) #30 (DC: Vertigo Press) Near Mint/Mint
SANDMAN (1988) #31 (DC: Vertigo Press) Near Mint/Mint
SANDMAN (1988) #39 (DC: Vertigo Press) Near Mint/Mint
SANDMAN (1988) #41 (DC: Vertigo Press) Near Mint/Mint
SANDMAN (1988) #43 (DC: Vertigo Press) Near Mint/Mint
SANDMAN (1988) #45 (DC: Vertigo Press) Near Mint/Mint
SANDMAN (1988) #65 (DC: Vertigo Press) Near Mint/Mint
SANDMAN (1988) #68 (DC: Vertigo Press) Near Mint/Mint
SANDMAN (1988) #70 (DC: Vertigo Press) Near Mint/Mint
SANDMAN (1988) #71 (DC: Vertigo Press) Near Mint/Mint
SANDMAN (1988) #73 (DC: Vertigo Press) Near Mint/Mint
SANDMAN (1988) #74 (DC: Vertigo Press) Near Mint/Mint

SILVER AGE 80-PAGE GIANT (2000) #1 Near Mint/Mint

SLEEPER (2003) #1 (DC/Wildstorm) Near Mint/Mint
SLEEPER (2003) #2 (DC/Wildstorm) Very Fine
SLEEPER (2003) #4 (DC/Wildstorm) Near Mint/Mint
SLEEPER (2003) #6 (DC/Wildstorm) Near Mint/Mint
SLEEPER (2003) #7 (DC/Wildstorm) Near Mint/Mint
SLEEPER (2003) #8 (DC/Wildstorm) Near Mint/Mint
SLEEPER (2003) #10 (DC/Wildstorm) Near Mint/Mint
SLEEPER (2003) #11 (DC/Wildstorm) Near Mint/Mint
SLEEPER (2003) #12 (DC/Wildstorm) Near Mint/Mint

STORMWATCH POST HUMAN DIVISION (2006) #24 Near Mint/Mint

SUICIDE SQUAD (1987) #9 Near Mint/Mint
SUICIDE SQUAD (1987) #10 Near Mint/Mint
SUICIDE SQUAD (1987) #40 Near Mint/Mint
SUICIDE SQUAD (1987) #41 Near Mint/Mint
SUICIDE SQUAD (1987) #42 Near Mint/Mint
SUICIDE SQUAD (1987) #59 Near Mint/Mint
SUICIDE SQUAD (1987) #60 Near Mint/Mint
SUICIDE SQUAD (1987) #61 Near Mint/Mint
SUICIDE SQUAD (1987) #62 Near Mint/Mint

SUICIDERS (2015) #2 Near Mint/Mint

SUICIDERS (2015) #3 Near Mint/Mint
SUICIDERS (2015) #4 Near Mint/Mint

SUPERBOY (1993) #0 Very Fine

SUPERBOY (2010) #1 Near Mint/Mint
SUPERBOY (2010) #3 Near Mint/Mint
SUPERBOY (2010) #6 Near Mint/Mint

SUPERGIRL (1996) #20 Near Mint/Mint
SUPERGIRL (1996) #50 Near Mint/Mint
SUPERGIRL (1996) #63 Near Mint/Mint
SUPERGIRL (1996) #75 Near Mint/Mint
SUPERGIRL (1996) #76 Near Mint/Mint
SUPERGIRL (1996) #77 Near Mint/Mint
SUPERGIRL (1996) #78 Near Mint/Mint
SUPERGIRL (1996) #79 Near Mint/Mint
SUPERGIRL (1996) #80 Near Mint/Mint

SUPERGIRL (2005) #1 TURNER Near Mint/Mint
SUPERGIRL (2005) #14 Near Mint/Mint
SUPERGIRL (2005) #19 Near Mint/Mint
SUPERGIRL (2005) #37 Near Mint/Mint
SUPERGIRL (2005) #38 Near Mint/Mint
SUPERGIRL (2005) #50 Near Mint/Mint
SUPERGIRL (2005) #52 Near Mint/Mint

SUPERGIRL ANNUAL (1996) #1 Near Mint/Mint
SUPERGIRL ANNUAL (2009) #1 Near Mint/Mint

SUPERMAN (1986) #21 Near Mint/Mint
SUPERMAN (1986) #25 Near Mint/Mint

SWAMP THING, SAGA OF (1982) #5 (DC: Vertigo Press) Near Mint/Mint
SWAMP THING, SAGA OF (1982) #7 (DC: Vertigo Press) Near Mint/Mint
SWAMP THING, SAGA OF (1982) #27 NEWSSTAND (DC: Vertigo Press) Very Fine
SWAMP THING, SAGA OF (1982) #30 (DC: Vertigo Press) Near Mint/Mint

TITANS (1999) #1 Near Mint/Mint
TITANS (1999) #25 Near Mint/Mint

TITANS ANNUAL (2011) #1 Near Mint/Mint

VERTIGO RESURRECTED (2010) #1 Near Mint/Mint

WONDER WOMAN (1987) #1 NO MONTH Fine
WONDER WOMAN (1987) #2 NO MONTH Good
WONDER WOMAN (1987) #3 NO MONTH Very Good
WONDER WOMAN (1987) #10 FOLD-OUT Fine
WONDER WOMAN (1987) #13 Fine
WONDER WOMAN (1987) #25 Near Mint/Mint
WONDER WOMAN (1987) #26 Near Mint/Mint
WONDER WOMAN (1987) #50 Near Mint/Mint
WONDER WOMAN (1987) #88 Near Mint/Mint
WONDER WOMAN (1987) #93 Near Mint/Mint

WONDER WOMAN (1987) #120 Near Mint/Mint
WONDER WOMAN (1987) #141 Near Mint/Mint
WONDER WOMAN (1987) #144 Near Mint/Mint
WONDER WOMAN (1987) #146 Near Mint/Mint
WONDER WOMAN (1987) #164 Near Mint/Mint
WONDER WOMAN (1987) #165 Near Mint/Mint
WONDER WOMAN (1987) #166 Near Mint/Mint
WONDER WOMAN (1987) #167 Near Mint/Mint
WONDER WOMAN (1987) #172 Near Mint/Mint
WONDER WOMAN (1987) #173 Near Mint/Mint
WONDER WOMAN (1987) #175 Near Mint/Mint

WONDER WOMAN (2006) #26 Near Mint/Mint
WONDER WOMAN (2006) #27 Near Mint/Mint
WONDER WOMAN (2006) #28 Near Mint/Mint
WONDER WOMAN (2006) #31 Near Mint/Mint
WONDER WOMAN (2006) #600 Fine
WONDER WOMAN (2006) #600 Near Mint/Mint
WONDER WOMAN (2006) #606 Near Mint/Mint

WONDER WOMAN 1,000,000 (1998) #1 Near Mint/Mint

DARK HORSE COMICS
NEVER ENDING (2013) #1 Near Mint/Mint
NEVER ENDING (2013) #3 Near Mint/Mint

STRAIN (2011) #1 HUDDLESTON Near Mint/Mint
STRAIN (2011) #2 Very Fine
STRAIN (2011) #3 Near Mint/Mint
STRAIN (2011) #4 Near Mint/Mint
STRAIN (2011) #5 Near Mint/Mint
STRAIN (2011) #6 Near Mint/Mint
STRAIN (2011) #7 Near Mint/Mint
STRAIN (2011) #8 Near Mint/Mint

STRAIN: THE FALL (2013) #1 Near Mint/Mint

TOMORROWS (2015) #1 Near Mint/Mint
TOMORROWS (2015) #2 Near Mint/Mint

IMAGE COMICS
68 (2011) #1 B Near Mint/Mint
68 (2011) #3 B Near Mint/Mint

CASANOVA (2006) #4 Near Mint/Mint
CASANOVA (2006) #5 Near Mint/Mint

CASANOVA (2006) #9 Near Mint/Mint
CASANOVA (2006) #12 Near Mint/Mint
CASANOVA (2006) #13 Near Mint/Mint

NAMELESS (2015) #4 Near Mint/Mint

NO PLACE LIKE HOME (2012) #1 JORDAN Near Mint/Mint
NO PLACE LIKE HOME (2012) #2 Near Mint/Mint

SAGA (2012) #1 Near Mint/Mint
SAGA (2012) #2 Near Mint/Mint
SAGA (2012) #3 Near Mint/Mint
SAGA (2012) #4 Near Mint/Mint
SAGA (2012) #6 Near Mint/Mint
SAGA (2012) #7 Very Fine
SAGA (2012) #8 Very Fine
SAGA (2012) #9 Near Mint/Mint
SAGA (2012) #10 Very Fine
SAGA (2012) #12 Very Fine
SAGA (2012) #25 Near Mint/Mint

SHAMAN'S TEARS #0 Near Mint/Mint

SHUTTER (2014) #1 A DEL DUCA Near Mint/Mint
SHUTTER (2014) #2 B KOWALSKI Near Mint/Mint

TOMB RAIDER (1999) #21 BLACKCOVER (Image Top Cow) Near Mint/Mint

TOMB RAIDER/WITCHBLADE REVISITED #1 (Image Top Cow) Near Mint/Mint

TOMB RAIDER: JOURNEYS (2001) #1 HUGHES (Image Top Cow) Very Fine

TREES (2014) #1 Very Fine

WYNONNA EARP #1 Near Mint/Mint
WYNONNA EARP #2 Fine
WYNONNA EARP #3 Near Mint/Mint
WYNONNA EARP #4 Near Mint/Mint
WYNONNA EARP #5 Near Mint/Mint

WYTCHES (2014) #1 Near Mint/Mint
WYTCHES (2014) #2 Fine
WYTCHES (2014) #3 Near Mint/Mint
WYTCHES (2014) #6 Near Mint/Mint

INDEPENDENTS
DARK SHADOWS (1969) (GOLD KEY) (#1-35) #16 (Gold Key) Very Good

DAVID CASSIDY (1972) #12 (Charlton) Very Good

GHOST MANOR (1971) #5 (Charlton) Good

GHOSTLY HAUNTS #28 (Charlton) Very Good

GREEN HORNET (VOL. 2) #22 (Now Comics) Near Mint/Mint
GREEN HORNET (VOL. 2) #23 (Now Comics) Near Mint/Mint

I FEEL SICK (1999) #1 (Amaze Ink) Near Mint/Mint
I FEEL SICK (1999) #2 (Amaze Ink) Near Mint/Mint

IVAR, TIMEWALKER (2015) #1 MOLINA (Valiant Comics) Near Mint/Mint
IVAR, TIMEWALKER (2015) #3 LEVEL (Valiant Comics) Near Mint/Mint
IVAR, TIMEWALKER (2015) #7 ALLEN (Valiant Comics) Near Mint/Mint
IVAR, TIMEWALKER (2015) #8 ALLEN (Valiant Comics) Near Mint/Mint

JOHNNY THE HOMICIDAL MANIAC (1995) #1 4TH PRINT (Slave Labor Graphics) Fine
JOHNNY THE HOMICIDAL MANIAC (1995) #2 (Slave Labor Graphics) Very Fine
JOHNNY THE HOMICIDAL MANIAC (1995) #3 2ND PRINT (Slave Labor Graphics) Fine
JOHNNY THE HOMICIDAL MANIAC (1995) #4 2ND PRINT (Slave Labor Graphics) Fine
JOHNNY THE HOMICIDAL MANIAC (1995) #5 2ND PRINT (Slave Labor Graphics) Near Mint/Mint
JOHNNY THE HOMICIDAL MANIAC (1995) #6 (Slave Labor Graphics) Very Fine
JOHNNY THE HOMICIDAL MANIAC (1995) #7 (Slave Labor Graphics) Very Fine

LOVE DIARY (1958) #81 (Charlton) Very Good

MANY GHOSTS OF DR. GRAVES (1967) #42 (Charlton) Very Good

MYTHOPOLIS (2013) #1 D (Ardden Entertainment) Near Mint/Mint

NEGATION (2001) #25 (Crossgen Comics) Near Mint/Mint
NEGATION (2001) #26 (Crossgen Comics) Near Mint/Mint
NEGATION (2001) #27 (Crossgen Comics) Near Mint/Mint

NEVERMORE (2011) #3 CARVALHO (DYNAMITE Entertainment) Near Mint/Mint

PROJECT SUPERPOWERS (2008) #4 ROSS INC (DYNAMITE Entertainment) Very Fine
PROJECT SUPERPOWERS (2008) #5 ROSS INC (DYNAMITE Entertainment) Near Mint/Mint

PROJECT SUPERPOWERS CHAPTER TWO SKETCHBOOK (2008) #1 SPECIAL ED (DYNAMITE Entertainment) Very Fine

ROBOCOP 2014 (2014) #1 MONTES (Boom Studios Publishing) Near Mint/Mint

ROVER RED CHARLIE (2013) #1 (Avatar Comics) Near Mint/Mint
ROVER RED CHARLIE (2013) #2 WRAPAROUND (Avatar Comics) Near Mint/Mint
ROVER RED CHARLIE (2013) #3 (Avatar Comics) Near Mint/Mint
ROVER RED CHARLIE (2013) #4 (Avatar Comics) Near Mint/Mint
ROVER RED CHARLIE (2013) #5 WRAPAROUND (Avatar Comics) Near Mint/Mint
ROVER RED CHARLIE (2013) #6 (Avatar Comics) Very Fine

SHAHRAZAD (2013) #1 B (Big Dog Ink) Very Fine

SHERLOCK HOLMES: MORIARTY LIVES (2013) #1 FRANCAVILL (DYNAMITE Entertainment) Near Mint/Mint


SHERLOCK HOLMES: MORIARTY LIVES (2013) #3

SHERLOCK HOLMES: MORIARTY LIVES (2013) #3 (DYNAMITE Entertainment) Near Mint/Mint
SHERLOCK HOLMES: MORIARTY LIVES (2013) #5 (DYNAMITE Entertainment) Near Mint/Mint

SHERLOCK HOLMES: YEAR ONE (2011) #5 LINDRO (DYNAMITE Entertainment) Near Mint/Mint

SIMPSONS COMICS (BONGO) (1993) #1 NO BAG (Bongo Comics) Near Mint/Mint
SIMPSONS COMICS (BONGO) (1993) #2 (Bongo Comics) Near Mint/Mint

SIX MILLION DOLLAR MAN - SEASON 6 (2014) #1 ROSS (DYNAMITE Entertainment) Near Mint/Mint

SLEEPY HOLLOW (2014) #3 NOTO (Boom Studios Publishing) Very Fine

SLEEPY HOLLOW: PROVIDENCE (2015) #1 QUINONES (Boom Studios Publishing) Near Mint/Mint

SOJOURN (2001) #1 (Crossgen Comics) Near Mint/Mint
SOJOURN (2001) #30 (Crossgen Comics) Near Mint/Mint
SOJOURN (2001) #31 (Crossgen Comics) Near Mint/Mint
SOJOURN (2001) #34 (Crossgen Comics) Near Mint/Mint

TIME LINCOLN ONE-SHOT (2010) #1 (Antarctic Press) Near Mint/Mint

TIME LINCOLN: FISTS OF FUHRER (2010) #1 (Antarctic Press) Near Mint/Mint

TIME MAGAZINE SPECIAL EDITION: 1968 A PICTORIAL HISTORY ( 1989) #1 (The Time Inc. Magazine Company) Near Mint/Mint

TRANSFORMERS VS. G.I. JOE (2014) #1 (IDW Publishing) Near Mint/Mint
TRANSFORMERS VS. G.I. JOE (2014) #2 (IDW Publishing) Very Fine

WRAITH: WELCOME TO CHRISTMASLAND (JOE HILL) (2013) #1 (IDW Publishing) Very Fine
WRAITH: WELCOME TO CHRISTMASLAND (JOE HILL) (2013) #3 (IDW Publishing) Near Mint/Mint
WRAITH: WELCOME TO CHRISTMASLAND (JOE HILL) (2013) #4 (IDW Publishing) Near Mint/Mint
WRAITH: WELCOME TO CHRISTMASLAND (JOE HILL) (2013) #5 (IDW Publishing) Very Fine


WRAITH: WELCOME TO CHRISTMASLAND (JOE HILL) (2013) #6

WRAITH: WELCOME TO CHRISTMASLAND (JOE HILL) (2013) #6 (IDW Publishing) Very Fine
WRAITH: WELCOME TO CHRISTMASLAND (JOE HILL) (2013) #7 (IDW Publishing) Near Mint/Mint