60% Off Sale On All Comics Ends Soon
Howdy,
I spent most of yesterday, and all of today, outside of the Mile High Comics offices, working with an organization called "Feeding Denver's Hungry." Founded six years ago by Jim Scharper (soon after his own experience of living on Denver's streets...), "Feeding Denver's Hungry." remains a one-man operation that provides 500-700 homeless people with free lunches every other Thursday. While Jim receives no government funding, he does have a network of two dozen dedicated volunteers who help him to prepare the meals, and to then pass them out on the street near local shelters.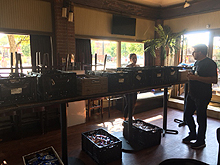 Part of the assembly line in L'il Devils bar where 15 of us filled the 500 lunch bags.

Having now participated in Jim's distribution for the first time, I cannot begin to relate to you just how emotionally wrenching an experience it was to pass out this free food to people in need. If we had been serving the hardcore homeless, I think that this would have not been so hard, as we all pretty much expect them to be down on their luck. We never even made it that far, however, as our first stop was at Urban Peak, a shelter for homeless teens. There I helped to feed dozens of kids who have no choice but to live on the streets. Abandoned by their families, these kids are in desperate need of the help and guidance provided by the counselors at Urban Peak.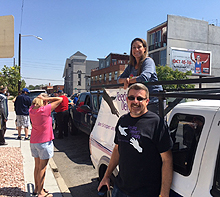 Jim Scharper, founder of Feeding Denver's Hungry

We then moved on to the St. Francis Center, where many lower-middle class and blue collar families who have recently found themselves homeless due to Denver's rapidly rising housing costs were our primary beneficiaries. These people were effuse in their gratitude, thanking us all individually, and shaking many hands. When we finally ran out of food, I was so overwhelmed at the thought that we could not help any more people, that I was literally brought to tears. It was clear to me that most of the people we were serving had once had stable lives and employment, but through the caprice of circumstance found themselves in a place where they did not even have enough to eat. There, but for the Grace of God...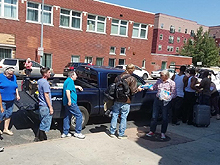 Chuck passing out free crackers with Feeding Denver's Hungry

In case you are wondering as to how this all relates to Mile High Comics, I have been hosting poker tournaments and in-store collectibles auctions at our Jason St. Mega-Store for the past four years to help support charitable organizations such as Urban Peak, Rainbow Alley, and Feeding Denver's Hungry. Our upcoming poker tournament on September 17th will be a benefit for Feeding Denver's Hungry, and our no-minimum-bid auction on September 24th will include a benefit portion for Urban Peak. If you could attend either of these two events, your participation would be greatly appreciated. If you cannot attend, there is a special offer for you at the end of this newsletter that still might allow you to contribute, regardless of where you live. Thank you.
My only other news for today is that our 60% off NANETTE! codeword sale on all of our back issue comics and magazines is continuing to receive robust support. It will need to end in just five days, so please do place your NANETTE! order right away if you wish to receive this awesome 60% discount. This codeword does not apply to new comics, a few variants, books, and our CGC-graded comics, but the 60% discount DOES apply to the thousands of comics that Will Moulton and Pam are adding into our Premium New-In-Stock and New-In-Stock links each day. 'Nuff said.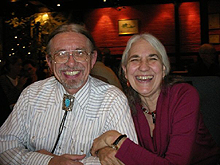 Chuck and Nanette in Montreal a few years ago

Happy Collecting!
Chuck Rozanski,
President - Mile High Comics, Inc.
August 25, 2016

P.S. My offer that allows you to help "Feeding Denver's Hungry." is simple: include a request for a $25 gift certificate in with your next order, and we will enter you into a drawing for a $1,000 Mile High Comics gift certificate. The drawing will be held on September 30, and you need not be present to win. Your cost of entry in this drawing is essentially zero, as you will be receiving your $25 gift certificate in exchange for your $25 donation, which you can then use via our website, or at any of our stores. We will then donate the $25 you contributed directly to Feeding Denver's Hungry.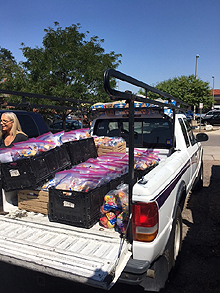 Just a tiny portion of the sandwiches, pop, crackers, protein bars, and fresh fruit that we distributed today.

So you know, your $25 will then help Jim Scharper to purchase enough discounted food from our local Food Bank for us to create approximately 40 meals. This is a beautiful win-win scenario which is only going to require me to contribute a few of my comics. Well worth the cost, in my estimation. Please join me in helping Jim Scharper, and his wonderful organization, Feeding Denver's Hungry.