New Collection 60% Off - HARLEY QUINN, DEADPOOL, BATMAN
Howdy,
Today's newsletter is a day later than usual, as I worked all day yesterday on purchasing and shipping back to Colorado a very nice private collection of over 20,000 comics here in St. Louis. This collection did not contain any pre-1980 Silver Age, as it consisted almost entirely of very nice high grade runs of more recent titles that are always in high demand, such as DEADPOOL, HARLEY QUINN, SANDMAN, SAGA, WOLVERINE, WALKING DEAD, SPIDER-MAN (1963), ALIENS VS. PREDATOR, BATMAN, BIRDS OF PREY, BUFFY, FABLES, etc. Suffice it to say, I am delighted that I was able to obtain these 20,000 great comics to offer you.
What made me even happier was that this collection provides me with a rationale for keeping in effect for you the 60% off NANETTE! codeword sale that I put into effect on Friday. As I expected, our first 60% off sale in over six months blew the doors off of our website. Traffic was so great that our website servers actually crashed a couple of times over the weekend, as we had too many fans simultaneously accessing our inventory listings. Blessedly, we were able to keep these service interruptions to very short durations, so our overall sales absolutely rocked!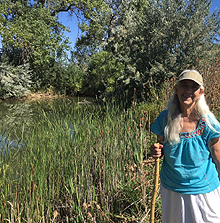 Nanette visits a secluded pond on their family farm

So you know, my original plan was to close down the 60% off sale tomorrow, as five days at 60% off is typically all the sales volume that we can sustain without harming the underlying diversity of our inventory. As I have stated repeatedly over the past few months, expanding that diversity of comics that we can offer you on our website is my #1 priority, and sales like this one actually work contrary to that goal. When my wife, Nanette, asks me to put a sale in effect, however, I always acquiesce to her request, as I love her very much. Giving away even our best comics at 60% off, however, is something that I would truly prefer not to do.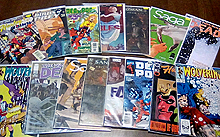 Comics from the 20,000 book collection

Comics array - titles from collection All of the above having been said, yesterday's acquisition of 20,000 more choice back issues guarantees that we will continue to able to offer you a greater diversity of comics in the future than what we could in the past, even with the sale in effect. That allays my concerns, and allows me the latitude to keep the 60% off NANETTE! codeword in effect for you through this upcoming weekend. If you have been looking to build your collection through our website at minimum cost to you, now is definitely the time for you to pace an order.
Some notes before I go. First, the orders we already have in the pipeline are going to take us a week to fill. If you cannot wait at least a week for your order to ship, please do not order. Second, we are still operating with one phone line, four months after moving into Jason St. Trying to call us is almost impossible, as we have our four lines from 56th all trying to roll into one. If you have a question, e-mail us at back_issue@milehighcomics.com, and we'll get back to you as quickly as we can. Please bear in mind that everyone in Denver will be hustling to fill these 60% off orders, so please keep correspondence to a minimum right now. I have been in contact with the management at CenturyLink, and they have assured me that all of our phone lines will finally be operational again by the end of this week. Fingers crossed.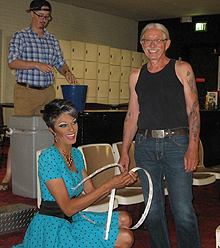 Chuck at an ICRME benefit bowling tournament with LaShay DiMarco and R.C. Michaels

Finally, I want everyone to know that I am seeking to purchase another 15-20 major collections over the next six months. This is because I have an upcoming obligation that will require that I cut back on my traveling for Mile High Comics for a year, starting next April. Between now and next April, however, I will be making short weekly trips all around the country to look at substantial collections. If you have a large number of comics that you wish to sell, please contact my assistant, Will Moulton, at moulton@milehighcomics.com. Please be aware, however, that Will's first question to you will be as regards how much you are seeking for your collection. If you are not able to give him some sort of rough idea of what you are seeking for your comics, the conversation cannot continue. Once we have a general idea that we are on the same page as to the relative wholesale value of your collection, however, we can then move on to scheduling a visit by me to your home.
Happy Collecting!
Chuck Rozanski,
President - Mile High Comics, Inc.
August 23, 2016