40% Off SUMMER! Sale All Back Issue Comics and Magazines
Howdy!
I am only in the office briefly today, as I found out last evening that one of our most reliable assistance facilities for the homeless here in Denver, the Denver Rescue Mission, has stopped serving their evening meal due to COVID-19 concerns. This leaves hundreds of people living in the streets of lower downtown Denver with few options (if any) of where to obtain food. I am stepping into this gap to the extent that I can with my 2,000 lb van loads of food and drink provided by "Feeding Denver's Hungry," but helping so many desperate people is an extremely difficult burden for just one person to bear. I have to give it a try, however, as a great many people are truly depending upon me right now. Wish me luck.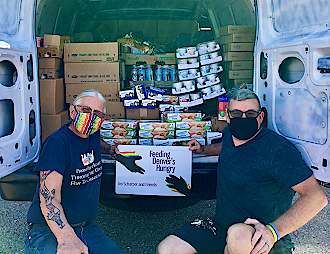 Chuck with Jim filling the van.

The good news is that we are continuing to run at full capacity here at Mile High Comics, with sales in the Jason St. Mega-Store down only down slightly from last year, when we were advertising heavily. I am not advertising at all right now, as I want our traffic in the store diminished a bit so as to increase the safety of our existing clients. I also have all five of the huge evaporative coolers that I purchased last month running at full speed, so as to keep the air in the store circulating. Strong airflow helps a great deal with making the store more comfortable, but most importantly, helps to minimize any possible airborne risks from COVID. It really also really helps our overall air circulation to have our beautiful 30-foot high ceilings...
On the buying front, we have already had a number of wise collectors bring their collections in to us to buy this week, including one grouping of about 20,000 individual issues. While Will, Pam, and Lisa are able to handle the current level of collections being offered to us, I have a strong suspicion that September is going to see a deluge. So many people are downsizing their living spaces and moving away from Denver right now that it borders on shocking. We are continuing to buy, however, as we know that this COVID crisis will not last forever, and that the long term prospects for the collectible of comics are excellent. This winter may be a bit rough, however, so we are being quite conservative in our capital investments. Better safe, than sorry. If you live outside of Colorado and have a collection that you wish to sell, contact Pam Brandle at pamb@milehighcomics.com. She can send you shipping labels that are prepaid by us, so that your cost is nothing.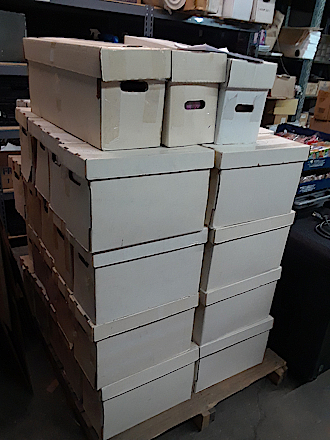 One of the personal collections we bought this week.

I will close by quickly mentioning that our 40% off SUMMER! codeword sale is still in effect for you on all ten million+ of our back issue comics and magazines that we offer on our website. Only new issues, a few variants, and our professionally-graded titles are excluded. Enjoy!
Happy collecting!
Chuck Rozanski/Bettie Pages,
President - Mile High Comics, Inc.
August 20, 2020
P.S. Below is another vast listing of newly-arrived back issues. Even though we are already the largest back issue comics dealer in America, we just keep adding even more great comics for you!
MARVEL
AMAZING FANTASY (1962) (MARVEL) #15 2002 REPRT Very Fine


AMAZING SPIDER-MAN (1999) (#1-58, #500-700.5) (MARVEL) #551

AMAZING SPIDER-MAN (1999) (#1-58, #500-700.5) (MARVEL) #551 Near Mint/Mint
AMAZING SPIDER-MAN (1999) (#1-58, #500-700.5) (MARVEL) #551 Very Fine
AMAZING SPIDER-MAN (1999) (#1-58, #500-700.5) (MARVEL) #554 Near Mint/Mint
AMAZING SPIDER-MAN (1999) (#1-58, #500-700.5) (MARVEL) #563 Near Mint/Mint
AMAZING SPIDER-MAN (1999) (#1-58, #500-700.5) (MARVEL) #565 Very Fine
AMAZING SPIDER-MAN (1999) (#1-58, #500-700.5) (MARVEL) #567 Near Mint/Mint
AMAZING SPIDER-MAN (1999) (#1-58, #500-700.5) (MARVEL) #572 2ND PRINT Near Mint/Mint
AMAZING SPIDER-MAN (1999) (#1-58, #500-700.5) (MARVEL) #588 Very Fine
AMAZING SPIDER-MAN (1999) (#1-58, #500-700.5) (MARVEL) #600 ROSS Very Good
AMAZING SPIDER-MAN (1999) (#1-58, #500-700.5) (MARVEL) #608 Near Mint/Mint
AMAZING SPIDER-MAN (1999) (#1-58, #500-700.5) (MARVEL) #609 Fine
AMAZING SPIDER-MAN (1999) (#1-58, #500-700.5) (MARVEL) #609 Very Fine
AMAZING SPIDER-MAN (1999) (#1-58, #500-700.5) (MARVEL) #610 Very Fine
AMAZING SPIDER-MAN (1999) (#1-58, #500-700.5) (MARVEL) #612 Fine
AMAZING SPIDER-MAN (1999) (#1-58, #500-700.5) (MARVEL) #614 Very Fine
AMAZING SPIDER-MAN (1999) (#1-58, #500-700.5) (MARVEL) #616 Near Mint/Mint
AMAZING SPIDER-MAN (1999) (#1-58, #500-700.5) (MARVEL) #616 Very Fine
AMAZING SPIDER-MAN (1999) (#1-58, #500-700.5) (MARVEL) #618 Near Mint/Mint
AMAZING SPIDER-MAN (1999) (#1-58, #500-700.5) (MARVEL) #619 Very Fine
AMAZING SPIDER-MAN (1999) (#1-58, #500-700.5) (MARVEL) #626 Fine
AMAZING SPIDER-MAN (1999) (#1-58, #500-700.5) (MARVEL) #629 Near Mint/Mint
AMAZING SPIDER-MAN (1999) (#1-58, #500-700.5) (MARVEL) #639 Near Mint/Mint
AMAZING SPIDER-MAN (1999) (#1-58, #500-700.5) (MARVEL) #639 Very Fine
AMAZING SPIDER-MAN (1999) (#1-58, #500-700.5) (MARVEL) #642 Very Fine
AMAZING SPIDER-MAN (1999) (#1-58, #500-700.5) (MARVEL) #643 SUPERHERO Near Mint/Mint
AMAZING SPIDER-MAN (1999) (#1-58, #500-700.5) (MARVEL) #647 Near Mint/Mint
AMAZING SPIDER-MAN (1999) (#1-58, #500-700.5) (MARVEL) #647 Very Fine
AMAZING SPIDER-MAN (1999) (#1-58, #500-700.5) (MARVEL) #662 Near Mint/Mint
AMAZING SPIDER-MAN (1999) (#1-58, #500-700.5) (MARVEL) #662 Very Fine
AMAZING SPIDER-MAN (1999) (#1-58, #500-700.5) (MARVEL) #666 Near Mint/Mint
AMAZING SPIDER-MAN (1999) (#1-58, #500-700.5) (MARVEL) #678 Very Fine
AMAZING SPIDER-MAN (1999) (#1-58, #500-700.5) (MARVEL) #681 Very Fine
AMAZING SPIDER-MAN (1999) (#1-58, #500-700.5) (MARVEL) #682 Fine
AMAZING SPIDER-MAN (1999) (#1-58, #500-700.5) (MARVEL) #693 Near Mint/Mint
AMAZING SPIDER-MAN (1999) (#1-58, #500-700.5) (MARVEL) #693 Very Fine
AMAZING SPIDER-MAN (1999) (#1-58, #500-700.5) (MARVEL) #694 Near Mint/Mint
AMAZING SPIDER-MAN (1999) (#1-58, #500-700.5) (MARVEL) #700 Near Mint/Mint
AMAZING SPIDER-MAN (1999) (#1-58, #500-700.5) (MARVEL) #700 .3 VARIANT Near Mint/Mint
AMAZING SPIDER-MAN (1999) (#1-58, #500-700.5) (MARVEL) #700 .1 VARIANT Very Fine
AMAZING SPIDER-MAN (1999) (#1-58, #500-700.5) (MARVEL) #700 .1 Very Fine
AMAZING SPIDER-MAN (1999) (#1-58, #500-700.5) (MARVEL) #700 .2 Near Mint/Mint
AMAZING SPIDER-MAN (1999) (#1-58, #500-700.5) (MARVEL) #700 .3 VARIANT Very Fine


AMAZING SPIDER-MAN (1999) (#1-58, #500-700.5) (MARVEL) #700 50TH ANN

AMAZING SPIDER-MAN (1999) (#1-58, #500-700.5) (MARVEL) #700 50TH ANN Near Mint/Mint
AMAZING SPIDER-MAN (1999) (#1-58, #500-700.5) (MARVEL) #700 COIPEL Very Fine

AMAZING SPIDER-MAN (2014) (#1-20.1) (MARVEL) #4 Near Mint/Mint
AMAZING SPIDER-MAN (2014) (#1-20.1) (MARVEL) #9 DELL OTTO Very Fine
AMAZING SPIDER-MAN (2014) (#1-20.1) (MARVEL) #9 YOUNG BABY Near Mint/Mint

AMAZING SPIDER-MAN FCBD EDITION #1 2007 Good

AMAZING SPIDER-MAN PRESENTS ANTI-VENOM (2009) #1 Near Mint/Mint
AMAZING SPIDER-MAN PRESENTS ANTI-VENOM (2009) #1 Very Fine
AMAZING SPIDER-MAN PRESENTS ANTI-VENOM (2009) #2 Fine
AMAZING SPIDER-MAN PRESENTS ANTI-VENOM (2009) #2 Very Fine

AMAZING X-MEN (1995) (#1-4) (AGE OF APOCALYPSE) #1 NEWSSTAND Very Fine
AMAZING X-MEN (1995) (#1-4) (AGE OF APOCALYPSE) #1 NEWSSTAND Fine
AMAZING X-MEN (1995) (#1-4) (AGE OF APOCALYPSE) #1 2ND PRINT Very Fine
AMAZING X-MEN (1995) (#1-4) (AGE OF APOCALYPSE) #3 NEWSSTAND Very Fine
AMAZING X-MEN (1995) (#1-4) (AGE OF APOCALYPSE) #3 NEWSSTAND Fine
AMAZING X-MEN (1995) (#1-4) (AGE OF APOCALYPSE) #4 NEWSSTAND Very Fine
AMAZING X-MEN (1995) (#1-4) (AGE OF APOCALYPSE) #4 NEWSSTAND Fine

AMAZING X-MEN (2014) (#1-19) #2 Near Mint/Mint
AMAZING X-MEN (2014) (#1-19) #2 2ND PRINT Near Mint/Mint
AMAZING X-MEN (2014) (#1-19) #3 Near Mint/Mint
AMAZING X-MEN (2014) (#1-19) #3 Fine
AMAZING X-MEN (2014) (#1-19) #9 Near Mint/Mint
AMAZING X-MEN (2014) (#1-19) #9 Very Fine
AMAZING X-MEN (2014) (#1-19) #16 Near Mint/Mint

AMERICAN DREAM (MARVEL) (2008) #2 Near Mint/Mint
AMERICAN DREAM (MARVEL) (2008) #2 Very Fine
AMERICAN DREAM (MARVEL) (2008) #3 Fine
AMERICAN DREAM (MARVEL) (2008) #3 Very Fine
AMERICAN DREAM (MARVEL) (2008) #4 Near Mint/Mint
AMERICAN DREAM (MARVEL) (2008) #5 Fine
AMERICAN DREAM (MARVEL) (2008) #5 Very Fine

CARNAGE (2015) (#1-UP) (MARVEL) #1 Near Mint/Mint
CARNAGE (2015) (#1-UP) (MARVEL) #2 Near Mint/Mint
CARNAGE (2015) (#1-UP) (MARVEL) #3 Very Fine

DARK REIGN: SINISTER SPIDER-MAN (2009) #4 Near Mint/Mint


DARK REIGN: THE LIST - AVENGERS (2009) #1

DARK REIGN: THE LIST - AVENGERS (2009) #1 Near Mint/Mint

DARK REIGN: YOUNG AVENGERS (2009) #1 Near Mint/Mint
DARK REIGN: YOUNG AVENGERS (2009) #4 Near Mint/Mint

DARK REIGN: ZODIAC (2009) #2 Near Mint/Mint
DARK REIGN: ZODIAC (2009) #3 Near Mint/Mint

DARKSTAR & THE WINTER GUARD (2010) #3 Near Mint/Mint

DEADPOOL (2008) (#1-63, 900, 1000) (MARVEL) #5 Near Mint/Mint
DEADPOOL (2008) (#1-63, 900, 1000) (MARVEL) #6 Fine
DEADPOOL (2008) (#1-63, 900, 1000) (MARVEL) #7 Near Mint/Mint
DEADPOOL (2008) (#1-63, 900, 1000) (MARVEL) #8 Very Fine
DEADPOOL (2008) (#1-63, 900, 1000) (MARVEL) #9 Near Mint/Mint
DEADPOOL (2008) (#1-63, 900, 1000) (MARVEL) #10 Near Mint/Mint
DEADPOOL (2008) (#1-63, 900, 1000) (MARVEL) #11 Near Mint/Mint
DEADPOOL (2008) (#1-63, 900, 1000) (MARVEL) #12 Very Fine
DEADPOOL (2008) (#1-63, 900, 1000) (MARVEL) #13 Near Mint/Mint
DEADPOOL (2008) (#1-63, 900, 1000) (MARVEL) #14 Near Mint/Mint
DEADPOOL (2008) (#1-63, 900, 1000) (MARVEL) #15 Near Mint/Mint
DEADPOOL (2008) (#1-63, 900, 1000) (MARVEL) #16 Near Mint/Mint
DEADPOOL (2008) (#1-63, 900, 1000) (MARVEL) #17 Near Mint/Mint
DEADPOOL (2008) (#1-63, 900, 1000) (MARVEL) #18 Near Mint/Mint
DEADPOOL (2008) (#1-63, 900, 1000) (MARVEL) #19 Near Mint/Mint
DEADPOOL (2008) (#1-63, 900, 1000) (MARVEL) #20 Near Mint/Mint
DEADPOOL (2008) (#1-63, 900, 1000) (MARVEL) #21 Near Mint/Mint
DEADPOOL (2008) (#1-63, 900, 1000) (MARVEL) #22 Near Mint/Mint
DEADPOOL (2008) (#1-63, 900, 1000) (MARVEL) #23 Near Mint/Mint
DEADPOOL (2008) (#1-63, 900, 1000) (MARVEL) #24 Near Mint/Mint
DEADPOOL (2008) (#1-63, 900, 1000) (MARVEL) #25 Near Mint/Mint
DEADPOOL (2008) (#1-63, 900, 1000) (MARVEL) #26 Near Mint/Mint
DEADPOOL (2008) (#1-63, 900, 1000) (MARVEL) #27 Near Mint/Mint
DEADPOOL (2008) (#1-63, 900, 1000) (MARVEL) #28 Near Mint/Mint
DEADPOOL (2008) (#1-63, 900, 1000) (MARVEL) #900 Near Mint/Mint
DEADPOOL (2008) (#1-63, 900, 1000) (MARVEL) #1000 Near Mint/Mint

DEADPOOL CORPS (2010) #1 Near Mint/Mint
DEADPOOL CORPS (2010) #2 Near Mint/Mint
DEADPOOL CORPS (2010) #3 Near Mint/Mint
DEADPOOL CORPS (2010) #4 Near Mint/Mint
DEADPOOL CORPS (2010) #5 Near Mint/Mint
DEADPOOL CORPS (2010) #6 Near Mint/Mint
DEADPOOL CORPS (2010) #7 Near Mint/Mint

DEADPOOL MAX (2010) #1 Near Mint/Mint

DEADPOOL TEAM-UP (2009) (#883-899) #888 Near Mint/Mint
DEADPOOL TEAM-UP (2009) (#883-899) #889 Near Mint/Mint
DEADPOOL TEAM-UP (2009) (#883-899) #890 Near Mint/Mint
DEADPOOL TEAM-UP (2009) (#883-899) #891 Near Mint/Mint
DEADPOOL TEAM-UP (2009) (#883-899) #892 Near Mint/Mint
DEADPOOL TEAM-UP (2009) (#883-899) #893 Very Fine
DEADPOOL TEAM-UP (2009) (#883-899) #894 Near Mint/Mint
DEADPOOL TEAM-UP (2009) (#883-899) #895 Very Fine
DEADPOOL TEAM-UP (2009) (#883-899) #896 Near Mint/Mint
DEADPOOL TEAM-UP (2009) (#883-899) #897 Near Mint/Mint
DEADPOOL TEAM-UP (2009) (#883-899) #898 Near Mint/Mint
DEADPOOL TEAM-UP (2009) (#883-899) #899 Near Mint/Mint

DEADPOOL: GAMES OF DEATH (2009) #1 Near Mint/Mint

DEADPOOL: MERC WITH A MOUTH (2009) #1 Near Mint/Mint
DEADPOOL: MERC WITH A MOUTH (2009) #2 Near Mint/Mint
DEADPOOL: MERC WITH A MOUTH (2009) #3 Near Mint/Mint
DEADPOOL: MERC WITH A MOUTH (2009) #4 Near Mint/Mint
DEADPOOL: MERC WITH A MOUTH (2009) #5 Near Mint/Mint
DEADPOOL: MERC WITH A MOUTH (2009) #6 Near Mint/Mint
DEADPOOL: MERC WITH A MOUTH (2009) #7 Near Mint/Mint
DEADPOOL: MERC WITH A MOUTH (2009) #8 Near Mint/Mint
DEADPOOL: MERC WITH A MOUTH (2009) #9 Near Mint/Mint
DEADPOOL: MERC WITH A MOUTH (2009) #10 Near Mint/Mint
DEADPOOL: MERC WITH A MOUTH (2009) #11 Near Mint/Mint
DEADPOOL: MERC WITH A MOUTH (2009) #12 Near Mint/Mint
DEADPOOL: MERC WITH A MOUTH (2009) #13 Near Mint/Mint

DEADPOOL: PULP (2010) #1 Very Fine
DEADPOOL: PULP (2010) #2 Near Mint/Mint

DEADPOOL: SUICIDE KINGS (2009) #1 Near Mint/Mint
DEADPOOL: SUICIDE KINGS (2009) #2 Near Mint/Mint
DEADPOOL: SUICIDE KINGS (2009) #3 Near Mint/Mint
DEADPOOL: SUICIDE KINGS (2009) #4 Near Mint/Mint
DEADPOOL: SUICIDE KINGS (2009) #5 Near Mint/Mint

DEADPOOL: WADE WILSON'S WAR (2010) #1 Near Mint/Mint
DEADPOOL: WADE WILSON'S WAR (2010) #2 Near Mint/Mint
DEADPOOL: WADE WILSON'S WAR (2010) #3 Near Mint/Mint
DEADPOOL: WADE WILSON'S WAR (2010) #4 Near Mint/Mint

DOOMWAR (2010) #1 Near Mint/Mint
DOOMWAR (2010) #2 Near Mint/Mint
DOOMWAR (2010) #3 Near Mint/Mint
DOOMWAR (2010) #4 Near Mint/Mint
DOOMWAR (2010) #5 Near Mint/Mint
DOOMWAR (2010) #6 Near Mint/Mint

ETERNALS (2008) (#1-9) (MARVEL) #6 Near Mint/Mint
ETERNALS (2008) (#1-9) (MARVEL) #7 Fine
ETERNALS (2008) (#1-9) (MARVEL) #8 Very Fine
ETERNALS (2008) (#1-9) (MARVEL) #9 Near Mint/Mint

FALL OF THE HULKS: RED HULK (2009) #1 Near Mint/Mint
FALL OF THE HULKS: RED HULK (2009) #2 Near Mint/Mint

FALL OF THE HULKS: SAVAGE SHE-HULKS (2010) #1 Near Mint/Mint
FALL OF THE HULKS: SAVAGE SHE-HULKS (2010) #2 Near Mint/Mint
FALL OF THE HULKS: SAVAGE SHE-HULKS (2010) #3 Near Mint/Mint

FANTASTIC FOUR (1998) (#1-79, 509-611) (MARVEL) #562 Near Mint/Mint
FANTASTIC FOUR (1998) (#1-79, 509-611) (MARVEL) #575 Near Mint/Mint
FANTASTIC FOUR (1998) (#1-79, 509-611) (MARVEL) #583 Near Mint/Mint
FANTASTIC FOUR (1998) (#1-79, 509-611) (MARVEL) #584 Near Mint/Mint

FANTASTIC FOUR ANNUAL (1963) #32 Near Mint/Mint

FIRESTAR (2010) (#1) (WOMEN OF MARVEL ONE-SHOT) #1 Near Mint/Mint

FUTURE FIGHT FIRSTS: WHITE FOX (2019) #1 Near Mint/Mint

GIANT MAN (#1-3) (WAR OF THE REALMS) (2019) #1 Near Mint/Mint

JLA/AVENGERS (AVENGERS/JLA) (2003) #1 NEWSSTAND Near Mint/Mint
JLA/AVENGERS (AVENGERS/JLA) (2003) #2 Near Mint/Mint
JLA/AVENGERS (AVENGERS/JLA) (2003) #3 NEWSSTAND Near Mint/Mint
JLA/AVENGERS (AVENGERS/JLA) (2003) #4 Near Mint/Mint

KICK ASS (2008) (#1-8) (MARVEL ICON) #8 Near Mint/Mint

LIVEWIRES (2005) #1 Near Mint/Mint

LOCKJAW & PET AVENGERS (2009) #4 Near Mint/Mint
LOCKJAW & PET AVENGERS (2009) #4 Very Fine


MACHINE MAN (1978) (#1-19) (MARVEL) #1

MACHINE MAN (1978) (#1-19) (MARVEL) #1 Good
MACHINE MAN (1978) (#1-19) (MARVEL) #1 Near Mint/Mint

MACHINE MAN (1984) (#1-4) (MARVEL LIMITED SERIES) #2 NEWSSTAND Fine

MAGIK (1983) #1 Very Fine

MARVEL AGE ANNUAL #4 Very Fine

MARVEL COMICS PRESENTS (1988) (#1-175) (MARVEL) #35 NEWSSTAND Very Fine

MASTERS OF THE UNIVERSE (1986) (#1-13) (MARVEL) #5 NEWSSTAND Good

MINIMUM CARNAGE: ALPHA (2012) #1 Very Fine

MOON KNIGHT (1980) (#1-38) (MARVEL) #25 Fine

MORTAL KOMBAT: BARAKA (1995) #1 (Marvel Malibu/Ultraverse) Fine

MORTAL KOMBAT: BATTLEWAVE (1995) #2 (Marvel Malibu/Ultraverse) Fine

MYSTIC HANDS OF DR. STRANGE BLACK & WHITE (2010) #1 Near Mint/Mint

OLD MAN LOGAN (2015) (#1-5) (MARVEL SECRET WARS) #3 Near Mint/Mint
OLD MAN LOGAN (2015) (#1-5) (MARVEL SECRET WARS) #5 Very Fine

OLD MAN LOGAN (2016) (#1-50) (MARVEL) #2 Near Mint/Mint

PETER PARKER (1976) (#1-263) (SPECTACULAR SPIDER-MAN) #116 Very Fine
PETER PARKER (1976) (#1-263) (SPECTACULAR SPIDER-MAN) #132 Fine
PETER PARKER (1976) (#1-263) (SPECTACULAR SPIDER-MAN) #138 Very Fine

PLANET HULK (2015) #4 IMAISHI Near Mint/Mint

POWERS (2009) (#1-11) (MARVEL/ICON) #2 Near Mint/Mint

PRELUDE TO DEADPOOL CORPS (2010) #2 Near Mint/Mint
PRELUDE TO DEADPOOL CORPS (2010) #3 Near Mint/Mint
PRELUDE TO DEADPOOL CORPS (2010) #4 Near Mint/Mint
PRELUDE TO DEADPOOL CORPS (2010) #5 Near Mint/Mint

PUNISHER MAX (2004) #1 Very Fine

PUNISHER MEETS ARCHIE: WHEN WORLDS COLLIDE #1 DIRECT Very Fine

REN & STIMPY (1992) #1 NEWSUNBAGD Very Fine

RETURN OF WOLVERINE (2018) #1 Near Mint/Mint
RETURN OF WOLVERINE (2018) #4 SHALVEY Near Mint/Mint

SECRET WAR (2004) #1 Near Mint/Mint
SECRET WAR (2004) #2 Near Mint/Mint
SECRET WAR (2004) #3 Fine
SECRET WAR (2004) #4 Very Fine
SECRET WAR (2004) #5 Near Mint/Mint

SHE-HULK (1989) (#1-60) (SENSATIONAL SHE-HULK)(MARVEL) #1 NEWSSTAND Very Good

SILVER SURFER: PRODIGAL SUN (2019) #1 Near Mint/Mint

SPIDER-MAN (1963) (AMAZING SPIDER-MAN) (#1-441) #299 NEWSSTAND Very Good

SPIDER-MAN: NOIR (2008) (#1-4) (MARVEL) #1 VARIANT Near Mint/Mint
SPIDER-MAN: NOIR (2008) (#1-4) (MARVEL) #2 VARIANT Very Fine
SPIDER-MAN: NOIR (2008) (#1-4) (MARVEL) #3 Near Mint/Mint
SPIDER-MAN: NOIR (2008) (#1-4) (MARVEL) #4 VARIANT Near Mint/Mint

STAR WARS: DARTH VADER (2017) #21 Near Mint/Mint

SYMBIOTE SPIDER-MAN (2019) #2 KIM Near Mint/Mint

THOR (2014) (#1-8) (MARVEL) (FEMALE THOR) #1 Very Fine

THOR: GOD OF THUNDER (2012) #2 Near Mint/Mint

THUNDERCATS (1986) (#1-24) (MARVEL/STAR) #9 NEWSSTAND Very Good
THUNDERCATS (1986) (#1-24) (MARVEL/STAR) #15 NEWSSTAND Very Good
THUNDERCATS (1986) (#1-24) (MARVEL/STAR) #18 NEWSSTAND Very Good
THUNDERCATS (1986) (#1-24) (MARVEL/STAR) #20 NEWSSTAND Very Good
THUNDERCATS (1986) (#1-24) (MARVEL/STAR) #21 NEWSSTAND Fine
THUNDERCATS (1986) (#1-24) (MARVEL/STAR) #22 NEWSSTAND Good
THUNDERCATS (1986) (#1-24) (MARVEL/STAR) #24 NEWSSTAND Very Good

TRANSFORMERS (1984) (#1-80) (MARVEL) #39 NEWSSTAND Very Good
TRANSFORMERS (1984) (#1-80) (MARVEL) #40 NEWSSTAND Very Good
TRANSFORMERS (1984) (#1-80) (MARVEL) #42 NEWSSTAND Very Good
TRANSFORMERS (1984) (#1-80) (MARVEL) #43 NEWSSTAND Very Good
TRANSFORMERS (1984) (#1-80) (MARVEL) #44 NEWSSTAND Very Good
TRANSFORMERS (1984) (#1-80) (MARVEL) #45 NEWSSTAND Very Good
TRANSFORMERS (1984) (#1-80) (MARVEL) #47 NEWSSTAND Very Good

TRANSFORMERS THE MOVIE (1986) #3 NEWSSTAND Very Good
TRANSFORMERS THE MOVIE (1986) #3 NEWSSTAND Good


TRANSFORMERS UNIVERSE (1986) #1 NEWSSTAND

TRANSFORMERS UNIVERSE (1986) #1 NEWSSTAND Good
TRANSFORMERS UNIVERSE (1986) #2 NEWSSTAND Very Good
TRANSFORMERS UNIVERSE (1986) #3 NEWSSTAND Very Good

ULTIMATE FALLOUT (2011) #1 Near Mint/Mint
ULTIMATE FALLOUT (2011) #2 Near Mint/Mint
ULTIMATE FALLOUT (2011) #3 Near Mint/Mint
ULTIMATE FALLOUT (2011) #4 Fine
ULTIMATE FALLOUT (2011) #5 Near Mint/Mint
ULTIMATE FALLOUT (2011) #6 Near Mint/Mint

VENOM: LETHAL PROTECTOR (1993) #5 NEWSSTAND Fine

VIRTUA FIGHTER (SEGA SATURN GAME) (1995) #1 LIMITED ED Near Mint/Mint

WAR OF REALMS STRIKEFORCE: LAND OF GIANTS (2019) #1 HAMNER Near Mint/Mint

WAR OF REALMS: PUNISHER (2019) #1 Near Mint/Mint

WARLOCK (1972) (#1-15) (MARVEL) #10 Very Good

WEB OF VENOM: VE'NAM (2018) #1 Near Mint/Mint

WHAT IF: GHOST RIDER (2018) #1 Near Mint/Mint

WHAT IF: THOR (2018) (RAISED BY FROST GIANTS) #1 Near Mint/Mint

WOLVERINE (1988) (#1/2-189) (MARVEL) #2 NEWSSTAND Very Good
WOLVERINE (1988) (#1/2-189) (MARVEL) #154 Very Fine
WOLVERINE (1988) (#1/2-189) (MARVEL) #155 Very Fine

WOLVERINE: INFINITY WATCH (2019) #1 2ND PRINT Near Mint/Mint

WOLVERINE: INFINITY WATCH (2019) #5 Near Mint/Mint

X-MAN (1995) #2 Near Mint/Mint
X-MAN (1995) #3 Near Mint/Mint
X-MAN (1995) #4 Near Mint/Mint

X-MEN (1963) (#1-113, UNCANNY X-MEN #114-544) (MARVEL) #193 Near Mint/Mint
X-MEN (1963) (#1-113, UNCANNY X-MEN #114-544) (MARVEL) #196 Near Mint/Mint
X-MEN (1963) (#1-113, UNCANNY X-MEN #114-544) (MARVEL) #216 Near Mint/Mint


X-MEN (1963) (#1-113, UNCANNY X-MEN #114-544) (MARVEL) #217

X-MEN (1963) (#1-113, UNCANNY X-MEN #114-544) (MARVEL) #217 Near Mint/Mint
X-MEN (1963) (#1-113, UNCANNY X-MEN #114-544) (MARVEL) #273 Near Mint/Mint
X-MEN (1963) (#1-113, UNCANNY X-MEN #114-544) (MARVEL) #320 GOLD Near Mint/Mint

X-MEN (1991) (#1-275) (MARVEL) #4 NEWSSTAND Good
X-MEN (1991) (#1-275) (MARVEL) #100 BYRNE Near Mint/Mint

X-MEN AND THE TEEN TITANS (1982) #1 Very Good

X-MEN VS. THE AVENGERS (1987) #3 NEWSSTAND Very Fine

DC
ACTION COMICS (1938) (#0-600, 643-904) (DC) #899 Near Mint/Mint
ACTION COMICS (1938) (#0-600, 643-904) (DC) #900 Near Mint/Mint
ACTION COMICS (1938) (#0-600, 643-904) (DC) #901 Near Mint/Mint
ACTION COMICS (1938) (#0-600, 643-904) (DC) #902 Near Mint/Mint
ACTION COMICS (1938) (#0-600, 643-904) (DC) #903 Near Mint/Mint
ACTION COMICS (1938) (#0-600, 643-904) (DC) #904 Near Mint/Mint

ACTION COMICS ANNUAL (1987) #13 Near Mint/Mint

ADVENTURE COMICS (1938) (#32-503) (DC) #404 Fine

ALL-STAR BATMAN (DC REBIRTH) (2016) #11 Near Mint/Mint
ALL-STAR BATMAN (DC REBIRTH) (2016) #13 Near Mint/Mint

AMBER: GUNS OF AVALON (DC) (ROGER ZELAZNY) #2 Very Fine

AMBUSH BUG (DC) (1985) #1 NEWSSTAND Very Fine
AMBUSH BUG (DC) (1985) #2 NEWSSTAND Very Fine
AMBUSH BUG (DC) (1985) #3 Near Mint/Mint
AMBUSH BUG (DC) (1985) #3 NEWSSTAND Very Fine
AMBUSH BUG (DC) (1985) #4 Near Mint/Mint

AMBUSH BUG NOTHING SPECIAL (DC) (1992) #1 Near Mint/Mint
AMBUSH BUG NOTHING SPECIAL (DC) (1992) #1 Very Fine

AMBUSH BUG STOCKING STUFFER (DC) (1986) #1 Near Mint/Mint

AMBUSH BUG: YEAR NONE (DC) (2008) #5 Near Mint/Mint
AMBUSH BUG: YEAR NONE (DC) (2008) #7 Near Mint/Mint

AME COMI GIRLS (DC) (WONDER WOMAN) (AME-COMI) (2012) #4 Very Fine


AMERICA VS. THE JUSTICE SOCIETY (JSA) (1985) #1

AMERICA VS. THE JUSTICE SOCIETY (JSA) (1985) #1 Very Fine
AMERICA VS. THE JUSTICE SOCIETY (JSA) (1985) #2 Very Fine
AMERICA VS. THE JUSTICE SOCIETY (JSA) (1985) #3 Near Mint/Mint
AMERICA VS. THE JUSTICE SOCIETY (JSA) (1985) #3 Very Fine
AMERICA VS. THE JUSTICE SOCIETY (JSA) (1985) #4 Near Mint/Mint
AMERICA VS. THE JUSTICE SOCIETY (JSA) (1985) #4 Fine
AMERICA VS. THE JUSTICE SOCIETY (JSA) (1985) #4 Very Fine

AMERICA'S BEST COMICS SPECIAL 64-PAGE GIANT(ALAN MOORE) (2000) #1 (DC/America's Best) Very Fine

AMERICAN CENTURY (DC VERTIGO) (HOWARD CHAYKIN) (2001) #24 (DC: Vertigo Press) Very Fine
AMERICAN CENTURY (DC VERTIGO) (HOWARD CHAYKIN) (2001) #25 (DC: Vertigo Press) Near Mint/Mint
AMERICAN CENTURY (DC VERTIGO) (HOWARD CHAYKIN) (2001) #25 (DC: Vertigo Press) Very Fine

AMERICAN FREAK (DC VERTIGO) (1994) #5 (DC: Vertigo Press) Near Mint/Mint

AMERICAN SPLENDOR (DC VERTIGO)(#1=32. 2=33, 3=34, 4=35) (2006) #2 Near Mint/Mint
AMERICAN SPLENDOR (DC VERTIGO)(#1=32. 2=33, 3=34, 4=35) (2006) #4 Very Fine

AMERICAN SPLENDOR: SEASON TWO (#1=36, 2=37, 3=38, 4=39) (2008) #2 Very Fine

AMERICAN VAMPIRE (DC VERTIGO) (2010) #1 Near Mint/Mint
AMERICAN VAMPIRE (DC VERTIGO) (2010) #1 Very Fine
AMERICAN VAMPIRE (DC VERTIGO) (2010) #9 Near Mint/Mint
AMERICAN VAMPIRE (DC VERTIGO) (2010) #15 Near Mint/Mint
AMERICAN VAMPIRE (DC VERTIGO) (2010) #16 Near Mint/Mint
AMERICAN VAMPIRE (DC VERTIGO) (2010) #20 Near Mint/Mint
AMERICAN VAMPIRE (DC VERTIGO) (2010) #26 Near Mint/Mint
AMERICAN VAMPIRE (DC VERTIGO) (2010) #27 Near Mint/Mint
AMERICAN VAMPIRE (DC VERTIGO) (2010) #28 Near Mint/Mint
AMERICAN VAMPIRE (DC VERTIGO) (2010) #29 Near Mint/Mint
AMERICAN VAMPIRE (DC VERTIGO) (2010) #33 Near Mint/Mint
AMERICAN VAMPIRE (DC VERTIGO) (2010) #34 Very Fine

AMERICAN VAMPIRE ANTHOLOGY (DC VERTIGO) (2013) #1 Very Fine

AMERICAN VAMPIRE: SECOND CYCLE (DC VERTIGO) (2014) #3 Near Mint/Mint

AMERICAN VAMPIRE: SURVIVAL OF THE FITTEST (DC VERTIGO) (2011) #3 Near Mint/Mint
AMERICAN VAMPIRE: SURVIVAL OF THE FITTEST (DC VERTIGO) (2011) #3 Very Fine
AMERICAN VAMPIRE: SURVIVAL OF THE FITTEST (DC VERTIGO) (2011) #4 Very Fine
AMERICAN VAMPIRE: SURVIVAL OF THE FITTEST (DC VERTIGO) (2011) #5 Very Fine

AMERICAN VIRGIN (DC VERTIGO) (STEVEN SEAGLE) (2006) #23 (DC: Vertigo Press) Near Mint/Mint


AMETHYST (1983) (#1-12) (DC) #1

AMETHYST (1983) (#1-12) (DC) #1 Near Mint/Mint
AMETHYST (1983) (#1-12) (DC) #1 NEWSSTAND Fine
AMETHYST (1983) (#1-12) (DC) #1 NEWSSTAND Very Good
AMETHYST (1983) (#1-12) (DC) #1 Very Fine
AMETHYST (1983) (#1-12) (DC) #2 Near Mint/Mint
AMETHYST (1983) (#1-12) (DC) #2 Very Fine
AMETHYST (1983) (#1-12) (DC) #3 NEWSSTAND Very Fine
AMETHYST (1983) (#1-12) (DC) #3 NEWSSTAND Fine
AMETHYST (1983) (#1-12) (DC) #4 Near Mint/Mint
AMETHYST (1983) (#1-12) (DC) #4 Very Fine
AMETHYST (1983) (#1-12) (DC) #5 NEWSSTAND Fine
AMETHYST (1983) (#1-12) (DC) #5 Very Fine
AMETHYST (1983) (#1-12) (DC) #6 Near Mint/Mint
AMETHYST (1983) (#1-12) (DC) #6 NEWSSTAND Very Fine
AMETHYST (1983) (#1-12) (DC) #6 NEWSSTAND Fine
AMETHYST (1983) (#1-12) (DC) #6 Very Fine
AMETHYST (1983) (#1-12) (DC) #7 Near Mint/Mint
AMETHYST (1983) (#1-12) (DC) #7 Very Fine
AMETHYST (1983) (#1-12) (DC) #8 Near Mint/Mint
AMETHYST (1983) (#1-12) (DC) #8 NEWSSTAND Fine
AMETHYST (1983) (#1-12) (DC) #8 NEWSSTAND Very Good
AMETHYST (1983) (#1-12) (DC) #8 Very Fine
AMETHYST (1983) (#1-12) (DC) #9 Near Mint/Mint
AMETHYST (1983) (#1-12) (DC) #9 NEWSSTAND Fine
AMETHYST (1983) (#1-12) (DC) #9 Very Fine
AMETHYST (1983) (#1-12) (DC) #10 Near Mint/Mint
AMETHYST (1983) (#1-12) (DC) #11 Very Fine
AMETHYST (1983) (#1-12) (DC) #12 NEWSSTAND Fine

AMETHYST (1984) (#1-16) (DC) #1 Near Mint/Mint
AMETHYST (1984) (#1-16) (DC) #1 NEWSSTAND Very Fine
AMETHYST (1984) (#1-16) (DC) #1 NEWSSTAND Fine
AMETHYST (1984) (#1-16) (DC) #2 Near Mint/Mint
AMETHYST (1984) (#1-16) (DC) #2 NEWSSTAND Near Mint/Mint
AMETHYST (1984) (#1-16) (DC) #2 NEWSSTAND Very Fine
AMETHYST (1984) (#1-16) (DC) #2 Very Fine
AMETHYST (1984) (#1-16) (DC) #3 NEWSSTAND Very Fine
AMETHYST (1984) (#1-16) (DC) #13 Near Mint/Mint
AMETHYST (1984) (#1-16) (DC) #13 NEWSSTAND Very Good
AMETHYST (1984) (#1-16) (DC) #13 Very Fine
AMETHYST (1984) (#1-16) (DC) #14 Near Mint/Mint
AMETHYST (1984) (#1-16) (DC) #14 Very Fine
AMETHYST (1984) (#1-16) (DC) #15 Near Mint/Mint
AMETHYST (1984) (#1-16) (DC) #15 NEWSSTAND Fine
AMETHYST (1984) (#1-16) (DC) #15 Very Fine


AMETHYST (1984) (#1-16) (DC) #16

AMETHYST (1984) (#1-16) (DC) #16 Near Mint/Mint
AMETHYST (1984) (#1-16) (DC) #16 Fine
AMETHYST (1984) (#1-16) (DC) #16 NEWSSTAND Very Good
AMETHYST (1984) (#1-16) (DC) #16 Very Fine

AMETHYST (1987) (#1-4) (DC) #1 Near Mint/Mint
AMETHYST (1987) (#1-4) (DC) #1 Very Fine

ANIMAL MAN (2011) (#0-29) (DC) (NEW 52) #12 Near Mint/Mint

AQUAMAN (2011) (#0-52) (DC NEW52) #0 Near Mint/Mint
AQUAMAN (2011) (#0-52) (DC NEW52) #11 Near Mint/Mint
AQUAMAN (2011) (#0-52) (DC NEW52) #12 Near Mint/Mint

AQUAMAN (2016) (#1-UP) (DC REBRITH) #26 Near Mint/Mint
AQUAMAN (2016) (#1-UP) (DC REBRITH) #27 Near Mint/Mint
AQUAMAN (2016) (#1-UP) (DC REBRITH) #28 Near Mint/Mint

BANE: CONQUEST (2017) #1 Near Mint/Mint
BANE: CONQUEST (2017) #3 Near Mint/Mint
BANE: CONQUEST (2017) #4 Near Mint/Mint
BANE: CONQUEST (2017) #5 Near Mint/Mint

BATGIRL (2016) (#1-UP) (DC REBIRTH) #10 Near Mint/Mint
BATGIRL (2016) (#1-UP) (DC REBIRTH) #12 Near Mint/Mint
BATGIRL (2016) (#1-UP) (DC REBIRTH) #13 Near Mint/Mint
BATGIRL (2016) (#1-UP) (DC REBIRTH) #14 Near Mint/Mint

BATGIRL & THE BIRDS OF PREY (DC REBIRTH) (2016) #9 Near Mint/Mint
BATGIRL & THE BIRDS OF PREY (DC REBIRTH) (2016) #10 Near Mint/Mint
BATGIRL & THE BIRDS OF PREY (DC REBIRTH) (2016) #11 Near Mint/Mint
BATGIRL & THE BIRDS OF PREY (DC REBIRTH) (2016) #12 Near Mint/Mint
BATGIRL & THE BIRDS OF PREY (DC REBIRTH) (2016) #13 Near Mint/Mint
BATGIRL & THE BIRDS OF PREY (DC REBIRTH) (2016) #14 Near Mint/Mint

BATGIRL (2011) (#0-52) (DC NEW52) #0 Near Mint/Mint
BATGIRL (2011) (#0-52) (DC NEW52) #11 Near Mint/Mint
BATGIRL (2011) (#0-52) (DC NEW52) #12 Near Mint/Mint
BATMAN (2011) (#0-52) (DC NEW52) #0 Near Mint/Mint
BATMAN (2011) (#0-52) (DC NEW52) #11 Near Mint/Mint
BATMAN (2011) (#0-52) (DC NEW52) #12 Very Fine

BATMAN (2016) (#1-UP) (DC REBIRTH) #21 Near Mint/Mint
BATMAN (2016) (#1-UP) (DC REBIRTH) #22 Fine
BATMAN (2016) (#1-UP) (DC REBIRTH) #23 Near Mint/Mint


BATMAN (2016) (#1-UP) (DC REBIRTH) #24

BATMAN (2016) (#1-UP) (DC REBIRTH) #24 Near Mint/Mint
BATMAN (2016) (#1-UP) (DC REBIRTH) #25 Near Mint/Mint
BATMAN (2016) (#1-UP) (DC REBIRTH) #26 Near Mint/Mint

BATMAN & ROBIN (2011) (#0-40) (NEW 52) #0 Near Mint/Mint
BATMAN & ROBIN (2011) (#0-40) (NEW 52) #11 Near Mint/Mint
BATMAN & ROBIN (2011) (#0-40) (NEW 52) #12 Near Mint/Mint

BATMAN GIANT (2019) #12 Very Fine

BATMAN/ELMER FUDD SPECIAL (2017) #1 Near Mint/Mint

BATMAN/THE SHADOW (2017) #1 Near Mint/Mint
BATMAN/THE SHADOW (2017) #2 Near Mint/Mint
BATMAN/THE SHADOW (2017) #3 Near Mint/Mint

BATMAN: ARKHAM UNHINGED (2012) #4 Near Mint/Mint
BATMAN: ARKHAM UNHINGED (2012) #5 Near Mint/Mint

BATMAN: BEYOND (2016)(#1-UP)(BATMAN BEYOND)(DC REBIRTH) #7 Near Mint/Mint
BATMAN: BEYOND (2016)(#1-UP)(BATMAN BEYOND)(DC REBIRTH) #8 Near Mint/Mint
BATMAN: BEYOND (2016)(#1-UP)(BATMAN BEYOND)(DC REBIRTH) #9 Near Mint/Mint
BATMAN: BEYOND (2016)(#1-UP)(BATMAN BEYOND)(DC REBIRTH) #10 Near Mint/Mint
BATMAN: BEYOND (2016)(#1-UP)(BATMAN BEYOND)(DC REBIRTH) #11 Near Mint/Mint

BATMAN: BEYOND UNLIMITED (2012) #6 Near Mint/Mint

BATMAN: RED DEATH (2017) #1 Near Mint/Mint

BATMAN: THE DARK KNIGHT (2011) (#0-29) (DC NEW52) #0 Very Fine
BATMAN: THE DARK KNIGHT (2011) (#0-29) (DC NEW52) #11 Near Mint/Mint
BATMAN: THE DARK KNIGHT (2011) (#0-29) (DC NEW52) #12 Near Mint/Mint

BATWOMAN (2017) (#1-UP) (DC REBIRTH) #2 Near Mint/Mint
BATWOMAN (2017) (#1-UP) (DC REBIRTH) #3 Near Mint/Mint
BATWOMAN (2017) (#1-UP) (DC REBIRTH) #4 Near Mint/Mint
BATWOMAN (2017) (#1-UP) (DC REBIRTH) #5 Near Mint/Mint
BATWOMAN (2017) (#1-UP) (DC REBIRTH) #7 Near Mint/Mint

BIRDS OF PREY (2011) (#0-34) (DC NEW52) #0 Near Mint/Mint
BIRDS OF PREY (2011) (#0-34) (DC NEW52) #12 Near Mint/Mint

BLUE BEETLE (2016) (DC REBIRTH) (#1-UP) #8 Near Mint/Mint
BLUE BEETLE (2016) (DC REBIRTH) (#1-UP) #9 Near Mint/Mint


BLUE BEETLE (2016) (DC REBIRTH) (#1-UP) #10

BLUE BEETLE (2016) (DC REBIRTH) (#1-UP) #10 Near Mint/Mint
BLUE BEETLE (2016) (DC REBIRTH) (#1-UP) #11 Near Mint/Mint
BLUE BEETLE (2016) (DC REBIRTH) (#1-UP) #12 Near Mint/Mint

BUG: THE ADVENTURES OF FORAGER (2017) #1 Near Mint/Mint
BUG: THE ADVENTURES OF FORAGER (2017) #2 Near Mint/Mint
BUG: THE ADVENTURES OF FORAGER (2017) #3 Near Mint/Mint
BUG: THE ADVENTURES OF FORAGER (2017) #4 Near Mint/Mint

CATWOMAN (2002) (#1-83) (DC) #83 Very Fine

CATWOMAN (2011) (#0-52) (DC NEW52) #0 Near Mint/Mint

CAVE CARSON HAS A CYBERNETIC EYE (2016) #8 Near Mint/Mint
CAVE CARSON HAS A CYBERNETIC EYE (2016) #9 Near Mint/Mint
CAVE CARSON HAS A CYBERNETIC EYE (2016) #10 Near Mint/Mint
CAVE CARSON HAS A CYBERNETIC EYE (2016) #11 Near Mint/Mint
CAVE CARSON HAS A CYBERNETIC EYE (2016) #12 Near Mint/Mint

CYBORG (2016) (#1-UP) (DC REBIRTH) #12 Near Mint/Mint
CYBORG (2016) (#1-UP) (DC REBIRTH) #13 Near Mint/Mint
CYBORG (2016) (#1-UP) (DC REBIRTH) #14 Near Mint/Mint
CYBORG (2016) (#1-UP) (DC REBIRTH) #15 Near Mint/Mint
CYBORG (2016) (#1-UP) (DC REBIRTH) #16 Near Mint/Mint

DARK DAYS: THE CASTING (2017) #1 Near Mint/Mint

DARK DAYS: THE FORGE (2017) #1 Near Mint/Mint

DARK KNIGHT III: THE MASTER RACE (2015) #9 Near Mint/Mint

DARK NIGHTS: METAL (2017) #1 Fine
DARK NIGHTS: METAL (2017) #2 Near Mint/Mint

DARKSEID SPECIAL (2017) #1 Near Mint/Mint

DASTARDLY & MUTTLEY (2017) #1 Near Mint/Mint

DEATHSTROKE (2011) (#0-20) (DC NEW52) #0 Near Mint/Mint
DEATHSTROKE (2011) (#0-20) (DC NEW52) #11 Near Mint/Mint
DEATHSTROKE (2011) (#0-20) (DC NEW52) #12 Near Mint/Mint

DEATHSTROKE (2016) (#1-UP) (DC REBIRTH) #21 Near Mint/Mint


DEATHSTROKE (2016) (#1-UP) (DC REBIRTH) #22

DEATHSTROKE (2016) (#1-UP) (DC REBIRTH) #22 Near Mint/Mint
DEATHSTROKE (2016) (#1-UP) (DC REBIRTH) #23 Near Mint/Mint

DETECTIVE COMICS (2011) (#0-52) (DC NEW52) #0 Near Mint/Mint

DETECTIVE COMICS ANNUAL (2012) #1 Near Mint/Mint

DOOM PATROL (2016) (#1-UP) (DC YOUNG ANIMAL) #6 Near Mint/Mint
DOOM PATROL (2016) (#1-UP) (DC YOUNG ANIMAL) #7 Near Mint/Mint
DOOM PATROL (2016) (#1-UP) (DC YOUNG ANIMAL) #8 Near Mint/Mint

FABLES: WOLF AMONG US (2015) #1 Near Mint/Mint
FABLES: WOLF AMONG US (2015) #2 Near Mint/Mint
FABLES: WOLF AMONG US (2015) #3 Near Mint/Mint
FABLES: WOLF AMONG US (2015) #4 Near Mint/Mint
FABLES: WOLF AMONG US (2015) #5 Near Mint/Mint
FABLES: WOLF AMONG US (2015) #6 Near Mint/Mint
FABLES: WOLF AMONG US (2015) #7 Near Mint/Mint

FLASH (2011) (#0-52) (DC NEW52) #0 Very Fine
FLASH (2011) (#0-52) (DC NEW52) #1 Near Mint/Mint
FLASH (2011) (#0-52) (DC NEW52) #11 Near Mint/Mint
FLASH (2011) (#0-52) (DC NEW52) #12 Near Mint/Mint

FLASH (2016) (#1-88, #750-UP) (DC REBIRTH) #21 Near Mint/Mint
FLASH (2016) (#1-88, #750-UP) (DC REBIRTH) #22 Near Mint/Mint
FLASH (2016) (#1-88, #750-UP) (DC REBIRTH) #24 Near Mint/Mint
FLASH (2016) (#1-88, #750-UP) (DC REBIRTH) #25 Near Mint/Mint

FLASH ANNUAL (2012) #1 Near Mint/Mint

FLASHPOINT (2011) (#1-5) (DC) #2 Very Fine
FLASHPOINT (2011) (#1-5) (DC) #3 Near Mint/Mint
FLASHPOINT (2011) (#1-5) (DC) #4 Very Fine
FLASHPOINT (2011) (#1-5) (DC) #5 Near Mint/Mint

FLASHPOINT: WONDER WOMAN & THE FURIES (2011) #1 Near Mint/Mint
FLASHPOINT: WONDER WOMAN & THE FURIES (2011) #2 Near Mint/Mint
FLASHPOINT: WONDER WOMAN & THE FURIES (2011) #3 Near Mint/Mint

FREDDY VS. JASON VS. ASH (2007) #1 ASH (DC/Wildstorm) Very Fine
FREDDY VS. JASON VS. ASH (2007) #1 FREDDY (DC/Wildstorm) Very Fine
FREDDY VS. JASON VS. ASH (2007) #1 JASON (DC/Wildstorm) Near Mint/Mint
FREDDY VS. JASON VS. ASH (2007) #3 (DC/Wildstorm) Near Mint/Mint


FREDDY VS. JASON VS. ASH (2007) #4

FREDDY VS. JASON VS. ASH (2007) #4 (DC/Wildstorm) Very Fine
FREDDY VS. JASON VS. ASH (2007) #5 (DC/Wildstorm) Very Fine
FREDDY VS. JASON VS. ASH (2007) #6 (DC/Wildstorm) Very Fine

FRIDAY THE 13TH (2006) #1 (DC/Wildstorm) Fine

FUTURE QUEST (2016) #12 Near Mint/Mint

FUTURE QUEST PRESENTS (2017) #1 Near Mint/Mint
FUTURE QUEST PRESENTS (2017) #2 Near Mint/Mint

GREEN ARROW (2011) (#0-52) (DC NEW52) #0 Near Mint/Mint

GREEN ARROW (2016) (#1-UP) (DC REBIRTH) #25 Near Mint/Mint

GREEN LANTERN (2011) (#0-52) (DC NEW52) #0 Near Mint/Mint

GREEN LANTERN ANNUAL (2012) #1 Near Mint/Mint

GREEN LANTERNS (DC REBIRTH) (2016) #25 Near Mint/Mint

HARLEY QUINN (2000) (#1-38) (DC) #1 Near Mint/Mint
HARLEY QUINN (2000) (#1-38) (DC) #2 Near Mint/Mint
HARLEY QUINN (2000) (#1-38) (DC) #3 Near Mint/Mint
HARLEY QUINN (2000) (#1-38) (DC) #4 Near Mint/Mint
HARLEY QUINN (2000) (#1-38) (DC) #5 Near Mint/Mint
HARLEY QUINN (2000) (#1-38) (DC) #7 Near Mint/Mint
HARLEY QUINN (2000) (#1-38) (DC) #8 Near Mint/Mint
HARLEY QUINN (2000) (#1-38) (DC) #9 Near Mint/Mint
HARLEY QUINN (2000) (#1-38) (DC) #10 Very Fine
HARLEY QUINN (2000) (#1-38) (DC) #11 Near Mint/Mint
HARLEY QUINN (2000) (#1-38) (DC) #12 Very Fine
HARLEY QUINN (2000) (#1-38) (DC) #13 Near Mint/Mint
HARLEY QUINN (2000) (#1-38) (DC) #14 Near Mint/Mint
HARLEY QUINN (2000) (#1-38) (DC) #15 Near Mint/Mint
HARLEY QUINN (2000) (#1-38) (DC) #16 Near Mint/Mint
HARLEY QUINN (2000) (#1-38) (DC) #17 Near Mint/Mint
HARLEY QUINN (2000) (#1-38) (DC) #18 Very Fine
HARLEY QUINN (2000) (#1-38) (DC) #19 Near Mint/Mint
HARLEY QUINN (2000) (#1-38) (DC) #20 Very Fine
HARLEY QUINN (2000) (#1-38) (DC) #21 Very Fine
HARLEY QUINN (2000) (#1-38) (DC) #22 Near Mint/Mint
HARLEY QUINN (2000) (#1-38) (DC) #23 Near Mint/Mint
HARLEY QUINN (2000) (#1-38) (DC) #24 Near Mint/Mint
HARLEY QUINN (2000) (#1-38) (DC) #25 Near Mint/Mint


HARLEY QUINN (2000) (#1-38) (DC) #26

HARLEY QUINN (2000) (#1-38) (DC) #26 Near Mint/Mint
HARLEY QUINN (2000) (#1-38) (DC) #27 Near Mint/Mint
HARLEY QUINN (2000) (#1-38) (DC) #28 Near Mint/Mint
HARLEY QUINN (2000) (#1-38) (DC) #29 Near Mint/Mint
HARLEY QUINN (2000) (#1-38) (DC) #30 Very Good
HARLEY QUINN (2000) (#1-38) (DC) #31 Near Mint/Mint
HARLEY QUINN (2000) (#1-38) (DC) #32 Near Mint/Mint
HARLEY QUINN (2000) (#1-38) (DC) #33 Very Fine
HARLEY QUINN (2000) (#1-38) (DC) #34 Near Mint/Mint
HARLEY QUINN (2000) (#1-38) (DC) #35 Near Mint/Mint
HARLEY QUINN (2000) (#1-38) (DC) #36 Near Mint/Mint
HARLEY QUINN (2000) (#1-38) (DC) #37 Fine
HARLEY QUINN (2000) (#1-38) (DC) #38 Fine
HARLEY QUINN (2016) (#1-UP) (DC REBIRTH) #23 Near Mint/Mint
HARLEY QUINN (2016) (#1-UP) (DC REBIRTH) #25 Near Mint/Mint

HELLBLAZER (2016) (#1-24) (DC REBIRTH) #9 Near Mint/Mint
HELLBLAZER (2016) (#1-24) (DC REBIRTH) #10 Near Mint/Mint
HELLBLAZER (2016) (#1-24) (DC REBIRTH) #11 Near Mint/Mint
HELLBLAZER (2016) (#1-24) (DC REBIRTH) #12 Near Mint/Mint
HELLBLAZER (2016) (#1-24) (DC REBIRTH) #13 Near Mint/Mint

I, VAMPIRE (2011) #11 Near Mint/Mint
I, VAMPIRE (2011) #12 Near Mint/Mint

JUSTICE LEAGUE (2011) (#0-52) (DC NEW52) #11 Near Mint/Mint
JUSTICE LEAGUE (2011) (#0-52) (DC NEW52) #12 Near Mint/Mint

JUSTICE LEAGUE 3000 (2013) #9 Near Mint/Mint
JUSTICE LEAGUE 3000 (2013) #10 Near Mint/Mint

JUSTICE LEAGUE DARK (2011) (#0-40) (DC NEW52) #0 Near Mint/Mint
JUSTICE LEAGUE DARK (2011) (#0-40) (DC NEW52) #12 Near Mint/Mint
JUSTICE LEAGUE DARK (2011) (#0-40) (DC NEW52) #35 Near Mint/Mint

JUSTICE LEAGUE DARK: FUTURE'S END (2014) #1 LENTICULAR Near Mint/Mint

JUSTICE LEAGUE UNITED: FUTURE'S END (2014) #1 LENTICULAR Near Mint/Mint

KLARION (2014) #1 Near Mint/Mint

LEGENDS OF THE DARK KNIGHT 100-PAGE SUPER SPECTACULAR (2013) #2 Near Mint/Mint

LEGEND OF WONDER WOMAN (2016) #1 Near Mint/Mint

LEGION '89 (1990) #27 Near Mint/Mint

LEGION OF SUPER-HEROES (1980) (#259-354) (DC) #325 Near Mint/Mint

LEGION OF SUPER-HEROES (2011) (#0-23) (DC NEW52) #12 Near Mint/Mint

LOBO (2014) (#1-13) (DC NEW52) #1 Near Mint/Mint

MULTIVERSITY (2014) #1 Near Mint/Mint

MULTIVERSITY: JUST (2014) #1 Near Mint/Mint

MULTIVERSITY: SOCIETY OF SUPER-HEROES (2014) #1 Near Mint/Mint

NEW 52 - FUTURE'S END (2014) #24 Near Mint/Mint
NEW 52 - FUTURE'S END (2014) #25 Near Mint/Mint

NEW SUICIDE SQUAD (DC NEW52) #2 Near Mint/Mint
NEW SUICIDE SQUAD (DC NEW52) #3 Near Mint/Mint
NEW SUICIDE SQUAD (DC NEW52) #13 MONSTERS Near Mint/Mint

NEW SUICIDE SQUAD: FUTURE'S END (2014) #1 LENTICULAR Near Mint/Mint

NIGHTWING (1996) (#1-153) (DC) #1 Near Mint/Mint

OZ-WONDERLAND WAR (CAPTAIN CARROT) (1986) #2 Very Fine
OZ-WONDERLAND WAR (CAPTAIN CARROT) (1986) #3 Fine
OZ-WONDERLAND WAR (CAPTAIN CARROT) (1986) #3 Very Fine

RED HOOD & THE OUTLAWS (2011) (#0-40) (DC NEW52) #0 Near Mint/Mint
RED HOOD & THE OUTLAWS (2011) (#0-40) (DC NEW52) #11 Near Mint/Mint
RED HOOD & THE OUTLAWS (2011) (#0-40) (DC NEW52) #34 Near Mint/Mint

RED LANTERNS (2011) #0 Near Mint/Mint
RED LANTERNS (2011) #1 Near Mint/Mint
RED LANTERNS (2011) #3 Near Mint/Mint
RED LANTERNS (2011) #11 Near Mint/Mint
RED LANTERNS (2011) #12 Near Mint/Mint
RED LANTERNS (2011) #29 Near Mint/Mint
RED LANTERNS (2011) #34 Near Mint/Mint
RED LANTERNS (2011) #35 Near Mint/Mint

RED LANTERNS ANNUAL (2014) #1 Near Mint/Mint


RED LANTERNS: FUTURE'S END (2014) #1 LENTICULAR

RED LANTERNS: FUTURE'S END (2014) #1 LENTICULAR Near Mint/Mint

SECRET ORIGINS (2014) (#1-11) (DC NEW52) #1 Near Mint/Mint
SECRET ORIGINS (2014) (#1-11) (DC NEW52) #5 Near Mint/Mint

SENSATION COMICS FEATURING WONDER WOMAN (2014) #1 Near Mint/Mint

SINESTRO (2014) #1 Near Mint/Mint
SINESTRO (2014) #4 Near Mint/Mint
SINESTRO (2014) #5 Near Mint/Mint

SINESTRO: FUTURE'S END (2014) #1 LENTICULAR Near Mint/Mint

SMALLVILLE SEASON 11 (2012) #4 Near Mint/Mint

SMALLVILLE SEASON 11 SPECIAL (2013) #5 Near Mint/Mint

SMALLVILLE SEASON 11: LANTERN (2014) #1 Near Mint/Mint

STRANGE ADVENTURES (1950) (#1-244) (DC) #169 Good

SUICIDE SQUAD (2011) (#0-30) (DC NEW52) #0 Near Mint/Mint
SUICIDE SQUAD (2011) (#0-30) (DC NEW52) #11 Near Mint/Mint

SUICIDE SQUAD/BANANA SPLITS SPECIAL (2017) #1 VARIANT Near Mint/Mint

SUICIDE SQUAD: AMANDA WALLER (2014) #1 Near Mint/Mint

SUPERBOY (2011) (#1-11) (DC) (JEFF LEMIRE) #1 Near Mint/Mint
SUPERBOY (2011) (#1-11) (DC) (JEFF LEMIRE) #6 Near Mint/Mint

SUPERGIRL (2005) (#0-67) (DC) #58 Near Mint/Mint
SUPERGIRL (2005) (#0-67) (DC) #59 Near Mint/Mint
SUPERGIRL (2005) (#0-67) (DC) #60 Near Mint/Mint
SUPERGIRL (2005) (#0-67) (DC) #61 Near Mint/Mint
SUPERGIRL (2005) (#0-67) (DC) #62 Near Mint/Mint
SUPERGIRL (2005) (#0-67) (DC) #63 Near Mint/Mint
SUPERGIRL (2005) (#0-67) (DC) #64 Near Mint/Mint
SUPERGIRL (2005) (#0-67) (DC) #65 Near Mint/Mint
SUPERGIRL (2005) (#0-67) (DC) #66 Very Fine
SUPERGIRL (2005) (#0-67) (DC) #67 Near Mint/Mint

SUPERGIRL (2011) (#0-40) (DC NEW52) #28 Near Mint/Mint
SUPERGIRL (2011) (#0-40) (DC NEW52) #29 Near Mint/Mint


SUPERGIRL (2011) (#0-40) (DC NEW52) #34

SUPERGIRL (2011) (#0-40) (DC NEW52) #34 Fine
SUPERGIRL (2011) (#0-40) (DC NEW52) #35 Near Mint/Mint

SUPERMAN (1986) (#0-226, #650-714) (DC) #707 Near Mint/Mint
SUPERMAN (1986) (#0-226, #650-714) (DC) #710 Near Mint/Mint
SUPERMAN (1986) (#0-226, #650-714) (DC) #712 Near Mint/Mint
SUPERMAN (1986) (#0-226, #650-714) (DC) #714 Near Mint/Mint

SUPERMAN (2011) (#0-52) (DC NEW52) #34 Near Mint/Mint
SUPERMAN (2011) (#0-52) (DC NEW52) #35 Near Mint/Mint

SUPERMAN 80-PAGE GIANT (2011) #1 Near Mint/Mint

SUPERMAN ANNUAL (2012) #1 Very Fine

SUPERMAN UNCHAINED (2013) #6 Near Mint/Mint
SUPERMAN UNCHAINED (2013) #8 Near Mint/Mint

SUPERMAN/BATMAN (2003) #75 Fine
SUPERMAN/BATMAN (2003) #77 Fine
SUPERMAN/BATMAN (2003) #78 Near Mint/Mint
SUPERMAN/BATMAN (2003) #79 Near Mint/Mint
SUPERMAN/BATMAN (2003) #80 Near Mint/Mint
SUPERMAN/BATMAN (2003) #85 Near Mint/Mint
SUPERMAN/BATMAN (2003) #86 Near Mint/Mint

SUPERMAN/BATMAN ANNUAL (2006) #4 Fine
SUPERMAN/BATMAN ANNUAL (2006) #5 Near Mint/Mint

SUPERMAN/WONDER WOMAN (2013) #7 Near Mint/Mint
SUPERMAN/WONDER WOMAN (2013) #11 Near Mint/Mint
SUPERMAN/WONDER WOMAN (2013) #12 Near Mint/Mint

SUPERMAN/WONDER WOMAN ANNUAL (2014) #1 Near Mint/Mint

SUPERMAN: FUTURE'S END (2014) #1 LENTICULAR Near Mint/Mint

SUPERMAN/WONDER WOMAN: FUTURE'S END (2014) #1 LENTICULAR Near Mint/Mint

SUPERMAN: LEVIATHAN RISING SPECIAL (2019) #1 Near Mint/Mint

SUPERMAN: LOIS LANE (2014) (#1) (NEW 52) #1 Near Mint/Mint

SWAMP THING (1972) (#1-24) #2 Very Good


SWAMP THING (2011) (#0-40) (NEW 52) #11

SWAMP THING (2011) (#0-40) (NEW 52) #11 Near Mint/Mint
SWAMP THING (2011) (#0-40) (NEW 52) #12 Near Mint/Mint
SWAMP THING (2011) (#0-40) (NEW 52) #35 Near Mint/Mint

SWAMP THING: FUTURE'S END (2014) #1 LENTICULAR Near Mint/Mint

TEEN TITANS (2003) (#1-100) (DC) #90 Near Mint/Mint
TEEN TITANS (2003) (#1-100) (DC) #91 Near Mint/Mint
TEEN TITANS (2003) (#1-100) (DC) #92 Near Mint/Mint
TEEN TITANS (2003) (#1-100) (DC) #98 Near Mint/Mint
TEEN TITANS (2003) (#1-100) (DC) #99 Near Mint/Mint
TEEN TITANS (2003) (#1-100) (DC) #100 Near Mint/Mint

TEEN TITANS (2011) (#0-30) (DC NEW52) #0 Near Mint/Mint

UNWRITTEN: APOCALYPSE (VOL. 2) (2014) #6 Near Mint/Mint
UNWRITTEN: APOCALYPSE (VOL. 2) (2014) #7 Near Mint/Mint
UNWRITTEN: APOCALYPSE (VOL. 2) (2014) #8 Near Mint/Mint
UNWRITTEN: APOCALYPSE (VOL. 2) (2014) #9 Near Mint/Mint
UNWRITTEN: APOCALYPSE (VOL. 2) (2014) #10 Near Mint/Mint
UNWRITTEN: APOCALYPSE (VOL. 2) (2014) #11 Near Mint/Mint
UNWRITTEN: APOCALYPSE (VOL. 2) (2014) #12 Near Mint/Mint

WEIRD MYSTERY TALES (1972) #10 Very Fine

WONDER WOMAN (1942) (#1-329) (DC) #224 Very Good

WONDER WOMAN (1987) (#0-226) (DC) #1 Fine

WONDER WOMAN (2011) (#0-52) (DC NEW52) #0 Near Mint/Mint

ZATANNA (2010) #7 Near Mint/Mint
ZATANNA (2010) #8 Near Mint/Mint
ZATANNA (2010) #9 Near Mint/Mint
ZATANNA (2010) #10 Near Mint/Mint
ZATANNA (2010) #12 Near Mint/Mint

DARK HORSE COMICS
300 (1998) #1 Near Mint/Mint
300 (1998) #2 Near Mint/Mint
300 (1998) #3 Very Fine
300 (1998) #4 Near Mint/Mint
300 (1998) #5 Near Mint/Mint

47 RONIN (2012) #5 Near Mint/Mint

AMERICAN (DARK HORSE) (THE AMERICAN) (1987) #1 Very Fine
AMERICAN (DARK HORSE) (THE AMERICAN) (1987) #2 Very Fine

AMERICAN SPLENDOR SPECIAL: STEP OUT OF THE NEST (#18) (1994) #1 Very Fine

AMERICAN SPLENDOR: WINDFALL (#1=19, 2=20) (DARK HORSE) (1995) #1 Near Mint/Mint
AMERICAN SPLENDOR: WINDFALL (#1=19, 2=20) (DARK HORSE) (1995) #1 Very Fine

ANGEL & FAITH (2011) (#1-25) (SEASON 9) (DARK HORSE) #1 MORRIS Near Mint/Mint

BREATH OF BONES: A TALE OF THE GOLEM (2013) #1 Near Mint/Mint
BREATH OF BONES: A TALE OF THE GOLEM (2013) #2 Near Mint/Mint
BREATH OF BONES: A TALE OF THE GOLEM (2013) #3 Near Mint/Mint

BUFFY THE VAMPIRE SLAYER (SEASON 8) (#1-40)(2007)(DKH) #29 CARNEVALE Near Mint/Mint
BUFFY THE VAMPIRE SLAYER (SEASON 8) (#1-40)(2007)(DKH) #30 HUGHES Near Mint/Mint
BUFFY THE VAMPIRE SLAYER (SEASON 8) (#1-40)(2007)(DKH) #31 CHEN Near Mint/Mint
BUFFY THE VAMPIRE SLAYER (SEASON 8) (#1-40)(2007)(DKH) #32 CHEN Near Mint/Mint
BUFFY THE VAMPIRE SLAYER (SEASON 8) (#1-40)(2007)(DKH) #40 CHEN Near Mint/Mint

BUFFY THE VAMPIRE SLAYER: WILLOW - WONDERLAND (2012) #2 LARA Near Mint/Mint
BUFFY THE VAMPIRE SLAYER: WILLOW - WONDERLAND (2012) #3 LARA Near Mint/Mint

CONAN THE BARBARIAN (2012) (#1-25) (DARK HORSE) #16 Near Mint/Mint

CRIMINAL MACABRE/THE GOON: WHEN FREAKS COLLIDE (2011) #1 POWELL Near Mint/Mint

DARK HORSE PRESENTS (1986) (#1-157) #51 Near Mint/Mint
DARK HORSE PRESENTS (1986) (#1-157) #52 Near Mint/Mint
DARK HORSE PRESENTS (1986) (#1-157) #53 Near Mint/Mint
DARK HORSE PRESENTS (1986) (#1-157) #54 Near Mint/Mint
DARK HORSE PRESENTS (1986) (#1-157) #55 Near Mint/Mint
DARK HORSE PRESENTS (1986) (#1-157) #56 Near Mint/Mint
DARK HORSE PRESENTS (1986) (#1-157) #57 Near Mint/Mint
DARK HORSE PRESENTS (1986) (#1-157) #58 Near Mint/Mint
DARK HORSE PRESENTS (1986) (#1-157) #61 Near Mint/Mint

DARK HORSE PRESENTS (2011) (#1-36) #1 MILLER Near Mint/Mint
DARK HORSE PRESENTS (2011) (#1-36) #4 STAPLES Near Mint/Mint
DARK HORSE PRESENTS (2011) (#1-36) #5 POWELL Near Mint/Mint
DARK HORSE PRESENTS (2011) (#1-36) #6 LOVE Near Mint/Mint
DARK HORSE PRESENTS (2011) (#1-36) #25 Near Mint/Mint
DARK HORSE PRESENTS (2011) (#1-36) #26 Near Mint/Mint


DARK HORSE PRESENTS (2011) (#1-36) #27

DARK HORSE PRESENTS (2011) (#1-36) #27 Near Mint/Mint

DR. HORRIBLE ONE-SHOT (2009) #1 C Near Mint/Mint

KING CONAN: HOUR OF THE DRAGON (2013) #1 Near Mint/Mint
KING CONAN: HOUR OF THE DRAGON (2013) #3 Near Mint/Mint

NEXT MEN (1992) #21 Near Mint/Mint

SAN DIEGO COMICS CON COMICS #2 Fine

SIN CITY: A DAME TO KILL FOR (1993) #1 Very Fine
SIN CITY: A DAME TO KILL FOR (1993) #2 Near Mint/Mint
SIN CITY: A DAME TO KILL FOR (1993) #3 Near Mint/Mint
SIN CITY: A DAME TO KILL FOR (1993) #4 Very Fine
SIN CITY: A DAME TO KILL FOR (1993) #5 Near Mint/Mint
SIN CITY: A DAME TO KILL FOR (1993) #6 Fine

SIN CITY: BABE WORE RED (1994) #1 Fine

SIN CITY: BIG FAT KILL #1 Near Mint/Mint
SIN CITY: BIG FAT KILL #2 Near Mint/Mint
SIN CITY: BIG FAT KILL #3 Near Mint/Mint
SIN CITY: BIG FAT KILL #4 Fine
SIN CITY: BIG FAT KILL #5 Fine

SIN CITY: HELL & BACK #1 Fine
SIN CITY: HELL & BACK #2 Near Mint/Mint
SIN CITY: HELL & BACK #3 Very Fine
SIN CITY: HELL & BACK #4 Near Mint/Mint
SIN CITY: HELL & BACK #5 Near Mint/Mint
SIN CITY: HELL & BACK #6 Near Mint/Mint
SIN CITY: HELL & BACK #7 Near Mint/Mint
SIN CITY: HELL & BACK #8 Near Mint/Mint
SIN CITY: HELL & BACK #9 Near Mint/Mint

SIN CITY: LOST, LONELY & LETHAL (1996) #1 Near Mint/Mint

SIN CITY: SEX & VIOLENCE #1 Fine

SIN CITY: SILENT NIGHT (1995) #1 Fine

SIN CITY: THAT YELLOW BASTARD (1995) #1 Near Mint/Mint
SIN CITY: THAT YELLOW BASTARD (1995) #2 Near Mint/Mint
SIN CITY: THAT YELLOW BASTARD (1995) #3 Near Mint/Mint


SIN CITY: THAT YELLOW BASTARD (1995) #4

SIN CITY: THAT YELLOW BASTARD (1995) #4 Near Mint/Mint
SIN CITY: THAT YELLOW BASTARD (1995) #5 Fine
SIN CITY: THAT YELLOW BASTARD (1995) #6 Fine

STAR WARS (2013) (#1-20) (DARK HORSE) #1 Near Mint/Mint

STAR WARS TALES (1999) #1 Very Good
STAR WARS TALES (1999) #2 Very Fine
STAR WARS TALES (1999) #3 Near Mint/Mint
STAR WARS TALES (1999) #4 Near Mint/Mint
STAR WARS TALES (1999) #5 PHOTO Fine
STAR WARS TALES (1999) #6 Near Mint/Mint
STAR WARS TALES (1999) #7 PHOTO Near Mint/Mint
STAR WARS TALES (1999) #9 PHOTO Near Mint/Mint
STAR WARS TALES (1999) #10 PHOTO Fine
STAR WARS TALES (1999) #11 PHOTO Fine
STAR WARS TALES (1999) #12 Near Mint/Mint
STAR WARS TALES (1999) #13 PHOTO Near Mint/Mint
STAR WARS TALES (1999) #14 PHOTO Near Mint/Mint
STAR WARS TALES (1999) #15 PHOTO Near Mint/Mint
STAR WARS TALES (1999) #16 Near Mint/Mint
STAR WARS TALES (1999) #17 PHOTO Near Mint/Mint
STAR WARS TALES (1999) #18 PHOTO Very Fine
STAR WARS TALES (1999) #19 Near Mint/Mint
STAR WARS TALES (1999) #20 PHOTO Fine
STAR WARS TALES (1999) #21 Near Mint/Mint
STAR WARS TALES (1999) #22 PHOTO Near Mint/Mint
STAR WARS TALES (1999) #24 PHOTO Near Mint/Mint

STAR WARS: AGENT OF THE EMPIRE - HARD TARGETS (2012) #1 Near Mint/Mint
STAR WARS: AGENT OF THE EMPIRE - HARD TARGETS (2012) #2 Near Mint/Mint
STAR WARS: AGENT OF THE EMPIRE - HARD TARGETS (2012) #3 Near Mint/Mint
STAR WARS: AGENT OF THE EMPIRE - HARD TARGETS (2012) #4 Near Mint/Mint

STAR WARS: BLOOD TIES - A TALE OF JANGO & BOBA FETT (2010) #1 Near Mint/Mint
STAR WARS: BLOOD TIES - A TALE OF JANGO & BOBA FETT (2010) #2 Near Mint/Mint
STAR WARS: BLOOD TIES - A TALE OF JANGO & BOBA FETT (2010) #3 Near Mint/Mint
STAR WARS: BLOOD TIES - A TALE OF JANGO & BOBA FETT (2010) #4 Near Mint/Mint

STAR WARS: BLOOD TIES - BOBA FETT IS DEAD (2012) #2 Near Mint/Mint
STAR WARS: BLOOD TIES - BOBA FETT IS DEAD (2012) #3 Near Mint/Mint
STAR WARS: BLOOD TIES - BOBA FETT IS DEAD (2012) #4 Very Fine

STAR WARS: CLONE WARS (2008) #10 Near Mint/Mint


STAR WARS: CLONE WARS (2008) #11

STAR WARS: CLONE WARS (2008) #11 Near Mint/Mint
STAR WARS: CLONE WARS (2008) #12 Near Mint/Mint

STAR WARS: DARK TIMES (2006) #15 Near Mint/Mint

STAR WARS: DARTH MAUL - DEATH SENTENCE (2012) #2 Near Mint/Mint
STAR WARS: DARTH MAUL - DEATH SENTENCE (2012) #3 Near Mint/Mint
STAR WARS: DARTH MAUL - DEATH SENTENCE (2012) #4 Near Mint/Mint

STAR WARS: DARTH VADER & THE GHOST PRISON (2012) #5 Near Mint/Mint

STAR WARS: DAWN OF THE JEDI - FORCE STORM (2012) #1 DUURSEMA Very Good

STAR WARS: DAWN OF THE JEDI - PRISONER OF BOGAN (2012) #1 Near Mint/Mint
STAR WARS: DAWN OF THE JEDI - PRISONER OF BOGAN (2012) #2 Near Mint/Mint

STAR WARS: INFINITIES-A NEW HOPE (2001) #1 Very Fine
STAR WARS: INFINITIES-A NEW HOPE (2001) #2 Very Fine

STAR WARS: INFINITIES-EMPIRE STRIKES BACK (2002) #4 Near Mint/Mint

STAR WARS: INFINITIES-RETURN OF THE JEDI (2003) #2 Near Mint/Mint
STAR WARS: INFINITIES-RETURN OF THE JEDI (2003) #3 Near Mint/Mint
STAR WARS: INFINITIES-RETURN OF THE JEDI (2003) #4 Near Mint/Mint

STAR WARS: INVASION (2009) #0 Near Mint/Mint
STAR WARS: INVASION (2009) #4 Near Mint/Mint
STAR WARS: INVASION (2009) #5 Near Mint/Mint

STAR WARS: KNIGHT ERRANT - ESCAPE (2012) #4 Near Mint/Mint
STAR WARS: KNIGHT ERRANT - ESCAPE (2012) #5 Near Mint/Mint

STAR WARS: KNIGHTS OF THE OLD REPUBLIC (2005) #46 Near Mint/Mint
STAR WARS: KNIGHTS OF THE OLD REPUBLIC (2005) #47 Near Mint/Mint
STAR WARS: KNIGHTS OF THE OLD REPUBLIC (2005) #49 Near Mint/Mint

STAR WARS: LEGACY (2006) #1 2ND PRINT Near Mint/Mint
STAR WARS: LEGACY (2006) #40 Near Mint/Mint
STAR WARS: LEGACY (2006) #41 Near Mint/Mint
STAR WARS: LEGACY (2006) #42 Near Mint/Mint
STAR WARS: LEGACY (2006) #43 Near Mint/Mint
STAR WARS: LEGACY (2006) #44 Near Mint/Mint

STAR WARS: LOST TRIBE OF THE SITH (2012) #2 Near Mint/Mint


STAR WARS: LOST TRIBE OF THE SITH (2012) #3

STAR WARS: LOST TRIBE OF THE SITH (2012) #3 Near Mint/Mint
STAR WARS: LOST TRIBE OF THE SITH (2012) #4 Near Mint/Mint
STAR WARS: LOST TRIBE OF THE SITH (2012) #5 Near Mint/Mint

STAR WARS: PURGE - SECONDS TO DIE ONE-SHOT (2009) #1 Near Mint/Mint

STAR WARS: PURGE - TYRANT'S FIST (2012) #1 Near Mint/Mint
STAR WARS: PURGE - TYRANT'S FIST (2012) #2 Near Mint/Mint

STAR WARS: RETURN OF TAG & BINK SPECIAL EDITION (2006) #1 Near Mint/Mint

STAR WARS: TAG & BINK ARE DEAD (2001) #1 Near Mint/Mint
STAR WARS: TAG & BINK ARE DEAD (2001) #2 Near Mint/Mint

STAR WARS: VALENTINE STORY (2003) #1 Near Mint/Mint

TRUE LIVES OF THE FABULOUS KILLJOYS (2013) #1 Near Mint/Mint
TRUE LIVES OF THE FABULOUS KILLJOYS (2013) #2 Near Mint/Mint
TRUE LIVES OF THE FABULOUS KILLJOYS (2013) #2 Very Fine
TRUE LIVES OF THE FABULOUS KILLJOYS (2013) #3 Near Mint/Mint

XERXES: FALL OF THE HOUSE OF DARIUS (FRANK MILLER) (2018) #3 Near Mint/Mint
XERXES: FALL OF THE HOUSE OF DARIUS (FRANK MILLER) (2018) #3 Very Fine
XERXES: FALL OF THE HOUSE OF DARIUS (FRANK MILLER) (2018) #4 Near Mint/Mint

IMAGE COMICS
AMERICA'S GOT POWERS (IMAGE) (2012) #1 Very Fine
AMERICA'S GOT POWERS (IMAGE) (2012) #7 Near Mint/Mint


AMERICAN LEGENDS (IMAGE) (2014) #1 C Near Mint/Mint


BATTLE OF THE PLANETS: PRINCESS (2004) #1 (Image Top Cow) Near Mint/Mint
BATTLE OF THE PLANETS: PRINCESS (2004) #2 (Image Top Cow) Near Mint/Mint
BATTLE OF THE PLANETS: PRINCESS (2004) #3 (Image Top Cow) Near Mint/Mint
BATTLE OF THE PLANETS: PRINCESS (2004) #4 (Image Top Cow) Near Mint/Mint
BATTLE OF THE PLANETS: PRINCESS (2004) #5 (Image Top Cow) Near Mint/Mint


CHEW (2009) #6 Near Mint/Mint
CHEW (2009) #7 Very Fine
CHEW (2009) #8 Near Mint/Mint
CHEW (2009) #9 Near Mint/Mint
CHEW (2009) #10 Very Fine
CHEW (2009) #11 Near Mint/Mint
CHEW (2009) #12 Very Fine


CHEW (2009) #13 Near Mint/Mint
CHEW (2009) #14 Near Mint/Mint
CHEW (2009) #15 Very Fine
CHEW (2009) #16 Near Mint/Mint
CHEW (2009) #17 Near Mint/Mint
CHEW (2009) #18 Near Mint/Mint
CHEW (2009) #19 Near Mint/Mint
CHEW (2009) #20 Very Fine
CHEW (2009) #21 Near Mint/Mint
CHEW (2009) #22 Fine
CHEW (2009) #22 VARIANT Fine
CHEW (2009) #23 Very Fine
CHEW (2009) #24 Near Mint/Mint
CHEW (2009) #25 Near Mint/Mint
CHEW (2009) #26 Near Mint/Mint
CHEW (2009) #27 Near Mint/Mint
CHEW (2009) #28 Near Mint/Mint
CHEW (2009) #29 Near Mint/Mint
CHEW (2009) #30 Near Mint/Mint
CHEW (2009) #45 Near Mint/Mint
CHEW (2009) #46 Near Mint/Mint
CHEW (2009) #47 Near Mint/Mint
CHEW (2009) #48 Near Mint/Mint
CHEW (2009) #50 Near Mint/Mint


CHEW: SECRET AGENT POYO (2012) #1 Very Fine


CHEW: WARRIOR CHICKEN POYO (2014) #1 Very Fine


FARMHAND (2018) #1 Near Mint/Mint


GI JOE (#1-25) (IMAGE) (2001) #1 Very Fine


GUARDING THE GLOBE (2012) #1 Near Mint/Mint
GUARDING THE GLOBE (2012) #2 Near Mint/Mint


INVINCIBLE (2003) #106 Near Mint/Mint
INVINCIBLE (2003) #107 Near Mint/Mint
INVINCIBLE (2003) #108 Near Mint/Mint
INVINCIBLE (2003) #109 Near Mint/Mint
INVINCIBLE (2003) #110 Near Mint/Mint
INVINCIBLE (2003) #111 Near Mint/Mint


INVINCIBLE (2003) #112 Near Mint/Mint
INVINCIBLE (2003) #113 Near Mint/Mint
INVINCIBLE (2003) #114 Near Mint/Mint
INVINCIBLE (2003) #115 Near Mint/Mint
INVINCIBLE (2003) #116 Near Mint/Mint
INVINCIBLE (2003) #117 Near Mint/Mint
INVINCIBLE (2003) #119 Near Mint/Mint
INVINCIBLE (2003) #120 Near Mint/Mint
INVINCIBLE (2003) #122 Near Mint/Mint
INVINCIBLE (2003) #123 Near Mint/Mint


INVINCIBLE PRESENTS ATOM EVE (2007) #2 Near Mint/Mint


INVINCIBLE UNIVERSE (2013) #1 Near Mint/Mint
INVINCIBLE UNIVERSE (2013) #2 Near Mint/Mint
INVINCIBLE UNIVERSE (2013) #3 Near Mint/Mint
INVINCIBLE UNIVERSE (2013) #4 Near Mint/Mint
INVINCIBLE UNIVERSE (2013) #5 Near Mint/Mint
INVINCIBLE UNIVERSE (2013) #6 Near Mint/Mint
INVINCIBLE UNIVERSE (2013) #7 Near Mint/Mint
INVINCIBLE UNIVERSE (2013) #8 Near Mint/Mint
INVINCIBLE UNIVERSE (2013) #9 Near Mint/Mint
INVINCIBLE UNIVERSE (2013) #10 Near Mint/Mint
INVINCIBLE UNIVERSE (2013) #11 Near Mint/Mint
INVINCIBLE UNIVERSE (2013) #12 Near Mint/Mint


OFFICIAL HANDBOOK OF THE INVINCIBLE UNIVERSE (2006) #1 Near Mint/Mint
OFFICIAL HANDBOOK OF THE INVINCIBLE UNIVERSE (2006) #2 Near Mint/Mint


RED STAR (2001) (#1-9) (IMAGE) #3 2X SIGNED Near Mint/Mint
RED STAR (2001) (#1-9) (IMAGE) #8 A 2XSIGNED Near Mint/Mint


SEA BEAR & GRIZZLY SHARK (2010) #1 Very Fine


TENTH DARKK DAWN ONE-SHOT (2005) #1 (Image Top Cow) Near Mint/Mint


TOMB RAIDER/WITCHBLADE/MAGDALENA/VAMPIRELLA ONE-SHOT (2005) #1 (Image Top Cow) Near Mint/Mint


WALKING DEAD (2003) (#1-193) (IMAGE) #171 A ADLARD Near Mint/Mint
WALKING DEAD (2003) (#1-193) (IMAGE) #184 B SIENKIEW Near Mint/Mint


WANTED (2003) #1 SILVESTRI (Image Top Cow) Near Mint/Mint
WANTED (2003) #2 (Image Top Cow) Near Mint/Mint
WANTED (2003) #3 (Image Top Cow) Near Mint/Mint
WANTED (2003) #4 (Image Top Cow) Near Mint/Mint


WANTED (2003) #5 (Image Top Cow) Near Mint/Mint
WANTED (2003) #6 STUPID (Image Top Cow) Near Mint/Mint


WITCHBLADE (1995) (#1-185, #500) (IMAGE) #75 VARIANT (Image Top Cow) Near Mint/Mint
WITCHBLADE (1995) (#1-185, #500) (IMAGE) #76 (Image Top Cow) Near Mint/Mint
WITCHBLADE (1995) (#1-185, #500) (IMAGE) #77 (Image Top Cow) Near Mint/Mint
WITCHBLADE (1995) (#1-185, #500) (IMAGE) #78 GREG LAND (Image Top Cow) Near Mint/Mint
WITCHBLADE (1995) (#1-185, #500) (IMAGE) #79 (Image Top Cow) Near Mint/Mint
WITCHBLADE (1995) (#1-185, #500) (IMAGE) #80 COVER A (Image Top Cow) Near Mint/Mint
WITCHBLADE (1995) (#1-185, #500) (IMAGE) #80 FREE (Image Top Cow) Near Mint/Mint
WITCHBLADE (1995) (#1-185, #500) (IMAGE) #81 (Image Top Cow) Near Mint/Mint
WITCHBLADE (1995) (#1-185, #500) (IMAGE) #82 (Image Top Cow) Very Fine
WITCHBLADE (1995) (#1-185, #500) (IMAGE) #83 (Image Top Cow) Near Mint/Mint
WITCHBLADE (1995) (#1-185, #500) (IMAGE) #84 (Image Top Cow) Near Mint/Mint
WITCHBLADE (1995) (#1-185, #500) (IMAGE) #85 (Image Top Cow) Near Mint/Mint
WITCHBLADE (1995) (#1-185, #500) (IMAGE) #86 (Image Top Cow) Near Mint/Mint
WITCHBLADE (1995) (#1-185, #500) (IMAGE) #87 VARIANT (Image Top Cow) Near Mint/Mint
WITCHBLADE (1995) (#1-185, #500) (IMAGE) #88 (Image Top Cow) Near Mint/Mint
WITCHBLADE (1995) (#1-185, #500) (IMAGE) #89 (Image Top Cow) Near Mint/Mint
WITCHBLADE (1995) (#1-185, #500) (IMAGE) #90 (Image Top Cow) Near Mint/Mint
WITCHBLADE (1995) (#1-185, #500) (IMAGE) #91 (Image Top Cow) Near Mint/Mint
WITCHBLADE (1995) (#1-185, #500) (IMAGE) #92 (Image Top Cow) Near Mint/Mint
WITCHBLADE (1995) (#1-185, #500) (IMAGE) #93 (Image Top Cow) Near Mint/Mint
WITCHBLADE (1995) (#1-185, #500) (IMAGE) #94 (Image Top Cow) Near Mint/Mint
WITCHBLADE (1995) (#1-185, #500) (IMAGE) #95 (Image Top Cow) Near Mint/Mint
WITCHBLADE (1995) (#1-185, #500) (IMAGE) #96 (Image Top Cow) Near Mint/Mint
WITCHBLADE (1995) (#1-185, #500) (IMAGE) #97 CHOI (Image Top Cow) Near Mint/Mint
WITCHBLADE (1995) (#1-185, #500) (IMAGE) #98 (Image Top Cow) Near Mint/Mint
WITCHBLADE (1995) (#1-185, #500) (IMAGE) #99 (Image Top Cow) Near Mint/Mint
WITCHBLADE (1995) (#1-185, #500) (IMAGE) #100 TURNER (Image Top Cow) Near Mint/Mint
WITCHBLADE (1995) (#1-185, #500) (IMAGE) #101 (Image Top Cow) Very Fine
WITCHBLADE (1995) (#1-185, #500) (IMAGE) #102 (Image Top Cow) Near Mint/Mint
WITCHBLADE (1995) (#1-185, #500) (IMAGE) #103 TURNER (Image Top Cow) Near Mint/Mint
WITCHBLADE (1995) (#1-185, #500) (IMAGE) #104 (Image Top Cow) Near Mint/Mint
WITCHBLADE (1995) (#1-185, #500) (IMAGE) #105 DANI (Image Top Cow) Near Mint/Mint
WITCHBLADE (1995) (#1-185, #500) (IMAGE) #106 SKETCH CV (Image Top Cow) Near Mint/Mint
WITCHBLADE (1995) (#1-185, #500) (IMAGE) #107 (Image Top Cow) Near Mint/Mint
WITCHBLADE (1995) (#1-185, #500) (IMAGE) #108 (Image Top Cow) Near Mint/Mint
WITCHBLADE (1995) (#1-185, #500) (IMAGE) #109 (Image Top Cow) Near Mint/Mint
WITCHBLADE (1995) (#1-185, #500) (IMAGE) #110 (Image Top Cow) Near Mint/Mint
WITCHBLADE (1995) (#1-185, #500) (IMAGE) #111 (Image Top Cow) Near Mint/Mint
WITCHBLADE (1995) (#1-185, #500) (IMAGE) #112 (Image Top Cow) Near Mint/Mint
WITCHBLADE (1995) (#1-185, #500) (IMAGE) #113 A (Image Top Cow) Near Mint/Mint
WITCHBLADE (1995) (#1-185, #500) (IMAGE) #114 A (Image Top Cow) Near Mint/Mint
WITCHBLADE (1995) (#1-185, #500) (IMAGE) #115 SARA (Image Top Cow) Near Mint/Mint


WITCHBLADE (1995) (#1-185, #500) (IMAGE) #116 A

WITCHBLADE (1995) (#1-185, #500) (IMAGE) #116 A (Image Top Cow) Near Mint/Mint
WITCHBLADE (1995) (#1-185, #500) (IMAGE) #117 B (Image Top Cow) Near Mint/Mint
WITCHBLADE (1995) (#1-185, #500) (IMAGE) #118 (Image Top Cow) Near Mint/Mint
WITCHBLADE (1995) (#1-185, #500) (IMAGE) #119 A (Image Top Cow) Near Mint/Mint
WITCHBLADE (1995) (#1-185, #500) (IMAGE) #120 A (Image Top Cow) Near Mint/Mint
WITCHBLADE (1995) (#1-185, #500) (IMAGE) #121 (Image Top Cow) Fine

WITCHBLADE VS. FRANKENSTEIN: MONSTER WAR (2005) #1 VARIANT (Image Top Cow) Near Mint/Mint

WITCHBLADE/TOMB RAIDER #1 DFE VAR. (Image Top Cow) Near Mint/Mint

INDEPENDENTS
A VERY ZOMBIE CHRISTMAS (2009) #3 (Antarctic Press) Very Fine

ABSOLUTION (AVATAR) (2009) #2 (Avatar Comics) Near Mint/Mint
ABSOLUTION (AVATAR) (2009) #3 WRAPAROUND (Avatar Comics) Near Mint/Mint
ABSOLUTION (AVATAR) (2009) #4 WRAPAROUND (Avatar Comics) Near Mint/Mint
ABSOLUTION (AVATAR) (2009) #5 WRAPAROUND (Avatar Comics) Near Mint/Mint
ABSOLUTION (AVATAR) (2009) #6 WRAPAROUND (Avatar Comics) Near Mint/Mint

ABSOLUTION: RUBICON (2013) #1 WRAPAROUND (Avatar Comics) Very Fine
ABSOLUTION: RUBICON (2013) #2 WRAPAROUND (Avatar Comics) Near Mint/Mint

ALBEDO (1985) #4 (Thoughts and Images) Near Mint/Mint

AMAZING STRIP (ANTARCTIC) (MANGA) (ADULT) (1994) #1 (Antarctic Press) Fine

AMAZING WORLD OF GUMBALL (2014) #1 A (Boom Studios Publishing) Near Mint/Mint
AMAZING WORLD OF GUMBALL (2014) #3 A (Boom Studios Publishing) Near Mint/Mint
AMAZING WORLD OF GUMBALL (2014) #4 A (Boom Studios Publishing) Near Mint/Mint
AMAZING WORLD OF GUMBALL (2014) #5 A (Boom Studios Publishing) Near Mint/Mint
AMAZING WORLD OF GUMBALL (2014) #6 A (Boom Studios Publishing) Near Mint/Mint
AMAZING WORLD OF GUMBALL (2014) #8 B (Boom Studios Publishing) Near Mint/Mint

AMAZON (COMICO) (STEVEN SEAGLE) (TIM SALE) (1989) #1 (Comico) Near Mint/Mint
AMAZON (COMICO) (STEVEN SEAGLE) (TIM SALE) (1989) #3 (Comico) Near Mint/Mint

AMAZON TALES (FANTACO) (1994) #1 (Fantaco Enterprises) Very Fine
AMAZON TALES (FANTACO) (1994) #3 (Fantaco Enterprises) Near Mint/Mint
AMAZON TALES (FANTACO) (1994) #3 (Fantaco Enterprises) Very Fine
AMAZON TALES (FANTACO) (1994) #4 (Fantaco Enterprises) Fine

AMAZON WOMAN (1996) (#1-4) (CURSE O/T AMAZON) (FANTACO) #4 (Fantaco Enterprises) Very Fine

AMAZON WOMAN SPECIAL: INVADERS OF TERROR (FANTACO) #1 (Fantaco Enterprises) Very Fine


AMAZON WOMAN: JUNGLE FEVER (FANTACO) #1

AMAZON WOMAN: JUNGLE FEVER (FANTACO) #1 (Fantaco Enterprises) Fine

AMBER HAGERMAN DESERVES JUSTICE ONE-SHOT (2009) #1 (Wham-O Mgf. Co.) Near Mint/Mint

AMELIA RULES (2001) #0 FCBD (Renaissance Press) Near Mint/Mint
AMELIA RULES (2001) #1 (Renaissance Press) Very Fine

AMERICAN FLAGG! (FIRST COMICS) (HOWARD CHAYKIN) (1983) #5 (First Comics) Near Mint/Mint
AMERICAN FLAGG! (FIRST COMICS) (HOWARD CHAYKIN) (1983) #7 (First Comics) Near Mint/Mint
AMERICAN FLAGG! (FIRST COMICS) (HOWARD CHAYKIN) (1983) #11 (First Comics) Near Mint/Mint

AMERICOMICS PRESENTS (1983) #5 (Americomics) Near Mint/Mint

AMERIKAN FREAK ONE-SHOT (2006) #1 (Spacedog Inc.) Very Fine

ANGEL ANNUAL (IDW Publishing) (TV) (2009) #1 B (IDW Publishing) Near Mint/Mint

ANGEL: AFTER THE FALL (IDW Publishing) (2007) #26 B (IDW Publishing) Near Mint/Mint
ANGEL: AFTER THE FALL (IDW Publishing) (2007) #27 B (IDW Publishing) Near Mint/Mint
ANGEL: AFTER THE FALL (IDW Publishing) (2007) #28 A (IDW Publishing) Near Mint/Mint
ANGEL: AFTER THE FALL (IDW Publishing) (2007) #29 B (IDW Publishing) Near Mint/Mint

ANGEL: ONLY HUMAN (IDW Publishing) (2009) #3 (IDW Publishing) Near Mint/Mint
ANGEL: ONLY HUMAN (IDW Publishing) (2009) #4 (IDW Publishing) Near Mint/Mint
ANGEL: ONLY HUMAN (IDW Publishing) (2009) #5 (IDW Publishing) Near Mint/Mint

ANNA MERCURY 2 (AVATAR) (WARREN ELLIS) (2009) #2 WRAPAROUND (Avatar Comics) Near Mint/Mint
ANNA MERCURY 2 (AVATAR) (WARREN ELLIS) (2009) #3 PAINTED (Avatar Comics) Near Mint/Mint

ARMY OF DARKNESS (#5-UP) (DYNAMITE) (2006) #25 (DYNAMITE Entertainment) Near Mint/Mint

ARMY OF DARKNESS: ASH SAVES OBAMA (DYNAMITE) (2009) #2 A (DYNAMITE Entertainment) Near Mint/Mint
ARMY OF DARKNESS: ASH SAVES OBAMA (DYNAMITE) (2009) #3 A (DYNAMITE Entertainment) Near Mint/Mint

ASPEN SHOWCASE: KIANI (2009) #1 A (Aspen) Near Mint/Mint

ATHENA (DYNAMITE) (2009) #2 BERKENKOTT (DYNAMITE Entertainment) Near Mint/Mint
ATHENA (DYNAMITE) (2009) #3 RENAUD (DYNAMITE Entertainment) Near Mint/Mint
ATHENA (DYNAMITE) (2009) #4 RENAUD (DYNAMITE Entertainment) Near Mint/Mint

BABYLON 5 MAGAZINE (VOL. 2) (TITAN) (1998) #11 (Titan Magazines) Near Mint/Mint


BATTLESTAR GALACTICA (CLASSIC VOL. 2) (2013) #1

BATTLESTAR GALACTICA (CLASSIC VOL. 2) (2013) #1 (DYNAMITE Entertainment) Near Mint/Mint
BATTLESTAR GALACTICA (CLASSIC VOL. 2) (2013) #2 (DYNAMITE Entertainment) Near Mint/Mint

BIONIC MAN (DYNAMITE) (2011) #13 ROSS (DYNAMITE Entertainment) Near Mint/Mint
BIONIC MAN (DYNAMITE) (2011) #14 ROSS (DYNAMITE Entertainment) Near Mint/Mint
BIONIC MAN (DYNAMITE) (2011) #20 MAYHEW (DYNAMITE Entertainment) Near Mint/Mint
BIONIC MAN (DYNAMITE) (2011) #21 MAYHEW (DYNAMITE Entertainment) Near Mint/Mint
BIONIC MAN (DYNAMITE) (2011) #22 (DYNAMITE Entertainment) Near Mint/Mint

BIONIC MAN VS. BIONIC WOMAN (DYNAMITE) (2013) #4 CHEN (DYNAMITE Entertainment) Near Mint/Mint
BIONIC MAN VS. BIONIC WOMAN (DYNAMITE) (2013) #5 LAU (DYNAMITE Entertainment) Very Fine

BIONIC WOMAN (DYNAMITE) (2012) #3 (DYNAMITE Entertainment) Near Mint/Mint
BIONIC WOMAN (DYNAMITE) (2012) #4 (DYNAMITE Entertainment) Near Mint/Mint
BIONIC WOMAN (DYNAMITE) (2012) #5 (DYNAMITE Entertainment) Near Mint/Mint
BIONIC WOMAN (DYNAMITE) (2012) #6 (DYNAMITE Entertainment) Near Mint/Mint
BIONIC WOMAN (DYNAMITE) (2012) #9 (DYNAMITE Entertainment) Very Fine
BIONIC WOMAN (DYNAMITE) (2012) #10 (DYNAMITE Entertainment) Near Mint/Mint

BOYS (2007) (#7-72) (DYNAMITE) #35 (DYNAMITE Entertainment) Near Mint/Mint
BOYS (2007) (#7-72) (DYNAMITE) #36 (DYNAMITE Entertainment) Near Mint/Mint
BOYS (2007) (#7-72) (DYNAMITE) #37 (DYNAMITE Entertainment) Near Mint/Mint
BOYS (2007) (#7-72) (DYNAMITE) #39 (DYNAMITE Entertainment) Near Mint/Mint
BOYS (2007) (#7-72) (DYNAMITE) #72 (DYNAMITE Entertainment) Very Fine

BOYS: HEROGASM (2009) #5 (DYNAMITE Entertainment) Near Mint/Mint
BOYS: HEROGASM (2009) #6 (DYNAMITE Entertainment) Near Mint/Mint

COMPLETE ALICE IN WONDERLAND (2009) #2 (DYNAMITE Entertainment) Near Mint/Mint

COMPLETE DRACULA (2009) #3 (DYNAMITE Entertainment) Near Mint/Mint
COMPLETE DRACULA (2009) #4 (DYNAMITE Entertainment) Near Mint/Mint
COMPLETE DRACULA (2009) #5 (DYNAMITE Entertainment) Near Mint/Mint

CROSSED (2008) #7 WRAPAROUND (Avatar Comics) Near Mint/Mint
CROSSED (2008) #8 WRAPAROUND (Avatar Comics) Near Mint/Mint

CROSSED: BADLANDS (2012) #12 WRAPAROUND (Avatar Comics) Near Mint/Mint
CROSSED: BADLANDS (2012) #13 WRAPAROUND (Avatar Comics) Near Mint/Mint
CROSSED: BADLANDS (2012) #14 WRAPAROUND (Avatar Comics) Near Mint/Mint
CROSSED: BADLANDS (2012) #15 TORTURE (Avatar Comics) Near Mint/Mint
CROSSED: BADLANDS (2012) #16 WRAPAROUND (Avatar Comics) Near Mint/Mint

CROSSED: FAMILY VALUES (2010) #5 (Avatar Comics) Near Mint/Mint


CROSSED: FAMILY VALUES (2010) #6 TORTURE

CROSSED: FAMILY VALUES (2010) #6 TORTURE (Avatar Comics) Near Mint/Mint
CROSSED: FAMILY VALUES (2010) #7 WRAPAROUND (Avatar Comics) Near Mint/Mint

CROSSED: PSYCHOPATH (2011) #1 WRAPAROUND (Avatar Comics) Near Mint/Mint
CROSSED: PSYCHOPATH (2011) #2 WRAPAROUND (Avatar Comics) Near Mint/Mint
CROSSED: PSYCHOPATH (2011) #3 WRAPAROUND (Avatar Comics) Near Mint/Mint
CROSSED: PSYCHOPATH (2011) #4 TORTURE (Avatar Comics) Near Mint/Mint
CROSSED: PSYCHOPATH (2011) #5 TORTURE (Avatar Comics) Near Mint/Mint
CROSSED: PSYCHOPATH (2011) #6 WRAPAROUND (Avatar Comics) Near Mint/Mint

DEATHMATCH (2012) #8 B (Boom Studios Publishing) Near Mint/Mint

EXECUTIVE ASSISTANT: IRIS (VOL. 3) (2012) #4 B (Aspen) Near Mint/Mint

FATHOM: ELITE SAGA (2013) #2 B (Aspen) Near Mint/Mint
FATHOM: ELITE SAGA (2013) #3 B (Aspen) Near Mint/Mint
FATHOM: ELITE SAGA (2013) #4 A (Aspen) Near Mint/Mint
FATHOM: ELITE SAGA (2013) #5 A (Aspen) Near Mint/Mint

FLASH GORDON: ZEITGEIST (2011) #8 FRANCAVILL (DYNAMITE Entertainment) Very Fine

GAME OF THRONES (2011) #10 (DYNAMITE Entertainment) Fine
GAME OF THRONES (2011) #11 (DYNAMITE Entertainment) Fine
GAME OF THRONES (2011) #12 (DYNAMITE Entertainment) Fine
GAME OF THRONES (2011) #14 (DYNAMITE Entertainment) Near Mint/Mint
GAME OF THRONES (2011) #15 (DYNAMITE Entertainment) Near Mint/Mint
GAME OF THRONES (2011) #16 (DYNAMITE Entertainment) Near Mint/Mint

GI JOE (#26-43) (2004) #33 COVER B (Devil's Due) Near Mint/Mint

GI JOE DREADNOKS: DECLASSIFIED (2006) #1 B (Devil's Due) Near Mint/Mint
GI JOE DREADNOKS: DECLASSIFIED (2006) #3 B (Devil's Due) Near Mint/Mint

GI JOE RELOADED (2004) #11 (Devil's Due) Near Mint/Mint

GI JOE SCARLETT: DECLASSIFIED (2006) #1 (Devil's Due) Near Mint/Mint

GRAVEL (2008) #14 WRAPAROUND (Avatar Comics) Near Mint/Mint
GRAVEL (2008) #15 WRAPAROUND (Avatar Comics) Near Mint/Mint
GRAVEL (2008) #16 WRAPAROUND (Avatar Comics) Near Mint/Mint
GRAVEL (2008) #21 WRAPAROUND (Avatar Comics) Near Mint/Mint

GREEN HORNET (2013) (#1-13) (DYNAMITE) (MARK WAID) #3 SUBSCRIPT (DYNAMITE Entertainment) Near Mint/Mint


GRIMM (DYNAMITE) (2013) #4 PHOTO

GRIMM (DYNAMITE) (2013) #4 PHOTO (DYNAMITE Entertainment) Near Mint/Mint

JENNIFER BLOOD (2011) #29 (DYNAMITE Entertainment) Near Mint/Mint

JENNIFER BLOOD: FIRST BLOOD (2012) #6 (DYNAMITE Entertainment) Near Mint/Mint

LADY MECHANIKA (2011) #1 B (Aspen) Near Mint/Mint
LADY MECHANIKA (2011) #2 A (Aspen) Near Mint/Mint
LADY MECHANIKA (2011) #3 A (Aspen) Near Mint/Mint

LEGEND OF THE SHADOWCLAN (2013) #5 B (Aspen) Near Mint/Mint

LEGENDS OF THE STARGRAZERS (1989) #2 (Innovation Publishing) Near Mint/Mint

LIFE WITH ARCHIE (1958) #51 (Archie Comics) Good
LIFE WITH ARCHIE (1958) #211 (Archie Comics) Near Mint/Mint

LITTLE ARCHIE (1956) #104 (Archie Comics) Near Mint/Mint
LITTLE ARCHIE (1956) #104 (Archie Comics) Fine
LITTLE ARCHIE (1956) #104 (Archie Comics) Very Fine

MAGIC THE GATHERING: SHADOW MAGE (1995) #1 (Acclaim/Valiant) Near Mint/Mint

MASKS (2012) #7 SEGOVIA (DYNAMITE Entertainment) Near Mint/Mint

MONKEES (1967) #1 (Dell Publishing) Fair

NEW CREW VOL. 7: MARINA SERTIS (1992) #1 (Personality) Fine

POWER RANGERS: DRAKKON NEW DAWN (2020) #1 E YOON (Boom Studios Publishing) Near Mint/Mint

QUEEN SONJA (2009) #35 (DYNAMITE Entertainment) Near Mint/Mint

RED SONJA (2013) (#0-18, 100, & 1973) (DYNAMITE) #1 FRISON (DYNAMITE Entertainment) Near Mint/Mint

RICHIE RICH (1960) #80 (Harvey Comics) Very Good
RICHIE RICH (1960) #98 (Harvey Comics) Very Good

RICHIE RICH MILLIONS (1961) #35 (Harvey Comics) Good
RICHIE RICH MILLIONS (1961) #46 (Harvey Comics) Good

ROCKO'S MODERN AFTERLIFE (2019) #1 A MCGINTY (Boom Studios Publishing) Near Mint/Mint
ROCKO'S MODERN AFTERLIFE (2019) #3 B MCCORMIC (Boom Studios Publishing) Near Mint/Mint
ROCKO'S MODERN AFTERLIFE (2019) #4 A MCGINTY (Boom Studios Publishing) Near Mint/Mint

SAD SACK (1949) #206 (Harvey Comics) Very Good

SAD SACK AND THE SARGE (1957) #70 (Harvey Comics) Good

SHADOW SPECIAL (2012) #1 (DYNAMITE Entertainment) Near Mint/Mint

SOULFIRE (2011) (#0-8) (VOL.3) #0 C (Aspen) Near Mint/Mint

SUPERGOD (2009) #1 WRAPAROUND (Avatar Comics) Near Mint/Mint
SUPERGOD (2009) #2 WRAPAROUND (Avatar Comics) Near Mint/Mint
SUPERGOD (2009) #5 WRAPAROUND (Avatar Comics) Near Mint/Mint

TERMINATOR (1988) (#1-17) (NOW COMICS) #3 NEWSSTAND (Now Comics) Fine

UBER (2013) #1 WRAPAROUND (Avatar Comics) Near Mint/Mint
UBER (2013) #3 WRAPAROUND (Avatar Comics) Near Mint/Mint

UNHOLY (2017) (#1-5) (BOUNDLESS) #3 (Boundless Comics) Near Mint/Mint
UNHOLY (2017) (#1-5) (BOUNDLESS) #3 STUNNING (Boundless Comics) Near Mint/Mint

VAMPIRELLA/WITCHBLADE: FEAST (2005) #1 (Harris Comics) Near Mint/Mint

VAMPIRELLA/WITCHBLADE: UNION OF DAMNED (2004) #1 (Harris Comics) Near Mint/Mint

WAR FOR THE PLANET OF THE APES (2017) #1 SUBSCRIPT (Boom Studios Publishing) Near Mint/Mint
WAR FOR THE PLANET OF THE APES (2017) #2 SUBSCRIPT (Boom Studios Publishing) Near Mint/Mint

WARLORD OF MARS: DEJAH THORIS (2011) #14 NEVES (DYNAMITE Entertainment) Near Mint/Mint
WARLORD OF MARS: DEJAH THORIS (2011) #15 RENAUD (DYNAMITE Entertainment) Near Mint/Mint

WARP SPECIAL (1983) #3 (First Comics) Near Mint/Mint

WARRIOR (1996) #2 (Ultimate Creations) Near Mint/Mint

WARRIORS (1987) (#1-5) (ADVENTURE COMICS) #2 (Adventure Comics) Near Mint/Mint

WHITEOUT #1 (Oni Press Inc.) Near Mint/Mint
WHITEOUT #2 (Oni Press Inc.) Near Mint/Mint
WHITEOUT #3 (Oni Press Inc.) Near Mint/Mint
WHITEOUT #4 (Oni Press Inc.) Near Mint/Mint


WITCHBLADE: DEMON REBORN (2012) #2 CALERO NEG

WITCHBLADE: DEMON REBORN (2012) #2 CALERO NEG (DYNAMITE Entertainment) Near Mint/Mint