50% Off GERMANY! codeword
on Back Issue Comics & Magazines
Howdy!
I am in Santa Fe this week, on a mini-vacation with my beloved wife, Nanette. As the little essay that follows explains, my trip has been bittersweet, and filled with memories of better days. That having been said, life goes on, and we all have no choice but to adapt. Thank you in advance for your understanding.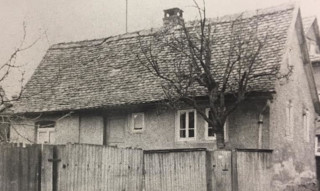 Tiny house in the Marienstrasse

When I am in pain, writing helps me, so I am going to tell you a story. In March, 1955 my 18 year-old unmarried mother brought her newborn to the 1820's cottage in our village in Bavaria that housed my grandparents, and her 16 year-old brother, Christoph. Under German law of the time she was forced to surrender custody of me to her parents, so I was raised in that tiny house in the Marienstrasse (with no bathrooms, heat, or running water) until my mother turned 21, and returned with my new stepfather to take me away to America.
While my grandparents did their best to take care of me, my grandmother's inherited depression, and my grandfather's overwhelming alcoholism, left me oftentimes in the care of my 16 year-old uncle. I do not remember much of that time, except one beautiful fall day (just before I was torn away from my German home) when the two of us spent hours walking through the forests around our farm outside the village, filling sacks with walnuts and hazelnuts. That blissful day is one of my very best memories of my childhood.
Fast-forward 17 years, and a totally Americanized young stranger shows up unannounced on Christoph Sauer's doorstep, asking to please reconnect with his lost family. My long-lost uncle embraced me without hesitation, and then helped me (and eventually our 4 daughters) over the next 40 years to retain our vital connection to a 1950's Germany that was rapidly disappearing before our eyes.
In exchange, I helped my beloved uncle to travel to America about 30 times, where we traveled from coast to coast together, oftentimes on epic road trips that lasted many weeks. His favorite place in the world was New Mexico (and the entire American Southwest), so he would spend his frigid German winters each year dreaming of his next journey to America.
At 3 AM Monday morning the call came that my Uncle Christoph had died. He was 81 years old, and had a long life filled with many joys. Even with that solace in mind, however, I am heartbroken, as he was my very last link to my childhood world. May the blessings of Providence be upon him, and may he rest in eternal peace.
While I would prefer to let my essay about my Uncle Christoph stand on its own, I need to let you know that our new 50% off codeword sale will be entitled GERMANY! in his honor. The new codeword applies to all ten million of our back issue comics and magazines, excluding only new issues, a few variants, and our professionally-graded comics. The New-In-Stock comics in the list following are included in the half price sale, as are all the rest of our standard back issues.

Happy collecting!
Chuck Rozanski/Bettie Pages,
President - Mile High Comics, Inc.
August 13, 2019

MARVEL

AMAZING SPIDER-MAN (1999) (#1-58, #500-700.5) (MARVEL) #614

AMAZING SPIDER-MAN (1999) (#1-58, #500-700.5) (MARVEL) #614 Fine
AMAZING SPIDER-MAN (1999) (#1-58, #500-700.5) (MARVEL) #615 Fine
AMAZING SPIDER-MAN (1999) (#1-58, #500-700.5) (MARVEL) #616 Very Fine
AMAZING SPIDER-MAN (1999) (#1-58, #500-700.5) (MARVEL) #622 Very Fine
AMAZING SPIDER-MAN (1999) (#1-58, #500-700.5) (MARVEL) #623 VARIANT Fine
AMAZING SPIDER-MAN (1999) (#1-58, #500-700.5) (MARVEL) #626 Fine

ARES (GOD OF WAR) (MARVEL) (2005) #2 Very Fine
ARES (GOD OF WAR) (MARVEL) (2005) #4 Near Mint/Mint

ARMOR WARS (2015) #2 Near Mint/Mint

AVENGERS (2010) (#1-34) (MARVEL) #5 Very Fine
AVENGERS (2010) (#1-34) (MARVEL) #6 Fine

AVENGERS: TRIAL OF YELLOWJACKET TPB (2012) #1 Near Mint/Mint

BLACK PANTHER (2016) (#1-18) (MARVEL) #2 2ND PRINT Fine

CABLE (2008) (#1-25) (MARVEL) #13 VARIANT Very Fine
CABLE (2008) (#1-25) (MARVEL) #25 Fine

FANTASTIC FOUR VOL. 1: NEW DEPARTURE, NEW ARRIVALS TPB (2013) #1 Near Mint/Mint

FANTASTIC FOUR: ISLAND OF DEATH TPB (2013) #1 Near Mint/Mint

FANTASTIC FOUR: REUNITED THEY STAND TPB (2013) #1 Near Mint/Mint

FIGMENT (2014) #1 Near Mint/Mint
FIGMENT (2014) #1 Fine
FIGMENT (2014) #1 2ND PRINT Very Fine
FIGMENT (2014) #2 3RD PRINT Near Mint/Mint
FIGMENT (2014) #2 Very Fine
FIGMENT (2014) #5 Near Mint/Mint

HERALDS TPB (2011) #1 Near Mint/Mint

HEROES FOR HIRE: CIVIL WAR TPB (2007) #1 Near Mint/Mint

HEROES OF POWER: WOMEN OF MARVEL TREASURY EDITION TPB (2016) #1 Near Mint/Mint


INCREDIBLE HERCULES: ASSAULT ON NEW OLYMPUS PREMIERE HC (2010) #1

INCREDIBLE HERCULES: ASSAULT ON NEW OLYMPUS PREMIERE HC (2010) #1 Near Mint/Mint

INCREDIBLE HERCULES: SACRED INVASION HC (2009) #1 Near Mint/Mint

INHUMANS (1975) (#1-12) (MARVEL) #1 Fine

IRON FIST (1975) (#1-15) (MARVEL) #3 Fine

IRON MAN ANNUAL (1970) #2 Very Good

MARVEL ENCYCLOPEDIA: FANTASTIC FOUR HC (VOL. 6) (2004) #1 Fine
MARVEL ENCYCLOPEDIA: FANTASTIC FOUR HC (VOL. 6) (2004) #1 Very Fine

MARVEL ILLUSTRATED: TREASURE ISLAND HC (2008) #1 Near Mint/Mint

MARVEL PREMIERE (1972) #9 Good

MARVEL TEAM-UP ANNUAL (1976) #1 Very Good

MARVEL TWO-IN-ONE (1974) (#1-100) (MARVEL) #23 Near Mint/Mint

MARVELS (1994) #2 Near Mint/Mint

MARVELS PROJECT: BIRTH OF THE SUPER HEROES HC (2010) #1 Near Mint/Mint

MARVELS PROJECT: BIRTH OF THE SUPER HEROES TPB (2011) #1 Near Mint/Mint

NOT BRAND ECHH! (1967) (#1-13) (MARVEL) #12 Near Mint/Mint

PETER PARKER (1976) (#1-263) (SPECTACULAR SPIDER-MAN) #1 Very Fine

PUNISHER (1985) (#1-5) (MARVEL) #2 NEWSSTAND Fine
PUNISHER (1985) (#1-5) (MARVEL) #3 Fine
PUNISHER (1985) (#1-5) (MARVEL) #4 NEWSSTAND Very Good
PUNISHER (1985) (#1-5) (MARVEL) #5 Fine

ROM (1979) (#1-75) (MARVEL) #1 NEWSSTAND Fine

SIEGE: MIGHTY AVENGERS TPB (2011) #1 Near Mint/Mint

SIEGE: THOR HC (2010) #1 Near Mint/Mint


SIEGE: THUNDERBOLTS HC (2010) #1

SIEGE: THUNDERBOLTS HC (2010) #1 Very Fine

SPIDER-GIRL (1998) (#0-100) #1 Fine

SPIDER-MAN (1963) (AMAZING SPIDER-MAN) (#1-441) #129 LGF PROMO Very Fine
SPIDER-MAN (1963) (AMAZING SPIDER-MAN) (#1-441) #324 NEWSSTAND Very Fine
SPIDER-MAN (1963) (AMAZING SPIDER-MAN) (#1-441) #330 Near Mint/Mint
SPIDER-MAN (1963) (AMAZING SPIDER-MAN) (#1-441) #340 Near Mint/Mint
SPIDER-MAN (1963) (AMAZING SPIDER-MAN) (#1-441) #341 Near Mint/Mint
SPIDER-MAN (1963) (AMAZING SPIDER-MAN) (#1-441) #342 Near Mint/Mint
SPIDER-MAN (1963) (AMAZING SPIDER-MAN) (#1-441) #349 Near Mint/Mint

SPIDER-MAN: KRAVEN'S FIRST HUNT PREMIERE HC (2008) #1 Near Mint/Mint

SPIDER-WOMAN (1978) (#1-50) (JESSICA DREW) (MARVEL) #1 TOY BIZ Fine

STAR COMICS: ALL-STAR COLLECTION TPB (2009) #2 Near Mint/Mint

STEVE ROGERS: SUPER SOLDIER TPB (2011) #1 Near Mint/Mint

SUB-MARINER (1968) (#1-72) (PRINCE NAMOR SUB-MARINER) #2 Very Good

TAKIO HC (2011) #2 Near Mint/Mint

TALES OF SUSPENSE (1959) (#1-99) (ATLAS/MARVEL) #39 TOY BIZ Fine
TALES OF SUSPENSE (1959) (#1-99) (ATLAS/MARVEL) #91 Very Good
TALES OF SUSPENSE (1959) (#1-99) (ATLAS/MARVEL) #97 Fine

THOR (1962) (#83-125 JOURNEY INTO MYSTERY, 126-502) #155 Good
THOR (1962) (#83-125 JOURNEY INTO MYSTERY, 126-502) #185 Fine
THOR (1962) (#83-125 JOURNEY INTO MYSTERY, 126-502) #190 Fine

THOR VS. HERCULES TPB (2010) #1 Very Fine

THOR VS. SETH, THE SERPENT GOD TPB (2010) #1 Near Mint/Mint

THOR/IRON MAN: GOD COMPLEX HC (2011) #1 Near Mint/Mint

THOR: GOD OF THUNDER HC (2014) #2 Near Mint/Mint

THOR: GOD OF THUNDER VOL. 4: LAST DAYS OF MIDGARD TPB (2015) #1 Very Fine

THOR: GODSTORM HC (2010) #1 Near Mint/Mint

THOR: HEAVEN & EARTH HC (2011) #1 Near Mint/Mint
THOR: HEAVEN & EARTH HC (2011) #1 Very Fine

THOR: SEASON ONE HC (2013) #1 Near Mint/Mint

THOR: TRIAL OF THOR TPB (2017) #1 Near Mint/Mint

THOR: TRIALS OF LOKI PREMIERE HC (2011) #1 Near Mint/Mint

THOR: WORLD EATERS PREMIERE HC (2011) #1 Near Mint/Mint

TOTALLY AWESOME HULK (2015) #1 HIP HOP Near Mint/Mint

TRANSFORMERS (1984) (#1-80) (MARVEL) #1 Good
TRANSFORMERS (1984) (#1-80) (MARVEL) #1 Fine
TRANSFORMERS (1984) (#1-80) (MARVEL) #10 Fine
TRANSFORMERS (1984) (#1-80) (MARVEL) #42 NEWSSTAND Very Good
TRANSFORMERS (1984) (#1-80) (MARVEL) #43 NEWSSTAND Very Good
TRANSFORMERS (1984) (#1-80) (MARVEL) #44 NEWSSTAND Fine
TRANSFORMERS (1984) (#1-80) (MARVEL) #45 NEWSSTAND Very Good
TRANSFORMERS (1984) (#1-80) (MARVEL) #46 NEWSSTAND Fine
TRANSFORMERS (1984) (#1-80) (MARVEL) #47 NEWSSTAND Very Fine
TRANSFORMERS (1984) (#1-80) (MARVEL) #50 NEWSSTAND Fine
TRANSFORMERS (1984) (#1-80) (MARVEL) #51 NEWSSTAND Near Mint/Mint
TRANSFORMERS (1984) (#1-80) (MARVEL) #52 NEWSSTAND Very Fine
TRANSFORMERS (1984) (#1-80) (MARVEL) #53 NEWSSTAND Very Fine
TRANSFORMERS (1984) (#1-80) (MARVEL) #54 NEWSSTAND Fine
TRANSFORMERS (1984) (#1-80) (MARVEL) #55 NEWSSTAND Fine
TRANSFORMERS (1984) (#1-80) (MARVEL) #58 NEWSSTAND Very Good
TRANSFORMERS (1984) (#1-80) (MARVEL) #59 NEWSSTAND Fine
TRANSFORMERS (1984) (#1-80) (MARVEL) #60 NEWSSTAND Fine
TRANSFORMERS (1984) (#1-80) (MARVEL) #61 NEWSSTAND Very Fine
TRANSFORMERS (1984) (#1-80) (MARVEL) #62 NEWSSTAND Very Fine
TRANSFORMERS (1984) (#1-80) (MARVEL) #63 NEWSSTAND Very Fine
TRANSFORMERS (1984) (#1-80) (MARVEL) #64 NEWSSTAND Fine
TRANSFORMERS (1984) (#1-80) (MARVEL) #66 NEWSSTAND Very Good
TRANSFORMERS (1984) (#1-80) (MARVEL) #67 NEWSSTAND Very Good
TRANSFORMERS (1984) (#1-80) (MARVEL) #68 NEWSSTAND Fine

TRANSFORMERS THE MOVIE (1986) #1 Fine


TRANSFORMERS UNIVERSE (1986) #1 NEWSSTAND

TRANSFORMERS UNIVERSE (1986) #1 NEWSSTAND Very Good
TRANSFORMERS UNIVERSE (1986) #2 NEWSSTAND Very Good
TRANSFORMERS UNIVERSE (1986) #3 NEWSSTAND Good

WEAPON X (1995) (#1-4) (AGE OF APOCALYPSE) #1 TOY BIZ Fine

WEAPON X (2002) (#1-28) (MARVEL) #1 WIZARD 1/2 Very Fine

WOLVERINE (1982) (#1-4) (MARVEL LIMITED SERIES) #3 NEWSSTAND Fine

WOLVERINE: BEST THERE IS - CONTAGION TPB (2012) #1 Near Mint/Mint

WOLVERINE: SEASON ONE PREMIERE HC (2013) #1 Near Mint/Mint

X-FACTOR FOREVER TPB (2010) #1 Near Mint/Mint

X-FACTOR VISIONARIES: PETER DAVID TPB (2005) #1 Near Mint/Mint

X-FACTOR: HEART OF ICE (VOL.4) TPB (2008) #1 Near Mint/Mint

X-MEN (1963) (#1-113, UNCANNY X-MEN #114-544) (MARVEL) #60 REPRINT Very Fine
X-MEN (1963) (#1-113, UNCANNY X-MEN #114-544) (MARVEL) #61 REPRINT Very Good

X-MEN (1991) (#1-275) (MARVEL) #2 TOY INSERT Fine
X-MEN (1991) (#1-275) (MARVEL) #4 TOY BIZ Fine
X-MEN (1991) (#1-275) (MARVEL) #6 TOY BIZ Very Fine
X-MEN (1991) (#1-275) (MARVEL) #7 TOY BIZ Fine
X-MEN (1991) (#1-275) (MARVEL) #10 TOY BIZ Fine

X-MEN 2099 TPB (2009) #1 Near Mint/Mint
X-MEN 2099 TPB (2009) #1 Very Fine

X-MEN ORIGINS: EMMA FROST (2010) #1 Fine

X-MEN ORIGINS: JEAN GREY (2008) #1 Very Fine

X-MEN: AGE OF APOCALYPSE PRELUDE TPB (2011) #1 Very Fine

DC
100 BULLETS BOOK TPB (2014) #2 (DC: Vertigo Press) Very Fine
100 BULLETS BOOK TPB (2014) #3 (DC: Vertigo Press) Near Mint/Mint


AMERICAN VIRGIN (DC VERTIGO) (STEVEN SEAGLE) (2006) #1

AMERICAN VIRGIN (DC VERTIGO) (STEVEN SEAGLE) (2006) #1 (DC: Vertigo Press) Fine

ARKHAM ASYLUM: LIVING HELL (BATMAN) (DC) (2003) #1 Near Mint/Mint
ARKHAM ASYLUM: LIVING HELL (BATMAN) (DC) (2003) #2 Near Mint/Mint
ARKHAM ASYLUM: LIVING HELL (BATMAN) (DC) (2003) #2 Very Fine
ARKHAM ASYLUM: LIVING HELL (BATMAN) (DC) (2003) #3 Near Mint/Mint
ARKHAM ASYLUM: LIVING HELL (BATMAN) (DC) (2003) #4 Near Mint/Mint
ARKHAM ASYLUM: LIVING HELL (BATMAN) (DC) (2003) #5 Near Mint/Mint

ARKHAM REBORN (2009) #3 Near Mint/Mint

ARROW (DC) (GREEN ARROW) (2013) #7 Very Fine
ARROW (DC) (GREEN ARROW) (2013) #8 Near Mint/Mint
ARROW (DC) (GREEN ARROW) (2013) #9 Near Mint/Mint
ARROW (DC) (GREEN ARROW) (2013) #10 Near Mint/Mint
ARROW (DC) (GREEN ARROW) (2013) #12 Near Mint/Mint

ARROW: SEASON 2.5 (DC) (GREEN ARROW) (2014) #1 Very Fine
ARROW: SEASON 2.5 (DC) (GREEN ARROW) (2014) #3 Near Mint/Mint
ARROW: SEASON 2.5 (DC) (GREEN ARROW) (2014) #5 Near Mint/Mint
ARROW: SEASON 2.5 (DC) (GREEN ARROW) (2014) #7 Near Mint/Mint

ARSENAL (DC) (TEEN TITANS) (1998) #4 Near Mint/Mint

ART OPS (2015) #2 Very Fine

ARTEMIS REQUIEM (DC) (WONDER WOMAN) (1996) #2 Near Mint/Mint

ASTRO CITY: DARK AGE 2 - BROTHERS IN ARMS HC (2010) #1 Near Mint/Mint

BATMAN: THE RETURN (GRANT MORRISON) (2010) #1 Near Mint/Mint

BEFORE WATCHMEN: MINUTEMEN/SILK SPECTRE TPB (2014) #1 (DC: Vertigo Press) Near Mint/Mint
BEFORE WATCHMEN: MINUTEMEN/SILK SPECTRE TPB (2014) #1 (DC: Vertigo Press) Very Fine

BEFORE WATCHMEN: NITE OWL/DR. MANHATTAN TPB (2014) #1 (DC: Vertigo Press) Near Mint/Mint
BEFORE WATCHMEN: NITE OWL/DR. MANHATTAN TPB (2014) #1 (DC: Vertigo Press) Very Fine

BEFORE WATCHMEN: OZYMANDIAS/CRIMSON CORSAIR TPB (2014) #1 (DC: Vertigo Press) Very Fine

FINAL CRISIS: LEGION OF THREE WORLDS (2008) #4 VARIANT Very Fine

METAL MEN (1963) #4 Good
METAL MEN (1963) #5 Very Good

SECRET ORIGINS (1986) (#1-50) (DC) #18 Near Mint/Mint

SHADOW (1973) (#1-12) (DC) #2 Very Good

SUPERGIRL: BEING SUPER TPB (2018) #1 Near Mint/Mint

WONDER WOMAN (1987) (#0-226) (DC) #139 Fine

WONDER WOMAN/CONAN (2017) (#1-6) (DC) (DARK HORSE) #4 Near Mint/Mint

WORLDS FINEST (1941) (#2-323) (DC) (WORLD'S FINEST) #200 Very Good
WORLDS FINEST (1941) (#2-323) (DC) (WORLD'S FINEST) #233 Very Fine
WORLDS FINEST (1941) (#2-323) (DC) (WORLD'S FINEST) #246 Very Fine

DARK HORSE COMICS
MINIDOKA: 937TH EARL OF ONE MILE SERIES M HC (1998) #1 HC Very Good

SATAN'S ***** BABY (2007) #1 Very Fine

VAMPIRELLA (1991) (#1-4) (DARK HORSE) #2 Very Fine
VAMPIRELLA (1991) (#1-4) (DARK HORSE) #3 Near Mint/Mint
VAMPIRELLA (1991) (#1-4) (DARK HORSE) #4 Very Fine

VAMPIRELLA'S SUMMER NIGHTS (1992) #1 Near Mint/Mint

IMAGE COMICS
ARIA (IMAGE AVALON STUDIOS) (1999) #4 GLOWNDARK Very Fine

ART OF WITCHBLADE ONE-SHOT (IMAGE TOPCOW) (2006) #1 (Image Top Cow) Near Mint/Mint

ARTIFACTS (IMAGE TOPCOW) (2010) #1 2ND PRINT (Image Top Cow) Near Mint/Mint
ARTIFACTS (IMAGE TOPCOW) (2010) #2 B (Image Top Cow) Near Mint/Mint
ARTIFACTS (IMAGE TOPCOW) (2010) #6 A (Image Top Cow) Near Mint/Mint
ARTIFACTS (IMAGE TOPCOW) (2010) #12 A (Image Top Cow) Near Mint/Mint
ARTIFACTS (IMAGE TOPCOW) (2010) #14 A (Image Top Cow) Near Mint/Mint
ARTIFACTS (IMAGE TOPCOW) (2010) #31 A (Image Top Cow) Near Mint/Mint
ARTIFACTS (IMAGE TOPCOW) (2010) #33 A (Image Top Cow) Near Mint/Mint
ARTIFACTS (IMAGE TOPCOW) (2010) #34 A (Image Top Cow) Near Mint/Mint


ARTIFACTS (IMAGE TOPCOW) (2010) #35 A

ARTIFACTS (IMAGE TOPCOW) (2010) #35 A (Image Top Cow) Near Mint/Mint
ARTIFACTS (IMAGE TOPCOW) (2010) #37 A (Image Top Cow) Near Mint/Mint

ASCENSION (IMAGE TOPCOW) (1997) #19 (Image Top Cow) Near Mint/Mint
ASCENSION (IMAGE TOPCOW) (1997) #20 VARIANT (Image Top Cow) Near Mint/Mint

SAGA (2012) #3 2ND PRINT Near Mint/Mint

WALKING DEAD (2003) (#1-193) (IMAGE) #63 Fine
WALKING DEAD (2003) (#1-193) (IMAGE) #67 Fine
WALKING DEAD (2003) (#1-193) (IMAGE) #77 Fine
WALKING DEAD (2003) (#1-193) (IMAGE) #83 Fine

WHERE WE LIVE: LAS VEGAS SHOOTING BENEFIT TPB (2018) #1 Near Mint/Mint

INDEPENDENTS
ARCHIE (1942) (#1-666) (ARCHIE MJL) #654 VARIANT (Archie Comics) Near Mint/Mint

ARCHIE & FRIENDS (1992) #47 (Archie Comics) Very Fine
ARCHIE & FRIENDS (1992) #49 (Archie Comics) Near Mint/Mint

ARCHIE COMICS PRESENTS: LOVE SHOWDOWN COLLECTION (1994) #1 2ND PRINT (Archie Comics) Near Mint/Mint

ARCHIE GIANT SERIES (1954) #570 (Archie Comics) Near Mint/Mint
ARCHIE GIANT SERIES (1954) #574 (Archie Comics) Very Fine

ARCHIE'S PALS 'N' GALS (1952) #208 (Archie Comics) Very Fine
ARCHIE'S PALS 'N' GALS (1952) #209 (Archie Comics) Very Fine

ARCHIE'S SUPER TEENS (1994) #4 (Archie Comics) Very Fine

ARISTOKITTENS (GOLD KEY) (1971) #7 WHITMAN (Gold Key) Very Good

ARMOR HUNTERS (2014) #1 CHROME (Valiant Comics) Fine
ARMOR HUNTERS (2014) #1 CRAIN (Valiant Comics) Very Fine
ARMOR HUNTERS (2014) #4 POSTER 17 (Valiant Comics) Very Fine

ARMY OF DARKNESS (DYNAMITE) (2012) #1 MYCHAELS (DYNAMITE Entertainment) Very Fine
ARMY OF DARKNESS (DYNAMITE) (2012) #12 (DYNAMITE Entertainment) Near Mint/Mint
ARMY OF DARKNESS (#5-UP) (DYNAMITE) (2006) #5 BRADSKETCH (DYNAMITE Entertainment) Near Mint/Mint
ARMY OF DARKNESS (#5-UP) (DYNAMITE) (2006) #19 (DYNAMITE Entertainment) Near Mint/Mint


ARMY OF DARKNESS VS. HACK SLASH (DYNAMITE) (2013) #4 HAESER

ARMY OF DARKNESS VS. HACK SLASH (DYNAMITE) (2013) #4 HAESER (DYNAMITE Entertainment) Near Mint/Mint
ARMY OF DARKNESS VS. HACK SLASH (DYNAMITE) (2013) #5 HAESER (DYNAMITE Entertainment) Near Mint/Mint
ARMY OF DARKNESS VS. HACK SLASH (DYNAMITE) (2013) #5 MITTEN (DYNAMITE Entertainment) Near Mint/Mint
ARMY OF DARKNESS VS. HACK SLASH (DYNAMITE) (2013) #6 HAESER (DYNAMITE Entertainment) Near Mint/Mint

ARMY OF DARKNESS VS. RE-ANIMATOR (DYNAMITE) (2005) #2 TAN (DYNAMITE Entertainment) Very Fine
ARMY OF DARKNESS VS. RE-ANIMATOR (DYNAMITE) (2005) #4 BRADSHAW (DYNAMITE Entertainment) Near Mint/Mint
ARMY OF DARKNESS VS. RE-ANIMATOR (DYNAMITE) (2005) #4 SABLIK (DYNAMITE Entertainment) Near Mint/Mint

ARMY OF DARKNESS/RE-ANIMATOR ONE-SHOT (DYNAMITE) (2013) #1 (DYNAMITE Entertainment) Near Mint/Mint

ARMY OF DARKNESS/XENA: FOREVER & A DAY (2016) #1 E BROWNB&W (DYNAMITE Entertainment) Very Fine
ARMY OF DARKNESS/XENA: FOREVER & A DAY (2016) #4 B CALDWVIR (DYNAMITE Entertainment) Very Fine

ARMY OF DARKNESS: ASH SAVES OBAMA (DYNAMITE) (2009) #2 A (DYNAMITE Entertainment) Very Fine
ARMY OF DARKNESS: ASH SAVES OBAMA (DYNAMITE) (2009) #3 A (DYNAMITE Entertainment) Very Fine
ARMY OF DARKNESS: ASH SAVES OBAMA (DYNAMITE) (2009) #4 NAUCK (DYNAMITE Entertainment) Very Fine

ARMY OF DARKNESS: CONVENTION INVASION (DYNAMITE) (2014) #1 (DYNAMITE Entertainment) Near Mint/Mint

ARMY OF DARKNESS: FROM THE ASHES (DYNAMITE) (2007) #2 SUYDAM (DYNAMITE Entertainment) Very Fine

ARMY OF DARKNESS: FURIOUS ROAD (2016) #5 B HARDMB&W (DYNAMITE Entertainment) Very Fine
ARMY OF DARKNESS: FURIOUS ROAD (2016) #6 B HARDMB&W (DYNAMITE Entertainment) Near Mint/Mint

ARMY OF DARKNESS: LONG ROAD HOME (DYNAMITE) (2008) #5 NEVES (DYNAMITE Entertainment) Very Fine
ARMY OF DARKNESS: LONG ROAD HOME (DYNAMITE) (2008) #5 SUYDAM (DYNAMITE Entertainment) Near Mint/Mint
ARMY OF DARKNESS: LONG ROAD HOME (DYNAMITE) (2008) #15 (DYNAMITE Entertainment) Very Fine
ARMY OF DARKNESS: LONG ROAD HOME (DYNAMITE) (2008) #18 (DYNAMITE Entertainment) Very Fine

ARMY OF TWO (IDW Publishing) (EA COMICS) (2010) #1 (IDW Publishing) Near Mint/Mint
ARMY OF TWO (IDW Publishing) (EA COMICS) (2010) #2 (IDW Publishing) Near Mint/Mint
ARMY OF TWO (IDW Publishing) (EA COMICS) (2010) #3 (IDW Publishing) Near Mint/Mint
ARMY OF TWO (IDW Publishing) (EA COMICS) (2010) #4 (IDW Publishing) Near Mint/Mint
ARMY OF TWO (IDW Publishing) (EA COMICS) (2010) #5 (IDW Publishing) Near Mint/Mint

ARROW ANTHOLOGY (ARROW COMICS GROUP) (1997) #2 (Arrow Comics) Near Mint/Mint
ARROW ANTHOLOGY (ARROW COMICS GROUP) (1997) #4 (Arrow Comics) Very Fine

ARSENIC LULLABY (1998) #10 (A Silent Comics) Fine
ARSENIC LULLABY (1998) #12 (A Silent Comics) Fine
ARSENIC LULLABY (1998) #13 (A Silent Comics) Very Fine
ARSENIC LULLABY (1998) #18 S&N (A Silent Comics) Near Mint/Mint

ARTESIA (SIRIUS) (1999) #1 (Sirius) Fine
ARTESIA (SIRIUS) (1999) #2 (Sirius) Very Fine
ARTESIA (SIRIUS) (1999) #6 (Sirius) Very Fine

ARTESIA ANNUAL (SIRIUS) #1 (Sirius) Near Mint/Mint

ARTESIA BESIEGED (SIRIUS) (2006) #1 (Archaia Studios Press) Near Mint/Mint
ARTESIA BESIEGED (SIRIUS) (2006) #2 (Archaia Studios Press) Near Mint/Mint
ARTESIA BESIEGED (SIRIUS) (2006) #3 (Archaia Studios Press) Fine

ARTHUR, KING OF BRITAIN (CALIBER PRESS) (1993) #3 (Caliber Press) Very Fine
ARTHUR, KING OF BRITAIN (CALIBER PRESS) (1993) #4 (Caliber Press) Fine

ASH & THE ARMY OF DARKNESS (DYNAMITE) (2013) #6 ERICKSON (DYNAMITE Entertainment) Near Mint/Mint

BETTY & VERONICA SPECTACULAR (1992) #64 (Archie Comics) Near Mint/Mint

CODE WORD: GERONIMO HC (2011) #1 (IDW Publishing) Near Mint/Mint

COURTNEY CRUMRIN HC (2012) #6 (Oni Press Inc.) Near Mint/Mint

FIREFLY (2018) #1 A GARBETT (Boom Studios Publishing) Near Mint/Mint
FIREFLY (2018) #1 H JOCK (Boom Studios Publishing) Near Mint/Mint

FISSURE (2017) #3 (Vault Comics) Near Mint/Mint

GIANT DAYS (2015) #43 (Boom Studios Publishing) Near Mint/Mint

HOUSE AMOK (2018) #2 A MCMANUS (IDW Publishing) Near Mint/Mint
HOUSE AMOK (2018) #2 B YARSKY (IDW Publishing) Near Mint/Mint

TEENAGE MUTANT NINJA TURTLES (1984) (#1-62) (MIRAGE) #9 (Mirage Studios) Good
TEENAGE MUTANT NINJA TURTLES (1984) (#1-62) (MIRAGE) #23 (Mirage Studios) Very Good
TEENAGE MUTANT NINJA TURTLES (1984) (#1-62) (MIRAGE) #25 (Mirage Studios) Very Good

TEENAGE MUTANT NINJA TURTLES ADVENTURES (1988) (#1-3) #1 (Archie Comics) Fine

TEENAGE MUTANT NINJA TURTLES ADVENTURES (1989) (#1-72) #1 NEWSSTAND (Archie Comics) Good
TEENAGE MUTANT NINJA TURTLES ADVENTURES (1989) (#1-72) #7 4TH PRINT (Archie Comics) Fine
TEENAGE MUTANT NINJA TURTLES ADVENTURES (1989) (#1-72) #10 4TH PRINT (Archie Comics) Fine
TEENAGE MUTANT NINJA TURTLES ADVENTURES (1989) (#1-72) #11 NEWSSTAND (Archie Comics) Fine

THB MARS MIGHTIEST MEK (M3)(PAUL POPE) (2000) #1 (Horse Press) Near Mint/Mint


THUNDA: KING OF THE CONGO, THE MIGHTY (AMERICOMICS) (1989) #1

THUNDA: KING OF THE CONGO, THE MIGHTY (AMERICOMICS) (1989) #1 (AC Comics) Fine

TITMOUSE HC (2011) #1 (Titmouse Inc.) Fine

UNDERSTANDING COMICS TPB #1 2ND PRINT (Kitchen Sink Publishing) Very Good

WIZARD WORLD CHICAGO PROGRAM (1998) #1 (Wizard Press) Very Fine

WYNONNA EARP: HOME ON THE STRANGE (2003) #2 VARIANT (IDW Publishing) Near Mint/Mint
WYNONNA EARP: HOME ON THE STRANGE (2003) #3 (IDW Publishing) Near Mint/Mint

X-FILES: HERO ILLUSTRATED SPECIAL (TRICK OF THE LIGHT) (1995) #1 (Topps Publishing) Near Mint/Mint

ZOMBIES VS. ROBOTS (2006) (#1-2) (IDW Publishing) #1 ROBOT (IDW Publishing) Near Mint/Mint