Half Price Sale On All Comics Ends Saturday
Howdy,
A short newsletter today, as I have to head over to the vet this afternoon to have our mega-store kitty, Cambridge, examined. She went walk-about last week, and came back with a sore spot on her left hip which has become infected. Theory is that she was in a fight with another cat during her wandering. Silly kitty...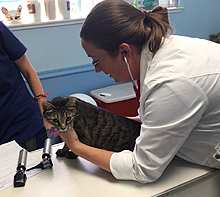 Cambridge getting examined at the vet

Right after I take care of Cambridge, I will be driving 400 miles to Santa Fe, NM. I should arrive about midnight. My purpose in going is that tomorrow (Friday) is Feast Day at Santa Clara Pueblo, which is a sacred Tewa Indian ceremony that I have attended for the past 17 years. My trip is of very short duration, however, as I will be driving right back to Denver on Friday evening. I would love to stay and hang out with my friends in Santa Fe, but I simply have far too much happening in Denver right now.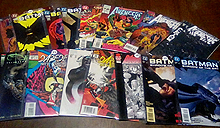 Some comics newly instock now!

While I will be gone for 24 hours, you can still expect a lot of changes to our website by Saturday morning. I just had a very brief staff meeting, during which Will and Pam both waxed poetic about all of the great comics that they have been adding to our website this week. Will believes that he will be adding more than 1,000 individual issues just today, with many of those additions filling holes in our existing listings. All of those comics that Will and Pam are adding can be viewed in New-In-Stock. Even more will appear in Saturday morning's New-In-Stock.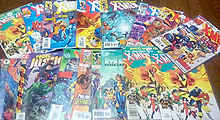 Some more comics newly instock now!

I will close with a quick reminder that our limited duration 50% off FEASTDAY codeword sale will expire this Saturday (August 12th), at noon. The 50% off sale applies to all ten million of our back issue comics and magazines listed on our website, including the vast majority of the issues in today's New-In-Stock and Premium New-In-Stock links. Only new comics, a few variants, and our CGC-graded comics are excluded from our massive half price sale. Please enjoy these awesome savings with our sincere thanks for your continuing support of our company.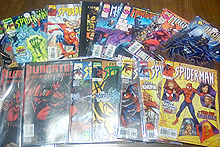 Even more comics newly instock now!

Happy Collecting!
Chuck Rozanski,
President - Mile High Comics, Inc.
August 12, 2016

P.S. While this newsletter is being written late on Thursday afternoon, I have asked Will to not send it out until New-In-Stock has posted on Friday morning. If you take a minute to peruse Friday's New-In-Stock update, I believe that you will be quite impressed by the remarkable diversity of the comics that Will and Pam have added for you this week. Below is just a small sampling...
MARVEL
AMAZING SPIDER-MAN (1999) #9 Near Mint/Mint
AMAZING SPIDER-MAN (1999) #10 Near Mint/Mint
AMAZING SPIDER-MAN (1999) #11 Near Mint/Mint

AMAZING SPIDER-MAN (1999) #12 Near Mint/Mint
AMAZING SPIDER-MAN (1999) #13 Near Mint/Mint

AMAZING SPIDER-MAN OMNIBUS HC (2007) #1 2ND PRINT Fine

AMAZING X-MEN (1995) #3 Near Mint/Mint
ASTONISHING X-MEN (1995) #3 Near Mint/Mint
ASTONISHING X-MEN (1995) #4 Near Mint/Mint

ASTONISHING X-MEN (1999) #1 Near Mint/Mint
ASTONISHING X-MEN (1999) #2 Very Fine
ASTONISHING X-MEN (1999) #3 Very Fine

AVENGERS (1963) (#1-402) (MARVEL) #213 NEWSSTAND Good
AVENGERS (1963) (#1-402) (MARVEL) #362 Near Mint/Mint
AVENGERS (1963) (#1-402) (MARVEL) #366 Fine
AVENGERS (1996) (#1-13) (HEROES REBORN) (MARVEL) #1 Very Fine

BISHOP: THE LAST X-MAN (1999) #1 COMICON ED Very Fine

CAPTAIN AMERICA (1968) #180 Very Fine
CAPTAIN AMERICA (1968) #181 Fine
CAPTAIN AMERICA (1968) #189 Very Good
CAPTAIN AMERICA (1968) #341 NEWSSTAND Very Good

CONTEST OF CHAMPIONS II (1999) #4 Near Mint/Mint
CONTEST OF CHAMPIONS II (1999) #5 Near Mint/Mint

DAREDEVIL (1964) (#1-380) (MAN WITHOUT FEAR) (MARVEL) #84 Very Fine
DAREDEVIL (1964) (#1-380) (MAN WITHOUT FEAR) (MARVEL) #161 NEWSSTAND Good
DAREDEVIL (1964) (#1-380) (MAN WITHOUT FEAR) (MARVEL) #165 NEWSSTAND Good

DAREDEVIL (1998) (#1-119, 500-512) (MARVEL) #6 Near Mint/Mint

DAREDEVIL VISIONARIES: FRANK MILLER HC (2001) #2 Very Fine

DAREDEVIL VISIONARIES: FRANK MILLER TPB (2000) #1 Very Fine

ESSENTIAL SPIDER-MAN TPB (1996) #3 3RD PRINT Fine
ESSENTIAL SPIDER-MAN TPB (1996) #4 2ND PRINT Very Fine
ESSENTIAL SPIDER-MAN TPB (1996) #5 2ND PRINT Near Mint/Mint
ESSENTIAL SPIDER-MAN TPB (1996) #6 Near Mint/Mint

FACTOR-X (1995) #4 Near Mint/Mint

GAMBIT & THE X-TERNALS (1995) #2 Near Mint/Mint
GAMBIT & THE X-TERNALS (1995) #3 Near Mint/Mint

GENERATION NEXT (1995) #4 Near Mint/Mint

GI JOE #11 NEWSSTAND Fine
GI JOE #16 NEWSSTAND Good
GI JOE #55 2ND PRINT Near Mint/Mint
GI JOE #63 2ND PRINT Fine
GI JOE #72 NEWSSTAND Very Good
GI JOE #73 NEWSSTAND Very Good
GI JOE #74 NEWSSTAND Very Good

GI JOE #75 NEWSSTAND Fine
GI JOE #76 NEWSSTAND Very Good
GI JOE #77 NEWSSTAND Good
GI JOE #78 NEWSSTAND Very Good
GI JOE #79 Fine

IRON MAN (1968) (#1-332) (INVINCIBLE IRON MAN)(MARVEL) #302 Near Mint/Mint
IRON MAN (1968) (#1-332) (INVINCIBLE IRON MAN)(MARVEL) #312 Near Mint/Mint

IRON MAN: EXTREMIS TPB (2006) #1 Very Fine

MARVEL PRESENTS (1975) #9 Very Good

PETER PARKER (SPECTACULAR SPIDER-MAN) (1976) #233 Very Fine

PUNISHER (1987) (#1-104) (MARVEL) #86 Near Mint/Mint
PUNISHER (1987) (#1-104) (MARVEL) #87 Near Mint/Mint

PUNISHER/BATMAN: DEADLY KNIGHTS (1994) #1 Near Mint/Mint

ROM (1979) #55 NEWSSTAND Very Good
ROM (1979) #59 NEWSSTAND Fine

SECRET WAR (2004) #1 Fine
SECRET WAR (2004) #1 Near Mint/Mint
SECRET WAR (2004) #1 Very Fine
SECRET WAR (2004) #2 Fine
SECRET WAR (2004) #2 Very Fine
SECRET WAR (2004) #3 Fine
SECRET WAR (2004) #3 Near Mint/Mint
SECRET WAR (2004) #4 Very Fine

SECRET WARRIORS (2009) #1 Near Mint/Mint
SECRET WARRIORS (2009) #11 Near Mint/Mint
SECRET WARRIORS (2009) #11 Fine
SECRET WARRIORS (2009) #11 Very Fine
SECRET WARRIORS (2009) #13 Near Mint/Mint
SECRET WARRIORS (2009) #14 Near Mint/Mint
SECRET WARRIORS (2009) #15 Near Mint/Mint
SECRET WARRIORS (2009) #16 Near Mint/Mint
SECRET WARRIORS (2009) #17 Near Mint/Mint
SECRET WARRIORS (2009) #18 Near Mint/Mint
SECRET WARRIORS (2009) #19 Near Mint/Mint
SECRET WARRIORS (2009) #21 Near Mint/Mint
SECRET WARRIORS (2009) #23 Near Mint/Mint
SECRET WARRIORS (2009) #25 Near Mint/Mint
SECRET WARRIORS (2009) #27 Near Mint/Mint

SECRET WARS (1984) #1 Near Mint/Mint
SECRET WARS (1984) #1 Very Fine
SECRET WARS (1984) #2 Fine
SECRET WARS (1984) #2 Very Fine
SECRET WARS (1984) #3 Fine
SECRET WARS (1984) #3 Near Mint/Mint
SECRET WARS (1984) #3 Very Good
SECRET WARS (1984) #3 Very Fine
SECRET WARS (1984) #5 Fine
SECRET WARS (1984) #5 Very Fine
SECRET WARS (1984) #6 Fine
SECRET WARS (1984) #6 Very Fine
SECRET WARS (1984) #7 Fine
SECRET WARS (1984) #10 NEWSSTAND Fine
SECRET WARS (1984) #11 Fine
SECRET WARS (1984) #11 Near Mint/Mint
SECRET WARS (1984) #11 Very Fine
SECRET WARS (1984) #12 Near Mint/Mint
SECRET WARS (1984) #12 Very Fine

SECRET WARS 2099 (2015) #4 Near Mint/Mint

SECRET WARS II (1985) #7 Near Mint/Mint
SECRET WARS II (1985) #7 Very Fine
SECRET WARS II (1985) #9 Fine
SECRET WARS II (1985) #9 Near Mint/Mint
SECRET WARS II (1985) #9 Very Good
SECRET WARS II (1985) #9 Very Fine

SECRET WARS JOURNAL (2015) #4 Near Mint/Mint

SECRET WARS: BATTLEWORLD (2015) #1 Near Mint/Mint
SECRET WARS: BATTLEWORLD (2015) #2 2ND PRINT Near Mint/Mint
SECRET WARS: BATTLEWORLD (2015) #4 Near Mint/Mint

SENSATIONAL SPIDER-MAN (1996) #0 Near Mint/Mint

SKULL THE SLAYER (1975) #1 Fine
SKULL THE SLAYER (1975) #2 Near Mint/Mint
SKULL THE SLAYER (1975) #4 Near Mint/Mint
SKULL THE SLAYER (1975) #4 Fine

SKULL THE SLAYER (1975) #4 Very Fine
SKULL THE SLAYER (1975) #5 Fine
SKULL THE SLAYER (1975) #5 Very Fine
SKULL THE SLAYER (1975) #6 Very Fine
SKULL THE SLAYER (1975) #7 Fine
SKULL THE SLAYER (1975) #8 Near Mint/Mint

SLEEPWALKER (1991) #1 NEWSSTAND Fine
SLEEPWALKER (1991) #5 NEWSSTAND Near Mint/Mint
SLEEPWALKER (1991) #5 NEWSSTAND Very Fine
SLEEPWALKER (1991) #7 NEWSSTAND Very Fine
SLEEPWALKER (1991) #9 NEWSSTAND Fine
SLEEPWALKER (1991) #26 Near Mint/Mint
SLEEPWALKER (1991) #29 Very Fine

SPECIAL MARVEL EDITION #4 Fine

SPECTACULAR SPIDER-GIRL (2010) #1 Very Fine
SPECTACULAR SPIDER-GIRL (2010) #3 Near Mint/Mint
SPECTACULAR SPIDER-GIRL (2010) #4 Near Mint/Mint
SPECTACULAR SPIDER-GIRL (2010) #4 Very Fine

SPECTACULAR SPIDER-MAN (2003) #15 NEWSSTAND Fine
SPECTACULAR SPIDER-MAN (2003) #18 NEWSSTAND Very Fine
SPECTACULAR SPIDER-MAN (2003) #20 NEWSSTAND Very Fine
SPECTACULAR SPIDER-MAN (2003) #21 NEWSSTAND Very Fine
SPECTACULAR SPIDER-MAN (2003) #26 NEWSSTAND Fine

SPEEDBALL #1 Fine
SPEEDBALL #1 NEWSSTAND Very Fine
SPEEDBALL #1 NEWSSTAND Fine
SPEEDBALL #1 NEWSSTAND Very Good
SPEEDBALL #1 Very Fine
SPEEDBALL #2 Near Mint/Mint
SPEEDBALL #2 NEWSSTAND Fine
SPEEDBALL #4 Near Mint/Mint
SPEEDBALL #10 Near Mint/Mint
SPEEDBALL #10 Very Fine

SPIDER-BOY #1 NEWSSTAND Near Mint/Mint

SPIDER-GIRL (1998) #0 Near Mint/Mint
SPIDER-GIRL (1998) #0 Fine
SPIDER-GIRL (1998) #0 Very Fine
SPIDER-GIRL (1998) #1 Near Mint/Mint
SPIDER-GIRL (1998) #1 WIZARD 1/2 Near Mint/Mint
SPIDER-GIRL (1998) #1 Very Fine
SPIDER-GIRL (1998) #1 WIZARD 1/2 Very Fine
SPIDER-GIRL (1998) #2 VARIANT Very Fine
SPIDER-GIRL (1998) #5 NEWSSTAND Fine
SPIDER-GIRL (1998) #15 NEWSSTAND Near Mint/Mint
SPIDER-GIRL (1998) #16 NEWSSTAND Near Mint/Mint
SPIDER-GIRL (1998) #17 NEWSSTAND Near Mint/Mint
SPIDER-GIRL (1998) #18 NEWSSTAND Near Mint/Mint
SPIDER-GIRL (1998) #25 NEWSSTAND Fine
SPIDER-GIRL (1998) #26 NEWSSTAND Near Mint/Mint
SPIDER-GIRL (1998) #26 NEWSSTAND Good
SPIDER-GIRL (1998) #36 NEWSSTAND Fine
SPIDER-GIRL (1998) #39 NEWSSTAND Very Fine
SPIDER-GIRL (1998) #41 NEWSSTAND Very Fine
SPIDER-GIRL (1998) #42 NEWSSTAND Very Fine
SPIDER-GIRL (1998) #42 NEWSSTAND Fine
SPIDER-GIRL (1998) #42 NEWSSTAND Very Good
SPIDER-GIRL (1998) #43 NEWSSTAND Very Fine
SPIDER-GIRL (1998) #44 Very Fine
SPIDER-GIRL (1998) #45 Very Fine
SPIDER-GIRL (1998) #46 Near Mint/Mint
SPIDER-GIRL (1998) #47 Near Mint/Mint

SPIDER-MAN (1963) (AMAZING SPIDER-MAN) (#1-441) #160 Good
SPIDER-MAN (1963) (AMAZING SPIDER-MAN) (#1-441) #164 Very Good
SPIDER-MAN (1963) (AMAZING SPIDER-MAN) (#1-441) #184 Very Good


SPIDER-MAN (1963) (AMAZING SPIDER-MAN) (#1-441) #188

SPIDER-MAN (1963) (AMAZING SPIDER-MAN) (#1-441) #188 Very Good
SPIDER-MAN (1963) (AMAZING SPIDER-MAN) (#1-441) #197 NEWSSTAND Fine
SPIDER-MAN (1963) (AMAZING SPIDER-MAN) (#1-441) #197 NEWSSTAND Very Good
SPIDER-MAN (1963) (AMAZING SPIDER-MAN) (#1-441) #203 NEWSSTAND Fine
SPIDER-MAN (1963) (AMAZING SPIDER-MAN) (#1-441) #204 Fine
SPIDER-MAN (1963) (AMAZING SPIDER-MAN) (#1-441) #206 Fine
SPIDER-MAN (1963) (AMAZING SPIDER-MAN) (#1-441) #207 NEWSSTAND Very Good
SPIDER-MAN (1963) (AMAZING SPIDER-MAN) (#1-441) #378 Near Mint/Mint
SPIDER-MAN (1963) (AMAZING SPIDER-MAN) (#1-441) #430 Near Mint/Mint

SPIDER-MAN & THE HULK: COLORADO CAPER (DENVER) #1 Fine

SPIDER-MAN AIM TOOTHPASTE GIVEAWAY (GREEN GOBLIN) #1 Fine
SPIDER-MAN AIM TOOTHPASTE GIVEAWAY (GREEN GOBLIN) #1 Very Fine

SPIDER-MAN AND HIS AMAZING FRIENDS (1981) #1 NEWSSTAND Fine

SPIDER-MAN ANNUAL (1964) #5 REPRINT Very Good

SPIDER-MAN GIANT-SIZE (1974) #3 Very Good

SPIDER-MAN NEWSPAPER STRIPS TPB (2014) #1 Near Mint/Mint

SPIDER-MAN UNLIMITED (1993) #1 Near Mint/Mint

SPIDER-MAN, FIRE-STAR, AND ICEMAN (1983) #1 DENVER Fine

SPIDER-MAN: CHRISTMAS IN DALLAS (DALLAS HERALD) (1983) #1 Near Mint/Mint

SPIDER-WOMAN (1978) #1 Fine
SPIDER-WOMAN (1978) #10 Very Fine
SPIDER-WOMAN (1978) #11 Very Fine
SPIDER-WOMAN (1978) #12 Near Mint/Mint
SPIDER-WOMAN (1978) #12 Very Fine
SPIDER-WOMAN (1978) #13 Very Fine
SPIDER-WOMAN (1978) #14 Very Fine
SPIDER-WOMAN (1978) #15 NEWSSTAND Very Fine
SPIDER-WOMAN (1978) #16 Near Mint/Mint
SPIDER-WOMAN (1978) #25 NEWSSTAND Very Fine
SPIDER-WOMAN (1978) #25 Very Fine
SPIDER-WOMAN (1978) #27 NEWSSTAND Very Fine
SPIDER-WOMAN (1978) #28 Near Mint/Mint

TOMB OF DRACULA (1972) #50 Good

VENGEANCE OF THE MOON KNIGHT (2009) #9 Near Mint/Mint

VENOM: LETHAL PROTECTOR (1993) #1 Near Mint/Mint

WARLOCK AND THE INFINITY WATCH (1992) #1 Fine

WARLOCK CHRONICLES (1993) #1 Near Mint/Mint
WARLOCK CHRONICLES (1993) #2 Very Good

WEB OF SCARLET SPIDER (1995) #4 Near Mint/Mint

WEB OF SPIDER-MAN (1985) #102 Near Mint/Mint

WEST COAST AVENGERS (1985) #100 Near Mint/Mint

WOLVERINE (1982) #3 NEWSSTAND Very Good

WOLVERINE (1988) #2 Fine
WOLVERINE (1988) #4 NEWSSTAND Fine
WOLVERINE (1988) #8 Fine
WOLVERINE (1988) #11 NEWSSTAND Fine
WOLVERINE (1988) #12 NEWSSTAND Very Fine
WOLVERINE (1988) #12 NEWSSTAND Fine
WOLVERINE (1988) #13 NEWSSTAND Fine
WOLVERINE (1988) #39 NEWSSTAND Very Good

WOLVERINE (1988) #80 Near Mint/Mint
WOLVERINE (1988) #90 DELUXE Near Mint/Mint

X-CALIBRE (1995) #4 Near Mint/Mint

X-FORCE (1991) #2 Near Mint/Mint
X-FORCE (1991) #2 Fine
X-FORCE (1991) #2 NEWSSTAND Very Fine
X-FORCE (1991) #2 Very Good
X-FORCE (1991) #2 Very Fine
X-FORCE (1991) #11 Near Mint/Mint
X-FORCE (1991) #11 Fine
X-FORCE (1991) #11 Very Fine

X-MAN (1995) #3 Near Mint/Mint
X-MAN (1995) #4 Near Mint/Mint

X-MEN (1963) (#1-113, UNCANNY X-MEN #114-544) (MARVEL) #301 NEWSSTAND Near Mint/Mint
X-MEN (1963) (#1-113, UNCANNY X-MEN #114-544) (MARVEL) #378 Very Fine

X-MEN (1991) (#1-275) (MARVEL) #8 NEWSSTAND Very Good

X-MEN AND THE TEEN TITANS (1982) #1 Fine
X-MEN AND THE TEEN TITANS (1982) #1 NEWSSTAND Very Good

X-MEN: WRATH OF APOCALYPSE (1996) #1 Near Mint/Mint

DC
ANIMAL MAN VOL. 1: THE HUNT TPB (DC) (NEW 52) (2012) #1 Fine

ANIMAL MAN VOL. 2: ANIMAL VS. MAN TPB (DC) (NEW 52) (2013) #1 Near Mint/Mint

BATMAN & ROBIN MOVIE ADAPTATION (1997) #1 Near Mint/Mint

BATMAN ANNUAL (1961) #18 Very Fine

BATMAN CHRONICLES (1995) #4 Near Mint/Mint
BATMAN CHRONICLES (1995) #17 Very Fine

BATMAN/GRENDEL: DEVIL'S RIDDLE (DEVIL'S MASQUE #2) (1993) #1 Fine

BATMAN/JUDGE DREDD: THE ULTIMATE RIDDLE (PRESTIGE) (1995) #1 Near Mint/Mint

BATMAN: BANE OF THE DEMON (1998) #1 Near Mint/Mint

BATMAN: BOOK OF THE DEAD (ELSEWORLDS) (PRESTIGE) (1999) #1 Near Mint/Mint
BATMAN: BOOK OF THE DEAD (ELSEWORLDS) (PRESTIGE) (1999) #2 Near Mint/Mint

BATMAN: BROTHERHOOD OF THE BAT (ELSEWORLDS) (1995) #1 Near Mint/Mint

BATMAN: JOKER'S APPRENTICE (TREVOR UON EEDEN) (1999) #1 Near Mint/Mint

BATMAN: KNIGHTGALLERY (ELSEWORLDS) (1995) #1 Near Mint/Mint

BATMAN: MAN-BAT (JOHN BOLTON) (ELSEWORLDS) (PRESTIGE) (1995) #1 Fine

BATMAN: NO MAN'S LAND (1999) #0 Very Fine

BATMAN: RIDDLER-THE RIDDLE FACTORY (1995) #1 Near Mint/Mint

BATMAN: RIP DELUXE HC (R.I.P.) (GRANT MORRISON) (2008) #1 Near Mint/Mint

BATMAN: SHADOW OF THE BAT (1992) #25 Near Mint/Mint


BATMAN: SHADOW OF THE BAT (1992) #26

BATMAN: SHADOW OF THE BAT (1992) #26 Fine
BATMAN: SHADOW OF THE BAT (1992) #27 Near Mint/Mint
BATMAN: SHADOW OF THE BAT (1992) #28 Near Mint/Mint
BATMAN: SHADOW OF THE BAT (1992) #30 Near Mint/Mint
BATMAN: SHADOW OF THE BAT (1992) #32 Near Mint/Mint
BATMAN: SHADOW OF THE BAT (1992) #35 Very Fine
BATMAN: SHADOW OF THE BAT (1992) #48 Near Mint/Mint
BATMAN: SHADOW OF THE BAT (1992) #49 Near Mint/Mint
BATMAN: SHADOW OF THE BAT (1992) #53 Near Mint/Mint
BATMAN: SHADOW OF THE BAT (1992) #61 Near Mint/Mint
BATMAN: SHADOW OF THE BAT (1992) #64 Fine
BATMAN: SHADOW OF THE BAT (1992) #65 Fine
BATMAN: SHADOW OF THE BAT (1992) #84 Near Mint/Mint
BATMAN: SHADOW OF THE BAT (1992) #89 Near Mint/Mint
BATMAN: SHADOW OF THE BAT (1992) #92 Very Fine
BATMAN: SHADOW OF THE BAT (1992) #93 Very Fine
BATMAN: SHADOW OF THE BAT (1992) #94 Fine

BATMAN: TWO-FACE-CRIME & PUNISHMENT (PRESTIGE) (1995) #1 Near Mint/Mint

BATMAN: VENGEANCE OF BANE II-REDEMPTION (1995) #1 Near Mint/Mint

BEFORE WATCHMEN: COMEDIAN (2012) #1 Near Mint/Mint
BEFORE WATCHMEN: COMEDIAN (2012) #1 COMBO Near Mint/Mint
BEFORE WATCHMEN: COMEDIAN (2012) #1 RISSO Near Mint/Mint
BEFORE WATCHMEN: COMEDIAN (2012) #2 COMBO W/O Near Mint/Mint
BEFORE WATCHMEN: COMEDIAN (2012) #2 VARIANT Near Mint/Mint
BEFORE WATCHMEN: COMEDIAN (2012) #3 Near Mint/Mint
BEFORE WATCHMEN: COMEDIAN (2012) #3 COMBO Near Mint/Mint
BEFORE WATCHMEN: COMEDIAN (2012) #3 VARIANT Near Mint/Mint
BEFORE WATCHMEN: COMEDIAN (2012) #4 Near Mint/Mint
BEFORE WATCHMEN: COMEDIAN (2012) #4 VARIANT Near Mint/Mint
BEFORE WATCHMEN: COMEDIAN (2012) #5 VARIANT Near Mint/Mint
BEFORE WATCHMEN: COMEDIAN (2012) #6 VARIANT Near Mint/Mint

BEFORE WATCHMEN: DOLLAR BILL (2013) #1 VARIANT Near Mint/Mint

BEFORE WATCHMEN: DR. MANHATTAN (2012) #3 Near Mint/Mint

BEFORE WATCHMEN: MINUTEMEN (2012) #1 GOLDEN Near Mint/Mint
BEFORE WATCHMEN: MINUTEMEN (2012) #2 Near Mint/Mint
BEFORE WATCHMEN: MINUTEMEN (2012) #2 VARIANT Near Mint/Mint
BEFORE WATCHMEN: MINUTEMEN (2012) #3 VARIANT Near Mint/Mint


BEFORE WATCHMEN: MINUTEMEN (2012) #4 VARIANT

BEFORE WATCHMEN: MINUTEMEN (2012) #4 VARIANT Near Mint/Mint
BEFORE WATCHMEN: MINUTEMEN (2012) #5 Near Mint/Mint
BEFORE WATCHMEN: MINUTEMEN (2012) #5 VARIANT Near Mint/Mint
BEFORE WATCHMEN: MINUTEMEN (2012) #6 VARIANT Near Mint/Mint

BEFORE WATCHMEN: MOLOCH (2012) #1 Near Mint/Mint
BEFORE WATCHMEN: MOLOCH (2012) #1 WAGNER Near Mint/Mint
BEFORE WATCHMEN: MOLOCH (2012) #2 Near Mint/Mint
BEFORE WATCHMEN: MOLOCH (2012) #2 MOSS Near Mint/Mint

BEFORE WATCHMEN: NITE OWL (2012) #1 COMBO Near Mint/Mint
BEFORE WATCHMEN: NITE OWL (2012) #1 NOWLAN Near Mint/Mint
BEFORE WATCHMEN: NITE OWL (2012) #2 Near Mint/Mint
BEFORE WATCHMEN: NITE OWL (2012) #2 COMBO Near Mint/Mint
BEFORE WATCHMEN: NITE OWL (2012) #2 VARIANT Near Mint/Mint
BEFORE WATCHMEN: NITE OWL (2012) #3 Near Mint/Mint
BEFORE WATCHMEN: NITE OWL (2012) #3 COMBO Near Mint/Mint
BEFORE WATCHMEN: NITE OWL (2012) #3 VARIANT Near Mint/Mint
BEFORE WATCHMEN: NITE OWL (2012) #4 VARIANT Near Mint/Mint

BEFORE WATCHMEN: OZYMANDIAS (2012) #1 Near Mint/Mint
BEFORE WATCHMEN: OZYMANDIAS (2012) #1 COMBO Near Mint/Mint
BEFORE WATCHMEN: OZYMANDIAS (2012) #1 JIMENEZ Near Mint/Mint
BEFORE WATCHMEN: OZYMANDIAS (2012) #2 Near Mint/Mint
BEFORE WATCHMEN: OZYMANDIAS (2012) #2 COMBO Near Mint/Mint
BEFORE WATCHMEN: OZYMANDIAS (2012) #2 VARIANT Near Mint/Mint
BEFORE WATCHMEN: OZYMANDIAS (2012) #3 COMBO Near Mint/Mint
BEFORE WATCHMEN: OZYMANDIAS (2012) #3 VARIANT Near Mint/Mint
BEFORE WATCHMEN: OZYMANDIAS (2012) #4 Near Mint/Mint
BEFORE WATCHMEN: OZYMANDIAS (2012) #4 VARIANT Near Mint/Mint
BEFORE WATCHMEN: OZYMANDIAS (2012) #5 VARIANT Near Mint/Mint
BEFORE WATCHMEN: OZYMANDIAS (2012) #6 VARIANT Near Mint/Mint

BEFORE WATCHMEN: RORSCHACH (2012) #3 VARIANT Near Mint/Mint

BEFORE WATCHMEN: SILK SPECTRE (2012) #1 Near Mint/Mint
BEFORE WATCHMEN: SILK SPECTRE (2012) #1 COMBO Near Mint/Mint
BEFORE WATCHMEN: SILK SPECTRE (2012) #1 JOHNSON Near Mint/Mint
BEFORE WATCHMEN: SILK SPECTRE (2012) #3 COMBO Near Mint/Mint
BEFORE WATCHMEN: SILK SPECTRE (2012) #3 VARIANT Near Mint/Mint

CRIMSON TPB (LOYALTY & LOSS) (1999) #1 2ND PRINT (DC/Wildstorm) Very Good

CRIMSON: HEAVEN & EARTH TPB (2000) #1 (DC/Wildstorm) Very Good

DANGER GIRL (DC/Wildstorm) #6 (DC/Wildstorm) Near Mint/Mint

DARKCHYLDE SUMMER SWIMSUIT SPECTACULAR #1 (DC/Wildstorm) Near Mint/Mint

DC: NEW FRONTIER (2004) #1 Near Mint/Mint
DC: NEW FRONTIER (2004) #3 Near Mint/Mint
DC: NEW FRONTIER (2004) #5 Near Mint/Mint

DEMON KNIGHTS VOL. 1: SEVEN AGAINST THE DARK TPB (2012) #1 Near Mint/Mint

DETECTIVE COMICS (1937) (#1-881) (DC) #655 Near Mint/Mint
DETECTIVE COMICS (1937) (#1-881) (DC) #735 Near Mint/Mint
DETECTIVE COMICS (1937) (#1-881) (DC) #738 Near Mint/Mint
DETECTIVE COMICS (1937) (#1-881) (DC) #740 Near Mint/Mint
DETECTIVE COMICS (1937) (#1-881) (DC) #741 Near Mint/Mint
DETECTIVE COMICS (1937) (#1-881) (DC) #742 Near Mint/Mint

FABLES HC (2009) #1 Near Mint/Mint
FABLES HC (2009) #2 Near Mint/Mint
FABLES HC (2009) #3 Near Mint/Mint
FABLES HC (2009) #7 Near Mint/Mint
FABLES HC (2009) #9 Near Mint/Mint
FABLES HC (2009) #10 Near Mint/Mint
FABLES HC (2009) #11 Near Mint/Mint

FINAL CRISIS HC (2009) #1 Near Mint/Mint

FLEX MENTALLO: MAN OF MUSCLE MYSTERY HC (2011) #1 Near Mint/Mint

JSA (1999) #1 Very Fine

LEAGUE OF EXTRAORDINARY GENTLEMEN TPB (2002) #2 2ND PRINT (DC/America's Best) Very Fine

LEGENDS OF THE DARK CLAW (1996) #1 Very Fine

LEGENDS OF THE DARK KNIGHT (BATMAN) (1989) #0 Near Mint/Mint
LEGENDS OF THE DARK KNIGHT (BATMAN) (1989) #48 Near Mint/Mint
LEGENDS OF THE DARK KNIGHT (BATMAN) (1989) #84 Near Mint/Mint
LEGENDS OF THE DARK KNIGHT (BATMAN) (1989) #89 Near Mint/Mint


LEGENDS OF THE DARK KNIGHT (BATMAN) (1989) #91

LEGENDS OF THE DARK KNIGHT (BATMAN) (1989) #91 Near Mint/Mint
LEGENDS OF THE DARK KNIGHT (BATMAN) (1989) #92 Near Mint/Mint
LEGENDS OF THE DARK KNIGHT (BATMAN) (1989) #94 Near Mint/Mint
LEGENDS OF THE DARK KNIGHT (BATMAN) (1989) #98 Near Mint/Mint

ROBIN (1993) #7 Near Mint/Mint

SECRET SIX (2008) #11 Very Fine
SECRET SIX (2008) #12 Fine
SECRET SIX (2008) #13 Near Mint/Mint
SECRET SIX (2008) #13 Very Fine
SECRET SIX (2008) #14 Fine
SECRET SIX (2008) #14 Near Mint/Mint
SECRET SIX (2008) #14 Very Fine
SECRET SIX (2008) #15 Near Mint/Mint
SECRET SIX (2008) #16 Near Mint/Mint
SECRET SIX (2008) #16 Very Fine
SECRET SIX (2008) #17 Near Mint/Mint
SECRET SIX (2008) #18 Near Mint/Mint
SECRET SIX (2008) #19 Near Mint/Mint
SECRET SIX (2008) #20 Near Mint/Mint
SECRET SIX (2008) #22 Near Mint/Mint
SECRET SIX (2008) #23 Near Mint/Mint
SECRET SIX (2008) #24 Near Mint/Mint
SECRET SIX (2008) #25 Very Fine
SECRET SIX (2008) #27 Near Mint/Mint
SECRET SIX (2008) #27 Very Fine
SECRET SIX (2008) #28 Near Mint/Mint
SECRET SIX (2008) #29 Near Mint/Mint
SECRET SIX (2008) #29 Very Fine
SECRET SIX (2008) #31 Very Fine
SECRET SIX (2008) #33 Near Mint/Mint
SECRET SIX (2008) #34 Near Mint/Mint
SECRET SIX (2008) #34 Very Fine
SECRET SIX (2008) #35 Near Mint/Mint
SECRET SIX (2008) #35 Very Fine
SECRET SIX (2008) #36 Fine
SECRET SIX (2008) #36 Very Fine

SECRET SIX (2014) #1 Fine
SECRET SIX (2014) #1 Near Mint/Mint
SECRET SIX (2014) #1 Very Fine
SECRET SIX (2014) #3 Near Mint/Mint

SPECTRE (1967) #9 Good

SPECTRE (1992) #17 Near Mint/Mint
SPECTRE (1992) #62 Very Fine

SPECTRE ANNUAL (1995) #1 Near Mint/Mint
SPECTRE ANNUAL (1995) #1 Fine

SPEED FORCE (1997) #1 Near Mint/Mint

SUPERMAN (1986) #49 NEWSSTAND Very Fine
SUPERMAN (1986) #78 Near Mint/Mint
SUPERMAN (1986) #78 DELUXE Very Fine

SUPERMAN: AT EARTH'S END (1995) #1 Near Mint/Mint

SUPERMAN: BRAINIAC HC (2009) #1 Near Mint/Mint

SUPERMAN: RETURN OF SUPERMAN TPB #1 Very Fine

SWAMP THING VOL. 1: RAISE THEM BONES TPB (2012) #1 Fine

SWAMP THING VOL. 3: ROTWORLD - GREEN KINGDOM TPB (2013) #1 Near Mint/Mint

UNWRITTEN VOL. 1: TOMMY TAYLOR BOGUS IDENTITY TPB (2010) #1 (DC: Vertigo Press) Very Fine

UNWRITTEN VOL. 2: INSIDE MAN TPB (2010) #1 Very Fine

UNWRITTEN VOL. 3: DEAD MAN'S KNOCK TPB (2011) #1 (DC: Vertigo Press) Very Fine

UNWRITTEN VOL. 4: LEVIATHAN TPB (2011) #1 Near Mint/Mint

UNWRITTEN VOL. 5: ON TO GENESIS TPB (2011) #1 Near Mint/Mint

UNWRITTEN VOL. 6: TOMMY TAYLOR & THE WAR OF WORDS TPB (2012) #1 Near Mint/Mint


UNWRITTEN VOL. 7: THE WOUND TPB (2013) #1

UNWRITTEN VOL. 7: THE WOUND TPB (2013) #1 Near Mint/Mint

UNWRITTEN VOL.10: WAR STORIES TPB (2014) #1 (DC: Vertigo Press) Near Mint/Mint

UNWRITTEN: TOMMY TAYLOR & THE SHIP THAT SANK TWICE HC (2013) #1 Near Mint/Mint

WATCHMEN (1986) #2 Very Fine
WATCHMEN (1986) #2 Very Good
WATCHMEN (1986) #3 Very Fine
WATCHMEN (1986) #4 Fine
WATCHMEN (1986) #4 Very Fine
WATCHMEN (1986) #6 Near Mint/Mint
WATCHMEN (1986) #6 Very Fine
WATCHMEN (1986) #7 Very Good

DARK HORSE COMICS
BEST OF COMIX BOOK: WHEN MARVEL WENT UNDERGROUND HC (2013) #1 Near Mint/Mint

SIN CITY: SEX & VIOLENCE #1 Very Fine

STAR WARS (1998) #7 Near Mint/Mint

STAR WARS EPISODE I: THE PHANTOM MENACE #3 PHOTO Near Mint/Mint

STAR WARS PHANTOM MENACE: QUEEN AMIDALA #1 PHOTO Near Mint/Mint

STAR WARS PHANTOM MENACE: QUI-GON JINN #1 PHOTO Very Fine

IMAGE COMICS
DARKNESS COLLECTED EDITIONS #1 (Image Top Cow) Near Mint/Mint

FATHOM (IMAG98) #0 (Image Top Cow) Near Mint/Mint

FATHOM SWIMSUIT SPECIAL #1 (Image Top Cow) Near Mint/Mint

MEDIEVAL SPAWN/WITCHBLADE #1 Near Mint/Mint

SPAWN (1992) #1 Very Fine
SPAWN (1992) #5 Near Mint/Mint
SPAWN (1992) #36 NEWSSTAND Near Mint/Mint
SPAWN (1992) #40 Near Mint/Mint
SPAWN (1992) #42 Near Mint/Mint
SPAWN (1992) #43 Near Mint/Mint
SPAWN (1992) #44 Near Mint/Mint
SPAWN (1992) #47 Very Fine
SPAWN (1992) #48 Near Mint/Mint
SPAWN (1992) #49 Near Mint/Mint
SPAWN (1992) #51 Near Mint/Mint
SPAWN (1992) #55 Very Fine
SPAWN (1992) #57 Near Mint/Mint
SPAWN (1992) #60 Near Mint/Mint
SPAWN (1992) #61 Near Mint/Mint
SPAWN (1992) #62 Very Fine
SPAWN (1992) #63 Very Fine
SPAWN (1992) #85 Fine

SPAWN BIBLE (1996) #1 Near Mint/Mint
SPAWN BIBLE (1996) #1 Very Fine

SPAWN FAN EDITION #2 VARIANT Very Fine

SPAWN TOY COMIC #1 M SPAWN Very Fine
SPAWN TOY COMIC #1 SPAWN Fine
SPAWN TOY COMIC #1 CLOWN Fine
SPAWN TOY COMIC #1 M SPAWN Fine
SPAWN TOY COMIC #1 SPAWNALLEY Very Fine
SPAWN TOY COMIC #1 VIOLATOR Fine

SPAWN TOY COMIC #1 OVERKILL Fine
SPAWN TOY COMIC #1 SPAWNALLEY Fine
SPAWN TOY COMIC #1 SPAWNMOBLE Very Good
SPAWN TOY COMIC #1 TREMOR Fine

SPAWN/BATMAN #1 Near Mint/Mint
SPAWN/BATMAN #1 Very Fine

SPAWN: THE DARK AGES #9 NEWSSTAND Near Mint/Mint
SPAWN: THE DARK AGES #9 NEWSSTAND Very Fine

STORMWATCH #48 NEWSSTAND Very Fine

TENTH: BLACK EMBRACE #1 VARIANT Near Mint/Mint

VOODOO (1997) #1 Near Mint/Mint

WILDC.A.T.S./X-MEN: GOLDEN AGE #1 Near Mint/Mint

WILDC.A.T.S./X-MEN: SILVER AGE #1 VARIANT Very Fine

WITCHBLADE #36 (Image Top Cow) Near Mint/Mint

INDEPENDENTS
3-D ZONE #16 (3-D Zone) Fine

ARTHUR, THE LEGEND CONTINUES TPB (2012) #1 MEGACONSGN (Cosmic Times) Very Fine

BATTLING BOY: RISE OF AURORA WEST HC (2014) #1 (:01 FIRST SECOND) Very Fine

BROKEN FRONTIER ANTHOLOGY SKETCHBOOK SC (2016) #1 KICKSTART (Wave Blue World) Near Mint/Mint

BROKEN FRONTIER HC (2016) #1 (Wave Blue World) Near Mint/Mint

CHILLING ADVENTURES IN SORCERY (1972) #3 (Archie Comics) Fine
CHILLING ADVENTURES IN SORCERY (1972) #3 (Archie Comics) Very Fine

CURIOUS CASE OF BENJAMIN BUTTON HC (2008) #1 (Quirk Books) Fine

EVIL ERNIE: WAR OF DEAD (1999) #2 (Chaos Comics) Near Mint/Mint

ICHIRO HC (2012) #1 (Houghton Mifflin Company) Fine

JENNY FINN: DOOM MESSIAH TPB (2008) #1 (Boom Studios Publishing) Fine

LADY DEATH: CRUCIBLE (1996) #4 (Chaos Comics) Near Mint/Mint

LADY DEATH: JUDGEMENT WAR (1999) #1 (Chaos Comics) Near Mint/Mint

LADY DEATH: ODYSSEY (1996) #1 (Chaos Comics) Near Mint/Mint

LADY DEATH: RAPTURE (1999) #3 (Chaos Comics) Very Fine
LADY DEATH: RAPTURE (1999) #4 (Chaos Comics) Near Mint/Mint

LONG WALK TO VALHALLA HC (2015) #1 (Boom Studios Publishing) Near Mint/Mint

MARS ATTACKS THE SAVAGE DRAGON (1996) #2 (Topps Publishing) Near Mint/Mint

NEPHILITES: AWAKENINGS GN (2013) #1 (Nephilites.Com) Fine

NEW BRIGHTON ARCHEOLOGICAL SOCIETY HC (2015) #1 (MANEKI NEKO BOOKS) Near Mint/Mint
NEW BRIGHTON ARCHEOLOGICAL SOCIETY HC (2015) #2 (MANEKI NEKO BOOKS) Near Mint/Mint

PURGATORI: GODDESS RISING #2 (Chaos Comics) Near Mint/Mint
PURGATORI: GODDESS RISING #4 (Chaos Comics) Near Mint/Mint

QUEEN & COUNTRY DEFINITIVE TPB (2007) #1 2ND PRINT (Oni Press Inc.) Very Fine
QUEEN & COUNTRY DEFINITIVE TPB (2007) #2 2ND PRINT (Oni Press Inc.) Very Fine
QUEEN & COUNTRY DEFINITIVE TPB (2007) #3 2ND PRINT (Oni Press Inc.) Very Fine

QUEEN & COUNTRY DEFINITIVE TPB (2007) #4 (Oni Press Inc.) Very Fine

RED CIRCLE SORCERY (1974) #7 (Archie Comics) Fine
RED CIRCLE SORCERY (1974) #10 (Archie Comics) Very Good

SECRET WEAPONS (1993) #21 (Acclaim/Valiant) Near Mint/Mint

SEDUCTION OF THE INNOCENT (1985) #4 (Eclipse Enterprises) Near Mint/Mint
SEDUCTION OF THE INNOCENT (1985) #4 (Eclipse Enterprises) Fine
SEDUCTION OF THE INNOCENT (1985) #4 (Eclipse Enterprises) Very Fine


SEDUCTION OF THE INNOCENT (1985) #5

SEDUCTION OF THE INNOCENT (1985) #5 (Eclipse Enterprises) Very Fine
SEDUCTION OF THE INNOCENT (1985) #6 (Eclipse Enterprises) Near Mint/Mint
SEDUCTION OF THE INNOCENT (1985) #6 (Eclipse Enterprises) Very Fine

SIX MILLION DOLLAR MAN (1976) #1 (Charlton) Fine
SIX MILLION DOLLAR MAN (1976) #1 (Charlton) Very Good
SIX MILLION DOLLAR MAN (1976) #1 (Charlton) Very Fine
SIX MILLION DOLLAR MAN (1976) #2 (Charlton) Very Fine
SIX MILLION DOLLAR MAN (1976) #4 (Charlton) Fine
SIX MILLION DOLLAR MAN (1976) #4 (Charlton) Very Good
SIX MILLION DOLLAR MAN (1976) #7 (Charlton) Very Good

SLAINE THE HORNED GOD #3 (Fleetway-Quality Comics) Near Mint/Mint

SMALL BODIED NINJA HIGH SCHOOL COLLECTION #3 GOLD (Antarctic Press) Near Mint/Mint
SMALL BODIED NINJA HIGH SCHOOL COLLECTION #3 GOLD (Antarctic Press) Very Fine
SMALL BODIED NINJA HIGH SCHOOL COLLECTION #7 (Antarctic Press) Near Mint/Mint

SOJOURN (2001) #23 (Crossgen Comics) Near Mint/Mint

SPACE ACE: DEFENDER OF THE UNIVERSE (2003) #1 GRAHAM VAR (Crossgen Comics) Near Mint/Mint

SPACE ADVENTURES (1996) #1 (ACG) Near Mint/Mint

SPACE ADVENTURES (CHARLTON) (VOL 3) (1967) #4 (Charlton) Good
SPACE ADVENTURES (CHARLTON) (VOL 3) (1967) #5 (Charlton) Good

SPACE FAMILY ROBINSON (1962) (#1-54) (GOLD KEY) #21 (Gold Key) Good

SPACE FAMILY ROBINSON (1981) (#55-59) (WHITMAN) #55 (Whitman Publishing) Very Good
SPACE FAMILY ROBINSON (1981) (#55-59) (WHITMAN) #56 (Whitman Publishing) Very Good
SPACE FAMILY ROBINSON (1981) (#55-59) (WHITMAN) #58 (Whitman Publishing) Very Good
SPACE FAMILY ROBINSON (1981) (#55-59) (WHITMAN) #59 (Whitman Publishing) Fine

SPACE GHOST (GOLD KEY) #1 (Gold Key) Fair

SPACE MAN (Dell Publishing) #1 FC #1253 (Dell Publishing) Fair

SPACE WAR (1959) #33 (Charlton) Fine

SPACE: 1999 (1975) #1 (Charlton) Very Good
SPACE: 1999 (1975) #3 (Charlton) Fine
SPACE: 1999 (1975) #5 (Charlton) Fine

SPEAKEASY (MAG) #59 (Acme Press) Very Fine

SPECIAL EDUCATION (2006) #1 CONVENTION (National Press Comics) Very Good

SPECTACLES #2 (Alternate Concepts) Near Mint/Mint
SPECTACLES #2 (Alternate Concepts) Very Fine
SPECTACLES #3 (Alternate Concepts) Fine
SPECTACLES #3 (Alternate Concepts) Very Fine
SPECTACLES #4 (Alternate Concepts) Good

SPEED RACER (Now Comics) (#1-38) (1987) #3 (Now Comics) Near Mint/Mint
SPEED RACER (Now Comics) (#1-38) (1987) #12 (Now Comics) Near Mint/Mint
SPEED RACER (Now Comics) (#1-38) (1987) #12 NEWSSTAND (Now Comics) Fine
SPEED RACER (Now Comics) (#1-38) (1987) #12 NEWSSTAND (Now Comics) Very Good


SPEED RACER (Now Comics) (#1-38) (1987) #12

SPEED RACER (Now Comics) (#1-38) (1987) #12 (Now Comics) Very Fine
SPEED RACER (Now Comics) (#1-38) (1987) #13 (Now Comics) Near Mint/Mint
SPEED RACER (Now Comics) (#1-38) (1987) #13 NEWSSTAND (Now Comics) Near Mint/Mint
SPEED RACER (Now Comics) (#1-38) (1987) #13 NEWSSTAND (Now Comics) Fine
SPEED RACER (Now Comics) (#1-38) (1987) #13 (Now Comics) Very Fine
SPEED RACER (Now Comics) (#1-38) (1987) #14 (Now Comics) Near Mint/Mint
SPEED RACER (Now Comics) (#1-38) (1987) #18 (Now Comics) Near Mint/Mint
SPEED RACER (Now Comics) (#1-38) (1987) #19 (Now Comics) Near Mint/Mint
SPEED RACER (Now Comics) (#1-38) (1987) #21 (Now Comics) Near Mint/Mint
SPEED RACER (Now Comics) (#1-38) (1987) #22 (Now Comics) Near Mint/Mint
SPEED RACER (Now Comics) (#1-38) (1987) #24 (Now Comics) Near Mint/Mint
SPEED RACER (Now Comics) (#1-38) (1987) #26 (Now Comics) Near Mint/Mint
SPEED RACER (Now Comics) (#1-38) (1987) #32 (Now Comics) Near Mint/Mint
SPEED RACER (Now Comics) (#1-38) (1987) #32 (Now Comics) Very Fine
SPEED RACER (Now Comics) (#1-38) (1987) #33 (Now Comics) Near Mint/Mint
SPEED RACER (Now Comics) (#1-38) (1987) #33 (Now Comics) Very Fine
SPEED RACER (Now Comics) (#1-38) (1987) #34 (Now Comics) Near Mint/Mint
SPEED RACER (Now Comics) (#1-38) (1987) #35 (Now Comics) Near Mint/Mint
SPEED RACER (Now Comics) (#1-38) (1987) #35 (Now Comics) Very Fine
SPEED RACER (Now Comics) (#1-38) (1987) #36 (Now Comics) Near Mint/Mint
SPEED RACER (Now Comics) (#1-38) (1987) #38 (Now Comics) Fine
SPEED RACER (Now Comics) (#1-38) (1987) #38 (Now Comics) Near Mint/Mint
SPEED RACER (Now Comics) (#1-38) (1987) #38 (Now Comics) Very Fine

SPEED RACER (Now Comics) #0-3) (1992) #3 (Now Comics) Near Mint/Mint

SPEED RACER 3-D SPECIAL #1 NEWSUNBAGD (Now Comics) Fine
SPEED RACER SPECIAL #1 2ND NEWS (Now Comics) Fine

SPEED RACER: 5TH ANNIVERSARY COLLECTOR'S EDITION #1 (Now Comics) Near Mint/Mint

SPELLBOUND: MAGIC OF LOVE (2001) #1 (Fanboy Comics) Near Mint/Mint
SPELLBOUND: MAGIC OF LOVE (2001) #1 VARIANT (Fanboy Comics) Near Mint/Mint

SPICY ADULT STORIES #1 (Aircel Publications) Fine
SPICY ADULT STORIES #1 (Aircel Publications) Near Mint/Mint
SPICY ADULT STORIES #1 (Aircel Publications) Very Fine

SPICY TALES (1988) #1 (Eternity Comics (World/Imperial)) Fine
SPICY TALES (1988) #3 (Eternity Comics (World/Imperial)) Fine
SPICY TALES (1988) #3 (Eternity Comics (World/Imperial)) Very Good
SPICY TALES (1988) #4 (Eternity Comics (World/Imperial)) Fine
SPICY TALES (1988) #4 (Eternity Comics (World/Imperial)) Very Good
SPICY TALES (1988) #5 (Eternity Comics (World/Imperial)) Good
SPICY TALES (1988) #5 (Eternity Comics (World/Imperial)) Fine
SPICY TALES (1988) #5 (Eternity Comics (World/Imperial)) Very Good
SPICY TALES (1988) #5 (Eternity Comics (World/Imperial)) Very Fine
SPICY TALES (1988) #6 (Eternity Comics (World/Imperial)) Very Good
SPICY TALES (1988) #7 (Eternity Comics (World/Imperial)) Fine
SPICY TALES (1988) #8 (Eternity Comics (World/Imperial)) Fine

SPICY TALES (1988) #8 (Eternity Comics (World/Imperial)) Very Good
SPICY TALES (1988) #9 (Eternity Comics (World/Imperial)) Fine
SPICY TALES (1988) #10 (Eternity Comics (World/Imperial)) Fine
SPICY TALES (1988) #10 (Eternity Comics (World/Imperial)) Very Fine
SPICY TALES (1988) #11 (Eternity Comics (World/Imperial)) Fine
SPICY TALES (1988) #12 (Eternity Comics (World/Imperial)) Fine
SPICY TALES (1988) #12 (Eternity Comics (World/Imperial)) Very Fine
SPICY TALES (1988) #12 (Eternity Comics (World/Imperial)) Very Good
SPICY TALES (1988) #13 (Eternity Comics (World/Imperial)) Fine
SPICY TALES (1988) #13 (Eternity Comics (World/Imperial)) Very Good
SPICY TALES (1988) #14 (Eternity Comics (World/Imperial)) Good
SPICY TALES (1988) #14 (Eternity Comics (World/Imperial)) Very Good
SPICY TALES (1988) #15 (Eternity Comics (World/Imperial)) Fine
SPICY TALES (1988) #15 (Eternity Comics (World/Imperial)) Good
SPICY TALES (1988) #15 (Eternity Comics (World/Imperial)) Very Fine
SPICY TALES (1988) #16 (Eternity Comics (World/Imperial)) Good
SPICY TALES (1988) #16 (Eternity Comics (World/Imperial)) Fine
SPICY TALES (1988) #16 (Eternity Comics (World/Imperial)) Very Good
SPICY TALES (1988) #20 (Eternity Comics (World/Imperial)) Fine
SPICY TALES (1988) #20 (Eternity Comics (World/Imperial)) Very Good

SPICY TALES SPECIAL (1989) #1 (Eternity Comics (World/Imperial)) Fine
SPICY TALES SPECIAL (1989) #2 (Eternity Comics (World/Imperial)) Very Good

SPIDER (2012) #1 DFE ALT CV (DYNAMITE Entertainment) Near Mint/Mint

SPIDER-BABY COMIX #1 (Spiderbaby Graphix) Fine
SPIDER-BABY COMIX #1 (Spiderbaby Graphix) Near Mint/Mint
SPIDER-BABY COMIX #1 (Spiderbaby Graphix) Very Fine
SPIDER-BABY COMIX #2 (Spiderbaby Graphix) Very Fine

SPOOF COMICS VOL.14: SANDMADAM (SANDMAN) (1993) #1 (Spoof Cards & Comics (Div./Friendly) Near Mint/Mint
SPOOF COMICS VOL.14: SANDMADAM (SANDMAN) (1993) #1 (Spoof Cards & Comics (Div./Friendly) Fine


SPOOF COMICS VOL.14: SANDMADAM (SANDMAN) (1993) #1

SPOOF COMICS VOL.14: SANDMADAM (SANDMAN) (1993) #1 (Spoof Cards & Comics (Div./Friendly) Very Good
SPOOF COMICS VOL.14: SANDMADAM (SANDMAN) (1993) #1 (Spoof Cards & Comics (Div./Friendly) Very Fine

UNDERWATER WELDER TPB (2012) #1 (Top Shelf Productions) Very Fine