Great Collection Of Old Comics Arrives
60% Off Through Tuesday, Only
Howdy!
After all that I have written in my past five newsletters about my West Nile illnesses, I am reasonably certain that at least some people think that I view those life-threatening experiences in a negative light. That is not at all the case. It is certainly true that I was incredibly sick for a while, and that I had to spend the better part of six years of rehabilitation in order to recover my impaired cognitive abilities. None of that was fun. Truth be told, however, that second encephalitis infection changed the chemistry in my brain quite a bit, and I view it all to have been for the better.
While my new-found feminization and gender fluidity are off-putting to some of my friends and associates, the reality is that I am today a far nicer person than I was before my illnesses. I work much harder to please others, and to make the world a better place, especially for the poor and disadvantaged. The same is true for my business life, where I have scaled back all of my previous ambitions in order to simply work each day to enhance our Jason St. Mega-Store even further as the greatest single resource for comics and toy collectors in the world. That refocusing of my efforts has had a positive effect far beyond my expectations, with Jason St. today having evolved after 9 years of continuous improvements into what many of our visitors describe as a true national treasure. In simplest terms, I seriously doubt if I would have ever found the inner peace to have embarked upon such an ambitious and altruistic mission had I not come so close to death.
Before I leave the topic of illness, I did want to quickly clarify that I bear no ill will toward my healthcare providers who failed to recognize (or accept) that I had manifested West Nile Encephalitis for a second time. In my experience, most healthcare providers are good people trying their very best to find solutions to oftentimes vexing mysteries. That having been said, in these days of vast Internet medical databases, it is beholden upon each and every person to do their own research, and to try to figure out what's going wrong with themselves long before they ever visit a doctor. You can then at least engage in a reasoned discussion with your healthcare professional of possible causes, and possible remedies. Remember, only you will bear the consequences if something goes wrong with your health, so do your best to educate yourself! 'Nuff said...
I will cut things short now, as our newly-updated list of new comics, books, and magazine arrivals for the past three days is truly immense. I did want to pass on a couple of photos to you, however, from my personal life. The first is a Facebook post that I put up with my wonderful wife, Nanette, by the lake that I designed and built at our farm, and the second FB post shows just a small portion of the 1,000 lbs of food that I am transporting to Albuquerque tomorrow, for the homeless of that city.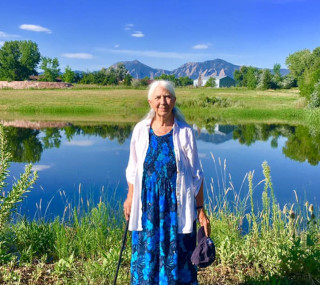 My unbelievably beautiful heaven on earth, complete with my dearly beloved guardian angel... Love is love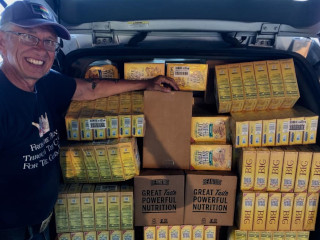 While helping Twotone Grant, the founder of Albuquerque?s ?A Light In The Night? last Saturday
I couldn?t help but notice that her outreach to the homeless had almost completely run out of food
to provide to those in most desperate need. That prompted me to ask my beloved wife Nanette Furman,
if I could please load up the back of our minivan with groceries for ALITN, and drive them down to
Albuquerque tomorrow.
Even though our journey tomorrow is supposed to be dedicated exclusively to our annual relaxed visit
to Santa Fe, Nanette readily agreed to my request to help Twotone, but only as long as I left room for
her bags in the back seat. Nanette?s kindness and understanding freed me to then delve into my savings,
and to reallocate a portion of my annual pottery-buying budget on food for the poor, instead. As the photo
clearly illustrates, our little minivan is now packed to the ceiling! Love is love

Happy collecting!
Chuck Rozanski/Bettie Pages,
President - Mile High Comics, Inc.
August 8, 2019

P.S. Our amazingly generous 60% off SUMMER! codeword sale on all ten million of our back issue comics and magazines is definitely ending next Tuesday. Only new issues, a few variants, and our professionally-graded comics are excluded. Almost all of the back issues in the huge list that follows are still available to you at 60% off, but only through Tuesday. Please enjoy these great savings with our sincere thanks for your continuing support of Mile High Comics!


MARVEL

1 MONTH 2 LIVE TPB (HEROIC AGE) (2011) #1

1 MONTH 2 LIVE TPB (HEROIC AGE) (2011) #1 Near Mint/Mint

2001 (1976) #3 Very Good
2001 (1976) #4 Fine
2001 (1976) #5 Very Good
2001 (1976) #6 Fine
2001 (1976) #7 Fine
2001 (1976) #8 Very Good
2001 (1976) #9 Very Good
2001 (1976) #10 Fine

ABSOLUTE CARNAGE (2019) #1 DELL OTTO Near Mint/Mint
ABSOLUTE CARNAGE (2019) #1 DEODATOB&W Near Mint/Mint
ABSOLUTE CARNAGE (2019) #1 GRANOV Near Mint/Mint
ABSOLUTE CARNAGE (2019) #1 PREMIERE Near Mint/Mint

ALL-NEW INHUMANS (2015) #3 2ND PRINT Near Mint/Mint
ALL-NEW INHUMANS (2015) #5 CASELLI Near Mint/Mint

ALL-NEW INVADERS (2014) #1 YOUNG Very Fine
ALL-NEW INVADERS (2014) #7 Near Mint/Mint
ALL-NEW INVADERS (2014) #13 Near Mint/Mint
ALL-NEW INVADERS (2014) #15 Near Mint/Mint

ALL-NEW SAVAGE SHE-HULK (2009) #1 Very Fine
ALL-NEW SAVAGE SHE-HULK (2009) #3 Near Mint/Mint
ALL-NEW SAVAGE SHE-HULK (2009) #3 VARIANT Near Mint/Mint

ALL-NEW ULTIMATES (2014) #11 Near Mint/Mint
ALL-NEW ULTIMATES (2014) #12 Near Mint/Mint

ALL-NEW X-FACTOR (2014) #14 Near Mint/Mint

ALL-NEW X-MEN (2012) (#1-41) #2 3RD PRINT Fine
ALL-NEW X-MEN (2012) (#1-41) #3 Near Mint/Mint
ALL-NEW X-MEN (2012) (#1-41) #3 2ND PRINT Very Good
ALL-NEW X-MEN (2012) (#1-41) #16 Near Mint/Mint
ALL-NEW X-MEN (2012) (#1-41) #17 Near Mint/Mint
ALL-NEW X-MEN (2012) (#1-41) #24 Very Fine
ALL-NEW X-MEN (2012) (#1-41) #38 Very Fine

ALL-NEW X-MEN (2015) (#1-19) #3 Near Mint/Mint


ALL-NEW X-MEN (2015) (#1-19) #3 2ND PRINT

ALL-NEW X-MEN (2015) (#1-19) #3 2ND PRINT Near Mint/Mint
ALL-NEW X-MEN (2015) (#1-19) #4 LIM Very Fine
ALL-NEW X-MEN (2015) (#1-19) #4 BAGLEY Very Fine
ALL-NEW X-MEN (2015) (#1-19) #4 BRIGMAN Near Mint/Mint
ALL-NEW X-MEN (2015) (#1-19) #9 LASHLEY C Near Mint/Mint
ALL-NEW X-MEN (2015) (#1-19) #19 Near Mint/Mint

ALL-NEW X-MEN ANNUAL (2017) #1 CHAN Near Mint/Mint

ALPHA (BIG TIME) (SPIDER-MAN) (MARVEL) (2013) #4 Near Mint/Mint
ALPHA (BIG TIME) (SPIDER-MAN) (MARVEL) (2013) #5 Near Mint/Mint

ALPHA FLIGHT (1983) (#1-130) #1 NEWSSTAND Fine
ALPHA FLIGHT (1983) (#1-130) #10 Very Fine
ALPHA FLIGHT (1983) (#1-130) #29 Near Mint/Mint
ALPHA FLIGHT (1983) (#1-130) #33 Very Fine
ALPHA FLIGHT (1983) (#1-130) #51 Near Mint/Mint
ALPHA FLIGHT (1983) (#1-130) #51 Fine
ALPHA FLIGHT (1983) (#1-130) #59 Near Mint/Mint
ALPHA FLIGHT (1983) (#1-130) #60 Near Mint/Mint
ALPHA FLIGHT (1983) (#1-130) #62 Near Mint/Mint
ALPHA FLIGHT (1983) (#1-130) #69 NEWSSTAND Near Mint/Mint

AMAZING SPIDER-MAN (1999) (#1-58, #500-700.5) (MARVEL) #13 Very Fine
AMAZING SPIDER-MAN (1999) (#1-58, #500-700.5) (MARVEL) #25 DELUXE Near Mint/Mint
AMAZING SPIDER-MAN (1999) (#1-58, #500-700.5) (MARVEL) #500 Fine
AMAZING SPIDER-MAN (1999) (#1-58, #500-700.5) (MARVEL) #519 Near Mint/Mint
AMAZING SPIDER-MAN (1999) (#1-58, #500-700.5) (MARVEL) #520 Near Mint/Mint
AMAZING SPIDER-MAN (1999) (#1-58, #500-700.5) (MARVEL) #521 Very Fine
AMAZING SPIDER-MAN (1999) (#1-58, #500-700.5) (MARVEL) #524 Near Mint/Mint
AMAZING SPIDER-MAN (1999) (#1-58, #500-700.5) (MARVEL) #526 Fine

AMAZING SPIDER-MAN: RENEW YOUR VOWS (2017) (MARVEL NOW) #13 Near Mint/Mint
AMAZING SPIDER-MAN: RENEW YOUR VOWS (2017) (MARVEL NOW) #13 MCKONE Very Fine
AMAZING SPIDER-MAN: RENEW YOUR VOWS (2017) (MARVEL NOW) #14 Near Mint/Mint

AMAZING X-MEN (2014) (#1-19) #2 Fine
AMAZING X-MEN (2014) (#1-19) #3 Near Mint/Mint
AMAZING X-MEN (2014) (#1-19) #4 Near Mint/Mint
AMAZING X-MEN (2014) (#1-19) #17 Near Mint/Mint
AMAZING X-MEN (2014) (#1-19) #19 Near Mint/Mint


AMERICA (2017) (#1-UP) (MARVEL) (AMERICA CHAVEZ) #1 C2C 2017

AMERICA (2017) (#1-UP) (MARVEL) (AMERICA CHAVEZ) #1 C2C 2017 Very Fine
AMERICA (2017) (#1-UP) (MARVEL) (AMERICA CHAVEZ) #1 2ND QUINON Near Mint/Mint
AMERICA (2017) (#1-UP) (MARVEL) (AMERICA CHAVEZ) #1 C2C 2017 Fine
AMERICA (2017) (#1-UP) (MARVEL) (AMERICA CHAVEZ) #1 Very Fine
AMERICA (2017) (#1-UP) (MARVEL) (AMERICA CHAVEZ) #8 BARTEL Near Mint/Mint
AMERICA (2017) (#1-UP) (MARVEL) (AMERICA CHAVEZ) #8 MCKONE Near Mint/Mint

ANGELA: ASGARD'S ASSASSIN (MARVEL) (2014) #1 YOUNG BABY Very Good
ANGELA: ASGARD'S ASSASSIN (MARVEL) (2014) #2 Near Mint/Mint
ANGELA: ASGARD'S ASSASSIN (MARVEL) (2014) #4 Near Mint/Mint

ANNIHILATION (MARVEL) (2006) #3 Near Mint/Mint

ANNIHILATION CONQUEST (MARVEL) (2007) #4 Near Mint/Mint

ANNIHILATION CONQUEST: WRAITH (MARVEL) (2007) #1 Fine

ANNIHILATION: HERALDS OF GALACTUS (MARVEL) (2006) #1 Fine
ANNIHILATION: HERALDS OF GALACTUS (MARVEL) (2006) #2 Fine

ANNIHILATION: NOVA (MARVEL) (2006) #4 Very Good

ANNIHILATION: NOVA CORPS FILES (MARVEL) (2006) #1 Fine

ANNIHILATORS (MARVEL) (ROCKET RACCOON) (2011) #1 Fine
ANNIHILATORS (MARVEL) (ROCKET RACCOON) (2011) #2 Fine
ANNIHILATORS (MARVEL) (ROCKET RACCOON) (2011) #3 Very Fine
ANNIHILATORS (MARVEL) (ROCKET RACCOON) (2011) #4 Fine

ANNIHILATORS: EARTHFALL (MARVEL) (2011) #3 Near Mint/Mint
ANNIHILATORS: EARTHFALL (MARVEL) (2011) #4 Very Fine

ANT-MAN (MARVEL) (2015) #1 Near Mint/Mint
ANT-MAN (MARVEL) (2015) #2 MOVIE VAR Near Mint/Mint

ANT-MAN & WASP (MARVEL) (2010) #2 Fine

ANT-MAN'S BIG CHRISTMAS (MARVEL) (2000) #1 Very Fine

ASTONISHING X-MEN (2004) (#1-68) (MARVEL)(JOSS WHENDON) #51 2ND PRINT Fine


AVENGERS (1963) (#1-402) (MARVEL) #202

AVENGERS (1963) (#1-402) (MARVEL) #202 Near Mint/Mint
AVENGERS (1963) (#1-402) (MARVEL) #213 Fine
AVENGERS (1963) (#1-402) (MARVEL) #214 Fine
AVENGERS (1963) (#1-402) (MARVEL) #215 Very Fine
AVENGERS (1963) (#1-402) (MARVEL) #219 Fine
AVENGERS (1963) (#1-402) (MARVEL) #220 Very Fine
AVENGERS (1963) (#1-402) (MARVEL) #221 NEWSSTAND Fine
AVENGERS (1963) (#1-402) (MARVEL) #223 NEWSSTAND Fine
AVENGERS (1963) (#1-402) (MARVEL) #258 Very Fine
AVENGERS (1963) (#1-402) (MARVEL) #263 Near Mint/Mint
AVENGERS (1963) (#1-402) (MARVEL) #274 Near Mint/Mint
AVENGERS (1963) (#1-402) (MARVEL) #275 Very Fine
AVENGERS (1963) (#1-402) (MARVEL) #277 Near Mint/Mint
AVENGERS (1963) (#1-402) (MARVEL) #292 Near Mint/Mint
AVENGERS (1963) (#1-402) (MARVEL) #294 Near Mint/Mint
AVENGERS (1963) (#1-402) (MARVEL) #296 Near Mint/Mint
AVENGERS (1963) (#1-402) (MARVEL) #304 Near Mint/Mint

AVENGERS ANNUAL (1967) #16 NEWSSTAND Fine

AVENGERS INDEX (OFFICIAL MARVEL INDEX) (1987) #1 Near Mint/Mint
AVENGERS INDEX (OFFICIAL MARVEL INDEX) (1987) #6 Near Mint/Mint

CAPTAIN AMERICA (1968) (#100-454) (MARVEL) #193 Very Good
CAPTAIN AMERICA (1968) (#100-454) (MARVEL) #202 Fine
CAPTAIN AMERICA (1968) (#100-454) (MARVEL) #204 Very Fine
CAPTAIN AMERICA (1968) (#100-454) (MARVEL) #206 Very Fine
CAPTAIN AMERICA (1968) (#100-454) (MARVEL) #208 Fine
CAPTAIN AMERICA (1968) (#100-454) (MARVEL) #208 Very Fine
CAPTAIN AMERICA (1968) (#100-454) (MARVEL) #211 Very Fine
CAPTAIN AMERICA (1968) (#100-454) (MARVEL) #212 Very Fine
CAPTAIN AMERICA (1968) (#100-454) (MARVEL) #215 Very Fine
CAPTAIN AMERICA (1968) (#100-454) (MARVEL) #217 Fine
CAPTAIN AMERICA (1968) (#100-454) (MARVEL) #217 Very Fine
CAPTAIN AMERICA (1968) (#100-454) (MARVEL) #218 Fine
CAPTAIN AMERICA (1968) (#100-454) (MARVEL) #220 Very Fine
CAPTAIN AMERICA (1968) (#100-454) (MARVEL) #222 Very Fine
CAPTAIN AMERICA (1968) (#100-454) (MARVEL) #223 Very Fine
CAPTAIN AMERICA (1968) (#100-454) (MARVEL) #229 Very Fine
CAPTAIN AMERICA (1968) (#100-454) (MARVEL) #230 Fine
CAPTAIN AMERICA (1968) (#100-454) (MARVEL) #230 Very Fine
CAPTAIN AMERICA (1968) (#100-454) (MARVEL) #231 Near Mint/Mint
CAPTAIN AMERICA (1968) (#100-454) (MARVEL) #233 Near Mint/Mint


CAPTAIN AMERICA (1968) (#100-454) (MARVEL) #235

CAPTAIN AMERICA (1968) (#100-454) (MARVEL) #235 Near Mint/Mint
CAPTAIN AMERICA (1968) (#100-454) (MARVEL) #237 Very Fine
CAPTAIN AMERICA (1968) (#100-454) (MARVEL) #238 NEWSSTAND Fine
CAPTAIN AMERICA (1968) (#100-454) (MARVEL) #238 Very Fine
CAPTAIN AMERICA (1968) (#100-454) (MARVEL) #239 Near Mint/Mint
CAPTAIN AMERICA (1968) (#100-454) (MARVEL) #242 Near Mint/Mint
CAPTAIN AMERICA (1968) (#100-454) (MARVEL) #242 Very Fine
CAPTAIN AMERICA (1968) (#100-454) (MARVEL) #243 NEWSSTAND Fine
CAPTAIN AMERICA (1968) (#100-454) (MARVEL) #243 Very Fine
CAPTAIN AMERICA (1968) (#100-454) (MARVEL) #244 NEWSSTAND Fine
CAPTAIN AMERICA (1968) (#100-454) (MARVEL) #245 NEWSSTAND Very Fine
CAPTAIN AMERICA (1968) (#100-454) (MARVEL) #247 NEWSSTAND Very Fine
CAPTAIN AMERICA (1968) (#100-454) (MARVEL) #250 Very Fine
CAPTAIN AMERICA (1968) (#100-454) (MARVEL) #254 NEWSSTAND Very Good
CAPTAIN AMERICA (1968) (#100-454) (MARVEL) #258 Very Fine
CAPTAIN AMERICA (1968) (#100-454) (MARVEL) #262 Very Fine
CAPTAIN AMERICA (1968) (#100-454) (MARVEL) #264 Near Mint/Mint
CAPTAIN AMERICA (1968) (#100-454) (MARVEL) #266 Very Fine
CAPTAIN AMERICA (1968) (#100-454) (MARVEL) #267 Near Mint/Mint
CAPTAIN AMERICA (1968) (#100-454) (MARVEL) #269 Very Fine
CAPTAIN AMERICA (1968) (#100-454) (MARVEL) #273 Very Fine
CAPTAIN AMERICA (1968) (#100-454) (MARVEL) #275 Near Mint/Mint
CAPTAIN AMERICA (1968) (#100-454) (MARVEL) #276 Near Mint/Mint
CAPTAIN AMERICA (1968) (#100-454) (MARVEL) #278 Near Mint/Mint
CAPTAIN AMERICA (1968) (#100-454) (MARVEL) #280 Very Fine
CAPTAIN AMERICA (1968) (#100-454) (MARVEL) #282 Near Mint/Mint
CAPTAIN AMERICA (1968) (#100-454) (MARVEL) #285 Near Mint/Mint
CAPTAIN AMERICA (1968) (#100-454) (MARVEL) #287 Near Mint/Mint
CAPTAIN AMERICA (1968) (#100-454) (MARVEL) #290 Near Mint/Mint
CAPTAIN AMERICA (1968) (#100-454) (MARVEL) #291 Near Mint/Mint
CAPTAIN AMERICA (1968) (#100-454) (MARVEL) #292 Near Mint/Mint
CAPTAIN AMERICA (1968) (#100-454) (MARVEL) #293 Near Mint/Mint
CAPTAIN AMERICA (1968) (#100-454) (MARVEL) #295 Near Mint/Mint
CAPTAIN AMERICA (1968) (#100-454) (MARVEL) #296 Very Fine
CAPTAIN AMERICA (1968) (#100-454) (MARVEL) #297 Near Mint/Mint
CAPTAIN AMERICA (1968) (#100-454) (MARVEL) #298 Near Mint/Mint
CAPTAIN AMERICA (1968) (#100-454) (MARVEL) #299 Near Mint/Mint
CAPTAIN AMERICA (1968) (#100-454) (MARVEL) #300 Near Mint/Mint
CAPTAIN AMERICA (1968) (#100-454) (MARVEL) #301 Near Mint/Mint
CAPTAIN AMERICA (1968) (#100-454) (MARVEL) #302 Near Mint/Mint
CAPTAIN AMERICA (1968) (#100-454) (MARVEL) #303 Near Mint/Mint
CAPTAIN AMERICA (1968) (#100-454) (MARVEL) #304 Near Mint/Mint
CAPTAIN AMERICA (1968) (#100-454) (MARVEL) #305 Near Mint/Mint


CAPTAIN AMERICA (1968) (#100-454) (MARVEL) #306

CAPTAIN AMERICA (1968) (#100-454) (MARVEL) #306 Near Mint/Mint
CAPTAIN AMERICA (1968) (#100-454) (MARVEL) #307 Near Mint/Mint
CAPTAIN AMERICA (1968) (#100-454) (MARVEL) #309 Near Mint/Mint
CAPTAIN AMERICA (1968) (#100-454) (MARVEL) #311 Near Mint/Mint
CAPTAIN AMERICA (1968) (#100-454) (MARVEL) #312 NEWSSTAND Very Fine
CAPTAIN AMERICA (1968) (#100-454) (MARVEL) #314 Near Mint/Mint
CAPTAIN AMERICA (1968) (#100-454) (MARVEL) #318 Near Mint/Mint
CAPTAIN AMERICA (1968) (#100-454) (MARVEL) #319 Near Mint/Mint
CAPTAIN AMERICA (1968) (#100-454) (MARVEL) #320 Near Mint/Mint
CAPTAIN AMERICA (1968) (#100-454) (MARVEL) #321 Near Mint/Mint
CAPTAIN AMERICA (1968) (#100-454) (MARVEL) #321 NEWSSTAND Very Good
CAPTAIN AMERICA (1968) (#100-454) (MARVEL) #322 Near Mint/Mint
CAPTAIN AMERICA (1968) (#100-454) (MARVEL) #323 Near Mint/Mint
CAPTAIN AMERICA (1968) (#100-454) (MARVEL) #323 Fine
CAPTAIN AMERICA (1968) (#100-454) (MARVEL) #323 Very Fine
CAPTAIN AMERICA (1968) (#100-454) (MARVEL) #324 Near Mint/Mint
CAPTAIN AMERICA (1968) (#100-454) (MARVEL) #325 Near Mint/Mint
CAPTAIN AMERICA (1968) (#100-454) (MARVEL) #326 Near Mint/Mint
CAPTAIN AMERICA (1968) (#100-454) (MARVEL) #330 Near Mint/Mint
CAPTAIN AMERICA (1968) (#100-454) (MARVEL) #330 Fine
CAPTAIN AMERICA (1968) (#100-454) (MARVEL) #332 Fine
CAPTAIN AMERICA (1968) (#100-454) (MARVEL) #332 Near Mint/Mint
CAPTAIN AMERICA (1968) (#100-454) (MARVEL) #333 Very Fine
CAPTAIN AMERICA (1968) (#100-454) (MARVEL) #334 Near Mint/Mint
CAPTAIN AMERICA (1968) (#100-454) (MARVEL) #335 Near Mint/Mint
CAPTAIN AMERICA (1968) (#100-454) (MARVEL) #336 Near Mint/Mint
CAPTAIN AMERICA (1968) (#100-454) (MARVEL) #337 Near Mint/Mint
CAPTAIN AMERICA (1968) (#100-454) (MARVEL) #341 Fine
CAPTAIN AMERICA (1968) (#100-454) (MARVEL) #348 Near Mint/Mint
CAPTAIN AMERICA (1968) (#100-454) (MARVEL) #349 Near Mint/Mint
CAPTAIN AMERICA (1968) (#100-454) (MARVEL) #350 Fine
CAPTAIN AMERICA (1968) (#100-454) (MARVEL) #350 Very Fine
CAPTAIN AMERICA (1968) (#100-454) (MARVEL) #354 Near Mint/Mint
CAPTAIN AMERICA (1968) (#100-454) (MARVEL) #361 Near Mint/Mint
CAPTAIN AMERICA (1968) (#100-454) (MARVEL) #362 Fine
CAPTAIN AMERICA (1968) (#100-454) (MARVEL) #363 NEWSSTAND Near Mint/Mint
CAPTAIN AMERICA (1968) (#100-454) (MARVEL) #383 Very Fine

CAPTAIN AMERICA ANNUAL (1971) #1 Very Good
CAPTAIN AMERICA ANNUAL (1971) #3 Fine
CAPTAIN AMERICA ANNUAL (1971) #4 Very Good
CAPTAIN AMERICA ANNUAL (1971) #8 Near Mint/Mint
CAPTAIN AMERICA ANNUAL (1971) #8 NEWSSTAND Fine


CAPTAIN AMERICA ANNUAL (1971) #8 NEWSSTAND

CAPTAIN AMERICA ANNUAL (1971) #8 NEWSSTAND Very Good
CAPTAIN AMERICA ANNUAL (1971) #8 Very Fine

CAPTAIN AMERICA COLLECTOR'S PREVIEW #1 Near Mint/Mint

CAPTAIN AMERICA GOES TO WAR AGAINST DRUGS (1990) #1 Near Mint/Mint

CAPTAIN MARVEL (1968) (#1-62) (MARVEL) #2 Fine
CAPTAIN MARVEL (1968) (#1-62) (MARVEL) #2 Very Fine
CAPTAIN MARVEL (1968) (#1-62) (MARVEL) #3 Fine
CAPTAIN MARVEL (1968) (#1-62) (MARVEL) #3 Very Fine
CAPTAIN MARVEL (1968) (#1-62) (MARVEL) #4 Very Good
CAPTAIN MARVEL (1968) (#1-62) (MARVEL) #5 Good
CAPTAIN MARVEL (1968) (#1-62) (MARVEL) #5 Fine
CAPTAIN MARVEL (1968) (#1-62) (MARVEL) #7 Fine
CAPTAIN MARVEL (1968) (#1-62) (MARVEL) #7 Very Good
CAPTAIN MARVEL (1968) (#1-62) (MARVEL) #8 Very Fine
CAPTAIN MARVEL (1968) (#1-62) (MARVEL) #10 Fine
CAPTAIN MARVEL (1968) (#1-62) (MARVEL) #11 Very Fine
CAPTAIN MARVEL (1968) (#1-62) (MARVEL) #12 Fine
CAPTAIN MARVEL (1968) (#1-62) (MARVEL) #12 Very Good
CAPTAIN MARVEL (1968) (#1-62) (MARVEL) #12 Very Fine
CAPTAIN MARVEL (1968) (#1-62) (MARVEL) #13 Very Good
CAPTAIN MARVEL (1968) (#1-62) (MARVEL) #14 Very Fine
CAPTAIN MARVEL (1968) (#1-62) (MARVEL) #15 Fine
CAPTAIN MARVEL (1968) (#1-62) (MARVEL) #15 Very Good
CAPTAIN MARVEL (1968) (#1-62) (MARVEL) #16 Good
CAPTAIN MARVEL (1968) (#1-62) (MARVEL) #16 Very Good
CAPTAIN MARVEL (1968) (#1-62) (MARVEL) #19 Very Fine
CAPTAIN MARVEL (1968) (#1-62) (MARVEL) #20 Fine
CAPTAIN MARVEL (1968) (#1-62) (MARVEL) #20 Very Fine
CAPTAIN MARVEL (1968) (#1-62) (MARVEL) #23 Very Fine
CAPTAIN MARVEL (1968) (#1-62) (MARVEL) #25 Fine
CAPTAIN MARVEL (1968) (#1-62) (MARVEL) #25 Very Fine
CAPTAIN MARVEL (1968) (#1-62) (MARVEL) #29 Good
CAPTAIN MARVEL (1968) (#1-62) (MARVEL) #29 Fine
CAPTAIN MARVEL (1968) (#1-62) (MARVEL) #30 Fine
CAPTAIN MARVEL (1968) (#1-62) (MARVEL) #31 Fine
CAPTAIN MARVEL (1968) (#1-62) (MARVEL) #31 Near Mint/Mint
CAPTAIN MARVEL (1968) (#1-62) (MARVEL) #32 Fine
CAPTAIN MARVEL (1968) (#1-62) (MARVEL) #32 Near Mint/Mint
CAPTAIN MARVEL (1968) (#1-62) (MARVEL) #32 Good


CAPTAIN MARVEL (1968) (#1-62) (MARVEL) #32

CAPTAIN MARVEL (1968) (#1-62) (MARVEL) #32 Very Fine
CAPTAIN MARVEL (1968) (#1-62) (MARVEL) #33 Very Fine

CLASSIC X-MEN (1986) #1 Fine
CLASSIC X-MEN (1986) #11 Near Mint/Mint
CLASSIC X-MEN (1986) #13 Near Mint/Mint
CLASSIC X-MEN (1986) #17 Very Fine
CLASSIC X-MEN (1986) #18 Very Fine
CLASSIC X-MEN (1986) #19 Near Mint/Mint
CLASSIC X-MEN (1986) #20 Near Mint/Mint
CLASSIC X-MEN (1986) #21 Near Mint/Mint
CLASSIC X-MEN (1986) #29 Very Fine

CRAZY (1973) #1 Very Fine

D.P. 7 (1986) #27 NEWSSTAND Very Fine

DAREDEVIL (1964) (#1-380) (MAN WITHOUT FEAR) (MARVEL) #43 Good
DAREDEVIL (1964) (#1-380) (MAN WITHOUT FEAR) (MARVEL) #108 Very Good
DAREDEVIL (1964) (#1-380) (MAN WITHOUT FEAR) (MARVEL) #114 Very Good

DARK CRYSTAL (1983) #1 NEWSSTAND Very Good

DEATH OF WOLVERINE TPB (2016) #1 Near Mint/Mint

ELEKTRA: ASSASSIN (1986) #7 Fine
ELEKTRA: ASSASSIN (1986) #8 Fine

ETERNALS (1976) (#1-19) (MARVEL) (JACK KIRBY) #1 Very Good
ETERNALS (1976) (#1-19) (MARVEL) (JACK KIRBY) #2 Very Good
ETERNALS (1976) (#1-19) (MARVEL) (JACK KIRBY) #3 Very Good
ETERNALS (1976) (#1-19) (MARVEL) (JACK KIRBY) #4 Very Good
ETERNALS (1976) (#1-19) (MARVEL) (JACK KIRBY) #5 Very Good
ETERNALS (1976) (#1-19) (MARVEL) (JACK KIRBY) #6 Very Good
ETERNALS (1976) (#1-19) (MARVEL) (JACK KIRBY) #7 Very Good
ETERNALS (1976) (#1-19) (MARVEL) (JACK KIRBY) #10 Fine
ETERNALS (1976) (#1-19) (MARVEL) (JACK KIRBY) #11 Fine
ETERNALS (1976) (#1-19) (MARVEL) (JACK KIRBY) #13 Fine
ETERNALS (1976) (#1-19) (MARVEL) (JACK KIRBY) #14 Fine
ETERNALS (1976) (#1-19) (MARVEL) (JACK KIRBY) #15 Fine
ETERNALS (1976) (#1-19) (MARVEL) (JACK KIRBY) #16 Very Good
ETERNALS (1976) (#1-19) (MARVEL) (JACK KIRBY) #17 Fine


ETERNALS (1976) (#1-19) (MARVEL) (JACK KIRBY) #18

ETERNALS (1976) (#1-19) (MARVEL) (JACK KIRBY) #18 Very Good
ETERNALS (1976) (#1-19) (MARVEL) (JACK KIRBY) #19 Very Good

ETERNALS ANNUAL (1977) #1 Very Good

ETERNALS BY NEIL GAIMAN HC (2007) #1 VARIANT Near Mint/Mint

EXCALIBUR (1988) (#1-125) (MARVEL) #8 NEWSSTAND Near Mint/Mint
EXCALIBUR (1988) (#1-125) (MARVEL) #9 NEWSSTAND Very Fine
EXCALIBUR (1988) (#1-125) (MARVEL) #10 NEWSSTAND Near Mint/Mint
EXCALIBUR (1988) (#1-125) (MARVEL) #25 NEWSSTAND Fine
EXCALIBUR (1988) (#1-125) (MARVEL) #32 Near Mint/Mint
EXCALIBUR (1988) (#1-125) (MARVEL) #36 Near Mint/Mint
EXCALIBUR (1988) (#1-125) (MARVEL) #38 Near Mint/Mint
EXCALIBUR (1988) (#1-125) (MARVEL) #39 Near Mint/Mint
EXCALIBUR (1988) (#1-125) (MARVEL) #40 Near Mint/Mint

FANTASTIC FOUR (1961) (#1-416) (MARVEL) #66 Good
FANTASTIC FOUR (1961) (#1-416) (MARVEL) #73 Fair

FANTASTIC FOUR (1997) (#1-79, 509-611) (MARVEL) #554 VARIANT Near Mint/Mint
FANTASTIC FOUR (1997) (#1-79, 509-611) (MARVEL) #587 VARIANT Fine
FANTASTIC FOUR (1997) (#1-79, 509-611) (MARVEL) #600 Fine
FANTASTIC FOUR (1997) (#1-79, 509-611) (MARVEL) #600 ADAMS Near Mint/Mint
FANTASTIC FOUR (1997) (#1-79, 509-611) (MARVEL) #603 Near Mint/Mint
FANTASTIC FOUR (1997) (#1-79, 509-611) (MARVEL) #605 Near Mint/Mint

FANTASTIC FOUR (2013) (#1-16) (MARVEL) #16 Near Mint/Mint

FANTASTIC FOUR ANNUAL (1963) #3 Good
FANTASTIC FOUR ANNUAL (1963) #4 Fair
FANTASTIC FOUR ANNUAL (1963) #14 Near Mint/Mint

FANTASTIC FOUR GIANT-SIZE (GIANT-SIZE SUPER-STARS) (1974) #3 Very Good

FANTASTIC FOUR VS. THE X-MEN (1987) #3 Fine
FANTASTIC FOUR VS. THE X-MEN (1987) #3 Very Fine

FANTASTIC FOUR: THE END (2006) #4 Fine
FANTASTIC FOUR: THE END (2006) #4 Near Mint/Mint
FANTASTIC FOUR: THE END (2006) #5 Near Mint/Mint
FANTASTIC FOUR: THE END (2006) #5 Very Fine


FANTASY MASTERPIECES (1966) #1

FANTASY MASTERPIECES (1966) #1 Good
FANTASY MASTERPIECES (1966) #2 Fine
FANTASY MASTERPIECES (1966) #2 Good
FANTASY MASTERPIECES (1966) #2 Very Good
FANTASY MASTERPIECES (1966) #3 Good
FANTASY MASTERPIECES (1966) #4 Good
FANTASY MASTERPIECES (1966) #4 Very Good
FANTASY MASTERPIECES (1966) #5 Good
FANTASY MASTERPIECES (1966) #6 Fine
FANTASY MASTERPIECES (1966) #9 Good
FANTASY MASTERPIECES (1966) #11 Very Good

FEAR (ADVENTURE INTO...) (1970) #10 Very Fine
FEAR (ADVENTURE INTO...) (1970) #11 Very Fine
FEAR (ADVENTURE INTO...) (1970) #19 Very Good
FEAR (ADVENTURE INTO...) (1970) #28 Fine
FEAR (ADVENTURE INTO...) (1970) #30 Fine
FEAR (ADVENTURE INTO...) (1970) #30 Very Fine

FLINTSTONES (1977) (#1-9) (MARVEL) (HANNA BARBERA) #1 Fine

FRANKENSTEIN (1973) (#1-18) (FRANKENSTEIN MONSTER) (MV) #18 Fine
FRANKENSTEIN (1973) (#1-18) (FRANKENSTEIN MONSTER) (MV) #18 Very Fine

GHOST RIDER (1966) (#1-7) (MARVEL) #6 Good

GHOST RIDER (1973) (#1-81) (MARVEL) #75 Near Mint/Mint
GHOST RIDER (1973) (#1-81) (MARVEL) #80 Very Fine

GI JOE #2 NEWSSTAND Near Mint/Mint
GI JOE #3 Very Fine
GI JOE #4 Near Mint/Mint

GODZILLA (1977) (#1-24) (MARVEL) #5 Fine
GODZILLA (1977) (#1-24) (MARVEL) #12 Very Fine
GODZILLA (1977) (#1-24) (MARVEL) #23 Near Mint/Mint

GROO THE WANDERER (1985) #1 Very Fine
GROO THE WANDERER (1985) #2 Fine
GROO THE WANDERER (1985) #2 Near Mint/Mint
GROO THE WANDERER (1985) #3 Near Mint/Mint
GROO THE WANDERER (1985) #3 Fine
GROO THE WANDERER (1985) #4 Very Fine

GROO THE WANDERER (1985) #10 Near Mint/Mint
GROO THE WANDERER (1985) #11 Near Mint/Mint
GROO THE WANDERER (1985) #16 Near Mint/Mint
GROO THE WANDERER (1985) #17 Near Mint/Mint
GROO THE WANDERER (1985) #18 Near Mint/Mint
GROO THE WANDERER (1985) #19 Near Mint/Mint
GROO THE WANDERER (1985) #22 Near Mint/Mint
GROO THE WANDERER (1985) #23 Near Mint/Mint
GROO THE WANDERER (1985) #24 Near Mint/Mint
GROO THE WANDERER (1985) #25 Near Mint/Mint
GROO THE WANDERER (1985) #26 Near Mint/Mint
GROO THE WANDERER (1985) #27 Near Mint/Mint
GROO THE WANDERER (1985) #28 Near Mint/Mint
GROO THE WANDERER (1985) #29 Near Mint/Mint
GROO THE WANDERER (1985) #30 Near Mint/Mint

HULK (1962) (#1-6, #102-474, #600-635)(INCREDIBLE)(MV) #214 WHITMAN Very Good
HULK (1962) (#1-6, #102-474, #600-635)(INCREDIBLE)(MV) #219 Very Good
HULK (1962) (#1-6, #102-474, #600-635)(INCREDIBLE)(MV) #236 NEWSSTAND Very Good
HULK (1962) (#1-6, #102-474, #600-635)(INCREDIBLE)(MV) #256 Fine

HULK: DOGS OF WAR TPB (2001) #1 Good

INDIANA JONES (1983) (#1-34) (MARVEL) (FURTHER ADV..) #1 Near Mint/Mint
INDIANA JONES (1983) (#1-34) (MARVEL) (FURTHER ADV..) #4 Near Mint/Mint
INDIANA JONES (1983) (#1-34) (MARVEL) (FURTHER ADV..) #14 Near Mint/Mint
INDIANA JONES (1983) (#1-34) (MARVEL) (FURTHER ADV..) #15 Near Mint/Mint
INDIANA JONES (1983) (#1-34) (MARVEL) (FURTHER ADV..) #16 Near Mint/Mint
INDIANA JONES (1983) (#1-34) (MARVEL) (FURTHER ADV..) #17 Near Mint/Mint
INDIANA JONES (1983) (#1-34) (MARVEL) (FURTHER ADV..) #18 Near Mint/Mint
INDIANA JONES (1983) (#1-34) (MARVEL) (FURTHER ADV..) #20 Near Mint/Mint
INDIANA JONES (1983) (#1-34) (MARVEL) (FURTHER ADV..) #21 Near Mint/Mint
INDIANA JONES (1983) (#1-34) (MARVEL) (FURTHER ADV..) #22 Near Mint/Mint
INDIANA JONES (1983) (#1-34) (MARVEL) (FURTHER ADV..) #23 Near Mint/Mint
INDIANA JONES (1983) (#1-34) (MARVEL) (FURTHER ADV..) #26 Near Mint/Mint
INDIANA JONES (1983) (#1-34) (MARVEL) (FURTHER ADV..) #27 Near Mint/Mint
INDIANA JONES (1983) (#1-34) (MARVEL) (FURTHER ADV..) #30 Near Mint/Mint
INDIANA JONES (1983) (#1-34) (MARVEL) (FURTHER ADV..) #33 Very Fine

INHUMANS (1975) (#1-12) (MARVEL) #3 Very Fine

INVADERS (1975) (#1-41) (MARVEL) #5 Very Fine
INVADERS (1975) (#1-41) (MARVEL) #6 Fine


INVADERS (1975) (#1-41) (MARVEL) #7

INVADERS (1975) (#1-41) (MARVEL) #7 Fine
INVADERS (1975) (#1-41) (MARVEL) #7 Very Fine
INVADERS (1975) (#1-41) (MARVEL) #9 Fine
INVADERS (1975) (#1-41) (MARVEL) #10 Very Fine
INVADERS (1975) (#1-41) (MARVEL) #11 Fine
INVADERS (1975) (#1-41) (MARVEL) #13 Fine
INVADERS (1975) (#1-41) (MARVEL) #14 Near Mint/Mint
INVADERS (1975) (#1-41) (MARVEL) #15 Near Mint/Mint
INVADERS (1975) (#1-41) (MARVEL) #16 Very Fine
INVADERS (1975) (#1-41) (MARVEL) #17 Near Mint/Mint
INVADERS (1975) (#1-41) (MARVEL) #17 Very Fine
INVADERS (1975) (#1-41) (MARVEL) #18 Near Mint/Mint
INVADERS (1975) (#1-41) (MARVEL) #19 Near Mint/Mint
INVADERS (1975) (#1-41) (MARVEL) #25 Very Fine
INVADERS (1975) (#1-41) (MARVEL) #31 Very Fine
INVADERS (1975) (#1-41) (MARVEL) #32 Very Fine
INVADERS (1975) (#1-41) (MARVEL) #35 Near Mint/Mint
INVADERS (1975) (#1-41) (MARVEL) #37 Near Mint/Mint
INVADERS (1975) (#1-41) (MARVEL) #38 Very Fine

INVADERS ANNUAL (1977) #1 Very Fine

IRON FIST (1975) (#1-15) (MARVEL) #1 Near Mint/Mint
IRON FIST (1975) (#1-15) (MARVEL) #2 Near Mint/Mint
IRON FIST (1975) (#1-15) (MARVEL) #2 Good
IRON FIST (1975) (#1-15) (MARVEL) #2 Very Fine
IRON FIST (1975) (#1-15) (MARVEL) #3 Near Mint/Mint
IRON FIST (1975) (#1-15) (MARVEL) #3 Very Fine
IRON FIST (1975) (#1-15) (MARVEL) #3 Very Good
IRON FIST (1975) (#1-15) (MARVEL) #4 Fine
IRON FIST (1975) (#1-15) (MARVEL) #4 Very Good
IRON FIST (1975) (#1-15) (MARVEL) #5 Fine
IRON FIST (1975) (#1-15) (MARVEL) #5 Very Fine
IRON FIST (1975) (#1-15) (MARVEL) #6 Very Fine
IRON FIST (1975) (#1-15) (MARVEL) #7 Fine
IRON FIST (1975) (#1-15) (MARVEL) #7 Near Mint/Mint
IRON FIST (1975) (#1-15) (MARVEL) #7 Very Good
IRON FIST (1975) (#1-15) (MARVEL) #8 Fine
IRON FIST (1975) (#1-15) (MARVEL) #8 Very Good
IRON FIST (1975) (#1-15) (MARVEL) #9 Fine
IRON FIST (1975) (#1-15) (MARVEL) #9 Very Good
IRON FIST (1975) (#1-15) (MARVEL) #9 Very Fine
IRON FIST (1975) (#1-15) (MARVEL) #10 Very Fine


IRON FIST (1975) (#1-15) (MARVEL) #10

IRON FIST (1975) (#1-15) (MARVEL) #10 Very Good
IRON FIST (1975) (#1-15) (MARVEL) #11 Very Fine
IRON FIST (1975) (#1-15) (MARVEL) #12 Fine
IRON FIST (1975) (#1-15) (MARVEL) #12 Very Fine
IRON FIST (1975) (#1-15) (MARVEL) #13 Near Mint/Mint
IRON FIST (1975) (#1-15) (MARVEL) #13 Fine
IRON FIST (1975) (#1-15) (MARVEL) #13 Very Fine

IRON MAN (1968) (#1-332) (INVINCIBLE IRON MAN)(MARVEL) #76 Very Good
IRON MAN (1968) (#1-332) (INVINCIBLE IRON MAN)(MARVEL) #80 Fine
IRON MAN (1968) (#1-332) (INVINCIBLE IRON MAN)(MARVEL) #90 Fine

IRON MAN ANNUAL (1970) #7 Very Fine

JOURNEY INTO MYSTERY (1972) (#1-19) #1 Very Good

LONERS TPB (2007) #1 Near Mint/Mint

MACHINE MAN (1978) (#1-19) (MARVEL) #1 Very Good
MACHINE MAN (1978) (#1-19) (MARVEL) #2 Very Fine
MACHINE MAN (1978) (#1-19) (MARVEL) #3 Near Mint/Mint
MACHINE MAN (1978) (#1-19) (MARVEL) #5 Near Mint/Mint
MACHINE MAN (1978) (#1-19) (MARVEL) #6 Near Mint/Mint
MACHINE MAN (1978) (#1-19) (MARVEL) #7 Near Mint/Mint
MACHINE MAN (1978) (#1-19) (MARVEL) #9 Near Mint/Mint

MARVEL COMICS PRESENTS (1988) (#1-175) (MARVEL) #4 Near Mint/Mint
MARVEL COMICS PRESENTS (1988) (#1-175) (MARVEL) #19 NEWSSTAND Fine
MARVEL COMICS PRESENTS (1988) (#1-175) (MARVEL) #59 NEWSSTAND Near Mint/Mint
MARVEL COMICS PRESENTS (1988) (#1-175) (MARVEL) #75 Very Fine
MARVEL COMICS PRESENTS (1988) (#1-175) (MARVEL) #76 Very Fine
MARVEL COMICS PRESENTS (1988) (#1-175) (MARVEL) #77 Near Mint/Mint
MARVEL COMICS PRESENTS (1988) (#1-175) (MARVEL) #78 Very Fine
MARVEL COMICS PRESENTS (1988) (#1-175) (MARVEL) #79 Very Fine
MARVEL COMICS PRESENTS (1988) (#1-175) (MARVEL) #81 Near Mint/Mint
MARVEL COMICS PRESENTS (1988) (#1-175) (MARVEL) #82 Near Mint/Mint

MARVEL FEATURE (1971) (#1-12) #12 Very Good

MARVEL SUPER SPECIAL (1977) #5 Near Mint/Mint

MARVEL TEAM-UP (1972) (#1-150) (MARVEL) #18 Very Good


MASTER OF KUNG FU (1974) (#15-125) (MARVEL) (SHANG-CHI) #35

MASTER OF KUNG FU (1974) (#15-125) (MARVEL) (SHANG-CHI) #35 Very Fine
MASTER OF KUNG FU (1974) (#15-125) (MARVEL) (SHANG-CHI) #36 Very Fine
MASTER OF KUNG FU (1974) (#15-125) (MARVEL) (SHANG-CHI) #39 Very Fine
MASTER OF KUNG FU (1974) (#15-125) (MARVEL) (SHANG-CHI) #41 Very Fine
MASTER OF KUNG FU (1974) (#15-125) (MARVEL) (SHANG-CHI) #44 Near Mint/Mint
MASTER OF KUNG FU (1974) (#15-125) (MARVEL) (SHANG-CHI) #45 Very Fine
MASTER OF KUNG FU (1974) (#15-125) (MARVEL) (SHANG-CHI) #47 Very Fine
MASTER OF KUNG FU (1974) (#15-125) (MARVEL) (SHANG-CHI) #48 Near Mint/Mint
MASTER OF KUNG FU (1974) (#15-125) (MARVEL) (SHANG-CHI) #50 Very Fine
MASTER OF KUNG FU (1974) (#15-125) (MARVEL) (SHANG-CHI) #51 Very Fine
MASTER OF KUNG FU (1974) (#15-125) (MARVEL) (SHANG-CHI) #52 Near Mint/Mint
MASTER OF KUNG FU (1974) (#15-125) (MARVEL) (SHANG-CHI) #53 Near Mint/Mint
MASTER OF KUNG FU (1974) (#15-125) (MARVEL) (SHANG-CHI) #54 Near Mint/Mint
MASTER OF KUNG FU (1974) (#15-125) (MARVEL) (SHANG-CHI) #58 Near Mint/Mint
MASTER OF KUNG FU (1974) (#15-125) (MARVEL) (SHANG-CHI) #58 Very Fine
MASTER OF KUNG FU (1974) (#15-125) (MARVEL) (SHANG-CHI) #59 Near Mint/Mint
MASTER OF KUNG FU (1974) (#15-125) (MARVEL) (SHANG-CHI) #59 Very Fine
MASTER OF KUNG FU (1974) (#15-125) (MARVEL) (SHANG-CHI) #60 Very Fine
MASTER OF KUNG FU (1974) (#15-125) (MARVEL) (SHANG-CHI) #61 Very Fine
MASTER OF KUNG FU (1974) (#15-125) (MARVEL) (SHANG-CHI) #64 Very Fine
MASTER OF KUNG FU (1974) (#15-125) (MARVEL) (SHANG-CHI) #65 Near Mint/Mint
MASTER OF KUNG FU (1974) (#15-125) (MARVEL) (SHANG-CHI) #67 Very Fine
MASTER OF KUNG FU (1974) (#15-125) (MARVEL) (SHANG-CHI) #68 Very Fine
MASTER OF KUNG FU (1974) (#15-125) (MARVEL) (SHANG-CHI) #71 Very Fine
MASTER OF KUNG FU (1974) (#15-125) (MARVEL) (SHANG-CHI) #73 Very Fine
MASTER OF KUNG FU (1974) (#15-125) (MARVEL) (SHANG-CHI) #74 Very Fine
MASTER OF KUNG FU (1974) (#15-125) (MARVEL) (SHANG-CHI) #77 Near Mint/Mint
MASTER OF KUNG FU (1974) (#15-125) (MARVEL) (SHANG-CHI) #77 Very Fine
MASTER OF KUNG FU (1974) (#15-125) (MARVEL) (SHANG-CHI) #78 Very Fine
MASTER OF KUNG FU (1974) (#15-125) (MARVEL) (SHANG-CHI) #79 Very Fine
MASTER OF KUNG FU (1974) (#15-125) (MARVEL) (SHANG-CHI) #81 Very Fine
MASTER OF KUNG FU (1974) (#15-125) (MARVEL) (SHANG-CHI) #84 Very Fine
MASTER OF KUNG FU (1974) (#15-125) (MARVEL) (SHANG-CHI) #85 Near Mint/Mint
MASTER OF KUNG FU (1974) (#15-125) (MARVEL) (SHANG-CHI) #88 Very Fine

MEPHISTO VS... (1987) #4 Near Mint/Mint

NEW MUTANTS (1983) (#1-100) (MARVEL) #9 NEWSSTAND Fine
NEW MUTANTS (1983) (#1-100) (MARVEL) #11 NEWSSTAND Fine
NEW MUTANTS (1983) (#1-100) (MARVEL) #12 NEWSSTAND Fine
NEW MUTANTS (1983) (#1-100) (MARVEL) #13 NEWSSTAND Very Fine
NEW MUTANTS (1983) (#1-100) (MARVEL) #14 NEWSSTAND Fine
NEW MUTANTS (1983) (#1-100) (MARVEL) #16 NEWSSTAND Very Good


NEW MUTANTS (1983) (#1-100) (MARVEL) #17 NEWSSTAND

NEW MUTANTS (1983) (#1-100) (MARVEL) #17 NEWSSTAND Very Fine
NEW MUTANTS (1983) (#1-100) (MARVEL) #18 NEWSSTAND Very Good
NEW MUTANTS (1983) (#1-100) (MARVEL) #21 Very Fine
NEW MUTANTS (1983) (#1-100) (MARVEL) #23 Very Fine
NEW MUTANTS (1983) (#1-100) (MARVEL) #24 NEWSSTAND Fine
NEW MUTANTS (1983) (#1-100) (MARVEL) #25 NEWSSTAND Fine
NEW MUTANTS (1983) (#1-100) (MARVEL) #26 Near Mint/Mint
NEW MUTANTS (1983) (#1-100) (MARVEL) #27 Fine
NEW MUTANTS (1983) (#1-100) (MARVEL) #28 NEWSSTAND Fine
NEW MUTANTS (1983) (#1-100) (MARVEL) #29 NEWSSTAND Fine
NEW MUTANTS (1983) (#1-100) (MARVEL) #30 Near Mint/Mint
NEW MUTANTS (1983) (#1-100) (MARVEL) #32 Near Mint/Mint
NEW MUTANTS (1983) (#1-100) (MARVEL) #34 Near Mint/Mint
NEW MUTANTS (1983) (#1-100) (MARVEL) #35 NEWSSTAND Fine
NEW MUTANTS (1983) (#1-100) (MARVEL) #40 Very Fine
NEW MUTANTS (1983) (#1-100) (MARVEL) #45 Very Fine
NEW MUTANTS (1983) (#1-100) (MARVEL) #50 Near Mint/Mint
NEW MUTANTS (1983) (#1-100) (MARVEL) #65 Near Mint/Mint
NEW MUTANTS (1983) (#1-100) (MARVEL) #66 Near Mint/Mint
NEW MUTANTS (1983) (#1-100) (MARVEL) #68 Near Mint/Mint
NEW MUTANTS (1983) (#1-100) (MARVEL) #69 Near Mint/Mint
NEW MUTANTS (1983) (#1-100) (MARVEL) #76 NEWSSTAND Fine
NEW MUTANTS (1983) (#1-100) (MARVEL) #90 NEWSSTAND Very Fine
NEW MUTANTS (1983) (#1-100) (MARVEL) #91 NEWSSTAND Near Mint/Mint
NEW MUTANTS (1983) (#1-100) (MARVEL) #93 NEWSSTAND Fine
NEW MUTANTS (1983) (#1-100) (MARVEL) #95 Very Fine
NEW MUTANTS (1983) (#1-100) (MARVEL) #96 Near Mint/Mint
NEW MUTANTS (1983) (#1-100) (MARVEL) #97 NEWSSTAND Very Fine
NEW MUTANTS (1983) (#1-100) (MARVEL) #99 NEWSSTAND Near Mint/Mint
NEW MUTANTS (1983) (#1-100) (MARVEL) #100 Near Mint/Mint

NEW MUTANTS ANNUAL (1983) #1 Near Mint/Mint
NEW MUTANTS ANNUAL (1983) #2 Very Fine
NEW MUTANTS ANNUAL (1983) #3 Very Fine

NIGHTCRAWLER (1985) (#1-4) #4 Fine

OLD MAN LOGAN VOL. 9: HUNTER/HUNTED TPB (2018) #1 Near Mint/Mint

OMEGA THE UNKNOWN CLASSIC TPB (2005) #1 Fine

ONSLAUGHT REBORN HC (2008) #1 Near Mint/Mint

OUTLAW KID (1970) #1 Very Good

POWER MAN/IRON FIST (LUKE CAGE, POWER MAN #1-49) (1972) #1 Very Fine

RETURN OF WOLVERINE TPB (2019) #1 Near Mint/Mint

SAVAGE AVENGERS (2019) #4 BIANCHI Near Mint/Mint

SAVAGE WOLVERINE VOL. 1: KILL ISLAND TPB (2014) #1 Near Mint/Mint

SAVAGE WOLVERINE VOL. 2: HANDS ON A DEAD BODY TPB (2014) #1 Near Mint/Mint

SAVAGE WOLVERINE VOL. 3: WRATH TPB (2015) #1 Very Fine

SAVAGE WOLVERINE VOL. 4: BEST THERE IS TPB (2015) #1 Near Mint/Mint

SILVER SURFER (1987) (#1-146) (MARVEL) #100 DELUXE Fine

SPIDER-MAN (1963) (AMAZING SPIDER-MAN) (#1-441) #195 NEWSSTAND Good
SPIDER-MAN (1963) (AMAZING SPIDER-MAN) (#1-441) #269 Very Fine
SPIDER-MAN (1963) (AMAZING SPIDER-MAN) (#1-441) #270 NEWSSTAND Fine

SPIDER-MAN, FIRE-STAR, AND ICEMAN (1983) #1 DENVER Fine

SPIDER-MAN: WHEN HEROES CLASH (DRAKE'S CAKES PROMO) (1994) #2 Fine

SPIDER-WOMEN ALPHA (2016) #1 Very Fine

STAR COMICS: ALL-STAR COLLECTION TPB (2009) #3 Near Mint/Mint

STAR WARS (1977) (#1-107) (MARVEL) #2 Fine
STAR WARS (1977) (#1-107) (MARVEL) #4 WHITMANREP Very Good

TEAM AMERICA (1982) #5 VARIANT Fine

THOR (1962) (#83-125 JOURNEY INTO MYSTERY, 126-502) #97 Fair
THOR (1962) (#83-125 JOURNEY INTO MYSTERY, 126-502) #102 Fair
THOR (1962) (#83-125 JOURNEY INTO MYSTERY, 126-502) #116 Fair
THOR (1962) (#83-125 JOURNEY INTO MYSTERY, 126-502) #121 Good
THOR (1962) (#83-125 JOURNEY INTO MYSTERY, 126-502) #123 Good
THOR (1962) (#83-125 JOURNEY INTO MYSTERY, 126-502) #131 Good
THOR (1962) (#83-125 JOURNEY INTO MYSTERY, 126-502) #132 Fair
THOR (1962) (#83-125 JOURNEY INTO MYSTERY, 126-502) #134 Good


THOR (1962) (#83-125 JOURNEY INTO MYSTERY, 126-502) #135

THOR (1962) (#83-125 JOURNEY INTO MYSTERY, 126-502) #135 Fair
THOR (1962) (#83-125 JOURNEY INTO MYSTERY, 126-502) #136 Fair
THOR (1962) (#83-125 JOURNEY INTO MYSTERY, 126-502) #146 Fair
THOR (1962) (#83-125 JOURNEY INTO MYSTERY, 126-502) #147 Fair
THOR (1962) (#83-125 JOURNEY INTO MYSTERY, 126-502) #148 Fair
THOR (1962) (#83-125 JOURNEY INTO MYSTERY, 126-502) #150 Good
THOR (1962) (#83-125 JOURNEY INTO MYSTERY, 126-502) #151 Fair
THOR (1962) (#83-125 JOURNEY INTO MYSTERY, 126-502) #153 Good
THOR (1962) (#83-125 JOURNEY INTO MYSTERY, 126-502) #154 Fair
THOR (1962) (#83-125 JOURNEY INTO MYSTERY, 126-502) #157 Fair
THOR (1962) (#83-125 JOURNEY INTO MYSTERY, 126-502) #158 Fair
THOR (1962) (#83-125 JOURNEY INTO MYSTERY, 126-502) #165 Fair
THOR (1962) (#83-125 JOURNEY INTO MYSTERY, 126-502) #168 Fair
THOR (1962) (#83-125 JOURNEY INTO MYSTERY, 126-502) #173 Good
THOR (1962) (#83-125 JOURNEY INTO MYSTERY, 126-502) #174 Good
THOR (1962) (#83-125 JOURNEY INTO MYSTERY, 126-502) #175 Very Good
THOR (1962) (#83-125 JOURNEY INTO MYSTERY, 126-502) #176 Very Good
THOR (1962) (#83-125 JOURNEY INTO MYSTERY, 126-502) #177 Good
THOR (1962) (#83-125 JOURNEY INTO MYSTERY, 126-502) #262 WHITMAN Fine
THOR (1962) (#83-125 JOURNEY INTO MYSTERY, 126-502) #263 WHITMAN Fine

TOMB OF DARKNESS (1974) #12 Very Good

TOMB OF DRACULA (1972) (#1-70) (MARVEL) #33 Very Good

VAULT OF EVIL #14 Very Good

VENOM: ENEMY WITHIN (1994) #1 Fine

WOLVERINE (1988) (#1/2-189) (MARVEL) #7 NEWSSTAND Fine
WOLVERINE (1988) (#1/2-189) (MARVEL) #8 NEWSSTAND Very Good
WOLVERINE (1988) (#1/2-189) (MARVEL) #9 NEWSSTAND Fine
WOLVERINE (1988) (#1/2-189) (MARVEL) #26 NEWSSTAND Fine
WOLVERINE (1988) (#1/2-189) (MARVEL) #33 Near Mint/Mint
WOLVERINE (1988) (#1/2-189) (MARVEL) #35 Very Fine
WOLVERINE (1988) (#1/2-189) (MARVEL) #36 Fine
WOLVERINE (1988) (#1/2-189) (MARVEL) #37 Fine
WOLVERINE (1988) (#1/2-189) (MARVEL) #44 Near Mint/Mint

WOLVERINE & BLACK CAT: CLAWS 2 TPB (2012) #1 Near Mint/Mint

WOLVERINE & THE X-MEN BY JASON AARON TPB (2012) #3 Near Mint/Mint


WOLVERINE BY CLAREMONT AND MILLER TPB (2009) #1

WOLVERINE BY CLAREMONT AND MILLER TPB (2009) #1 Very Fine

WOLVERINE BY JASON AARON COMPLETE COLLECTION TPB (2013) #3 Very Fine
WOLVERINE BY JASON AARON COMPLETE COLLECTION TPB (2013) #4 Near Mint/Mint
WOLVERINE BY JASON AARON COMPLETE COLLECTION TPB (2013) #4 Very Fine

WOLVERINE VS. MARVEL UNIVERSE TPB (2017) #1 Very Fine

WOLVERINE: ORIGINS VOL. 3: SWIFT & TERRIBLE TPB (2008) #1 Very Fine

WORLD WAR HULK: GAMMA CORPS TPB (2008) #1 Very Fine

X-FACTOR (1986) (#1-149) (ORIGINAL X-MEN) #1 Fine
X-FACTOR (1986) (#1-149) (ORIGINAL X-MEN) #5 NEWSSTAND Good
X-FACTOR (1986) (#1-149) (ORIGINAL X-MEN) #6 NEWSSTAND Very Fine
X-FACTOR (1986) (#1-149) (ORIGINAL X-MEN) #7 Near Mint/Mint
X-FACTOR (1986) (#1-149) (ORIGINAL X-MEN) #10 NEWSSTAND Very Fine
X-FACTOR (1986) (#1-149) (ORIGINAL X-MEN) #11 Very Fine
X-FACTOR (1986) (#1-149) (ORIGINAL X-MEN) #17 Near Mint/Mint
X-FACTOR (1986) (#1-149) (ORIGINAL X-MEN) #19 Near Mint/Mint
X-FACTOR (1986) (#1-149) (ORIGINAL X-MEN) #23 Fine
X-FACTOR (1986) (#1-149) (ORIGINAL X-MEN) #24 NEWSSTAND Fine
X-FACTOR (1986) (#1-149) (ORIGINAL X-MEN) #25 Very Fine
X-FACTOR (1986) (#1-149) (ORIGINAL X-MEN) #26 Near Mint/Mint
X-FACTOR (1986) (#1-149) (ORIGINAL X-MEN) #29 Near Mint/Mint
X-FACTOR (1986) (#1-149) (ORIGINAL X-MEN) #31 Near Mint/Mint
X-FACTOR (1986) (#1-149) (ORIGINAL X-MEN) #39 NEWSSTAND Fine
X-FACTOR (1986) (#1-149) (ORIGINAL X-MEN) #57 Near Mint/Mint
X-FACTOR (1986) (#1-149) (ORIGINAL X-MEN) #58 Near Mint/Mint
X-FACTOR (1986) (#1-149) (ORIGINAL X-MEN) #62 NEWSSTAND Fine
X-FACTOR (1986) (#1-149) (ORIGINAL X-MEN) #63 Near Mint/Mint
X-FACTOR (1986) (#1-149) (ORIGINAL X-MEN) #66 Near Mint/Mint
X-FACTOR (1986) (#1-149) (ORIGINAL X-MEN) #67 Fine
X-FACTOR (1986) (#1-149) (ORIGINAL X-MEN) #68 Fine
X-FACTOR ANNUAL (1986) #1 Near Mint/Mint

X-FORCE (2008) (#1-28) (MARVEL) #1 2ND PRINT Fine
X-FORCE (2008) (#1-28) (MARVEL) #10 VARIANT Fine
X-FORCE (2008) (#1-28) (MARVEL) #21 Very Good

X-FORCE: SEX & VIOLENCE (2010) #1 2ND PRINT Very Good


X-MEN (1963) (#1-113, UNCANNY X-MEN #114-544) (MARVEL) #125 NEWSSTAND

X-MEN (1963) (#1-113, UNCANNY X-MEN #114-544) (MARVEL) #125 NEWSSTAND Very Good
X-MEN (1963) (#1-113, UNCANNY X-MEN #114-544) (MARVEL) #126 NEWSSTAND Fine
X-MEN (1963) (#1-113, UNCANNY X-MEN #114-544) (MARVEL) #127 Very Good
X-MEN (1963) (#1-113, UNCANNY X-MEN #114-544) (MARVEL) #128 NEWSSTAND Good
X-MEN (1963) (#1-113, UNCANNY X-MEN #114-544) (MARVEL) #129 NEWSSTAND Very Good
X-MEN (1963) (#1-113, UNCANNY X-MEN #114-544) (MARVEL) #130 NEWSSTAND Fine
X-MEN (1963) (#1-113, UNCANNY X-MEN #114-544) (MARVEL) #131 NEWSSTAND Very Good
X-MEN (1963) (#1-113, UNCANNY X-MEN #114-544) (MARVEL) #132 Good
X-MEN (1963) (#1-113, UNCANNY X-MEN #114-544) (MARVEL) #133 Very Good
X-MEN (1963) (#1-113, UNCANNY X-MEN #114-544) (MARVEL) #134 Very Good
X-MEN (1963) (#1-113, UNCANNY X-MEN #114-544) (MARVEL) #135 NEWSSTAND Fine
X-MEN (1963) (#1-113, UNCANNY X-MEN #114-544) (MARVEL) #136 NEWSSTAND Fine
X-MEN (1963) (#1-113, UNCANNY X-MEN #114-544) (MARVEL) #137 Very Good
X-MEN (1963) (#1-113, UNCANNY X-MEN #114-544) (MARVEL) #138 NEWSSTAND Fine
X-MEN (1963) (#1-113, UNCANNY X-MEN #114-544) (MARVEL) #139 Fine
X-MEN (1963) (#1-113, UNCANNY X-MEN #114-544) (MARVEL) #140 Very Fine
X-MEN (1963) (#1-113, UNCANNY X-MEN #114-544) (MARVEL) #141 Fine
X-MEN (1963) (#1-113, UNCANNY X-MEN #114-544) (MARVEL) #142 Fine
X-MEN (1963) (#1-113, UNCANNY X-MEN #114-544) (MARVEL) #143 NEWSSTAND Fine
X-MEN (1963) (#1-113, UNCANNY X-MEN #114-544) (MARVEL) #145 Very Fine
X-MEN (1963) (#1-113, UNCANNY X-MEN #114-544) (MARVEL) #156 Very Good
X-MEN (1963) (#1-113, UNCANNY X-MEN #114-544) (MARVEL) #157 NEWSSTAND Fine
X-MEN (1963) (#1-113, UNCANNY X-MEN #114-544) (MARVEL) #158 NEWSSTAND Fine
X-MEN (1963) (#1-113, UNCANNY X-MEN #114-544) (MARVEL) #160 NEWSSTAND Fine
X-MEN (1963) (#1-113, UNCANNY X-MEN #114-544) (MARVEL) #166 NEWSSTAND Fine
X-MEN (1963) (#1-113, UNCANNY X-MEN #114-544) (MARVEL) #168 NEWSSTAND Very Good
X-MEN (1963) (#1-113, UNCANNY X-MEN #114-544) (MARVEL) #171 Very Fine
X-MEN (1963) (#1-113, UNCANNY X-MEN #114-544) (MARVEL) #181 NEWSSTAND Near Mint/Mint
X-MEN (1963) (#1-113, UNCANNY X-MEN #114-544) (MARVEL) #183 NEWSSTAND Very Good
X-MEN (1963) (#1-113, UNCANNY X-MEN #114-544) (MARVEL) #193 Near Mint/Mint
X-MEN (1963) (#1-113, UNCANNY X-MEN #114-544) (MARVEL) #196 NEWSSTAND Near Mint/Mint
X-MEN (1963) (#1-113, UNCANNY X-MEN #114-544) (MARVEL) #197 Near Mint/Mint
X-MEN (1963) (#1-113, UNCANNY X-MEN #114-544) (MARVEL) #199 NEWSSTAND Fine
X-MEN (1963) (#1-113, UNCANNY X-MEN #114-544) (MARVEL) #205 Very Fine
X-MEN (1963) (#1-113, UNCANNY X-MEN #114-544) (MARVEL) #207 Fine
X-MEN (1963) (#1-113, UNCANNY X-MEN #114-544) (MARVEL) #268 NEWSSTAND Good

X-MEN: AGE OF APOCALYPSE PRELUDE TPB (2011) #1 Near Mint/Mint
X-MEN: AGE OF APOCALYPSE PRELUDE TPB (2011) #1 Very Fine

X-MEN: THE MOVIE BEGINNINGS TPB (2000) #1 Fine

DC

ALL-STAR BATMAN (DC REBIRTH) (2016) #1 JOCK

ALL-STAR BATMAN (DC REBIRTH) (2016) #1 JOCK Near Mint/Mint
ALL-STAR BATMAN (DC REBIRTH) (2016) #1 BLANK CVR Near Mint/Mint
ALL-STAR BATMAN (DC REBIRTH) (2016) #1 DIRECT CUT Near Mint/Mint
ALL-STAR BATMAN (DC REBIRTH) (2016) #2 JOCK Near Mint/Mint
ALL-STAR BATMAN (DC REBIRTH) (2016) #2 ROMITA Near Mint/Mint
ALL-STAR BATMAN (DC REBIRTH) (2016) #4 JOCK Near Mint/Mint
ALL-STAR BATMAN (DC REBIRTH) (2016) #5 SHALVEY Near Mint/Mint
ALL-STAR BATMAN (DC REBIRTH) (2016) #8 FRANCAVILL Near Mint/Mint
ALL-STAR BATMAN (DC REBIRTH) (2016) #9 FRANCAVILL Near Mint/Mint
ALL-STAR BATMAN (DC REBIRTH) (2016) #12 FIUMARA Near Mint/Mint

ALL-STAR SQUADRON (1981) #4 NEWSSTAND Fine
ALL-STAR SQUADRON (1981) #11 Very Fine
ALL-STAR SQUADRON (1981) #12 Very Fine
ALL-STAR SQUADRON (1981) #14 NEWSSTAND Very Good
ALL-STAR SQUADRON (1981) #15 NEWSSTAND Fine
ALL-STAR SQUADRON (1981) #16 Very Fine
ALL-STAR SQUADRON (1981) #18 Very Fine
ALL-STAR SQUADRON (1981) #20 NEWSSTAND Fine
ALL-STAR SQUADRON (1981) #22 NEWSSTAND Fine
ALL-STAR SQUADRON (1981) #24 Very Fine
ALL-STAR SQUADRON (1981) #25 NEWSSTAND Very Good
ALL-STAR SQUADRON (1981) #28 Very Fine
ALL-STAR SQUADRON (1981) #29 Near Mint/Mint
ALL-STAR SQUADRON (1981) #30 Very Fine
ALL-STAR SQUADRON (1981) #34 Near Mint/Mint
ALL-STAR SQUADRON (1981) #36 Very Fine
ALL-STAR SQUADRON (1981) #37 Fine
ALL-STAR SQUADRON (1981) #45 Very Fine
ALL-STAR SQUADRON (1981) #46 NEWSSTAND Very Fine
ALL-STAR SQUADRON (1981) #52 Near Mint/Mint
ALL-STAR SQUADRON (1981) #56 NEWSSTAND Fine
ALL-STAR SQUADRON (1981) #57 NEWSSTAND Fine
ALL-STAR SQUADRON (1981) #63 Fine

ALL-STAR SQUADRON ANNUAL (1982) #1 Near Mint/Mint

ALL-STAR WESTERN (1970) (#1-11) (DC) #8 Very Good

ALL-STAR WESTERN (2011) (#0-34) (JONAH HEX) (DC NEW 52) #1 Near Mint/Mint
ALL-STAR WESTERN (2011) (#0-34) (JONAH HEX) (DC NEW 52) #2 Near Mint/Mint
ALL-STAR WESTERN (2011) (#0-34) (JONAH HEX) (DC NEW 52) #32 Near Mint/Mint
ALL-STAR WESTERN (2011) (#0-34) (JONAH HEX) (DC NEW 52) #33 Near Mint/Mint
ALL-STAR WESTERN (2011) (#0-34) (JONAH HEX) (DC NEW 52) #34 Near Mint/Mint


ALL-STAR WESTERN MILLENNIUM EDITION (2000) #10

ALL-STAR WESTERN MILLENNIUM EDITION (2000) #10 Very Fine

AMBER: GUNS OF AVALON (DC) (ROGER ZELAZNY) #2 Near Mint/Mint
AMBER: GUNS OF AVALON (DC) (ROGER ZELAZNY) #3 Near Mint/Mint

AMBUSH BUG STOCKING STUFFER (DC) (1986) #1 Near Mint/Mint

AMBUSH BUG: YEAR NONE (DC) (2008) #5 Near Mint/Mint
AMBUSH BUG: YEAR NONE (DC) (2008) #7 Near Mint/Mint

AMERICA VS. THE JUSTICE SOCIETY (JSA) (1985) #2 Very Fine
AMERICA VS. THE JUSTICE SOCIETY (JSA) (1985) #3 Very Fine

AMERICAN SPLENDOR (DC VERTIGO)(#1=32. 2=33, 3=34, 4=35) (2006) #4 Fine

AMERICAN VAMPIRE (DC VERTIGO) (2010) #3 Fine
AMERICAN VAMPIRE (DC VERTIGO) (2010) #5 Very Fine
AMERICAN VAMPIRE (DC VERTIGO) (2010) #7 Near Mint/Mint
AMERICAN VAMPIRE (DC VERTIGO) (2010) #10 Near Mint/Mint
AMERICAN VAMPIRE (DC VERTIGO) (2010) #11 Very Fine
AMERICAN VAMPIRE (DC VERTIGO) (2010) #27 Near Mint/Mint
AMERICAN VAMPIRE (DC VERTIGO) (2010) #34 Very Fine

AMERICAN VAMPIRE: SECOND CYCLE (DC VERTIGO) (2014) #5 Near Mint/Mint

AMETHYST (1983) (#1-12) (DC) #6 Near Mint/Mint

ANIMAL MAN (1988) (#1-89) (DC/VERTIGO) #2 (DC: Vertigo Press) Very Fine
ANIMAL MAN (1988) (#1-89) (DC/VERTIGO) #10 (DC: Vertigo Press) Near Mint/Mint
ANIMAL MAN (1988) (#1-89) (DC/VERTIGO) #11 (DC: Vertigo Press) Near Mint/Mint
ANIMAL MAN (1988) (#1-89) (DC/VERTIGO) #84 (DC: Vertigo Press) Very Fine
ANIMAL MAN (1988) (#1-89) (DC/VERTIGO) #85 (DC: Vertigo Press) Near Mint/Mint
ANIMAL MAN (1988) (#1-89) (DC/VERTIGO) #88 (DC: Vertigo Press) Very Fine
ANIMAL MAN (1988) (#1-89) (DC/VERTIGO) #89 (DC: Vertigo Press) Fine

ANIMAL MAN (2011) (#0-29) (DC) (NEW 52) #1 Fine
ANIMAL MAN (2011) (#0-29) (DC) (NEW 52) #2 Near Mint/Mint
ANIMAL MAN (2011) (#0-29) (DC) (NEW 52) #12 Fine
ANIMAL MAN (2011) (#0-29) (DC) (NEW 52) #13 Near Mint/Mint

ANIMANIACS (DC) (1995) #10 Near Mint/Mint
ANIMANIACS (DC) (1995) #20 Near Mint/Mint
ANIMANIACS (DC) (1995) #22 Near Mint/Mint

ANIMANIACS (DC) (1995) #23 Near Mint/Mint
ANIMANIACS (DC) (1995) #26 Near Mint/Mint
ANIMANIACS (DC) (1995) #30 Very Fine
ANIMANIACS (DC) (1995) #55 Very Fine

ANTHRO (DC) (1968) #5 Very Good

AQUAMAN (1962) (#1-63) (DC) #22 Very Good

AQUAMAN (1986) (#1-4) (DC) #2 NEWSSTAND Very Fine

AQUAMAN (1989) (#1-5) (DC) #4 Fine
AQUAMAN (1989) (#1-5) (DC) #4 Very Fine
AQUAMAN (1989) (#1-5) (DC) #5 Fine

AQUAMAN (1994) (#0-75) (DC) #2 Fine
AQUAMAN (1994) (#0-75) (DC) #3 Near Mint/Mint
AQUAMAN (1994) (#0-75) (DC) #3 Very Fine
AQUAMAN (1994) (#0-75) (DC) #16 Near Mint/Mint
AQUAMAN (1994) (#0-75) (DC) #16 Very Fine
AQUAMAN (1994) (#0-75) (DC) #33 Near Mint/Mint
AQUAMAN (1994) (#0-75) (DC) #34 Near Mint/Mint
AQUAMAN (1994) (#0-75) (DC) #35 Near Mint/Mint
AQUAMAN (1994) (#0-75) (DC) #36 Near Mint/Mint
AQUAMAN (1994) (#0-75) (DC) #59 Near Mint/Mint
AQUAMAN (1994) (#0-75) (DC) #60 Near Mint/Mint
AQUAMAN (1994) (#0-75) (DC) #72 Near Mint/Mint
AQUAMAN (1994) (#0-75) (DC) #73 Near Mint/Mint
AQUAMAN (1994) (#0-75) (DC) #74 Near Mint/Mint
AQUAMAN (1994) (#0-75) (DC) #75 Very Fine

AQUAMAN (2003) (#1-57) (DC) #39 Near Mint/Mint

AQUAMAN (2011) (#0-52) (DC NEW52) #3 Near Mint/Mint
AQUAMAN (2011) (#0-52) (DC NEW52) #6 Near Mint/Mint
AQUAMAN (2011) (#0-52) (DC NEW52) #7 Very Fine
AQUAMAN (2011) (#0-52) (DC NEW52) #10 Near Mint/Mint
AQUAMAN (2011) (#0-52) (DC NEW52) #10 Very Fine
AQUAMAN (2011) (#0-52) (DC NEW52) #11 Near Mint/Mint
AQUAMAN (2011) (#0-52) (DC NEW52) #11 Very Fine
AQUAMAN (2011) (#0-52) (DC NEW52) #12 Near Mint/Mint
AQUAMAN (2011) (#0-52) (DC NEW52) #12 ROBOTCHCKN Very Good
AQUAMAN (2011) (#0-52) (DC NEW52) #12 ROBOTCHCKN Good


AQUAMAN (2011) (#0-52) (DC NEW52) #16

AQUAMAN (2011) (#0-52) (DC NEW52) #16 Very Fine
AQUAMAN (2011) (#0-52) (DC NEW52) #17 Near Mint/Mint
AQUAMAN (2011) (#0-52) (DC NEW52) #18 Near Mint/Mint
AQUAMAN (2011) (#0-52) (DC NEW52) #19 Near Mint/Mint
AQUAMAN (2011) (#0-52) (DC NEW52) #20 Near Mint/Mint
AQUAMAN (2011) (#0-52) (DC NEW52) #20 Very Fine
AQUAMAN (2011) (#0-52) (DC NEW52) #22 Near Mint/Mint
AQUAMAN (2011) (#0-52) (DC NEW52) #24 Near Mint/Mint
AQUAMAN (2011) (#0-52) (DC NEW52) #24 VARIANT Very Fine
AQUAMAN (2011) (#0-52) (DC NEW52) #34 Near Mint/Mint
AQUAMAN (2011) (#0-52) (DC NEW52) #36 LEGO Very Fine
AQUAMAN (2011) (#0-52) (DC NEW52) #36 LEGO Fine
AQUAMAN (2011) (#0-52) (DC NEW52) #37 Near Mint/Mint
AQUAMAN (2011) (#0-52) (DC NEW52) #39 Near Mint/Mint
AQUAMAN (2011) (#0-52) (DC NEW52) #42 Near Mint/Mint

AQUAMAN (2016) (#1-UP) (DC REBRITH) #1 VARIANT Fine

AQUAMAN & THE OTHERS (2014) #6 Near Mint/Mint
AQUAMAN & THE OTHERS (2014) #9 Near Mint/Mint
AQUAMAN & THE OTHERS (2014) #10 Near Mint/Mint

AQUAMAN 1,000,000 (1998) #1 Near Mint/Mint

AQUAMAN ANNUAL (1995) (#1-5) (DC) #3 Near Mint/Mint
AQUAMAN ANNUAL (1995) (#1-5) (DC) #4 Near Mint/Mint
AQUAMAN ANNUAL (2013) (#1-2) (DC NEW52) #2 Near Mint/Mint

AQUAMAN: TIME & TIDE (1993) #2 Very Fine
AQUAMAN: TIME & TIDE (1993) #3 Very Fine
AQUAMAN: TIME & TIDE (1993) #4 Very Fine

ARAK (SON OF THUNDER) (DC) (1981) #33 Near Mint/Mint
ARAK (SON OF THUNDER) (DC) (1981) #34 Near Mint/Mint
ARAK (SON OF THUNDER) (DC) (1981) #37 Near Mint/Mint
ARAK (SON OF THUNDER) (DC) (1981) #46 Very Fine
ARAK (SON OF THUNDER) (DC) (1981) #48 Very Fine
ARAK (SON OF THUNDER) (DC) (1981) #49 Very Fine

BATMAN (1940) (#0-713) (DC) #148 Fair
BATMAN (1940) (#0-713) (DC) #182 Very Good
BATMAN (1940) (#0-713) (DC) #183 Very Good
BATMAN (1940) (#0-713) (DC) #186 Very Good


BATMAN (1940) (#0-713) (DC) #194

BATMAN (1940) (#0-713) (DC) #194 Very Good
BATMAN (1940) (#0-713) (DC) #199 Good
BATMAN (1940) (#0-713) (DC) #200 Good
BATMAN (1940) (#0-713) (DC) #201 Good
BATMAN (1940) (#0-713) (DC) #202 Good
BATMAN (1940) (#0-713) (DC) #203 Very Good
BATMAN (1940) (#0-713) (DC) #204 Very Good
BATMAN (1940) (#0-713) (DC) #205 Good
BATMAN (1940) (#0-713) (DC) #206 Very Good
BATMAN (1940) (#0-713) (DC) #207 Good
BATMAN (1940) (#0-713) (DC) #208 Fine
BATMAN (1940) (#0-713) (DC) #210 Good
BATMAN (1940) (#0-713) (DC) #211 Fine
BATMAN (1940) (#0-713) (DC) #212 Very Good
BATMAN (1940) (#0-713) (DC) #213 Fine
BATMAN (1940) (#0-713) (DC) #214 Fine
BATMAN (1940) (#0-713) (DC) #215 Very Good
BATMAN (1940) (#0-713) (DC) #218 Very Good
BATMAN (1940) (#0-713) (DC) #219 Very Good
BATMAN (1940) (#0-713) (DC) #222 Fair
BATMAN (1940) (#0-713) (DC) #224 Good
BATMAN (1940) (#0-713) (DC) #225 Good
BATMAN (1940) (#0-713) (DC) #226 Good
BATMAN (1940) (#0-713) (DC) #227 Very Good
BATMAN (1940) (#0-713) (DC) #228 Very Good
BATMAN (1940) (#0-713) (DC) #230 Good
BATMAN (1940) (#0-713) (DC) #231 Very Good
BATMAN (1940) (#0-713) (DC) #232 Fine
BATMAN (1940) (#0-713) (DC) #233 Good
BATMAN (1940) (#0-713) (DC) #234 Good
BATMAN (1940) (#0-713) (DC) #235 Good
BATMAN (1940) (#0-713) (DC) #236 Good
BATMAN (1940) (#0-713) (DC) #237 Fine
BATMAN (1940) (#0-713) (DC) #238 Good
BATMAN (1940) (#0-713) (DC) #239 Good
BATMAN (1940) (#0-713) (DC) #240 Very Good
BATMAN (1940) (#0-713) (DC) #242 Very Good
BATMAN (1940) (#0-713) (DC) #243 Good
BATMAN (1940) (#0-713) (DC) #244 Good
BATMAN (1940) (#0-713) (DC) #246 Very Good
BATMAN (1940) (#0-713) (DC) #247 Very Good
BATMAN (1940) (#0-713) (DC) #248 Very Good
BATMAN (1940) (#0-713) (DC) #249 Very Good


BATMAN (1940) (#0-713) (DC) #250

BATMAN (1940) (#0-713) (DC) #250 Very Good
BATMAN (1940) (#0-713) (DC) #252 Good
BATMAN (1940) (#0-713) (DC) #253 Very Good
BATMAN (1940) (#0-713) (DC) #254 Good
BATMAN (1940) (#0-713) (DC) #255 Fine
BATMAN (1940) (#0-713) (DC) #256 Very Good
BATMAN (1940) (#0-713) (DC) #257 Good
BATMAN (1940) (#0-713) (DC) #258 Good
BATMAN (1940) (#0-713) (DC) #259 Fine
BATMAN (1940) (#0-713) (DC) #260 Good
BATMAN (1940) (#0-713) (DC) #261 Fine
BATMAN (1940) (#0-713) (DC) #262 Good
BATMAN (1940) (#0-713) (DC) #264 Very Good
BATMAN (1940) (#0-713) (DC) #265 Very Good
BATMAN (1940) (#0-713) (DC) #266 Very Good
BATMAN (1940) (#0-713) (DC) #270 Very Good
BATMAN (1940) (#0-713) (DC) #271 Very Good
BATMAN (1940) (#0-713) (DC) #273 Very Good
BATMAN (1940) (#0-713) (DC) #279 Very Good
BATMAN (1940) (#0-713) (DC) #280 Fine
BATMAN (1940) (#0-713) (DC) #281 Very Good
BATMAN (1940) (#0-713) (DC) #282 Very Good
BATMAN (1940) (#0-713) (DC) #284 Very Good
BATMAN (1940) (#0-713) (DC) #286 Fine
BATMAN (1940) (#0-713) (DC) #287 Fine
BATMAN (1940) (#0-713) (DC) #288 Very Good
BATMAN (1940) (#0-713) (DC) #289 Very Good
BATMAN (1940) (#0-713) (DC) #291 Very Fine
BATMAN (1940) (#0-713) (DC) #292 Fine
BATMAN (1940) (#0-713) (DC) #294 Fine
BATMAN (1940) (#0-713) (DC) #295 Fine
BATMAN (1940) (#0-713) (DC) #296 Very Good
BATMAN (1940) (#0-713) (DC) #297 Very Good
BATMAN (1940) (#0-713) (DC) #298 Fine
BATMAN (1940) (#0-713) (DC) #299 Very Good
BATMAN (1940) (#0-713) (DC) #300 Fine
BATMAN (1940) (#0-713) (DC) #301 Fine
BATMAN (1940) (#0-713) (DC) #302 Fine
BATMAN (1940) (#0-713) (DC) #303 Very Good
BATMAN (1940) (#0-713) (DC) #304 Fine
BATMAN (1940) (#0-713) (DC) #305 Fine
BATMAN (1940) (#0-713) (DC) #307 Fine
BATMAN (1940) (#0-713) (DC) #308 Very Good


BATMAN (1940) (#0-713) (DC) #309

BATMAN (1940) (#0-713) (DC) #309 Very Good
BATMAN (1940) (#0-713) (DC) #310 Very Good
BATMAN (1940) (#0-713) (DC) #312 Very Good
BATMAN (1940) (#0-713) (DC) #313 Fine
BATMAN (1940) (#0-713) (DC) #314 Fine
BATMAN (1940) (#0-713) (DC) #315 Very Good
BATMAN (1940) (#0-713) (DC) #316 Very Good
BATMAN (1940) (#0-713) (DC) #317 Very Good
BATMAN (1940) (#0-713) (DC) #318 Fine
BATMAN (1940) (#0-713) (DC) #319 Fine
BATMAN (1940) (#0-713) (DC) #321 Fine
BATMAN (1940) (#0-713) (DC) #322 Very Fine
BATMAN (1940) (#0-713) (DC) #323 Fine
BATMAN (1940) (#0-713) (DC) #324 Very Good
BATMAN (1940) (#0-713) (DC) #325 Very Good
BATMAN (1940) (#0-713) (DC) #327 NEWSSTAND Fine
BATMAN (1940) (#0-713) (DC) #328 Fine
BATMAN (1940) (#0-713) (DC) #329 Near Mint/Mint
BATMAN (1940) (#0-713) (DC) #330 NEWSSTAND Fine
BATMAN (1940) (#0-713) (DC) #331 Very Good
BATMAN (1940) (#0-713) (DC) #332 NEWSSTAND Fine
BATMAN (1940) (#0-713) (DC) #333 NEWSSTAND Fine
BATMAN (1940) (#0-713) (DC) #334 NEWSSTAND Very Good
BATMAN (1940) (#0-713) (DC) #335 NEWSSTAND Fine
BATMAN (1940) (#0-713) (DC) #336 NEWSSTAND Fine
BATMAN (1940) (#0-713) (DC) #337 Very Fine
BATMAN (1940) (#0-713) (DC) #338 NEWSSTAND Fine
BATMAN (1940) (#0-713) (DC) #339 NEWSSTAND Very Good
BATMAN (1940) (#0-713) (DC) #340 NEWS ATARI Fine
BATMAN (1940) (#0-713) (DC) #341 Fine
BATMAN (1940) (#0-713) (DC) #342 Fine
BATMAN (1940) (#0-713) (DC) #343 NEWS ATARI Very Good
BATMAN (1940) (#0-713) (DC) #344 Very Fine
BATMAN (1940) (#0-713) (DC) #345 Very Good
BATMAN (1940) (#0-713) (DC) #347 Fine
BATMAN (1940) (#0-713) (DC) #348 NEWSSTAND Very Good
BATMAN (1940) (#0-713) (DC) #349 Very Fine
BATMAN (1940) (#0-713) (DC) #351 NEWSSTAND Very Good
BATMAN (1940) (#0-713) (DC) #352 NEWSSTAND Very Good
BATMAN (1940) (#0-713) (DC) #353 Fine
BATMAN (1940) (#0-713) (DC) #355 Fine
BATMAN (1940) (#0-713) (DC) #357 NEWS ATARI Good
BATMAN (1940) (#0-713) (DC) #358 Fine


BATMAN (1940) (#0-713) (DC) #361 NEWSSTAND

BATMAN (1940) (#0-713) (DC) #361 NEWSSTAND Fine
BATMAN (1940) (#0-713) (DC) #362 NEWSSTAND Very Fine
BATMAN (1940) (#0-713) (DC) #363 NEWSSTAND Fine
BATMAN (1940) (#0-713) (DC) #364 NEWSSTAND Fine
BATMAN (1940) (#0-713) (DC) #366 NEWSSTAND Very Good
BATMAN (1940) (#0-713) (DC) #367 NEWSSTAND Very Good
BATMAN (1940) (#0-713) (DC) #368 NEWSSTAND Very Good
BATMAN (1940) (#0-713) (DC) #369 Fine
BATMAN (1940) (#0-713) (DC) #370 Fine
BATMAN (1940) (#0-713) (DC) #372 NEWS JEWEL Fine
BATMAN (1940) (#0-713) (DC) #373 NEWSSTAND Fine
BATMAN (1940) (#0-713) (DC) #375 NEWSSTAND Fine
BATMAN (1940) (#0-713) (DC) #376 NEWSSTAND Very Good
BATMAN (1940) (#0-713) (DC) #377 NEWSSTAND Fine
BATMAN (1940) (#0-713) (DC) #379 NEWSSTAND Very Good
BATMAN (1940) (#0-713) (DC) #380 NEWSSTAND Fine
BATMAN (1940) (#0-713) (DC) #381 NEWSSTAND Fine
BATMAN (1940) (#0-713) (DC) #382 NEWSSTAND Fine
BATMAN (1940) (#0-713) (DC) #383 NEWSSTAND Fine
BATMAN (1940) (#0-713) (DC) #384 Fine
BATMAN (1940) (#0-713) (DC) #386 Fine
BATMAN (1940) (#0-713) (DC) #387 NEWSSTAND Fine
BATMAN (1940) (#0-713) (DC) #388 NEWSSTAND Very Good
BATMAN (1940) (#0-713) (DC) #389 NEWSSTAND Very Good
BATMAN (1940) (#0-713) (DC) #600 2ND PRINT Very Fine
BATMAN (1940) (#0-713) (DC) #601 Near Mint/Mint
BATMAN (1940) (#0-713) (DC) #602 Near Mint/Mint
BATMAN (1940) (#0-713) (DC) #603 Near Mint/Mint
BATMAN (1940) (#0-713) (DC) #604 Near Mint/Mint
BATMAN (1940) (#0-713) (DC) #605 Near Mint/Mint
BATMAN (1940) (#0-713) (DC) #606 Near Mint/Mint
BATMAN (1940) (#0-713) (DC) #607 Near Mint/Mint
BATMAN (1940) (#0-713) (DC) #608 Fine
BATMAN (1940) (#0-713) (DC) #608 2ND PRINT Fine
BATMAN (1940) (#0-713) (DC) #609 Fine
BATMAN (1940) (#0-713) (DC) #611 Near Mint/Mint
BATMAN (1940) (#0-713) (DC) #612 Near Mint/Mint
BATMAN (1940) (#0-713) (DC) #612 2ND PRINT Near Mint/Mint
BATMAN (1940) (#0-713) (DC) #613 Very Fine
BATMAN (1940) (#0-713) (DC) #615 Near Mint/Mint
BATMAN (1940) (#0-713) (DC) #616 Near Mint/Mint
BATMAN (1940) (#0-713) (DC) #618 Near Mint/Mint
BATMAN (1940) (#0-713) (DC) #619 Near Mint/Mint


BATMAN (1940) (#0-713) (DC) #619 2ND PRINT

BATMAN (1940) (#0-713) (DC) #619 2ND PRINT Near Mint/Mint
BATMAN (1940) (#0-713) (DC) #629 Near Mint/Mint
BATMAN (1940) (#0-713) (DC) #630 Near Mint/Mint
BATMAN (1940) (#0-713) (DC) #634 Near Mint/Mint
BATMAN (1940) (#0-713) (DC) #635 Near Mint/Mint
BATMAN (1940) (#0-713) (DC) #636 Near Mint/Mint
BATMAN (1940) (#0-713) (DC) #637 Fine
BATMAN (1940) (#0-713) (DC) #638 2ND PRINT Very Fine
BATMAN (1940) (#0-713) (DC) #638 Very Fine
BATMAN (1940) (#0-713) (DC) #639 Near Mint/Mint
BATMAN (1940) (#0-713) (DC) #645 Near Mint/Mint
BATMAN (1940) (#0-713) (DC) #648 Near Mint/Mint
BATMAN (1940) (#0-713) (DC) #649 Near Mint/Mint
BATMAN (1940) (#0-713) (DC) #650 Near Mint/Mint
BATMAN (1940) (#0-713) (DC) #650 2ND PRINT Fine
BATMAN (1940) (#0-713) (DC) #651 Near Mint/Mint
BATMAN (1940) (#0-713) (DC) #655 Near Mint/Mint
BATMAN (1940) (#0-713) (DC) #655 VARIANT Fine
BATMAN (1940) (#0-713) (DC) #656 Near Mint/Mint
BATMAN (1940) (#0-713) (DC) #657 Near Mint/Mint
BATMAN (1940) (#0-713) (DC) #658 Near Mint/Mint
BATMAN (1940) (#0-713) (DC) #663 Near Mint/Mint
BATMAN (1940) (#0-713) (DC) #664 Near Mint/Mint
BATMAN (1940) (#0-713) (DC) #665 Fine
BATMAN (1940) (#0-713) (DC) #666 Very Fine
BATMAN (1940) (#0-713) (DC) #667 Very Fine
BATMAN (1940) (#0-713) (DC) #668 Very Fine
BATMAN (1940) (#0-713) (DC) #670 2ND PRINT Very Fine
BATMAN (1940) (#0-713) (DC) #670 Very Fine
BATMAN (1940) (#0-713) (DC) #671 Near Mint/Mint
BATMAN (1940) (#0-713) (DC) #671 2ND PRINT Near Mint/Mint
BATMAN (1940) (#0-713) (DC) #672 Near Mint/Mint
BATMAN (1940) (#0-713) (DC) #673 Near Mint/Mint
BATMAN (1940) (#0-713) (DC) #675 Very Fine
BATMAN (1940) (#0-713) (DC) #676 Near Mint/Mint
BATMAN (1940) (#0-713) (DC) #676 2ND PRINT Near Mint/Mint
BATMAN (1940) (#0-713) (DC) #676 3RD PRINT Very Fine
BATMAN (1940) (#0-713) (DC) #676 VARIANT Near Mint/Mint
BATMAN (1940) (#0-713) (DC) #677 Near Mint/Mint
BATMAN (1940) (#0-713) (DC) #677 2ND PRINT Near Mint/Mint
BATMAN (1940) (#0-713) (DC) #677 VARIANT Near Mint/Mint
BATMAN (1940) (#0-713) (DC) #678 Fine
BATMAN (1940) (#0-713) (DC) #678 VARIANT Very Fine


BATMAN (1940) (#0-713) (DC) #679 VARIANT

BATMAN (1940) (#0-713) (DC) #679 VARIANT Near Mint/Mint
BATMAN (1940) (#0-713) (DC) #680 Near Mint/Mint
BATMAN (1940) (#0-713) (DC) #680 VARIANT Very Fine
BATMAN (1940) (#0-713) (DC) #681 Near Mint/Mint
BATMAN (1940) (#0-713) (DC) #681 VARIANT Near Mint/Mint
BATMAN (1940) (#0-713) (DC) #682 Near Mint/Mint
BATMAN (1940) (#0-713) (DC) #682 VARIANT Near Mint/Mint
BATMAN (1940) (#0-713) (DC) #683 Near Mint/Mint
BATMAN (1940) (#0-713) (DC) #683 VARIANT Very Fine
BATMAN (1940) (#0-713) (DC) #684 VARIANT Near Mint/Mint
BATMAN (1940) (#0-713) (DC) #685 Very Fine
BATMAN (1940) (#0-713) (DC) #686 Near Mint/Mint
BATMAN (1940) (#0-713) (DC) #686 2ND PRINT Fine
BATMAN (1940) (#0-713) (DC) #686 ROSS Fine
BATMAN (1940) (#0-713) (DC) #686 SKETCH CV Very Fine
BATMAN (1940) (#0-713) (DC) #687 VARIANT Fine
BATMAN (1940) (#0-713) (DC) #688 Near Mint/Mint
BATMAN (1940) (#0-713) (DC) #689 Near Mint/Mint
BATMAN (1940) (#0-713) (DC) #693 Near Mint/Mint
BATMAN (1940) (#0-713) (DC) #697 Near Mint/Mint
BATMAN (1940) (#0-713) (DC) #698 Fine
BATMAN (1940) (#0-713) (DC) #699 Near Mint/Mint
BATMAN (1940) (#0-713) (DC) #700 VARIANT Very Fine
BATMAN (1940) (#0-713) (DC) #700 Very Fine
BATMAN (1940) (#0-713) (DC) #701 Near Mint/Mint
BATMAN (1940) (#0-713) (DC) #702 Near Mint/Mint
BATMAN (1940) (#0-713) (DC) #703 Very Fine
BATMAN (1940) (#0-713) (DC) #704 Very Fine
BATMAN (1940) (#0-713) (DC) #706 Very Fine
BATMAN (1940) (#0-713) (DC) #707 Very Fine
BATMAN (1940) (#0-713) (DC) #708 Very Fine
BATMAN (1940) (#0-713) (DC) #710 Fine
BATMAN (1940) (#0-713) (DC) #711 Fine
BATMAN (1940) (#0-713) (DC) #712 Fine
BATMAN (1940) (#0-713) (DC) #713 Fine

BATMAN ANNUAL (1961) (#1-28) (DC) #1 Very Good
BATMAN ANNUAL (1961) (#1-28) (DC) #2 Good
BATMAN ANNUAL (1961) (#1-28) (DC) #3 Very Good
BATMAN ANNUAL (1961) (#1-28) (DC) #4 Very Good
BATMAN ANNUAL (1961) (#1-28) (DC) #5 Very Good
BATMAN ANNUAL (1961) (#1-28) (DC) #6 Good
BATMAN ANNUAL (1961) (#1-28) (DC) #7 Very Good


BATMAN ANNUAL (1961) (#1-28) (DC) #8 NEWSSTAND

BATMAN ANNUAL (1961) (#1-28) (DC) #8 NEWSSTAND Very Good
BATMAN ANNUAL (1961) (#1-28) (DC) #9 NEWSSTAND Fine
BATMAN ANNUAL (1961) (#1-28) (DC) #10 NEWSSTAND Fine
BATMAN ANNUAL (1961) (#1-28) (DC) #13 NEWSSTAND Fine
BATMAN ANNUAL (1961) (#1-28) (DC) #20 Near Mint/Mint
BATMAN ANNUAL (1961) (#1-28) (DC) #21 Near Mint/Mint
BATMAN ANNUAL (1961) (#1-28) (DC) #23 Near Mint/Mint
BATMAN ANNUAL (1961) (#1-28) (DC) #24 Fine
BATMAN ANNUAL (1961) (#1-28) (DC) #25 Fine
BATMAN ANNUAL (1961) (#1-28) (DC) #25 2ND PRINT Fine
BATMAN ANNUAL (1961) (#1-28) (DC) #28 Very Fine
BATMAN ANNUAL (2012) (#1-4) (DC NEW52) #1 Near Mint/Mint

BATMAN FAMILY (1975) #2 Fine
BATMAN FAMILY (1975) #6 Fine
BATMAN FAMILY (1975) #11 Very Good
BATMAN FAMILY (1975) #13 Fine
BATMAN FAMILY (1975) #18 Very Good
BATMAN FAMILY (1975) #19 Fine
BATMAN FAMILY (1975) #20 Fine

BATMAN: BATTLE FOR THE COWL (2009) #1 Near Mint/Mint
BATMAN: BATTLE FOR THE COWL (2009) #1 2ND PRINT Fine
BATMAN: BATTLE FOR THE COWL (2009) #1 VARIANT Fine
BATMAN: BATTLE FOR THE COWL (2009) #2 Near Mint/Mint
BATMAN: BATTLE FOR THE COWL (2009) #2 VARIANT Near Mint/Mint
BATMAN: BATTLE FOR THE COWL (2009) #3 Near Mint/Mint
BATMAN: BATTLE FOR THE COWL (2009) #3 VARIANT Fine

BATMAN: HUSH DOUBLE FEATURE (JIM LEE) (JEPH LOEB) (2003) #1 Near Mint/Mint

BLACKEST NIGHT: WONDER WOMAN (2009) #1 Very Fine
BLACKEST NIGHT: WONDER WOMAN (2009) #2 Near Mint/Mint
BLACKEST NIGHT: WONDER WOMAN (2009) #3 Near Mint/Mint

BRAVE AND THE BOLD (2006) #7 Fine

DC COMICS PRESENTS (1978) #84 Fine

DEAD BOY DETECTIVES DIGEST (2005) #1 (DC: Vertigo Press) Fine
DEAD BOY DETECTIVES DIGEST (2005) #1 (DC: Vertigo Press) Very Fine

DETECTIVE COMICS (1937) (#0-881) (DC) #411 Good

EMPTY EMPIRE TPB (2006) #1 Very Good

FLASHPOINT (2011) (#1-5) (DC) #3 VARIANT Very Fine

FOREVER PEOPLE (1971) #1 Very Good
FOREVER PEOPLE (1971) #4 Very Good
FOREVER PEOPLE (1971) #5 Good
FOREVER PEOPLE (1971) #6 Good
FOREVER PEOPLE (1971) #7 Fine
FOREVER PEOPLE (1971) #8 Fine
FOREVER PEOPLE (1971) #9 Very Good

HISTORY OF THE DC UNIVERSE TPB (2002) #1 2ND PRINT Near Mint/Mint

INFINITE CRISIS (2005) #3 Fine
INFINITE CRISIS (2005) #5 PEREZ Very Fine

JIMMY OLSEN (1954) #133 Fine
JIMMY OLSEN (1954) #134 Fine
JIMMY OLSEN (1954) #135 Fine
JIMMY OLSEN (1954) #137 Very Fine
JIMMY OLSEN (1954) #142 Fine
JIMMY OLSEN (1954) #143 Very Fine
JIMMY OLSEN (1954) #145 Fine
JIMMY OLSEN (1954) #147 Very Fine
JIMMY OLSEN (1954) #148 Very Fine

JUSTICE LEAGUE OF AMERICA (1960) (#1-261) (DC) #101 Good

LOBO (1990) (#1-4) (DC) #1 Near Mint/Mint

LOBO (1993) (#0-64) (DC) #1 Very Fine

MAD (MAGAZINE) #26 Good
MAD (MAGAZINE) #27 Fine
MAD (MAGAZINE) #40 Very Good
MAD (MAGAZINE) #44 Good
MAD (MAGAZINE) #45 Fine
MAD (MAGAZINE) #54 Fine
MAD (MAGAZINE) #55 Good
MAD (MAGAZINE) #55 Very Good
MAD (MAGAZINE) #58 Fine

MAD (MAGAZINE) #58 Good
MAD (MAGAZINE) #93 Very Good

MAD FOLLIES (1963) #1 Good
MAD FOLLIES (1963) #1 W/O Very Good
MAD FOLLIES (1963) #1 W/O Good
MAD FOLLIES (1963) #1 Very Good
MAD FOLLIES (1963) #1 W/O Fair
MAD FOLLIES (1963) #2 Fine
MAD FOLLIES (1963) #2 Good
MAD FOLLIES (1963) #2 Very Good
MAD FOLLIES (1963) #2 W/O INSERT Very Good
MAD FOLLIES (1963) #3 Fine
MAD FOLLIES (1963) #3 Good
MAD FOLLIES (1963) #3 W/O STICK Very Good
MAD FOLLIES (1963) #3 Very Fine
MAD FOLLIES (1963) #3 Very Good
MAD FOLLIES (1963) #3 W/O STICK Good
MAD FOLLIES (1963) #4 Good
MAD FOLLIES (1963) #5 Very Good
MAD FOLLIES (1963) #6 Good
MAD FOLLIES (1963) #6 Very Good

MAD SPECIAL (MAG) #1 Fine
MAD SPECIAL (MAG) #1 Very Good

MAD: MORE TRASH FROM MAD (1958) #1 Good
MAD: MORE TRASH FROM MAD (1958) #1 Very Good

MAD: WORST FROM MAD (1958) #1 W/O Fine
MAD: WORST FROM MAD (1958) #2 W/O INSERT Good
MAD: WORST FROM MAD (1958) #4 W/O INSERT Good
MAD: WORST FROM MAD (1958) #7 W/O INSERT Good
MAD: WORST FROM MAD (1958) #8 W/O INSERT Very Good
MAD: WORST FROM MAD (1958) #8 W/O INSERT Good
MAD: WORST FROM MAD (1958) #9 W/O RECORD Good
MAD: WORST FROM MAD (1958) #12 Good

MADARA TPB (2004) #1 Near Mint/Mint

MYSTERY IN SPACE TPB (2007) #1 Near Mint/Mint
MYSTERY IN SPACE TPB (2007) #1 Very Fine


MYSTERY IN SPACE TPB (2007) #2

MYSTERY IN SPACE TPB (2007) #2 Near Mint/Mint
MYSTERY IN SPACE TPB (2007) #2 Very Fine

NEW GODS (1971) #1 Good
NEW GODS (1971) #2 Very Good
NEW GODS (1971) #3 Very Good
NEW GODS (1971) #4 Fine
NEW GODS (1971) #5 Fine
NEW GODS (1971) #6 Very Fine
NEW GODS (1971) #7 Fine
NEW GODS (1971) #9 Very Fine
NEW GODS (1971) #10 Fine
NEW GODS (1971) #11 Very Fine

NEW GODS (1984) #2 Near Mint/Mint
NEW GODS (1984) #6 Very Fine

OMAC (1974) (#1-8) (ONE MAN ARMY CORPS) (JACK KIRBY) #2 Very Fine
OMAC (1974) (#1-8) (ONE MAN ARMY CORPS) (JACK KIRBY) #3 Fine
OMAC (1974) (#1-8) (ONE MAN ARMY CORPS) (JACK KIRBY) #4 Fine
OMAC (1974) (#1-8) (ONE MAN ARMY CORPS) (JACK KIRBY) #6 Very Good
OMAC (1974) (#1-8) (ONE MAN ARMY CORPS) (JACK KIRBY) #7 Very Fine

POWER GIRL (2009) (#1-27) #1 VARIANT Near Mint/Mint
POWER GIRL (2009) (#1-27) #2 VARIANT Near Mint/Mint
POWER GIRL (2009) (#1-27) #7 Near Mint/Mint

PREACHER: SALVATION TPB (VOL. 7) (1999) #1 5TH PRINT (DC: Vertigo Press) Fine

PULP FICTION LIBRARY: MYSTERY IN SPACE TPB (1999) #1 Very Fine

QUESTION QUARTERLY (1990) #3 Near Mint/Mint

QUESTION: FIVE BOOKS OF BLOOD TPB (2009) #1 Very Fine

SANDMAN (1974) (#1-6) (DC) #2 Very Fine
SANDMAN (1974) (#1-6) (DC) #3 Fine
SANDMAN (1974) (#1-6) (DC) #4 Very Fine
SANDMAN (1974) (#1-6) (DC) #5 Fine

STAR SPANGLED WAR STORIES (1952) #110 Very Good


STAR TREK: THE NEXT GENERATION (1988) (#1-6) (DC) #1

STAR TREK: THE NEXT GENERATION (1988) (#1-6) (DC) #1 Near Mint/Mint

STAR TREK: THE NEXT GENERATION (1989) (#1-80) (DC) #2 Near Mint/Mint
STAR TREK: THE NEXT GENERATION (1989) (#1-80) (DC) #3 Near Mint/Mint
STAR TREK: THE NEXT GENERATION (1989) (#1-80) (DC) #4 Near Mint/Mint
STAR TREK: THE NEXT GENERATION (1989) (#1-80) (DC) #6 Near Mint/Mint
STAR TREK: THE NEXT GENERATION (1989) (#1-80) (DC) #7 Near Mint/Mint
STAR TREK: THE NEXT GENERATION (1989) (#1-80) (DC) #9 Near Mint/Mint
STAR TREK: THE NEXT GENERATION (1989) (#1-80) (DC) #13 Near Mint/Mint

SUGAR AND SPIKE (1956) #78 Good

SUICIDE SQUAD (1987) (#1-67) (DC) #18 NEWSSTAND Fine
SUICIDE SQUAD (1987) (#1-67) (DC) #25 NEWSSTAND Very Good
SUICIDE SQUAD (1987) (#1-67) (DC) #26 NEWSSTAND Fine
SUICIDE SQUAD (1987) (#1-67) (DC) #27 NEWSSTAND Fine
SUICIDE SQUAD (1987) (#1-67) (DC) #29 NEWSSTAND Fine
SUICIDE SQUAD (1987) (#1-67) (DC) #30 NEWSSTAND Very Good

SUPER POWERS (1984) (#1-5) (DC) #2 NEWS JEWEL Very Fine
SUPER POWERS (1984) (#1-5) (DC) #3 NEWSSTAND Fine

SUPERMAN (1939) (#1-423) (DC) #191 Fine

SUPERMAN (1986) (#0-226, #650-714) (DC) #3 Near Mint/Mint
SUPERMAN (1986) (#0-226, #650-714) (DC) #9 Near Mint/Mint
SUPERMAN (1986) (#0-226, #650-714) (DC) #18 NEWSSTAND Very Good
SUPERMAN (1986) (#0-226, #650-714) (DC) #19 NEWSSTAND Fine
SUPERMAN (1986) (#0-226, #650-714) (DC) #22 NEWSSTAND Fine
SUPERMAN (1986) (#0-226, #650-714) (DC) #23 NEWSSTAND Fine
SUPERMAN (1986) (#0-226, #650-714) (DC) #25 NEWSSTAND Fine

SUPERMAN FAMILY (1974) #167 Very Good
SUPERMAN FAMILY (1974) #173 Very Good
SUPERMAN FAMILY (1974) #199 Fine

TENJHO TENGE TPB (2005) #7 Very Fine
TENJHO TENGE TPB (2005) #8 Very Fine
TENJHO TENGE TPB (2005) #10 Very Good

WATCHMEN TPB (1987) #1 2ND PRINT Good


WONDER WOMAN (1942) (#1-329) (DC) #202

WONDER WOMAN (1942) (#1-329) (DC) #202 Very Good
WONDER WOMAN (1942) (#1-329) (DC) #284 NEWS ATARI Very Good

WONDER WOMAN (1987) (#0-226) (DC) #1 NEWSSTAND Very Good
WONDER WOMAN (1987) (#0-226) (DC) #7 Fine
WONDER WOMAN (1987) (#0-226) (DC) #9 Very Good
WONDER WOMAN (1987) (#0-226) (DC) #10 NEWSSTAND Very Good
WONDER WOMAN (1987) (#0-226) (DC) #33 Fine
WONDER WOMAN (1987) (#0-226) (DC) #61 NEWSSTAND Fine

WORLDS FINEST (1941) (#2-323) (DC) (WORLD'S FINEST) #224 Good

DARK HORSE COMICS
AMERICAN SPLENDOR: BEDTIME STORIES (#27) (DARK HORSE) (2000) #1 Very Fine

AMERICAN SPLENDOR: TERMINAL (#26) (DARK HORSE) (1999) #1 Very Fine

AMERICAN SPLENDOR: UNSUNG HERO (#1=29, 2=30, 3=31) (2002) #1 Fine
AMERICAN SPLENDOR: UNSUNG HERO (#1=29, 2=30, 3=31) (2002) #2 Fine

ANGEL & FAITH (2011) (#1-25) (SEASON 9) (DARK HORSE) #1 JEANTY Near Mint/Mint

ANGEL & FAITH SEASON 10 (2014) (#1-25) (DARK HORSE) #7 FISCHER Near Mint/Mint

ANGEL (1999) (#1-17) (DARK HORSE) (TV SHOW) #1 Near Mint/Mint
ANGEL (1999) (#1-17) (DARK HORSE) (TV SHOW) #12 Near Mint/Mint
ANGEL (1999) (#1-17) (DARK HORSE) (TV SHOW) #15 Near Mint/Mint
ANGEL (1999) (#1-17) (DARK HORSE) (TV SHOW) #16 Near Mint/Mint
ANGEL (1999) (#1-17) (DARK HORSE) (TV SHOW) #16 PHOTO Near Mint/Mint
ANGEL (1999) (#1-17) (DARK HORSE) (TV SHOW) #17 Very Fine

ANGEL SEASON 11 (2017) #10 BORGES Near Mint/Mint
ANGEL SEASON 11 (2017) #10 FISCHER Near Mint/Mint

ANGEL VOL. 2 (DARK HORSE) (2001) #1 Near Mint/Mint

APPLESEED DATABOOK (DARK HORSE STUDIO PROTEUS) (1995) #1 Near Mint/Mint

FATHOM COLLECTED #1 (Image Top Cow) Near Mint/Mint
FATHOM COLLECTED #4 (Image Top Cow) Very Fine
FATHOM COLLECTED #5 (Image Top Cow) Near Mint/Mint

HELLSING TPB (2003) #1 HC Fine
HELLSING TPB (2003) #5 Fine

MYSPACE DARK HORSE PRESENTS TPB (2008) #1 Very Fine
MYSPACE DARK HORSE PRESENTS TPB (2008) #2 Very Fine
MYSPACE DARK HORSE PRESENTS TPB (2008) #3 Very Fine
MYSPACE DARK HORSE PRESENTS TPB (2008) #4 Very Fine
MYSPACE DARK HORSE PRESENTS TPB (2008) #6 Very Fine

OH! MY GODDESS!: MYSTERY CHILD TPB (VOL. 16) (2003) #1 Near Mint/Mint

ORION 4TH EDITION TPB (2008) #1 Fine

IMAGE COMICS
ALLEY CAT PREVIEW CONVENTION EDITION #1 (Image Top Cow) Very Fine

ANGELUS (IMAGE TOP COW) (2009) #1 A (Image Top Cow) Near Mint/Mint
ANGELUS (IMAGE TOP COW) (2009) #2 A (Image Top Cow) Near Mint/Mint
ANGELUS (IMAGE TOP COW) (2009) #3 A (Image Top Cow) Near Mint/Mint

ANT (2005) (#1-11) (IMAGE) #1 Very Fine
ANT (2005) (#1-11) (IMAGE) #2 Near Mint/Mint
ANT (2005) (#1-11) (IMAGE) #3 Very Fine
ANT (2005) (#1-11) (IMAGE) #4 Near Mint/Mint
ANT (2005) (#1-11) (IMAGE) #5 Near Mint/Mint
ANT (2005) (#1-11) (IMAGE) #8 Near Mint/Mint
ANT (2005) (#1-11) (IMAGE) #9 Near Mint/Mint
ANT (2005) (#1-11) (IMAGE) #10 Very Fine
ANT (2005) (#1-11) (IMAGE) #11 Near Mint/Mint

APHRODITE IX (IMAGE TOP COW) (2000) #2 GRAHMGREEN (Image Top Cow) Near Mint/Mint

APHRODITE IX (IMAGE TOP COW) (2013) #2 A Near Mint/Mint
APHRODITE IX (IMAGE TOP COW) (2013) #2 B Near Mint/Mint
APHRODITE IX (IMAGE TOP COW) (2013) #3 A Near Mint/Mint
APHRODITE IX (IMAGE TOP COW) (2013) #8 A Near Mint/Mint
APHRODITE IX (IMAGE TOP COW) (2013) #9 A Near Mint/Mint
APHRODITE IX (IMAGE TOP COW) (2013) #11 A Near Mint/Mint

FAMILY TRADE (2017) #3 Near Mint/Mint

MAXX (1993) #1 GLOW Very Fine

MYSTERIOUS WAYS TPB (2012) #1 Fine

SAVAGE DRAGON-THE SERIES (1993) (#0-UP) #132 Near Mint/Mint
SAVAGE DRAGON-THE SERIES (1993) (#0-UP) #134 Very Fine
SAVAGE DRAGON-THE SERIES (1993) (#0-UP) #136 Near Mint/Mint
SAVAGE DRAGON-THE SERIES (1993) (#0-UP) #138 Near Mint/Mint
SAVAGE DRAGON-THE SERIES (1993) (#0-UP) #150 Near Mint/Mint

WALKING DEAD (2003) (#1-193) (IMAGE) #29 Fine
WALKING DEAD (2003) (#1-193) (IMAGE) #31 Good
WALKING DEAD (2003) (#1-193) (IMAGE) #32 Very Good
WALKING DEAD (2003) (#1-193) (IMAGE) #33 Very Good
WALKING DEAD (2003) (#1-193) (IMAGE) #34 Very Good
WALKING DEAD (2003) (#1-193) (IMAGE) #35 Very Good
WALKING DEAD (2003) (#1-193) (IMAGE) #36 Very Good
WALKING DEAD (2003) (#1-193) (IMAGE) #37 Very Good
WALKING DEAD (2003) (#1-193) (IMAGE) #38 Good
WALKING DEAD (2003) (#1-193) (IMAGE) #39 Fine
WALKING DEAD (2003) (#1-193) (IMAGE) #40 Very Good
WALKING DEAD (2003) (#1-193) (IMAGE) #42 Fine
WALKING DEAD (2003) (#1-193) (IMAGE) #43 Fine
WALKING DEAD (2003) (#1-193) (IMAGE) #44 Fine
WALKING DEAD (2003) (#1-193) (IMAGE) #45 Fine
WALKING DEAD (2003) (#1-193) (IMAGE) #46 Very Good
WALKING DEAD (2003) (#1-193) (IMAGE) #47 Fine
WALKING DEAD (2003) (#1-193) (IMAGE) #48 Fine
WALKING DEAD (2003) (#1-193) (IMAGE) #49 Very Good
WALKING DEAD (2003) (#1-193) (IMAGE) #50 Fine
WALKING DEAD (2003) (#1-193) (IMAGE) #51 Very Fine
WALKING DEAD (2003) (#1-193) (IMAGE) #52 Fine
WALKING DEAD (2003) (#1-193) (IMAGE) #52 Near Mint/Mint
WALKING DEAD (2003) (#1-193) (IMAGE) #53 Fine
WALKING DEAD (2003) (#1-193) (IMAGE) #54 Fine
WALKING DEAD (2003) (#1-193) (IMAGE) #55 Very Good
WALKING DEAD (2003) (#1-193) (IMAGE) #56 Fine
WALKING DEAD (2003) (#1-193) (IMAGE) #57 Fine
WALKING DEAD (2003) (#1-193) (IMAGE) #58 Fine
WALKING DEAD (2003) (#1-193) (IMAGE) #59 Fine
WALKING DEAD (2003) (#1-193) (IMAGE) #60 Fine
WALKING DEAD (2003) (#1-193) (IMAGE) #61 Fine
WALKING DEAD (2003) (#1-193) (IMAGE) #61 Very Fine
WALKING DEAD (2003) (#1-193) (IMAGE) #62 Very Good
WALKING DEAD (2003) (#1-193) (IMAGE) #64 Very Good


WALKING DEAD (2003) (#1-193) (IMAGE) #65

WALKING DEAD (2003) (#1-193) (IMAGE) #65 Very Good
WALKING DEAD (2003) (#1-193) (IMAGE) #66 Fine
WALKING DEAD (2003) (#1-193) (IMAGE) #68 Fine
WALKING DEAD (2003) (#1-193) (IMAGE) #69 Fine
WALKING DEAD (2003) (#1-193) (IMAGE) #70 Very Good
WALKING DEAD (2003) (#1-193) (IMAGE) #71 Very Good
WALKING DEAD (2003) (#1-193) (IMAGE) #72 Fine
WALKING DEAD (2003) (#1-193) (IMAGE) #73 Fine
WALKING DEAD (2003) (#1-193) (IMAGE) #74 Fine
WALKING DEAD (2003) (#1-193) (IMAGE) #75 Very Good
WALKING DEAD (2003) (#1-193) (IMAGE) #76 Very Good
WALKING DEAD (2003) (#1-193) (IMAGE) #78 Very Good
WALKING DEAD (2003) (#1-193) (IMAGE) #79 Very Good
WALKING DEAD (2003) (#1-193) (IMAGE) #80 Very Good
WALKING DEAD (2003) (#1-193) (IMAGE) #81 Very Good
WALKING DEAD (2003) (#1-193) (IMAGE) #82 Good
WALKING DEAD (2003) (#1-193) (IMAGE) #84 Very Good
WALKING DEAD (2003) (#1-193) (IMAGE) #85 Very Good
WALKING DEAD (2003) (#1-193) (IMAGE) #86 Good
WALKING DEAD (2003) (#1-193) (IMAGE) #92 Good
WALKING DEAD (2003) (#1-193) (IMAGE) #93 Fine
WALKING DEAD (2003) (#1-193) (IMAGE) #94 Near Mint/Mint
WALKING DEAD (2003) (#1-193) (IMAGE) #95 Very Fine
WALKING DEAD (2003) (#1-193) (IMAGE) #96 Fine

WALKING DEAD VOL.32: REST IN PEACE TPB (2019) #1 Near Mint/Mint

INDEPENDENTS
ADVENTURES OF AUGUSTA WIND HC (2013) #1 (IDW Publishing) Very Fine

AMAZON WOMAN (1994) (#1-2) (FANTACO) #1 (Fantaco Enterprises) Fine

AMELIA RULES (2001) #11 (Renaissance Press) Near Mint/Mint

AMERICA'S GREATEST COMICS (AMERICOMICS) (2002) #1 (AC Comics) Very Fine

AMERICAN FLAGG! (FIRST COMICS) (HOWARD CHAYKIN) (1983) #41 (First Comics) Near Mint/Mint
AMERICAN FLAGG! (FIRST COMICS) (HOWARD CHAYKIN) (1983) #44 (First Comics) Near Mint/Mint

AMERIKARATE (2017) #1 D MCKAY (Action Lab Entertainment) Near Mint/Mint
AMERIKARATE (2017) #1 E PHOTO (Action Lab Entertainment) Very Fine


AMERIKARATE (2017) #5 C PETRIE

AMERIKARATE (2017) #5 C PETRIE (Action Lab Entertainment) Near Mint/Mint

ANDERSON: DEEP END (2017) #1 JOCK (Rebellion) Near Mint/Mint

ANGEL ANNUAL (IDW Publishing) (TV) (2009) #1 A (IDW Publishing) Near Mint/Mint

ANGEL: AFTER THE FALL (IDW Publishing) (2007) #1 VARIANT (IDW Publishing) Fine
ANGEL: AFTER THE FALL (IDW Publishing) (2007) #2 (IDW Publishing) Near Mint/Mint
ANGEL: AFTER THE FALL (IDW Publishing) (2007) #25 B (IDW Publishing) Near Mint/Mint
ANGEL: AFTER THE FALL (IDW Publishing) (2007) #26 B (IDW Publishing) Near Mint/Mint
ANGEL: AFTER THE FALL (IDW Publishing) (2007) #27 A (IDW Publishing) Near Mint/Mint
ANGEL: AFTER THE FALL (IDW Publishing) (2007) #27 B (IDW Publishing) Near Mint/Mint
ANGEL: AFTER THE FALL (IDW Publishing) (2007) #28 A (IDW Publishing) Near Mint/Mint
ANGEL: AFTER THE FALL (IDW Publishing) (2007) #32 A (IDW Publishing) Near Mint/Mint
ANGEL: AFTER THE FALL (IDW Publishing) (2007) #33 A (IDW Publishing) Near Mint/Mint
ANGEL: AFTER THE FALL (IDW Publishing) (2007) #33 B (IDW Publishing) Near Mint/Mint
ANGEL: AFTER THE FALL (IDW Publishing) (2007) #34 A (IDW Publishing) Near Mint/Mint
ANGEL: AFTER THE FALL (IDW Publishing) (2007) #39 (IDW Publishing) Near Mint/Mint
ANGEL: AFTER THE FALL (IDW Publishing) (2007) #40 A (IDW Publishing) Near Mint/Mint
ANGEL: AFTER THE FALL (IDW Publishing) (2007) #41 B (IDW Publishing) Near Mint/Mint
ANGEL: AFTER THE FALL (IDW Publishing) (2007) #42 (IDW Publishing) Near Mint/Mint
ANGEL: AFTER THE FALL (IDW Publishing) (2007) #43 B (IDW Publishing) Very Fine

ANGEL: HOLE IN THE WORLD (IDW Publishing) (2009) #5 (IDW Publishing) Near Mint/Mint

ANGEL: OLD FRIENDS (IDW Publishing) (2005) #1 MESSINA (IDW Publishing) Near Mint/Mint

ANGEL: ONLY HUMAN (IDW Publishing) (2009) #2 A (IDW Publishing) Near Mint/Mint

ANGEL: THE CURSE (IDW Publishing) (2005) #3 MESSINA (IDW Publishing) Near Mint/Mint

ANGRY BIRDS COMICS (2014) #2 SUBSCRIPT (IDW Publishing) Near Mint/Mint
ANGRY BIRDS COMICS (2014) #5 SUBSCRIPT (IDW Publishing) Near Mint/Mint

ANGRY BIRDS/TRANSFORMERS (2014) #3 SUBSCRIPT (IDW Publishing) Near Mint/Mint

ANGRY YOUTH COMIX (FANTAGRAPHICS) (2000) #1 (Fantagraphics) Very Fine

ANNA MERCURY (AVATAR) (WARREN ELLIS) (2008) #1 NEW YORK (Avatar Comics) Near Mint/Mint
ANNA MERCURY (AVATAR) (WARREN ELLIS) (2008) #1 (Avatar Comics) Very Fine
ANNA MERCURY (AVATAR) (WARREN ELLIS) (2008) #1 WRAPAROUND (Avatar Comics) Near Mint/Mint
ANNA MERCURY (AVATAR) (WARREN ELLIS) (2008) #2 (Avatar Comics) Near Mint/Mint
ANNA MERCURY (AVATAR) (WARREN ELLIS) (2008) #2 PAINTED (Avatar Comics) Very Fine
ANNA MERCURY (AVATAR) (WARREN ELLIS) (2008) #5 MEGACON (Avatar Comics) Near Mint/Mint


ANNA MERCURY 2 (AVATAR) (WARREN ELLIS) (2009) #1 WRAPAROUND

ANNA MERCURY 2 (AVATAR) (WARREN ELLIS) (2009) #1 WRAPAROUND (Avatar Comics) Near Mint/Mint
ANNA MERCURY 2 (AVATAR) (WARREN ELLIS) (2009) #1 CHICAGO (Avatar Comics) Near Mint/Mint
ANNA MERCURY 2 (AVATAR) (WARREN ELLIS) (2009) #1 PAINTED (Avatar Comics) Near Mint/Mint
ANNA MERCURY 2 (AVATAR) (WARREN ELLIS) (2009) #1 POSTER ED (Avatar Comics) Near Mint/Mint
ANNA MERCURY 2 (AVATAR) (WARREN ELLIS) (2009) #1 SDCC (Avatar Comics) Near Mint/Mint
ANNA MERCURY 2 (AVATAR) (WARREN ELLIS) (2009) #1 (Avatar Comics) Very Fine
ANNA MERCURY 2 (AVATAR) (WARREN ELLIS) (2009) #1 WRAPAROUND (Avatar Comics) Very Fine
ANNA MERCURY 2 (AVATAR) (WARREN ELLIS) (2009) #2 (Avatar Comics) Near Mint/Mint
ANNA MERCURY 2 (AVATAR) (WARREN ELLIS) (2009) #2 AUXILIARY (Avatar Comics) Near Mint/Mint
ANNA MERCURY 2 (AVATAR) (WARREN ELLIS) (2009) #2 WRAPAROUND (Avatar Comics) Near Mint/Mint
ANNA MERCURY 2 (AVATAR) (WARREN ELLIS) (2009) #3 (Avatar Comics) Near Mint/Mint
ANNA MERCURY 2 (AVATAR) (WARREN ELLIS) (2009) #3 WRAPAROUND (Avatar Comics) Very Fine

ANNA MERCURY ARTBOOK (AVATAR) (WARREN ELLIS) (2009) #1 FX (Avatar Comics) Near Mint/Mint

ANT (2004) (#1-4) (ARCANA) #4 COVER A (Arcana Studio) Very Fine

ANT UNLEASHED (BIG CITY COMICS) (2007) #1 (Big City Comics) Near Mint/Mint

ANTHEM (HEROIC PUB.) (ROY THOMAS) (2005) #1 (Heroic Publishing) Near Mint/Mint
ANTHEM (HEROIC PUB.) (ROY THOMAS) (2005) #4 (Heroic Publishing) Very Fine

ANYTHING GOES VOL. 2: ALAN MOORE ART SPEIGLEMAN (1986) #1 (Fantagraphics) Fine

ANYTHING GOES VOL. 6: USAGI YOJIMBO (STAN SAKAI) (1987) #1 (Fantagraphics) Fine

APE CITY (ADVENTURE) (PLANET OF THE APES) #4 (Adventure Comics) Fine

APE NATION (ADVENTURE) (PLANET OF THE APES) (1991) #1 $5.95 COVR (Adventure Comics) Very Fine
APE NATION (ADVENTURE) (PLANET OF THE APES) (1991) #2 (Adventure Comics) Near Mint/Mint
APE NATION (ADVENTURE) (PLANET OF THE APES) (1991) #4 (Adventure Comics) Near Mint/Mint

BETTY AND VERONICA (1950) #292 (Archie Comics) Near Mint/Mint

BLAZING COMBAT (MAG) #3 (Warren Publishing Company) Very Good

BULLWINKLE (1962) (GOLD KEY) (#1-25) #4 WHITMAN (Gold Key) Good

CROUCHING TIGER HIDDEN DRAGON GN (2002) #1 (COMICSONE.COM) Very Fine

DONALD DUCK ADVENTURES VOL. TPB (2003) #12 (Gemstone) Near Mint/Mint
DONALD DUCK ADVENTURES VOL. TPB (2003) #13 (Gemstone) Fine


DRAWING COMICS IS EASY (EXCEPT WHEN IT'S HARD) HC (2006) #1

DRAWING COMICS IS EASY (EXCEPT WHEN IT'S HARD) HC (2006) #1 (Denis Kitchen Publishing Co) Near Mint/Mint

ED'S TERRESTRIALS HC (2005) #1 (Alias Enterprises Llc) Fine

EERIE MAGAZINE (1965) (#1-139) (WARREN) #4 (Warren Publishing Company) Very Good
EERIE MAGAZINE (1965) (#1-139) (WARREN) #6 (Warren Publishing Company) Fine
EERIE MAGAZINE (1965) (#1-139) (WARREN) #6 (Warren Publishing Company) Near Mint/Mint
EERIE MAGAZINE (1965) (#1-139) (WARREN) #6 (Warren Publishing Company) Very Fine
EERIE MAGAZINE (1965) (#1-139) (WARREN) #6 (Warren Publishing Company) Very Good
EERIE MAGAZINE (1965) (#1-139) (WARREN) #7 (Warren Publishing Company) Fine
EERIE MAGAZINE (1965) (#1-139) (WARREN) #15 (Warren Publishing Company) Fine
EERIE MAGAZINE (1965) (#1-139) (WARREN) #42 (Warren Publishing Company) Very Good

ELVIRA (1993) #91 (Claypool) Fine
ELVIRA (1993) #135 (Claypool) Fine

FAME: 50 CENT (2011) #1 (Blue Water Comics) Near Mint/Mint

FAME: BRITNEY SPEARS (2011) #1 (Blue Water Comics) Near Mint/Mint

FAME: DAVID BECKHAM (2010) #1 A (Blue Water Comics) Fine

FAME: JUSTIN BIEBER (2010) #1 (Blue Water Comics) Very Fine

FAME: KRISTEN STEWART (2010) #1 A (Blue Water Comics) Near Mint/Mint
FAME: KRISTEN STEWART (2010) #1 A (Blue Water Comics) Very Fine

FAME: LADY GAGA (2010) #1 A (Blue Water Comics) Very Fine

FAME: TAYLOR LAUTNER (2010) #1 B (Blue Water Comics) Fine

FAMILY TREE GAY GAMES SPECIAL #1 (Diva Comics) Very Fine

FANBOYS VS. ZOMBIES (2012) #5 B (Boom Studios Publishing) Near Mint/Mint
FANBOYS VS. ZOMBIES (2012) #5 C (Boom Studios Publishing) Near Mint/Mint
FANBOYS VS. ZOMBIES (2012) #6 B (Boom Studios Publishing) Near Mint/Mint

FANG TESTAMENT (1996) (#1-4) (SIRIUS) #4 (Sirius) Near Mint/Mint

FANGS OF KAATH (1997) #3 (Mu Press) Near Mint/Mint
FANGS OF KAATH (1997) #4 (Mu Press) Near Mint/Mint

FANGS OF THE WIDOW (GROUND ZERO) (1995) #11 (Ground Zero) Very Fine

FANTASTIC STORIES (2001) #1 (BASEMENT COMICS) Fine
FANTASTIC STORIES (2001) #2 (BASEMENT COMICS) Fine
FANTASTIC STORIES (2001) #3 (BASEMENT COMICS) Very Fine

FAR WEST (1998) (#1-4) (ANTARCTIC) #2 (Antarctic Press) Very Fine
FAR WEST (1998) (#1-4) (ANTARCTIC) #3 (Antarctic Press) Very Fine
FAR WEST (1998) (#1-4) (ANTARCTIC) #4 (Antarctic Press) Near Mint/Mint

FAR WEST: BAD MOJO (2009) #1 (Antarctic Press) Very Fine

FASHION BEAST (2012) #4 HAUTE (Avatar Comics) Near Mint/Mint
FASHION BEAST (2012) #5 HAUTE (Avatar Comics) Near Mint/Mint
FASHION BEAST (2012) #7 HAUTE (Avatar Comics) Near Mint/Mint

FATHOM (1992) (#1-3) (COMICO) #1 (Comico) Near Mint/Mint

FATHOM: ELITE SAGA (2013) #2 B (Aspen) Near Mint/Mint
FATHOM: ELITE SAGA (2013) #3 A (Aspen) Near Mint/Mint

FULLMETAL ALCHEMIST TPB (2005) #2 (Viz Comics) Very Fine
FULLMETAL ALCHEMIST TPB (2005) #6 (Viz Comics) Near Mint/Mint

FUN-IN (1970) #10 WHITMAN (Gold Key) Very Good

GEORGE OF THE JUNGLE (1969) #2 (Gold Key) Good

H.R. PUFNSTUF (1970) #5 (Gold Key) Very Good

HAPPY DAYS (1979) #1 (Gold Key) Very Good

INU YASHA TPB #5 4TH PRINT (Viz Comics) Very Fine
INU YASHA TPB #12 (Viz Comics) Very Fine

JELLY VAMPIRE TPB (2018) #1 (Emet Comics) Near Mint/Mint

LABYRINTH: CORONATION HC (2018) #2 (Boom Studios Publishing) Very Fine

LONE & LEVEL SANDS GN (2005) #1 (Caption Box) Near Mint/Mint
LONE & LEVEL SANDS GN (2005) #1 (Caption Box) Very Fine

MARCH TPB (2013) #3 (Top Shelf Productions) Very Fine

NEONOMICON HORNBOOK (2009) #1 C2E2 (Avatar Comics) Near Mint/Mint


PINK PANTHER (1971) (#1-73) (GOLD KEY) #4 WHITMAN

PINK PANTHER (1971) (#1-73) (GOLD KEY) #4 WHITMAN (Gold Key) Very Good

ROAD RUNNER (BEEP BEEP) (1966) (#1-88) (GOLD KEY) #24 (Gold Key) Very Good

SAIYUKI GN (2004) #7 (Tokyo Pop (Formerly Mixx)) Near Mint/Mint

SAIYUKI RELOAD GN (2005) #1 (Tokyo Pop (Formerly Mixx)) Very Fine

SILVER STAR (JACK KIRBY) (Pacific Comics) #6 (Pacific Comics) Very Fine

SONIC THE HEDGEHOG ARCHIVES TPB (2006) #5 (Archie Comics) Near Mint/Mint

SPINNING HC (2018) #1 (:01 FIRST SECOND) Near Mint/Mint

STAR TREK (GOLD KEY) (1967) #6 (Gold Key) Very Good
STAR TREK (GOLD KEY) (1967) #25 WHITMAN (Gold Key) Good
STAR TREK (GOLD KEY) (1967) #35 (Gold Key) Very Good

THEATER TPB (GRIMM FAIRY TALES) (2012) #1 (Zenescope Entertainment Inc) Near Mint/Mint

TROUBLE WITH GIRLS TPB (2006) #1 (CHECKER COMICS) Near Mint/Mint

WORMWOOD GENTLEMAN CORPSE (2006) #1 (IDW Publishing) Near Mint/Mint
WORMWOOD GENTLEMAN CORPSE (2006) #2 (IDW Publishing) Near Mint/Mint
WORMWOOD GENTLEMAN CORPSE (2006) #3 (IDW Publishing) Near Mint/Mint
WORMWOOD GENTLEMAN CORPSE (2006) #8 (IDW Publishing) Very Fine

YOSEMITE SAM (GOLD KEY #1-65)(WHITMAN #66-81) (1970) #4 (Gold Key) Very Good