60% Off Sale Ending -
Chuck's Story Part Five
Howdy!
Continuing with the tale of my 2nd bout of West Nile Fever, there was one chilling aspect to my exiting the hospital in August of 2008. On the same day as I insisted (against my doctor's specific instructions) that I was indeed going home, my good friend, Steve Swink, was being admitted into the same hospital. Steve was the very first paid employee of Mile High Comics, starting with me just a couple of weeks after I opened my very first retail comics store in the back room of Lois Newman's Science Fiction Bookstore, in Boulder, Colorado, in late 1974. Steve worked for me off and on for about six years, before eventually departing Boulder for Maryland, where he became the manager of the Geppi's Comics World - Harbor Place location.
The reason why Steve was being admitted into the hospital that day was because he had caught a summer cold, for which he was unable to receive any professional care because he (like many other people) could not afford health insurance. He had been working a series of part time jobs since returning to Boulder, none of which offered health insurance as a benefit. In this instance, his inability to pay for care led directly to his death, as his cold progressed into pneumonia, and before his doctors could get him stabilized, he fell victim to sepsis, and died. Steve was only 54 years old.
Steve's death hit me very hard, and I have spent innumerable hours since his passing contemplating the "what if?" scenarios of why I was allowed to keep living, when such a genuinely nice person died. There is, of course, no possible answer to such a question. The only conclusion that I ultimately reached is that I was, for some unknown reason, blessed by Providence with a second chance at life. I was given an opportunity to transform from someone who worked hard during the first 53 years of his life primarily for personal wealth and self-aggrandizement, into someone who spent far more time working for the betterment of the world in which he lives, and to help all the people around him.
To say that this transformation happened overnight would be false. Over the past 11 years, however, I have slowly made steady progress into becoming a far more giving and altruistic person. I now spend inordinate amounts of my personal time raising money to help the poor and disadvantaged of our Community, and also pitch in my own time and labor to help others to get important tasks completed. Almost all of my efforts with the International Court System and "Feeding Denver's Hungry", for example, directly benefit people in need. Through these positive actions I strive to justify not only my continued existence, but also to honor Steve's memory.
Throwing a small curve into my new life of altruism has been my gender transformation journey that brought Bettie to the forefront of my life. While my becoming more giving and kind has been readily accepted by those around me, the fact that I now am now less male than female on many days has thrown quite a few people for a loop, myself included. Simply put, figuring out how to deal with abruptly becoming gender-fluid in my 50's and 60's has been a remarkably difficult and (sometimes) confusing journey, one which is still far from complete. In my mind, however, my gender accommodation is but a small price to pay for the joy of being able to be a positive presence in the lives of so many. And, besides, Bettie brings out the very best in me, and makes my heart sing. How can that possibly be bad?
I will close out my story of my second illness with a few final thoughts in Wednesday's newsletter. Before I go today, however, I wanted to quickly mention that our incredibly generous 60% off SUMMER! codeword sale on all ten million+ of our back issue comics and magazines will end a week from tomorrow, August 13th. This sale applies to all of our back issue comics and magazines except newer issues, a few variants, and our professionally-graded comics. Please place any last-minute 60% off orders ASAP. We're planning to host another 60% off sale around the Labor Day holiday weekend, but it may need to be brief, as demand for back issues has really picked up.
'Nuff said...
Happy collecting!
Chuck Rozanski/Bettie Pages,
President - Mile High Comics, Inc.
August 5, 2019

P.S. Here are even more if the wonderful back issue comics that Will and Pam have purchased over the past ten days. I cannot believe the diversity of great comics that walk into Jason St.!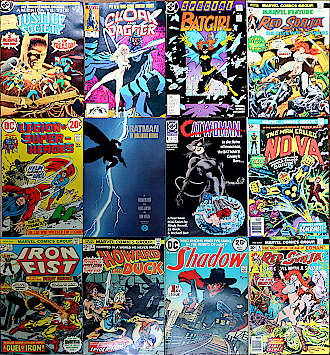 Just a few of the comics we got in this week

MARVEL

AGENT CARTER: GUIDEBOOK TO THE MARVEL CINEMATIC UNIV (2016) #1

AGENT CARTER: GUIDEBOOK TO THE MARVEL CINEMATIC UNIV (2016) #1 Near Mint/Mint

AGENTS OF ATLAS: TURF WAR HC (MARVEL) (2010) #1 Near Mint/Mint

AGENTS OF ATLAS: TURF WARS TPB (MARVEL) (2010) #1 Near Mint/Mint

ALL-NEW ALL-DIFFERENT AVENGERS (2015) #2 2ND PRINT Near Mint/Mint

ALL-NEW ALL-DIFFERENT AVENGERS ANNUAL (2016) #1 YOUNG BABY Near Mint/Mint

ANT-MAN: ASTONISHING ORIGINS TPB (2018) #1 Near Mint/Mint

ANT-MAN: SEASON ONE HC (MARVEL) (2012) #1 Near Mint/Mint
ANT-MAN: SEASON ONE HC (MARVEL) (2012) #1 Very Fine

AVENGERS BY BRIAN MICHAEL BENDIS HC (2011) #3 Near Mint/Mint

AVENGERS BY BRIAN MICHAEL BENDIS TPB (2011) #5 Near Mint/Mint

AVENGERS: ABOVE & BEYOND TPB (2005) #1 Very Fine

AVENGERS: INITIATIVE - DREAMS & NIGHTMARES HC (2010) #1 Near Mint/Mint

AVENGERS: SEASON ONE PREMIERE HC (2013) #1 Near Mint/Mint

BRING BACK THE BAD GUYS TPB (MARVEL VILLAINS) (1998) #1 Very Fine

CAPTAIN AMERICA: STEVE ROGERS VOL. 3: EMPIRE BUILDING (2017) #1 Near Mint/Mint

CLANDESTINE: BLOOD RELATIVE PREMIERE HC (2008) #1 Near Mint/Mint

DEATH OF WOLVERINE (2014) #2 Near Mint/Mint

ESSENTIAL AVENGERS TPB (1998) #4 Fine
ESSENTIAL AVENGERS TPB (1998) #5 Fine
ESSENTIAL AVENGERS TPB (1998) #6 Fine

ESSENTIAL MS. MARVEL TPB (2006) #1 Near Mint/Mint

HOOD PREMIERE HC (2007) #1 Fine

INFINITY INCOMING TPB (2013) #1 Near Mint/Mint


LORDS OF AVALON: KNIGHTS OF DARKNESS HC (2009) #1

LORDS OF AVALON: KNIGHTS OF DARKNESS HC (2009) #1 Near Mint/Mint

LORDS OF AVALON: SWORD OF DARKNESS HC (2008) #1 Near Mint/Mint
LORDS OF AVALON: SWORD OF DARKNESS HC (2008) #1 VARIANT Very Fine

MAGNETO (2014) (#1-21) (MARVEL) #20 Near Mint/Mint

MARVEL TEAM-UP (1972) (#1-150) (MARVEL) #69 Near Mint/Mint
MARVEL TEAM-UP (1972) (#1-150) (MARVEL) #70 Very Fine
MARVEL TEAM-UP (1972) (#1-150) (MARVEL) #73 Near Mint/Mint
MARVEL TEAM-UP (1972) (#1-150) (MARVEL) #74 Fine
MARVEL TEAM-UP (1972) (#1-150) (MARVEL) #90 NEWSSTAND Very Fine
MARVEL TEAM-UP (1972) (#1-150) (MARVEL) #91 Very Fine
MARVEL TEAM-UP (1972) (#1-150) (MARVEL) #93 NEWSSTAND Very Fine
MARVEL TEAM-UP (1972) (#1-150) (MARVEL) #95 NEWSSTAND Very Fine
MARVEL TEAM-UP (1972) (#1-150) (MARVEL) #96 NEWSSTAND Very Fine
MARVEL TEAM-UP (1972) (#1-150) (MARVEL) #97 NEWSSTAND Very Fine
MARVEL TEAM-UP (1972) (#1-150) (MARVEL) #100 Very Fine
MARVEL TEAM-UP (1972) (#1-150) (MARVEL) #117 Fine
MARVEL TEAM-UP (1972) (#1-150) (MARVEL) #141 NEWSSTAND Near Mint/Mint

MARVEL TEAM-UP ANNUAL (1976) #1 Very Fine
MARVEL TEAM-UP ANNUAL (1976) #2 Near Mint/Mint
MARVEL TEAM-UP ANNUAL (1976) #7 Very Good

MARVEL TRIPLE ACTION GIANT-SIZE (1975) #1 Very Good
MARVEL TRIPLE ACTION GIANT-SIZE (1975) #2 Fine
MARVEL TRIPLE ACTION GIANT-SIZE (1975) #2 Very Good

MARVEL TWO-IN-ONE (1974) (#1-100) (MARVEL) #1 Good
MARVEL TWO-IN-ONE (1974) (#1-100) (MARVEL) #1 Fine
MARVEL TWO-IN-ONE (1974) (#1-100) (MARVEL) #2 Fine
MARVEL TWO-IN-ONE (1974) (#1-100) (MARVEL) #2 Very Fine
MARVEL TWO-IN-ONE (1974) (#1-100) (MARVEL) #3 Fine
MARVEL TWO-IN-ONE (1974) (#1-100) (MARVEL) #3 Very Good
MARVEL TWO-IN-ONE (1974) (#1-100) (MARVEL) #4 Very Fine
MARVEL TWO-IN-ONE (1974) (#1-100) (MARVEL) #5 Very Good
MARVEL TWO-IN-ONE (1974) (#1-100) (MARVEL) #6 Fine
MARVEL TWO-IN-ONE (1974) (#1-100) (MARVEL) #7 Fine
MARVEL TWO-IN-ONE (1974) (#1-100) (MARVEL) #8 Near Mint/Mint
MARVEL TWO-IN-ONE (1974) (#1-100) (MARVEL) #8 Very Fine
MARVEL TWO-IN-ONE (1974) (#1-100) (MARVEL) #8 Very Good
MARVEL TWO-IN-ONE (1974) (#1-100) (MARVEL) #9 Fine


MARVEL TWO-IN-ONE (1974) (#1-100) (MARVEL) #9

MARVEL TWO-IN-ONE (1974) (#1-100) (MARVEL) #9 Very Fine
MARVEL TWO-IN-ONE (1974) (#1-100) (MARVEL) #10 Fine
MARVEL TWO-IN-ONE (1974) (#1-100) (MARVEL) #12 Very Fine
MARVEL TWO-IN-ONE (1974) (#1-100) (MARVEL) #15 Near Mint/Mint
MARVEL TWO-IN-ONE (1974) (#1-100) (MARVEL) #19 Very Fine
MARVEL TWO-IN-ONE (1974) (#1-100) (MARVEL) #20 Near Mint/Mint
MARVEL TWO-IN-ONE (1974) (#1-100) (MARVEL) #29 Near Mint/Mint
MARVEL TWO-IN-ONE (1974) (#1-100) (MARVEL) #30 Very Fine
MARVEL TWO-IN-ONE (1974) (#1-100) (MARVEL) #32 Very Fine
MARVEL TWO-IN-ONE (1974) (#1-100) (MARVEL) #33 Very Fine
MARVEL TWO-IN-ONE (1974) (#1-100) (MARVEL) #50 Near Mint/Mint
MARVEL TWO-IN-ONE (1974) (#1-100) (MARVEL) #51 Near Mint/Mint
MARVEL TWO-IN-ONE (1974) (#1-100) (MARVEL) #52 NEWSSTAND Very Fine
MARVEL TWO-IN-ONE (1974) (#1-100) (MARVEL) #54 NEWSSTAND Fine
MARVEL TWO-IN-ONE (1974) (#1-100) (MARVEL) #56 Near Mint/Mint
MARVEL TWO-IN-ONE (1974) (#1-100) (MARVEL) #56 Very Fine
MARVEL TWO-IN-ONE (1974) (#1-100) (MARVEL) #58 Very Fine
MARVEL TWO-IN-ONE (1974) (#1-100) (MARVEL) #61 Near Mint/Mint
MARVEL TWO-IN-ONE (1974) (#1-100) (MARVEL) #69 Near Mint/Mint
MARVEL TWO-IN-ONE (1974) (#1-100) (MARVEL) #80 Near Mint/Mint
MARVEL TWO-IN-ONE (1974) (#1-100) (MARVEL) #80 Very Fine
MARVEL TWO-IN-ONE (1974) (#1-100) (MARVEL) #81 Near Mint/Mint
MARVEL TWO-IN-ONE (1974) (#1-100) (MARVEL) #84 NEWSSTAND Near Mint/Mint
MARVEL TWO-IN-ONE (1974) (#1-100) (MARVEL) #85 Near Mint/Mint
MARVEL TWO-IN-ONE (1974) (#1-100) (MARVEL) #86 NEWSSTAND Fine
MARVEL TWO-IN-ONE (1974) (#1-100) (MARVEL) #89 Near Mint/Mint
MARVEL TWO-IN-ONE (1974) (#1-100) (MARVEL) #92 Near Mint/Mint
MARVEL TWO-IN-ONE (1974) (#1-100) (MARVEL) #94 Very Fine
MARVEL TWO-IN-ONE (1974) (#1-100) (MARVEL) #97 NEWSSTAND Very Fine
MARVEL TWO-IN-ONE (1974) (#1-100) (MARVEL) #98 Near Mint/Mint
MARVEL TWO-IN-ONE (1974) (#1-100) (MARVEL) #99 NEWSSTAND Near Mint/Mint

MARVEL TWO-IN-ONE ANNUAL (1976) #1 Near Mint/Mint
MARVEL TWO-IN-ONE ANNUAL (1976) #1 Very Fine
MARVEL TWO-IN-ONE ANNUAL (1976) #2 Near Mint/Mint
MARVEL TWO-IN-ONE ANNUAL (1976) #3 Very Fine
MARVEL TWO-IN-ONE ANNUAL (1976) #7 NEWSSTAND Fine

MASTER OF KUNG FU (1974) (#15-125) (MARVEL) (SHANG-CHI) #18 Very Fine
MASTER OF KUNG FU (1974) (#15-125) (MARVEL) (SHANG-CHI) #19 Fine
MASTER OF KUNG FU (1974) (#15-125) (MARVEL) (SHANG-CHI) #19 Very Fine
MASTER OF KUNG FU (1974) (#15-125) (MARVEL) (SHANG-CHI) #20 Very Fine
MASTER OF KUNG FU (1974) (#15-125) (MARVEL) (SHANG-CHI) #21 Fine


MASTER OF KUNG FU (1974) (#15-125) (MARVEL) (SHANG-CHI) #21

MASTER OF KUNG FU (1974) (#15-125) (MARVEL) (SHANG-CHI) #21 Very Fine
MASTER OF KUNG FU (1974) (#15-125) (MARVEL) (SHANG-CHI) #23 Very Fine
MASTER OF KUNG FU (1974) (#15-125) (MARVEL) (SHANG-CHI) #24 Near Mint/Mint
MASTER OF KUNG FU (1974) (#15-125) (MARVEL) (SHANG-CHI) #25 Near Mint/Mint
MASTER OF KUNG FU (1974) (#15-125) (MARVEL) (SHANG-CHI) #26 Very Fine
MASTER OF KUNG FU (1974) (#15-125) (MARVEL) (SHANG-CHI) #28 Fine
MASTER OF KUNG FU (1974) (#15-125) (MARVEL) (SHANG-CHI) #28 Very Fine
MASTER OF KUNG FU (1974) (#15-125) (MARVEL) (SHANG-CHI) #29 Fine
MASTER OF KUNG FU (1974) (#15-125) (MARVEL) (SHANG-CHI) #29 Very Fine
MASTER OF KUNG FU (1974) (#15-125) (MARVEL) (SHANG-CHI) #30 Near Mint/Mint
MASTER OF KUNG FU (1974) (#15-125) (MARVEL) (SHANG-CHI) #30 Fine
MASTER OF KUNG FU (1974) (#15-125) (MARVEL) (SHANG-CHI) #30 Very Fine
MASTER OF KUNG FU (1974) (#15-125) (MARVEL) (SHANG-CHI) #32 Very Fine
MASTER OF KUNG FU (1974) (#15-125) (MARVEL) (SHANG-CHI) #34 Very Fine

SAVAGE WOLVERINE VOL. 1: KILL ISLAND PREMIERE HC (2013) #1 Near Mint/Mint

SAVAGE WOLVERINE VOL. 4: BEST THERE IS HC (2014) #1 Near Mint/Mint

SCARLET WITCH (2015) #5 Near Mint/Mint
SCARLET WITCH (2015) #8 Near Mint/Mint
SCARLET WITCH (2015) #9 Very Fine
SCARLET WITCH (2015) #10 Near Mint/Mint

SECRET EMPIRE PRELUDE TPB (2017) #1 Fine

SECRET WARS (1984) (#1-12) (LIMTED SERIES) (MARVEL) #5 Very Fine

SGT. FURY AND HIS HOWLING COMMANDOS (1963) #66 Very Fine
SGT. FURY AND HIS HOWLING COMMANDOS (1963) #66 Very Good
SGT. FURY AND HIS HOWLING COMMANDOS (1963) #67 Fine
SGT. FURY AND HIS HOWLING COMMANDOS (1963) #67 Very Good
SGT. FURY AND HIS HOWLING COMMANDOS (1963) #68 Very Fine
SGT. FURY AND HIS HOWLING COMMANDOS (1963) #70 Near Mint/Mint
SGT. FURY AND HIS HOWLING COMMANDOS (1963) #70 Very Fine
SGT. FURY AND HIS HOWLING COMMANDOS (1963) #71 Very Fine

SILVER SURFER EPIC COLLECTION: INFINITY GAUNTLET TPB (2017) #1 Near Mint/Mint

SPIDER-GIRL (1998) (#0-100) #1 Fine
SPIDER-GIRL (1998) (#0-100) #75 Near Mint/Mint


SPIDER-GIRL (1998) (#0-100) #76

SPIDER-GIRL (1998) (#0-100) #76 Near Mint/Mint
SPIDER-GIRL (1998) (#0-100) #83 Very Fine

SPIDER-MAN (1963) (AMAZING SPIDER-MAN) (#1-441) #178 Very Good
SPIDER-MAN (1963) (AMAZING SPIDER-MAN) (#1-441) #204 NEWSSTAND Very Good
SPIDER-MAN (1963) (AMAZING SPIDER-MAN) (#1-441) #279 Near Mint/Mint
SPIDER-MAN (1963) (AMAZING SPIDER-MAN) (#1-441) #282 Near Mint/Mint
SPIDER-MAN (1963) (AMAZING SPIDER-MAN) (#1-441) #283 Very Fine
SPIDER-MAN (1963) (AMAZING SPIDER-MAN) (#1-441) #285 Near Mint/Mint
SPIDER-MAN (1963) (AMAZING SPIDER-MAN) (#1-441) #286 Near Mint/Mint
SPIDER-MAN (1963) (AMAZING SPIDER-MAN) (#1-441) #291 Very Fine
SPIDER-MAN (1963) (AMAZING SPIDER-MAN) (#1-441) #293 Very Fine
SPIDER-MAN (1963) (AMAZING SPIDER-MAN) (#1-441) #295 NEWSSTAND Very Fine
SPIDER-MAN (1963) (AMAZING SPIDER-MAN) (#1-441) #296 NEWSSTAND Fine
SPIDER-MAN (1963) (AMAZING SPIDER-MAN) (#1-441) #297 Near Mint/Mint
SPIDER-MAN (1963) (AMAZING SPIDER-MAN) (#1-441) #309 Fine
SPIDER-MAN (1963) (AMAZING SPIDER-MAN) (#1-441) #342 NEWSSTAND Fine
SPIDER-MAN (1963) (AMAZING SPIDER-MAN) (#1-441) #343 NEWSSTAND Very Good
SPIDER-MAN (1963) (AMAZING SPIDER-MAN) (#1-441) #363 Fine
SPIDER-MAN (1963) (AMAZING SPIDER-MAN) (#1-441) #365 Near Mint/Mint
SPIDER-MAN (1963) (AMAZING SPIDER-MAN) (#1-441) #373 Fine
SPIDER-MAN (1963) (AMAZING SPIDER-MAN) (#1-441) #388 Fine
SPIDER-MAN (1963) (AMAZING SPIDER-MAN) (#1-441) #392 NEWSSTAND Fine
SPIDER-MAN (1963) (AMAZING SPIDER-MAN) (#1-441) #400 DELUXENEWS Good

SPIDER-MAN (MARVEL KNIGHTS) (2004) #9 Near Mint/Mint
SPIDER-MAN (MARVEL KNIGHTS) (2004) #11 Near Mint/Mint
SPIDER-MAN (MARVEL KNIGHTS) (2004) #20 Fine

SPIDER-MAN ANNUAL (1964) (#1-28) (MARVEL) #19 Very Fine
SPIDER-MAN ANNUAL (1964) (#1-28) (MARVEL) #20 Near Mint/Mint
SPIDER-MAN ANNUAL (1964) (#1-28) (MARVEL) #21 Near Mint/Mint
SPIDER-MAN ANNUAL (1964) (#1-28) (MARVEL) #21 NEWS Fine

SPIDER-MAN NEWSPAPER STRIPS HC (2007) #2 Near Mint/Mint

SPIDER-WOMAN (2016) (#1-UP) (JESSICA DREW) (MARVEL) #6 RODRIGUEZ Very Fine

STAR WARS (1977) (#1-107) (MARVEL) #92 Very Fine

SUPER-HEROES GIANT-SIZE (1974) #1 Very Good


SUPERNATURAL THRILLERS (1972) #1

SUPERNATURAL THRILLERS (1972) #1 Very Fine
SUPERNATURAL THRILLERS (1972) #2 Fine

WEB OF SPIDER-MAN (1985) (#1-129) (MARVEL) #1 NEWSSTAND Fine
WEB OF SPIDER-MAN (1985) (#1-129) (MARVEL) #32 NEWSSTAND Fine

WOLVERINE & BLACK CAT: CLAWS 2 HC (2011) #1 Near Mint/Mint

WOLVERINE & BLACK CAT: CLAWS HC (2006) #1 Very Fine

WOLVERINE & JUBILEE: CURSE OF THE MUTANTS HC (2011) #1 Near Mint/Mint
WOLVERINE & JUBILEE: CURSE OF THE MUTANTS HC (2011) #1 Very Fine

WOLVERINE & THE X-MEN BY JASON AARON HC (2012) #4 Very Fine

WOLVERINE: BACK IN JAPAN PREMIERE HC (2012) #1 Near Mint/Mint

WOLVERINE: BEST THERE IS - BROKEN QUARANTINE HC (2012) #1 Near Mint/Mint

WOLVERINE: BEST THERE IS - CONTAGION HC (2011) #1 Near Mint/Mint

WOLVERINE: DANGEROUS GAMES HC (2008) #1 Near Mint/Mint
WOLVERINE: DANGEROUS GAMES HC (2008) #1 Very Fine

WOLVERINE: GOOD-BYE CHINATOWN PREMIERE HC (2012) #1 Near Mint/Mint

WOLVERINE: NOT DEAD YET HC (MV CLASSIC #20) (2009) #1 VARIANT Near Mint/Mint

WOLVERINE: ROT PREMIERE HC (2012) #1 Near Mint/Mint

WOLVERINE: SEASON ONE PREMIERE HC (2013) #1 Near Mint/Mint

WOLVERINE: WEAPON X VOL. 2: INSANE IN THE BRAIN HC (2010) #1 Near Mint/Mint

WOLVERINE: WOLVERINE VS. THE X-MEN PREMIERE HC (2011) #1 Very Fine

X 23 VOL. 1: KILLING DREAM HC (2011) #1 Near Mint/Mint

X-FACTOR (1986) (#1-149) (ORIGINAL X-MEN) #6 NEWSSTAND Very Good
X-FACTOR (1986) (#1-149) (ORIGINAL X-MEN) #15 NEWSSTAND Very Good

DC

ARMY @ LOVE VOL. 1: THE HOT ZONE TPB (DC VERTIGO) (2007) #1 2ND PRINT

ARMY @ LOVE VOL. 1: THE HOT ZONE TPB (DC VERTIGO) (2007) #1 2ND PRINT (DC: Vertigo Press) Near Mint/Mint

AUTHORITY: HUMAN ON THE INSIDE HC (DC WILDSTORM) (2004) #1 (DC/Wildstorm) Near Mint/Mint

BATMAN (1940) (#0-713) (DC) #352 Near Mint/Mint
BATMAN (1940) (#0-713) (DC) #356 Near Mint/Mint
BATMAN (1940) (#0-713) (DC) #357 Very Fine
BATMAN (1940) (#0-713) (DC) #358 Near Mint/Mint
BATMAN (1940) (#0-713) (DC) #359 NEWSSTAND Near Mint/Mint
BATMAN (1940) (#0-713) (DC) #360 Near Mint/Mint
BATMAN (1940) (#0-713) (DC) #361 Near Mint/Mint
BATMAN (1940) (#0-713) (DC) #363 Very Fine
BATMAN (1940) (#0-713) (DC) #366 Near Mint/Mint
BATMAN (1940) (#0-713) (DC) #386 Near Mint/Mint
BATMAN (1940) (#0-713) (DC) #387 NEWSSTAND Very Fine
BATMAN (1940) (#0-713) (DC) #389 Near Mint/Mint
BATMAN (1940) (#0-713) (DC) #393 Near Mint/Mint
BATMAN (1940) (#0-713) (DC) #394 Near Mint/Mint
BATMAN (1940) (#0-713) (DC) #395 Near Mint/Mint

BATMAN (2016) (#1-UP) (DC REBIRTH) #8 VARIANT Near Mint/Mint
BATMAN (2016) (#1-UP) (DC REBIRTH) #26 VARIANT Near Mint/Mint
BATMAN (2016) (#1-UP) (DC REBIRTH) #27 VARIANT Near Mint/Mint
BATMAN (2016) (#1-UP) (DC REBIRTH) #39 VARIANT Near Mint/Mint
BATMAN (2016) (#1-UP) (DC REBIRTH) #40 VARIANT Near Mint/Mint
BATMAN (2016) (#1-UP) (DC REBIRTH) #41 VARIANT Near Mint/Mint

BATWOMAN VOL. 1: HYDROLOGY TPB (2013) #1 Very Fine

BATWOMAN VOL. 3: WORLD'S FINEST HC (2013) #1 Near Mint/Mint

BIRDS OF PREY VOL. 1: END RUN TPB (2012) #1 Near Mint/Mint

BIRDS OF PREY VOL. 1: TROUBLE IN MIND TPB (2012) #1 Near Mint/Mint

BIRDS OF PREY VOL. 2: DEATH OF ORACLE TPB (2012) #1 Near Mint/Mint

BIRDS OF PREY VOL. 3: A CLASH OF DAGGERS TPB (2013) #1 Near Mint/Mint

DC COMICS BOMBSHELLS (2015) #1 Near Mint/Mint


DC COMICS BOMBSHELLS (2015) #2

DC COMICS BOMBSHELLS (2015) #2 Near Mint/Mint

DEATH OF SUPERMAN TPB (1993) #1 4TH PRINT Very Fine

DETECTIVE COMICS (2016) (#934-UP) (DC REBIRTH) #934 VARIANT Near Mint/Mint

ENCYCLOPEDIA OF COMIC BOOK HEROES TPB (2007) #3 SUPERMAN Fine

FILTHY RICH TPB (2010) #1 Near Mint/Mint

FUTURE QUEST (2016) #11 Near Mint/Mint
FUTURE QUEST (2016) #12 Near Mint/Mint

FUTURE QUEST PRESENTS (2017) #2 VARIANT Near Mint/Mint
FUTURE QUEST PRESENTS (2017) #4 Near Mint/Mint
FUTURE QUEST PRESENTS (2017) #5 Near Mint/Mint
FUTURE QUEST PRESENTS (2017) #8 VARIANT Near Mint/Mint

GOTHAM CITY GARAGE (2017) #11 Near Mint/Mint

HAWK & DOVE VOL. 1: FIRST STRIKES TPB (2012) #1 Near Mint/Mint

JUSTICE LEAGUE (2018) (#1-UP) (DC UNIVERSE) #1 CHEUNG VIR Near Mint/Mint

JUSTICE LEAGUE DARK VOL. 1: IN THE DARK TPB (2012) #1 2ND PRINT Near Mint/Mint

JUSTICE LEAGUE DARK VOL. 2: BOOKS OF MAGIC TPB (2013) #1 Near Mint/Mint

JUSTICE LEAGUE DARK VOL. 3: DEATH OF MAGIC TPB (2013) #1 Near Mint/Mint

JUSTICE LEAGUE OF AMERICA (2013) (#1-14) (DC NEW52) #7 .3 DELUXE Near Mint/Mint

JUSTICE LEAGUE UNITED (2014) #2 CANADA ED Near Mint/Mint
KAMANDI CHALLENGE (2017) #5 VARIANT Near Mint/Mint
KAMANDI CHALLENGE (2017) #8 VARIANT Near Mint/Mint
KAMANDI CHALLENGE (2017) #12 SOOK Near Mint/Mint

KAMANDI CHALLENGE SPECIAL (2017) #1 Near Mint/Mint

LUNA PARK HC (2009) #1 Near Mint/Mint


MADAME XANADU VOL. 4: EXTRA SENSORY TPB (2011) #1

MADAME XANADU VOL. 4: EXTRA SENSORY TPB (2011) #1 Near Mint/Mint

NIGHTWING ANNUAL (2013) (#1) (DC NEW52) #1 Very Fine

POISON IVY: CYCLE OF LIFE & DEATH (2016) #2 Near Mint/Mint
POISON IVY: CYCLE OF LIFE & DEATH (2016) #3 Near Mint/Mint

RED HOOD & THE OUTLAWS (2011) (#0-40) (DC NEW52) #32 Near Mint/Mint
RED HOOD & THE OUTLAWS (2011) (#0-40) (DC NEW52) #35 Near Mint/Mint
RED HOOD & THE OUTLAWS (2011) (#0-40) (DC NEW52) #37 Near Mint/Mint

RED HOOD & THE OUTLAWS VOL. 1: REDEMPTION TPB (2012) #1 Near Mint/Mint

RIGHT STATE HC (2012) #1 Near Mint/Mint

SACHS AND VIOLENS TPB (2006) #1 Near Mint/Mint

SECRET SOCIETY OF SUPER-VILLAINS (1976) #15 Very Fine

SENTENCES: LIFE OF M.F. GRIMM HC (2007) #1 Near Mint/Mint

SHOOTERS HC (2012) #1 Near Mint/Mint

SHOWCASE PRESENTS: BATGIRL TPB (2007) #1 Fine

SILENCER (2018) #5 Near Mint/Mint

SINESTRO (2014) #16 MONSTERS Near Mint/Mint

WONDER WOMAN (2011) (#0-52) (DC NEW52) #40 MOVIESTYLE Very Fine
WONDER WOMAN (2011) (#0-52) (DC NEW52) #42 TITANS Near Mint/Mint
WONDER WOMAN (2011) (#0-52) (DC NEW52) #47 Very Fine

WONDER WOMAN VOL. 1: ODYSSEY TPB (2012) #1 Near Mint/Mint

WONDER WOMAN: CONTAGION TPB (2010) #1 2ND PRINT Very Fine


WONDER WOMAN: GREATEST STORIES EVER TOLD TPB (2007) #1

WONDER WOMAN: GREATEST STORIES EVER TOLD TPB (2007) #1 Near Mint/Mint

DARK HORSE COMICS
WAR BEARS HC (2019) #1 Very Fine

IMAGE COMICS
DIVIDED STATES OF HYSTERIA (2017) #2 A CHAYKIN Near Mint/Mint

SOUTHERN BASTARDS VOL. 4: GUT CHECK TPB (2017) #1 Near Mint/Mint

STAGGER LEE GN (2006) #1 Near Mint/Mint

INDEPENDENTS
ACTOR COMICS PRESENTS TPB (2006) #1 (Actor) Fine

AVENGERS: ULTIMATE GUIDE HC (DK PUBLISHING) (2005) #1 (D.K. PUBLISHING) Very Fine

BART SIMPSON BREAKS OUT TPB (2019) #1 (Harper Entertainment) Very Fine

CEREBUS: JAKA'S STORY TPB (VOL. 5) (1990) #1 7TH PRINT (Aardvark-Vanaheim) Fine

DANCE CLASS 3-IN-1 SC (2019) #1 (Papercutz) Near Mint/Mint

GLINT TPB (2019) #1 (Lion Forge) Near Mint/Mint

HARBINGER TPB (CHILDREN OF THE EIGHTH DAY) (1992) #1 (Acclaim/Valiant) Near Mint/Mint

JEM & THE HOLOGRAMS (2015) #22 (IDW Publishing) Near Mint/Mint
JEM & THE HOLOGRAMS (2015) #24 (IDW Publishing) Near Mint/Mint

JEM & THE HOLOGRAMS: DIMENSIONS (2017) #3 B GOUX (IDW Publishing) Near Mint/Mint

JEM: MISFITS (2016) #5 (IDW Publishing) Near Mint/Mint

JUDGE DREDD: BLESSED EARTH (2017) #1 (IDW Publishing) Near Mint/Mint
JUDGE DREDD: BLESSED EARTH (2017) #1 SUBSCRIPT (IDW Publishing) Near Mint/Mint
JUDGE DREDD: BLESSED EARTH (2017) #5 B OEZGEN (IDW Publishing) Near Mint/Mint
JUDGE DREDD: BLESSED EARTH (2017) #8 B VAZQUEZ (IDW Publishing) Near Mint/Mint

JUDGE DREDD: CRY OF THE WEREWOLF (2017) #1 SUBSCRIPT (IDW Publishing) Near Mint/Mint

KILL SHAKESPEARE: PAST IS PROLOGUE - JULIET (2017) #1 (IDW Publishing) Near Mint/Mint
KILL SHAKESPEARE: PAST IS PROLOGUE - JULIET (2017) #2 (IDW Publishing) Near Mint/Mint

KILLER INSIDE ME (2016) #1 (IDW Publishing) Very Fine

KULL ETERNAL (2017) #2 B SANCHEZ (IDW Publishing) Near Mint/Mint

LANTERN CITY HC (2016) #2 (Boom Studios Publishing) Fine

LOST IN SPACE: COUNTDOWN TO DANGER HC (2019) #1 (Legendary Comics) Near Mint/Mint

LOWLIFES (2018) #2 A BUCCELLA (IDW Publishing) Near Mint/Mint
LOWLIFES (2018) #4 A BUCCELLA (IDW Publishing) Near Mint/Mint

MASK: MOBILE ARMORED STRIKE KOMMAND (2016) #4 SUBSCRIP B (IDW Publishing) Near Mint/Mint
MASK: MOBILE ARMORED STRIKE KOMMAND (2016) #5 SUBSCRIP A (IDW Publishing) Near Mint/Mint
MASK: MOBILE ARMORED STRIKE KOMMAND (2016) #5 SUBSCRIP B (IDW Publishing) Near Mint/Mint
MASK: MOBILE ARMORED STRIKE KOMMAND (2016) #6 SUBSCRIP A (IDW Publishing) Near Mint/Mint
MASK: MOBILE ARMORED STRIKE KOMMAND (2016) #6 SUBSCRIP B (IDW Publishing) Near Mint/Mint
MASK: MOBILE ARMORED STRIKE KOMMAND (2016) #8 (IDW Publishing) Near Mint/Mint

MASK: MOBILE ARMORED STRIKE KOMMAND ANNUAL (2017) #1 (IDW Publishing) Near Mint/Mint
MASK: MOBILE ARMORED STRIKE KOMMAND ANNUAL (2017) #1 SUBSCRIPT (IDW Publishing) Near Mint/Mint

MY LITTLE PONY: FRIENDSHIP IS MAGIC TPB (2013) #10 (IDW Publishing) Near Mint/Mint

SCOUT TPB (2006) #2 (DYNAMITE Entertainment) Very Good

STARDUST KID TPB (2007) #1 HC LTD. (Boom Studios Publishing) Fine

THREE STOOGES TPB (2017) #2 (American Mythology) Near Mint/Mint

X-MEN ULTIMATE GUIDE HC REVISED (2006) #1 (Trade Items) Very Good