Another Huge Comics List +
Chuck's Near Death Part Four
Howdy!
I want to begin today by thanking everyone who has written to me with positive feedback about my recent columns. As I have begun to detail in my writings, my battle with West Nile Fever almost ended my life, and most certainly wrought many changes. I share my experiences with everyone just in case you (or someone you love...) also gets bitten by the wrong mosquito. Knowing what went so very wrong for me, just might help you down the road. If, on the other hand, you have no interest in reading the next chapter of that history, just skip to the end of this newsletter. We have yet another extensive list for you of great comics that Will and Pam just purchased this week.
Returning to the story of my illness, after three months of receiving no treatment for my brain swelling in the fall of 2003, my body finally recovered on its own. My brain, however, did not. My cognitive abilities were so scrambled that I was sent to Craig Rehabilitation Center in Lakewood, CO, which helps ease the suffering of people with traumatic brain injuries. The doctor who examined me signed me up for a cognitive restoration program, but that plan died when my insurance company refused to pay.
In the end, all I could was to try homeopathic remedies, some of which seemed to help, and to attend West Nile Support Group meetings. in those meetings I quickly came to realize that my suffering was minor compared with my compatriots, some of whom had suffered paralysis of their legs, and others who had raging migraines and night sweats so bad that they could no long hold a job. I did also have both of those conditions, but nowhere near the severity of my fellow travelers. My biggest problem was that I felt like I was stoned 24/7, and could no longer read maps, add numbers, or engage in any deductive reasoning. For someone who has been excellent at all of those skills for my entire life, this was a dreadful loss. Not surprisingly, I became very depressed.
The good news is that I gradually began to feel better. The first year was really rough, but by the end of 2004, I was feeling halfway normal. By the beginning of 2006, I actually started again hitting on all cylinders, with just occasional migraines when I stressed myself. Truth be told, I honestly believed at that time that I had completely recovered, and thanks to the immunity granted to me by my now having the West Nile antibodies in my bloodstream, I figured that West Nile was now just a past affliction. Boy howdy, was I ever wrong.
I mentioned in an earlier column that the CDC in Atlanta had guidance on their website telling doctors that anyone who had suffered through a bout of West Nile was now effectively immune. I blew that theory all to hell when I totally collapsed in August of 2008, after 43 more days of untreated encephalitis of the hypothalamus induced by West Nile. It was only when I showed up in the emergency room unable to see or hear hardly at all, and completely unable to stand unassisted, that credence was finally given to my representation that I was suffering from a second presentation of West Nile. Even then I might have been doubted, but a lady in Woodland Park, CO also represented at about the same time, so a revaluation of West Nile was finally undertaken.
I was part of several studies soon thereafter, but (of course...) none of the scientists who asked for my medical records ever got back to me with even the slightest bit of feedback. I did, however, finally get an accurate diagnosis from a very smart doctor working at the Boulder Infectious Disease Center. I wish that I could have gone to see him when my symptoms first presented, but they were so focused on helping AIDS and Hepatitis sufferers that they would not allow me to even schedule an appointment.
After I collapsed, I was totally desperate to get out of the hospital, so I called the scheduling secretary at the Infectious Disease Center once again, and begged for someone to please take a look at me. His agreement to finally schedule an appointment for me probably saved my life, as my new doctor almost instantly recognized my symptoms as deriving from encephalitis, and deduced that it had to be of the hypothalamus because all of my standard motor functions (eyesight, hearing, balance) were being affected. The hypothalamus also controls heartbeat, breathing, swallowing, blinking, and any number of other automatic bodily functions that are critical to survival, so any further progression could have led to my death. It was a very close call.
The good news from all of this trauma that I went through is that West Nile is now considered to be in the same overall category of disease as polio, which has a nasty habit of recurring in sufferers after long periods of seeming normalcy. It was explained to me that live virus lurks in the cerebrospinal fluid even when the bloodstream is flooded with antibodies. Under the right (or wrong) set or circumstances the live virus can once again infect the brain, causing encephalitis, meningitis, paralysis, or even death. The only treatment is immediately flooding a patient's system with very powerful steroids, which very blessedly, worked for me in 2008.
I was alive in the fall of 2008, but very weak and beyond clinically depressed. Once again, my brains were totally scrambled, and I had to face the reality that I had yet another set of years of difficult recovery ahead of me. That was one of the bleakest periods of my entire life.
To be continued...
OK, I wrote too much about illness to leave much room for anything else, but I did want to quickly mention that I drove 465 miles to Albuquerque, NM this morning to attend the Great Southwestern Antiques Show at the New Mexico state fairgrounds. If you live near ABQ, I highly recommend this show as they feature over 100 dealers with an incredible array of Indian pottery, jewelry, antiques, Navajo rugs, and much, much more. It runs through Sunday afternoon.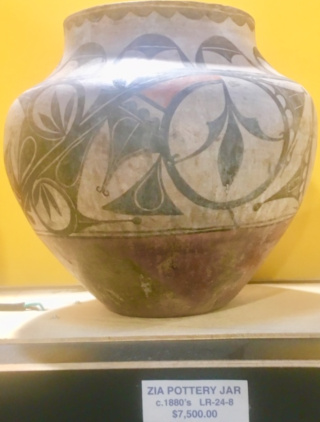 Some of items for sale at the Great Southwestern Antiques Show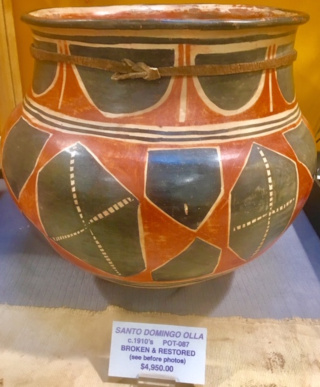 Some of items for sale at the Great Southwestern Antiques Show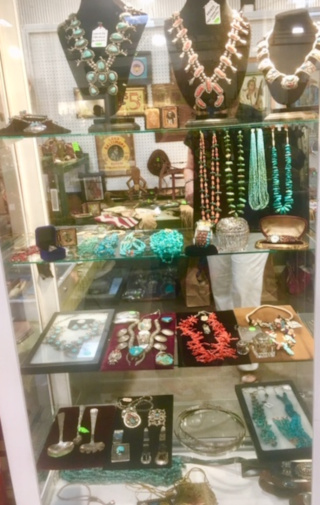 Some of items for sale at the Great Southwestern Antiques Show

If you live elsewhere, I highly recommend looking though the awesome list of back issue comics that follows. All are available to you at 60% off as long as our awesome SUMMER! codeword sale is in effect. Only new comics, a few variants, and our professionally-graded comics are exempt from the incredibly generous 60% discount. Please note, however, that SUMMER! Is ending soon. 'Nuff said...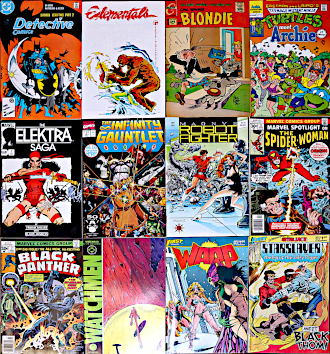 Some of the comics instock now!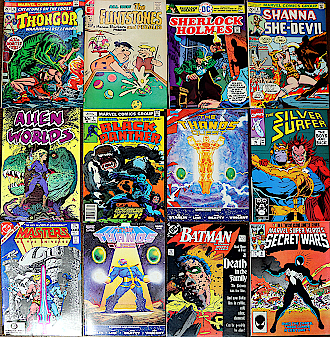 Some of the comics instock now!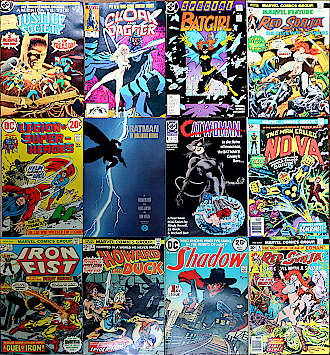 Some of the comics instock now!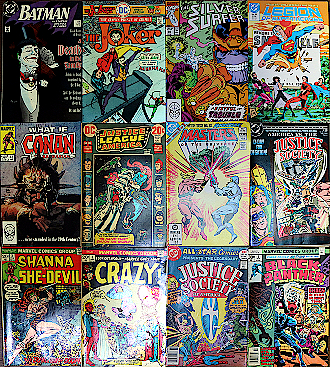 Some of the comics instock now!


Happy collecting!
Chuck Rozanski/Bettie Pages,
President - Mile High Comics, Inc.
August 2, 2019


MARVEL

ADVENTURES OF KOOL-AID MAN (1984) (MARVEL) #2 DENVER

ADVENTURES OF KOOL-AID MAN (1984) (MARVEL) #2 DENVER Very Fine

AGENTS OF ATLAS (2009) (#1-11) (MARVEL) #3 VARIANT Near Mint/Mint

AIR RAIDERS (MARVEL) (1987) #4 Near Mint/Mint

AKIRA (MARVEL) (1988) #7 NEWSSTAND Near Mint/Mint
AKIRA (MARVEL) (1988) #9 NEWSSTAND Near Mint/Mint
AKIRA (MARVEL) (1988) #10 NEWSSTAND Near Mint/Mint

ALIAS (2001) (#1-28) (MARVEL) (BRIAN MICHAEL BENDIS) #13 Near Mint/Mint
ALIAS (2001) (#1-28) (MARVEL) (BRIAN MICHAEL BENDIS) #14 Near Mint/Mint
ALIAS (2001) (#1-28) (MARVEL) (BRIAN MICHAEL BENDIS) #18 Near Mint/Mint
ALIAS (2001) (#1-28) (MARVEL) (BRIAN MICHAEL BENDIS) #26 Near Mint/Mint

ALIEN LEGION (1984) (#1-20) (MARVEL EPIC) #12 Near Mint/Mint
ALIEN LEGION (1984) (#1-20) (MARVEL EPIC) #13 Near Mint/Mint
ALIEN LEGION (1984) (#1-20) (MARVEL EPIC) #16 Near Mint/Mint

ALIEN LEGION (1987) (#1-18) (MARVEL EPIC) #14 NEWSSTAND Near Mint/Mint

ALL-NEW ALL-DIFFERENT AVENGERS (2015) #2 2ND PRINT Near Mint/Mint
ALL-NEW ALL-DIFFERENT AVENGERS (2015) #3 HEMBECK Very Fine
ALL-NEW ALL-DIFFERENT AVENGERS (2015) #4 2ND PRINT Near Mint/Mint
ALL-NEW ALL-DIFFERENT AVENGERS (2015) #5 2ND PRINT Near Mint/Mint
ALL-NEW ALL-DIFFERENT AVENGERS (2015) #6 2ND PRINT Near Mint/Mint
ALL-NEW ALL-DIFFERENT AVENGERS (2015) #9 ROSS Very Fine
ALL-NEW ALL-DIFFERENT AVENGERS (2015) #13 ANKA Near Mint/Mint
ALL-NEW ALL-DIFFERENT AVENGERS (2015) #14 RENAUD Near Mint/Mint

ALL-NEW ALL-DIFFERENT AVENGERS ANNUAL (2016) #1 YOUNG BABY Near Mint/Mint
ALL-NEW ALL-DIFFERENT AVENGERS ANNUAL (2016) #1 ROSS Near Mint/Mint
ALL-NEW ALL-DIFFERENT AVENGERS ANNUAL (2016) #1 YOUNG BABY Very Fine

ALL-NEW CAPTAIN AMERICA (2014) #3 Near Mint/Mint
ALL-NEW CAPTAIN AMERICA (2014) #3 Very Fine
ALL-NEW CAPTAIN AMERICA (2014) #6 NOWLAN Very Fine

ALL-NEW GHOST RIDER (2014) #10 Near Mint/Mint

ALL-NEW GUARDIANS OF THE GALAXY (2017) #2 HENRICHON Near Mint/Mint


ALL-NEW HAWKEYE (2016) (#1-6) #1 LEMIRE

ALL-NEW HAWKEYE (2016) (#1-6) #1 LEMIRE Very Fine
ALL-NEW HAWKEYE (2015) (#1-5) (MAY) #1 2ND PRINT Very Fine

ASTONISHING X-MEN VOL. 6: EXOGENETIC TPB (2011) #1 Near Mint/Mint

AVENGERS DISASSEMBLED TPB (2005) #1 Near Mint/Mint

AVENGERS WEST COAST: DARKER THAN SCARLET TPB (2008) #1 Near Mint/Mint

AVENGERS: VISION AND SCARLET WITCH TPB (2005) #1 Near Mint/Mint

BLACK PANTHER (1976) (#1-15) (MARVEL) #2 Very Fine
BLACK PANTHER (1976) (#1-15) (MARVEL) #3 Fine
BLACK PANTHER (1976) (#1-15) (MARVEL) #5 Fine

BLACK PANTHER: PANTHER'S PREY (1991) #2 NEWSSTAND Near Mint/Mint
BLACK PANTHER: PANTHER'S PREY (1991) #3 NEWSSTAND Near Mint/Mint

CAPTAIN AMERICA BY ED BRUBAKER PREMIERE HC (2012) #1 Very Fine
CAPTAIN AMERICA BY ED BRUBAKER PREMIERE HC (2012) #2 Near Mint/Mint
CAPTAIN AMERICA BY ED BRUBAKER PREMIERE HC (2012) #3 Near Mint/Mint
CAPTAIN AMERICA BY ED BRUBAKER PREMIERE HC (2012) #4 Near Mint/Mint

CAPTAIN AMERICA VOL. 1: CASTAWAY IN DIMENSION Z HC (2013) #1 Very Fine

CAPTAIN AMERICA VOL. 2: CASTAWAY IN DIMENSION Z HC (2013) #1 Very Fine

CAPTAIN AMERICA VOL. 3: LOOSE NUKE PREMIERE HC (2014) #1 Fine

CAPTAIN AMERICA VOL. 4: IRON NAIL HC (2014) #1 Very Fine

CAPTAIN AMERICA VOL. 5: TOMORROW SOLDIER PREMIERE HC (2014) #1 Very Fine

CAPTAIN AMERICA: WAR & REMEMBRANCE HC (MV CLASSIC #57) (2011) #1 BLACK FOIL Very Fine

CLOAK AND DAGGER (1983) (#1-4) (MARVEL) #1 Near Mint/Mint

CONAN (1970) (#1-275) (CONAN THE BARBARIAN) (MARVEL) #1 Fair

CREATURES ON THE LOOSE (1971) #22 Very Good
CREATURES ON THE LOOSE (1971) #23 Very Fine


CRYSTAR (1983) (#1-11)(SAGA OF CRYSTAR CRYSTAL WARRIOR) #1

CRYSTAR (1983) (#1-11)(SAGA OF CRYSTAR CRYSTAL WARRIOR) #1 Very Fine

DAZZLER (1981) #1 Near Mint/Mint

DOC SAVAGE (1972) (#1-8) (MARVEL) #2 Very Fine
DOC SAVAGE (1972) (#1-8) (MARVEL) #3 Near Mint/Mint
DOC SAVAGE (1972) (#1-8) (MARVEL) #5 Very Fine

DOCTOR STRANGE (1974) (#1-81) (MARVEL) (DR. STRANGE) #21 Very Fine

ELEKTRA SAGA (1984) #1 Near Mint/Mint
ELEKTRA SAGA (1984) #2 Very Fine

ESSENTIAL AVENGERS TPB (1998) #7 Fine

ESSENTIAL SAVAGE SHE-HULK TPB (2006) #1 Very Fine

ESSENTIAL SPIDER-WOMAN TPB (2005) #1 Fine
ESSENTIAL SPIDER-WOMAN TPB (2005) #2 Fine

FALCON (2017) (#1-UP) (MARVEL LEGACY) #1 CASSARA Near Mint/Mint
FALCON (2017) (#1-UP) (MARVEL LEGACY) #1 MCKONE Very Fine

FALL OF THE HULKS: RED HULK (2009) #1 Near Mint/Mint
FALL OF THE HULKS: RED HULK (2009) #1 Very Fine

FALL OF THE HULKS: SAVAGE SHE-HULKS (2010) #1 Near Mint/Mint

GREATEST BATTLES OF THE X-MEN TPB (1994) #1 Fine

GUNHAWKS (1972) (#1-7) (MARVEL) #6 Very Fine

HAUNTED MANSION (2016) (#1-5) (MARVEL) #1 Very Fine
HAUNTED MANSION (2016) (#1-5) (MARVEL) #2 Near Mint/Mint
HAUNTED MANSION (2016) (#1-5) (MARVEL) #3 Near Mint/Mint
HAUNTED MANSION (2016) (#1-5) (MARVEL) #4 Near Mint/Mint

HOWARD THE DUCK (1976) (#1-33) #1 Fine

HULK: HEART OF THE ATOM HC (MV CLASSIC #15) (2008) #1 Fine

INFINITY GAUNTLET (1991) #1 Near Mint/Mint

IRON FIST (1975) (#1-15) (MARVEL) #1 Very Good

JACK OF HEARTS (1984) #1 Near Mint/Mint

KA-ZAR (1974) (#1-20) (MARVEL) #13 Very Fine

MARVEL AGE (1983) #28 Near Mint/Mint
MARVEL AGE (1983) #29 Very Fine

MARVEL CLASSICS (1976) #2 Fine

MARVEL FEATURE (1975) (#1-7) (RED SONJA) #1 Very Fine
MARVEL FEATURE (1975) (#1-7) (RED SONJA) #5 Very Fine
MARVEL FEATURE (1975) (#1-7) (RED SONJA) #6 Very Fine
MARVEL FEATURE (1975) (#1-7) (RED SONJA) #7 Fine

MARVEL NOIR: WOLVERINE & THE X-MEN TPB (2013) #1 Near Mint/Mint

MARVEL SPOTLIGHT (1971) (#1-33) (MARVEL) #32 Very Fine
MARVEL SPOTLIGHT (1979) (#1-11) (MARVEL) #11 Near Mint/Mint

MARVEL SUPER-HERO CONTEST OF CHAMPIONS (1982) #2 Very Fine

MARVEL TEAM-UP (1972) (#1-150) (MARVEL) #62 Very Good
MARVEL TEAM-UP (1972) (#1-150) (MARVEL) #66 Very Fine

MARVEL TRIPLE ACTION (1972) #1 Good
MARVEL TRIPLE ACTION (1972) #2 Fine
MARVEL TRIPLE ACTION (1972) #4 Near Mint/Mint
MARVEL TRIPLE ACTION (1972) #5 Very Fine
MARVEL TRIPLE ACTION (1972) #6 Very Fine
MARVEL TRIPLE ACTION (1972) #12 Near Mint/Mint
MARVEL TRIPLE ACTION (1972) #13 Near Mint/Mint
MARVEL TRIPLE ACTION (1972) #14 Near Mint/Mint

MAX RIDE: FIRST FLIGHT TPB (2016) #1 Near Mint/Mint

MIGHTY MARVEL: WOMEN OF MARVEL TPB (2011) #1 Very Fine

MIGHTY MOUSE (1990) (#1-10) (MARVEL) #4 Near Mint/Mint


MS. MARVEL (1977) (#1-23) (MARVEL) (CAROL DANVERS) #5

MS. MARVEL (1977) (#1-23) (MARVEL) (CAROL DANVERS) #5 Good

NEW AVENGERS: BREAKOUT TPB (VOL. 1) (2005) #1 Near Mint/Mint

NEW MUTANTS (1983) (#1-100) (MARVEL) #97 Very Fine

NEW WARRIORS VOL. 1: KIDS ARE ALL FIGHT TPB (2014) #1 Near Mint/Mint

NEW WARRIORS VOL. 2: ALWAYS & FOREVER TPB (2015) #1 Near Mint/Mint

NEW WARRIORS: DEFIANT TPB (VOL. 1) (2008) #1 Very Fine

NICK FURY CLASSIC VOL. 1: AGENT OF SHIELD TPB (2012) #1 Fine

NICK FURY CLASSICS VOL. 2: AGENT OF SHIELD TPB (2015) #1 Very Fine

NICK FURY VOL. 1: DEEP COVER CAPERS TPB (2017) #1 Near Mint/Mint

NIGHTHAWK: HATE MAKES HATE TPB (2016) #1 Near Mint/Mint

NIGHTMASK: NEW UNIVERSE TPB (2018) #1 Near Mint/Mint

NOVA (1976) (#1-25) (RICHARD RIDER) (MARVEL) #1 Fine

NOVA VOL. 1: RESURRECTION TPB (2017) #1 Near Mint/Mint

NOVA VOL. 3: NOVA CORPSE TPB (2014) #1 Very Fine

NOVA VOL. 4: ORIGINAL SIN TPB (2014) #1 Near Mint/Mint
NOVA VOL. 4: ORIGINAL SIN TPB (2014) #1 Very Fine

NOVA VOL. 5: AXIS TPB (2015) #1 Very Fine

OSBORN: EVIL INCARCERATED TPB (2011) #1 Near Mint/Mint

RED SONJA (1977) (#1-15) (MARVEL) #1 Very Fine
RED SONJA (1977) (#1-15) (MARVEL) #2 Very Fine
RED SONJA (1977) (#1-15) (MARVEL) #3 Very Fine
RED SONJA (1977) (#1-15) (MARVEL) #10 Near Mint/Mint
RED SONJA (1977) (#1-15) (MARVEL) #13 Near Mint/Mint
RED SONJA (1977) (#1-15) (MARVEL) #14 Very Fine
RED SONJA (1977) (#1-15) (MARVEL) #15 Near Mint/Mint
RED SONJA (1983) (#1-2) (MARVEL) #1 Near Mint/Mint


RED WOLF (1972) (#1-9) (MARVEL) #2

RED WOLF (1972) (#1-9) (MARVEL) #2 Fine
RED WOLF (1972) (#1-9) (MARVEL) #3 Very Fine
RED WOLF (1972) (#1-9) (MARVEL) #5 Very Fine

SECRET INVASION: FANTASTIC FOUR TPB (2009) #1 Near Mint/Mint

SECRET WARS (1984) (#1-12) (LIMTED SERIES) (MARVEL) #8 Near Mint/Mint

SGT. FURY AND HIS HOWLING COMMANDOS (1963) #58 Very Fine
SGT. FURY AND HIS HOWLING COMMANDOS (1963) #59 Fine
SGT. FURY AND HIS HOWLING COMMANDOS (1963) #60 Near Mint/Mint
SGT. FURY AND HIS HOWLING COMMANDOS (1963) #60 Very Fine
SGT. FURY AND HIS HOWLING COMMANDOS (1963) #61 Fine
SGT. FURY AND HIS HOWLING COMMANDOS (1963) #61 Very Good
SGT. FURY AND HIS HOWLING COMMANDOS (1963) #62 Very Good
SGT. FURY AND HIS HOWLING COMMANDOS (1963) #62 Very Fine
SGT. FURY AND HIS HOWLING COMMANDOS (1963) #63 Near Mint/Mint
SGT. FURY AND HIS HOWLING COMMANDOS (1963) #63 Very Fine
SGT. FURY AND HIS HOWLING COMMANDOS (1963) #64 Very Fine
SGT. FURY AND HIS HOWLING COMMANDOS (1963) #64 Very Good
SGT. FURY AND HIS HOWLING COMMANDOS (1963) #65 Near Mint/Mint
SGT. FURY AND HIS HOWLING COMMANDOS (1963) #65 Fine
SGT. FURY AND HIS HOWLING COMMANDOS (1963) #65 Very Good

SHANNA THE SHE-DEVIL (1972) (#1-5) (MARVEL) #2 Near Mint/Mint
SHANNA THE SHE-DEVIL (1972) (#1-5) (MARVEL) #3 Near Mint/Mint
SHANNA THE SHE-DEVIL (1972) (#1-5) (MARVEL) #4 Very Fine
SHANNA THE SHE-DEVIL (1972) (#1-5) (MARVEL) #5 Fine

SILVER SURFER (1987) (#1-146) (MARVEL) #44 Near Mint/Mint
SILVER SURFER (1987) (#1-146) (MARVEL) #45 Near Mint/Mint

SPIDER-MAN, FIRE-STAR, AND ICEMAN (1983) #1 DENVER Near Mint/Mint

SPIDER-MAN/DOCTOR OCTOPUS: NEGATIVE EXPOSURE TPB (2004) #1 Near Mint/Mint
SPIDER-MAN/DOCTOR OCTOPUS: NEGATIVE EXPOSURE TPB (2004) #1 Very Fine

SUPREME POWER: NIGHTHAWK HC (2009) #1 Near Mint/Mint

TANGLED WEB TPB (SPIDER-MAN) (2001) #2 Near Mint/Mint
TANGLED WEB TPB (SPIDER-MAN) (2001) #2 Fine
TANGLED WEB TPB (SPIDER-MAN) (2001) #4 Very Fine


THANOS QUEST (1990) (#1-2) (PRESTIGE) #1 NEWSSTAND

THANOS QUEST (1990) (#1-2) (PRESTIGE) #1 NEWSSTAND Near Mint/Mint
THANOS QUEST (1990) (#1-2) (PRESTIGE) #2 NEWSSTAND Near Mint/Mint

VENOM: FUNERAL PYRE (1993) #1 NEWSSTAND Near Mint/Mint

VENOMIZED (2018) #3 DUARTE Near Mint/Mint

WHAT IF... (1977) (#1-47) (MARVEL) #43 Near Mint/Mint

X-MEN (1991) (#1-275) (MARVEL) #50 NEWSSTAND Fine
X-MEN (1991) (#1-275) (MARVEL) #53 NEWSSTAND Fine
X-MEN (1991) (#1-275) (MARVEL) #62 NEWSSTAND Fine
X-MEN (1991) (#1-275) (MARVEL) #83 NEWSSTAND Very Good

X-MEN VS. APOCALYPSE: AGES OF APOCALYPSE TPB (VOL. 2) (2008) #1 Near Mint/Mint

X-MEN: NOIR - MARK OF CAIN HC (2010) #1 Near Mint/Mint

X-MEN: PHOENIX RISING HC (MV CLASSIC #25) (2009) #1 Very Good

X-MEN: THE DARK PHOENIX SAGA TPB 2ND EDITION (2006) #1 Near Mint/Mint

DC
ALL-STAR (1976) (#58-74) (ALL-STAR COMICS) (DC) #66 Fine

AMERICA VS. THE JUSTICE SOCIETY (JSA) (1985) #1 Near Mint/Mint
AMERICA VS. THE JUSTICE SOCIETY (JSA) (1985) #2 Near Mint/Mint
AMERICA VS. THE JUSTICE SOCIETY (JSA) (1985) #3 Near Mint/Mint
AMERICA VS. THE JUSTICE SOCIETY (JSA) (1985) #4 Near Mint/Mint

AQUAMAN (2011) (#0-52) (DC NEW52) #10 Fine
AQUAMAN (2011) (#0-52) (DC NEW52) #11 Fine
AQUAMAN (2011) (#0-52) (DC NEW52) #13 Fine
AQUAMAN (2011) (#0-52) (DC NEW52) #23 Near Mint/Mint
AQUAMAN (2011) (#0-52) (DC NEW52) #50 Near Mint/Mint

AQUAMAN ANNUAL (2013) (#1-2) (DC NEW52) #2 Very Fine

ARAK (SON OF THUNDER) (DC) (1981) #3 Near Mint/Mint


BATGIRL (2011) (#0-52) (DC NEW52) #0

BATGIRL (2011) (#0-52) (DC NEW52) #0 Fine
BATGIRL (2011) (#0-52) (DC NEW52) #1 Fine
BATGIRL (2011) (#0-52) (DC NEW52) #27 Near Mint/Mint

BATGIRL SPECIAL (1998) #1 Near Mint/Mint

BATMAN (1940) (#0-713) (DC) #400 Very Fine
BATMAN (1940) (#0-713) (DC) #428 Near Mint/Mint
BATMAN (1940) (#0-713) (DC) #429 Near Mint/Mint

BATMAN '66 (2013) #2 Near Mint/Mint
BATMAN '66 (2013) #4 Near Mint/Mint
BATMAN '66 (2013) #8 Near Mint/Mint
BATMAN '66 (2013) #9 Near Mint/Mint
BATMAN '66 (2013) #12 Near Mint/Mint

BATMAN '66 MEETS THE GREEN HORNET (2014) #1 Near Mint/Mint

BATMAN: THE KILLING JOKE (ALAN MOORE) (1988) #1 Near Mint/Mint

BATWOMAN (2011) (#0-40) (DC NEW52) #35 Near Mint/Mint

BATWOMAN (2017) (#1-UP) (DC REBIRTH) #1 VARIANT Near Mint/Mint
BATWOMAN (2017) (#1-UP) (DC REBIRTH) #3 Near Mint/Mint
BATWOMAN (2017) (#1-UP) (DC REBIRTH) #5 Near Mint/Mint

BATWOMAN ANNUAL (2014) #1 Near Mint/Mint
BATWOMAN ANNUAL (2014) #1 Very Fine

BIRDS OF PREY (2011) (#0-34) (DC NEW52) #1 Fine
BIRDS OF PREY (2011) (#0-34) (DC NEW52) #28 Near Mint/Mint

BLACKEST NIGHT: GREEN LANTERN TPB (2011) #1 Near Mint/Mint

BRAVE AND THE BOLD (1955) #101 Fine

CATWOMAN (2011) (#0-52) (DC NEW52) #1 Fine
CATWOMAN (2011) (#0-52) (DC NEW52) #23 Fine


CATWOMAN: ELECTION NIGHT (2016) #1 VARIANT

CATWOMAN: ELECTION NIGHT (2016) #1 VARIANT Near Mint/Mint

CONSTANTINE (2013) #12 Near Mint/Mint

DARK KNIGHT (1986) #1 3RD PRT Near Mint/Mint
DARK KNIGHT (1986) #2 1ST PRT Near Mint/Mint
DARK KNIGHT (1986) #3 1ST PRT Near Mint/Mint
DARK KNIGHT (1986) #4 1ST PRT Near Mint/Mint

DC REBIRTH HOLIDAY SPECIAL (2017) #1 Very Fine

DC UNIVERSE VS. MASTERS OF THE UNIVERSE (2013) #1 MOTU Near Mint/Mint

DEMON KNIGHTS VOL. 1: SEVEN AGAINST THE DARK TPB (2012) #1 Near Mint/Mint

DEMON KNIGHTS VOL. 2: AVALON TRAP TPB (2013) #1 Near Mint/Mint

DEMON KNIGHTS VOL. 3: GATHERING STORM TPB (2013) #1 Near Mint/Mint

DETECTIVE COMICS (1937) (#0-881) (DC) #575 Very Fine
DETECTIVE COMICS (1937) (#0-881) (DC) #576 Very Fine
DETECTIVE COMICS (1937) (#0-881) (DC) #578 Near Mint/Mint

DIANA PRINCE: WONDER WOMAN TPB (2008) #4 Near Mint/Mint

EARTH 2 VOL. 2: TOWER OF FATE HC (2013) #1 Very Fine

FAIREST (2012) #31 Near Mint/Mint

FIRESTORM (1978) (#1-5) #1 Near Mint/Mint

GOTHAM CITY SIRENS (2009) #1 Fine
GOTHAM CITY SIRENS (2009) #2 Very Good
GOTHAM CITY SIRENS (2009) #3 Fine
GOTHAM CITY SIRENS (2009) #4 Very Fine
GOTHAM CITY SIRENS (2009) #5 Very Fine
GOTHAM CITY SIRENS (2009) #6 Very Fine
GOTHAM CITY SIRENS (2009) #7 Near Mint/Mint
GOTHAM CITY SIRENS (2009) #8 Very Fine
GOTHAM CITY SIRENS (2009) #9 Fine
GOTHAM CITY SIRENS (2009) #10 Near Mint/Mint
GOTHAM CITY SIRENS (2009) #11 Fine
GOTHAM CITY SIRENS (2009) #12 Very Fine


GREEN ARROW (1983) (#1-4) (DC) (1983) #2 NEWSSTAND

GREEN ARROW (1983) (#1-4) (DC) (1983) #2 NEWSSTAND Very Good
GREEN ARROW (1983) (#1-4) (DC) (1983) #3 NEWSSTAND Very Good

GREEN ARROW (1988) (#0-137) (DC) #37 Near Mint/Mint
GREEN ARROW (1988) (#0-137) (DC) #48 Near Mint/Mint
GREEN ARROW (1988) (#0-137) (DC) #50 Near Mint/Mint

GREEN ARROW (2011) (#0-52) (DC NEW52) #1 Fine

HARLEY QUINN (2013) (#0-30) (DC NEW52) #0 Near Mint/Mint
HARLEY QUINN (2013) (#0-30) (DC NEW52) #1 Fine
HARLEY QUINN (2013) (#0-30) (DC NEW52) #2 Near Mint/Mint
HARLEY QUINN (2013) (#0-30) (DC NEW52) #3 Near Mint/Mint
HARLEY QUINN (2013) (#0-30) (DC NEW52) #4 Near Mint/Mint
HARLEY QUINN (2013) (#0-30) (DC NEW52) #5 Fine
HARLEY QUINN (2013) (#0-30) (DC NEW52) #6 Fine
HARLEY QUINN (2013) (#0-30) (DC NEW52) #8 Fine
HARLEY QUINN (2013) (#0-30) (DC NEW52) #9 Near Mint/Mint
HARLEY QUINN (2013) (#0-30) (DC NEW52) #10 Near Mint/Mint

HE-MAN & THE MASTERS OF THE UNIVERSE (2013) #14 Near Mint/Mint

HE-MAN/THUNDERCATS (2016) #1 2ND PRINT Near Mint/Mint

HERCULES UNBOUND (1975) #9 Very Fine

HISTORY OF THE DC UNIVERSE (1986) #1 Very Good
HISTORY OF THE DC UNIVERSE (1986) #2 Near Mint/Mint

HUNTRESS (1989) (#1-19) (DC) #1 NEWSSTAND Fine
HUNTRESS (1989) (#1-19) (DC) #2 NEWSSTAND Very Fine

INFINITE CRISIS TPB (2007) #1 Near Mint/Mint

JIMMY OLSEN (1954) #149 Very Fine

JOKER (1975) #4 Very Fine

JONAH HEX (1977) #14 Fine
JONAH HEX (1977) #78 Near Mint/Mint

JUSTICE LEAGUE (2011) (#0-52) (DC NEW52) #40 MOVIESTYLE Near Mint/Mint
JUSTICE LEAGUE (2011) (#0-52) (DC NEW52) #41 Near Mint/Mint


JUSTICE LEAGUE OF AMERICA (1960) (#1-261) (DC) #100

JUSTICE LEAGUE OF AMERICA (1960) (#1-261) (DC) #100 Good
JUSTICE LEAGUE OF AMERICA (1960) (#1-261) (DC) #101 Fine

JUSTICE LEAGUE OF AMERICA: DARK THINGS HC (2011) #1 Very Fine

JUSTICE LEAGUE OF AMERICA: HEREBY ELECTS...TPB (2006) #1 Fine

JUSTICE LEAGUE UNITED ANNUAL (2014) #1 Near Mint/Mint

LEGENDS OF THE DARK KNIGHT (BATMAN) (1989) #15 Near Mint/Mint
LEGENDS OF THE DARK KNIGHT (BATMAN) (1989) #17 Very Fine
LEGENDS OF THE DARK KNIGHT (BATMAN) (1989) #18 Very Fine

LEGION OF SUPER-HEROES (1974) (#1-4) (DC) #1 Very Fine

LEGION OF SUPER-HEROES (1984) (#1-63) (DC) #37 Near Mint/Mint
LEGION OF SUPER-HEROES (1984) (#1-63) (DC) #38 Very Fine

MADAME XANADU VOL. 1: DISENCHANTED TPB (2009) #1 (DC: Vertigo Press) Near Mint/Mint

MADAME XANADU VOL. 2: EXODUS NOIR TPB (2010) #1 Near Mint/Mint

MADAME XANADU VOL. 3: BROKEN HOUSE OF CARDS TPB (2011) #1 (DC: Vertigo Press) Near Mint/Mint

MASTERS OF THE UNIVERSE (1982) (#1-3) (DC) #1 Near Mint/Mint
MASTERS OF THE UNIVERSE (1982) (#1-3) (DC) #3 Near Mint/Mint

MOTHER PANIC VOL. 1: WORK IN PROGRESS TPB (2017) #1 Near Mint/Mint

MOTHER PANIC VOL. 2: UNDER HER SKIN TPB (2018) #1 Near Mint/Mint

MOVEMENT VOL. 1: CLASS WARFARE TPB (2014) #1 Near Mint/Mint

MOVEMENT VOL. 2: FIGHTING FOR THE FUTURE TPB (2014) #1 Near Mint/Mint

MULTIVERSITY TPB (2016) #1 Very Fine

OUTSIDERS (1985) (#1-28) #28 Very Fine

RONIN (1983) #5 Very Fine

SAGA OF RA'S AL GHUL (1988) #3 Near Mint/Mint
SAGA OF RA'S AL GHUL (1988) #4 Near Mint/Mint

SHADOW (1973) (#1-12) (DC) #1 Fine

SHADOW OF THE BATMAN (1985) #1 Near Mint/Mint
SHADOW OF THE BATMAN (1985) #3 Fine
SHADOW OF THE BATMAN (1985) #4 Near Mint/Mint
SHADOW OF THE BATMAN (1985) #5 Very Fine

SHADOWPACT: CURSED TPB (VOL. 2) (2007) #1 Near Mint/Mint

SHERLOCK HOLMES ( 1975) #1 Very Fine

SUPERMAN/WONDER WOMAN (2013) #8 Near Mint/Mint

TARZAN (1972) (#207-258) (DC) #207 Fine

VIGILANTE (1983) (#1-50) (DC) #18 Fine
VIGILANTE (1983) (#1-50) (DC) #20 Fine
VIGILANTE (1983) (#1-50) (DC) #36 Near Mint/Mint
VIGILANTE (1983) (#1-50) (DC) #47 Very Fine
VIGILANTE (1983) (#1-50) (DC) #50 Very Fine

WATCHMEN (1986) #1 Near Mint/Mint
WATCHMEN (1986) #4 Near Mint/Mint
WATCHMEN (1986) #5 Near Mint/Mint
WATCHMEN (1986) #6 Very Fine
WATCHMEN (1986) #7 Near Mint/Mint
WATCHMEN (1986) #8 Near Mint/Mint
WATCHMEN (1986) #9 Very Fine
WATCHMEN (1986) #10 Near Mint/Mint
WATCHMEN (1986) #11 Near Mint/Mint
WATCHMEN (1986) #12 Near Mint/Mint

WEIRD WESTERN TALES (1972) #39 Very Fine

WONDER WOMAN (2016) (#1-UP) (DC REBIRTH) #1 Very Fine

WONDER WOMAN ARCHIVES HC #5 Near Mint/Mint

WONDER WOMAN: BITTER RIVALS TPB (2005) #1 Very Fine


WONDER WOMAN: DESTINY CALLING TPB (VOL. 4) (2006) #1

WONDER WOMAN: DESTINY CALLING TPB (VOL. 4) (2006) #1 Very Fine

WONDER WOMAN: GODS & MORTALS TPB (VOL. 1) (2004) #1 Very Fine

WONDER WOMAN: LAND OF THE DEAD TPB (2006) #1 2ND PRINT Near Mint/Mint

WONDER WOMAN: PARADISE FOUND TPB (2003) #1 2ND PRINT Near Mint/Mint

WORLD'S FINEST ARCHIVES HC #3 Near Mint/Mint

ZATANNA VOL. 2: SHADES OF THE PAST TPB (2011) #1 Very Fine

DARK HORSE COMICS
ALIENS VS. PREDATOR: ETERNAL (DARK HORSE) (AVP) (1998) #2 Very Fine

MOTH TPB (2005) #1 Very Fine

MUHAMMAD ALI HC (2016) #1 Near Mint/Mint
MUHAMMAD ALI HC (2016) #1 Very Fine

MUMMY: DARK RESURRECTION NOVEL (2006) #1 Very Fine

IMAGE COMICS
ALEX + ADA (IMAGE) (2013) #8 Near Mint/Mint

MORIARTY TPB (2011) #1 Near Mint/Mint
MORIARTY TPB (2011) #1 Very Fine

MORIARTY VOL. 2: LAZARUS TREE TPB (2012) #1 Near Mint/Mint

MORNING GLORIES HC (2011) #1 Near Mint/Mint

MORNING GLORIES VOL. 2 TPB (2011) #1 Very Good

MORNING GLORIES VOL. 3: P.E. TPB (2012) #1 2ND PRINT Very Fine


MORNING GLORIES VOL. 4: TRUANTS TPB (2013) #1

MORNING GLORIES VOL. 4: TRUANTS TPB (2013) #1 Very Fine

MORNING GLORIES VOL. 5: TEST TPB (2013) #1 Very Fine

MORNING GLORIES VOL. 6 TPB (2013) #1 Very Fine

MORNING GLORIES VOL. 7 TPB (2014) #1 Near Mint/Mint

MUDMAN TPB (2012) #1 Near Mint/Mint

MY HEROES HAVE ALWAYS BEEN JUNKIES HC (2018) #1 Near Mint/Mint

WALKING DEAD (2003) (#1-193) (IMAGE) #55 Fine

INDEPENDENTS
AIRFIGHTERS (AIRBOY) (2010) #1 A (Moonstone) Near Mint/Mint

AKA GOLDFISH ACE (CALIBER) (BENDIS) #1 (Caliber Press) Very Fine

AKA GOLDFISH QUEEN (CALIBER) (BENDIS) #1 (Caliber Press) Fine

AKIKO (SIRIUS) (1996) #21 (Sirius) Near Mint/Mint
AKIKO (SIRIUS) (1996) #22 (Sirius) Near Mint/Mint
AKIKO (SIRIUS) (1996) #30 (Sirius) Near Mint/Mint
AKIKO (SIRIUS) (1996) #32 (Sirius) Near Mint/Mint
AKIKO (SIRIUS) (1996) #38 (Sirius) Near Mint/Mint
AKIKO (SIRIUS) (1996) #39 (Sirius) Near Mint/Mint
AKIKO (SIRIUS) (1996) #41 (Sirius) Near Mint/Mint
AKIKO (SIRIUS) (1996) #43 (Sirius) Near Mint/Mint
AKIKO (SIRIUS) (1996) #47 (Sirius) Near Mint/Mint
AKIKO (SIRIUS) (1996) #49 (Sirius) Very Fine

ALAN MOORE'S AWESOME ADVENTURES (AWESOME ENTERTAINMENT) #1 DFE ALT CV (Awesome Entertainment) Near Mint/Mint
ALAN MOORE'S AWESOME ADVENTURES (AWESOME ENTERTAINMENT) #1 VARIANT (Awesome Entertainment) Very Fine
ALAN MOORE'S AWESOME UNIVERSE HANDBOOK (AWESOME ENT.) #1 VARIANT (Awesome Entertainment) Very Fine
ALAN MOORE'S AWESOME UNIVERSE HANDBOOK (AWESOME ENT.) #1 (Awesome Entertainment) Very Fine

ALBEDO (1985) #0 4TH PRINT (Thoughts and Images) Very Good
ALBEDO (1985) #3 (Thoughts and Images) Very Fine
ALBEDO (1985) #4 (Thoughts and Images) Very Good
ALBEDO (1985) #5 (Thoughts and Images) Very Good
ALBEDO (1985) #6 (Thoughts and Images) Very Good

ALIEN BOUNTY HUNTER (2017) #1 2ND PRINT (Vault Comics) Near Mint/Mint


ALIEN WORLDS VOL. TWO (ECLIPSE GN #22) #1

ALIEN WORLDS VOL. TWO (ECLIPSE GN #22) #1 (Eclipse Enterprises) Fine

ALL NEW FATHOM (2013) #4 C (Aspen) Near Mint/Mint
ALL NEW FATHOM (2013) #6 B (Aspen) Near Mint/Mint

ALL NEW FATHOM (2017) #8 A RENNA (Aspen) Near Mint/Mint

BARBARIANS AND BEAUTIES (AMERICOMICS) (WALLY WOOD) (1990) #1 (Americomics) Near Mint/Mint

BLONDIE (1969) (#177-222) (CHARLTON) #197 (Charlton) Very Fine

ELEMENTALS (1984) (#1-29) (COMICO) #1 (Comico) Near Mint/Mint

FAITH & THE FUTURE FORCE (2017) #1 B KANO (Valiant Comics) Near Mint/Mint
FAITH & THE FUTURE FORCE (2017) #1 C BLANK (Valiant Comics) Near Mint/Mint

FAITH (JANUARY) (2016) #1 COOVER (Valiant Comics) Near Mint/Mint
FAITH (JANUARY) (2016) #1 KANO (Valiant Comics) Near Mint/Mint

FAITH (JULY) (2016) #1 G BLANK (Valiant Comics) Near Mint/Mint
FAITH (JULY) (2016) #1 H PEREZ (Valiant Comics) Near Mint/Mint
FAITH (JULY) (2016) #1 I KANO (Valiant Comics) Fine
FAITH (JULY) (2016) #1 J COOVER (Valiant Comics) Very Fine
FAITH (JULY) (2016) #2 F LOTAY (Valiant Comics) Very Fine
FAITH (JULY) (2016) #6 D HETRICK (Valiant Comics) Near Mint/Mint
FAITH (JULY) (2016) #7 A KANO (Valiant Comics) Near Mint/Mint
FAITH (JULY) (2016) #7 B LAFUENTE (Valiant Comics) Near Mint/Mint
FAITH (JULY) (2016) #7 D BARTEL (Valiant Comics) Very Fine

FALL (THE FALL) (ED BRUBAKER) (JASON LUTES) (2001) #1 (Drawn & Quarterly) Near Mint/Mint

FLINTSTONES (1970) (#1-50) (CHARLTON) (HANNA BARBERA) #16 (Charlton) Very Fine

FUBAR: MOTHER RUSSIA TPB (2015) #1 (Alterna Comics) Very Fine

HA HA COMICS (1943) (#1-70) (CRESTON) #62 (CRESTON) Good
HA HA COMICS (1943) (#1-70) (CRESTON) #69 (CRESTON) Good

HOBBIT (1990) #1 (Eclipse Enterprises) Near Mint/Mint

IRON JAW (1975) #2 (Atlas/Seaboard) Very Fine

KULL 3-D #1 (Blackthorne Publishing) Near Mint/Mint
KULL 3-D #2 (Blackthorne Publishing) Near Mint/Mint

MAGNUS ROBOT FIGHTER (1991) (#0-64) (VALIANT) #1 W/ CARD (Acclaim/Valiant) Near Mint/Mint

MARGE'S LITTLE LULU (1962) (#165-206) (GOLD KEY) #201 (Gold Key) Fine
MARGE'S LITTLE LULU (1962) (#165-206) (GOLD KEY) #203 (Gold Key) Very Fine
MARGE'S LITTLE LULU (1962) (#165-206) (GOLD KEY) #204 (Gold Key) Very Good
MARGE'S LITTLE LULU (1962) (#165-206) (GOLD KEY) #205 (Gold Key) Very Good
MARGE'S LITTLE LULU (1962) (#165-206) (GOLD KEY) #206 (Gold Key) Very Fine

MNEMOVORE HC (2011) #1 (IDW Publishing) Fine

MONARCHY: BULLETS OVER BABYLON TPB (2001) #1 (DC/Wildstorm) Near Mint/Mint

MONSTER CANDY TPB (2012) #1 (BLISS ON TAP) Fine

MONSTER MOTORS TPB (2015) #1 (IDW Publishing) Near Mint/Mint

MORTAL COILS TPB (2004) #1 (Redeye Press) Fine

MOSQUITO GN (2005) #1 (Top Shelf Productions) Near Mint/Mint

MOTHER'S MOUTH GN (2006) #1 (Alternative Press) Very Fine

MOTOR GIRL VOL. 2: NO MAN LEFT BEHIND TPB (2017) #1 (Abstract Studio) Near Mint/Mint

MULTIPLEX: ENJOY YOUR SHOW TPB (2011) #1 (Chase Sequence) Very Fine

MUNCHKIN TPB (2015) #2 (Boom Studios Publishing) Near Mint/Mint
MUNCHKIN TPB (2015) #3 (Boom Studios Publishing) Near Mint/Mint
MUNCHKIN TPB (2015) #6 (Boom Studios Publishing) Near Mint/Mint

MUNDEN'S BAR TPB (2007) #1 (IDW Publishing) Near Mint/Mint

MURDER BY CROWQUILL TPB #1 (Amazing Montage Press) Very Fine

MURDER OF KING TUT HC (2010) #1 (IDW Publishing) Very Fine

MUSHROOM MURDERS TPB (2013) #1 (Creators Edge Press) Near Mint/Mint


MUTANT TEXAS: TALES OF SHERIFF IDA RED TPB (2003) #1

MUTANT TEXAS: TALES OF SHERIFF IDA RED TPB (2003) #1 (Oni Press Inc.) Very Fine

MUTATION TPB (2006) #1 (MARKOSIA) Fine

MY BOYFRIEND IS A MONSTER TPB (2011) #2 (Lerner Publishing Group) Near Mint/Mint
MY BOYFRIEND IS A MONSTER TPB (2011) #5 (Lerner Publishing Group) Near Mint/Mint

MY FAITH IN FRANKIE TPB (2004) #1 (DC: Vertigo Press) Near Mint/Mint

PANDA KHAN SPECIAL #1 (Abacus Press) Near Mint/Mint
PANDA KHAN SPECIAL #1 (Abacus Press) Very Fine

RHUDIPRRT, PRINCE OF FUR #1 (Mu Press) Very Fine

RIVERDALE HIGH (1990) #1 (Archie Comics) Near Mint/Mint

SOLOMON KANE 3-D #1 (Blackthorne Publishing) Near Mint/Mint

STARSLAYER (1982) #10 (First Comics) Near Mint/Mint

TANK GIRL: ALL STARS HC (2019) #1 (Titan Distributing) Near Mint/Mint

TEENAGE MUTANT NINJA TURTLES (1984) (#1-62) (MIRAGE) #1 4TH PRT (Mirage Studios) Very Fine

TEENAGE MUTANT NINJA TURTLES MEET ARCHIE (1991) #1 (Archie Comics) Near Mint/Mint

TOM AND JERRY (1991) (#1-18) (HARVEY) #1 (Harvey Comics) Very Fine

VAMPIRE LESTAT (ANNE RICE) (1990) #1 3RD PRT (Innovation Publishing) Near Mint/Mint
VAMPIRE LESTAT (ANNE RICE) (1990) #2 2ND PRT (Innovation Publishing) Very Fine
VAMPIRE LESTAT (ANNE RICE) (1990) #5 (Innovation Publishing) Near Mint/Mint

WALT DISNEY'S HOLIDAY PARADE #1 (Walt Disney Company) Near Mint/Mint

WALT DISNEY'S SPRING FEVER #1 (Walt Disney Company) Near Mint/Mint

WARP (1983) #5 (First Comics) Very Fine

WOODY WOODPECKER (1992) #1 (Harvey Comics) Very Fine


WULF (1975) (#1-4) (ATLAS COMICS) (THE BARBARIAN) #1

WULF (1975) (#1-4) (ATLAS COMICS) (THE BARBARIAN) #1 (Atlas/Seaboard) Fine