San Diego Comic-Con Report #3
Howdy,
I am writing today's newsletter in the San Diego airport terminal, genuinely relieved to be leaving. As many of you are already aware, we started off this year's San Diego convention on a down note, with the freight handlers failing to deliver our comics to our booth until the morning the show began. We scrambled to recover from that initial failure to perform by the convention decorators, only to then have traffic in the exhibit halls diminish significantly as compared to past years due to an unexpectedly large number of off-site events near the convention center.
I wish that I could say that things improved after that inauspicious start, but they did not. Not only did we experience all manner of difficulties during the show, but we also had a fiasco last evening during load-out as our own freight handlers failed to communicate properly. As a result, we had no truck arrive to take our 100,000 comics home. All appears to now be resolved, but not without the past 24 hours having been filled with ridiculous levels of stress and anxiety. To say that this year has been devoid of fun for us, is a significant understatement.
As regards how fans enjoyed the show, we continually heard words to the effect that there was a "weird vibe" to this year's entire event. I don't know how to describe this feeling exactly, but one factor that I know contributed to the unease was the pressure on ordinary fans to quickly traverse the show floor in order to obtain desirable exclusives to resell immediately on eBay. That factor has always been evident among a subset of Comic-Con attendees, but rising hotel and travel costs (and reports of lucrative profits) have brought this strategy to the forefront in ways that have sucked a great deal of the joy out of attending the show. Watching people stampeding into the room at opening only to then stand in long lines for exclusives to immediately flip reflects to me a disheartening degree of avarice, and a perversion of the underlying premise of the show.
On a much more positive note, the new electronic card system employed by the convention is being credited with eliminating the reportedly rampant bootlegging of convention badges from years past. I was also told that having exact counts of how many exhibitors and fans are in the building at any given point in time should help to facilitate an expansion in next year's ticket allocations. That should help considerably next year to mitigate the decline in foot traffic in the dealer's room caused by off site events.
All of the above having been said, we barely covered our operating costs this year, and actually lost money when our cost of goods sold is taking into account. Why? I could give you a dozen reasons, but chief among them is a general decline in the number of people shopping for comics at Comic-Con. To quantify this, Will Moulton keeps track of his daily cash register transactions, and he reported that we dropped in half (from 500+ per day to only 200-250 per day) this year as compared to two years ago. Our average sale per person did increase (mostly because we greatly expanded the quality and breadth of our comics inventory), but that was not enough to offset the fact that the number of people browsing through our bins was dramatically fewer.
At this point, I am in a quandary about what to do about next year. Despite a jump in rental cost to $18,000, I did provisionally renew our booths for the 2017 show. I only did that, however, because I believe that we still have quite a few internal improvements to make that could significantly up our sales. On the flip side of that argument is the fact that it is quite apparent to everyone that fewer and fewer comics fans are winning tickets via the Comic-Con lottery. As my assistant, Will, has so cogently pointed out, we could bring our greatest selection ever of highly desirable back issues to next year's show, only to still fail due to a dearth of comics fans. Suffice it to say, it is a difficult decision for me to make, and it is far from set in stone that we are actually returning. Working really hard for a month before the show only to have a miserable week (during which we also lose money) is just not my idea of a good time.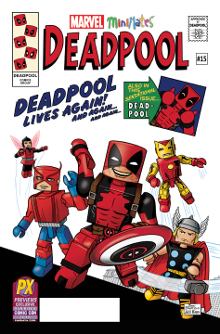 SDCC 2016 DEADPOOL #15
MINIMATES VARIANT

I will close today's newsletter by quickly mentioning that I am starting a new 40% off TRUEFAN codeword sale today on all ten million of our back issue comics and magazines. Only new comics, a few variants, and our CGC comics are excluded. I will also offer those of you who collect DEADPOOL comics a chance to purchase one of the very limited SDCC DEADPOOL #15 variant editions. We requested 500 copies this year, but demand was so strong that we were allocated to only 200. We have about 50 copies left at $9.95 (limit one, please) or you can ask for one free with any $100 order. Just mention that you would like a copy in the "notes" section of our online order form.
Happy collecting!
Chuck Rozanski,
President - Mile High Comics, Inc.
July 25, 2016

P.S. Here are a few nice costume photos that my friend, Norrie, took at the convention. For whatever reason, Cosplay was also way down at SDCC this year, too...