2010 San Diego Convention Report #4!
Howdy!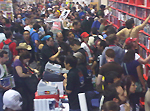 Busy at the Booth
(click on image for larger view)

Today's newsletter is going to be a bit disjointed, as I am being jostled non-stop in our booth. We have always been busy on Sunday at Comic-Con, but this year things are absolutely nuts. People are standing three deep, all reaching for trade paperbacks and hardbacks at the same time. This makes me very hopeful that we are finally going to reach our sales goal for this year early in the day, leaving more than a little room for a few bonus sales in the afternoon. That's a really nice place to be at this time in the convention, as it takes the financial pressure off of us by more than a little bit.


Speaking of pressure, I cannot remember seeing so many relaxed and happy faces among the dealers in the Golden and Silver Age Comics area. My last survey was yesterday afternoon, and all I heard were positive responses when I asked about how sales were going. All kinds of comics, from bargain issues to comics costing thousands of dollars, are selling briskly. This has completely eliminated our fears that the overwhelming number of media fans attending this year's show would preclude comics buyers from being able to attend. I'll make one more run through later this afternoon, but the general trend of comics sales is definitely way up at this point at the 2010 Comic-Con as compared with past years.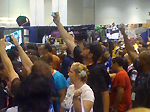 Taking Pictures
(click on image for larger view)

One other very important observation that I want to pass along about this year's convention is that everyone is walking around with cameras. At first blush that might not seem important, but an epiphany that struck me as I was walking through the media section (which was, once again, insanely crowded), was that the real motivation for many people to come to Comic-Con these days is to be able to post breaking news and photos to their personal social networking sites. I later confirmed my hypotheses by asking people what they were going to do with their snapshots and video streams. The irony is almost palpable when you realize that for a great many people who are in this building right now that their elevation is social status is no longer derived from actually owning cool items, but rather from being the first to be able to report that they've seen something cool. The media moguls seem well aware of this trend, so they are doing their very best to try and motivate fans to take as many photos as possible of their new projects, in the hope at they will then go viral on the Internet. As crazy as it may sound, this sharing of information (and the bragging rights to being able to be the first to report to their peer group) has become more important to many people than scoring free stuff. In my wildest dreams, I just never envisioned the day when booths here would be giving out free stuff, and not have enough takers. No matter what, however, Comic-Con continues to evolve, and is becoming more and more important in the overall promotion of American popular culture. I feel really, really blessed just to be able to still be a part of this incredible annual gathering.


Moving on to news from Mile High Comics, we have seen real uptick in sales from our website after we posted the great photo of Ashley modeling her insanely cool Mile High Comics baseball jacket. We are going to have a drawing on Monday for six of these jackets, customized to the winner's sizes. The way to enter your name is to make a purchase of $50, or more, from our website by Monday at 5 PM. For each $50 (after all discounts) in your order, we will enter your name once in the drawing. I did, by the way, extend the drawing by a few hours, as it has been taking extra time for our San Diego newsletters to mail. Newsletter # 3 hadn't yet finished last evening, which is why I had to wait until this morning to write #4. Whatever the case, being able to still use the 40% SANDIEGO codeword (please keep in mind the codeword does not apply to new comics, Dallas Stephens comics, trade paperbacks, hard covers, graphic novels, statues, or supplies), and to also have a shot at winning a free Mile High Comics staff jacket makes today a great time to place an order with us. Have fun!


Happy Collecting!

Chuck Rozanski,
President - Mile High Comics, Inc.
Advance Previews
of next weeks comics from
Archie Comics

Click here to view all the Free Bonus Book Giveaways