Another Huge Silver Age Comics Collection Arrives
Howdy!
After several newsletters focused on other topics, I am returning to (mostly) talking about comic books today. In particular, I want to let you know that I purchased a really nice collection from a personal friend of mine. Her collection consisted primarily of Silver Age and Bronze Age Marvel and DC comics and magazines, with enough key issues that I gladly paid her $6,000.00 for her comics. In addition, Will Moulton purchased 2 more really nice Silver Age collections, and Pam bought collection of rare modern issues, including two newsstand editions of BATMAN ADVENTURES #12, and an amazing number of other BATMAN back issues. Woo!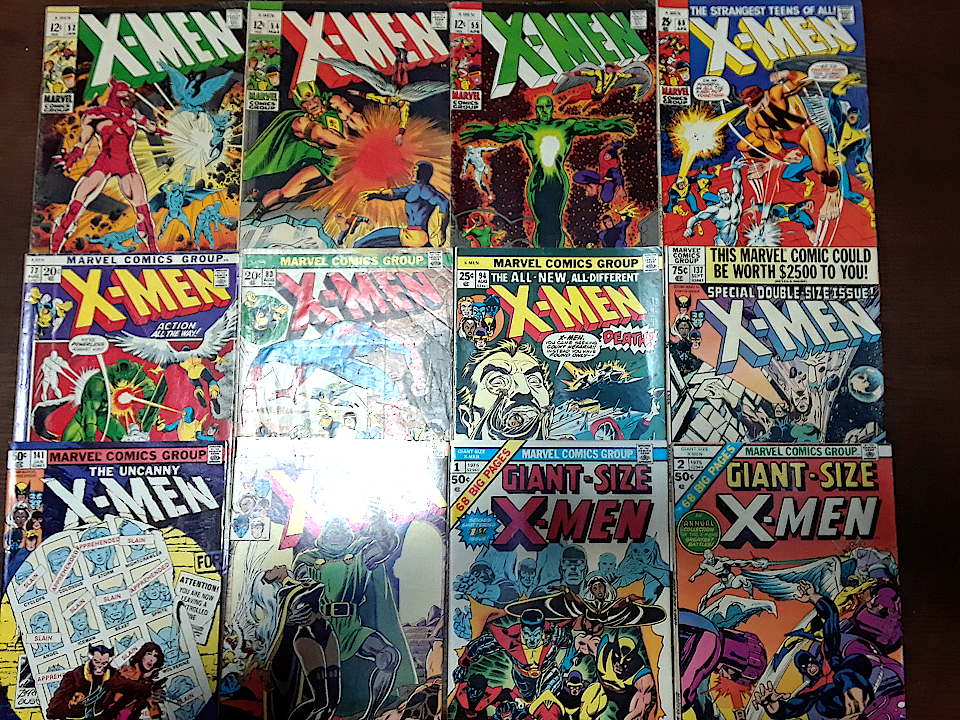 Some of the X-MEN comics we just received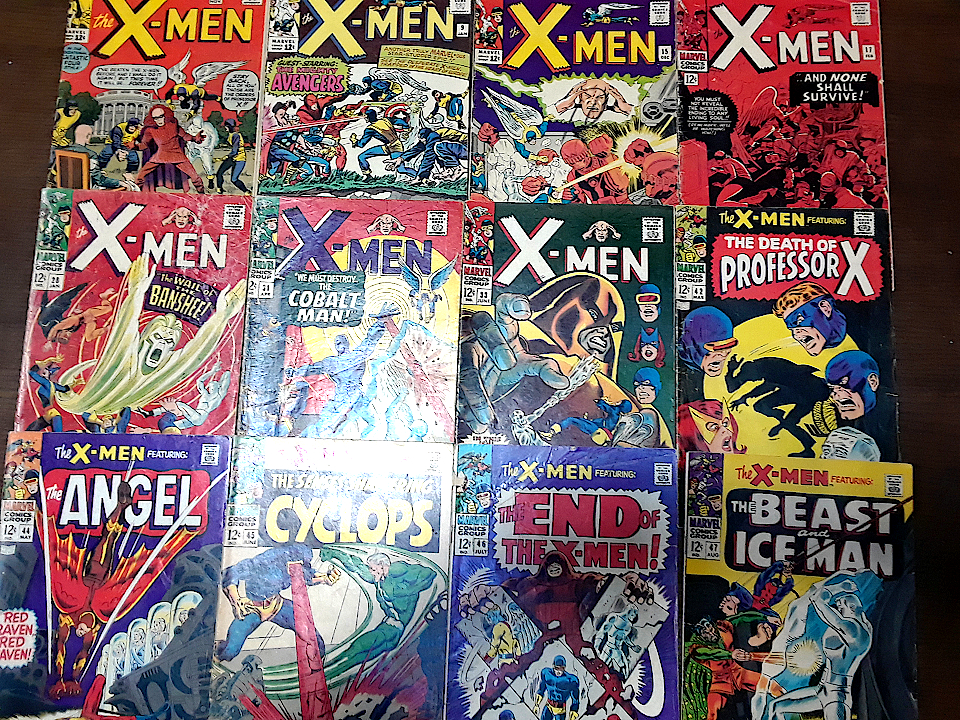 Some more of the X-MEN comics we just received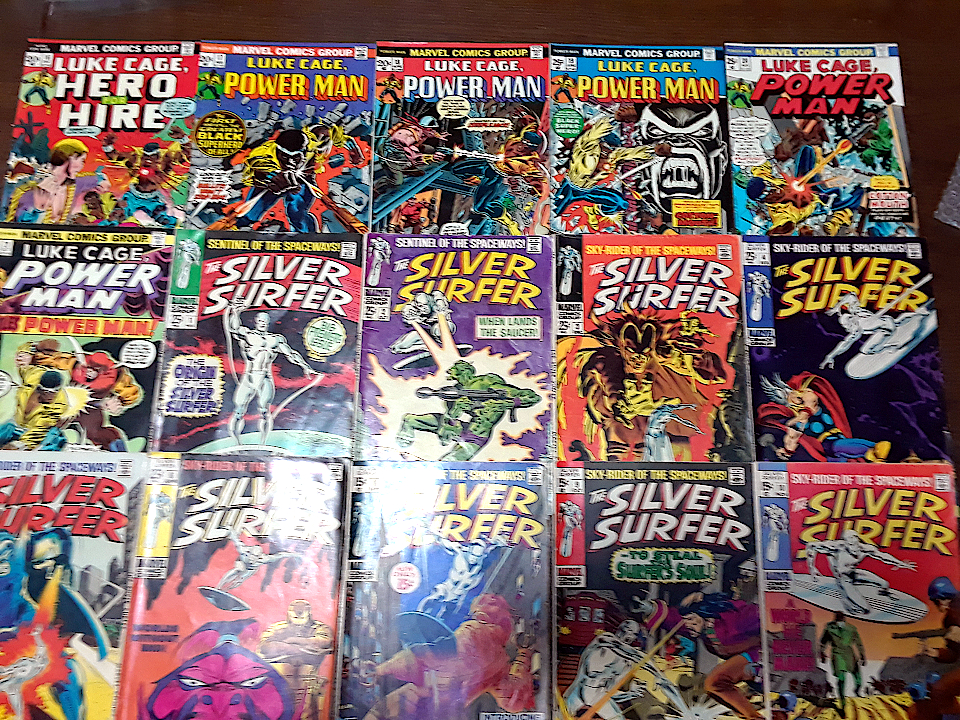 Some of the POWER MAN and SILVER SURFER comics we just received

So you know, we are transitioning today from our annual 60% off JULY4TH! codeword sale, to a 60% off SUMMER! sale. There is literally no change in terms, except the name of the codeword. It applies to all ten million of our back issue comics and magazines (including those just listed in New-In-Stock and Premium New-In-Stock) excepting only new issues, a few variants, and our professionally-graded comics. Truth be told, I had planned to drop our discount to only 50% off for the rest of this summer, but given that we have lost a few longtime customers due to terminal homophobia, I am leaving our back issues discount at 60% off for you specifically as a reward for your kindness in sticking around. Thank you!

BATMAN ADVENTURES (1992) #12 NEWSSTAND

My only other item for today is to quickly mention that we have posted a small archive of photos of our protestors from Sunday evening at the end of this newsletter, after the very long listing of comics that Will and Pam just put on the system for you. I will not editorialize about those images, but rather just let them speak for themselves.
Happy collecting!
Chuck Rozanski/Bettie Pages,
President - Mile High Comics, Inc.
July 10, 2019

MARVEL

DEADPOOL (2013) (#1-45, 250) (MARVEL) #1 HASTINGS

DEADPOOL (2013) (#1-45, 250) (MARVEL) #1 HASTINGS Near Mint/Mint

DEXTER (2013) #1 Fine

DOCTOR STRANGE BY WAID VOL. 2: REMITTANCE TPB (2019) #1 Near Mint/Mint

ELEKTRA: ASSASSIN (1986) #2 Near Mint/Mint

ETERNALS (1976) (#1-19) (MARVEL) (JACK KIRBY) #8 Fine
ETERNALS (1976) (#1-19) (MARVEL) (JACK KIRBY) #8 Very Fine
ETERNALS (1976) (#1-19) (MARVEL) (JACK KIRBY) #8 Very Good

ETERNALS (2008) (#1-9) (MARVEL) #1 Very Fine

FANTASTIC FOUR ANNUAL (1963) #24 Near Mint/Mint
FANTASTIC FOUR ANNUAL (1963) #24 NEWSSTAND Very Fine

GAMBIT CLASSIC TPB (2009) #1 3RD PRINT Near Mint/Mint

GAMBIT VOL. 1: ONCE A THIEF TPB (2013) #1 2ND PRINT Fine

GENERATION X (1994) (#1-75) (MARVEL) #1 DELUXENEWS Near Mint/Mint

GI JOE #48 NEWSSTAND Near Mint/Mint
GI JOE #48 NEWSSTAND Very Fine

IRON FIST: PHANTOM LIMB TPB (2018) #1 Near Mint/Mint

MARVEL FIRSTS: 1970'S TPB (2012) #1 2ND PRINT Near Mint/Mint

MARVEL SUPER-HERO CONTEST OF CHAMPIONS (1982) #1 Near Mint/Mint

MARVEL ZOMBIES TPB (2008) #1 7TH PRINT Near Mint/Mint

MS. MARVEL (1977) (#1-23) (MARVEL) (CAROL DANVERS) #18 Fine
MS. MARVEL (1977) (#1-23) (MARVEL) (CAROL DANVERS) #18 Good

MS. MARVEL VOL. 1: NO NORMAL TPB (2014) #1 3RD PRINT Very Fine

MS. MARVEL VOL. 2: GENERATION WHY TPB (2015) #1 2ND PRINT Near Mint/Mint

MY LOVE (1969) #1 Good

MYSTIQUE (2003) #1 Near Mint/Mint
MYSTIQUE (2003) #22 Near Mint/Mint
MYSTIQUE (2003) #24 Very Fine

POWER MAN/IRON FIST (LUKE CAGE, POWER MAN #1-49) (1972) #1 Good
POWER MAN/IRON FIST (LUKE CAGE, POWER MAN #1-49) (1972) #2 Good
POWER MAN/IRON FIST (LUKE CAGE, POWER MAN #1-49) (1972) #3 Good
POWER MAN/IRON FIST (LUKE CAGE, POWER MAN #1-49) (1972) #4 Very Good
POWER MAN/IRON FIST (LUKE CAGE, POWER MAN #1-49) (1972) #5 Very Good
POWER MAN/IRON FIST (LUKE CAGE, POWER MAN #1-49) (1972) #6 Very Good
POWER MAN/IRON FIST (LUKE CAGE, POWER MAN #1-49) (1972) #7 Very Good
POWER MAN/IRON FIST (LUKE CAGE, POWER MAN #1-49) (1972) #8 Fine
POWER MAN/IRON FIST (LUKE CAGE, POWER MAN #1-49) (1972) #9 Very Good
POWER MAN/IRON FIST (LUKE CAGE, POWER MAN #1-49) (1972) #10 Fine
POWER MAN/IRON FIST (LUKE CAGE, POWER MAN #1-49) (1972) #11 Fine
POWER MAN/IRON FIST (LUKE CAGE, POWER MAN #1-49) (1972) #12 Very Good
POWER MAN/IRON FIST (LUKE CAGE, POWER MAN #1-49) (1972) #13 Very Good
POWER MAN/IRON FIST (LUKE CAGE, POWER MAN #1-49) (1972) #14 Fine
POWER MAN/IRON FIST (LUKE CAGE, POWER MAN #1-49) (1972) #15 Fine
POWER MAN/IRON FIST (LUKE CAGE, POWER MAN #1-49) (1972) #16 Very Good
POWER MAN/IRON FIST (LUKE CAGE, POWER MAN #1-49) (1972) #17 Very Fine
POWER MAN/IRON FIST (LUKE CAGE, POWER MAN #1-49) (1972) #18 Fine
POWER MAN/IRON FIST (LUKE CAGE, POWER MAN #1-49) (1972) #19 Very Fine
POWER MAN/IRON FIST (LUKE CAGE, POWER MAN #1-49) (1972) #20 Fine
POWER MAN/IRON FIST (LUKE CAGE, POWER MAN #1-49) (1972) #21 Fine
POWER MAN/IRON FIST (LUKE CAGE, POWER MAN #1-49) (1972) #22 Very Fine
POWER MAN/IRON FIST (LUKE CAGE, POWER MAN #1-49) (1972) #24 Good

PSYLOCKE (2009) #1 Very Fine
PSYLOCKE (2009) #2 Very Fine
PSYLOCKE (2009) #3 Very Fine
PSYLOCKE (2009) #4 Very Fine

PUNISHER/BATMAN: DEADLY KNIGHTS (1994) #1 Near Mint/Mint

SILVER SURFER (1968) (#1-18) (MARVEL) #1 Fine
SILVER SURFER (1968) (#1-18) (MARVEL) #2 Good
SILVER SURFER (1968) (#1-18) (MARVEL) #3 Good
SILVER SURFER (1968) (#1-18) (MARVEL) #4 Very Good
SILVER SURFER (1968) (#1-18) (MARVEL) #5 Good
SILVER SURFER (1968) (#1-18) (MARVEL) #6 Very Good
SILVER SURFER (1968) (#1-18) (MARVEL) #8 Very Good


SILVER SURFER (1968) (#1-18) (MARVEL) #9

SILVER SURFER (1968) (#1-18) (MARVEL) #9 Very Good
SILVER SURFER (1968) (#1-18) (MARVEL) #10 Good

STAR WARS (2015) (#1-UP) (MARVEL) #1 LOOTCRATE Near Mint/Mint

STAR WARS: POE DAMERON (2016) #1 NAKAYAMA Near Mint/Mint

UNBELIEVABLE GWENPOOL VOL. 1: BELIEVE IT TPB (2016) #1 2ND PRINT Near Mint/Mint

WEAPON X (2002) (#1-28) (MARVEL) #17 Near Mint/Mint
WEAPON X (2002) (#1-28) (MARVEL) #27 Very Fine

WOLVERINE (1988) (#1/2-189) (MARVEL) #4 Near Mint/Mint
WOLVERINE (1988) (#1/2-189) (MARVEL) #5 Near Mint/Mint
WOLVERINE (1988) (#1/2-189) (MARVEL) #9 NEWSSTAND Fine
WOLVERINE (1988) (#1/2-189) (MARVEL) #75 Fine
WOLVERINE (1988) (#1/2-189) (MARVEL) #75 Near Mint/Mint
WOLVERINE (1988) (#1/2-189) (MARVEL) #82 NEWSSTAND Fine
WOLVERINE (1988) (#1/2-189) (MARVEL) #117 Near Mint/Mint
WOLVERINE (1988) (#1/2-189) (MARVEL) #118 Near Mint/Mint
WOLVERINE (1988) (#1/2-189) (MARVEL) #119 Very Fine

WOLVERINE & THE X-MEN (2014) (#1-12) (MARVEL) #12 Near Mint/Mint

WOLVERINE/GAMBIT: VICTIMS (1995) #3 Near Mint/Mint

WOLVERINE: THE ORIGIN (2001) #1 Very Fine
WOLVERINE: THE ORIGIN (2001) #2 Fine

WORLD WAR HULK (2007) #4 Very Fine
WORLD WAR HULK (2007) #5 Near Mint/Mint

X-MEN (1963) (#1-113, UNCANNY X-MEN #114-544) (MARVEL) #2 Very Good
X-MEN (1963) (#1-113, UNCANNY X-MEN #114-544) (MARVEL) #9 Good
X-MEN (1963) (#1-113, UNCANNY X-MEN #114-544) (MARVEL) #15 Good
X-MEN (1963) (#1-113, UNCANNY X-MEN #114-544) (MARVEL) #17 Fair
X-MEN (1963) (#1-113, UNCANNY X-MEN #114-544) (MARVEL) #28 Good
X-MEN (1963) (#1-113, UNCANNY X-MEN #114-544) (MARVEL) #31 Fair
X-MEN (1963) (#1-113, UNCANNY X-MEN #114-544) (MARVEL) #33 Very Good
X-MEN (1963) (#1-113, UNCANNY X-MEN #114-544) (MARVEL) #42 Good
X-MEN (1963) (#1-113, UNCANNY X-MEN #114-544) (MARVEL) #44 Good
X-MEN (1963) (#1-113, UNCANNY X-MEN #114-544) (MARVEL) #45 Good


X-MEN (1963) (#1-113, UNCANNY X-MEN #114-544) (MARVEL) #46

X-MEN (1963) (#1-113, UNCANNY X-MEN #114-544) (MARVEL) #46 Fair
X-MEN (1963) (#1-113, UNCANNY X-MEN #114-544) (MARVEL) #47 Good
X-MEN (1963) (#1-113, UNCANNY X-MEN #114-544) (MARVEL) #48 Fair
X-MEN (1963) (#1-113, UNCANNY X-MEN #114-544) (MARVEL) #51 Good
X-MEN (1963) (#1-113, UNCANNY X-MEN #114-544) (MARVEL) #52 Good
X-MEN (1963) (#1-113, UNCANNY X-MEN #114-544) (MARVEL) #54 Very Good
X-MEN (1963) (#1-113, UNCANNY X-MEN #114-544) (MARVEL) #55 Good
X-MEN (1963) (#1-113, UNCANNY X-MEN #114-544) (MARVEL) #69 Very Good
X-MEN (1963) (#1-113, UNCANNY X-MEN #114-544) (MARVEL) #77 Good
X-MEN (1963) (#1-113, UNCANNY X-MEN #114-544) (MARVEL) #83 Fair
X-MEN (1963) (#1-113, UNCANNY X-MEN #114-544) (MARVEL) #94 Near Mint/Mint
X-MEN (1963) (#1-113, UNCANNY X-MEN #114-544) (MARVEL) #137 NEWSSTAND Good
X-MEN (1963) (#1-113, UNCANNY X-MEN #114-544) (MARVEL) #141 NEWSSTAND Fine
X-MEN (1963) (#1-113, UNCANNY X-MEN #114-544) (MARVEL) #145 Near Mint/Mint
X-MEN (1963) (#1-113, UNCANNY X-MEN #114-544) (MARVEL) #266 NEWSSTAND Good
X-MEN (1963) (#1-113, UNCANNY X-MEN #114-544) (MARVEL) #347 Very Fine
X-MEN (1963) (#1-113, UNCANNY X-MEN #114-544) (MARVEL) #348 NEWSSTAND Fine
X-MEN (1963) (#1-113, UNCANNY X-MEN #114-544) (MARVEL) #350 Fine
X-MEN (1963) (#1-113, UNCANNY X-MEN #114-544) (MARVEL) #373 Very Fine
X-MEN (1963) (#1-113, UNCANNY X-MEN #114-544) (MARVEL) #374 Very Fine
X-MEN (1963) (#1-113, UNCANNY X-MEN #114-544) (MARVEL) #375 Very Fine
X-MEN (1963) (#1-113, UNCANNY X-MEN #114-544) (MARVEL) #376 Fine
X-MEN (1963) (#1-113, UNCANNY X-MEN #114-544) (MARVEL) #377 VARIANT Near Mint/Mint
X-MEN (1963) (#1-113, UNCANNY X-MEN #114-544) (MARVEL) #379 Very Fine
X-MEN (1963) (#1-113, UNCANNY X-MEN #114-544) (MARVEL) #381 VARIANT Near Mint/Mint
X-MEN (1963) (#1-113, UNCANNY X-MEN #114-544) (MARVEL) #384 Near Mint/Mint

X-MEN GIANT-SIZE (1975) #1 Very Fine
X-MEN GIANT-SIZE (1975) #2 Good
X-MEN GIANT-SIZE (1975) #2 Fair

X-MEN: SEARCH FOR CYCLOPS (2000) #2 COVER B Fine
X-MEN: SEARCH FOR CYCLOPS (2000) #3 Fine

DC
ANARKY (1999) (#1-8) (DC) (BATMAN) #7 Near Mint/Mint
ANARKY (1999) (#1-8) (DC) (BATMAN) #8 Near Mint/Mint

AZRAEL (1995) (#1-100) (DC) #74 Very Fine
AZRAEL (1995) (#1-100) (DC) #83 Near Mint/Mint
AZRAEL (1995) (#1-100) (DC) #87 Near Mint/Mint


AZRAEL (1995) (#1-100) (DC) #96

AZRAEL (1995) (#1-100) (DC) #96 Near Mint/Mint
AZRAEL (1995) (#1-100) (DC) #99 Very Fine
AZRAEL (1995) (#1-100) (DC) #100 Fine

BATGIRL SPECIAL (1998) #1 Fine

BATGIRL: YEAR ONE (2002) #1 Very Fine
BATGIRL: YEAR ONE (2002) #2 Near Mint/Mint
BATGIRL: YEAR ONE (2002) #3 Very Fine
BATGIRL: YEAR ONE (2002) #4 Very Fine
BATGIRL: YEAR ONE (2002) #5 Near Mint/Mint
BATGIRL: YEAR ONE (2002) #9 Near Mint/Mint

BATMAN (1940) (#0-713) (DC) #416 Fine
BATMAN (1940) (#0-713) (DC) #522 Near Mint/Mint
BATMAN (1940) (#0-713) (DC) #523 Near Mint/Mint
BATMAN (1940) (#0-713) (DC) #527 Near Mint/Mint
BATMAN (1940) (#0-713) (DC) #529 Near Mint/Mint
BATMAN (1940) (#0-713) (DC) #534 Near Mint/Mint
BATMAN (1940) (#0-713) (DC) #535 UNBAGGED Near Mint/Mint
BATMAN (1940) (#0-713) (DC) #536 Near Mint/Mint
BATMAN (1940) (#0-713) (DC) #538 Near Mint/Mint
BATMAN (1940) (#0-713) (DC) #539 Near Mint/Mint
BATMAN (1940) (#0-713) (DC) #540 Near Mint/Mint
BATMAN (1940) (#0-713) (DC) #541 Very Fine
BATMAN (1940) (#0-713) (DC) #542 Very Fine
BATMAN (1940) (#0-713) (DC) #543 Near Mint/Mint
BATMAN (1940) (#0-713) (DC) #544 Near Mint/Mint
BATMAN (1940) (#0-713) (DC) #545 Near Mint/Mint
BATMAN (1940) (#0-713) (DC) #546 Near Mint/Mint
BATMAN (1940) (#0-713) (DC) #547 Near Mint/Mint
BATMAN (1940) (#0-713) (DC) #548 Very Fine
BATMAN (1940) (#0-713) (DC) #549 Near Mint/Mint
BATMAN (1940) (#0-713) (DC) #550 Near Mint/Mint
BATMAN (1940) (#0-713) (DC) #551 Near Mint/Mint
BATMAN (1940) (#0-713) (DC) #552 Near Mint/Mint
BATMAN (1940) (#0-713) (DC) #553 Near Mint/Mint
BATMAN (1940) (#0-713) (DC) #554 Near Mint/Mint
BATMAN (1940) (#0-713) (DC) #555 Near Mint/Mint
BATMAN (1940) (#0-713) (DC) #559 Near Mint/Mint
BATMAN (1940) (#0-713) (DC) #560 Very Fine
BATMAN (1940) (#0-713) (DC) #561 Near Mint/Mint


BATMAN (1940) (#0-713) (DC) #562

BATMAN (1940) (#0-713) (DC) #562 Very Fine
BATMAN (1940) (#0-713) (DC) #563 Very Fine
BATMAN (1940) (#0-713) (DC) #564 Near Mint/Mint
BATMAN (1940) (#0-713) (DC) #566 Near Mint/Mint
BATMAN (1940) (#0-713) (DC) #567 Near Mint/Mint
BATMAN (1940) (#0-713) (DC) #568 Near Mint/Mint
BATMAN (1940) (#0-713) (DC) #569 Near Mint/Mint
BATMAN (1940) (#0-713) (DC) #570 Fine
BATMAN (1940) (#0-713) (DC) #571 Near Mint/Mint
BATMAN (1940) (#0-713) (DC) #572 Very Fine
BATMAN (1940) (#0-713) (DC) #573 Near Mint/Mint
BATMAN (1940) (#0-713) (DC) #574 Near Mint/Mint
BATMAN (1940) (#0-713) (DC) #575 Near Mint/Mint
BATMAN (1940) (#0-713) (DC) #576 Near Mint/Mint
BATMAN (1940) (#0-713) (DC) #577 Near Mint/Mint
BATMAN (1940) (#0-713) (DC) #579 Near Mint/Mint
BATMAN (1940) (#0-713) (DC) #581 Near Mint/Mint
BATMAN (1940) (#0-713) (DC) #582 Near Mint/Mint
BATMAN (1940) (#0-713) (DC) #584 Near Mint/Mint
BATMAN (1940) (#0-713) (DC) #585 Near Mint/Mint
BATMAN (1940) (#0-713) (DC) #586 Near Mint/Mint
BATMAN (1940) (#0-713) (DC) #588 Near Mint/Mint
BATMAN (1940) (#0-713) (DC) #589 Near Mint/Mint
BATMAN (1940) (#0-713) (DC) #590 Very Fine
BATMAN (1940) (#0-713) (DC) #591 Near Mint/Mint
BATMAN (1940) (#0-713) (DC) #593 Near Mint/Mint
BATMAN (1940) (#0-713) (DC) #594 Near Mint/Mint
BATMAN (1940) (#0-713) (DC) #595 Near Mint/Mint
BATMAN (1940) (#0-713) (DC) #597 Near Mint/Mint
BATMAN (1940) (#0-713) (DC) #598 Near Mint/Mint
BATMAN (1940) (#0-713) (DC) #599 Near Mint/Mint
BATMAN (1940) (#0-713) (DC) #600 Near Mint/Mint
BATMAN (1940) (#0-713) (DC) #601 Near Mint/Mint
BATMAN (1940) (#0-713) (DC) #603 Very Fine
BATMAN (1940) (#0-713) (DC) #604 Very Fine
BATMAN (1940) (#0-713) (DC) #605 Very Fine
BATMAN (1940) (#0-713) (DC) #606 Fine
BATMAN (1940) (#0-713) (DC) #607 Very Fine
BATMAN (1940) (#0-713) (DC) #608 Fine
BATMAN (1940) (#0-713) (DC) #609 Fine
BATMAN (1940) (#0-713) (DC) #612 Very Fine
BATMAN (1940) (#0-713) (DC) #613 Fine


BATMAN (1940) (#0-713) (DC) #615

BATMAN (1940) (#0-713) (DC) #615 Fine
BATMAN (1940) (#0-713) (DC) #616 Fine
BATMAN (1940) (#0-713) (DC) #617 Fine
BATMAN (1940) (#0-713) (DC) #618 Fine
BATMAN (1940) (#0-713) (DC) #619 2ND PRINT Near Mint/Mint
BATMAN (1940) (#0-713) (DC) #619 VILLIANS Fine
BATMAN (1940) (#0-713) (DC) #651 Very Fine
BATMAN (1940) (#0-713) (DC) #655 Fine
BATMAN (1940) (#0-713) (DC) #656 Fine
BATMAN (1940) (#0-713) (DC) #657 Fine
BATMAN (1940) (#0-713) (DC) #658 Fine

BATMAN (2011) (#0-52) (DC NEW52) #36 LOOTCRATE Near Mint/Mint

BATMAN & ROBIN ADVENTURES (1995) #1 Fine
BATMAN & ROBIN ADVENTURES (1995) #1 Near Mint/Mint
BATMAN & ROBIN ADVENTURES (1995) #1 Very Fine
BATMAN & ROBIN ADVENTURES (1995) #2 Near Mint/Mint
BATMAN & ROBIN ADVENTURES (1995) #3 Near Mint/Mint
BATMAN & ROBIN ADVENTURES (1995) #5 Near Mint/Mint
BATMAN & ROBIN ADVENTURES (1995) #5 Very Fine
BATMAN & ROBIN ADVENTURES (1995) #6 Near Mint/Mint
BATMAN & ROBIN ADVENTURES (1995) #7 Near Mint/Mint
BATMAN & ROBIN ADVENTURES (1995) #8 Near Mint/Mint
BATMAN & ROBIN ADVENTURES (1995) #8 Very Fine
BATMAN & ROBIN ADVENTURES (1995) #9 Near Mint/Mint
BATMAN & ROBIN ADVENTURES (1995) #10 Near Mint/Mint
BATMAN & ROBIN ADVENTURES (1995) #16 Near Mint/Mint
BATMAN & ROBIN ADVENTURES (1995) #17 Fine
BATMAN & ROBIN ADVENTURES (1995) #18 Near Mint/Mint
BATMAN & ROBIN ADVENTURES (1995) #18 Very Fine
BATMAN & ROBIN ADVENTURES (1995) #19 Near Mint/Mint
BATMAN & ROBIN ADVENTURES (1995) #20 Near Mint/Mint
BATMAN & ROBIN ADVENTURES (1995) #21 Near Mint/Mint
BATMAN & ROBIN ADVENTURES (1995) #22 Near Mint/Mint
BATMAN & ROBIN ADVENTURES (1995) #24 Near Mint/Mint
BATMAN & ROBIN ADVENTURES (1995) #25 Near Mint/Mint

BATMAN & ROBIN ADVENTURES ANNUAL (1996) #1 Very Fine

BATMAN & ROBIN MOVIE ADAPTATION (1997) #1 Near Mint/Mint


BATMAN 80-PAGE GIANT (1998) #1

BATMAN 80-PAGE GIANT (1998) #1 Near Mint/Mint
BATMAN 80-PAGE GIANT (1998) #1 Fine
BATMAN 80-PAGE GIANT (1998) #1 Very Fine

BATMAN ADVENTURES (1992) #3 Very Fine
BATMAN ADVENTURES (1992) #9 Near Mint/Mint
BATMAN ADVENTURES (1992) #10 Near Mint/Mint
BATMAN ADVENTURES (1992) #11 Near Mint/Mint
BATMAN ADVENTURES (1992) #12 NEWSSTAND Very Fine
BATMAN ADVENTURES (1992) #12 NEWSSTAND Fine
BATMAN ADVENTURES (1992) #16 Near Mint/Mint
BATMAN ADVENTURES (1992) #17 Near Mint/Mint
BATMAN ADVENTURES (1992) #18 Fine
BATMAN ADVENTURES (1992) #19 Near Mint/Mint
BATMAN ADVENTURES (1992) #22 Near Mint/Mint
BATMAN ADVENTURES (1992) #24 Very Fine
BATMAN ADVENTURES (1992) #26 Near Mint/Mint
BATMAN ADVENTURES (1992) #27 Very Fine
BATMAN ADVENTURES (1992) #28 Near Mint/Mint
BATMAN ADVENTURES (1992) #29 Near Mint/Mint
BATMAN ADVENTURES (1992) #31 Near Mint/Mint
BATMAN ADVENTURES (1992) #32 Very Fine
BATMAN ADVENTURES (1992) #33 Near Mint/Mint
BATMAN ADVENTURES (1992) #34 Near Mint/Mint
BATMAN ADVENTURES (1992) #35 Very Fine
BATMAN ADVENTURES (1992) #36 Very Fine
BATMAN ADVENTURES (2003) #1 Very Fine
BATMAN ADVENTURES (2003) #3 Fine
BATMAN ADVENTURES (2003) #5 Near Mint/Mint
BATMAN ADVENTURES (2003) #7 Very Fine
BATMAN ADVENTURES (2003) #8 Very Fine
BATMAN ADVENTURES (2003) #9 Near Mint/Mint
BATMAN ADVENTURES (2003) #10 Near Mint/Mint
BATMAN ADVENTURES (2003) #11 Near Mint/Mint
BATMAN ADVENTURES (2003) #12 Near Mint/Mint
BATMAN ADVENTURES (2003) #13 Very Fine
BATMAN ADVENTURES (2003) #14 Near Mint/Mint
BATMAN ADVENTURES (2003) #15 Near Mint/Mint
BATMAN ADVENTURES (2003) #16 Near Mint/Mint
BATMAN ADVENTURES (2003) #17 Fine


BATMAN ADVENTURES: MAD LOVE (1994) #1 DELUXE

BATMAN ADVENTURES: MAD LOVE (1994) #1 DELUXE Near Mint/Mint
BATMAN ADVENTURES: MAD LOVE (1994) #1 DELUXE Fine
BATMAN ADVENTURES: MAD LOVE (1994) #1 Very Fine

BATMAN ANNUAL (1961) (#1-28) (DC) #19 Very Fine
BATMAN ANNUAL (1961) (#1-28) (DC) #20 Near Mint/Mint
BATMAN ANNUAL (1961) (#1-28) (DC) #21 Near Mint/Mint
BATMAN ANNUAL (1961) (#1-28) (DC) #22 Near Mint/Mint
BATMAN ANNUAL (1961) (#1-28) (DC) #23 Near Mint/Mint
BATMAN ANNUAL (1961) (#1-28) (DC) #24 Very Fine
BATMAN ANNUAL (1961) (#1-28) (DC) #25 Very Fine

BATMAN CHRONICLES (1995) #4 Near Mint/Mint
BATMAN CHRONICLES (1995) #5 Near Mint/Mint
BATMAN CHRONICLES (1995) #6 Near Mint/Mint
BATMAN CHRONICLES (1995) #7 Near Mint/Mint
BATMAN CHRONICLES (1995) #9 Near Mint/Mint
BATMAN CHRONICLES (1995) #11 Near Mint/Mint
BATMAN CHRONICLES (1995) #12 Near Mint/Mint
BATMAN CHRONICLES (1995) #15 Near Mint/Mint
BATMAN CHRONICLES (1995) #16 Near Mint/Mint
BATMAN CHRONICLES (1995) #17 Near Mint/Mint
BATMAN CHRONICLES (1995) #18 Near Mint/Mint
BATMAN CHRONICLES (1995) #20 Near Mint/Mint
BATMAN CHRONICLES (1995) #21 Near Mint/Mint
BATMAN CHRONICLES (1995) #23 Near Mint/Mint

BATMAN CHRONICLES GALLERY (1997) #1 Near Mint/Mint
BATMAN CHRONICLES GALLERY (1997) #1 Very Fine

BATMAN CHRONICLES: GAUNTLET (1997) #1 Near Mint/Mint

BATMAN FAMILY (1975) #6 Very Good
BATMAN FAMILY (1975) #9 Fine

BATMAN FOREVER MOVIE ADAPTATION (1995) #1 DELUXE Near Mint/Mint

BATMAN/ALIENS II (BATMAN VS. ALIENS) (2002) #1 Very Fine
BATMAN/ALIENS II (BATMAN VS. ALIENS) (2002) #2 Near Mint/Mint
BATMAN/ALIENS II (BATMAN VS. ALIENS) (2002) #3 Near Mint/Mint


BATMAN/BATGIRL (BATMAN AND BATGIRL) (1997) #1

BATMAN/BATGIRL (BATMAN AND BATGIRL) (1997) #1 Near Mint/Mint

BATMAN/PUNISHER: LAKE OF FIRE (DC) (MARVEL) (PRESTIGE) (1994) #1 Near Mint/Mint

BATMAN/SPAWN: WAR DEVIL (DC) (IMAGE) (PRESTIGE) (1994) #1 Near Mint/Mint

BATMAN/SPIDER-MAN (DC) (MARVEL) (BATMAN AND SPIDER-MAN) #1 Near Mint/Mint

BATMAN: ARKHAM ASYLUM-TALES OF MADNESS (CATACLYSM) (1998) #1 Very Fine

BATMAN: BLACK & WHITE (#1-4) (1996) #1 Near Mint/Mint
BATMAN: BLACK & WHITE (#1-4) (1996) #3 Near Mint/Mint
BATMAN: BLACK & WHITE (#1-4) (1996) #4 Very Fine

BATMAN: DARK DETECTIVE (MARSHALL ROGERS) (2005) #5 Near Mint/Mint
BATMAN: DARK DETECTIVE (MARSHALL ROGERS) (2005) #6 Near Mint/Mint

BATMAN: GHOSTS-DARK KNIGHT HALLOWEEN SPECIAL (TIM SALE) (1995) #1 Near Mint/Mint

BATMAN: GOTHAM ADVENTURES (1998) #5 Near Mint/Mint
BATMAN: GOTHAM ADVENTURES (1998) #10 Near Mint/Mint
BATMAN: GOTHAM ADVENTURES (1998) #10 Fine
BATMAN: GOTHAM ADVENTURES (1998) #11 Very Fine
BATMAN: GOTHAM ADVENTURES (1998) #12 Very Fine
BATMAN: GOTHAM ADVENTURES (1998) #14 Near Mint/Mint
BATMAN: GOTHAM ADVENTURES (1998) #15 Very Fine
BATMAN: GOTHAM ADVENTURES (1998) #16 Near Mint/Mint
BATMAN: GOTHAM ADVENTURES (1998) #22 UNBAGGED Near Mint/Mint
BATMAN: GOTHAM ADVENTURES (1998) #23 Fine
BATMAN: GOTHAM ADVENTURES (1998) #24 Near Mint/Mint
BATMAN: GOTHAM ADVENTURES (1998) #25 Near Mint/Mint
BATMAN: GOTHAM ADVENTURES (1998) #26 Near Mint/Mint
BATMAN: GOTHAM ADVENTURES (1998) #28 Near Mint/Mint
BATMAN: GOTHAM ADVENTURES (1998) #28 Fine
BATMAN: GOTHAM ADVENTURES (1998) #29 Very Fine
BATMAN: GOTHAM ADVENTURES (1998) #30 Near Mint/Mint
BATMAN: GOTHAM ADVENTURES (1998) #31 Near Mint/Mint
BATMAN: GOTHAM ADVENTURES (1998) #32 Near Mint/Mint
BATMAN: GOTHAM ADVENTURES (1998) #33 Very Fine
BATMAN: GOTHAM ADVENTURES (1998) #35 Very Fine
BATMAN: GOTHAM ADVENTURES (1998) #36 Near Mint/Mint
BATMAN: GOTHAM ADVENTURES (1998) #37 Near Mint/Mint


BATMAN: GOTHAM ADVENTURES (1998) #38

BATMAN: GOTHAM ADVENTURES (1998) #38 Near Mint/Mint
BATMAN: GOTHAM ADVENTURES (1998) #39 Near Mint/Mint
BATMAN: GOTHAM ADVENTURES (1998) #40 Near Mint/Mint
BATMAN: GOTHAM ADVENTURES (1998) #41 Near Mint/Mint
BATMAN: GOTHAM ADVENTURES (1998) #42 Near Mint/Mint
BATMAN: GOTHAM ADVENTURES (1998) #43 Very Fine
BATMAN: GOTHAM ADVENTURES (1998) #44 Near Mint/Mint
BATMAN: GOTHAM ADVENTURES (1998) #45 Near Mint/Mint
BATMAN: GOTHAM ADVENTURES (1998) #46 Near Mint/Mint
BATMAN: GOTHAM ADVENTURES (1998) #47 Near Mint/Mint
BATMAN: GOTHAM ADVENTURES (1998) #48 Near Mint/Mint
BATMAN: GOTHAM ADVENTURES (1998) #49 Very Fine
BATMAN: GOTHAM ADVENTURES (1998) #51 Near Mint/Mint
BATMAN: GOTHAM ADVENTURES (1998) #52 Fine
BATMAN: GOTHAM ADVENTURES (1998) #53 Very Fine
BATMAN: GOTHAM ADVENTURES (1998) #54 Fine
BATMAN: GOTHAM ADVENTURES (1998) #55 Fine
BATMAN: GOTHAM ADVENTURES (1998) #56 Very Fine
BATMAN: GOTHAM ADVENTURES (1998) #57 Very Fine
BATMAN: GOTHAM ADVENTURES (1998) #58 Fine
BATMAN: GOTHAM ADVENTURES (1998) #59 Fine
BATMAN: GOTHAM ADVENTURES (1998) #60 Very Fine

FIRESTORM (1982) (#1-100) #1 NEWSSTAND Fine
FIRESTORM (1982) (#1-100) #29 Near Mint/Mint

HARLEY & IVY: LOVE ON THE LAM (2001) #1 Near Mint/Mint

OUR ARMY AT WAR (1952) #68 Good
OUR ARMY AT WAR (1952) #123 Fair
OUR ARMY AT WAR (1952) #133 Fair

WONDER WOMAN (2011) (#0-52) (DC NEW52) #2 Near Mint/Mint
WONDER WOMAN (2011) (#0-52) (DC NEW52) #47 Very Fine

WONDER WOMAN (2016) (#1-UP) (DC REBIRTH) #3 Near Mint/Mint
WONDER WOMAN (2016) (#1-UP) (DC REBIRTH) #40 Near Mint/Mint
WONDER WOMAN (2016) (#1-UP) (DC REBIRTH) #41 Near Mint/Mint
WONDER WOMAN (2016) (#1-UP) (DC REBIRTH) #42 Near Mint/Mint
WONDER WOMAN (2016) (#1-UP) (DC REBIRTH) #43 VARIANT Near Mint/Mint
WONDER WOMAN (2016) (#1-UP) (DC REBIRTH) #47 VARIANT Near Mint/Mint
WONDER WOMAN (2016) (#1-UP) (DC REBIRTH) #51 VARIANT Near Mint/Mint
WONDER WOMAN (2016) (#1-UP) (DC REBIRTH) #52 Near Mint/Mint
WONDER WOMAN (2016) (#1-UP) (DC REBIRTH) #53 Near Mint/Mint

WONDER WOMAN & JUSTICE LEAGUE DARK: WITCHING HOUR (2018) #1 Near Mint/Mint


WONDER WOMAN '77 SPECIAL (2015) #2

WONDER WOMAN '77 SPECIAL (2015) #2 Near Mint/Mint
WONDER WOMAN '77 SPECIAL (2015) #2 Very Fine

WONDER WOMAN/CONAN (2017) (#1-6) (DC) (DARK HORSE) #3 VARIANT Near Mint/Mint

WORLDS FINEST (1941) (#2-323) (DC) (WORLD'S FINEST) #225 Good

DARK HORSE COMICS
AVATAR: LAST AIRBENDER VOL. 4: SEARCH PART 1 TPB (DKH) (2013) #1 3RD PRINT Near Mint/Mint
AVATAR: LAST AIRBENDER VOL. 5: SEARCH PART 2 TPB (DKH) (2013) #1 2ND PRINT Fine

BPRD VOL. 2: PLAGUE OF FROGS HC (2011) #1 2ND PRINT Near Mint/Mint

FLAMING CARROT (1988) (#18-32) (DARK HORSE) #27 Near Mint/Mint

HELLBOY OMNIBUS VOL. 1: SEEDS OF DESTRUCTION TPB (2018) #1 4TH PRINT Near Mint/Mint

SWORD DAUGHTER HC (2018) #1 Near Mint/Mint
SWORD DAUGHTER HC (2018) #2 Near Mint/Mint

UMBRELLA ACADEMY: APOCALYPSE SUITE TPB (2008) #1 17TH PRINT Near Mint/Mint
UMBRELLA ACADEMY: DALLAS TPB (VOL. 2) (2009) #1 13TH PRINT Near Mint/Mint

WITCHFINDER: GATES OF HEAVEN (2018) #3 Near Mint/Mint

WITCHFINDER: MYSTERIES OF UNLAND (2014) #3 Near Mint/Mint

WORLD OF TANKS (2016) #2 Near Mint/Mint
WORLD OF TANKS (2016) #4 Near Mint/Mint

WORLD OF TANKS: CITADEL (2018) #1 Near Mint/Mint
WORLD OF TANKS: CITADEL (2018) #2 Near Mint/Mint
WORLD OF TANKS: CITADEL (2018) #3 Near Mint/Mint
WORLD OF TANKS: CITADEL (2018) #5 Near Mint/Mint

IMAGE COMICS
VALHALLA MAD (2015) #3 A Near Mint/Mint


WALKING DEAD (2003) (#1-193) (IMAGE) #193

WALKING DEAD (2003) (#1-193) (IMAGE) #193 Near Mint/Mint
WALKING DEAD (2003) (#1-193) (IMAGE) #193 Fine
WALKING DEAD (2003) (#1-193) (IMAGE) #193 Very Fine

WINNEBAGO GRAVEYARD (2017) #1 B CHEN Near Mint/Mint
WINNEBAGO GRAVEYARD (2017) #2 B RUBIN Near Mint/Mint
WINNEBAGO GRAVEYARD (2017) #3 B LENOX Near Mint/Mint
WINNEBAGO GRAVEYARD (2017) #4 A SAMPSON Near Mint/Mint

WITCHBLADE (1995) (#1-185, #500) (IMAGE) #16 195 COVER (Image Top Cow) Near Mint/Mint
WITCHBLADE (1995) (#1-185, #500) (IMAGE) #96 (Image Top Cow) Fine
WITCHBLADE (1995) (#1-185, #500) (IMAGE) #168 A (Image Top Cow) Near Mint/Mint
WITCHBLADE (1995) (#1-185, #500) (IMAGE) #171 B (Image Top Cow) Very Fine
WITCHBLADE (1995) (#1-185, #500) (IMAGE) #172 A (Image Top Cow) Fine
WITCHBLADE (1995) (#1-185, #500) (IMAGE) #174 A (Image Top Cow) Very Fine
WITCHBLADE (1995) (#1-185, #500) (IMAGE) #174 B (Image Top Cow) Near Mint/Mint
WITCHBLADE (1995) (#1-185, #500) (IMAGE) #175 A (Image Top Cow) Very Fine
WITCHBLADE (1995) (#1-185, #500) (IMAGE) #176 B (Image Top Cow) Fine
WITCHBLADE (1995) (#1-185, #500) (IMAGE) #177 A (Image Top Cow) Very Fine
WITCHBLADE (1995) (#1-185, #500) (IMAGE) #177 B (Image Top Cow) Very Fine
WITCHBLADE (1995) (#1-185, #500) (IMAGE) #178 A (Image Top Cow) Very Fine
WITCHBLADE (1995) (#1-185, #500) (IMAGE) #181 B (Image Top Cow) Fine
WITCHBLADE (1995) (#1-185, #500) (IMAGE) #183 A (Image Top Cow) Fine
WITCHBLADE (1995) (#1-185, #500) (IMAGE) #183 B (Image Top Cow) Very Fine
WITCHBLADE (1995) (#1-185, #500) (IMAGE) #184 B (Image Top Cow) Very Fine

WITCHBLADE (2017) (#1-18) (IMAGE) #8 Near Mint/Mint

WOLF (2015) (#1-9) (IMAGE) #1 Fine

INDEPENDENTS
DAMSELS: MERMAIDS (2013) #1 RENAUD B&W (DYNAMITE Entertainment) Near Mint/Mint

ELEMENTALS (1984) (#1-29) (COMICO) #22 (Comico) Near Mint/Mint

MY LITTLE PONY ANNUAL (2013) #1 (IDW Publishing) Near Mint/Mint

MY LITTLE PONY ART GALLERY (2013) #1 (IDW Publishing) Near Mint/Mint

MY LITTLE PONY: FRIENDSHIP IS MAGIC (2012) #1 INCENTIVE (IDW Publishing) Near Mint/Mint


MY LITTLE PONY: FRIENDSHIP IS MAGIC (2012) #2 A

MY LITTLE PONY: FRIENDSHIP IS MAGIC (2012) #2 A (IDW Publishing) Near Mint/Mint
MY LITTLE PONY: FRIENDSHIP IS MAGIC (2012) #2 B (IDW Publishing) Near Mint/Mint
MY LITTLE PONY: FRIENDSHIP IS MAGIC (2012) #2 C (IDW Publishing) Near Mint/Mint
MY LITTLE PONY: FRIENDSHIP IS MAGIC (2012) #2 INCENTIVE (IDW Publishing) Near Mint/Mint
MY LITTLE PONY: FRIENDSHIP IS MAGIC (2012) #3 HASTINGS (IDW Publishing) Near Mint/Mint
MY LITTLE PONY: FRIENDSHIP IS MAGIC (2012) #3 INCENTIVE (IDW Publishing) Near Mint/Mint
MY LITTLE PONY: FRIENDSHIP IS MAGIC (2012) #4 A (IDW Publishing) Near Mint/Mint
MY LITTLE PONY: FRIENDSHIP IS MAGIC (2012) #4 B (IDW Publishing) Near Mint/Mint
MY LITTLE PONY: FRIENDSHIP IS MAGIC (2012) #4 INCENTIVE (IDW Publishing) Near Mint/Mint
MY LITTLE PONY: FRIENDSHIP IS MAGIC (2012) #5 A (IDW Publishing) Near Mint/Mint
MY LITTLE PONY: FRIENDSHIP IS MAGIC (2012) #5 B (IDW Publishing) Near Mint/Mint
MY LITTLE PONY: FRIENDSHIP IS MAGIC (2012) #5 INCENTIVE (IDW Publishing) Near Mint/Mint
MY LITTLE PONY: FRIENDSHIP IS MAGIC (2012) #6 A (IDW Publishing) Near Mint/Mint
MY LITTLE PONY: FRIENDSHIP IS MAGIC (2012) #6 B (IDW Publishing) Near Mint/Mint
MY LITTLE PONY: FRIENDSHIP IS MAGIC (2012) #6 INCENTIVE (IDW Publishing) Near Mint/Mint
MY LITTLE PONY: FRIENDSHIP IS MAGIC (2012) #7 A (IDW Publishing) Near Mint/Mint
MY LITTLE PONY: FRIENDSHIP IS MAGIC (2012) #7 B (IDW Publishing) Near Mint/Mint
MY LITTLE PONY: FRIENDSHIP IS MAGIC (2012) #7 INCENTIVE (IDW Publishing) Near Mint/Mint
MY LITTLE PONY: FRIENDSHIP IS MAGIC (2012) #8 A (IDW Publishing) Near Mint/Mint
MY LITTLE PONY: FRIENDSHIP IS MAGIC (2012) #8 B (IDW Publishing) Near Mint/Mint
MY LITTLE PONY: FRIENDSHIP IS MAGIC (2012) #8 HOT TOPIC (IDW Publishing) Very Fine
MY LITTLE PONY: FRIENDSHIP IS MAGIC (2012) #8 INCENTIVE (IDW Publishing) Near Mint/Mint
MY LITTLE PONY: FRIENDSHIP IS MAGIC (2012) #9 A (IDW Publishing) Near Mint/Mint
MY LITTLE PONY: FRIENDSHIP IS MAGIC (2012) #9 B (IDW Publishing) Near Mint/Mint
MY LITTLE PONY: FRIENDSHIP IS MAGIC (2012) #9 HOT TOPIC (IDW Publishing) Very Fine
MY LITTLE PONY: FRIENDSHIP IS MAGIC (2012) #9 INCENTIVE (IDW Publishing) Near Mint/Mint
MY LITTLE PONY: FRIENDSHIP IS MAGIC (2012) #10 A (IDW Publishing) Near Mint/Mint
MY LITTLE PONY: FRIENDSHIP IS MAGIC (2012) #10 B (IDW Publishing) Near Mint/Mint
MY LITTLE PONY: FRIENDSHIP IS MAGIC (2012) #10 HOT TOPIC (IDW Publishing) Very Fine
MY LITTLE PONY: FRIENDSHIP IS MAGIC (2012) #10 INCENTIVE (IDW Publishing) Near Mint/Mint
MY LITTLE PONY: FRIENDSHIP IS MAGIC (2012) #11 A (IDW Publishing) Near Mint/Mint
MY LITTLE PONY: FRIENDSHIP IS MAGIC (2012) #11 B (IDW Publishing) Near Mint/Mint
MY LITTLE PONY: FRIENDSHIP IS MAGIC (2012) #11 HOT TOPIC (IDW Publishing) Fine
MY LITTLE PONY: FRIENDSHIP IS MAGIC (2012) #11 INCENTIVE (IDW Publishing) Near Mint/Mint
MY LITTLE PONY: FRIENDSHIP IS MAGIC (2012) #12 A (IDW Publishing) Near Mint/Mint
MY LITTLE PONY: FRIENDSHIP IS MAGIC (2012) #12 B (IDW Publishing) Near Mint/Mint
MY LITTLE PONY: FRIENDSHIP IS MAGIC (2012) #13 A (IDW Publishing) Near Mint/Mint
MY LITTLE PONY: FRIENDSHIP IS MAGIC (2012) #13 B (IDW Publishing) Near Mint/Mint
MY LITTLE PONY: FRIENDSHIP IS MAGIC (2012) #13 INCENTIVE (IDW Publishing) Near Mint/Mint
MY LITTLE PONY: FRIENDSHIP IS MAGIC (2012) #13 SUBSCRIPT (IDW Publishing) Near Mint/Mint

MY LITTLE PONY: MICRO-SERIES VOL. 1: TWILIGHT SPARKLE (2013) #1 INCENTIVE (IDW Publishing) Near Mint/Mint


MY LITTLE PONY: MICRO-SERIES VOL. 1: TWILIGHT SPARKLE (2013) #1 SUBSCRIPT

MY LITTLE PONY: MICRO-SERIES VOL. 1: TWILIGHT SPARKLE (2013) #1 SUBSCRIPT (IDW Publishing) Near Mint/Mint

MY LITTLE PONY: MICRO-SERIES VOL. 2: RAINBOW DASH (2013) #1 INCENTIVE (IDW Publishing) Near Mint/Mint

MY LITTLE PONY: MICRO-SERIES VOL. 3: RARITY (2013) #1 INCENTIVE (IDW Publishing) Near Mint/Mint

MY LITTLE PONY: MICRO-SERIES VOL. 4: FLUTTERSHY (2013) #1 INCENTIVE (IDW Publishing) Near Mint/Mint

MY LITTLE PONY: MICRO-SERIES VOL. 5: PINKIE PIE (2013) #1 INCENTIVE (IDW Publishing) Near Mint/Mint

MY LITTLE PONY: MICRO-SERIES VOL. 6: APPLEJACK (2013) #1 INCENTIVE (IDW Publishing) Near Mint/Mint

MY LITTLE PONY: MICRO-SERIES VOL. 7: CUTIE MARK CRUSADE (2013) #1 INCENTIVE (IDW Publishing) Near Mint/Mint

NIGHT OF THE LIVING DEAD: AFTERMATH (2012) #9 (Avatar Comics) Near Mint/Mint
NIGHT OF THE LIVING DEAD: AFTERMATH (2012) #9 GORE (Avatar Comics) Near Mint/Mint
NIGHT OF THE LIVING DEAD: AFTERMATH (2012) #9 WRAPAROUND (Avatar Comics) Near Mint/Mint
NIGHT OF THE LIVING DEAD: AFTERMATH (2012) #10 (Avatar Comics) Near Mint/Mint
NIGHT OF THE LIVING DEAD: AFTERMATH (2012) #10 GORE (Avatar Comics) Near Mint/Mint
NIGHT OF THE LIVING DEAD: AFTERMATH (2012) #10 WRAPAROUND (Avatar Comics) Near Mint/Mint
NIGHT OF THE LIVING DEAD: AFTERMATH (2012) #11 GORE (Avatar Comics) Near Mint/Mint
NIGHT OF THE LIVING DEAD: AFTERMATH (2012) #11 WRAPAROUND (Avatar Comics) Near Mint/Mint
NIGHT OF THE LIVING DEAD: AFTERMATH (2012) #12 WRAPAROUND (Avatar Comics) Near Mint/Mint

OTHER DEAD (2013) #1 SUBSCRIPT (IDW Publishing) Near Mint/Mint
OTHER DEAD (2013) #2 (IDW Publishing) Near Mint/Mint
OTHER DEAD (2013) #2 SUBSCRIPT (IDW Publishing) Near Mint/Mint
OTHER DEAD (2013) #3 SUBSCRIPT (IDW Publishing) Near Mint/Mint

OWL (2013) #1 SYAF (DYNAMITE Entertainment) Near Mint/Mint

SKIN TRADE (GEORGE R. R. MARTIN) (2013) #1 (Avatar Comics) Near Mint/Mint
SKIN TRADE (GEORGE R. R. MARTIN) (2013) #1 GRISLY (Avatar Comics) Very Fine
SKIN TRADE (GEORGE R. R. MARTIN) (2013) #1 MILE HIGH (Avatar Comics) Near Mint/Mint
SKIN TRADE (GEORGE R. R. MARTIN) (2013) #1 WRAPAROUND (Avatar Comics) Near Mint/Mint

UBER (2013) #1 (Avatar Comics) Near Mint/Mint
UBER (2013) #1 BLITZKRIEG (Avatar Comics) Near Mint/Mint
UBER (2013) #3 BLITZKRIEG (Avatar Comics) Near Mint/Mint


WINTERWORLD (2014) (#0-7) (IDW Publishing) #4

WINTERWORLD (2014) (#0-7) (IDW Publishing) #4 (IDW Publishing) Near Mint/Mint
WINTERWORLD (2014) (#0-7) (IDW Publishing) #4 SUBSCRIPT (IDW Publishing) Near Mint/Mint

WONDER WOMAN '77/BIONIC WOMAN (2016) #3 B HANSON (DYNAMITE Entertainment) Near Mint/Mint

WOODS (2014) #31 (Boom Studios Publishing) Near Mint/Mint
WOODS (2014) #34 (Boom Studios Publishing) Near Mint/Mint
WOODS (2014) #35 (Boom Studios Publishing) Near Mint/Mint

WORLD READER (2017) #2 DOE (After-Shock Comics) Near Mint/Mint
WORLD READER (2017) #3 DOE (After-Shock Comics) Near Mint/Mint

ZOMBIE TRAMP (VOL. 2) (2013) #1 (Action Lab Entertainment) Very Fine