60% Off Codeword + Comics Auction, Poker,
and All-Ages Show this weekend!
Howdy!
This is William with Mile High Comics. Things are just a little crazy here this weekend. We have people running around getting ready for this weekend's 3 big events at our Jason Street Mega Store. While Lynne's crew is pulling and packing all the back issue orders coming in from our big 60% off COMIC-CON codeword sale. David and the store crew are helping all the out of state visitors coming into the Mega Store. Like I said things are a little crazy, but in a great way!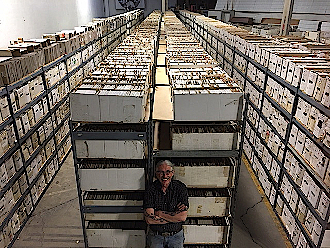 Chuck infront of our Back Issue Racks

First our 60% off COMIC-CON codeword will still be running this weekend. This codeword is good on all ten million of our in-stock back issue comics an magazine. Only new issues, a few variants, and our professionally-graded comics are exempt from this codeword sale. This codeword drops all of our back issue prices to only 40% of list price. So if you are looking to fill some holes in your collection this is the time!
While the COMIC-CON codeword is running we do have all our back issue Trade Paperbacks and Hardcovers discounted 30% off too. These discounts are listing right on our website so NO codeword is need to receive the 30% off. Again if you are looking to fill some holes in your Graphic Novel collection this would be a great time!
As for the 3 big events we will be hosting at our Jason Street Mega Store this weekend. The first will be on Saturday (June 15th) it will be our monthly Texas Hold'em Poker Tournament. The event starts at 11:00 am. This month's tournament is a benefit for "Feeding Denver's Hungry." If you register in advance, playing in our tournament essentially costs you nothing, as your $25 donation is immediately rewarded with a $25 gift certificate that you can utilize to purchase anything you might wish to own in our gigantic store. Please note, however, that we only provide these gift certificates to players who register in advance. You can certainly still register on the morning of the game, but only if we have seats still available.
The second event starts at 11:30 am on Saturday (June 15th) and we will be hosting our huge no-minimum bid comics and toys auction, arrive early and take a look at all the incredible items! This auction has 40 core lots filled with 300+ Silver Age comics, rare comics variants, scarce toys, statues, original art, and much, much more. We will also have at least 200 last-minute throw-in items.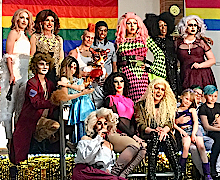 The cast of last month's All-Ages Drag Show

The third event will be on Sunday (June 16th) we will hosting Miss Jessica Drag For all Ages Show. This is the only regularly scheduled performance event for LGBTQ youth in the nation, Denver's Fox 31 TV station is supposedly sending a crew to film our show. If you've always wanted to be on TV, attending our all-ages s how on Sunday might provide you with your magic moment. Seating begins at 5 PM, and Bettie will open the show right about 6 PM.
Hope to see you this Weekend!
William Moulton,
Operations Manager - Mile High Comics, Inc.
June 14, 2019

P.S. Below are a few more new arrivals from Premium New-In-Stock. We are still getting all kinds of cool stuff arriving each day!

MARVEL
BLOOD: A TALE (1987) #2 Near Mint/Mint

MARVEL FANFARE (1982) #57 Near Mint/Mint

MOON KNIGHT (1980) (#1-38) (MARVEL) #1 Fine

SHATTERSTAR (2018) #1 Near Mint/Mint

SHE-HULK (2014) (#1-12) (MARVEL) #2 Near Mint/Mint

SHIELD BY HICKMAN & WEAVER REBIRTH (2018) #1 Near Mint/Mint

SILK (2015) (#1-7) (APRIL) #2 Very Fine
SILK (2015) (#1-7) (APRIL) #6 Very Fine
SILK (2015) (#1-7) (APRIL) #7 Near Mint/Mint

SILVER SABLE & THE WILD PACK (2017) (#36-UP)(MV LEGACY) #36 Near Mint/Mint

SILVER SURFER (1987) (#1-146) (MARVEL) #64 Fine


SILVER SURFER (2014) (#1-15) (MARVEL) #13

SILVER SURFER (2014) (#1-15) (MARVEL) #13 Near Mint/Mint

SILVER SURFER (2016) (#1-UP) (MARVEL) #9 BIANCHI Near Mint/Mint

SPIDER-MAN (1963) (AMAZING SPIDER-MAN) (#1-441) #361 NEWSSTAND Very Good
SPIDER-MAN (1963) (AMAZING SPIDER-MAN) (#1-441) #362 Near Mint/Mint

THOR (1962) (#83-125 JOURNEY INTO MYSTERY, 126-502) #415 NEWSSTAND Very Fine

DC
ANIMAL MAN (1988) (#1-89) (DC/VERTIGO) #1 (DC: Vertigo Press) Fine

BATMAN (1940) (#0-713) (DC) #400 Fine
BATMAN (1940) (#0-713) (DC) #404 Near Mint/Mint
BATMAN (1940) (#0-713) (DC) #405 Very Fine
BATMAN (1940) (#0-713) (DC) #406 Near Mint/Mint
BATMAN (1940) (#0-713) (DC) #407 NEWSSTAND Near Mint/Mint

BATMAN: THE CULT (JIM STARLIN) (BERNI WRIGHTSON) (1988) #4 Fine

BOOKS OF MAGIC (1990) (#1-4) (PRESTIGE) (DC/VERTIGO) #1 (DC: Vertigo Press) Near Mint/Mint
BOOKS OF MAGIC (1990) (#1-4) (PRESTIGE) (DC/VERTIGO) #2 (DC: Vertigo Press) Near Mint/Mint


BOOKS OF MAGIC (1990) (#1-4) (PRESTIGE) (DC/VERTIGO) #3

BOOKS OF MAGIC (1990) (#1-4) (PRESTIGE) (DC/VERTIGO) #3 (DC: Vertigo Press) Near Mint/Mint
BOOKS OF MAGIC (1990) (#1-4) (PRESTIGE) (DC/VERTIGO) #4 (DC: Vertigo Press) Near Mint/Mint

DETECTIVE COMICS (1937) (#0-881) (DC) #575 Very Fine
DETECTIVE COMICS (1937) (#0-881) (DC) #576 Very Fine
DETECTIVE COMICS (1937) (#0-881) (DC) #577 Very Fine
DETECTIVE COMICS (1937) (#0-881) (DC) #578 Fine
DETECTIVE COMICS (1937) (#0-881) (DC) #598 Very Fine

DOOM PATROL (1987) (#1-87) (DC) (DC VERTIGO) #20 (DC: Vertigo Press) Fine
DOOM PATROL (1987) (#1-87) (DC) (DC VERTIGO) #21 (DC: Vertigo Press) Very Fine
DOOM PATROL (1987) (#1-87) (DC) (DC VERTIGO) #22 (DC: Vertigo Press) Near Mint/Mint

GREEN LANTERN (1960) (#1-224) (DC) #224 Near Mint/Mint

GREEN LANTERN (1990) (#0-181) (DC) #1 Near Mint/Mint
GREEN LANTERN (1990) (#0-181) (DC) #1 NEWSSTAND Fine

GREEN LANTERN: EMERALD DAWN (1989) #1 Near Mint/Mint
GREEN LANTERN: EMERALD DAWN (1989) #2 Near Mint/Mint

HAWKWORLD (1990) (#1-32) (DC) #12 Near Mint/Mint

HELLBLAZER (1988) (#1-300) (DC VERTIGO) #9 (DC: Vertigo Press) Very Fine
HELLBLAZER (1988) (#1-300) (DC VERTIGO) #10 (DC: Vertigo Press) Very Fine


HELLBLAZER (1988) (#1-300) (DC VERTIGO) #11

HELLBLAZER (1988) (#1-300) (DC VERTIGO) #11 (DC: Vertigo Press) Very Fine
HELLBLAZER (1988) (#1-300) (DC VERTIGO) #17 (DC: Vertigo Press) Very Fine
HELLBLAZER (1988) (#1-300) (DC VERTIGO) #18 (DC: Vertigo Press) Near Mint/Mint
HELLBLAZER (1988) (#1-300) (DC VERTIGO) #19 (DC: Vertigo Press) Very Fine
HELLBLAZER (1988) (#1-300) (DC VERTIGO) #20 (DC: Vertigo Press) Very Fine
HELLBLAZER (1988) (#1-300) (DC VERTIGO) #24 (DC: Vertigo Press) Very Fine
HELLBLAZER (1988) (#1-300) (DC VERTIGO) #30 (DC: Vertigo Press) Near Mint/Mint
HELLBLAZER (1988) (#1-300) (DC VERTIGO) #31 (DC: Vertigo Press) Near Mint/Mint
HELLBLAZER (1988) (#1-300) (DC VERTIGO) #32 (DC: Vertigo Press) Near Mint/Mint
HELLBLAZER (1988) (#1-300) (DC VERTIGO) #33 (DC: Vertigo Press) Near Mint/Mint
HELLBLAZER (1988) (#1-300) (DC VERTIGO) #34 (DC: Vertigo Press) Very Fine
HELLBLAZER (1988) (#1-300) (DC VERTIGO) #35 (DC: Vertigo Press) Near Mint/Mint
HELLBLAZER (1988) (#1-300) (DC VERTIGO) #36 (DC: Vertigo Press) Near Mint/Mint
HELLBLAZER (1988) (#1-300) (DC VERTIGO) #37 (DC: Vertigo Press) Near Mint/Mint
HELLBLAZER (1988) (#1-300) (DC VERTIGO) #38 (DC: Vertigo Press) Near Mint/Mint
HELLBLAZER (1988) (#1-300) (DC VERTIGO) #38 (DC: Vertigo Press) Very Fine
HELLBLAZER (1988) (#1-300) (DC VERTIGO) #39 (DC: Vertigo Press) Near Mint/Mint
HELLBLAZER (1988) (#1-300) (DC VERTIGO) #40 (DC: Vertigo Press) Near Mint/Mint
HELLBLAZER (1988) (#1-300) (DC VERTIGO) #41 (DC: Vertigo Press) Near Mint/Mint
HELLBLAZER (1988) (#1-300) (DC VERTIGO) #42 (DC: Vertigo Press) Near Mint/Mint
HELLBLAZER (1988) (#1-300) (DC VERTIGO) #43 (DC: Vertigo Press) Near Mint/Mint

HUNTRESS (1989) (#1-19) (DC) #1 Very Fine
HUNTRESS (1989) (#1-19) (DC) #7 Near Mint/Mint
HUNTRESS (1989) (#1-19) (DC) #8 Near Mint/Mint


HUNTRESS (1989) (#1-19) (DC) #11

HUNTRESS (1989) (#1-19) (DC) #11 Near Mint/Mint
HUNTRESS (1989) (#1-19) (DC) #12 Very Fine
HUNTRESS (1989) (#1-19) (DC) #13 Near Mint/Mint
HUNTRESS (1989) (#1-19) (DC) #14 Near Mint/Mint
HUNTRESS (1989) (#1-19) (DC) #15 Very Fine
HUNTRESS (1989) (#1-19) (DC) #16 Fine
HUNTRESS (1989) (#1-19) (DC) #18 Very Fine
HUNTRESS (1989) (#1-19) (DC) #19 Fine

JUSTICE LEAGUE EUROPE (INTERNATIONAL #51-UP) (1989) #23 Near Mint/Mint

JUSTICE LEAGUE INTERNATIONAL (AMERICA #26-113) (1987) #53 Near Mint/Mint

LEAGUE OF EXTRAORDINARY GENTLEMEN (1999) #5 (DC/America's Best) Near Mint/Mint
LEAGUE OF EXTRAORDINARY GENTLEMEN (1999) #6 (DC/America's Best) Near Mint/Mint

LEAGUE OF EXTRAORDINARY GENTLEMEN BUMPER COMPENDIUM (VOL. 1) #1 4TH PRINT (DC/America's Best) Near Mint/Mint
LEAGUE OF EXTRAORDINARY GENTLEMEN BUMPER COMPENDIUM (VOL. 1) #2 (DC/America's Best) Near Mint/Mint

LOBO (1990) (#1-4) (DC) #2 Near Mint/Mint

SANDMAN (1988) (#1-75) (DC/VERTIGO) #12 (DC: Vertigo Press) Fine
SANDMAN (1988) (#1-75) (DC/VERTIGO) #16 (DC: Vertigo Press) Fine
SANDMAN (1988) (#1-75) (DC/VERTIGO) #17 (DC: Vertigo Press) Near Mint/Mint
SANDMAN (1988) (#1-75) (DC/VERTIGO) #18 (DC: Vertigo Press) Fine


SANDMAN (1988) (#1-75) (DC/VERTIGO) #19

SANDMAN (1988) (#1-75) (DC/VERTIGO) #19 (DC: Vertigo Press) Fine
SANDMAN (1988) (#1-75) (DC/VERTIGO) #20 (DC: Vertigo Press) Very Fine
SANDMAN (1988) (#1-75) (DC/VERTIGO) #21 (DC: Vertigo Press) Near Mint/Mint
SANDMAN (1988) (#1-75) (DC/VERTIGO) #22 (DC: Vertigo Press) Near Mint/Mint
SANDMAN (1988) (#1-75) (DC/VERTIGO) #23 (DC: Vertigo Press) Near Mint/Mint
SANDMAN (1988) (#1-75) (DC/VERTIGO) #24 (DC: Vertigo Press) Very Fine
SANDMAN (1988) (#1-75) (DC/VERTIGO) #29 (DC: Vertigo Press) Near Mint/Mint
SANDMAN (1988) (#1-75) (DC/VERTIGO) #30 (DC: Vertigo Press) Near Mint/Mint
SANDMAN (1988) (#1-75) (DC/VERTIGO) #31 (DC: Vertigo Press) Near Mint/Mint
SANDMAN (1988) (#1-75) (DC/VERTIGO) #65 (DC: Vertigo Press) Near Mint/Mint
SANDMAN (1988) (#1-75) (DC/VERTIGO) #68 (DC: Vertigo Press) Near Mint/Mint
SANDMAN (1988) (#1-75) (DC/VERTIGO) #69 (DC: Vertigo Press) Near Mint/Mint
SANDMAN (1988) (#1-75) (DC/VERTIGO) #69 (DC: Vertigo Press) Fine
SANDMAN (1988) (#1-75) (DC/VERTIGO) #70 (DC: Vertigo Press) Near Mint/Mint
SANDMAN (1988) (#1-75) (DC/VERTIGO) #71 (DC: Vertigo Press) Near Mint/Mint
SANDMAN (1988) (#1-75) (DC/VERTIGO) #73 (DC: Vertigo Press) Very Fine
SANDMAN (1988) (#1-75) (DC/VERTIGO) #74 (DC: Vertigo Press) Fine
SANDMAN (1988) (#1-75) (DC/VERTIGO) #75 (DC: Vertigo Press) Near Mint/Mint

SHAZAM! (1973) (#1-35) (WITH ONE MAGIC WORD...) #16 Very Good

SHERIFF OF BABYLON (2015) #3 Very Fine
SHERIFF OF BABYLON (2015) #6 Very Fine
SHERIFF OF BABYLON (2015) #7 Very Fine
SHERIFF OF BABYLON (2015) #11 Near Mint/Mint

SILENCER (2018) #1 Near Mint/Mint
SILENCER (2018) #1 Very Fine
SILENCER (2018) #2 Near Mint/Mint

V FOR VENDETTA (1988) #2 Near Mint/Mint
V FOR VENDETTA (1988) #3 Near Mint/Mint

WONDER WOMAN (1987) (#0-226) (DC) #5 Very Fine
WONDER WOMAN (1987) (#0-226) (DC) #42 Very Fine
WONDER WOMAN (1987) (#0-226) (DC) #44 Very Fine
WONDER WOMAN (1987) (#0-226) (DC) #45 Very Fine
WONDER WOMAN (1987) (#0-226) (DC) #46 Near Mint/Mint
WONDER WOMAN (1987) (#0-226) (DC) #47 Near Mint/Mint
WONDER WOMAN (1987) (#0-226) (DC) #48 Fine
WONDER WOMAN (1987) (#0-226) (DC) #49 Very Fine
WONDER WOMAN (1987) (#0-226) (DC) #50 Very Fine
WONDER WOMAN (1987) (#0-226) (DC) #51 Fine

DARK HORSE COMICS
GHOST IN THE SHELL (1995) #1 Very Fine
GHOST IN THE SHELL (1995) #2 Very Fine
GHOST IN THE SHELL (1995) #3 Fine

GHOST IN THE SHELL (1995) #4 Near Mint/Mint
GHOST IN THE SHELL (1995) #5 Fine

SHERLOCK FRANKENSTEIN & THE LEGION OF EVIL (#1-4) (2017) #1 RUBIN Near Mint/Mint
SHERLOCK FRANKENSTEIN & THE LEGION OF EVIL (#1-4) (2017) #4 LEMIRE Near Mint/Mint

IMAGE COMICS
GEN-13 (1994) (#0-5) (IMAGE) #1 2ND PRINT Near Mint/Mint
GEN-13 (1994) (#0-5) (IMAGE) #2 Very Fine
GEN-13 (1994) (#0-5) (IMAGE) #3 Near Mint/Mint
GEN-13 (1994) (#0-5) (IMAGE) #5 Near Mint/Mint

GEN-13: BOOTLEG #9 Near Mint/Mint

SHE WOLF (2016) #7 A TOMMASO Near Mint/Mint
SHE WOLF (2016) #8 Near Mint/Mint

SHIRTLESS BEAR-FIGHTER (2017) #2 C MACLEAN Very Fine

SHUTTER (2014) #7 B CHO Near Mint/Mint
SHUTTER (2014) #7 D WORKMAN Near Mint/Mint
SHUTTER (2014) #7 H IMAGE ED Near Mint/Mint

SHUTTER (2014) #13 Near Mint/Mint
SHUTTER (2014) #29 B PRIDE Very Fine
SHUTTER (2014) #30 A GIENI Near Mint/Mint

INDEPENDENTS
ADVENTURES OF MISTY (FORBIDDEN FRUIT) (ADULT) (1991) #3 (Forbidden Fruit (ADULTS ONLY)) Very Fine
ADVENTURES OF MISTY (FORBIDDEN FRUIT) (ADULT) (1991) #5 (Forbidden Fruit (ADULTS ONLY)) Fine

CANNON (WALLY WOOD) (ADULT) (1990) #6 (Eros Comix (Fantagraphics)) Fine
CANNON (WALLY WOOD) (ADULT) (1990) #7 (Eros Comix (Fantagraphics)) Very Fine
CANNON (WALLY WOOD) (ADULT) (1990) #8 (Eros Comix (Fantagraphics)) Very Fine

CARMILLA (1991) #4 (Aircel Publications) Very Fine

CASANOVA! (1991) #3 (Aircel Publications) Near Mint/Mint

CASE MORGAN #3 (Forbidden Fruit (ADULTS ONLY)) Near Mint/Mint

CHERRY #2 3RD PRINT (Kitchen Sink Publishing) Very Fine
CHERRY #3 (Kitchen Sink Publishing) Fine
CHERRY #4 (Kitchen Sink Publishing) Fine
CHERRY #5 (Kitchen Sink Publishing) Fine
CHERRY #6 (Kitchen Sink Publishing) Fine

CHERRY #6 (Kitchen Sink Publishing) Very Fine
CHERRY #7 (Kitchen Sink Publishing) Near Mint/Mint
CHERRY #8 (Kitchen Sink Publishing) Near Mint/Mint
CHERRY #9 (Kitchen Sink Publishing) Fine
CHERRY #10 (Kitchen Sink Publishing) Fine
CHERRY #11 (Kitchen Sink Publishing) Fine
CHERRY #11 UNBAGGED (Kitchen Sink Publishing) Fine
CHERRY #12 (Kitchen Sink Publishing) Fine

CLEOPATRA (RIP OFF PRESS) (1991) #1 (Rip Off Press) Very Fine

CLERKS THE COMIC BOOK (1998) #1 (Oni Press Inc.) Near Mint/Mint

COLLECTED PURPLE PICTOGRAPHY (VAUGHN BODE & WRIGHTSON) (1991) #1 (Eros Comix (Fantagraphics)) Near Mint/Mint

COSMIC KLITI (1991) #1 (Eros Comix (Fantagraphics)) Very Fine

CRY FOR DAWN (1989) #1 2ND PRT (Cry For Dawn Productions) Fine
CRY FOR DAWN (1989) #4 (Cry For Dawn Productions) Very Fine
CRY FOR DAWN (1989) #5 (Cry For Dawn Productions) Very Fine
CRY FOR DAWN (1989) #6 (Cry For Dawn Productions) Very Fine

DESERT PEACH (1988) #2 (Aeon) Near Mint/Mint
DESERT PEACH (1988) #3 (Aeon) Near Mint/Mint

DESERT PEACH (1988) #4 (Aeon) Near Mint/Mint
DESERT PEACH (1988) #6 (Aeon) Near Mint/Mint
DESERT PEACH (1988) #7 (Aeon) Near Mint/Mint
DESERT PEACH (1988) #10 (Aeon) Near Mint/Mint
DESERT PEACH (1988) #11 (Aeon) Near Mint/Mint
DESERT PEACH (1988) #13 (Aeon) Near Mint/Mint
DESERT PEACH (1988) #15 (Aeon) Near Mint/Mint
DESERT PEACH (1988) #16 (Aeon) Near Mint/Mint
DESERT PEACH (1988) #17 (Aeon) Near Mint/Mint
DESERT PEACH (1988) #18 (Aeon) Near Mint/Mint
DESERT PEACH (1988) #19 (Aeon) Near Mint/Mint
DESERT PEACH (1988) #20 (Aeon) Near Mint/Mint
DESERT PEACH (1988) #21 (Aeon) Near Mint/Mint
DESERT PEACH (1988) #22 (Aeon) Near Mint/Mint
DESERT PEACH (1988) #23 (Aeon) Near Mint/Mint
DESERT PEACH (1988) #25 (Aeon) Near Mint/Mint

DOLL (1990) #4 (Rip Off Press) Near Mint/Mint
DOLL (1990) #7 (Rip Off Press) Very Fine

DREAMERY (1986) #11 (Eclipse Enterprises) Near Mint/Mint

EROTIC FABLES & FAERIE TALES (1992) #1 (Eros Comix (Fantagraphics)) Fine

EROTIC WORLDS OF FRANK THORNE (1990) #6 (Eros Comix (Fantagraphics)) Near Mint/Mint


ESPERS (1986) (#1-5) (ECLIPSE) #5

ESPERS (1986) (#1-5) (ECLIPSE) #5 (Eclipse Enterprises) Near Mint/Mint

GAY COMIX SPECIAL (1992) #1 (Gay Comix) Very Fine

GOODIES (1982) #1 (Jabberwocky) Near Mint/Mint
GOODIES (1982) #2 (Jabberwocky) Near Mint/Mint
GOODIES (1982) #3 (Jabberwocky) Near Mint/Mint
GOODIES (1982) #4 (Jabberwocky) Near Mint/Mint
GOODIES (1982) #5 (Jabberwocky) Near Mint/Mint
GOODIES (1982) #6 (Jabberwocky) Near Mint/Mint
GOODIES (1982) #7 (Jabberwocky) Near Mint/Mint
GOODIES (1982) #8 (Jabberwocky) Near Mint/Mint
GOODIES (1982) #9 (Jabberwocky) Near Mint/Mint
GOODIES (1982) #10 (Jabberwocky) Near Mint/Mint
GOODIES (1982) #73 (Jabberwocky) Near Mint/Mint
GOODIES (1982) #74 (Jabberwocky) Near Mint/Mint
GOODIES (1982) #75 (Jabberwocky) Near Mint/Mint
GOODIES (1982) #76 (Jabberwocky) Near Mint/Mint
GOODIES (1982) #77 (Jabberwocky) Near Mint/Mint
GOODIES (1982) #78 (Jabberwocky) Near Mint/Mint
GOODIES (1982) #79 (Jabberwocky) Near Mint/Mint
GOODIES (1982) #83 (Jabberwocky) Near Mint/Mint

INFERNO (1990) (#1-4) (AIRCEL) #2 (Aircel Publications) Near Mint/Mint


INFERNO (1990) (#1-4) (AIRCEL) #3

INFERNO (1990) (#1-4) (AIRCEL) #3 (Aircel Publications) Near Mint/Mint

LANN (1991) #1 (Eros Comix (Fantagraphics)) Near Mint/Mint

LIZ AND BETH (1991) #2 (Eros Comix (Fantagraphics)) Fine
LIZ AND BETH (1991) #2 (Eros Comix (Fantagraphics)) Near Mint/Mint
LIZ AND BETH (1991) #3 (Eros Comix (Fantagraphics)) Fine
LIZ AND BETH (1991) #4 (Eros Comix (Fantagraphics)) Fine

ME AND HER (1990) #1 (Eros Comix (Fantagraphics)) Near Mint/Mint

MELODY (1988) #1 (Kitchen Sink Publishing) Near Mint/Mint
MELODY (1988) #2 (Kitchen Sink Publishing) Very Fine
MELODY (1988) #5 (Kitchen Sink Publishing) Near Mint/Mint

MIRACLEMAN (1985) (#1-24) (ECLIPSE) #22 (Eclipse Enterprises) Near Mint/Mint
MIRACLEMAN (1985) (#1-24) (ECLIPSE) #23 (Eclipse Enterprises) Near Mint/Mint
MIRACLEMAN (1985) (#1-24) (ECLIPSE) #24 (Eclipse Enterprises) Near Mint/Mint

MIRACLEMAN: APOCRYPHA (1991) #2 (Eclipse Enterprises) Near Mint/Mint
MIRACLEMAN: APOCRYPHA (1991) #3 (Eclipse Enterprises) Near Mint/Mint
MIRACLEMAN: APOCRYPHA (1991) #3 (Eclipse Enterprises) Fine

OMAHA THE CAT DANCER (1986) (#0-20) (KITCHEN SINK) #1 2ND PRT (Kitchen Sink Publishing) Very Fine
OMAHA THE CAT DANCER (1986) (#0-20) (KITCHEN SINK) #3 2ND PRT (Kitchen Sink Publishing) Fine
OMAHA THE CAT DANCER (1986) (#0-20) (KITCHEN SINK) #5 (Kitchen Sink Publishing) Fine


OMAHA THE CAT DANCER (1986) (#0-20) (KITCHEN SINK) #6

OMAHA THE CAT DANCER (1986) (#0-20) (KITCHEN SINK) #6 (Kitchen Sink Publishing) Very Fine
OMAHA THE CAT DANCER (1986) (#0-20) (KITCHEN SINK) #7 (Kitchen Sink Publishing) Fine
OMAHA THE CAT DANCER (1986) (#0-20) (KITCHEN SINK) #8 (Kitchen Sink Publishing) Near Mint/Mint
OMAHA THE CAT DANCER (1986) (#0-20) (KITCHEN SINK) #9 (Kitchen Sink Publishing) Fine
OMAHA THE CAT DANCER (1986) (#0-20) (KITCHEN SINK) #10 (Kitchen Sink Publishing) Very Fine

ONE-FISTED TALES (1990) #1 (Slave Labor Graphics) Fine

PUNTELLA PRIMM/SEXY SUPERSPY #3 (Forbidden Fruit (ADULTS ONLY)) Near Mint/Mint
PUNTELLA PRIMM/SEXY SUPERSPY #4 (Forbidden Fruit (ADULTS ONLY)) Very Fine
PUNTELLA PRIMM/SEXY SUPERSPY #5 (Forbidden Fruit (ADULTS ONLY)) Fine

RATED X (1991) #1 (Aircel Publications) Near Mint/Mint
RATED X (1991) #1 (Aircel Publications) Very Fine

SCIMIDAR II (1989) #1 UNBAGGED (Eternity Comics (World/Imperial)) Very Fine
SCIMIDAR II (1989) #2 UNBAGGED (Eternity Comics (World/Imperial)) Near Mint/Mint

SCIMIDAR III (1990) #2 (Eternity Comics (World/Imperial)) Near Mint/Mint

SHEENA (2017) (#0-UP) (DYNAMITE) #6 B SANTUCCI (DYNAMITE Entertainment) Near Mint/Mint

SHERLOCK: A STUDY IN PINK (2016) #5 B PHOTO (Titan Distributing) Near Mint/Mint


SHERLOCK: BLIND BANKER (2017) #1 A JAY

SHERLOCK: BLIND BANKER (2017) #1 A JAY (Titan Distributing) Near Mint/Mint

SHIPWRECK (2016) #4 (After-Shock Comics) Near Mint/Mint
SHIPWRECK (2016) #6 (After-Shock Comics) Near Mint/Mint

SINDY (FORBIDDEN FRUIT) (1991) #3 (Forbidden Fruit (ADULTS ONLY)) Near Mint/Mint
SINDY (FORBIDDEN FRUIT) (1991) #4 (Forbidden Fruit (ADULTS ONLY)) Very Fine
SINDY (FORBIDDEN FRUIT) (1991) #5 (Forbidden Fruit (ADULTS ONLY)) Near Mint/Mint

SNARF #10 (Kitchen Sink Publishing) Near Mint/Mint

STRANGER IN A STRANGE LAND (1989) #2 (Rip Off Press) Near Mint/Mint

STRIPS (#1-12) (RIP OFF PRESS/WHITE BUFFALO) (ADULT) (1989) #2 (White Buffaloe Press) Fine
STRIPS (#1-12) (RIP OFF PRESS/WHITE BUFFALO) (ADULT) (1989) #3 (White Buffaloe Press) Very Fine
STRIPS (#1-12) (RIP OFF PRESS/WHITE BUFFALO) (ADULT) (1989) #4 (White Buffaloe Press) Fine
STRIPS (#1-12) (RIP OFF PRESS/WHITE BUFFALO) (ADULT) (1989) #6 (White Buffaloe Press) Fine

SUSHI (1990) (#1-8) (SHUNGA COMIX) (ADULT) #1 2ND PRINT (Shunga Comix) Very Fine

TEX BENSON (R.ZONE) #4 (3-D Zone) Near Mint/Mint

UNDERGROUND CLASSICS (1985) #1 2ND PRINT (Rip Off Press) Near Mint/Mint

VEGETABLE LOVER & OTHER STORIES (EROS COMIX) (1992) #1 (Eros Comix (Fantagraphics)) Near Mint/Mint

WENDY WHITEBREAD, UNDERCOVER SLUT (1990) #1 (Eros Comix (Fantagraphics)) Fine
WENDY WHITEBREAD, UNDERCOVER SLUT (1990) #1 (Eros Comix (Fantagraphics)) Very Fine

XXXENOPHILE (1989) #1 (Palliard Press) Near Mint/Mint