Local News - Saturday No Minimum bid Auction, Poker, and Drag Show Sunday!
Hi!
This is William with Mile High Comics. In just two days we will start hosting three big events at our Jason Street Mega Store.
The first event will be on Saturday (June 15th) it will be our monthly Texas Hold'em Poker Tournament. The event starts at 11:00 am. This month's tournament is a benefit for "Feeding Denver's Hungry." If you register in advance, playing in our tournament essentially costs you nothing, as your $25 donation is immediately rewarded with a $25 gift certificate that you can utilize to purchase anything you might wish to own in our gigantic store. Please note, however, that we only provide these gift certificates to players who register in advance. You can certainly still register on the morning of the game, but only if we have seats still available.
The second event starts at 11:30 am and we will be hosting our huge no-minimum bid comics and toys auction, arrive early and take a look at all the incredible items! This auction has 40 core lots filled with 300+ Silver Age comics, rare comics variants, scarce toys, statues, original art, and much, much more. We will also have at least 200 last-minute throw-in items.
At the end of this newsletter are the 40 Lots in this Saturday's Auction: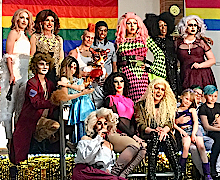 The cast of last month's All-Ages Drag Show

Then on Sunday (June 16th) we will hosting Miss Jessica Drag For all Ages Show. This is the only regularly scheduled performance event for LGBTQ youth in the nation, Denver's Fox 31 TV station is supposedly sending a crew to film our show. If you've always wanted to be on TV, attending our all-ages show on Sunday might provide you with your magic moment. Seating begins at 5 PM, and Bettie will open the show right about 6 PM.
Hope to see you this weekend!
William Moulton,
Operations Manager - Mile High Comics, Inc.
June 13, 2019
Here are the 40 Lots in the the No Minimum Bid Auction this Saturday: