60% Off COMIC-CON Codeword on All Comics and Magazines this Weekend!
Hi!
This is William with Mile High Comics. Chuck is out weed whacking the front of our store and working on his farm today, so I am writing this newsletter.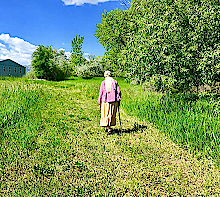 Nanette walking through the Farm

First we are having a great response to our 60% off COMIC-CON codeword sale right now. This sale applies to all ten million+ instock back issue comics and magazines. The only exceptions are new issues, a few variants, and our professionally-graded comics. With back issues at only 40% of list price, orders are coming in like crazy. The best news is Lynne and her staff are keeping caught up on pulling and shipping the orders that are coming in. We will be running a little behind on Monday because of the weekend orders but that should be caught up by next Wednesday.
While the COMIC-CON sale is running we also have all of our back issue Trade Paperback and Hardcovers on sale right now at 30% off. These sale prices are listed right on our website so no codeword is needed. Pam has been adding great older Trades all this week. Just check our weekly New-In-Stock to see what I am talking about.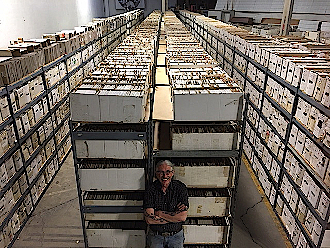 Chuck infront of our Back Issue Racks

Lastly I did want to remind everyone that we do offer FREE SHIPPING on back issue orders. On Domestic orders just order a minimum of $60 and International orders need to be over $150.00. Orders with Trade Paperback or Hardcovers do have a small surcharge to offset the extra weight.
Have a great weekend!
William Moulton,
Operations Manager - Mile High Comics, Inc.
June 7, 2019
P.S. If you are near Colorado this Saturday (6/8/19) we will have the New Era Wrestling BEDLEM event at our Jason Street Mega Store. The doors open at 6:30 pm and the event starts at 7:00 pm. This is a great for the whole family, so bring the kids down to watch these amazingly talented individuals. It's fun for the whole family!