60% Off COMIC-CON Codeword Sale All Comics and Magazines
Howdy!
I want to begin by thanking everyone who has already availed themselves of the 60% off savings provided by our new COMIC-CON! codeword sale. Dropping our prices to only 40% of list is painful, but slashing the cost on all ten million of our in-stock back issues did produce the surge in orders that we needed to help offset the precipitous decline in comics fans attending the Denver Comic-Con. If you have not yet taken advantage of this incredibly generous offer, I urge you to do so right away. It isn't often that we offer such a huge discount, but when we do it provides you with a short-lived opportunity to purchase even our scarcest back issues at only 40% of retail. And just to be clear, only new issues, a few variants, and our professionally-graded comics are exempt. This sale is an amazing deal for you!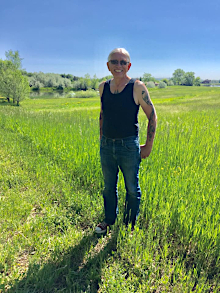 Chuck at the Farm/Wildlife Refuge

In other news, I spent the better part of this morning working on our 32-acre family farm/wildlife refuge in Boulder. After spending over half of my weekends this year traveling around the nation, it is truly a delight to finally be back at our farm. I am sticking around Colorado for a little while, too, as I am skipping traveling to Coronation in Reno this weekend. Reno was really enjoyable last year, but we are hosting another great wrestling event by the incredible athletes of New Era Wrestling this Saturday night, and a huge no-minimum-bid comics and toys auction and our monthly Texas Hold'em poker tournament next Saturday. Getting our store ready for those three extremely popular events is absolutely my first priority.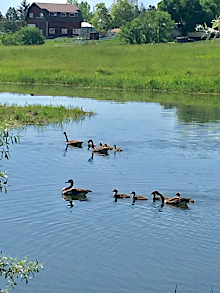 Duck Families at the Farm/Wildlife Refuge

Also taking place next weekend (on Sunday evening) is the 4th installment of our monthly All-Ages Drag Show, hosted by the incredibly talented Miss Jessica. Our first three shows have been remarkably successful, but this one might be exceptionally well-attended, as next weekend also happens to be Denver Pride. Pride could make a big difference, as Denver's Pride Parade is one of the nation's largest, with well over 100,000 onlookers, and the huge PrideFest street fair that takes in Denver's Civic Center Park after the parade had over 375,000! visitors in 2018. If just a few people from PrideFest drive over and attend our show, we could easily have our best turnout, ever...
Happy collecting!
Chuck Rozanski,
President - Mile High Comics, Inc.
June 5, 2019