DEADPOOL and VAMPIRELLA Denver Comic-Con Exclusive Variants
Howdy!
A brief synopsis of news from Mile High Comics today is that we are continuing to rapidly reduce the backlog of unshipped orders that resulted from our computer shutdown. William's team shipped the better part of a week's worth of orders during the last two days, so we should be back to current shipping very soon.
In the meantime, Pam's inventory team is continuing to add all of the great collections of comics and books that arrived during our shutdown. View our New-In-Stock and Premium New-In-Stock links for all of our latest acquisitions. Our 50% off SWEETHEART codeword sale is also still in effect for you, and applies to all back issue comics and magazines that we offer, excepting only new issues, CGC-graded comics, and a few variants. I remind everyone that the half price SWEETHEART codeword does definitely apply to most of our New-In-Stock arrivals...
Moving on to other news, I am especially weary this morning, as I spent two hours last evening working with my dancing coach on choreographing and rehearsing my opening number for our June 12th party for this year's Denver Comic-Con. As hard as this may seem to believe, I will be dancing and lip synching to an iconic rock and roll song that night, while dressed as Superman (!). Before you think otherwise, let me say that mine is not going to be any kind of mellow performance, as my character will go insane, and ultimately die, by the end of the song. I absolutely guarantee you that no one in the comics world has ever seen me do anything like this...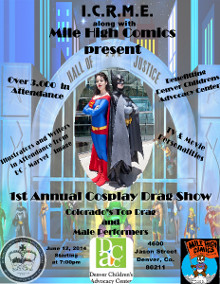 I.C.R.M.E. 1st Annual Cosplay Drag Show

While you may think that I have completely lost my mind, my performance will be just the first of about 30 Cosplay-themed acts that night by the incredibly talented members of the Imperial Court of the Rocky Mountain Empire. The Imperial Court began as a primarily GLBTQ performance group 50 years ago, which now actively welcomes allies from the broader community. I joined three years ago, and was recently appointed to a minor leadership position. As such, one of my responsibilities is to personally host a fund-raising event. In this instance, 80% of the tips generated from our all-ages Cosplay performances will be going to the Denver Children's Advocacy Center, which operates three safe houses for children who have suffered sexual abuse. Other charities that the ICRME has recently supported provide scholarships to the needy, protect GLBTQ teens, feed the homeless, and provide support to the terminally ill. All told, we raised $105,000 for other 501-C3 charities last year...
Our ICRME Cosplay show is only going to be one part of that night's festivities, however, as the primary focus of our party will be to allow attendees of this year's Denver Comic-Con to interact with a number of the celebrity guests of the convention well before the show begins, and in a (slightly) less structured environment. Thus far, we have the following celebrity guests confirmed as appearing at our Thursday night party to sign autographs:
George P&eacuterez
Neal Adams
Lou Ferrigno
Tone Rodriguez
Monty Moore
Greg Horn
Dan Conner
Tony Fleecs

Our guest list is just the beginning, however, as we have yet to be able to personally contact many of the celebrities who will be appearing at the convention. We are expecting that a higher percentage of the guests from this year's show will agree to appear at our Thursday night party, as the convention begins on Friday morning this year, as opposed to Saturday morning, last year. We are also in the process of arranging complimentary bus transportation that evening from the main convention hotel (Hyatt) to our Mega-Store. Our bus will be free for both celebrity guests, and for fans. The distance between Jason St. and downtown is only about three miles, so we're guessing that we will be able to have buses running about every half hour from 4 PM, until the Mega-Store closes at Midnight.
Other activities that we have planned for that evening are an all-ages costume contest, with $1,000 in Mile High Comics gift certificates as prizes, and live sword fighting exhibitions by two groups (one Medieval, and the other Oriental). The ICRME is also going to be providing a huge benefit bake sale during our show, which guarantees an amazing array of tasty refreshments. Suffice it to say, our June 12th party is going to be an incredibly fun event!
All of the above having been said, I am well aware that only a few readers of this worldwide newsletter will be able to actually attend our party. That is why we will be working hard to provide you with parts of the party online. We will begin by recording interviews with many of our guests, as well as filming some of the ICRME Cosplay performances, including mine. If all goes well, we should have some great YouTube clips posted for you on (gasp!) Friday the 13th.
In addition to filming as much of the party as we can, we will also be trying to arrange for autographs that we can offer those of you who live too far away to attend our party. This effort is still in its planning stages, however, so I cannot yet make any projections. What I can offer you right now, however, is first crack at the two exclusive Denver Comic-Con variants that we created in conjunction with the convention. Each is available for pre-order through Greg and Mario in our new comics subscription department. You can write to them at nice@milehighcomics.com, or call them (weekdays 9-5) at 303-455-2659. Cost is $14.95 each, with a limit of five copies per client, please. We can begin shipping these variants on Friday the 13th.

Vampirella (2014) #1
MHC/DCC Cover

I will close today's newsletter by encouraging those of you who are planning to attend our party to arrive early. The official opening time of our party will be at 5 PM, but I have a feeling that all of the on-street parking within three blocks of the Mega-Store will be gone by then. We are expecting that at least 3,000 fans will attend our party, so this will be one of the biggest events in the city that night. Please carpool, if you can. Also, if you wish to purchase either of our exclusive variants, please do not delay in placing a pre-order. The Denver Comic-Con was the third-largest comics convention in North America last year, with over 61,000 attendees. They are expecting far more people this year, and have already sold out ALL of their three-day passes via their web site! So you know, our Denver Comic-Con VAMPIRELLA variant has a print run of only 1,500 copies, and our Denver Comic-Con DEADPOOL variant is limited to only 4,000 copies. With 60,000+ fans attending the show, it seems highly likely that we will sell substantial portions of both of those small print runs by the end of the convention. 'Nuff said...
Happy Collecting!
Chuck Rozanski,
President - Mile High Comics, Inc.
May 21, 2014