50% Off MEMORIALDAY! Sale Begins Today On All Comics
Howdy!
I am back in Denver today, after a great weekend spent working at my farm in Boulder. This is the time of year when everything grows like crazy, including all of the invasive weeds (teasel, Canada thistle, burdock, etc.) that took hold ten years ago, while I was very sick with my 2nd major West Nile Fever illness. The good news is that I have already put two years into our weed management program, so the overall number of invasive plant species at our farm has dropped prodigiously. A couple more years of mowing and trimming, and we should be back to a good place.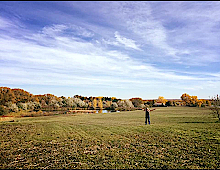 Chuck in one of his freshly mowed fields

Before I headed for the farm on Saturday, I first conducted our monthly no-minimum-bid comics and toys auction here at Jason St. This particularly auction was quite well-attended, and bidding was rather vigorous across the board. All manner of comics sold well, but I wanted to especially bring to your attention that comics that featured enhanced covers from the period of 1989-1995 sold extremely well, and at prices well above our catalog prices! That trend (almost) shocks me, as I can distinctly remember a period of time when everyone was berating Marvel (in particular) for putting die cut and laminate covers on damn near any title, just so they could jump the cover price by $1. Well, it took 25 years, but those titles are suddenly in extremely high demand. Amazing...

Atlas/Seaboard - PLANET OF VAMPIRES (1975) #1

Another rapidly evolving trend is that all of the Atlas/Seaboard comics from 1974 are suddenly quite popular, after it was announced that they had all been optioned for movies. I am not certain if any of those movies will actually be completed, but the fact that most of those issues have long since disappeared gives some measure of credence to why they are rising in price so rapidly.
In other news, we are setting up rows of tables in Jason St. for the free mini-convention that we will be hosting in our Mega-Store during the Denver Pop Culture Con (May 31st - June 2nd). Much as what occurred during Free Comic Book Day, our in-store show will feature a variety of small press publishers from Colorado who could not get exhibit space at the convention center. We will be running a free shuttle between the Denver Show all three days, so we do expect a nice steady flow of fans to visit our creators. If you would like free space to exhibit your self-published comics that weekend, please contact Will Moulton moulton@milehighcomics.com.
I need to stop writing now, as I have to work on filling the half dozen pottery cases that I have (finally...) set up in my office. Tony Chavarria, the Director of Santa Fe's awesome Museum of Indian Arts and Culture, is coming to visit me tomorrow. He is seeking key pottery pieces and line art to add into an upcoming exhibit featuring the works of my best friend, Diego Romero. I now own over 9,000 incredibly rare and interesting pieces of Pueblo pottery, but 8,000 of them have never been unpacked since we sold our 56th Ave. building, three years ago. I have definitely my work cut out for me this afternoon...
Happy collecting!
Chuck Rozanski,
President - Mile High Comics, Inc.
May 20, 2019
P.S. The success of our auction on Saturday helped my wife, Nanette, to cover a significant portion of the prodigious cost of repairing the huge pipe that broke in front of Jason St. four weeks ago. We do still have a little way to go, however, so I am going to seamlessly morph our 50% off BIGDIG! codeword into a new 50% off MEMORIALDAY! codeword sale. You can utilize either codeword over the next two days to purchase any back issues that you wish from our immense inventory of ten million+ comics and magazines. Only new issues, a few variants, and our professionally-graded comics are excluded.
Below are even more Silver Age and Bronze Age comics that we recently added, focused on titles starting with O-S. all are 50% off when you utilize MEMORIALDAY! Please enjoy these great half price bargains with our sincere thanks for supporting us.
OUTLAW KID (1970) #2 Very Fine
OUTLAW KID (1970) #5 Fine
OUTLAW KID (1970) #8 Very Fine
OUTLAW KID (1970) #9 Fine
PHOENIX, THE UNTOLD STORY (1983) #1 NEWSSTAND Fine
POWER MAN/IRON FIST (LUKE CAGE, POWER MAN #1-49) (1972) #1 Very Good
POWER MAN/IRON FIST (LUKE CAGE, POWER MAN #1-49) (1972) #3 Near Mint/Mint
POWER MAN/IRON FIST (LUKE CAGE, POWER MAN #1-49) (1972) #5 Near Mint/Mint
POWER MAN/IRON FIST (LUKE CAGE, POWER MAN #1-49) (1972) #10 Near Mint/Mint
POWER MAN/IRON FIST (LUKE CAGE, POWER MAN #1-49) (1972) #54 Near Mint/Mint
POWER MAN/IRON FIST (LUKE CAGE, POWER MAN #1-49) (1972) #57 NEWSSTAND Near Mint/Mint
POWER PACK (1984) (#1-62) (MARVEL) #1 NEWSSTAND Fine
POWER PACK (1984) (#1-62) (MARVEL) #1 Very Fine
RAWHIDE KID (1955) (#1-151) (MARVEL) #45 Good
RAWHIDE KID (1955) (#1-151) (MARVEL) #48 Good
RAWHIDE KID (1955) (#1-151) (MARVEL) #52 Very Good
RAWHIDE KID (1955) (#1-151) (MARVEL) #53 Good
RAWHIDE KID (1955) (#1-151) (MARVEL) #54 Good
RAWHIDE KID (1955) (#1-151) (MARVEL) #56 Very Good
RAWHIDE KID (1955) (#1-151) (MARVEL) #57 Very Good
RAWHIDE KID (1955) (#1-151) (MARVEL) #58 Good
RAWHIDE KID (1955) (#1-151) (MARVEL) #58 Fine
RAWHIDE KID (1955) (#1-151) (MARVEL) #58 Very Good


RAWHIDE KID (1955) (#1-151) (MARVEL) #59<

RAWHIDE KID (1955) (#1-151) (MARVEL) #59 Very Good
RAWHIDE KID (1955) (#1-151) (MARVEL) #60 Fine
RAWHIDE KID (1955) (#1-151) (MARVEL) #61 Good
RAWHIDE KID (1955) (#1-151) (MARVEL) #61 Very Good
RAWHIDE KID (1955) (#1-151) (MARVEL) #62 Good
RAWHIDE KID (1955) (#1-151) (MARVEL) #62 Very Fine
RAWHIDE KID (1955) (#1-151) (MARVEL) #63 Very Fine
RAWHIDE KID (1955) (#1-151) (MARVEL) #64 Fine
RAWHIDE KID (1955) (#1-151) (MARVEL) #64 Very Good
RAWHIDE KID (1955) (#1-151) (MARVEL) #65 Very Good
RAWHIDE KID (1955) (#1-151) (MARVEL) #66 Fine
RAWHIDE KID (1955) (#1-151) (MARVEL) #66 Very Good
RAWHIDE KID (1955) (#1-151) (MARVEL) #67 Good
RAWHIDE KID (1955) (#1-151) (MARVEL) #68 Fine
RAWHIDE KID (1955) (#1-151) (MARVEL) #69 Very Fine
RAWHIDE KID (1955) (#1-151) (MARVEL) #69 Very Good
RAWHIDE KID (1955) (#1-151) (MARVEL) #70 Good
RAWHIDE KID (1955) (#1-151) (MARVEL) #70 Very Fine
RAWHIDE KID (1955) (#1-151) (MARVEL) #71 Very Good
RAWHIDE KID (1955) (#1-151) (MARVEL) #72 Fine
RAWHIDE KID (1955) (#1-151) (MARVEL) #73 Very Good
RAWHIDE KID (1955) (#1-151) (MARVEL) #74 Fine
RED SONJA (1983) (#1-13) (MARVEL) #10 NEWSSTAND Very Fine
RED SONJA (1983) (#1-13) (MARVEL) #13 NEWSSTAND Very Fine
RINGO KID (1970) #4 Near Mint/Mint
RINGO KID (1970) #5 Near Mint/Mint

RINGO KID (1970) #7 Very Fine
RINGO KID (1970) #8 Very Fine
RINGO KID (1970) #9 Fine
RINGO KID (1970) #10 Very Fine
RINGO KID (1970) #12 Very Fine
RINGO KID (1970) #13 Fine
RINGO KID (1970) #14 Very Fine
RINGO KID (1970) #15 Fine
RINGO KID (1970) #16 Fine
RINGO KID (1970) #18 Fine
SECRET WARS (1984) #9 Near Mint/Mint
SHANNA THE SHE-DEVIL (1972) (#1-5) (MARVEL) #1 Good
SHANNA THE SHE-DEVIL (1972) (#1-5) (MARVEL) #2 Very Good
SHANNA THE SHE-DEVIL (1972) (#1-5) (MARVEL) #3 Very Good
SHANNA THE SHE-DEVIL (1972) (#1-5) (MARVEL) #5 Very Good
SHE-HULK (1980) (#1-25) (SAVAGE SHE-HULK) (MARVEL) #1 NEWSSTAND Fine
SHIELD (1968) (#1-18) (MARVEL) #10 Near Mint/Mint
SHIELD (1968) (#1-18) (MARVEL) #15 Near Mint/Mint
SHIELD (1968) (#1-18) (MARVEL) #16 Near Mint/Mint
SILVER SURFER (1987) (#1-146) (MARVEL) #33 NEWSSTAND Fine
SILVER SURFER (1987) (#1-146) (MARVEL) #36 NEWSSTAND Fine
SPIDER-MAN (1963) (AMAZING SPIDER-MAN) (#1-441) #116 Near Mint/Mint
SPIDER-MAN (1963) (AMAZING SPIDER-MAN) (#1-441) #122 Near Mint/Mint
SPIDER-MAN (1963) (AMAZING SPIDER-MAN) (#1-441) #127 Near Mint/Mint
SPIDER-MAN (1963) (AMAZING SPIDER-MAN) (#1-441) #128 Near Mint/Mint


SPIDER-MAN (1963) (AMAZING SPIDER-MAN) (#1-441) #129 CONWAY SGN<

SPIDER-MAN (1963) (AMAZING SPIDER-MAN) (#1-441) #129 CONWAY SGN Near Mint/Mint
SPIDER-MAN (1963) (AMAZING SPIDER-MAN) (#1-441) #131 Near Mint/Mint
SPIDER-MAN (1963) (AMAZING SPIDER-MAN) (#1-441) #132 Near Mint/Mint
SPIDER-MAN (1963) (AMAZING SPIDER-MAN) (#1-441) #133 Near Mint/Mint
SPIDER-MAN (1963) (AMAZING SPIDER-MAN) (#1-441) #137 Near Mint/Mint
SPIDER-MAN (1963) (AMAZING SPIDER-MAN) (#1-441) #144 Near Mint/Mint
SPIDER-MAN (1963) (AMAZING SPIDER-MAN) (#1-441) #145 Near Mint/Mint
SPIDER-MAN (1963) (AMAZING SPIDER-MAN) (#1-441) #146 Near Mint/Mint
SPIDER-MAN (1963) (AMAZING SPIDER-MAN) (#1-441) #150 Near Mint/Mint
SPIDER-MAN (1963) (AMAZING SPIDER-MAN) (#1-441) #151 CGC 7.0 Very Fine
SPIDER-MAN (1963) (AMAZING SPIDER-MAN) (#1-441) #155 Very Good
SPIDER-MAN (1963) (AMAZING SPIDER-MAN) (#1-441) #156 Very Fine
SPIDER-MAN (1963) (AMAZING SPIDER-MAN) (#1-441) #157 Fine
SPIDER-MAN (1963) (AMAZING SPIDER-MAN) (#1-441) #164 Fine
SPIDER-MAN (1963) (AMAZING SPIDER-MAN) (#1-441) #167 Fine
SPIDER-MAN (1963) (AMAZING SPIDER-MAN) (#1-441) #168 Very Fine
SPIDER-MAN (1963) (AMAZING SPIDER-MAN) (#1-441) #169 Fine
SPIDER-MAN (1963) (AMAZING SPIDER-MAN) (#1-441) #170 Very Fine
SPIDER-MAN (1963) (AMAZING SPIDER-MAN) (#1-441) #173 Fine
SPIDER-MAN (1963) (AMAZING SPIDER-MAN) (#1-441) #176 Very Fine
SPIDER-MAN (1963) (AMAZING SPIDER-MAN) (#1-441) #177 Very Fine
SPIDER-MAN (1963) (AMAZING SPIDER-MAN) (#1-441) #178 Very Fine
SPIDER-MAN (1963) (AMAZING SPIDER-MAN) (#1-441) #179 Near Mint/Mint
SPIDER-MAN (1963) (AMAZING SPIDER-MAN) (#1-441) #180 Near Mint/Mint
SPIDER-MAN (1963) (AMAZING SPIDER-MAN) (#1-441) #181 Very Fine


SPIDER-MAN (1963) (AMAZING SPIDER-MAN) (#1-441) #182<

SPIDER-MAN (1963) (AMAZING SPIDER-MAN) (#1-441) #182 Very Fine
SPIDER-MAN (1963) (AMAZING SPIDER-MAN) (#1-441) #183 Near Mint/Mint
SPIDER-MAN (1963) (AMAZING SPIDER-MAN) (#1-441) #184 Near Mint/Mint
SPIDER-MAN (1963) (AMAZING SPIDER-MAN) (#1-441) #185 Near Mint/Mint
SPIDER-MAN (1963) (AMAZING SPIDER-MAN) (#1-441) #186 Very Fine
SPIDER-MAN (1963) (AMAZING SPIDER-MAN) (#1-441) #187 Near Mint/Mint
SPIDER-MAN (1963) (AMAZING SPIDER-MAN) (#1-441) #188 Very Fine
SPIDER-MAN (1963) (AMAZING SPIDER-MAN) (#1-441) #189 Near Mint/Mint
SPIDER-MAN (1963) (AMAZING SPIDER-MAN) (#1-441) #190 Near Mint/Mint
SPIDER-MAN (1963) (AMAZING SPIDER-MAN) (#1-441) #191 Near Mint/Mint
SPIDER-MAN (1963) (AMAZING SPIDER-MAN) (#1-441) #192 Near Mint/Mint
SPIDER-MAN (1963) (AMAZING SPIDER-MAN) (#1-441) #193 NEWSSTAND Near Mint/Mint
SPIDER-MAN (1963) (AMAZING SPIDER-MAN) (#1-441) #194 NEWSSTAND Near Mint/Mint
SPIDER-MAN (1963) (AMAZING SPIDER-MAN) (#1-441) #196 NEWSSTAND Very Fine
SPIDER-MAN (1963) (AMAZING SPIDER-MAN) (#1-441) #197 NEWSSTAND Very Fine
SPIDER-MAN (1963) (AMAZING SPIDER-MAN) (#1-441) #198 NEWSSTAND Very Fine
SPIDER-MAN (1963) (AMAZING SPIDER-MAN) (#1-441) #199 Very Fine
SPIDER-MAN (1963) (AMAZING SPIDER-MAN) (#1-441) #200 Near Mint/Mint
SPIDER-MAN (1963) (AMAZING SPIDER-MAN) (#1-441) #202 Near Mint/Mint
SPIDER-MAN (1963) (AMAZING SPIDER-MAN) (#1-441) #220 Near Mint/Mint
SPIDER-MAN INDEX (1985) #1 Very Fine
SPIDER-WOMAN (1978) (#1-50) (JESSICA DREW) (MARVEL) #9 Near Mint/Mint
SPIDER-WOMAN (1978) (#1-50) (JESSICA DREW) (MARVEL) #10 Near Mint/Mint
SPIDER-WOMAN (1978) (#1-50) (JESSICA DREW) (MARVEL) #14 Near Mint/Mint


SPIDER-WOMAN (1978) (#1-50) (JESSICA DREW) (MARVEL) #15 NEWSSTAND<

SPIDER-WOMAN (1978) (#1-50) (JESSICA DREW) (MARVEL) #15 NEWSSTAND Near Mint/Mint
SPIDER-WOMAN (1978) (#1-50) (JESSICA DREW) (MARVEL) #16 NEWSSTAND Near Mint/Mint
SPIDER-WOMAN (1978) (#1-50) (JESSICA DREW) (MARVEL) #29 Near Mint/Mint
SPIDER-WOMAN (1978) (#1-50) (JESSICA DREW) (MARVEL) #38 Near Mint/Mint
SPOOF (1970) #1 Very Fine
STAR WARS (1977) (#1-107) (MARVEL) #32 Near Mint/Mint
STAR WARS (1977) (#1-107) (MARVEL) #33 Near Mint/Mint
STAR WARS (1977) (#1-107) (MARVEL) #48 Near Mint/Mint
STRANGE TALES (1951) (#1-85 ATLAS, #86-188 MARVEL) #175 Near Mint/Mint
SUB-MARINER (1968) (#1-72) (PRINCE NAMOR SUB-MARINER) #2 Very Fine
SUB-MARINER (1968) (#1-72) (PRINCE NAMOR SUB-MARINER) #3 Very Fine
SUB-MARINER (1968) (#1-72) (PRINCE NAMOR SUB-MARINER) #10 Very Fine
SUB-MARINER (1968) (#1-72) (PRINCE NAMOR SUB-MARINER) #11 Fine
SUB-MARINER (1968) (#1-72) (PRINCE NAMOR SUB-MARINER) #12 Near Mint/Mint
SUB-MARINER (1968) (#1-72) (PRINCE NAMOR SUB-MARINER) #16 Very Fine
SUB-MARINER (1968) (#1-72) (PRINCE NAMOR SUB-MARINER) #17 Very Fine
SUB-MARINER (1968) (#1-72) (PRINCE NAMOR SUB-MARINER) #19 Very Fine
SUB-MARINER (1968) (#1-72) (PRINCE NAMOR SUB-MARINER) #20 Very Fine
SUB-MARINER (1968) (#1-72) (PRINCE NAMOR SUB-MARINER) #22 Good
SUB-MARINER (1968) (#1-72) (PRINCE NAMOR SUB-MARINER) #23 Very Fine
SUB-MARINER (1968) (#1-72) (PRINCE NAMOR SUB-MARINER) #24 Very Fine
SUB-MARINER (1968) (#1-72) (PRINCE NAMOR SUB-MARINER) #27 Very Fine
SUB-MARINER (1968) (#1-72) (PRINCE NAMOR SUB-MARINER) #28 Fine
SUB-MARINER (1968) (#1-72) (PRINCE NAMOR SUB-MARINER) #29 Fine
SUB-MARINER (1968) (#1-72) (PRINCE NAMOR SUB-MARINER) #30 Fine
SUB-MARINER (1968) (#1-72) (PRINCE NAMOR SUB-MARINER) #32 Very Fine


SUB-MARINER (1968) (#1-72) (PRINCE NAMOR SUB-MARINER) #33<

SUB-MARINER (1968) (#1-72) (PRINCE NAMOR SUB-MARINER) #33 Very Good
SUB-MARINER (1968) (#1-72) (PRINCE NAMOR SUB-MARINER) #38 Very Fine
SUB-MARINER (1968) (#1-72) (PRINCE NAMOR SUB-MARINER) #39 Near Mint/Mint
SUB-MARINER (1968) (#1-72) (PRINCE NAMOR SUB-MARINER) #49 Very Fine
SUB-MARINER (1968) (#1-72) (PRINCE NAMOR SUB-MARINER) #51 Near Mint/Mint
SUB-MARINER (1968) (#1-72) (PRINCE NAMOR SUB-MARINER) #53 Very Fine
SUB-MARINER (1968) (#1-72) (PRINCE NAMOR SUB-MARINER) #56 Near Mint/Mint
SUB-MARINER (1968) (#1-72) (PRINCE NAMOR SUB-MARINER) #57 Very Fine
SUB-MARINER (1968) (#1-72) (PRINCE NAMOR SUB-MARINER) #58 Very Fine
SUB-MARINER (1968) (#1-72) (PRINCE NAMOR SUB-MARINER) #60 Very Fine
SUB-MARINER (1968) (#1-72) (PRINCE NAMOR SUB-MARINER) #61 Fine
SUB-MARINER (1968) (#1-72) (PRINCE NAMOR SUB-MARINER) #62 Fine
SUB-MARINER (1968) (#1-72) (PRINCE NAMOR SUB-MARINER) #62 Very Fine
SUB-MARINER (1968) (#1-72) (PRINCE NAMOR SUB-MARINER) #63 Fine
SUB-MARINER (1968) (#1-72) (PRINCE NAMOR SUB-MARINER) #65 Very Fine
SUB-MARINER (1968) (#1-72) (PRINCE NAMOR SUB-MARINER) #68 Fine
SUB-MARINER (1968) (#1-72) (PRINCE NAMOR SUB-MARINER) #68 Very Fine
SUB-MARINER (1968) (#1-72) (PRINCE NAMOR SUB-MARINER) #69 Fine
SUB-MARINER (1968) (#1-72) (PRINCE NAMOR SUB-MARINER) #69 Very Fine
SUB-MARINER (1968) (#1-72) (PRINCE NAMOR SUB-MARINER) #70 Very Fine
SUB-MARINER (1968) (#1-72) (PRINCE NAMOR SUB-MARINER) #71 Fine
SUB-MARINER ANNUAL (1971) #1 Very Good
SUPER-VILLAIN TEAM-UP (1975) #4 Fine
SUPER-VILLAIN TEAM-UP (1975) #4 Very Fine
SUPER-VILLAIN TEAM-UP (1975) #5 Fine


SUPER-VILLAIN TEAM-UP GIANT SIZE (1975) #2<

SUPER-VILLAIN TEAM-UP GIANT SIZE (1975) #2 Good